Where Do Locals Eat in Galveston?
If you have this question while planning your visit to the picturesque Galveston Island, worry not as it has a lot to offer to its travelers and tourists when it comes to food and entertainment.
The coastal vibes of the city mean freshest and locally sourced ingredients while the serene splendor of the town makes outdoor dining quite an experience.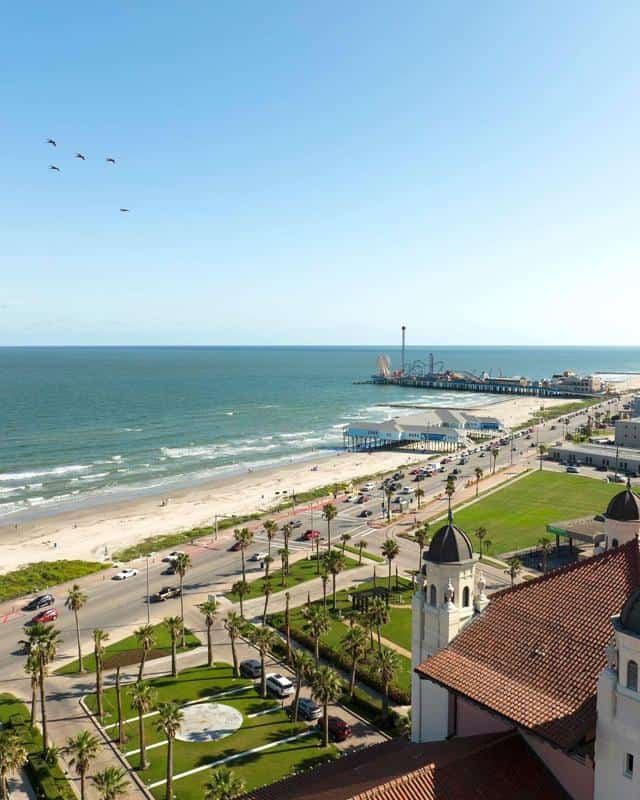 Picture yourself relishing in fresh seafood delights as the careless ocean breeze caress your hair, or wrapping up a day of excursions in its vividly glorious historic districts with a hearty steak and wine.
From romantic dates to heartwarming family dinners, scrumptious Italian cuisines to loaded Mexican delights, you can find everything you wish from their amazing selection of restaurants.
To make your work easy, we have a list of all the best restaurants in Galveston to stop by during your next trip.
Best Overall Restaurant in Galveston: Rudy & Paco Restaurant and Bar
Best Seafood Restaurant in Galveston: Gaido's
Best Galveston Restaurant on the Water: Number 13 Prime Steak and Seafood
Best Italian Restaurant in Galveston: Grotto
Best Restaurants in Galveston
Rudy & Paco Restaurant and Bar
Location: 2028 Postoffice St, Galveston, TX 77550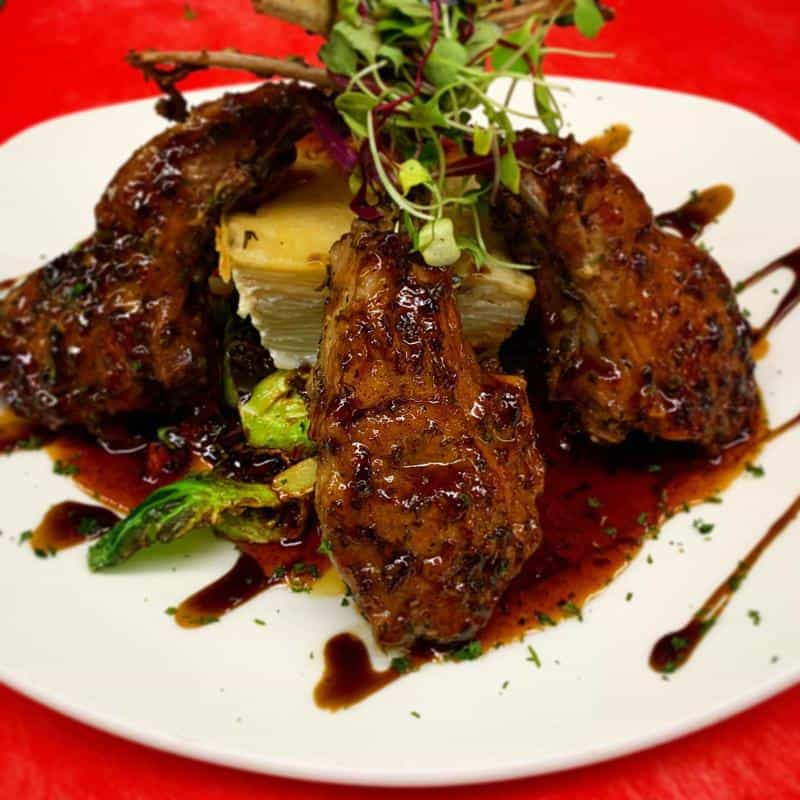 With a prestigious location beside the Grand 1984 Opera House Rudy & Paco Restaurant and Bar compels you to adorn formal attire and have a splendid night of succulent steaks and fine wine.
The glitzy and upscale award-winning restaurant has a well-rounded menu offering great variety for everyone. They have Central and South American-inspired cuisine with an impressive list of wines.
Besides seasonal seafood delights, the main attraction on their menu is the juicy prime steaks and burgers, delectable chicken, and homemade pasta.
The classy ambiance of the restaurant is reinforced by banning shorts, so make sure you are well dressed and all set to impress your beau with the best service and food.
Highlights:
Elegant set up right next to Opera House.
Delicious American cuisine.
Full-service bar.
Gaido's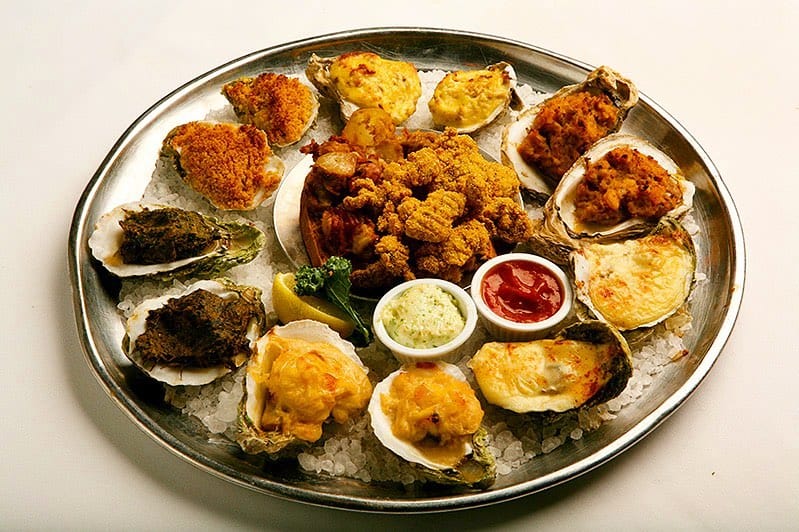 Location: 3828 Seawall Blvd, Galveston, TX 77550
Encapsulating all the nautical charm of the island in its ingenious layout and freshest seafood menu, Gaido's is one of the best seafood restaurants in Galveston. Running strong since 1911, the beloved restaurant is a local favorite and perfect for seafood lovers.
They have a wide selection of dishes and the menu is largely seasonal but they are consistent with crowd favorites like the Pecan Crusted Mahi Mahi and American Cornmeal Fried Catfish.
They also have non-seafood dishes like filets, pork chops, and farm-raised steak and chicken but we highly recommend this restaurant for its fresh seafood. A delicious variety of fishes, oysters, blue crab, lobsters, and prawns are drenched in their famous homemade sauces, seasonings, and salad dressings.
Enjoy your favorite cocktails and quality desserts from Pecan Pie to Crème Brulee with soothing Gulf views.
Highlights:
One of the best seafood restaurants in Galveston.
Nautical theme with lovely Gulf views.
Fresh catch and seasonal delights.
Also Read: Best Seafood Restaurants in Galveston, TX
Number 13 Prime Steak and Seafood
Location: 7809 Broadway St, Galveston, TX 77554
With a rich history that pays homage to the beautiful Island of Galveston, Number 13 Prime Steak and Seafood is named after two brothers and their sacrifices during the Mexican War of Independence. As they were nicknamed 'Number 13', the restaurant lives on and serves the community in full gusto on their behalf.
It is an upscale and refined Galveston restaurant on the water with tranquil views from its spacious balcony. Serving brunch and dinner, Number 13 maintains a luxurious ambiance with the finest dishes.
Brunch buffets have huge carving stations with fresh fruits and endless mimosas. There's also a Bloody Mary bar for an added zing.
Dinner is more of a formal affair ideal to impress your beau with their dedicated menu of scrumptious steaks, soups, salads, and fresh featured entrees of seafood.
Highlights:
Polished, upscale restaurant.
Lovely views of the water.
Buffet and dinner with excellent selection.
Grotto Ristorante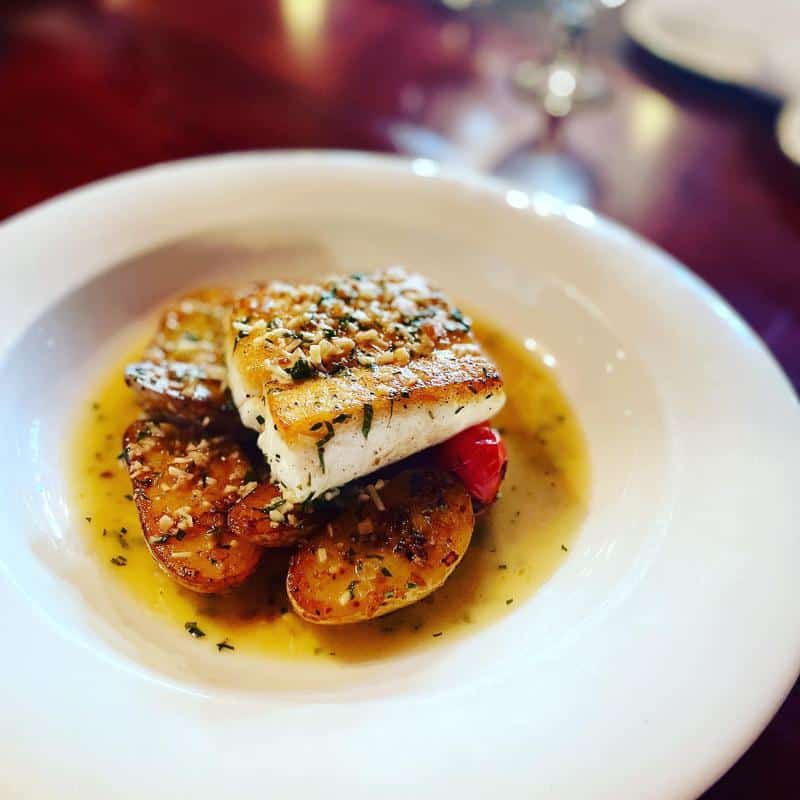 Location: 5222 Seawall Blvd, Galveston, TX 77551
Tucked within the 4-star San Luis Resort, Grotto Ristorante exudes old-world charm with its beautiful layout and old country trattoria ambiance.
Specializing in Italian cuisine, it is one of the best Italian restaurants in Galveston. The tranquil vibe is enhanced with large windows flooding the restaurant with natural light, wine bottles stacked along the walls and wooden tables and chairs vibrantly colored to give you a taste of Italy at its best.
Grotto is famous for its Neapolitan-style dishes with some seasonal delights prepared with locally sourced fresh ingredients.
We highly suggest you try your pick of their Neapolitan thin-crust pizzas; we promise you will instantly be transported to the dim-lit cobbled streets of Italy! Pair your favorite item on their menu with an Italian wine or one of their handcrafted cocktails or craft beers.
Highlights:
Timeless old-country charm and layout.
Delectable Italian fare.
Handcrafted cocktails, craft beer and Italian wines.
Little Daddy's Gumbo Bar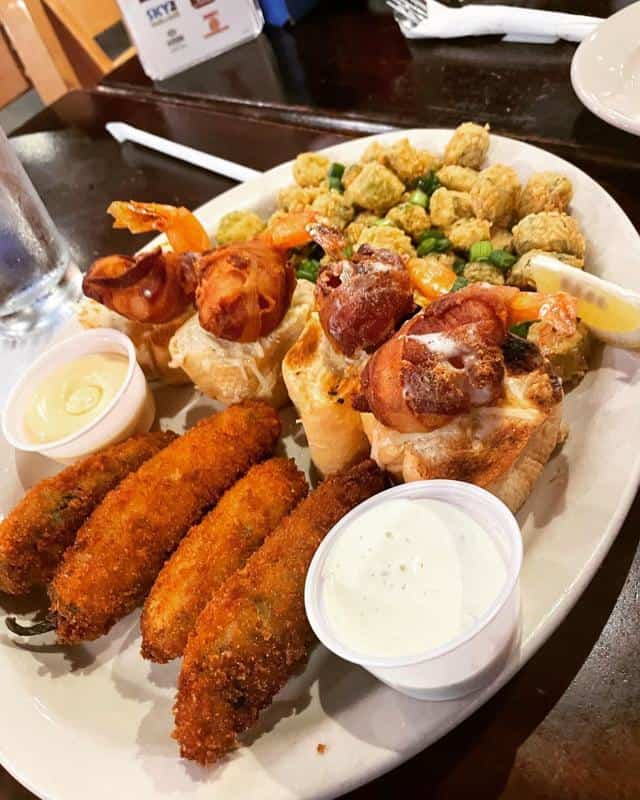 Location: 2107 Postoffice St, Galveston, TX 77550
Warm your belly and soul with hearty bowls of gumbo at Little Daddy's Gumbo Bar. The fresh and locally sourced ingredients make every food taste extra special, and the lively interiors make dining a pure joy.
The restaurant is known for its American and Cajun cuisine with timeless Southern hospitality. Their traditional gumbos are all the rage and are meticulously prepared with a perfect blend of homemade spices and the freshest seafood.
Their best seller is the mighty Mumbo Gumbo which has crabs, oysters, shrimps, sausage, chicken, and succulent prime rib. Apart from their award-winning gumbo, they also make delicious seafood stress and cioppino.
The big sampler is an ideal appetizer to share around the table. It is loaded with jalapenos, fried okra, bacon-wrapped shrimp, and garlic bread.
Highlights:
Comforting and relaxed ambiance.
Delicious variety of Cajun cuisine.
Famously known for their award-winning gumbo.
Riondo's Ristorante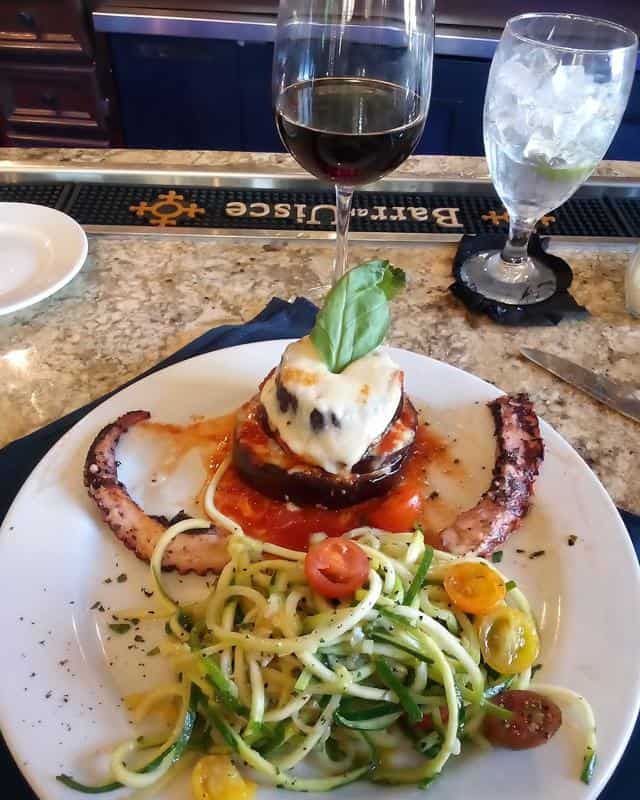 Location: 2328 The Strand, Galveston, TX 77550
Nestled within the heart of historic downtown, Riondo's Ristorante enjoys a prime location in Galveston. It is known for its chic yet comfy vibes with hearty portions of Northern Italian cuisine to satiate your cravings.
The owners Chef Rico Caminos and Don McClaugherty work tirelessly to bring the freshest menu and ambitious concoctions. The farm-to-table and sea-to-table dishes are highly popular and indulgent.
Try their delicious Bone-in Osso Bucco sitting on a bed of Saffron Risotto, or try one of their homemade selections of pasta including the delicious Spanish Gnocchi in Prosciutto di Parma. They serve is alongside the rich and hearty Pomodoro sauce.
If you are looking for a gluten-free option, go for their seafood menu with crab-stuffed baby Bellas or the delectable blackened sea scallops paired with your favorite wine.
Highlights:
Amazing location in the heart of historic downtown.
North Italian cuisines.
Comforting ambiance and good selection of wines.
Miller's Seawall Grill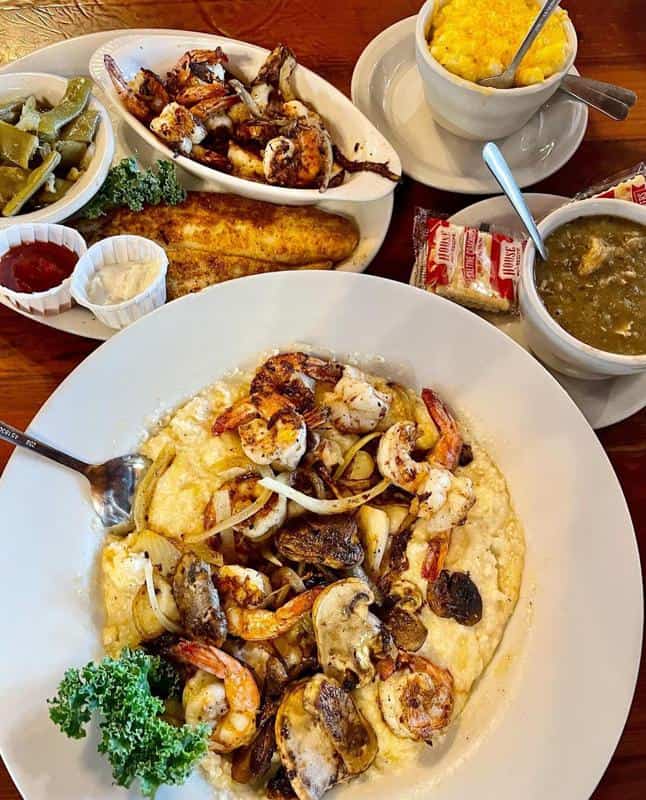 Location: 1824 Seawall Blvd, Galveston, TX 77550
If you wonder where the locals eat in Galveston, head down to Miller's Seawall Grill with friendly faces, local charm, and Southern hospitality at its best. The charming restaurant has a unique layout with its exteriors reminding one of Swiss chalets.
It also enjoys a great location with a lavish Victorian design. It is one of the best casual restaurants in Galveston and appeals to visitors for its relaxed vibes and delicious menu.
We recommend going to Miller's for breakfast and trying out their mighty Moby Dick which is a platter consisting of stacks of fluffy pancakes, crisp bacon, eggs, and hash browns for a complete breakfast.
For lunch and dinner, they serve fresh and delicious gumbo, po-boys, burgers, steaks, and fried chicken along with a variety of seafood and cocktails.
Highlights:
Best casual dining spot in Galveston.
Lovely breakfast spread.
A large variety of American favorites.
Mosquito Café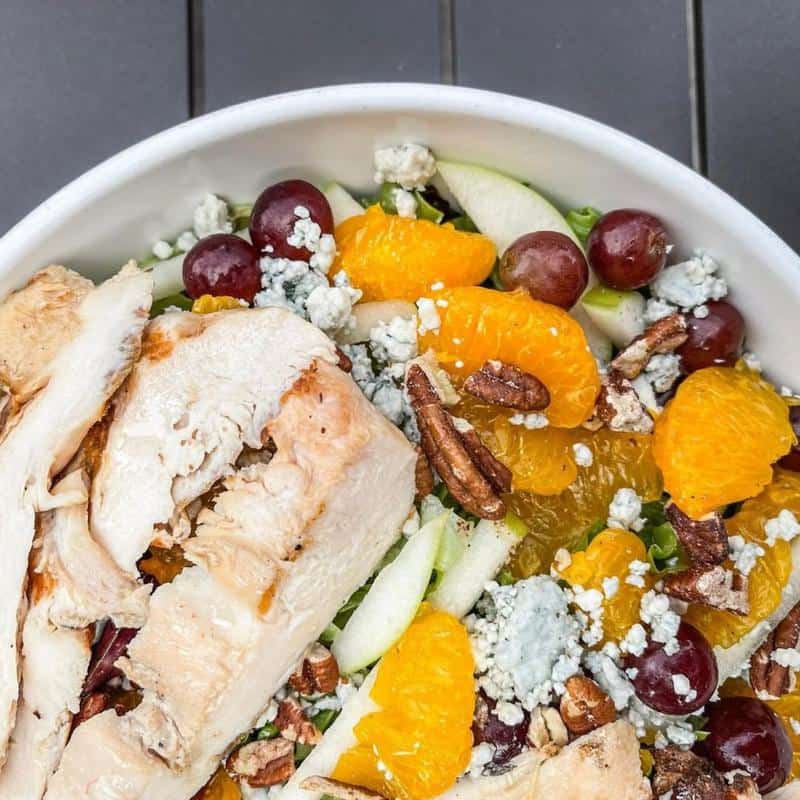 Location: 628 14th St, Galveston, TX 77550
While the name may not sound so tempting, Mosquito Cafe runs on the motto 'one bite is all it takes,' which pretty much explains the name and the concept of the café. It is located in the historic district of Galveston within a remodeled 1870s building.
The café is truly a hidden gem on the island and a local's favorite, especially for its scrumptious breakfast variety.
Start your day the right way with mighty portions of the 'Mosquito Benedict'. It is loaded with typical eggs Benedict with sautéed shrimp, sun-dried tomatoes, mushrooms, fresh asparagus, and artichoke hearts.
There's also a 'Nancy Bet-C' which has poached eggs, peppered bacon, melted cheese, and roasted tomatoes stuffed in a toasted and buttered croissant.
Apart from standard American lunch and dinner, visitors also like to stop by for a midday snack of Warm Goat Cheese Medallions and Pecan Crusted Brie.
Highlights:
Casual and laidback ambiance.
Great location in historic Galveston building.
Wonderful breakfast spread.
Trattoria La Vigna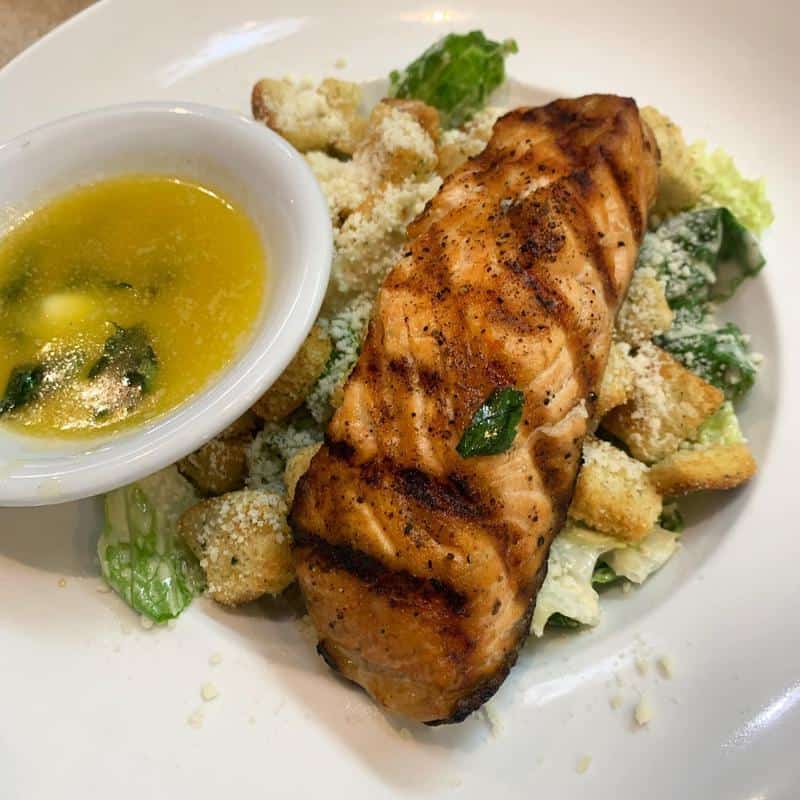 Location: 412 20th St, Galveston, TX 77550
Get a taste of Italy right at home in the heart of the historic downtown district at Trattoria La Vigna. The restaurant does its best to bring you the right ambiance and taste so that you are transported to the quaint streets of Italy as soon as you step inside and get a whiff of their food.
The authentic Italian eatery serves traditional Italian fare with springy and slurpy homemade pasta, lunch specials, and Italian desserts to die for. We love the charming contemporary look of the eatery with a warm and welcoming ambiance.
While some dishes are consistent on the menu, there are seasonal delights available as well and a good variety of seafood. Try their Spaghetti alla Contadina, Ravioli di Pesca and Spiendini di Gamberi Alla Griglia, or 'lighter bites' of Italian sausage, grilled caprice Panini, or peppers Panini with a goblet of wine.
Highlights:
Charming Italian eatery.
Great location in downtown.
Italian and Mediterranean cuisine with seasonal delights.
Vargas Cut and Catch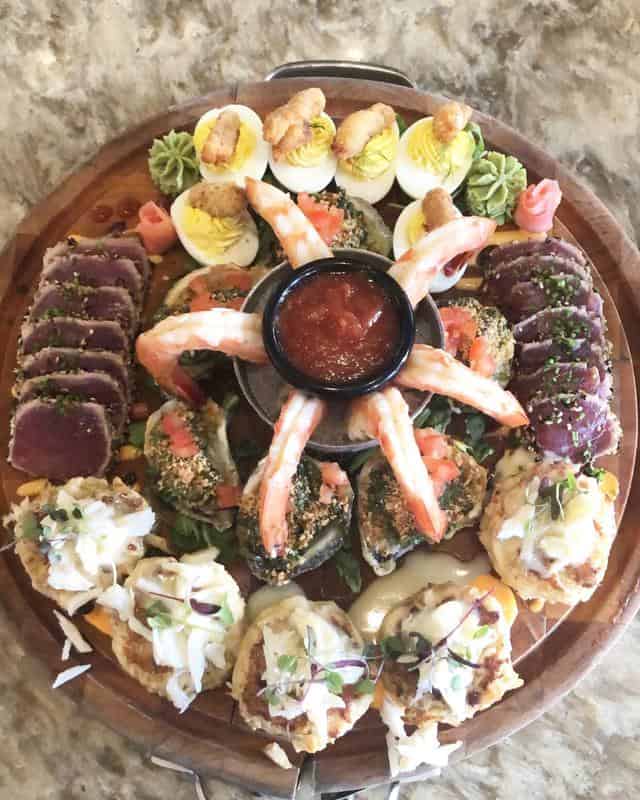 Location: 2102 Postoffice St, Galveston, TX 77550
If you've had a little too much seafood and looking to mix it up with prime steaks and a full-service bar, try Vargas Cut and Catch.
The modern steakhouse is known for its juicy and succulent USDA Prime Steaks. Food is served in a classy, chic environment, ideal for dates and business meetings.
The restaurant entertains guests in proper attire for a formal evening filled with delicious entrees and specialty hand-crafted cocktails. They also have a happy hour exclusive food menu.
Their specialty is Wagyu Steaks and they also serve fresh seasonal seafood. The perfectly cooked fillet steaks and wedge salads go great together. Satiate your carnivore cravings with a side of your favorite wine or cocktails.
Highlights:
Sophisticated steakhouse requiring formal attire.
Famous for their USDA prime steaks.
Extensive selection of wine and handcrafted cocktails.
BLVD Seafood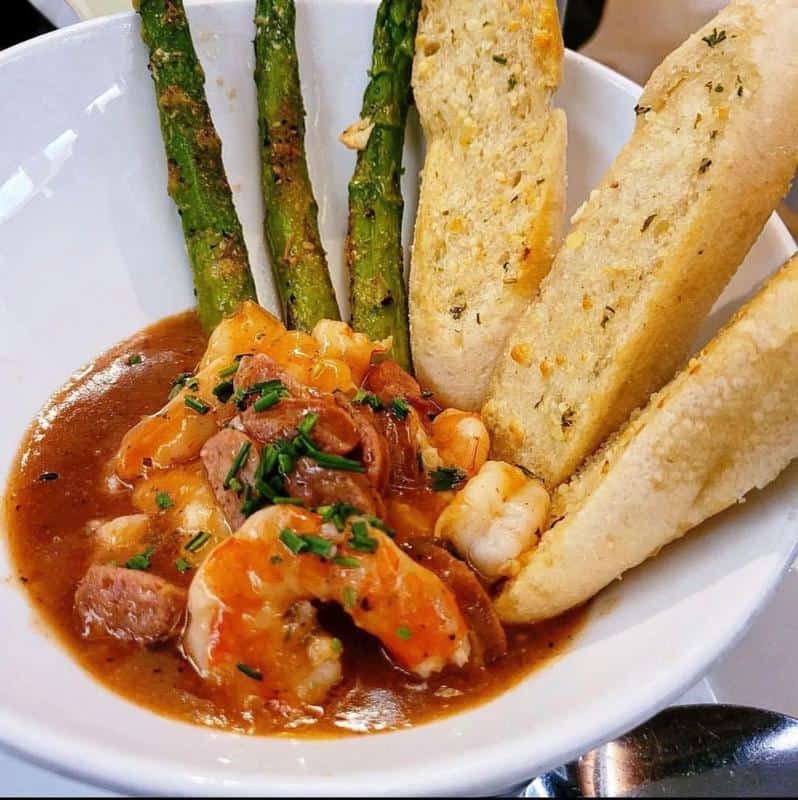 Location: 2804 Avenue R 1/2, Galveston, TX 77550
The casual and relaxed atmosphere of BLVD Seafood invites you to indulge in delicious seafood with family and friends with the best hospitality Galveston has to offer.
The fresh caught Gulf delights are matched with a modern yet unpretentious ambiance so you can relax and enjoy your food. They serve brunch, lunch and dinner, and there is a huge variety to choose from. Locals love the succulent crab cakes, char grilled oysters, seawall scallops, and tuna pole bowls.
If you are looking for healthier options, they have a huge variety of salads and grilled seafood delights. Besides seafood, they also serve hand cut steak, chicken and pork chops.
Highlights:
Casual and easygoing ambiance.
Fresh seafood.
Cozy and relaxed restaurant.
Fisherman's Wharf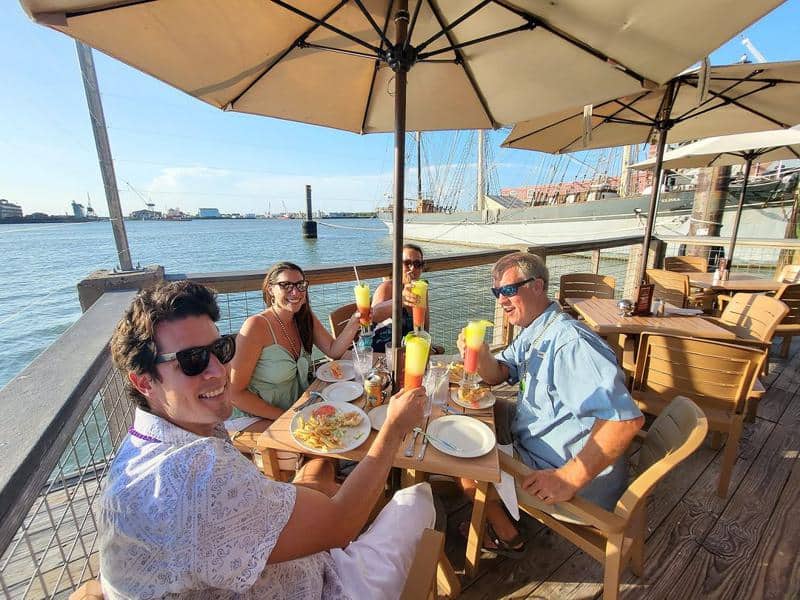 Location: 2200 Harborside Dr, Galveston, TX 77550
Get the best of Galveston with stunning views and amazing food at Fisherman's Wharf. With a prime location along the Strand, the restaurant opens up to the serene harbor and you can also spot the tall ship Elissa while sipping on cocktails.
Open for lunch and dinner, the resultant has a wide variety of fresh seafood. From tasty Shrimp Kisses giving you the perfect pop of jalapeño to the indulgent fresh oysters and lobster bisque, everything is made to perfection.
The resultant also has happy hour specials in the evening where you can enjoy your favorite drinks paired with lovely views.
Highlights:
Beautiful harbor views.
Causal and relaxed ambiance.
Fresh seafood and happy hour specials.
Yamato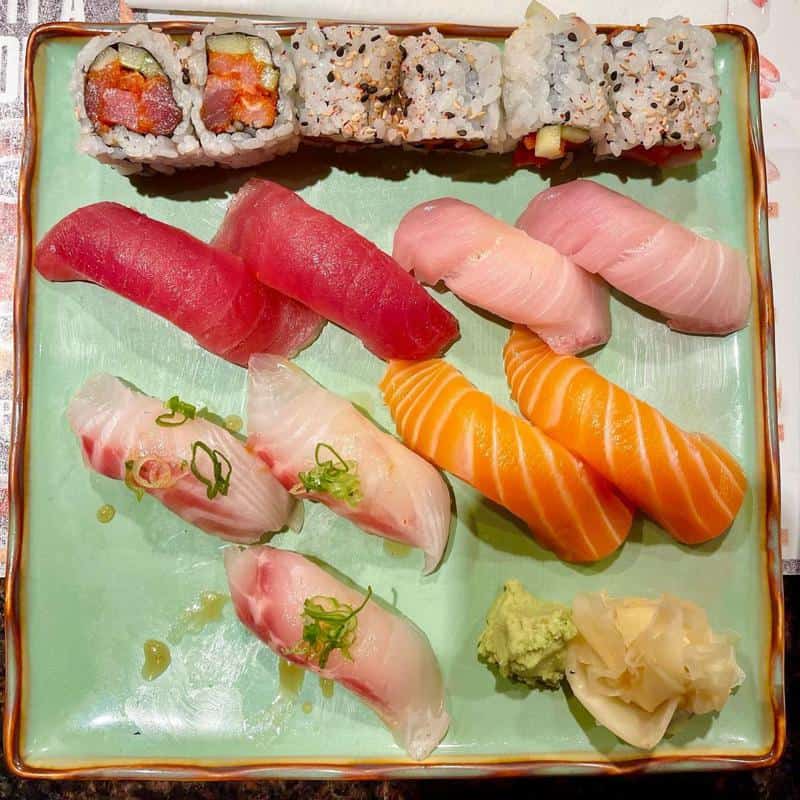 Location: 2104 61st St, Galveston, TX 77551
If you are looking for hibachi and sushi options, head to Yamato, a Japanese restaurant serving the humble Galveston community for over 30 years.
The family-owned restaurant maintains the highest standards when it comes to authentic and traditional Japanese cuisines.
The hibachi dinner menu is amazing, and the sushi entrees consist of artistic preparations as well as original rolls to satiate your cravings. Apart from the signature sushi prepared the traditional Japanese way, they also have seasonal delights with various seafood varieties.
Moving away from their huge selection of sushi, they also serve teriyaki salmon, steaks, and soft shell crab. Finish off your meals with the famous fried green tea ice cream that you are guaranteed to find only here!
Highlights:
Highly popular Japanese restaurant in Galveston.
Casual dining experience.
Huge range of sushi rolls and hibachi dinner.
The Original Mexican Café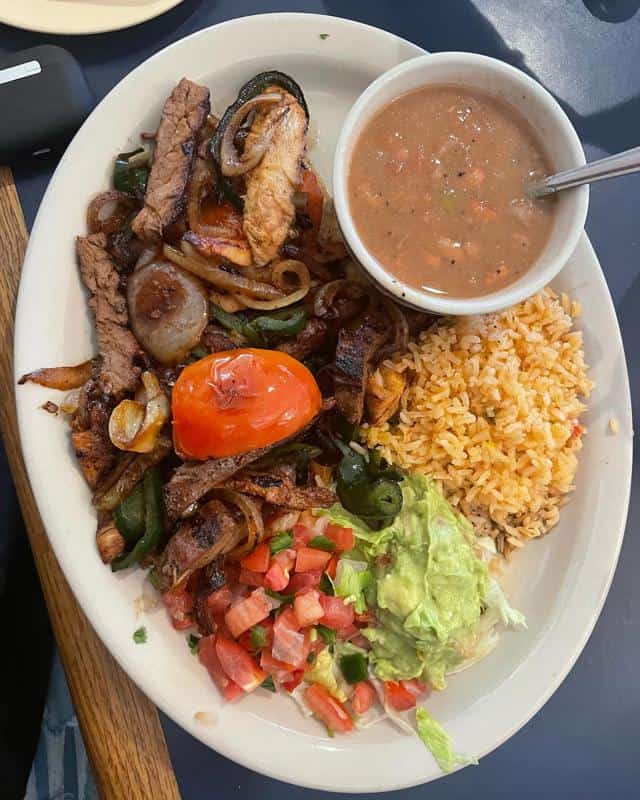 Location: 1401 Market St, Galveston, TX 77550
Craving authentic Mexican food?
The Original Mexican Cafe is one of the best Mexican restaurants in Galveston that's guaranteed to satiate your cravings. It is also one of the oldest running restaurants in Galveston dating back to 1916.
The restaurant takes pride in its home-cooked meals meticulously prepared to bring you traditional Mexican flavors with a comforting, warm and welcoming ambiance.
As one of the true classics, locals love their lunch and dinner menus. Start with the good old nachos or try one of their combo plates which offer a bit of everything.
Their 'Menudo' beef trip and hominy soup are also quite famous, as well as enchiladas, sopapillas, flan, and tes leches.
Highlights:
Authentic Mexican fare.
Oldest restaurant in Galveston.
Huge variety on the menu.
Mama Teresa's Flying Pizza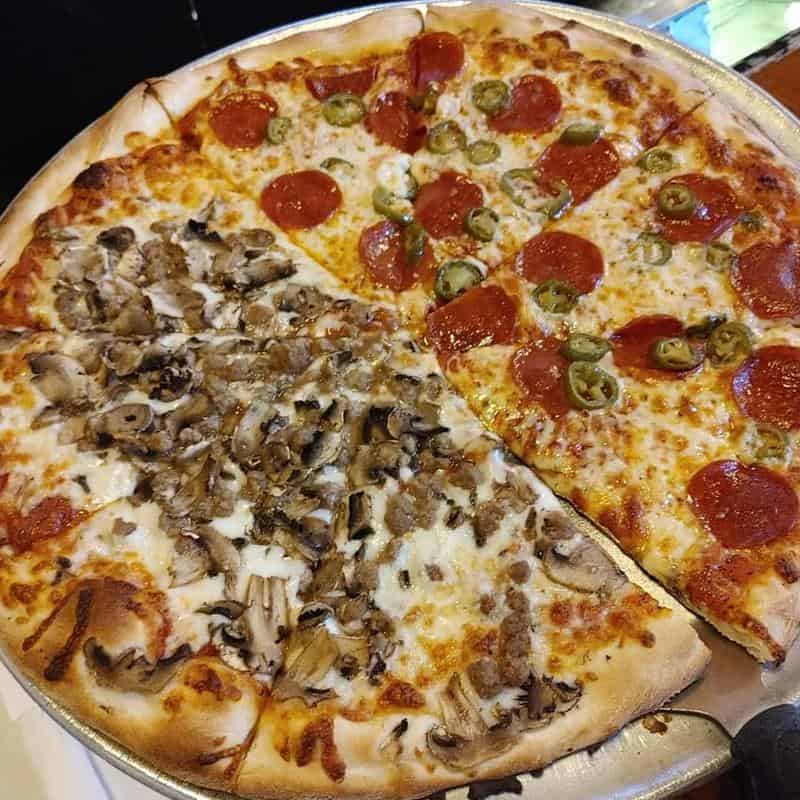 Location: 416 21st St, Galveston, TX 77550
We are finishing off strong with a casual and friendly spot near downtown – Mama Teresa's Flying Pizza.
Boasting a relaxed casual dining experience with a large variety of pizzas drenched in cheese and bursting with flavors, this pizzeria is quite famous for its food and prime location. It is easily accessible from one of the downtown dive bars and you can also catch a cruise after a quick bite here.
Apart from standard pizza varieties, they also have unique concoctions like Cattleman's pizza topped with bacon and chicken in barbecue sauce, or the delicious Texan snapper parmigiana loaded with Mexican goodness.
Highlights:
Causal and laidback pizzeria.
Great variety.
Good location at walking distance from cruise ships and dive bars.
Read More:
Conclusion
The beautiful island of Galveston brings fresh produce, amazing views, and dedicated hospitality.
Whether you want a formal fine dining experience with an alluring setup and wine or a laidback and casual get-together with friends over scrumptious and hearty portions, you will find everything you are looking for right here!