The beautiful city of Hickory overlooks the mesmeric Blue Ridge Mountains, attracting visitors to explore its diverse landscapes and indulge in delicious cuisines. The classic North Carolina hospitality further adds to the allure of this charming destination.
You will find a huge variety of restaurants in the city, ranging from cuisines to general ambiance. The downtown area, in particular, boasts a vibrant food scene with mouth-watering dining options.
Visit one of the best restaurants in Hickory on our list, and rest assured that you won't be disappointed.
Best Overall Restaurant: Olde Hickory Station
Best Fine Dining Restaurant: Vintage House
Best Affordable Restaurant: Notions
Best Restaurants in Hickory NC
Olde Hickory Station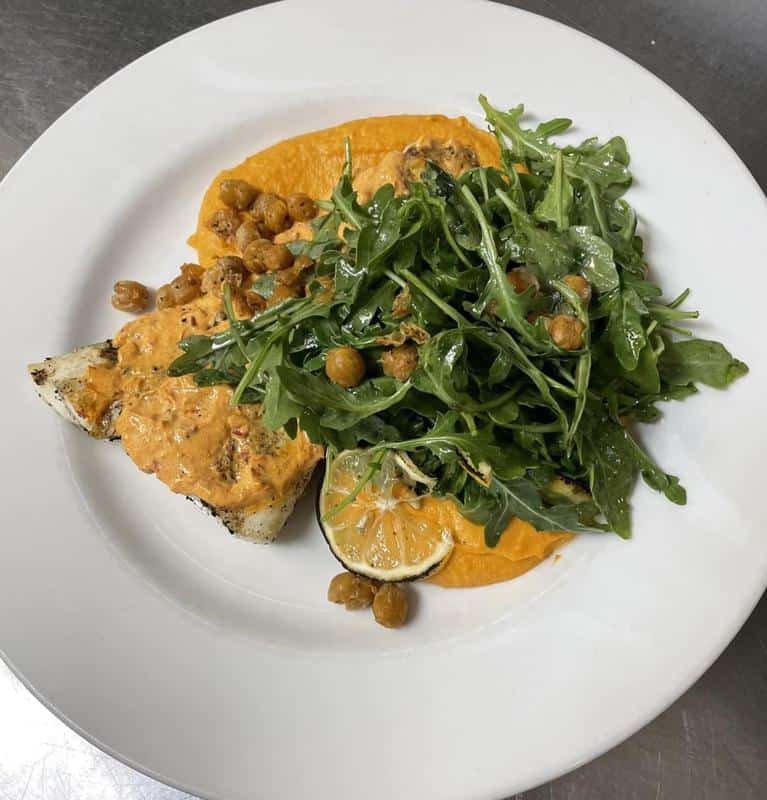 Address: 232 Government Ave SW, Hickory, NC 28602
Known for: Hearty American fare with a full-service bar and handcrafted cocktails.
The Olde Hickory Station is a renowned train station in the heart of Downtown Hickory. It is restored to serve as a restaurant offering hearty American treats with classic staples and seasonal offerings.
Holding the award of Tripadvisor's Travelers' Choice 2021, the restaurant also has an in-house bakery loaded with home-baked goods and desserts, and a full-service bar serving over 50 beers and ciders. Take Wines by the Glass from the extensive wine list, or enjoy a handcrafted cocktail with your meals.
Entrees include Chimichurri Ribeye, Grilled Halibut, Char-Grilled Rack of Lamb, Creole Shrimp and Grits, and Grilled Pork Tenderloins. For casual dining, try one of their signature pizzas or a House Smoked Beef Brisket.
Vintage House Restaurant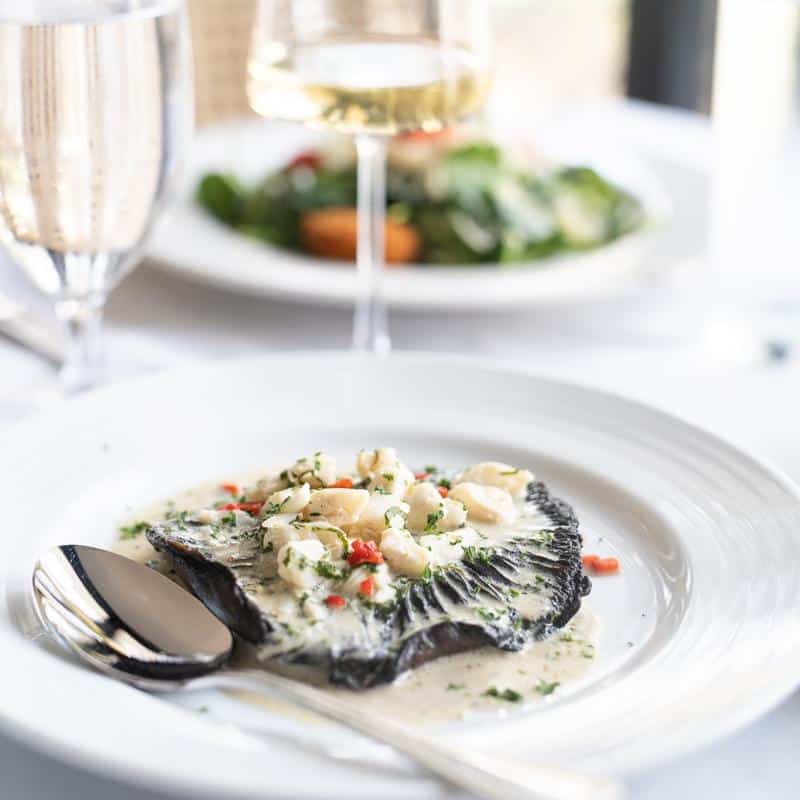 Address: 271 3rd Ave NW, Hickory, NC 28601
Known for: Refined fine dining with elevated New American fare.
The dreamy and imperial Vintage House is a fine dining restaurant exuding a refined ambiance and a polished bistro-style service. The restaurant is located within the historic Abernathy House of 1915, making one feel like royalty as soon as they step inside.
The restaurant serves elevated American fare in a huge variety alongside its world-class wine list. Try the Grilled Portobello Mushroom topped with lump crabmeat in a divine lemon herb butter finish or a delicious Butternut Squash Ravioli from their Small Plates menu.
The best dishes on the Entrée include a juicy Rack of Lamb with an herb-crusted finish, Grilled New York Strip, and Grilled Beef Tournedos.
Notions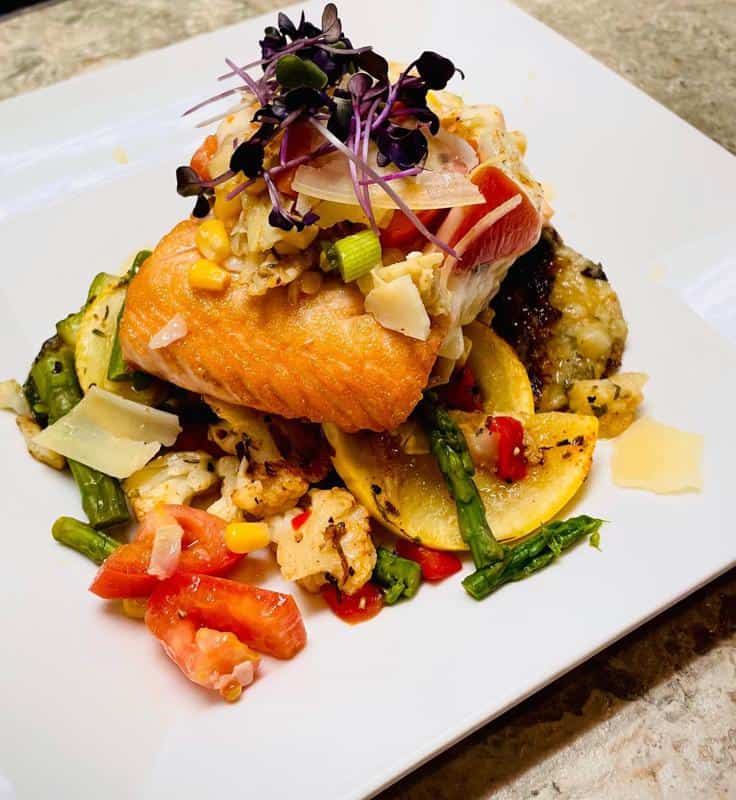 Address: 206 Union Square NW, Hickory, NC 28601
Known for: Shareable plates, craft cocktails, and weekend brunch with bottomless mimosas.
Located in Union Square, Notions attracts a lot of crowds with its warm and inviting ambiance and shared plates of delicious food. Their Charcuterie Board is ideal for large groups, and the craft cocktails gel in beautifully with the high-end and fun atmosphere.
The shareable menu has Meatballs, Pimento Cheese, Ahi Tuna, Sliders, and Tempura Cauliflower with creamy sriracha and Thai chili. Dinner additions include delicious Mediterranean Salmon, Braised Beef Short Ribs, and Chefs Vegetarian Creation.
Stop by for weekend brunch with classic breakfast stapes, bottomless mimosas, and a Bloody Mary bar.
Boca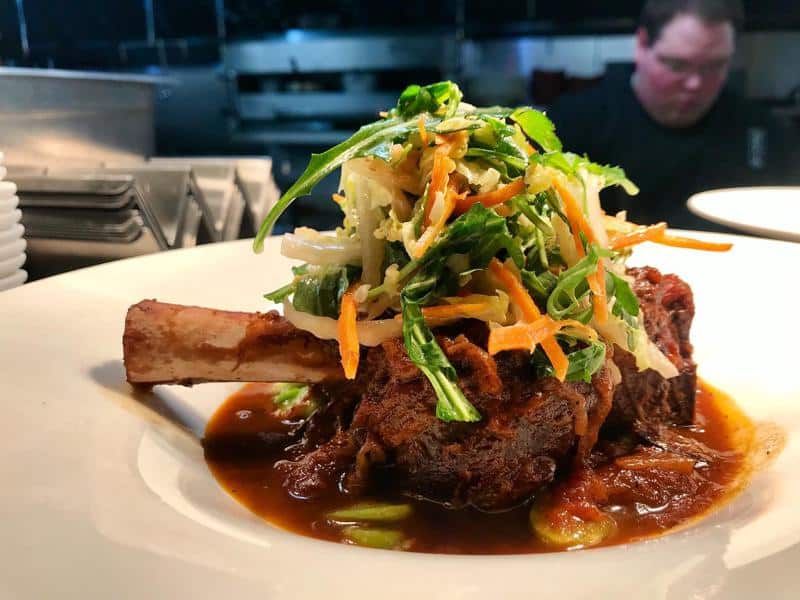 Address: 74 8th St SE Suite 108, Hickory, NC 28602
Known for: Delicious range of Spanish, Mediterranean, and Moroccan cuisine.
The classy and contemporary Boca is one of the top restaurants in Hickory. Known for its refined ambiance and delicious Spanish, Moroccan, and Mediterranean-style tapas, the restaurant is best for enjoying traditional home-style meals with family and friends.
Meat lovers will especially love this place for its range of Moroccan meat-based dishes like the succulent Braised Moroccan Lamb Shank served with shaved fennel, carrots, fava beans, and a rich house-made tzatziki glaze.
For a Spanish treat, try their Classic Paella made with clams, shrimp, chicken, chorizo, and an assortment of vegetables on a fragrant saffron rice bed served in a traditional paella pan. Enjoy your food with a drink from their bar on the patio.
Olde Hickory Tap Room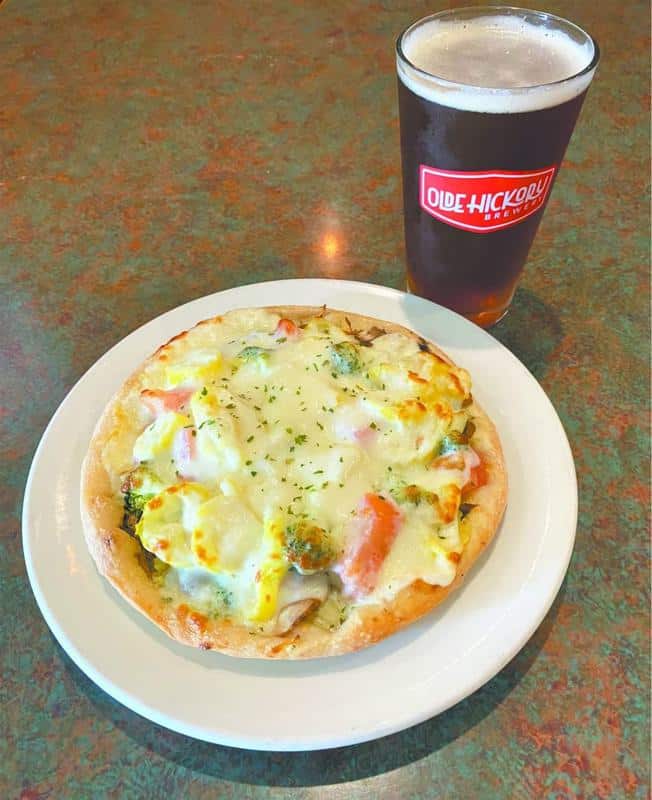 Address: 222 Union Square NW, Hickory, NC 28601
Known for: Lively American restaurant with locally brewed beer and comfort food.
The independent and locally-owned Olde Hickory Tap Room is a rustic restaurant serving comfort American food with locally brewed beer and a full bar. Locals love the place for its laidback ambiance in a warm setting with a wooden backdrop and live music.
Some of the highly popular items on their food and drinks menu include Fish and Chips and late-night pizzas with the side of a chilled craft beer. If you wish to enjoy sampler drinks, get some munch-able items along with it like the juicy Fried Chicken Tenders, Buffalo wings, and Pub Chips.
They also serve a variety of Burgers and Sandwiches, and their Signature Pizzas include Maui, Cordon Blue, Old Hickory Special, and BBQ Chicken.
FOURK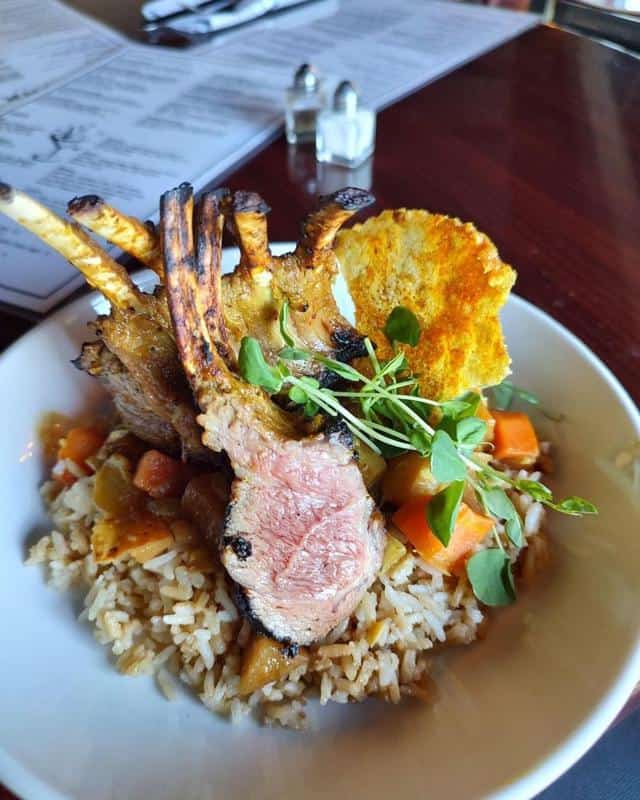 Address: 1410 4th St Dr NW, Hickory, NC 28601
Known for: Refined American cuisine in a laidback atmosphere.
The stylish and contemporary Fourk is a chic neighborhood eatery with an upbeat ambiance and refined layout. The restaurant serves new American cuisine in a light-hearted atmosphere with music and private dining.
The unique quality of Fourk is that it makes fine dining a casual affair by pairing elevated dishes with comfortable surroundings. Each dish is presented with a twist of creative flavors and seasoning.
Try their melt-in-your-mouth Curried Lamb slow-cooked to perfection and drizzled with yellow curry on a bed of rice and curried vegetables with a delectable charred grill taste. Another must-try item on their menu is the Honey-Chipotle Salmon with whipped Yukon gold potatoes and asparagus.
Carrabba's Italian Grill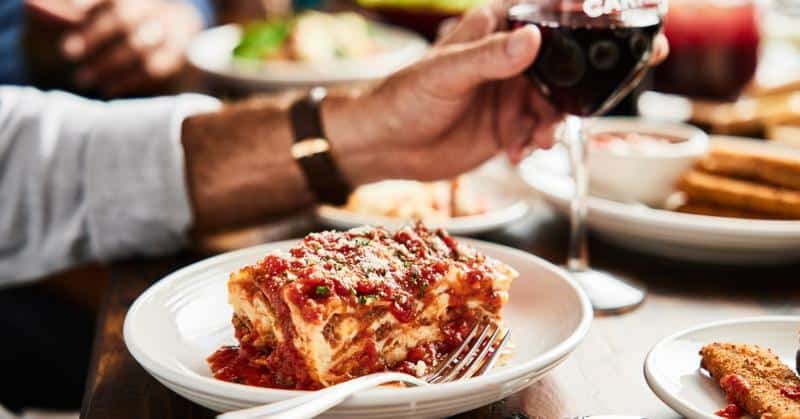 Address: 1954 13th Ave Dr SE, Hickory, NC 28602
Known for: Classy family-friendly restaurant and bar with traditional Italian fare.
Serving authentic Italian cuisine in a family-friendly space, Carrabba's Italian Grill serves the best lasagna in town. The contemporary atmosphere welcomes you to indulge in inspired dishes passed down from the founder's family recipes and cooked in a lively exhibition kitchen.
The signature dishes include Wood-Fire Grilled Steak, Pollo Rosa Maria, and Chicken Bryan, but we urge you to try their indulgent and cheesy Lasagna. Layered with the classic pomodoro sauce and meat sauce, the dish is loaded with ricotta, romano, parmesan, and mozzarella cheese.
Pair your meals with a variety of hand-crafted cocktails including the newly introduced Watermelon Basil Lemonade containing Tito's handmade vodka, watermelon puree, house-made basil syrup, and lemonade.
UMI Japanese Restaurant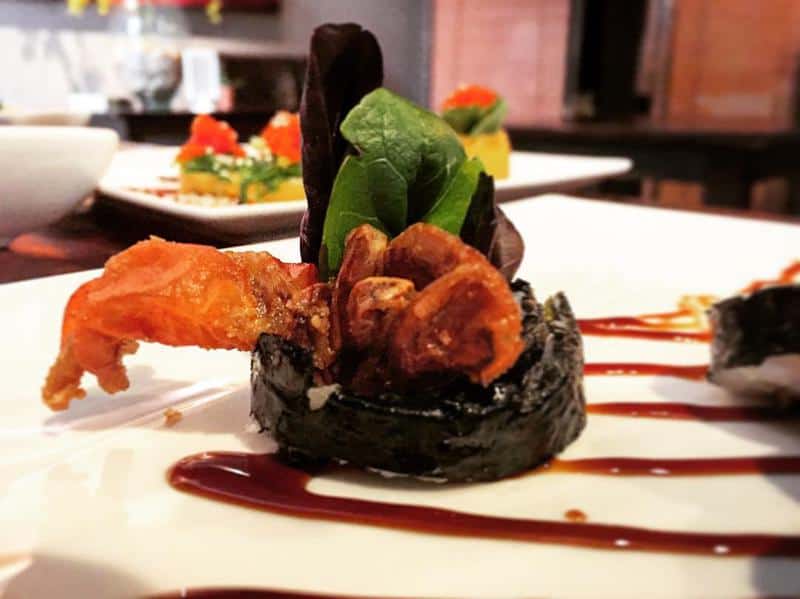 Address: 40 Cloninger Mill Rd NE, Hickory, NC 28601
Known for: Authentic Japanese cuisines in a laidback ambiance.
The humble and laidback UMI serves authentic Japanese cuisine with traditional tastes and flavors. The locally owned restaurant serves consistently good food with fresh and locally sourced ingredients.
The unpretentious layout invites you to unwind and relax in a homey atmosphere with a mouth-watering range of Japanese cuisine. For quick lunches, get their tastefully decorated and colorful bento boxes, or have a proper feast with a range of tempura, curry, and sashimi dinner platters.
The menu includes both standard and specialty sushi rolls, and the top-selling ones include Dragon and Rainbow rolls. Pair your meals with traditional sake or wine.
Also Read: Best Sushi Restaurants in Charlotte, NC
Da Vinci's Italian Restaurant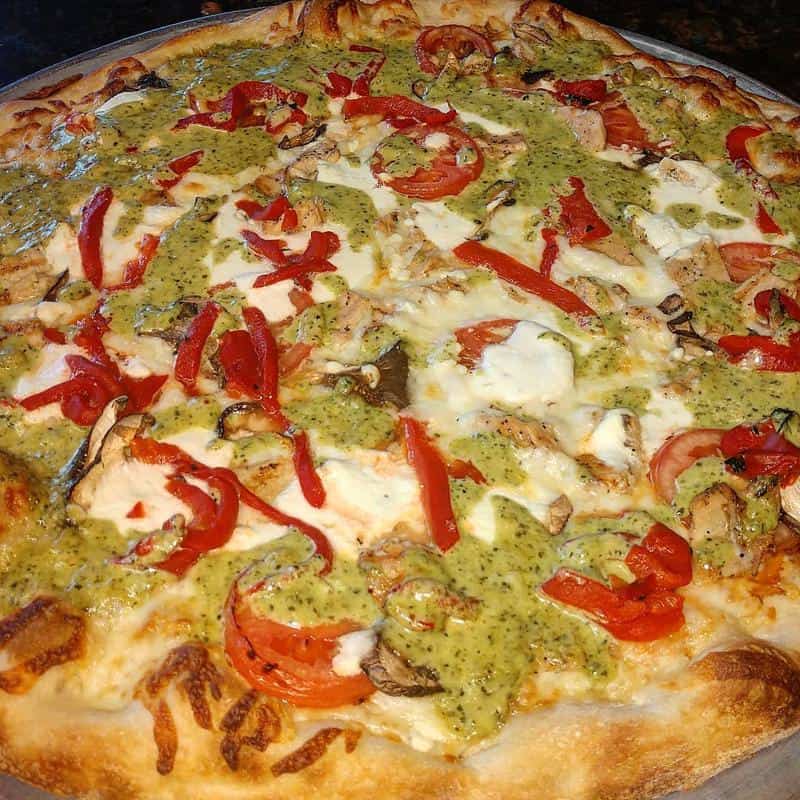 Address: 2968 N Center St, Hickory, NC 28601
Known for: Refined Italian fare with delicious pizzas and pasta.
The rustic and delicious Da Vinci's is an authentic Italian restaurant with the best pizza in town. The ambiance is refined yet laidback, giving you an intimate experience to enjoy your meals in friendly surroundings.
They also have a separate bar area with classic Italian dishes like meat and pasta entrees for a formal dining experience. Start with a classy Bruschetta Pomodoro appetizer, and have your pick of Pasta, Seafood, Steak, or Chicken.
For seafood lovers, the Ravioli Rockefeller is a treat for the senses. It comes loaded with jumbo shrimp, wild mushrooms, spinach, cherry tomatoes, red peppers, and bacon on lobster ravioli with pink plum sauce.
Duke's Restaurant and Wine Bar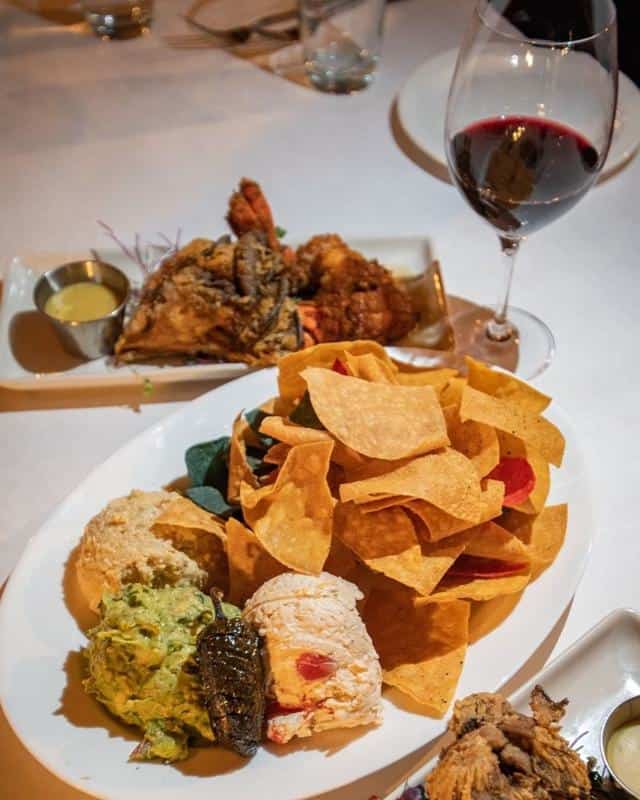 Address: 335 Main Ave SW Suite B, Hickory, NC 28602
Known for: Elevated farm-to-table dishes with live jazz music.
The classy Duke's wine bar and restaurant is a lovely spot for family and friends to gather over elevated American fare and drinks. The restaurant has a simple yet stylish layout with a welcoming ambiance heightened with live jazz music to lighten the mood.
They have a huge variety in their food and drinks menu with shareable delights like Crab Artichoke Skillet, Escargot Empanada, and Southern Fried Duck.
If you are in the mood for a bit more meat, try some farm-to-table dishes like the Prime Strip Loin, Heritage Pork Chop, or a juicy Roasted Rack of Lamb with braised cabbage and caramelized onions.
For healthier options, try their 'Salad Pizzas'. With a selection of seafood or beef varieties, the salad pizzas include Kale, Spinach, Arugula, and Romaine.
Hatch Sandwich Bar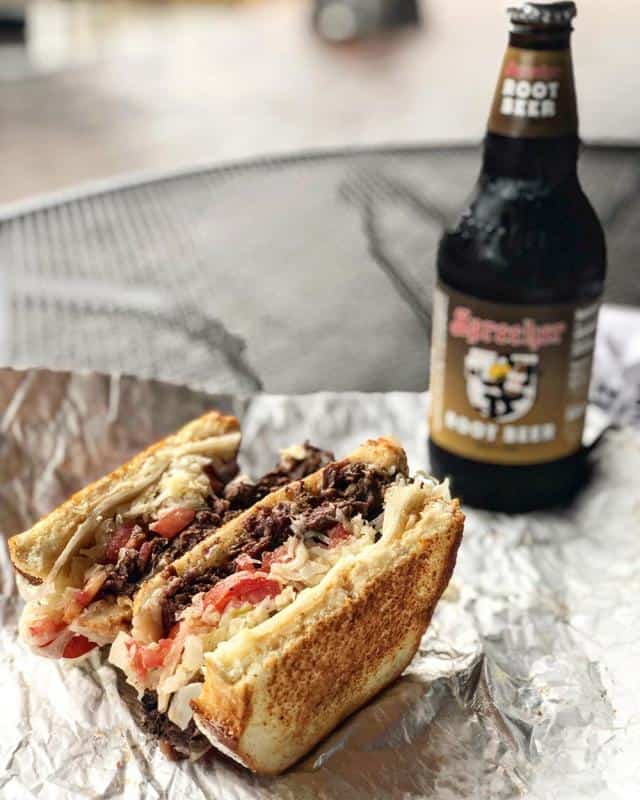 Address: 268 1st Ave NW, Hickory, NC 28601
Known for: Locally owned spot with appetizing sandwiches and beer.
The beloved Hatch Sandwich Bar is a local's favorite spot with a laidback atmosphere and friendly crowd. Kick back and relax with some sandwiches and beer on your lunch break while enjoying the cool vibes of the place.
The restaurant is locally owned and quite famous for its breakfast/brunch and lunch menu. It serves a variety of sandwiches with daily specials, burgers, and salads.
Try the Pork Belly BLT, Corned Beef, Broccoli Cheddar Melt, or even a simple Grilled Cheese, and you will be surprised by the burst of flavors in your mouth!
Charlie Graingers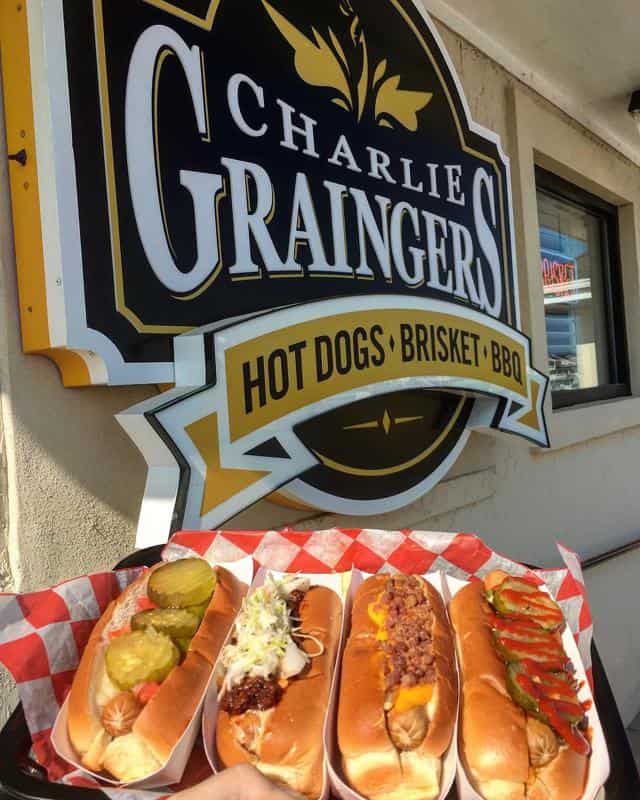 Address: 2450 N Center St, Hickory, NC 28601
Known for: Tasty American treats including hot dogs, briskets, and barbecue.
Paying homage to the accomplished musician, Charlie Grangers is a hip spot in Hickory serving casual fare in a relaxed atmosphere. The restaurant is only open for lunch and serves an array of classic American dishes.
Made with the freshest ingredients and delectable flavors, they offer a range of hot dogs, barbecue, brisket, and snacks. The nostalgic atmosphere is reminiscent of an old-school diner with rustic furnishing and high chairs.
Enjoy the friendly service with your favorite comfort food for an unwinding lunch break.
Backstreets Bar and Grill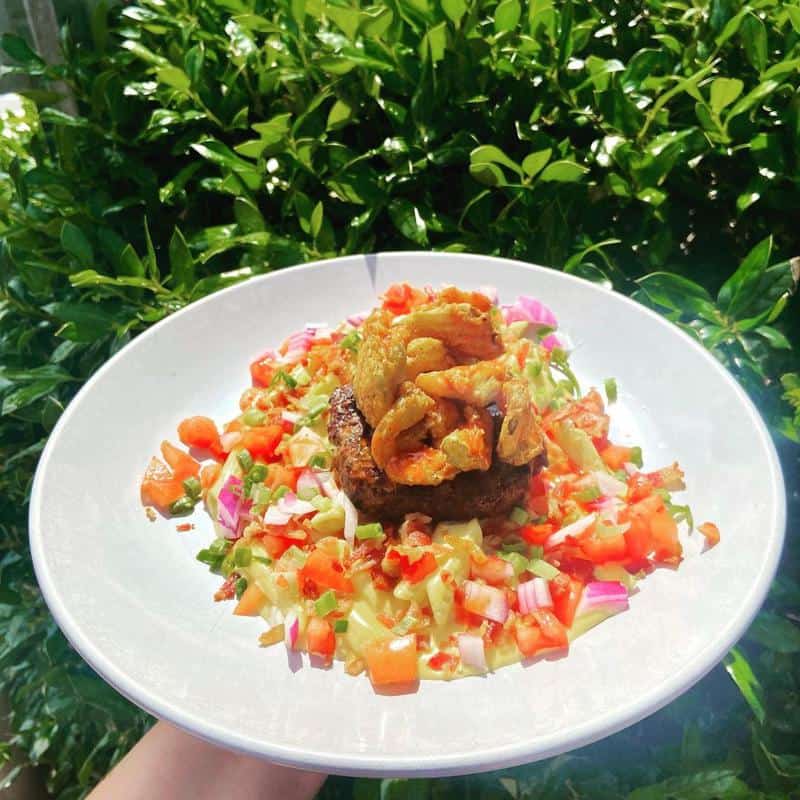 Address: 246 14th Ave NE, Hickory, NC 28601
Known for: Delicious American comfort food and entertainment options.
Backstreet's back, all right!
Well, it never left. Backstreets is a well-known and loved spot in Hickory, and locals love to gather here over some good food, karaoke nights, live music, watching sports and throwing some darts.
The sleek and unpretentious restaurant offers a unique ambiance and a complimentary limousine service to their bar with extensive liquor and beer selection. Besides great food and drinks, the entertainment value of the spot keeps the guest pouring in.
From their menu, try the Regular bison Patty over Mac n' Cheese, the "Almost Famous" Reuben, and the good-old hand-tossed NY-style pizza.
Nearby Eats:
Conclusion
The multitude of dining options in Hickory is sure to satiate everyone's craving. Whether you wish for an intimate setting with elevated meals or a friendly atmosphere with locals, you will find your heart's (and stomach's) desire on our list.
Map of Best Restaurants in Hickory NC