In the heart of New Jersey, you can find the original home to the Ford Motor Company, from way back in the 1920s and early 1930s. That spot is located in Edgewater, NJ, bringing some notoriety to the city for that alone.
Whether you're passing through, staying in this sweet town, or just looking for new ideas, there are a lot of great things to enjoy while you're here. From tasty foods to enjoyable activities, you can have a great time.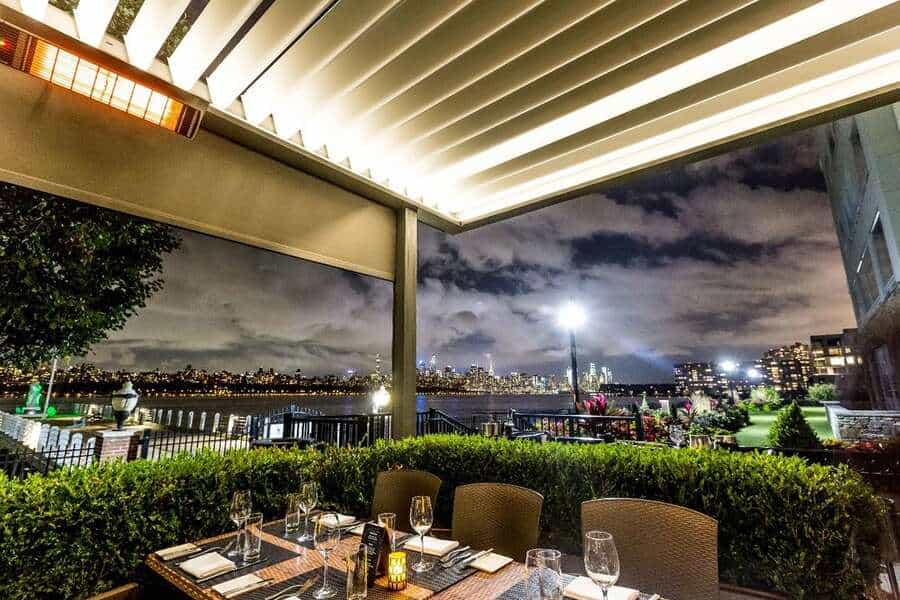 Finding restaurants can often be a challenge. It's not usually the lack of options, but more not knowing where to look to find the best options. After all, what if those reviews are all fake? It's certainly a possibility, but you can often tell.
We've taken the liberty of sorting through the restaurants of Edgewater, NJ and finding you the very best. Take a look at these, and give some a try!
12 Best Restaurants in Edgewater, NJ
Don't worry about sifting through the data and finding the best. We've already done that for you! Check out these delicious stops.
1. The River Palm Terrace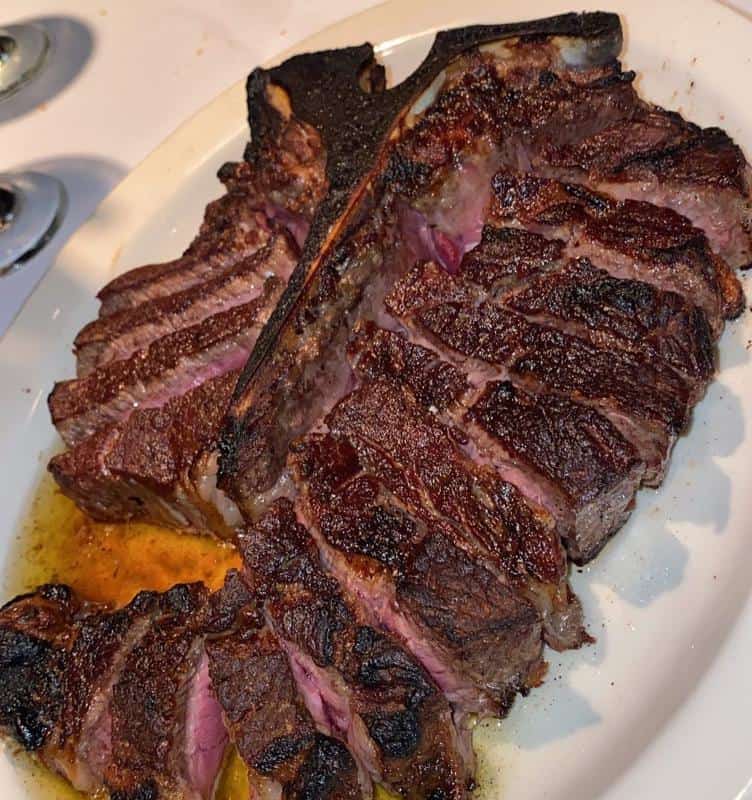 Address: 1416 River Rd
Phone: 201-224-2013
Known For: Amazing steaks
If you're looking for something a bit upscale, don't pass up the River Palm Terrace. This is a high-priced restaurant, but every bit of food will be well worth what you pay.
The River Palm Terrace is known for having excellent steak and seafood options. They also have a large wine list to pair with your delicious meal. You will leave stuffed and totally satisfied.
You won't any steak as great in the county. It's a chophouse with exceptional options. This restaurant has been serving for close to 40 years, and they're said to have the finest prime beef you will find.
They are all about quality, from food to service. Their wait staff is distinguished and professional as well. Every piece of beef is hand selected to bring you the ultimate best to enjoy. In addition, their seafood is also phenomenal.
Finally, The River Palm Terrace has even been voted Best Steakhouse and Best Seafood in New Jersey, multiple times running.
2. Haven Riverfront Restaurant and Bar
Address: 2 Main St
Phone: 201-943-1900
Known For: phenomenal views
At Haven Riverfront Restaurant and Bar, it's not just a meal but a full experience. From stunning views to delicious foods and service, you simply can't go wrong. You will be impressed from start to finish.
This is another more expensive restaurant, but it's sure to be a success if you give them a try. The views are stunning here, thanks to patio seating, and a gorgeous skylight that brings you natural light.
In addition, you're right on the riverfront, and it just doesn't get better than that. The Manhattan skyline is undeniably gorgeous from this perspective. In fact, the restaurant was listed as one of the world's 16 most spectacular waterfront restaurants, according to Architectural Digest.
They were also rated as very good by New York Times, and given the top ratings from NJ Monthly Magazine, catching plenty of press. Their head chef is exceptional at what he does, and it shows.
3. Fleming's Prime Steakhouse & Wine Bar
Address: 90 The Promenade
Phone: 201-313-9463
Known For: classic seafood and steak
Step into total luxury and divine cuisine with Fleming's Prime Steakhouse and Wine Bar. The restaurant is exquisite with both food and service, which quickly explain the exceptional price tag you will find on the menu items.
The prime steak here is yet again exceptional, and you should pair it with a lobster tail for the total experience. They are great for celebrations, or just having a nice dinner together.
The views out the windows are astounding, with clear views of the Hudson River and the New York skyline too. This is a premium steak dining experience, but they also offer some plant-based options to choose from.
It's not just steak and seafood, you can also find sandwiches, soups, salads, and more. Flemings was first founded in 1998, in California. But they have quickly expanded into much more, making them what they are today.
4. The Yacht Club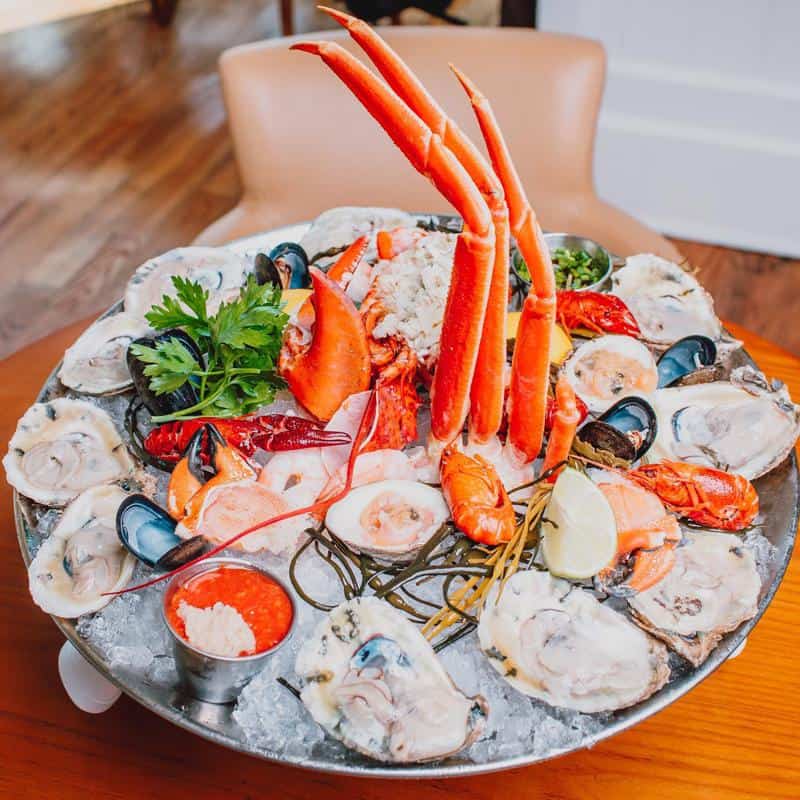 Address: 541 River Rd
Phone: 201-945-3300
Known For: dining on the water
If you want a dining experience practically on the Hudson River, check out the Yacht Club. Don't be fooled by the name either. Where you might be expecting a private, elite dining club that is outrageously expensive, this is not that.
The Yacht Club is actually more affordable than some of the other options we've shared so far here. You will dine right on the river, in a gorgeous bi-level restaurant setting.
The menu here is changing often, because they create many things on a seasonal basis. They also work to create menu items that use locally-sourced goods when possible. The seafood is all fresh and amazing.
Fresh fish comes in daily, but they have several different menu options to choose from so find what appeals to you.
5. Brownstone Pancake Factory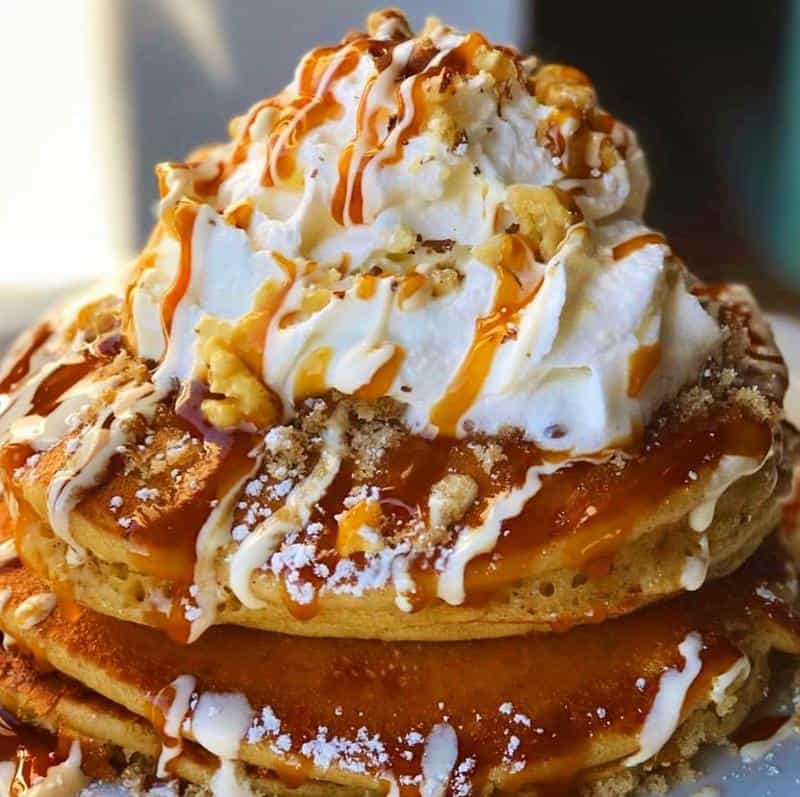 Address: 860 River Rd
Phone: 201-945-4800
Known For: pancakes for sure
There is nothing better than comforting breakfast foods, and Brownstone Pancake Factory brings you exactly that! They are all about the pancakes here, but they have plenty of other options to choose from too.
This restaurant was born from a family that loved food, and wanted to create a warm and welcoming environment that encompassed food and family. It's not been close to 50 years, and they continue to do just that.
They still refer to the creations of the original chef, who often comes in and offers guidance for the staff. Here, the guests become family, and your meal will be filling and delicious. From the beginning, they've remained committed to this philosophy.
Enjoy breakfast, brunch, or even a hearty snack.
6. Rebecca's
Address: 236 Old River Rd
Phone: 201-943-8808
Known For: Cuban & Caribbean
Rebecca's is a unique spot that you definitely won't want to miss. On a riverfront town that serves a lot of steak and seafood, they strive to serve a different menu here – and it's no less delicious.
Everything about Rebecca's speaks of fine dining, but you will find that it's a warm and welcoming environment for all. It's an affordable restaurant that wants to provide high-class meals to everyone who comes through the door.
The vibes of this restaurant are all foods designed from cultures across the Caribbean, Cuba, and parts of Central or South America. They work to keep everything fresh and new.
The ingredients are authentic, and sourced from the cultural areas that they represent. They strive to bring you new and exciting dishes packed with flavor and experience.
They have been successfully doing this for more than 20 years, and they have so much to offer.
7. Dino's Bar and Grill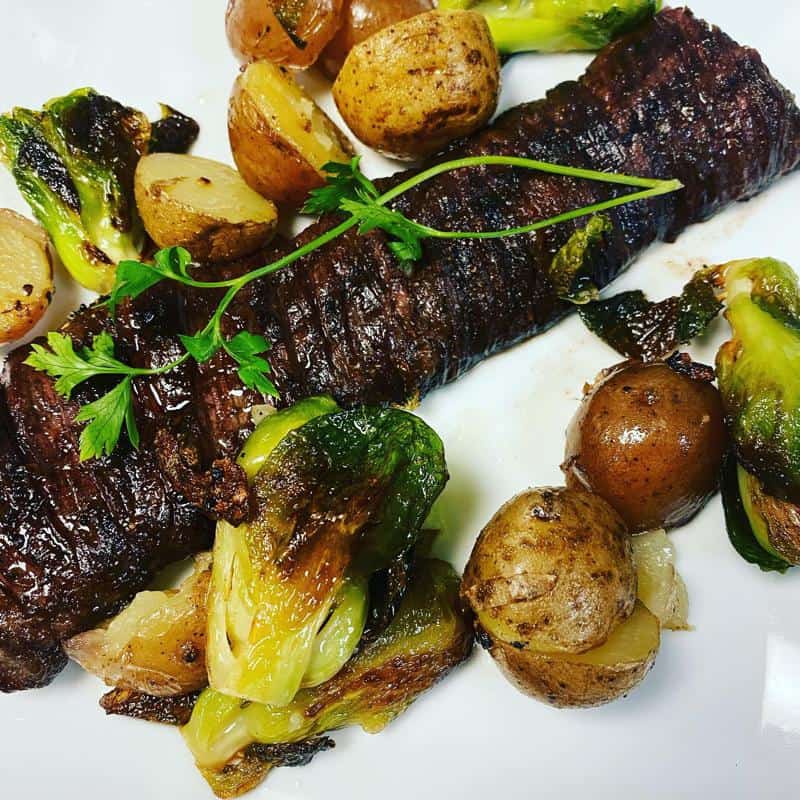 Address: 1466 River Rd
Phone: 201-224-6992
Known For: burgers and more
Not everything in Edgewater, NJ has to be fancy seafood fare, right? Dino's Bar and Grill brings us something a little bit different, but no less amazing.
This small pub restaurant is a bar and grill, known for serving delicious burgers and other American fare as well. They're an affordable location, with a warm and friendly atmosphere for all.
You step in, and you're greeted with welcoming smiles. The entire atmosphere is one that will make you feel right at home, even after you leave.
This nice eatery is family-owned and operated, which is perhaps some of the elements that lead to everyone feeling right at home. You can also enjoy TV, pool, darts, or other bar games while you're here.
8. Pier 115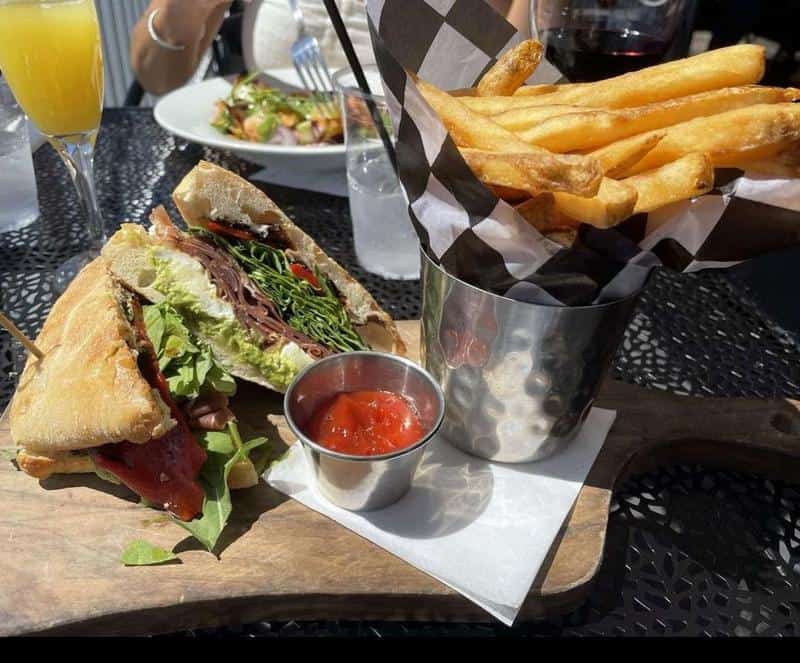 Address: 115 River Rd
Phone: 201-313-2155
Known For: woodfired pizza
Kick it down a notch with modern vibes at Pier 115. This sweet restaurant is a waterfront location, with a different atmosphere and design than many other waterfront stations. It's simple and yet stately in all the right ways.
The bar has a pier deck with outstanding views, but you really get views from any part of the restaurant. The food is modern American food, and it's all made fresh just for you.
They have plenty of space, and they allow reservations. This gives you endless opportunity to sit back with a small group, a couple, or maybe even a large family gathering. They've got some great sandwiches, burgers, and other delights to choose from.
You can't go wrong with anything. It's all unique and designed from scratch, with a modern twist.
9. Jack's Lobster Shack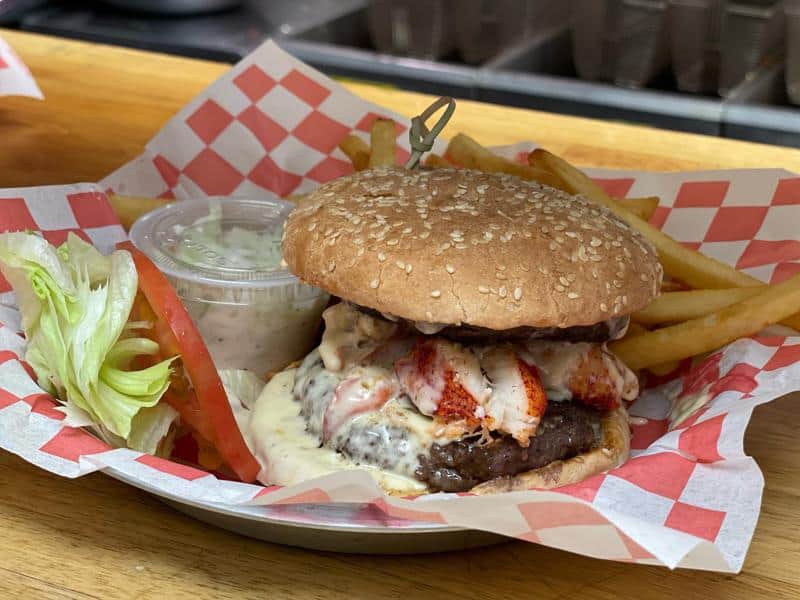 Address: 1040 River Rd
Phone: 201-224-2808
Known For: seafood sandwiches
Jack's Lobster Shack in Edgewater, NJ is not your everyday seafood restaurant. Sure, they have plenty of seafood options, but they are really known for their delicious seafood sandwiches. Plan to try one of those while you are here.
Their motto is "good things happen at Jack's. It's a low-key family-friendly spot packed with fun and laughter. And did we mention delicious food too? They have lobster in many dishes, hence their name.
They've got a lot of really great menu options, from appetizer to dessert. If you want the main event, sandwiches are where you should look. But you certainly are not required to eat a sandwich just because you are here.
It's a colorful spot, with unique architecture, and unique design elements.
10. Lulu's Lounge & Bistro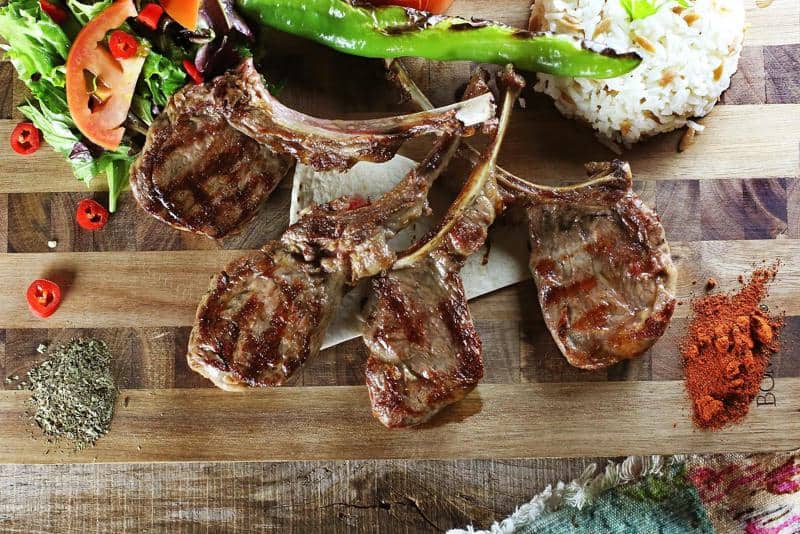 Address: 360 Old River Rd
Phone: 201-347-3571
Known For: Mediterranean inspiration
Lulu's Lounge & Bistro serves breakfast and lunch to the masses, bringing you delicious eats that you won't want to miss. The dishes take on delightful Greek and Mediterranean inspiration, and are delicious.
They strive to bring you a dining experience that you can remember, no matter when you sit in their dining room. The flavors are astounding, with plenty of things to try from the menu.
Whether you want a bistro burger and fries, or something more like lamb chops, they've got you covered. Of course, that's just the tip of the iceberg in regards to the menu. The flavors will leave your mouth watering.
The little restaurant is a treasure to find, away from the noise, but still in a great spot to have an astounding view of the city and the skyline. It's cozy, welcoming, and you can even enjoy garden seating if you prefer.
11. Bareburger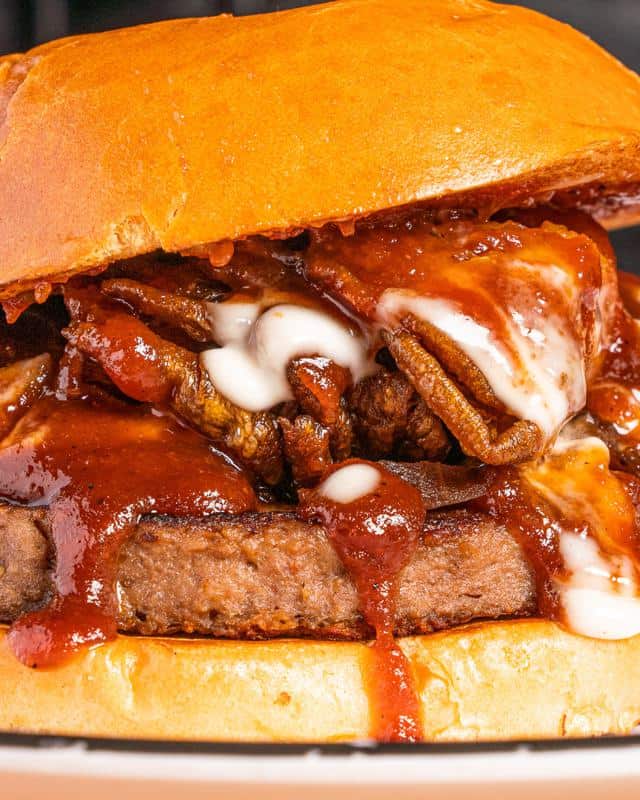 Address: 78 The Promenade
Phone: 201-941-2273
Known For: eco-minded burgers
Bareburger is not your average burger. Yes, that's the name of the game here, but they bring a different approach to the table. Their burgers are eco-minded, and you know every last detail about everything on the menu.
Here, they use a lot of all-natural and sustainable solutions. This means they have plant-based burgers available, but they also have meat burgers too. The only difference is they choose to be ethically sourced for their ingredients, including meat.
Everything they offer is packed with flavor, and the restaurant works to provide fun to their guests. You will find the food is tasty, and the atmosphere is lighthearted.
Apart from the burgers, everything else on the menu is also all-natural, and they use fresh ingredients sourced from reliable partners and famers to do so. They also have a full bar with beer, wine, and cocktails available for your choosing.
12. Rasco's Pizzeria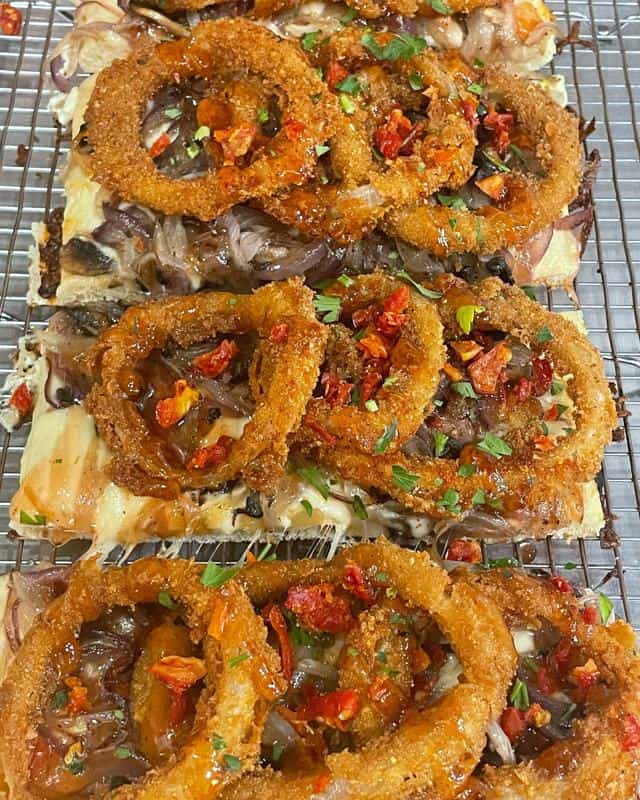 Address: 4 Main St
Phone: 201-917-5115
Known For: perfect pizzas
Last, but not least, on our list of restaurants for Edgewater, NJ, you will find this hidden gem. If you see the building from the outside, you might not be impressed. But when you get a taste of their delicious pizza, you will want to go back!
Rasco's Pizza is a great find. Pizza and other Italian foods are what they make, and they create unique flavor combinations that will be exciting compared to everyday pizza eateries.
This family-owned business wants everyone to feel right at home. It's the best pizza in the area, and definitely a favorite from the locals.
You can order whole pizzas, or just try pizza by the slice. They also have a variety of other dishes to choose from, so pick whatever sounds good to you at the time.
Read More:
Some Additional Options to Choose From
While we listed our top 12 picks, there are a few more places that were close runners up. Check out these alternative options if you need a few more selections.
Anthony GM Pizzeria
Hokkaido Ramen Santouka
Terravita Edgewater
Dalgoona Bowl
Café Achetypus
You can't go wrong at any of these either, and many have unique flavors or specialties that still vary from the options we shared above.
Final Thoughts on the Best Restaurants in Edgewater NJ
There is so much to find in this city when it comes to food and things to do. Whether you're looking for a riverfront restaurant, or just something causal with delicious eats, they've got you covered.
The best restaurants in Edgewater NJ vary in price, as well as the menu items that they offer. Choose a location that speaks to your tastes, and be sure to try something new at every location you stop at.
Which one will you try first?