Edison, New Jersey has created quite a reputation for itself as the model American town. Named after prolific inventor Thomas Edison because of how he built his famous research lab in the area, the town is rich in history. It's also consistently named among the best and safest cities to live in the country.
We know what you're thinking. This town sounds as American as it gets. But there are actually over 70 ethnicities that call this town home. And you know what that means—the ethnic restaurant scene is alive and kicking, specifically Indian restaurants!
There are loads of Indian restaurants in the area churning out some of the most delicious samosas and curries and juiciest tandoori chicken you'll find on this side of central New Jersey. The lively flavors of clove, turmeric, and cardamom can be found all over town, so it's easy to get your Indian food fix.
Looking to satisfy your Indian food cravings in Edison? We've got you covered! Here are the nine best Indian restaurants you don't want to miss.
Best Indian Restaurants in Edison, NJ
Delhi Garden Indian Restaurant
Address: 1677 Route 27
Known for: Creamy chicken and rice dishes, huge portions
Perfect for: Those who want homey, authentic Indian food
Delhi Garden may look like just another subdued hole-in-the-wall in your local side street, but it's every Edison native's go-to for authentic Indian cuisine. It sits in a small, quiet corner next to a salon, but inside it's bustling with life as cooks whip up tasty and abundant portions of your favorite Indian dishes.
This authentic resto has an immaculate array of dishes on its menu. Whether you're a vegetarian or a meat lover, there's bound to be something for you.
Their most popular dishes are chicken tikka masala and chicken shahi korma, both rich, creamy, and served over soft, fluffy basmati rice.
They also have a range of lamb, goat, and seafood dishes, from biryani to kebabs. What's unique about this resto is that they even have an Indian-style Chinese food section if you're in the mood for some Asian fusion cuisine!
Mejwaani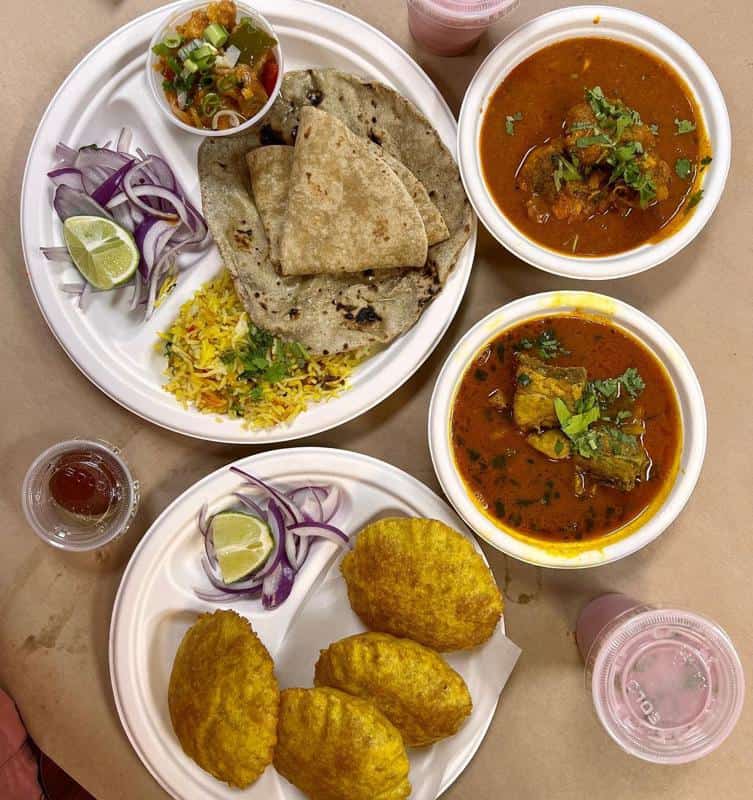 Address: 1103 Inman Ave.
Known for: Authentic Maharashtrian cuisine
Perfect for: Maharashtrians looking for a taste of home, those who can tolerate only a specific level of spice in their Indian meals
Mejwaani—which translates to "feast"—is a popular Edison-based Indian restaurant known for its authentic food inspired by the cuisine of Maharashtra, a state in West India.
Their food is homely and rich, much like any Indian restaurant. However, their uniqueness lies in that they put importance on food customization.
Maharashtrian cuisine is all about preference, whether it's choosing your favorite kind of meat for your curry or tweaking the spice level of your butter chicken. So, it's something they can cater to in every meal you order.
Of course, the restaurant offers traditional Maharashtrian dishes, like deep-fried vada pav and spicy missal pav topped with aromatic coriander, farsan, and lemon.
Another popular one is Malvani chicken, which uses a lot of coconut in the sauce. An unsuspecting crowd favorite is their fried Bombil fish, which may smell strange but is super tasty!
Bombay Spice II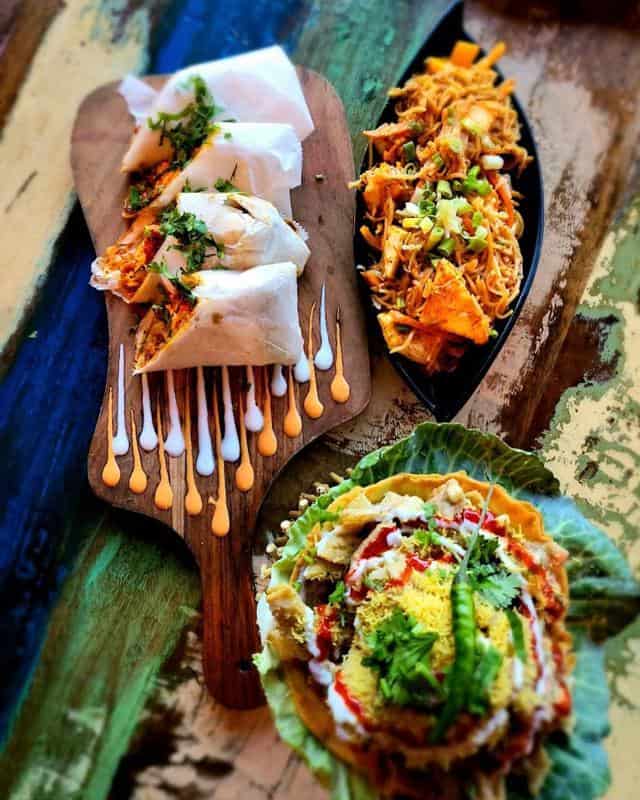 Address: 95 Lincoln Hwy.
Known for: Bombay-style vada pav, chill atmosphere, moody neon lighting
Perfect for: Those who want light grub and lavish, hearty dishes in one place
If you're looking for an ambiance that's in between authentically chill and utterly sophisticated, Bombay Spice II is the one for you. This restaurant has a wide array of Indian food, from rich curries to casual street food you can eat for a quick lunch.
Start with some quick grub, like their chicken kabab kati roll or fresh, garlicky naan. Follow up with a lavish main course, like their rich, creamy butter chicken or Desi-style lamb curry.
But their top must-try is their Bombay vada pav—fried potatoes in a bun served with onions, cilantro, and tangy garlic and green sauces.
One unique thing about this resto is its trendy, moody vibe. There are colorful, eye-catching interiors all around the room, with pink and green neon lights that emit a chic and upscale feel without ever being intimidating to the customer.
Chef's Table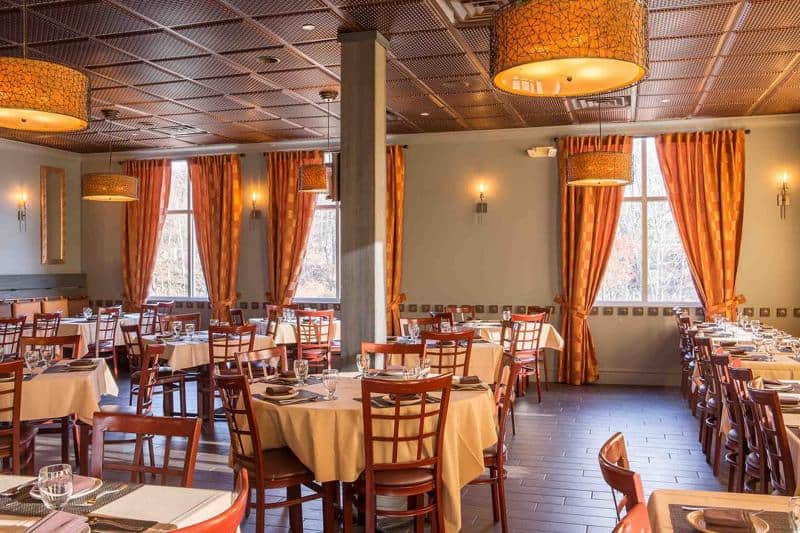 Address: 2161 Oak Tree Rd.
Known for: Flavorful curries and lamb chops; warm, classic ambiance
Perfect for: Those looking for a cozy yet slightly luxurious Indian meal
Chef's Table is an authentic Indian restaurant that uses seasonal ingredients to elevate simple Indian dishes.
The vibe here is cozy and easygoing, but still with a touch of luxury and elegance. The ambiance is similar to that of an old-fashioned fine dining restaurant, but with delicious Indian cuisine that won't break the bank.
Their most popular dishes are their flavorful curries, which they claim are "made to perfection." Whether you're eyeing goat or chicken curry or vegetarian paneer tikka masala, the bold spices and creamy will surely steal your heart (and tummy!).
They also pride themselves on their marinated and charcoal-grilled lamb chops, another signature dish. These are served with a refreshing mint chutney to strike a balance of flavors.
Mithaas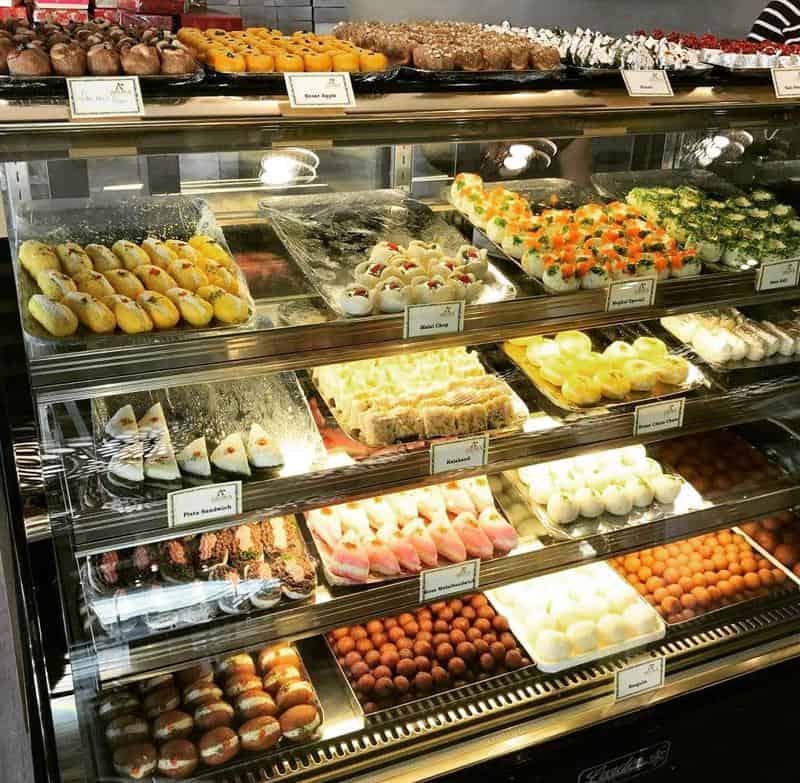 Address: 1655-170 Oak Tree Rd
Known for: Modernized Indian cuisine, selection of Indian sweets and desserts
Perfect for: Sweet tooths, families with children who love sweets
Mithaas is a modern Indian restaurant that turns you into a kid in a candy shop—literally! This restaurant was inspired by the classic sweet shop, so it has giant glass counters filled to the brim with traditional Indian sweets and desserts.
Of course, they have savory Indian dishes too, but just a little more modernized. Crowd favorites include the Punjabi chole bhatoore, Bombay wada pao, and paneer dishes.
But the crème de la crème of Mithaas is their ridiculously huge selection of Indian sweets, from dried Indian fruits to Bengali classics like badam kali.
You need to try their rasgulla, which are ball-shaped dumplings of cottage cheese slathered in sugary syrup. Kids will also gobble up their barfi, also known as traditional Indian fudge which comes in an array of flavors, like chocolate, rose, and saffron milk.
Pakvaan Desi Spice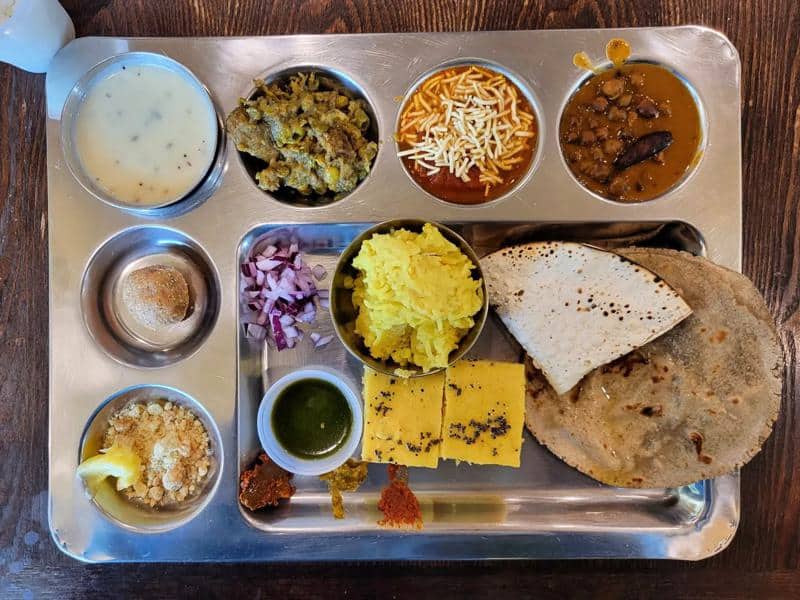 Address: 1700 Oak Tree Road Sugar Tree Plaza #9 & 10
Known for: Vegetarian Indian food, lassis and milkshakes
Perfect for: Vegetarians and vegans, those who want to try flavorful plant-based meals
Of course, we can't talk about Indian cuisine without mentioning at least one purely vegetarian restaurant. Pakvaan Desi Spice is one that will tingle your palate even if you're a true-blue carnivore.
This casual eatery and café serves vegetarian kati rolls, chaats, sandwiches, and thalis. With India's most delectable and aromatic spices, they make every dish taste incredible, so don't be afraid to try them out even if you love meat.
If it's your first time here, try the Kathiyawadi thali, which is a platter of starters, side dishes, and mains to give you the full Pakvaan experience. Their pav bhaji—a vegetable curry served with soft, buttery bread—is also to die for.
They also have an amazing selection of drinks. They have lassis (a blended drink of yogurt, fruit, and spices) that range from mango to rose. You can also opt for milkshakes, which come in exotic Indian flavors, like anjeer and chikoo, and American classics, like chocolate.
Akbar Restaurant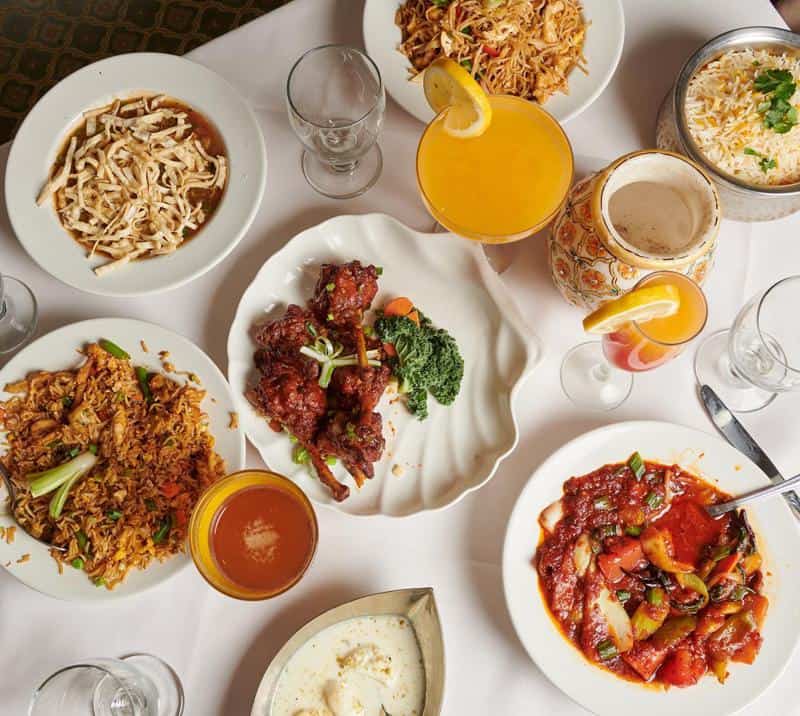 Address: 21 Cortlandt St., Station 1
Known for: Buffet, garden and outdoor seating, banquet halls
Perfect for: Indian families and couples celebrating special occasions
For a more upscale and sophisticated dining experience, bring your family to Akbar Restaurant. Not only does it have mouthwatering Indian dishes, but it's also known for its lavish, luxurious space.
The interiors of the restaurant have an opulent, eye-catching Mughal aesthetic fit for royalty. This comes as no surprise since the restaurant is modeled after Emperor King Akbar, one of the most powerful emperors in Indian history. Outside, there are lush gardens and an elegant courtyard.
The restaurant is most popular for its buffet offering, where you can fill your plates with traditional dishes like goat curry and tandoori chicken to your heart's delight.
However, you can also go ala carte. Some of their richest, most popular dishes are the chicken chop korma made of twice-cooked chicken in curry, as well as the aromatic handi goat masala. Meanwhile, the cozy Punjabi kadhi (lentil dumpling curry with yogurt) is perfect for vegetarians.
Deccan Spice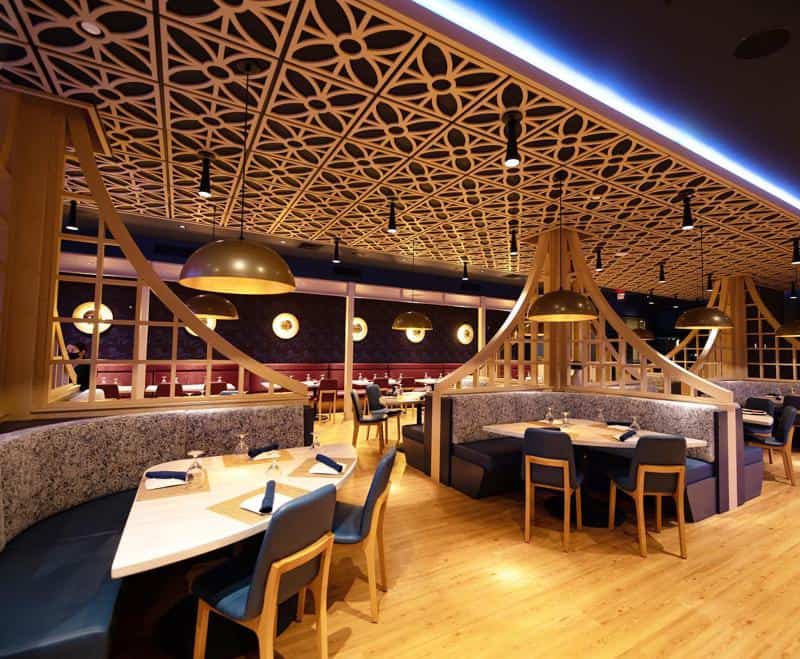 Address: 153 Wood Ave.
Known for: Amazing food presentation, modern Indian food, robot service
Perfect for: Those who love trendy, ritzy dinner spots
Here's another high-end Indian restaurant for you to try in Edison—this time for those looking for dishes with more finesse and an incredibly modern ambiance. Deccan Spice is proud to be authentically Indian, but with a modern twist.
Their tiled ceiling with geometric patterns, warm lighting, and spacious booths per party are more than enough to make you feel like you stepped into a trendy dinner spot in Manhattan. And if that's not enough, the classy, top-end presentation of every single dish will do the trick.
Some of their must-haves include the special Deccan chicken biryani, the classic British tikka masala, and North India's popular tandoori murgh. All dishes are served by a charming robot, which adds to the modern vibe.
Moghul Fine Indian Cuisine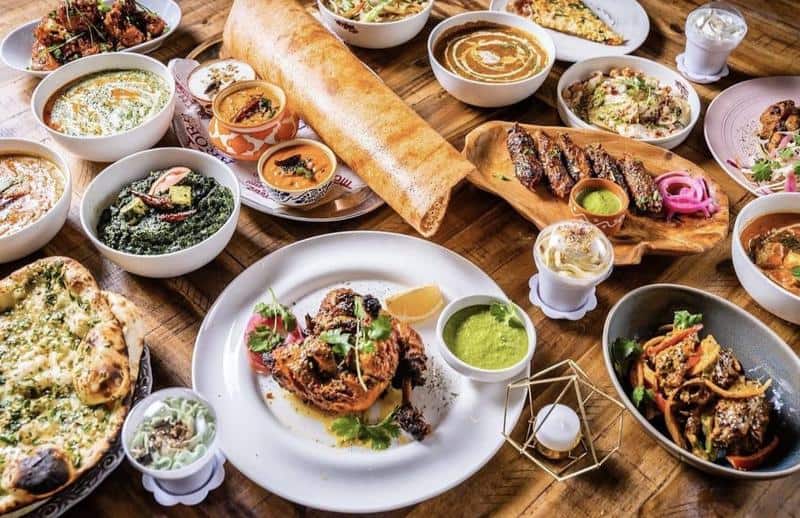 Address: 1655 Oak Tree Rd. #195
Known for: Weekday and weekend buffets, North and South Indian dishes
Perfect for: Buffet enthusiasts, those who want to experience Indian fine dining
Although Moghul is most popular for its buffet service available on both weekdays and weekends, ala carte is quite popular here as well. Their dishes span from those that originate from all over India, from North to South.
They have fluffy, melt-in-your-mouth naan which serves as the perfect starter for your meal.
After that, go for their mouthwatering curries that are creamy and aromatic, like the fiery Goan lamb vindaloo as well as the classic Old Delhi butter chicken, both of which are awesome for meat lovers. Pescetarians will enjoy the tandoori salmon tikka masala.
Finish off with a classic Indian street food dessert like gulab jamun, which are deep-fried balls of cottage cheese that are soaked in sugary syrup with hints of saffron.
Read More:
Conclusion
Whether you're in the mood for a buffet spread with high-end butter chicken and the richest curries, or a simple, authentic snack with naan or chana chaat, there's an Indian restaurant in Edison, New Jersey for you.
Next time you want a taste of the sweet, spicy, and tangy burst of flavors from whimsical, exotic India, check out any of the restaurants above. Your tummy will thank you for it!