McKinney is the crown jewel of Collin County. It holds immense charm as a budding town with a lot of personality and heart. The culinary advancements of McKinney are no exception and make the bulk of its evolvement.
Locals and visitors love the diverse selection of restaurants to choose from. From good-old traditional flavors to fusion menus and contemporary concoctions, there is much to try out in the humble town.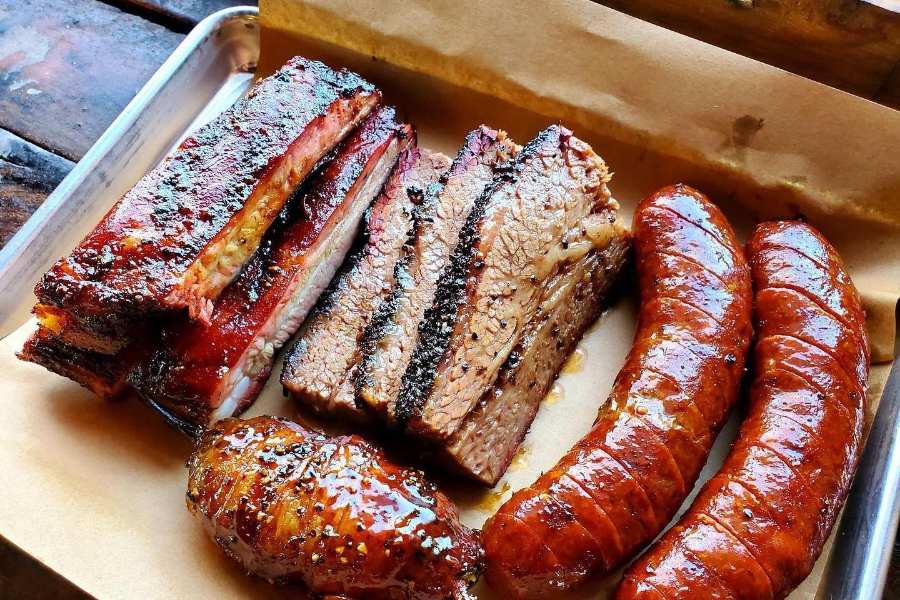 We are here to help you get the best range and quality with our list of the best restaurants in McKinney.
Best Overall Restaurant: Hutchins BBQ
Best Healthy and Organic Restaurant: Harvest
Best Romantic Restaurant: Rick's Chophouse
Best Family-Friendly Restaurant: The Yard
Best Restaurants in Mckinney, TX
Hutchins BBQ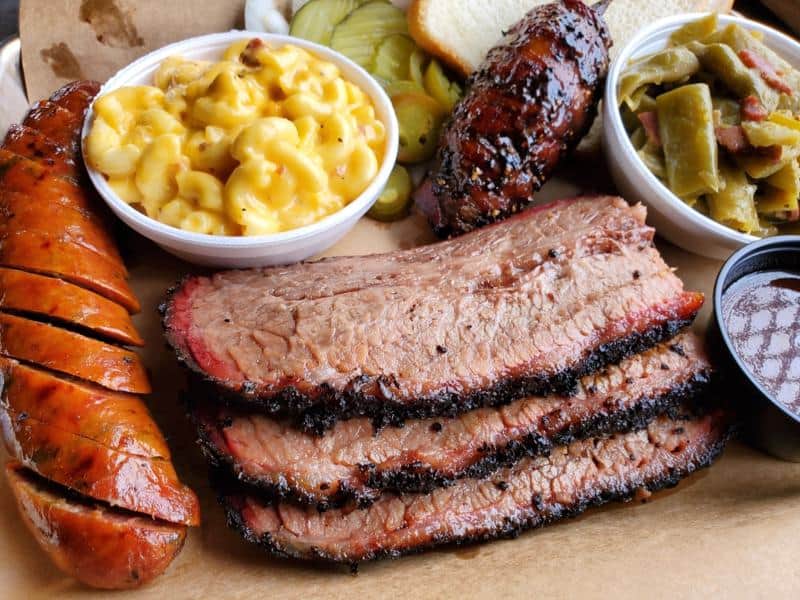 Address: 1301 N Tennessee St, McKinney, TX 75069
Known for: Award-winning slow-smoked barbecue items in a relaxed setting.
Hutchins BBQ welcomes you with the irresistible aroma of slow-smoked meats in a classic rustic setting. The award-winning barbecue eatery is known for its signature smoked barbecue dishes and is one of the finest gems in McKinney's restaurant industry.
With a to-the-point menu, you can never go wrong with your orders. They have 'Family Packs' for large groups with a choice of up to 4 meats and 3 sides with bread and sauce. For larger groups, get the 'Party Pack' or 'Texas Feast' with more choices.
Among the Smoked Meats, the Prime Brisket is the most ordered item which comes beautifully sliced and marinated in its original sauce. The Daily Special has a Chopped Brisket Sandwich in BBQ sauce with a choice of 2 sides and a drink. Hutchins also offers a complimentary Peach Cobbler or Banana Pudding to their dine-in customers.
Harvest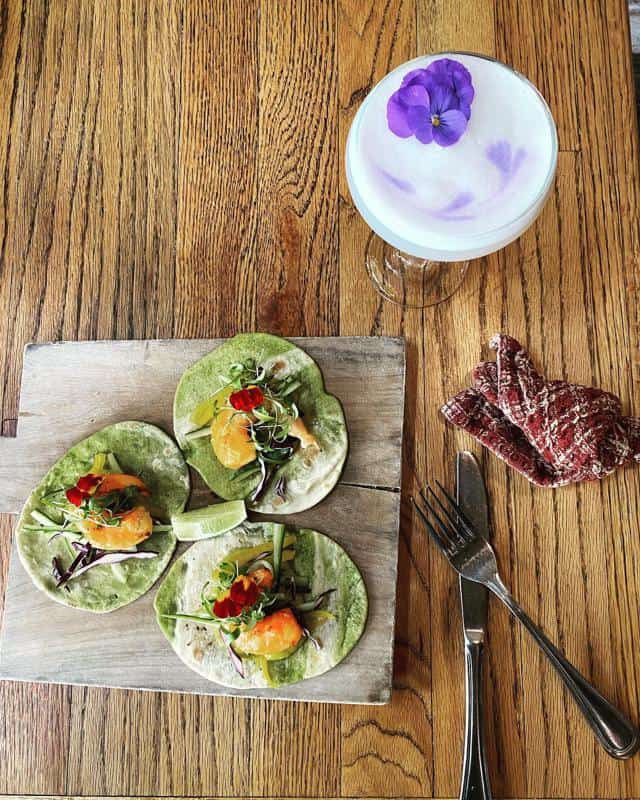 Address: 112 E Louisiana St, McKinney, TX 75069
Known for: Healthy and seasonal menu with a delightful presentation.
With a fresh seasonal menu and farm-to-table organic meals, Harvest promotes healthy eating with lip-smacking southern-style recipes. The rustic interiors make one feel right at home and the menu is thoughtfully crafted to give you a good range of choices.
The sustainable and locally sourced ingredients lead to a changing menu with seasonal delights. Elevated small plates include the famous Pimento $ Cheese with blackened tortilla chips and delectable Smoked Brisket Tacos. Wrapped in healthy flour tortillas, the tacos are daintily garnished with farm flowers.
The steaks here are quite good. From Wagyu Bavette Steak to Grass Fed Filet, each prime-cut is grilled to perfection with a divine black garlic rub and their signature nature-inspired presentation.
Harvest has a huge wine list alongside infused cocktails. Try their Rabbit Tale Cocktail with orange-infused vodka, butterfly pea flower tea, and white tea syrup with the same flawless presentation as their food.
Rick's Chophouse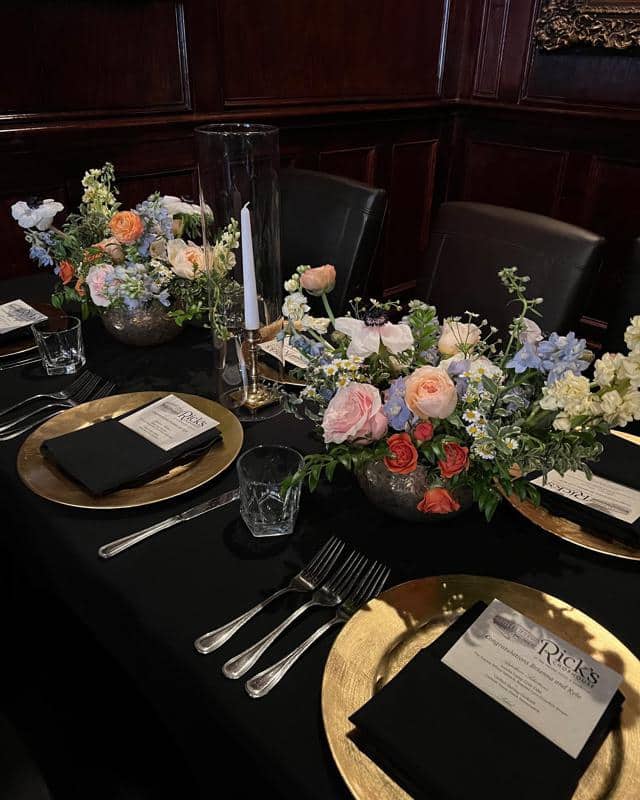 Address: 107 N Kentucky St, McKinney, TX 75069
Known for: Upscale and romantic ambiance with succulent steaks and seafood.
Enjoying a prime location downtown at the Grand Hotel, Rick's Chophouse is a classy and lavish fine-dining restaurant. Unlike a typical steakhouse, Rick's boasts a diverse menu and includes a variety of seafood and gluten-free options for its diners.
The dreamy tin ceiling, idyllic gas lamps, and posh leather seats within the historic Grand Hotel & Ballroom make it one of the best restaurants for a date night. The seamless southern charm is reflected in their excellent service and traditional dishes.
Start the evening with a Chilled Seafood Platter for two which has jumbo shrimps, Alaskan red king, crab legs, seared ahi tuna, and oysters in a rich cocktail sauce.
For the main course, try their highly popular 'Cowboy' bone-in ribeye. It comes with a generously loaded baked potato, onion rings, and béarnaise. They also have a long cocktail list to pair with your food.
We suggest getting the dessert to-go as you enjoy a post-meal stroll in the nearby park and downtown.
Also Read: 12 Most Romantic Restaurants in Dallas
The Yard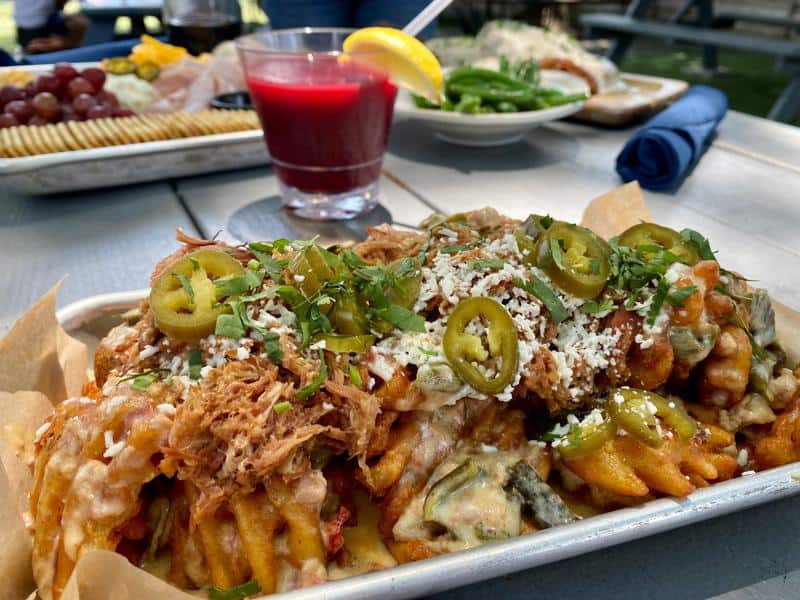 Address: 107 S Church St, McKinney, TX 75069
Known for: Loaded Nachos and Waffle Fries and pleasant outdoor patio.
Infusing the natural beauty of McKinney with a towering canopy of old oaks shading its outdoor patio, The Yard allows you to enjoy your meals in a scenic setting. It is a family-friendly restaurant with a very cozy and comfortable ambiance.
The restaurant has gained a lot of popularity in a very short time since its opening in 2018. As its name suggests, the warm and welcoming setup has a yard for the kids to play as you enjoy your drinks.
Your visit to the restaurant is incomplete without ordering their famous Front-Porch Nachos. The loaded nachos are drenched in cheddar jack and topped with black beans, ground turkey queso, chimichurri, corn pico, jalapeno, and lime crema.
The TX Smothered Waffle Fries are also a must-try item and come loaded with pulled pork, queso, jalapenos, cilantro, and cotija.
The drinks menu is quite extensive and has Cold Drafts, Frozen variety, and 'From the Tap' variety. Their signature cocktail is a mighty 'Church St. Old-Fashioned Woodford Double Oaked' inspired by the well located there.
Local Yocal BBQ & Grill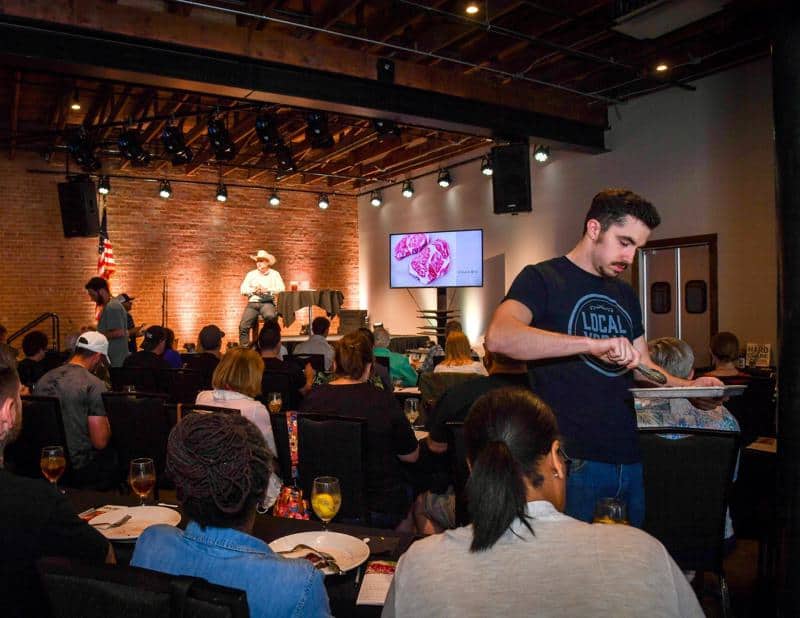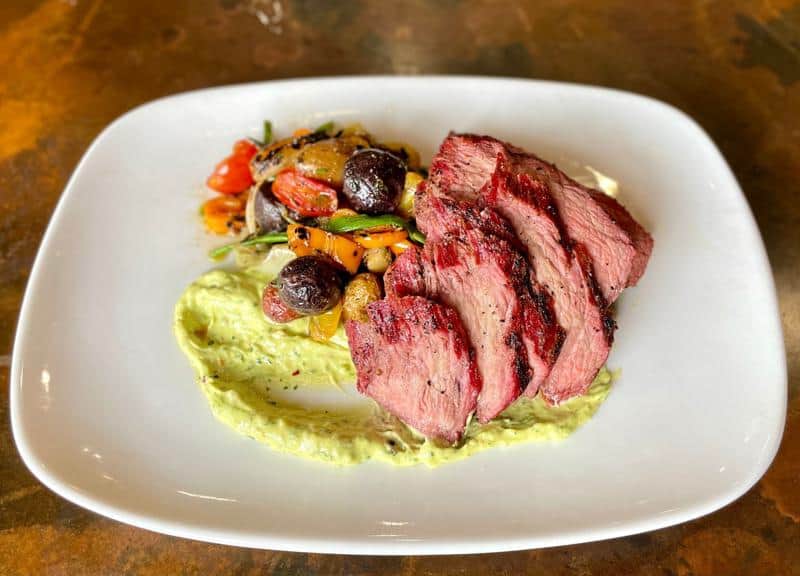 Address: 350 E Louisiana St Suite A, McKinney, TX 75069
Known for: Lip-smacking barbecue items and steaks in a laidback ambiance.
Setting a casual theme with its name, Local Yocal is a laidback restaurant in McKinney known for its classic Texas-style American dishes. The chef-driven menu heavily focuses on barbecue delights and steaks among other varieties. Indulge in their seasonal selection or enjoy seamless southern hospitality with traditional staples.
The menu is largely beef-centric and features chef's regional specials with locally sourced ingredients. If you are in the mood for a hearty steak, try the 6oz Wagyu Sirloin delectably prepared with herb-roasted Yukons and wood-grilled asparagus.
The selection of sauces includes horseradish crema, cabernet demi, and chimichurri. Other specialties include Smoked Pork Chop with a heavenly Bourbon honey soy glaze and cream corn, Roast Chicken, Wood-Grilled Fluke, and Gulf Shrimp and Grits.
To experience barbecue delights at their best, get the scrumptious BBQ Sampler loaded with ribs, sausage, brisket, coleslaw, and BBQ sauce. They also have a craft cocktail bar with an impressive selection of local beers on tap and premium liquors.
Rye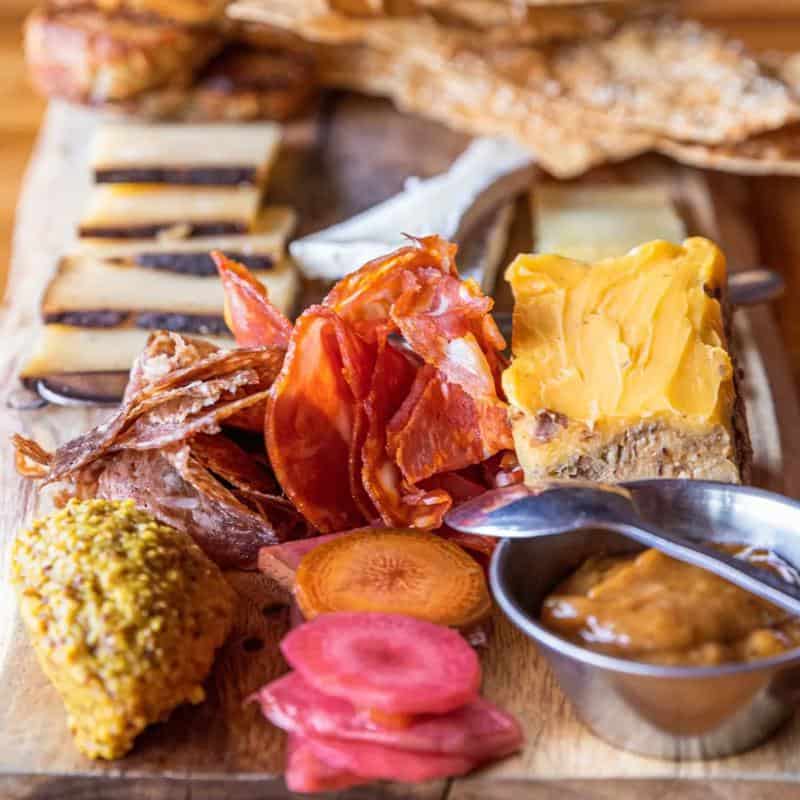 Address: 111 W Virginia St, McKinney, TX 75069
Known for: Seasonal small plates with a lot of personality and flavors.
Hop aboard a wonderfully unique culinary adventure at Rye. This downtown McKinney gem is one-of-a-kind with a chic contemporary layout. Seasonal 'small plates' are their main attraction with rotating menus and delightful finds. We love how they keep their diners on their toes by switching between the styles and flavors of their dishes.
Even though the menu is seasonal, they have a few staple preparations that deliver familiar comforts and flavors. One of them is the Roasted Root Vegetables drizzled with divine spiced honey butter, goat cheese, burnt miso glaze, and pepitas.
Other must-try items include the artistic 'Amuse Me' – a foie gras s'more with foie gras mousse, mole spiced ganache, kimchi marshmallow fluff, and tatsoi micros on rye and cocoa nib graham cracker. If you are in the mood for seafood, go for their Salmon Gow or So-fish-ticated.
A fun little quirk on their menu is 'Beers for the Kitchen'. For only $5, you can send a beer to the crew as a token of appreciation.
Italian Garden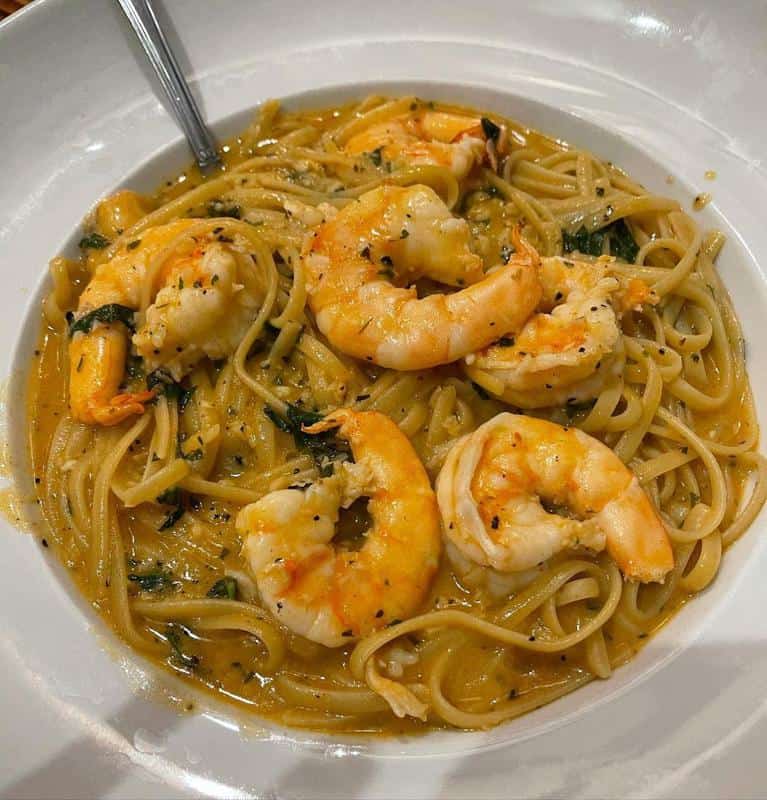 Address: 500 N Custer Rd #100, McKinney, TX 75071
Known for: Authentic Italian flavors with classic staples.
Nestled in the heart of the budding Stonebridge Ranch, Italian Garden serves traditional Italian stapes with a relaxed ambiance. The delightful interiors are beautified with picturesque murals of the Italian countryside to enhance your dining experience. With a lot of exciting dishes in store, the restaurant keeps the diners hooked.
Indulge in classic Italian flavors with dishes like Chicken Piccata and Fettuccini Carbonara to satiate your cravings. To mix things up, get their Seafood Combo Noodles loaded with shrimp, scallops, calamari, and octopus.
The House Specialties include Capellini Primavera and Tortellini A La Para with creamy Alfredo. They also have a good variety of Subs and Pizzas.
The restaurant has a Bring Your Own Adult Beverages option, but you can opt for standard soft drinks or Pink Lemonade on their menu. They also have a kids' menu and a good variety of desserts. Try the heavenly rich and delicious Cappuccino Ice cream pie or a classic Crème Brulee.
Spoons Café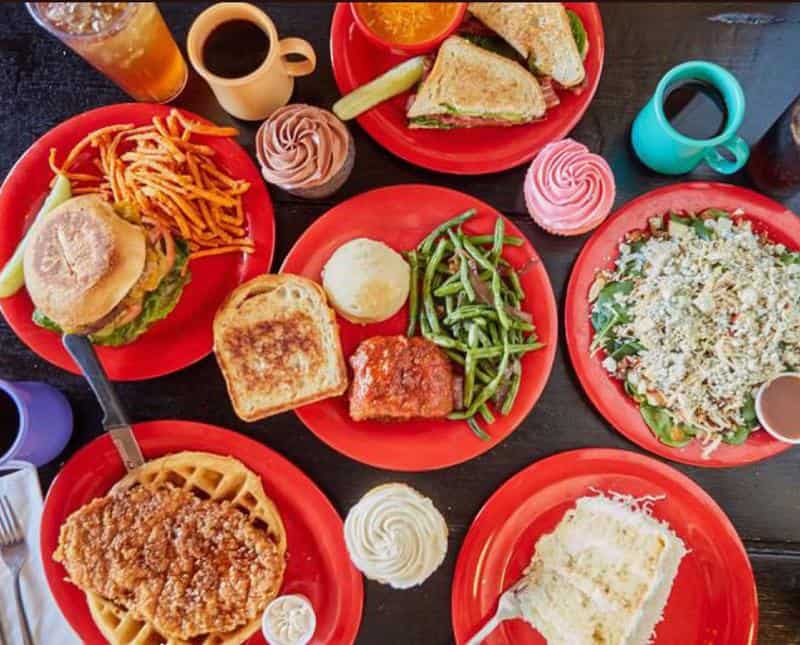 Address: 100 E Louisiana St, McKinney, TX 75069
Known for: Gorgeous downtown location with classic American comfort food.
Set in the historic Downtown, Spoons Café is a classic American restaurant serving comfort food in a traditional Tex-Mex style. Get the most out of Downtown McKinney with the cafes' location within a historic building and its charming sidewalk seats. The café also hosts open mic nights.
Classic American all-day breakfast delights include the good-old Chicken and Waffles and hearty stacks of Strawberry Pancakes. Pies are made from scratch every day and go amazingly well with their specialty coffees if you wish to grab a quick bite to eat.
For the ultimate comforting soul food, go for their chicken salad, casserole, or meatloaf with traditional flavors to warm you up on a rainy day.
The burgers here are also quite good. From Classic Hamburgers to fancy Blue Cheese and Bacon Crumble Burger with Spoons' apple smoked bacon, everything is cooked to perfection. To get a taste of all their varieties, try the sliders for a mini version of all the famous burgers.
Eggsquisite Café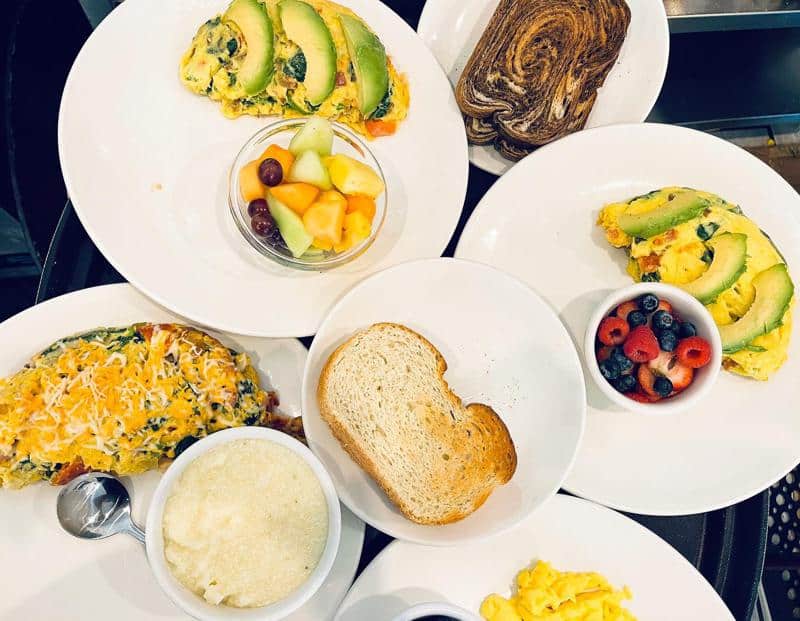 Address: 2058 W University Dr #800, McKinney, TX 75071
Known for: Hearty breakfast café with lip-smacking crepes and pancakes.
Offering a wonderful breakfast experience for early birds, Eggsquisite Café is a locally owned breakfast and lunch café in McKinney.
As one of the best-rated restaurants in town, it has high standards to maintain and the chefs do a wonderful job in doing so with warm service and excellent food.
Satiate your cravings with stacks of fluffy pancakes, deliciously paired steaks and eggs, and an indulgent ranch chicken melt. They also make their own Eggsquisite homemade hot sauce. When drizzled on the deliciously prepared Salmon Benedict, your taste buds are sent on a joy ride of their own!
The café also has the best crepes in town. Make sure to arrive early to get your hands on the highly popular Banana Nutella Crepes or the Very Berry Pancakes.
Urban Grill and Wine Bar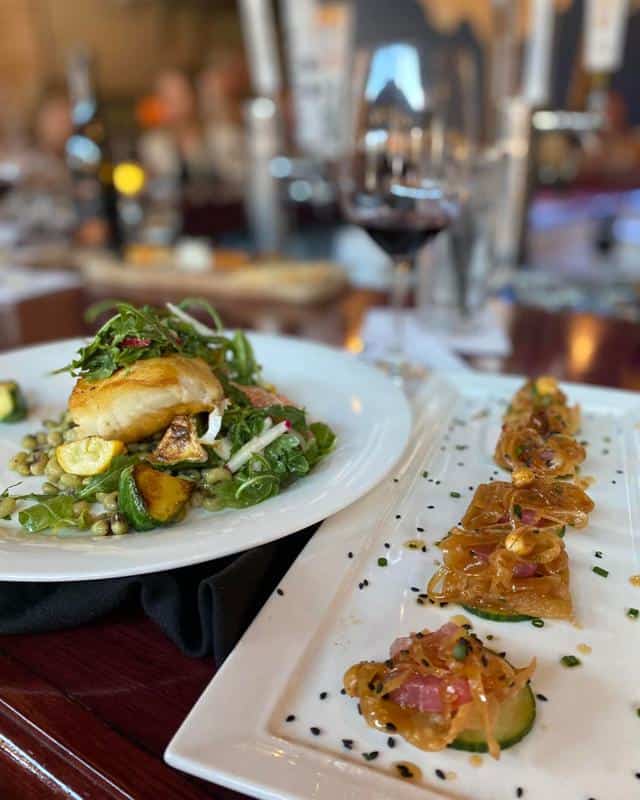 Address: 218 E Louisiana St STE 300, McKinney, TX 75069
Known for: Multi-cultural cuisine with boutique wines and cocktails.
Enjoy a refined fine-dining experience at the upscale Urban Grill and Wine Bar. Running strong for a decade, the gourmet food is spectacular and pairs well with the collection of boutique wines and cocktails.
You will find a fine range of multi-cultural cuisine with creative concoctions and fresh ingredients on their menu. The classic American Bistro menu is complemented with Italian cuisine and some Asian-influenced dishes.
There is a vast variety of fresh seafood items and seasonal delights as well. Start with their Artisan Cheese Board served with fruits, nuts, crostinis, and honey. Fresh Norwegian Salmon is also quite famous and is served with a side of seasonal vegetables.
To get the best of both worlds, try their Surf and Turf with choices of grilled shrimp, seared day-boat scallops, or Alaskan red king crab legs.
Stop by early for brunch and get their heavenly scrumptious Buttermilk Hot Cakes served with lemon mascarpone and Pure Michigan maple syrup.
Shogun Hibachi & Sushi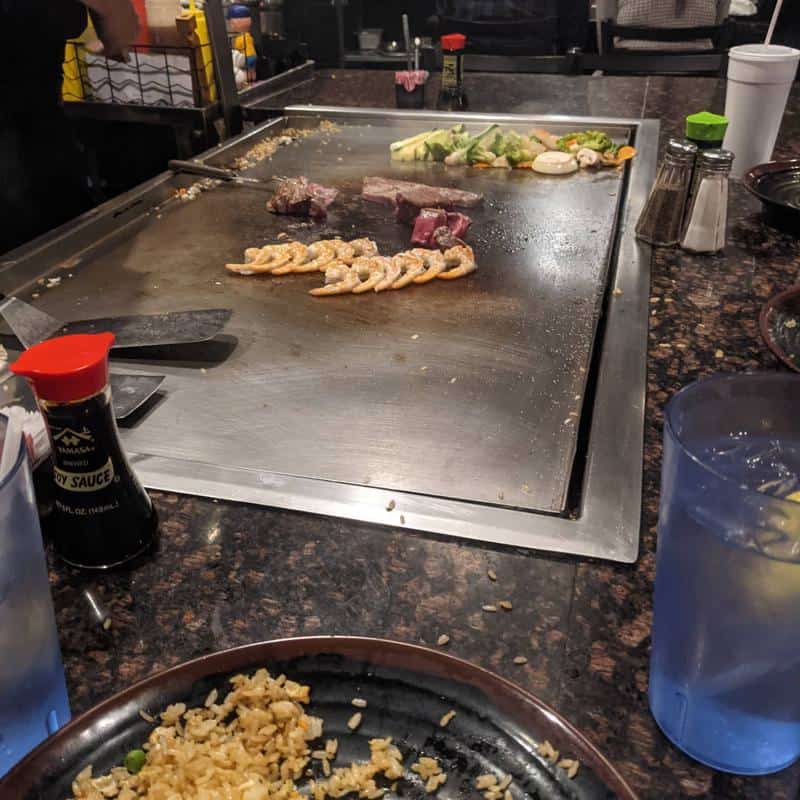 Address: 1230 N Central Expy, McKinney, TX 75070
Known for: Tasty platters of Hibachi and Sushi with specialty rolls and a full bar.
Get your sushi fix at the quaint and laid-back Shogun Hibachi & Sushi. The humble Japanese eatery is a great little spot for a get-together as the table-side grilled dishes keep you entertained and satiated.
There is a lot of traditional Japanese fare on the menu with sashimi, sushi, rolls, and hibachi. Open for lunch and dinner, the dishes are affordable and served in filling portions with a full bar offering beers and cocktails to pair with your meals.
The Sushi and Sashimi Combo has an assortment of 7 pieces of sushi, California roll, and sashimi appetizer. They also have Specialty Rolls like the Imperial Roll with deep-fried shrimp, eel, crabmeat, avocado, and masago, or the famous McKinney Roll with crab meat, shrimp tempura, sweet eel sauce, and avocado.
Also Read: Best Sushi Restaurants in Houston
The Stix Icehouse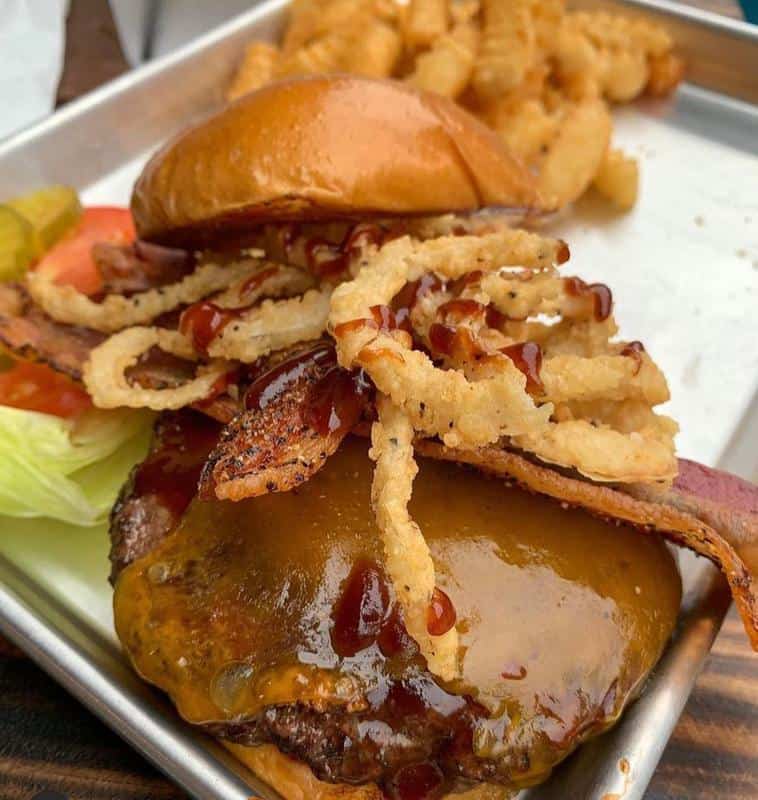 Address: 301 Eldorado Pkwy #100, McKinney, TX 75069
Known for: Fun-filled experience with great food, games, and live music.
Set on 14 acres of area, the Stix Icehouse is a relaxed old-fashioned spot with a casual ambiance. The restaurant has a very intimate setup in an attempt to bring people together and reignite the good-old community spirit.
The restaurant doesn't just serve food but also promotes a wholesome social experience with live music and games. Bring your family and friends and enjoy a calm, fun-filled atmosphere with excellent southern hospitality.
The food is prepared with locally sourced ingredients and covers all the delicious Texan delights. Share a plate of tacos or quesadillas with perfectly seasoned steak, chicken, or shrimp. Other homemade classics include fried chicken, chicken strip basket, and chicken fried steak.
Read More:
Map of Best Restaurants in Mckinney
Conclusion
There are a lot of great restaurants to try in McKinney, Texas. From classic Mexican staples to eclectic fusion menus, there is much to explore. So set on this culinary voyage with us and pick your favorites from our list.