Denton, TX is a town where old meets new. With a majestic, Victorian-style courthouse along the famous Denton Square and bustling universities within driving distance, this college town boasts of rich history, quirky corners that celebrate art, and a young, lively atmosphere—especially at night!
This friendly city in the middle of the Dallas-Fort Worth area is incredibly friendly, even to tourists just passing by. There are tons of places to hit for art and entertainment, from museums to film festival venues.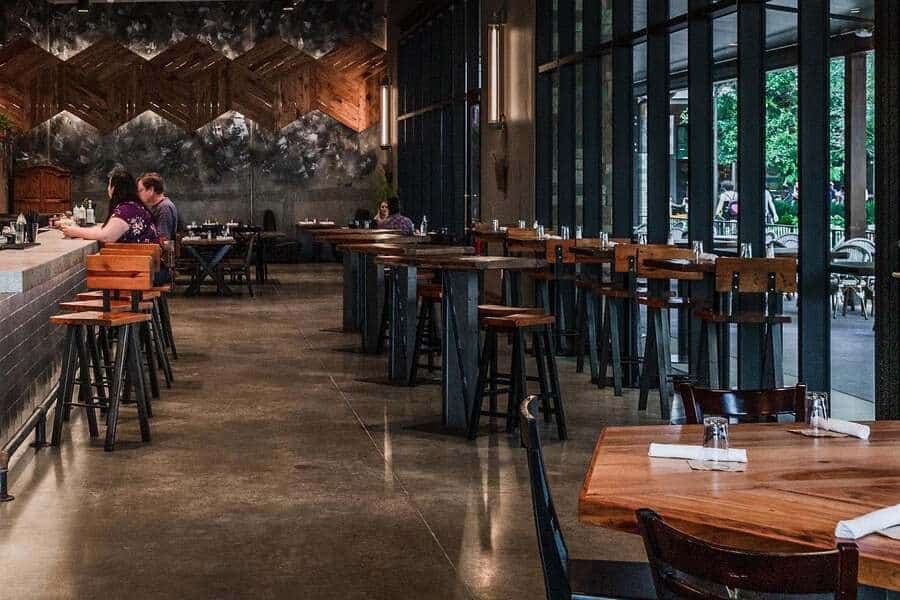 The town's love and appreciation for all kinds of cultures and ideas also translate to the food in Denton. The options are diverse and progressive. They range from upscale restaurants that give you a taste of the high life to family-style diners serving traditional Texan chicken fried steak.
So, what is there to try in Denton, TX? Read on to see 12 of the best places to eat in Denton, TX.
Best Restaurants in Denton, TX
Cartwright's Ranch House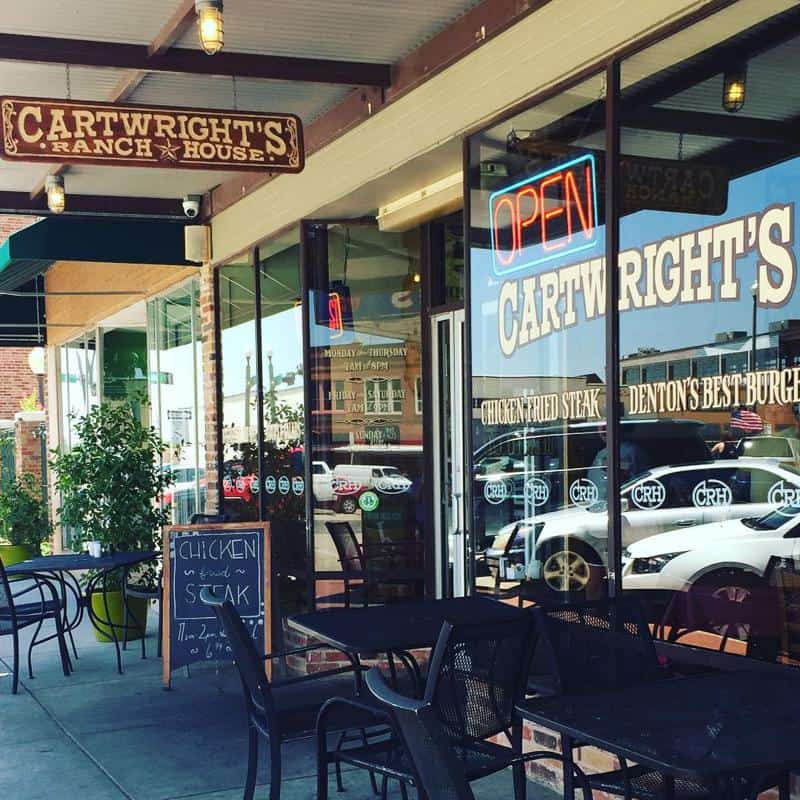 Address: 111 N Elm St.
Known for: Best chicken fried steak in Denton, view of the courthouse
One of the most well-loved places to eat in Denton is Cartwright's Ranch House, a comfort food joint known for whipping up the best home-style chicken fried steak in town. It's so popular that it bagged a Best of Denton County Students' Choice Award back in 2020.
The restaurant opened in 2011, when owner and family man John Cartwright decided to put up a family-style eatery that served comforting, all-American fare. The place sits in what used to be the "Dreamland Theater" back in the 50s, right across the magnificent Denton County Courthouse.
The comforting, cozy vibe of the restaurant matches its homey menu. Apart from their famous chicken fried steak, they're a go-to for breakfast dishes, fried pickles, and all-you-can-eat catfish. They also have $3 beer and mimosas all day, every single day!
GreenHouse Restaurant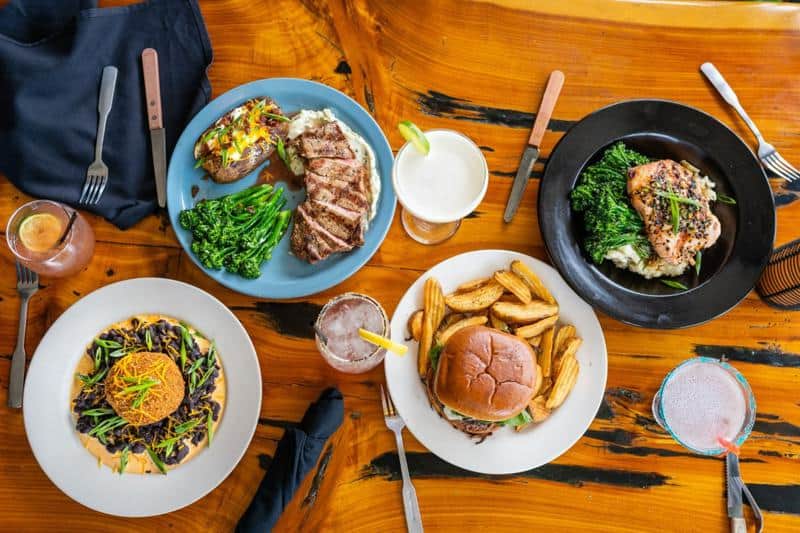 Address: 600 N Locust St.
Known for: Open-fire grill, Tex-Mex and New American cuisine, vegetarian options
GreenHouse Restaurant is a chic, locally owned restaurant and bar that features New American dishes, many of which are Tex-Mex. It's just a few blocks away from Denton Square, so it's easily accessible if you're checking out the city's famous sites.
As soon as you walk into the restaurant, you're greeted with the smoky scent of meat and seafood on their open-fire grill. You can choose between four indoor dining areas and two outdoor patios to dine at.
Their menu is flexible, offering wholesome and hearty options like juicy steak and honey chipotle salmon to lighter, healthier vegetarian options, like avocado tacos. If you want drinks with your meal, they also have a popular bar that has bagged multiple awards, including the title of Denton's Best Martini.
Greenhouse Restaurant has specials that change daily. They have common ones like Martini Mondays and Wine and Dine Wednesdays, but also have unique specials like School Spirit Thursdays. Just show your ID if you're school faculty or staff and get drinks or spinach and artichoke dip for just $3.
Hannah's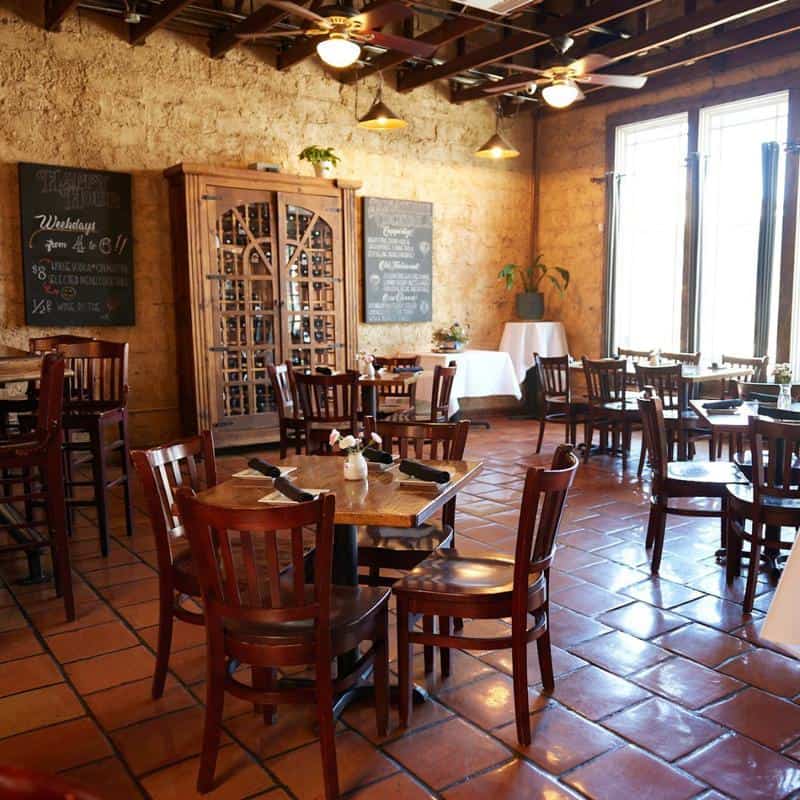 Address: 111 W Mulberry St.
Known for: Upscale comfort food, intimate fine dining set-up
If you're looking for more upscale, high-end food in Denton, OpenTable Diners' Choice Award winner Hannah's is the place for you. This casual yet intimate fine-dining restaurant has been around since 2001 in what used to be an old blacksmith's shop, adding a rustic, homey look to the interiors.
Hannah's serves innovative gourmet meat and seafood dishes plated with finesse and restraint for that elegant feel. While their dishes are inspired by intercontinental cuisines, all the ingredients they use are local, from the meats and eggs to the fresh vegetables.
Executive chef Sheena Croft uses her Southern upbringing to make sure every dish still has a touch of that Texan charm and comfort. She showcases this in dishes like their rosemary-smoked duck breast and grass-fed tenderloin steak, both of which go well with the restaurant's sophisticated wines.
Hannah's has a weekend brunch menu and a daily dinner menu except on Mondays, when they're closed.
LSA Burger Co.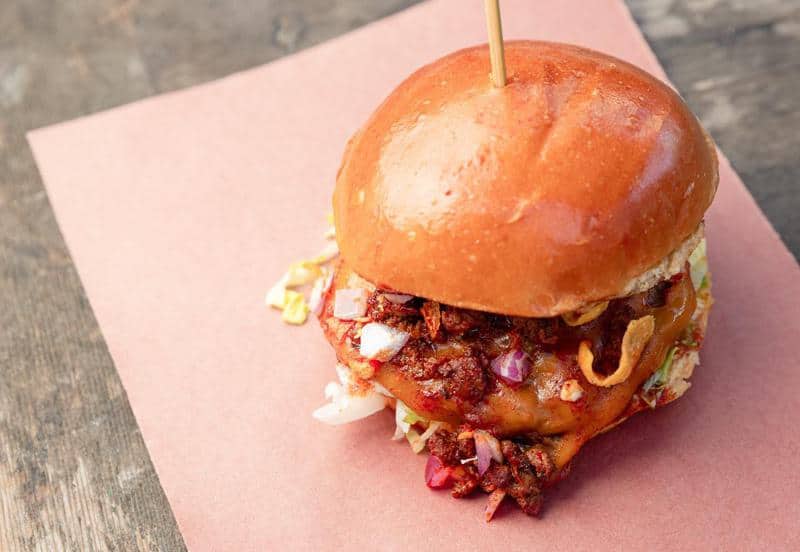 Address: 113 W Hickory St.
Known for: Gourmet burgers, chill and young vibe, live music
LSA Burgers Co. is perhaps one of the most fun and laidback places to eat in Denton. This trendy, quirky gourmet burger joint and bar is a favorite among college kids and young adults.
"LSA" actually stands for "Lone Star Attitude" as an homage to Texas, also known as the Lone Star State. The restaurant honors all things Texan, specifically the music legends born and bred in the state.
There's live music from the band, a breezy, open-air patio, and a young, upbeat vibe in the place. All the while, creative, juicy burgers are bussed out constantly. It's the kind of place that doesn't take itself too seriously but serves absolutely delicious burgers, fries, and beer and cocktails.
There are tons of burgers to choose from, like the Georgie Boy (their take on the classic bacon cheeseburger) and the Chili Willie (which has Texas chili and Fritos). You'll need to come back quite a number of times to try them all!
Oldwest Cafe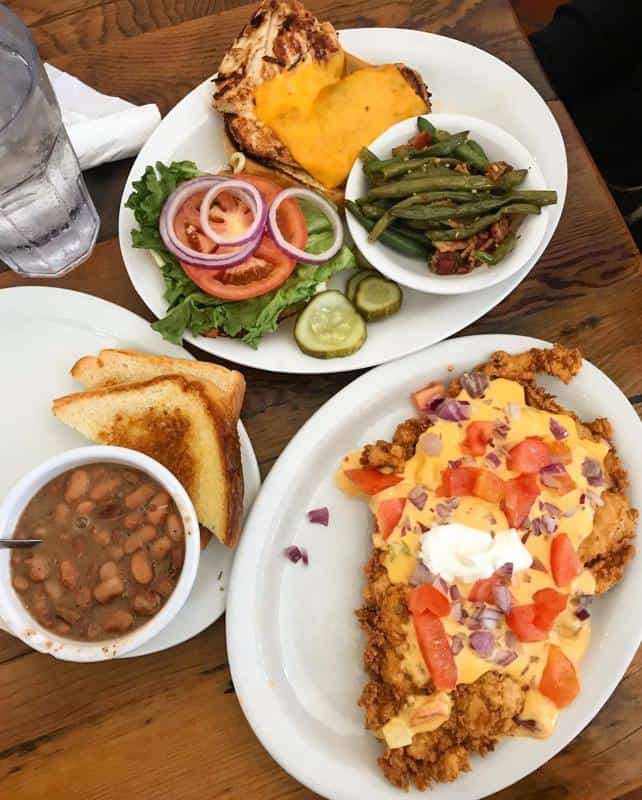 Address: 2420 S Interstate 35E
Known for: Cowboy-themed interiors, old-school breakfast dishes
Now something for the cowboys and cowgirls at heart out there. Oldwest Café is a much-loved diner that serves the most comforting breakfast and lunch dishes, making it the perfect place to start your day with a full tummy. Although there are four Oldwest Café locations now (all in Texas), the Denton one is the original.
The restaurant has its signature cowboy-themed décor and interiors, making you feel like you're part of a classic Western movie as you gobble up your chicken fried steak or cinnamon-swirl pancakes. There's also an outdoor patio with gorgeous hanging lights if you want a breezy, refreshing place to sit.
Barley & Board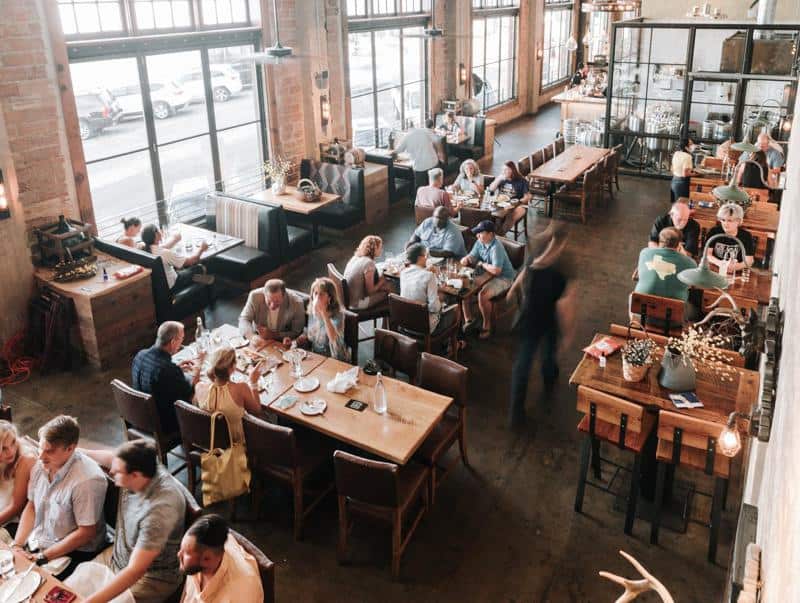 Address: 100 West Oak St. (in the Texas Building)
Known for: Plenty of beers on tap, high-end yet relaxing atmosphere
Barley & Board is a brewpub found in a vintage brick building near the town square known as the Texas Building. It used to be the Lacy Hotel back in the day—the first hotel in Denton's history. Today, the gastropub has a warm and high-end yet industrial design, making it feel very contemporary.
Young people flock to the restaurant for the 36 different beers on tap and upscale, New American fare. They're well-known for their risottos and large plates. You can assemble your own charcuterie board by choosing from their wide range of cheeses, too!
Apart from its beers, you can choose from its extensive collection of wines and cocktails. Enjoy these over live music from special guests that perform on Thursdays at 4:35 PM.
Although Barley & Board seems to be designed for an intimate dinner or drinks with close friends, it's so trendy that it can get packed, especially on Fridays.
Hoochie's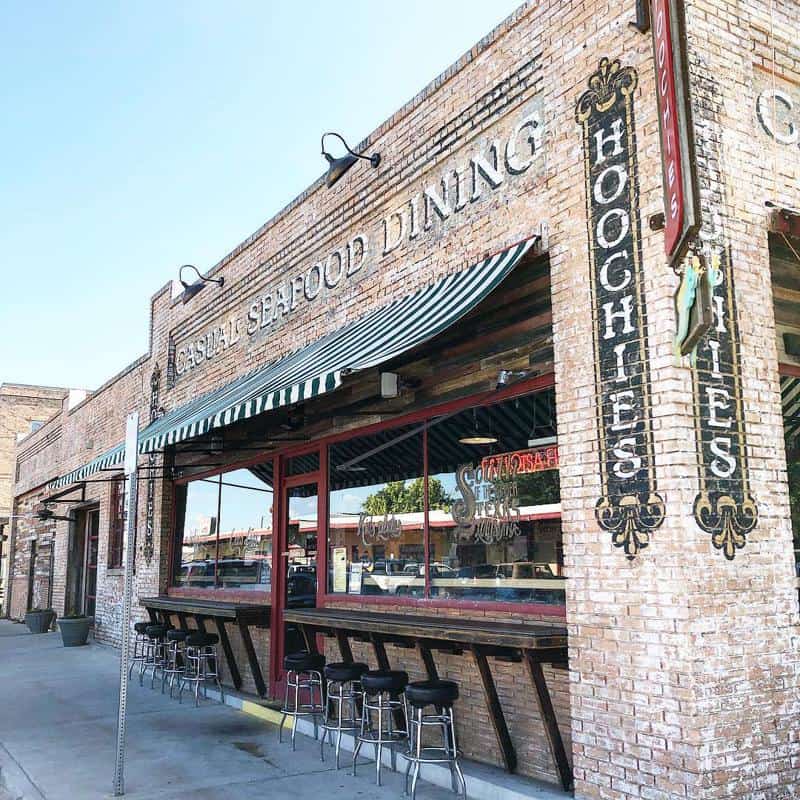 Address: 214 E Hickory St.
Known for: Wide selection of Southern seafood dishes, New Orleans-inspired interiors
Seafood lovers and Southern food lovers should visit Hoochie's at least once. This quirky, kitschy, New Orleans-inspired joint serves and celebrates traditional, filling Southern fare. It's an awesome place to go if you're craving Cajun, Texan, and even Mexican seafood dishes!
Hoochie's is where Denton residents go for seafood so that they don't have to travel to the coasts just to get fresh catfish or shrimp. The place doles out shrimp po boys, fresh oysters, and even fish tacos on a daily basis.
What's cool is that you can choose how you want your seafood to be cooked. They can be boiled, fried, or grilled. Whichever you choose, it will be served with classic Southern sides like corn, hush puppies, and steak fries.
Big taco fan? Come over on Tuesdays and Thursdays to get their street tacos at just $2.95 all day!
Seven Mile Café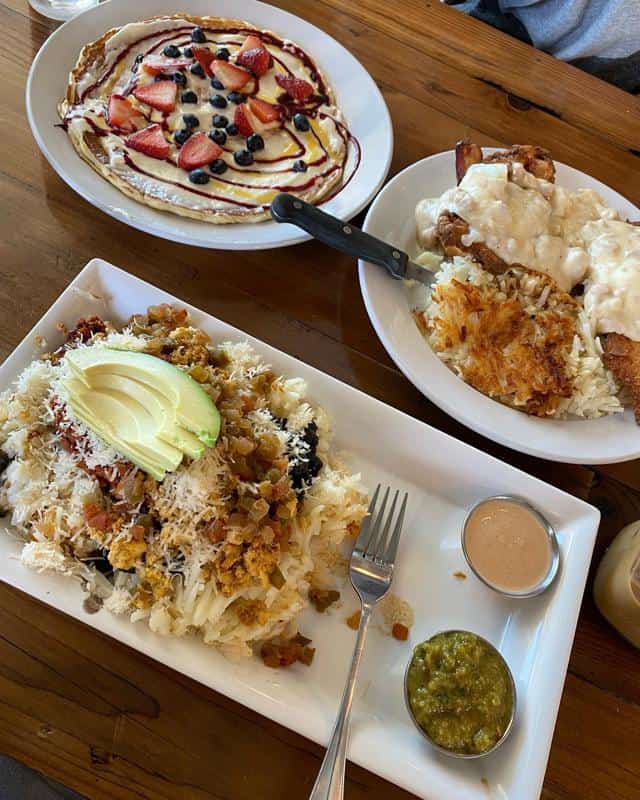 Address: 2123 Sadau Ct.
Known for: Breakfast dishes and coffee, a special vegan menu
Start your day with a happy tummy by having breakfast at Seven Mile Café. This cozy cottage with clean, black and white art murals on its walls serves scrumptious breakfast dishes. It also has an espresso bar right next to it to give you that extra boost of energy in the morning.
One of the most charming things about this trendy brunch café is that they offer basic breakfast foods—like smoothie bowls, French toast, and eggs benedict—but in so many different, creative ways.
For example, the pancake menu has over a dozen different variations, from chocolate chip and banana pancakes to those served with heaps of berries and birthday cake sprinkles.
Seven Mile Café is also popular for its vegan menu, which takes classic breakfast dishes and adds a healthy spin to them. The menu includes the likes of Beyond Chicken and waffles, as well as vegan loaded potatoes.
Komodo Loco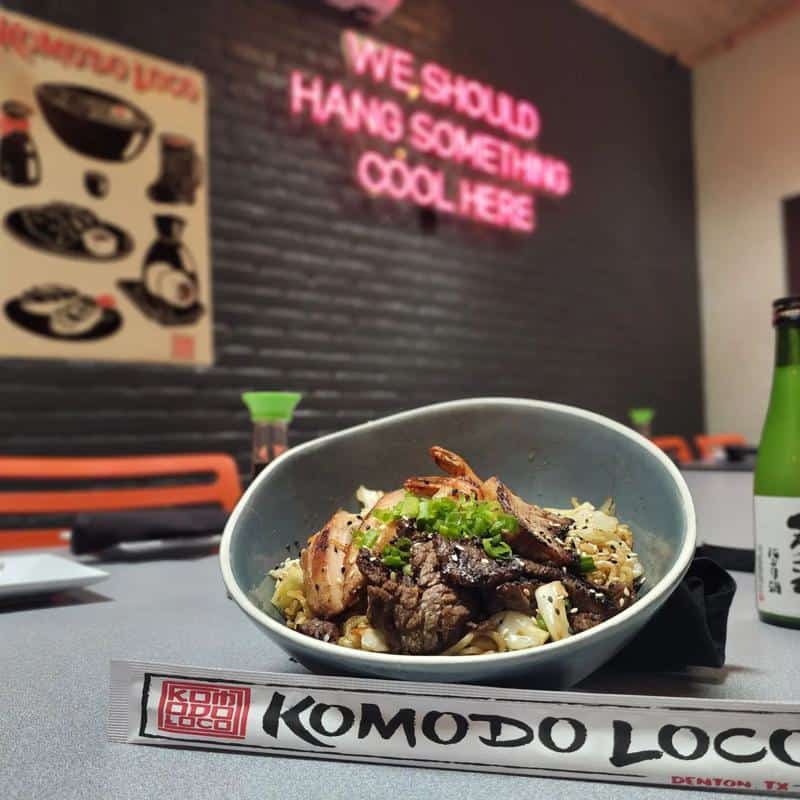 Address: 109 Oakland St.
Known for: Creative, non-traditional Asian cuisine
On the hunt for Asian food in Denton? Check out Komodo Loco's non-traditional Japanese food.
And when we say non-traditional, we mean it—this isn't your typical sushi bar. It's a more relaxed fusion restaurant that combines Asian and Latin cooking in creative, experimental dishes that still bring out the best in Japanese cuisine. Even the interiors have a hip, American vibe with neon signs on the wall!
They have traditional dishes, like bao, yakisoba, and poke bowls. But they also have specials like the Bayou Tower, which stack up spicy tuna, rice, avocado, crawfish, and more! It's definitely a restaurant for those who don't take their food too seriously and just want to try out fun and delicious Asian meals.
In line with Komodo Loco's chill and carefree atmosphere, they also serve tasty cocktails. Happy hour is from Monday to Friday, 4-6 PM!
Giuseppe's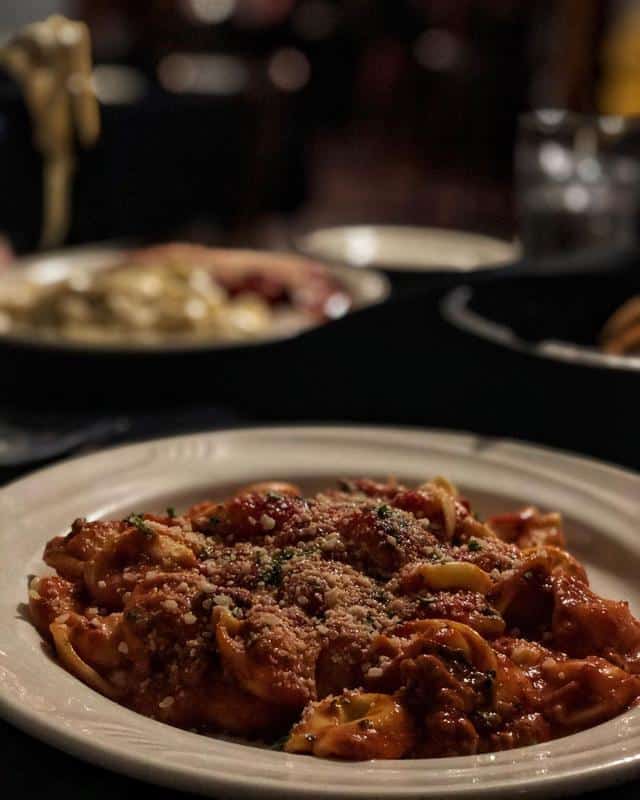 Address: 821 N. Locust St.
Known for: Authentic Italian dishes and pastas, located in a Victorian townhouse
Now for something more traditional and authentic—specifically for those who love hearty Italian meals. Giuseppe's is a chef-driven Italian restaurant run in an actual Victorian home, making it one of the more unconventional places to eat in Denton.
The owner and head chef, Giuseppe Brownell, grew up in Italy, where he spent his childhood days cooking in the kitchen with his grandmother. When he moved to America and started a family of his own, he wanted to bring authentic Italian cooking to Texans through this homey restaurant.
The mood in the restaurant is upscale yet cozy and relaxing, as if you're eating at home but with the most exquisite Italian dishes. They serve fresh pasta, chicken and veal dishes, and classic Italian desserts like cannoli and tiramisu.
Frosty Drive N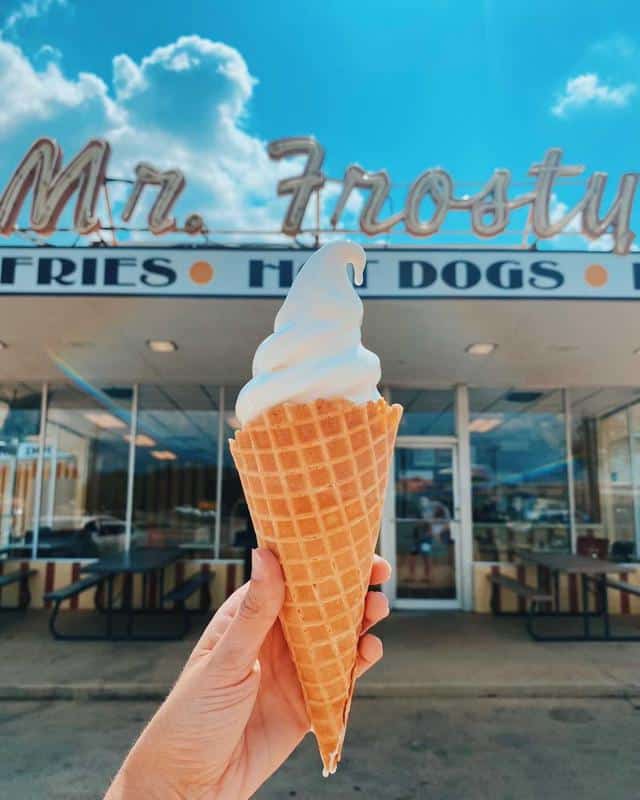 Address: 1002 Fort Worth Dr.
Known for: 50's diner aesthetic, burgers, their famous root beer floats
Frosty Drive N, also known as "Mr. Frosty" to locals, is an iconic, old-school fast-food spot you'll want to take your kids to if you happen to pass by Denton.
It's the quintessential 50's diner that makes you feel like you've stepped back in time because of the whimsical décor and retro music playing in the background. It's perfect for children but also grown-ups with old souls.
They serve classic diner food like broiler burgers, fries, milkshakes, hot dogs, and soft-serve ice cream. They also have Texan-inspired specialties, like chicken fried steak and chili cheeseburgers. One of their most popular must-haves is their root beer float, which is concocted with house-made root beer!
940's Kitchen and Cocktails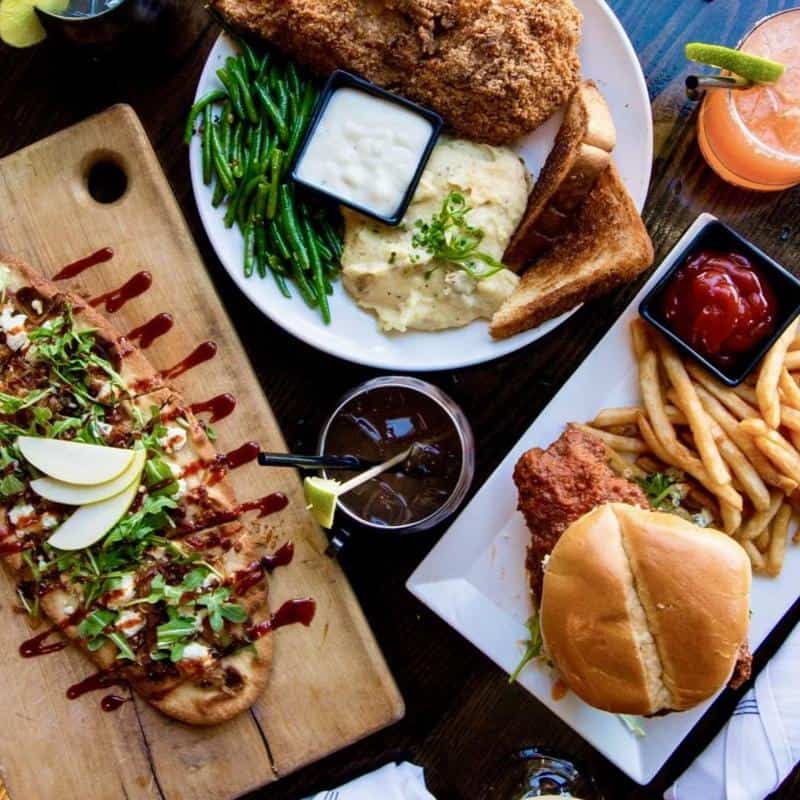 Address: 219 W Oak St.
Known for: Weekend brunch served with cocktails, breezy outdoor patio
940's Kitchen and Cocktails is a stylishly sophisticated, warehouse-themed restaurant that serves New American cuisine. It's a neighborhood restaurant, so lots of locals love it as if it were their own. The food is always made fresh and the cocktails are crafted to reflect the current season.
They offer weekend brunch from 10 AM to 3 PM on Saturdays and Sundays. The best seats in the house are on the beautiful outdoor patio, especially when it's sunny out.
During the service, they serve tasty, elegant breakfast dishes like eggs Florentine and the classic 940 breakfast (bacon or ham, toast, and two eggs however you want them). These are served with brunch cocktails, like mimosas and Bloody Marys.
If you're going for the dinner menu, try out the Denton fried chicken with garlic parmesan mashed potatoes—easily their most popular dish.
Read More:
Conclusion
The places to eat in Denton, TX are nothing short of lively and diverse. Whether you're looking for a high-end and elegant fine dining restaurant for a romantic date or an artsy, down-to-earth burger joint to hang out at with friends to watch the game, Denton has it for you.
From heart chicken fried steaks to classy, glitzy steaks plated with finesse, the food in Denton is always delicious and served with a smile on the servers' faces. Next time you're going on a night out and have no clue where to eat, check out this list for the best food destinations in the area.