Gulf Shores and Orange Beach cities are stunning, with white sands and expansive beaches. But the most iconic feature above the sea and the cultural heritage is the food culture. Southern hospitality is the theme, and what better way to share this than through what you eat? You can even fish for what you want on an artificial fishing reef during a sea motor drive.
Being a waterfront state, Alabama is a seafood haven. You will find exquisite delicacies on Orange Beach and Gulf Shores, with multiple restaurants serving what you crave. Feast on the red snapper as you enjoy a firefly beach volleyball. The Gulf Coast hosts the NCAA Beach Volleyball on its sand courts.
Best Seafood Restaurants on the Gulf Shores
The Gulf Coast city is known for its food, sandy beaches, and history. Restaurants serve fresh seafood harvested from sea waters and fresh fish sought from Gulf Shores fish piers. How will you find the perfect fit restaurant to dine at for seafood? Below is an assorted list of top tier restaurants on the Gulf Shore:
The Hangout Restaurant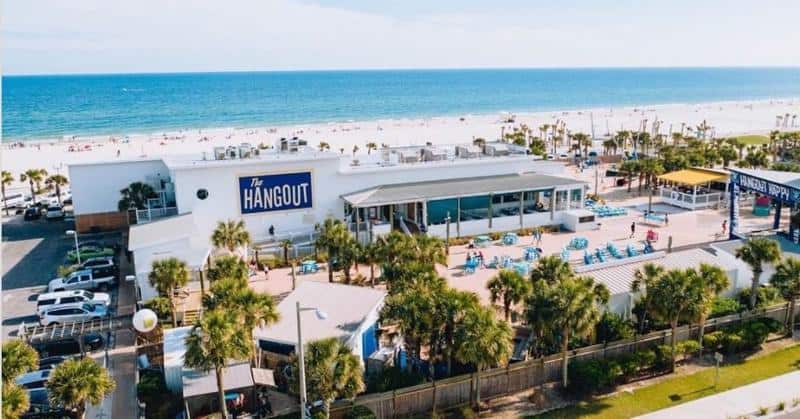 Address: 101 E Beach Blvd, Gulf Shores, AL 36542
Opening Hours: Daily: 10.30 am – 11 pm
The Hangout is a family-friendly seafood restaurant sitting on the Gulf waterfront. The 2.5-acre eatery is one of the most iconic places in Gulf Shores, adorning exclusive entertainment for the whole family.
You enjoy delicious food on the water as your kids play on the sand. You can access the beach from the hotel, making it perfect for an afternoon after a stroll with a loved one. The fire pit makes the night romantic and camping friendly. They do allow dogs in the outside dining space.
A courtyard at the restaurant gives you access to the retail shopping centre, a gift shop, and the stage. Live music featuring famous bands from the state and interstate will entertain you as you feast on your clam chowder dish.
Dinner's Note: The oyster cook-off is a festivity; you cannot afford to miss-check the official website for more details.
What to Eat: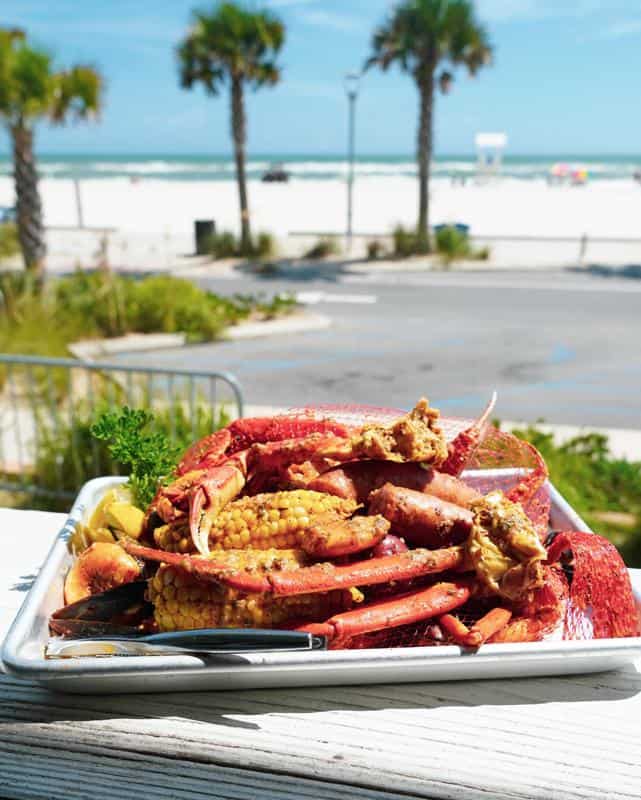 The southern seafood menu at The Hangout has fresh mussels, oysters, fish from the fish piers, crabs, shrimp, and lobsters. Try the ultimate seafood boil, which has a gluten-free option. It consists of gulf shrimp, red potatoes, sweet corn, Conecuh sausages, and garlic butter.
LuLu's Gulf Shores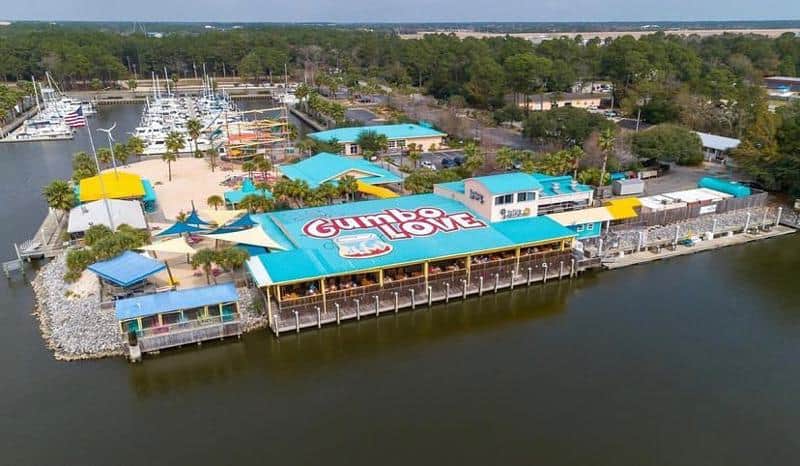 Address: 200 E 25th Ave, Gulf Shores, AL 36542
Opening Hours: Daily: 11 am – 9 pm
Lucy Buffet, the famous celebrity chef, brings her expertise and delicious food to the Gulf Coast. Her authentic coastal menus are always a hit. All meals are prepared from scratch, with all secret ingredients sought fresh from the sea and farms. You are getting incredible gourmet service at Lulu's Gulf Shores Restaurant.
Lulu's is group-friendly, so take your friends out for a girls' date or a quick catch-up with the boys over some beer. You can jump the wait by lining up virtually using the Beat The Wait feature on Lulu's website if your party has 10+ patrons.
The restaurant has a friendly environment and a waterfront with beach access. The parking is ample enough for buses and motors. Come with a boat? No worries! There's a dock for your sea vessel, too. An EV charging station keeps you less worried about your motor battery running out.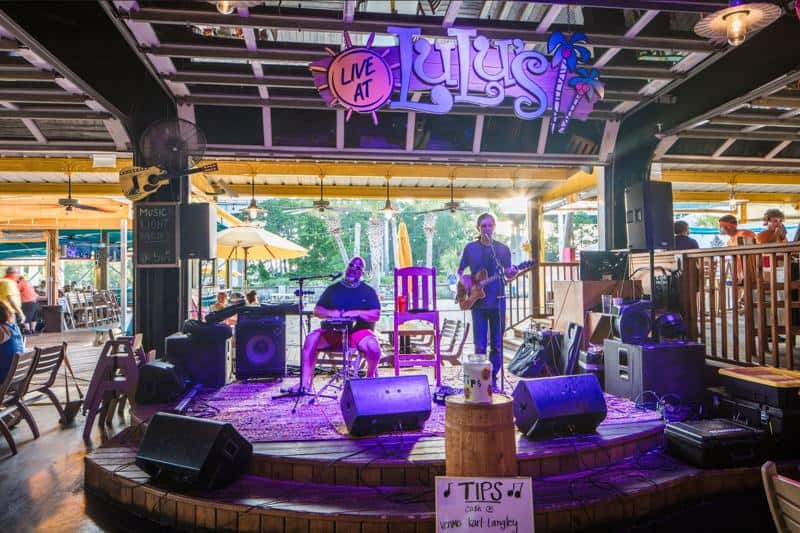 Nightly live music with famous music bands will keep you relaxed as you eat your fill of delicious cuisines. The musicians are sought after from all over the country, with some local favorites performing weekly.
What to Eat:
Seafood options at Lulu's Gulf Shores Restaurant include crab, lobster, and crawfish. Order a taste of crawfish cornbread casserole-a Louisiana dish with the taste of New Orleans crawfish.
Gulf Island Grill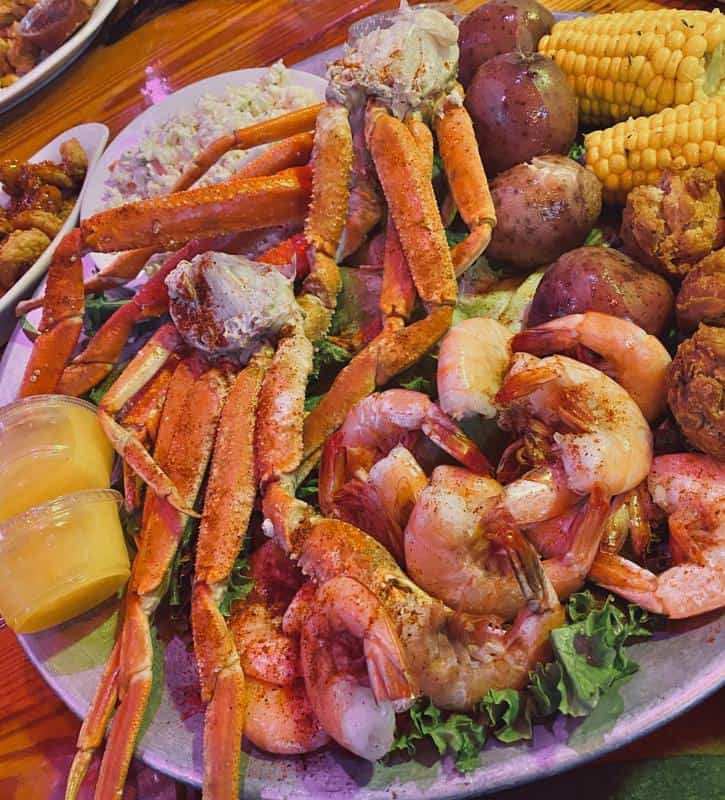 Address: 244 E Beach Blvd, Gulf Shores, AL 36542
Opening Hours: Daily: 11 am – 10 pm
Seafood at the Gulf Island Grill is fresh from the sea, with fresh catches from the fish piers on the Gulf Coast every morning. Mussels and oysters are delivered fresh, too. Eating at this joint means one thing-fresh delicious food on your plate.
The restaurant opened in 2003 with Pat Peninger and Freddie as patrons. They sought to bring unique tropical tastes to the Alabama food scene where you could dine in a relaxed environment. Order, dine-in, or carry out dishes with seafood selections loved locally. The restaurant has a pet-friendly outdoor dining setting too.
Drinks are available at the full bar serving craft beer and tasty cocktails, margaritas, creamy Bushwacker, and wine. Whether you want it by the glass or bottle, impeccable service is what you get at Gulf Island Grill. They also have parking available for patrons dining at this location.
What to Eat:
The order of the day at Gulf Island Grill is seafood on the grill, roasted, broiled, soups, baked and fried crabs, shrimp, and fish. A must-try is the seafood pasta option consisting of steamed shrimp and crawfish. The seafood is tossed in parmesan sauce and sauteed peppers and onions. The dish is served with a side of penne noodles and hot sauces to taste.
The Flying Harpoon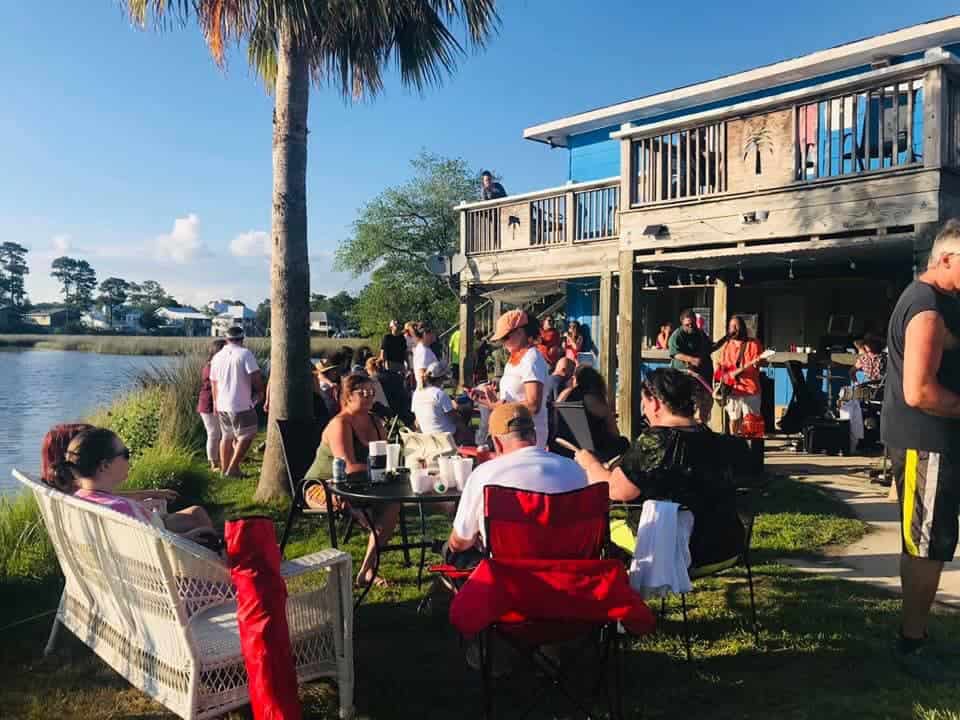 Address: 112 Windmill Ridge Rd, Gulf Shores, AL 36542
Opening Hours: Daily: 11 am – 2 am
The Flying Harpoon is a laid-back restaurant serving Americano, Seafood, and Cajun meals in Gulf Shores. Meals are prepared from original Nanc's Bitchin' Kitchen recipes for the best seafood meals. Expect to fall for the tasty food and an environment that will make any restaurant envious.
There's an outdoor dining space, spacious for events or just relaxing in the fresh air. You can also order a drink from the bar-the bar has draft beer, wine, and cocktails. Live music plays every Saturday and Sunday from 4pm to 8pm.
Due to regulations, the restaurant allows limited seating in its indoor dining space. Make a reservation for a large party, and the restaurant will accommodate you. The menu is flexible, allowing a few twerks to satisfy your private event patrons.
What to Eat: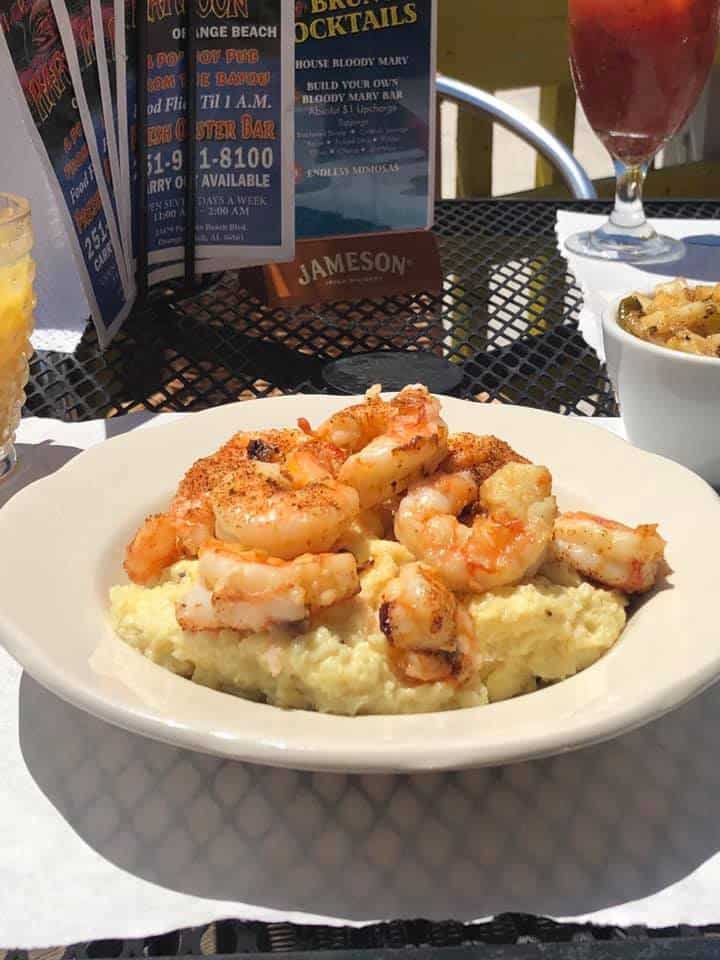 There is plenty of crawfish, shrimp, tuna, oyster fritters, creole seafood, stuffed tatter, buffalo shrimp, and hand-peeled shrimp. Have a taste of the local seafood platter, half-pound meat (spicy steamed shrimp, lightly fried shrimp, or flounder fingers), or eight fresh extra large fried oysters.
Also Read: Best Restaurants in Gulf Shores, AL
De Soto's Seafood Kitchen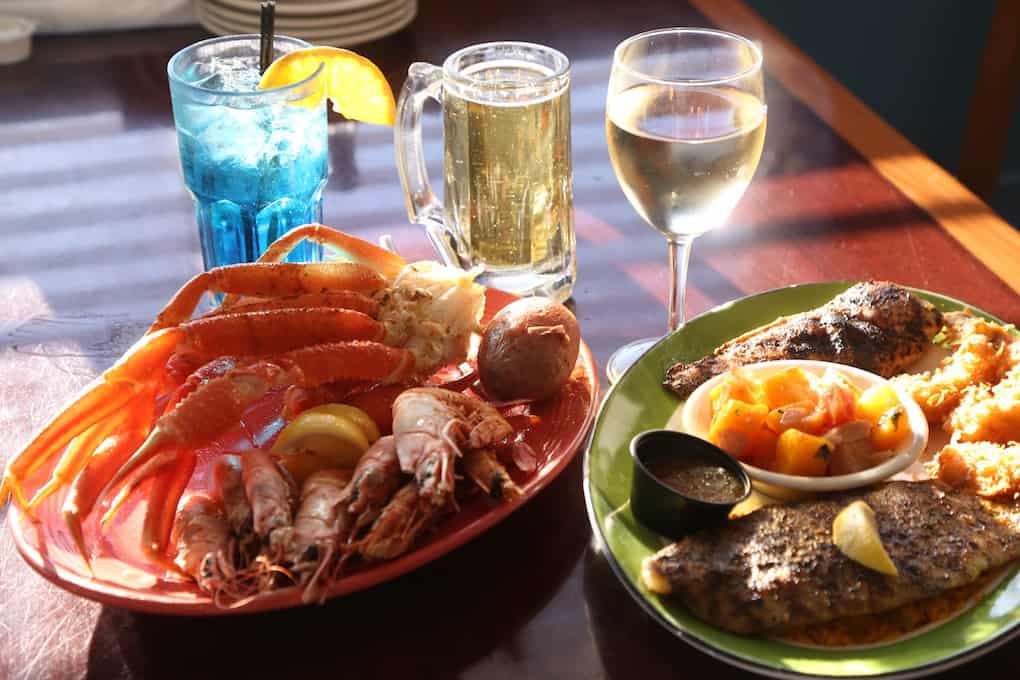 Address: 138 W 1st Ave, Gulf Shores, AL 36542
Opening Hours: Daily: 11 am – 9 pm
De Soto's Seafood Kitchen is a home-style cuisine restaurant on the Gulf Coast, opened in 2000. It serves delicious seafood as broiled, fried, grilled, and steamed in Cajun style. Creole meals are made in New Orleans style, Mediterranean style, or the in-house favorite Pecan Encrusted Style.
Enjoy daily specials during lunch and dinner with the chef's special menu and price slashes. The bar is full service, stocking wine and craft beers from local breweries and imports. Cocktails on order are available with delicious and exotic mixes of hard spirits.
Do you have an event? Book the restaurant for your private event like graduation parties, receptions, birthdays, corporate dinners, etc. The restaurant can feed and sit up to 70 patrons at any given time. De Soto's is one of the perfect family restaurants to hold a gathering on this side of town.
What to Eat:
The menu features seafood, including mussels, oysters, fish, and shrimp. You can also order lobsters, either fried or grilled. Try the crawfish etouffee with white onions, bell peppers, celery, sausage, and yellow rice.
Dinner's Note: The kids and seniors menu offers a wide range of seafood in lesser quantities and less fat/grease for easier consumption.
If you have more time to visit the nearby beach in Florida? Why not check out some of the best seafood restaurants in Destin & best seafood restaurants in Panama City Beach, only about 150 miles away from Gulf Shores.
Best Seafood Restaurants in Orange Beach
Orange Beach city is part of the broader Gulf Coast in Alabama. Restaurants serve fresh seafood from the fish piers on the Atlantic coastline of the Gulf of Mexico. The city has a rich history of Native Americans and fishing. It's also a sports hub-thereby nicknamed the water sports hub. When looking for seafood dining options in Orange Beach, consider the following restaurants:
Shrimp Basket Orange Beach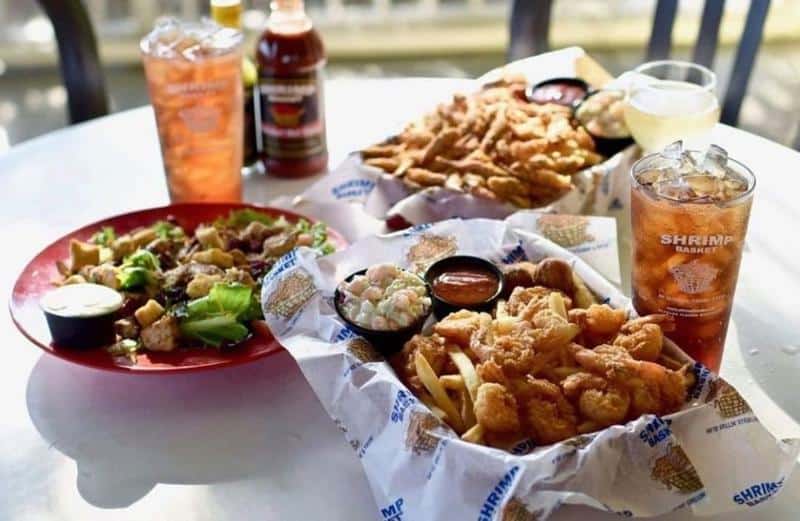 Address: 26651 Perdido Beach Blvd, Orange Beach, AL 36561
Opening Hours: Sunday to Thursday: 11 am – 9 pm; Friday and Saturday: 11 am – 10 pm
Shrimp Basket started in 1993 as a local family restaurant that prepared seafood and cajun dishes for the locals and travelers at Gulf Beach. The seafood options for grilling, frying, and steaming include shrimp, flounder, and crabs. You can also order oysters and hand-peeled shrimp at the raw bar.
Inhouse soups and desserts from original recipes and with an authentic southern taste are available with main entrees on seafood. The restaurant has frequent offers on fish and shrimp. Order from the all-you-can-eat option for fried fish, steamed shrimp, or fried popcorn shrimp.
Parking at the restaurant's main yard is available for diners; the parking can hold up to bus-size motors. Groups are encouraged to attend and enjoy huge discounts on family platters for fish and shrimp. A children's menu and a pet-friendly outdoor dining setting ensure everyone in your party is taken care of with delicious food at the Shrimp Basket.
Grab a shirt as a memoir on your way out or the delicious seafood sauces to try at home. You can purchase a gift card for your loved ones so they too enjoy the great food you just had at Shrimp Basket.
What to Eat:
The menu has three primary cooking techniques: grilling, frying, and steaming. Get tasty options for flounder, shrimp, crab, and raw or fried oysters. Try the stuffed flounder (with southern crab dressing, breaded and fried with cajun cream sauce) with rice and shrimp straws.
The Gulf – Orange Beach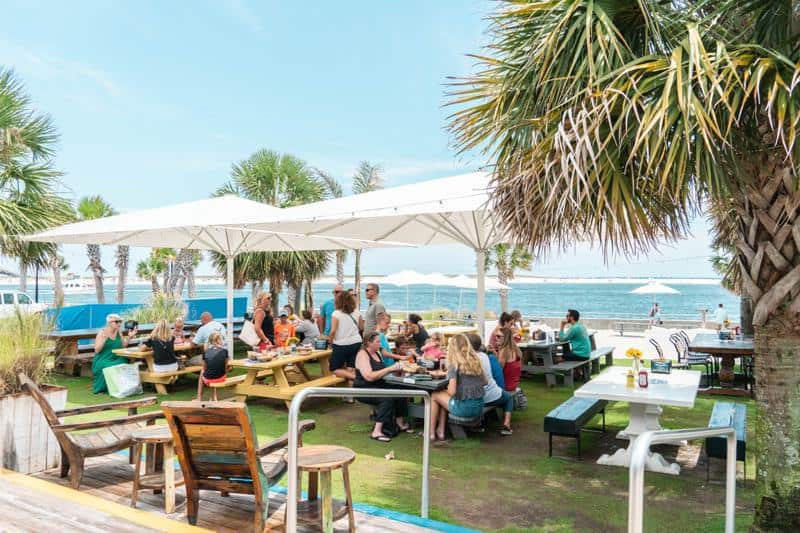 Address: 27500 Perdido Beach Blvd, Orange Beach, AL 36561
Opening Hours: Daily: 11 am – 9 pm
The Gulf is a beach restaurant in Orange Beach serving a relaxed environment alongside their tasty menu options for seafood. Get freshly prepared crab boils, oysters, and shrimp with a beer in this incredibly appealing ambiance. The restaurant is made from reclaimed materials and recycled shipping containers, which brings a rustic contrast to the beach and the coastal outline on the waterfront. If you are looking for a relaxed beach vibe, the Gulf will make your days brighter.
All food is prepared fresh from daily catches from the local fish piers. The sustainability quotient in seafood harvesting is observed. Only the best and ready fish, shrimp, and lobsters are harvested.
A full bar will sort all your throat cravings with delicious cocktails, craft beer, and wines by glass or bottle. You can also buy some of these drinks to carry home at the gift shop or a shirt/decor/accessories as a memoir. Gift cards are also available at the shop.
You can hold your events in the expansive beach line or the palm-filled open area. The restaurant can host graduation parties, weddings, or even private parties with a special menu to fit your guests.
What to Eat: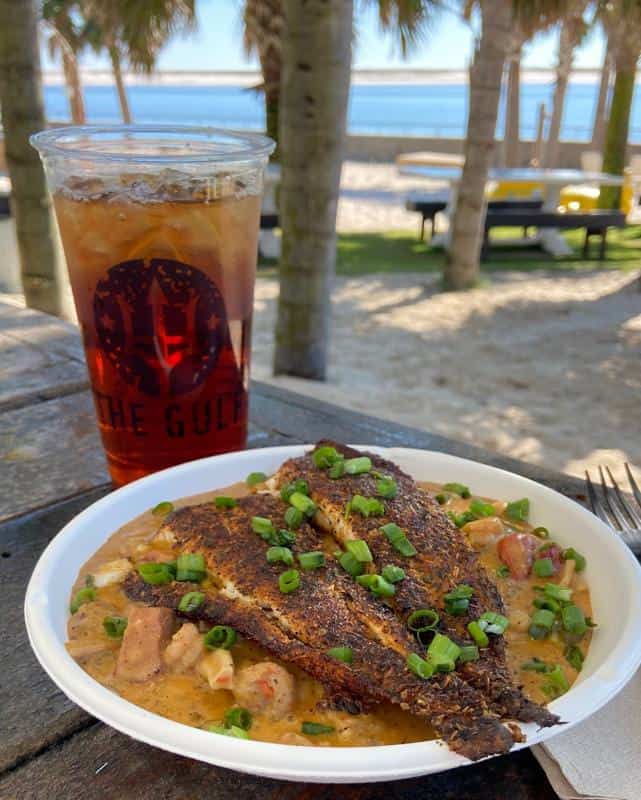 The menu has options for shares and sides under ten bucks. Try the seafood boil: Premium Jumbo Snow Crab Legs, Mussels, Fresh Gulf Shrimp, Sweet Corn, Conecuh Sausage- and Red Potatoes. All this is poached in low heat for the perfect mush and grit.
Also Read: Best Restaurants in Montgomery, AL
Cobalt, The Restaurant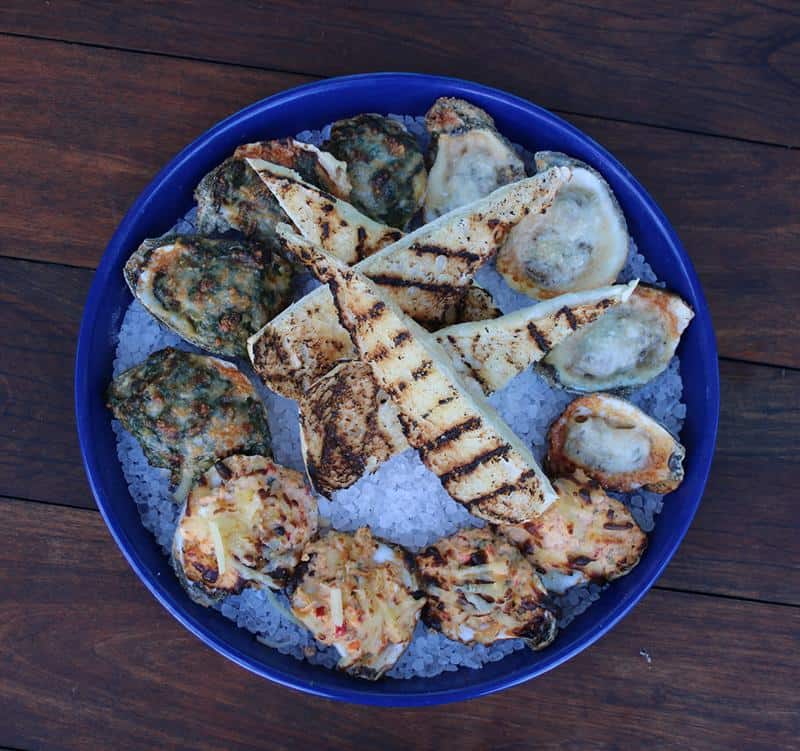 Address: 28099 Perdido Beach Blvd, Orange Beach, AL 36561
Opening Hours: Sunday and Thursday: 11 am – 9:30 pm; Friday and Saturday: 11 am – 10 pm
Three chefs at Cobalt prepare authentic dishes with a coastal touch from locally sourced seafood. You are getting a platter full of fresh fish, and crab from local fishermen served with ingredients from the local markets. The restaurant has floor-to-ceiling glass window panes to allow enough natural light and a breathtaking bay view from the dining hall.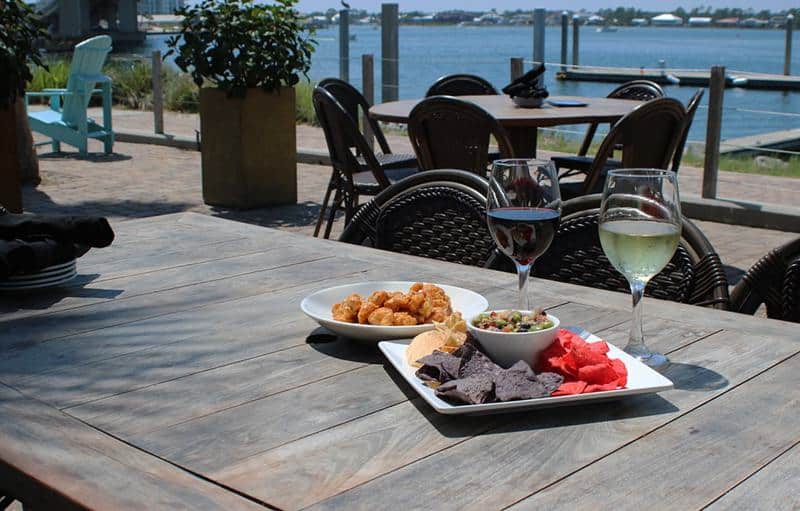 Alternatively, you can dine from the outdoor space or at the boat slips that can fit medium yachts and small boats. The waterfront and live music from the best ambiance for a relaxing moment at the restaurant while you enjoy tasty seafood.
Daily offers during the happy hour are available for draft beer, house wine, and appetizers from 3pm to 5pm.
What to Eat:
The Shrimp Fra Diavolo is a favorite among dinners at this location. It comprises roasted mushrooms, chargrilled lemon, spinach and arugula, tuna, and avocado, served with Asian sauce, firecracker shrimp, and spicy remoulade.
Doc's Seafood Shack & Oyster Bar
Address: 26029 Canal Rd, Orange Beach, AL 36561
Opening Hours: Sunday and Thursday: 11 am – 9.30 pm; Friday and Saturday: 11 am – 10 pm
Doc's Seafood Shack has served delicious seafood in Orange Beach for 35 years, from grilled shrimp, gumbo, and fried flounder. This is the destination if you are looking for a fantastic time while enjoying mouth-watering seafood.
The restaurant offers to cook your catch; all you gotta do is catch it, clean it, and they will cook it for you. A kids' menu will keep everyone at your party-ready with a dish of their choosing. Group orders are encouraged, with pickup and delivery options available for online orders.
What to Eat:
Doc's Seafood has great seafood tastes, deliciously prepared by professional chefs. Try the baked seafood, an excellent selection; get baked shrimp, stuffed crab, crab cake, fish filet, and grilled shrimp.
Wolf Bay Restaurant at Orange Beach
Address: 24131 Perdido Beach Blvd, Orange Beach, AL 36561
Opening Hours: Sunday and Thursday: 11 am – 9 pm; Friday and Saturday: 11 am – 10 pm
Wolf Bay has been serving seafood since 1973. It was initially started by Charlie and Sandra Wrape, serving local seafood cuisines. Originally, the food was made by local women-original recipes are available to date. Get authentic in-house gumbo, crab stuffing, stuffed shrimp, stuffed flounder, and dressings.
A raw bar serves oysters and peel-and-eat shrimp.
What to Eat:
Whole Gulf flounder Market-Wolf Bay favorite! Very mild and light fish, fried or broiled.
Also Read: Best Seafood Restaurants in Biloxi, MS
Conclusion
When looking for seafood options on the Gulf Coast, restaurants in Orange Beach and Gulf Shores will have something for you.
Explore southern hospitality at these beach eateries with dishes made from fresh catches from the local fish piers. You can order your menu selection as steamy, grilled, fried, or even as a broil. Seafood can not get any better!