Little Rock is the capital of Arkansas and is on the Arkansas River. It's home to several tourist spots, exhibiting the city's long history. Some of the most popular attractions are the William J. Clinton Presidential Library and Museum, the Old State House Museum, and the Arkansas Arts Center.
Little Rock is a lovely town with rich history, arts, culture, urban outdoor sports, and an exciting culinary scene. Surprisingly, it is a town boasting many restaurant choices, from casual and homey eateries to fancy, upscale, and award-winning restaurants.
The best way to explore the delicacies of this town is to visit popular tourist spots, as well as local eateries. You would be surprised by the delicious food small local bistros can offer.
Best Little Rock Restaurants
Flying Fish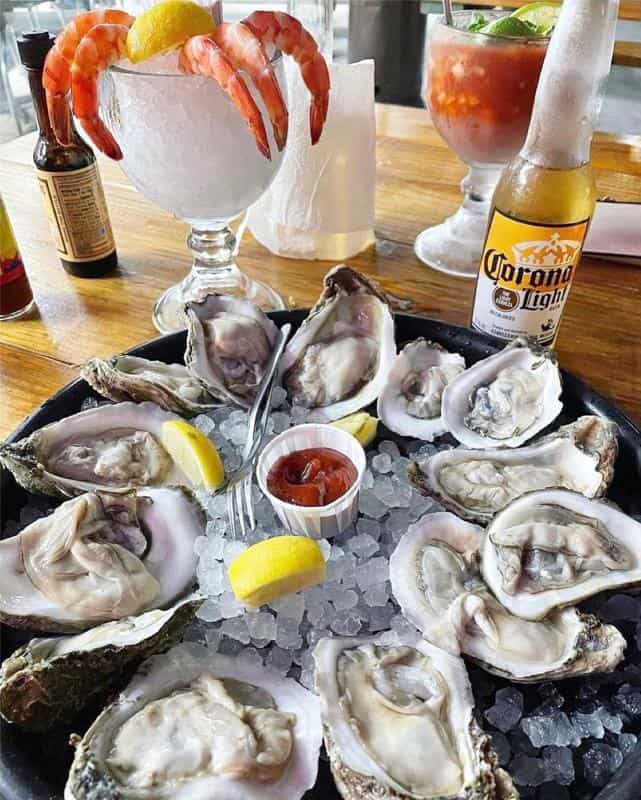 Address: 511 President Clinton Ave, Little Rock, AR 72201
Phone: +1 501 375 3474
Known For: delicious seafood dishes with a Cajun twist
Located in the Ottenheimer Market Hall, Flying Fish is a simple eatery offering some of the best seafood in town. It is a fun and relaxed place to dine by the Arkansas River.
One thing you can't miss at Flying Fish is the large collection of Billy Bass decorating the restaurant's walls. It is quite a unique, fun decor. But although it has a fun and cozy atmosphere, this is not your regular fish and chips place. Here, you can have some of the tastiest and freshest seafood you may carve.
The menu showcases dishes such as fried oysters, jambalaya, crab legs, frog legs, grilled red snapper filets sourced from South and Central America, fish tacos, and the famous catfish, original to Arkansas and other regions in the USA. For dessert, don't skip on the delicious Banana Pudding.
The Root Cafe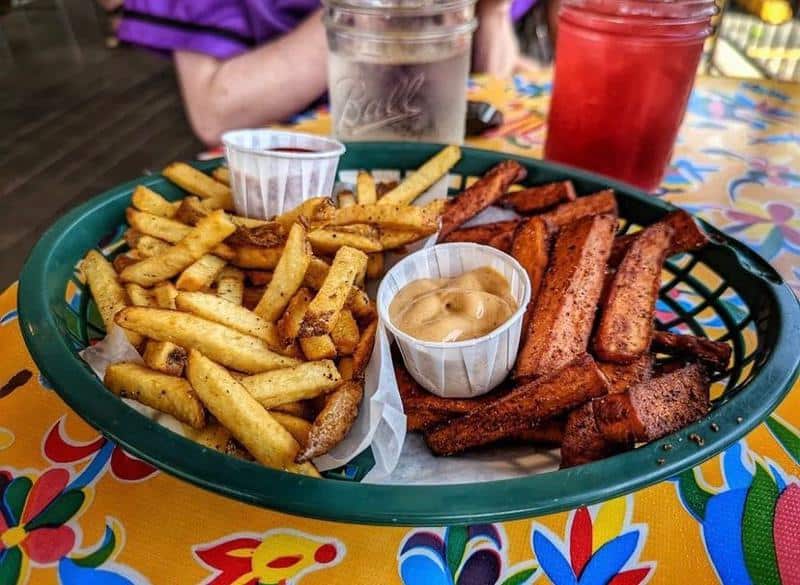 Address: 1500 Main St, Little Rock, AR 72202
Phone: +1 501 414 0423
Known For: seeks to educate and enhance the local community
The Root Cafe's goal is to build a community through local food. Specifically, they aspire to remain socially conscious by educating and enhancing the local community through various efforts such as workshops, exhibitions, and discussions.
The restaurant's ethos is indeed noteworthy, but so is its exceptional and delicious food. Using local-produced ingredients, The Root offers superb burgers, bratwursts, sandwiches, and award-winning vegetarian dishes. It is a unique and fantastic eatery spot giving a refreshing color to Little Rock's culinary scene.
The Root Cafe is a farm-to-table spot that also offers an easy-going vibe with a lovely patio. It is a cute place with unique decor, a hand-painted wall, and fresh and tasty food. Make sure to try the Banh Mi and Spiced Pecan Salad and if you're stopping for breakfast, try the Shiitake Benedict, a vegan take on Eggs Benedict.
Three Fold Noodles + Dumpling Co.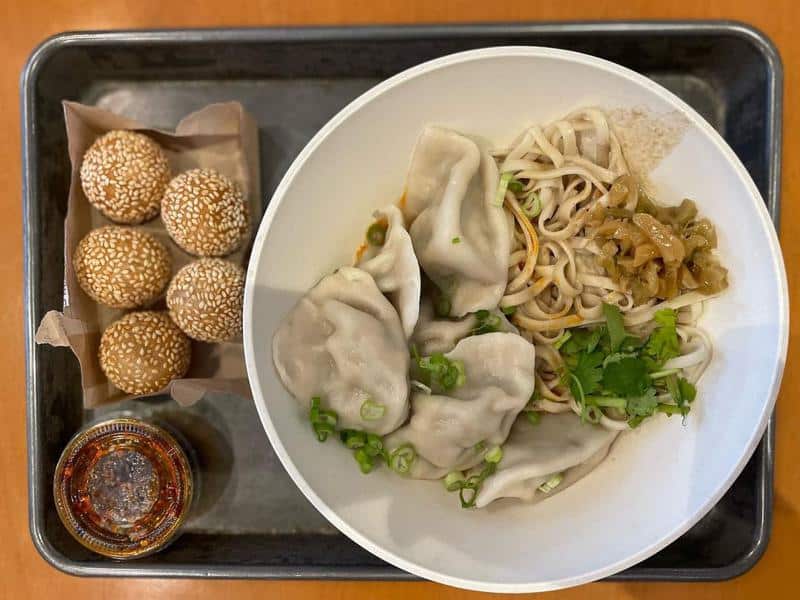 Address: 611 S Main St, Little Rock, AR 72201
Phone: +1 501 372 1739
Known For: fresh authentic Chinese cuisine
Three Fold Noodles is known for its homemade Chinese noodles, dumplings, and steamed buns. It is popular due to its authenticity and fresh food, so it is not a surprise it has been voted as one of the best places to eat in Little Rock.
Signature noodle bowls come with homemade noodles, a choice of meat and vegetables, or upgrade to a premium bowl with enhanced flavors and broths. A favorite among regulars is the homemade dumplings, Shui Jiao. They are always fresh and flavorful and come with your choice of meat topped with green onions. Or you can add six of the homemade dumplings to your soup!
Another favorite is the steamed buns, Mo, that are served sandwich style with pickled and fresh vegetables and your choice of meat. For the perfect start to your meal choose appetizers such as potstickers and the three-fold salad.
Samantha's Tap Room and Wood Grill
Address: 322 Main St, Little Rock, AR 72201
Phone: +1 501 379 8019
Known For: large collection of tap beer
Samantha's Tap Room & Wood Grill is a popular spot downtown serving high-end cuisine at affordable prices. It is a place that combines excellent service with incredible food and drinks and an elegant yet cozy ambiance.
Executive Chef Jimmy Carter always does an amazing job. Start your meal with The Surf & Turf Queso, topped with grilled steak, shrimp, and pico de gallo. Then if you prefer a light meal, go for the Chopped Salmon Salad. Otherwise, go for their delicious Bacon-Wrapped Filet Mignon.
Apart from delicious food, Samanta's also has a fantastic bar with incredible drink offers. They have 32 beers and 20 wines which are all also available on tap.
Star of India Restaurant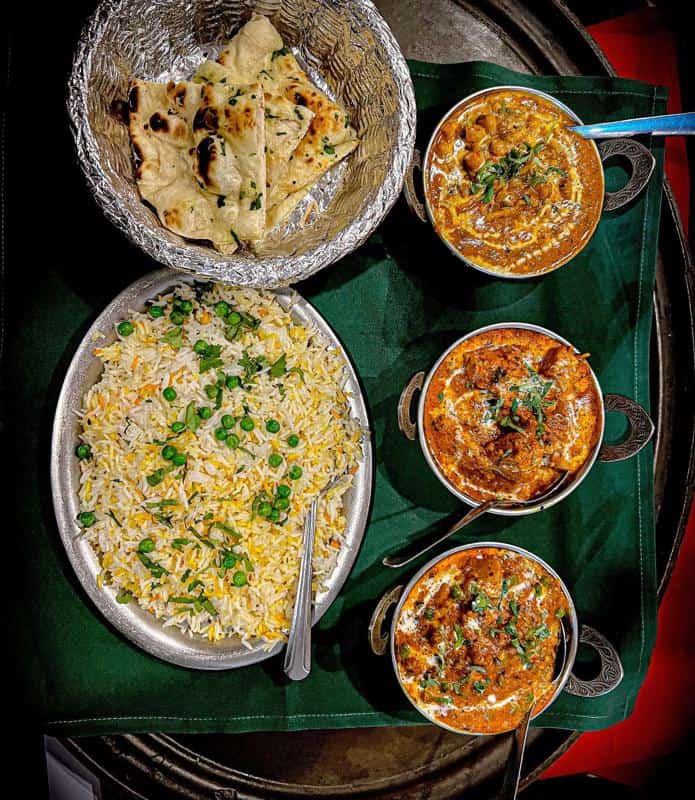 Address: 301 N Shackleford Rd, Little Rock, AR 72211
Phone: +1 501 227 9900
Known For: authentic Indian buffet
Located in Westchase Plaza, Star of India Restaurant is a strip-mall storefront restaurant offering a variety of authentic Indian dishes as a lunch buffet or dinner menu. This is frankly the best Indian lunch in the city.
The restaurant may be small, but it has a lovely ambiance. With soft Hindi instrumental music in the background, it brings a little bit of India to Little Rock. The service is always excellent, and the food is fresh.
If you aren't trying the buffet, order one of their lunch specials, like the Lamb and Fried Mahi Mahi. As for the drinks, don't miss the chance to try a Mango Mojito.
Layla's Gyro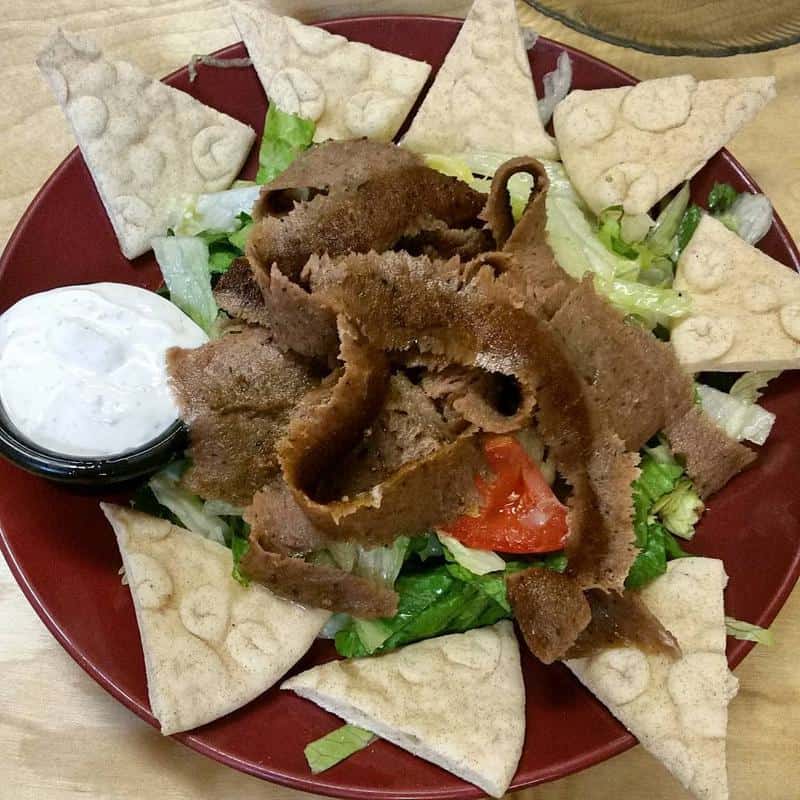 Address: 9501 N Rodney Parham Rd #7, Little Rock, AR 72227
Phone: +1 501 227 7272
Known For: authentic Mediterranean food
Layla's Gyro is a casual spot to eat in Treasure Hills Center. It is the best place for a quick stop for favorite Mediterranean cuisines such as gyros, kebabs, calzones, and more.
Many locals consider Layla's their go-to for delicious and authentic Mediterranean food. And although it is rather small, this popular takeout joint is always packed, especially during lunchtime.
First and foremost, when at Layla's, you have to try the hummus. It is absolutely delicious and takes you on a journey to the Mediterranean. For those that are very hungry or have a big appetite, go for a Gyro Calzone and get ready to have your minds blown with all that goodness. It is a gyro-style calzone with mozzarella cheese and tzatziki sauce on the side.
Yayas Euro Bistro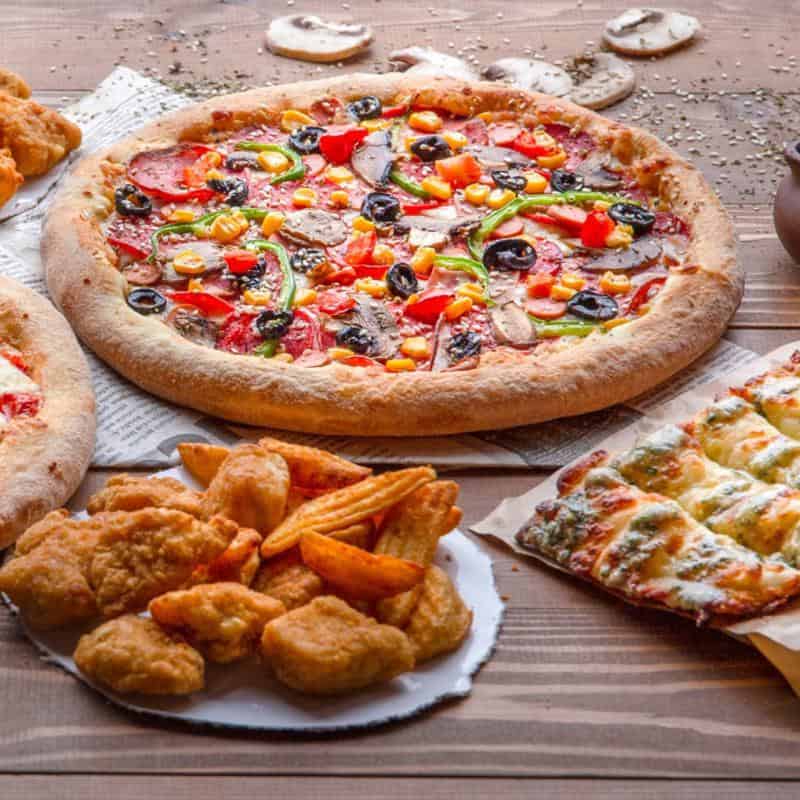 Address: 17711 Chenal Pkwy, Little Rock, AR 72223
Phone: +1 501 821 1144
Known For: Hand-tossed, oak-fired pizza
YaYa's Euro Bistro is a restaurant offering creative European cuisine and wine in a traditional, home-style spacious dining room with a wood-beamed ceiling and rock columns. It is a "table cloth and servers" type of restaurant, with an upscale yet inviting ambiance offering a lovely and personal dining experience that's especially memorable with their delicious food.
The restaurant's dedication to old-school ingredients and tried-and-tested recipes. Executive Chef Elliot Carter Jones and his team create nostalgic dishes with diverse influences, from Greek to Italian and French.
If you are a fan of buffets, then try the brunch buffet at YaYa's Euro Bistro and try as many dishes as possible. If you want to go ala carte, then don't pass on the Bruschetta, Grilled Salmon, and the delicious Roasted Pork Chop.
The Pantry Restaurant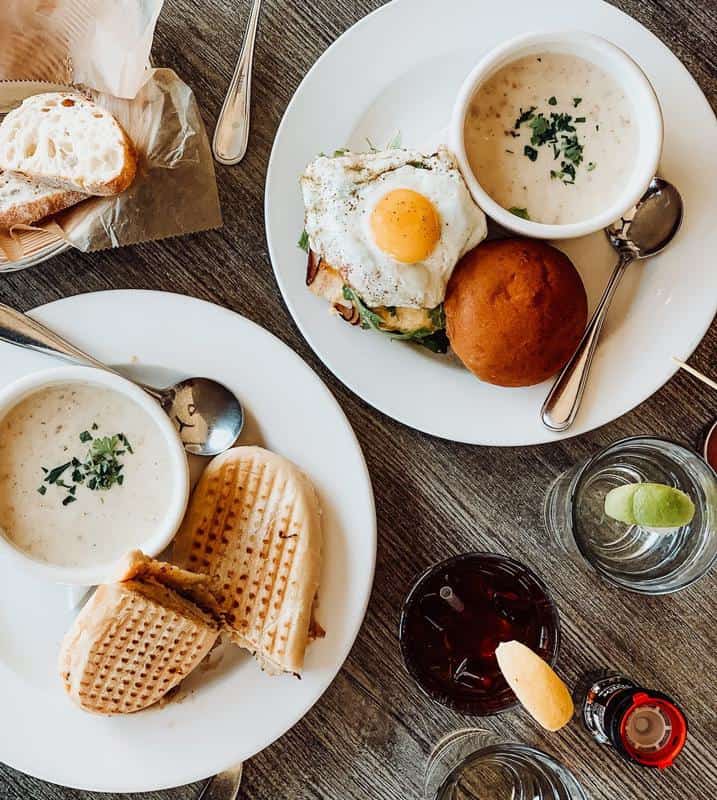 Address: 11401 N Rodney Parham Rd, Little Rock, AR 72212
Phone: +1 501 353 1875
Known For: offers a warm and stylish environment with delicious European dishes
The Pantry is a restaurant and bakery offering Czech and German classics, signature cocktails, microbrews, and wine. With its upscale ambiance with a warm and stylish environment and unique dishes, this is among the most popular restaurants in Little Rock.
It's ideal for mini celebrations, date nights, or a casual lunch or dinner with a friend. Furthermore, it is a great choice for those looking for gluten-free and vegetarian meals. Start with "nibbles" like hummus, truffled deviled eggs, cheese spaetzle, and brussels sprouts. Mains include a vegetable Lesco skillet, an assortment of flatbreads, and a vegetable side plate.
The lunch menu includes nibbles such as bacon-wrapped dates, buffalo shrimp, and a country terrine. The dinner menu features seasonal pastries, family-style salads, Svickova, a Czech roast beef, roasted pork shoulder, homemade Hungarian Sausage, a Hungarian Goulash pastry pie, and more.
Zaza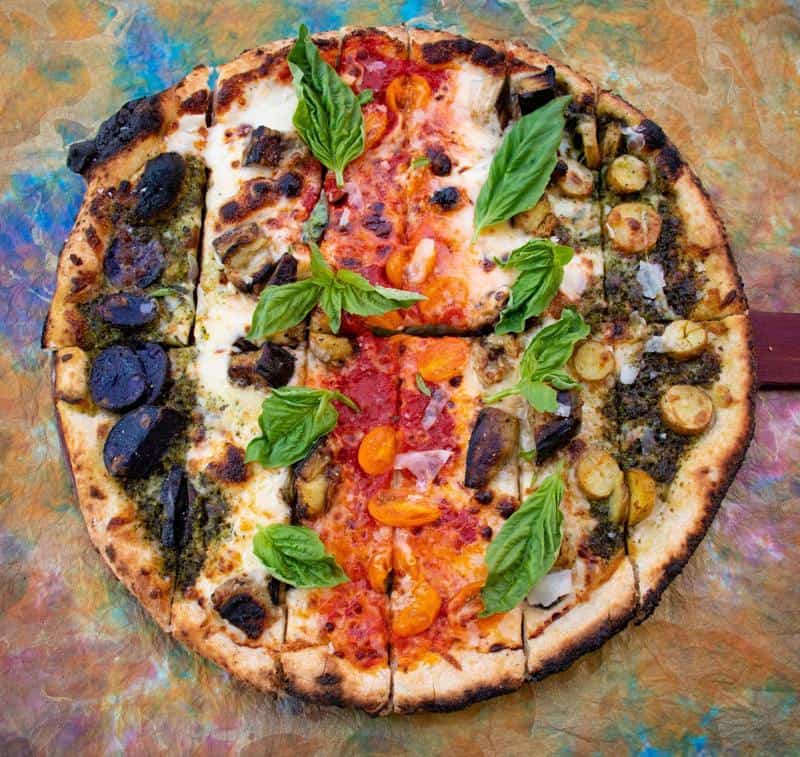 Address: 5600 Kavanaugh Blvd, Little Rock, AR 72207
Phone: +1 501 661 9292
Known For: most authentic Italian pizza in the city
Zaza prides itself on making the most authentic pizzas in town. After all, their ingredients are grown and imported from Italy. For instance, the crispy crust of the pizzas is made from Italian flour Tipo 00, cooked in a hand-crafted wooden oven. Due to these small yet significant details, people praise Zaza for baking what are arguably the best pizzas in town.
Furthermore, the restaurant provides luscious, natural gelatos made fresh every morning, with milk, berries, nuts, fruits, water, and all-natural cane syrup. However, be sure to try their lustrous salads. From a Zaza house salad with spinach, blueberries, and goat cheese, to a roasted chicken caesar, to sesame ahi or a Vietnamese chicken, all the salads are super filling and unique.
Zaza is an ideal restaurant for a casual dining experience with family and friends. It is perfect for creating special memories in a fast-casual restaurant and feeling like transporting back to a traditional Italian diner.
Arthur's Prime Steakhouse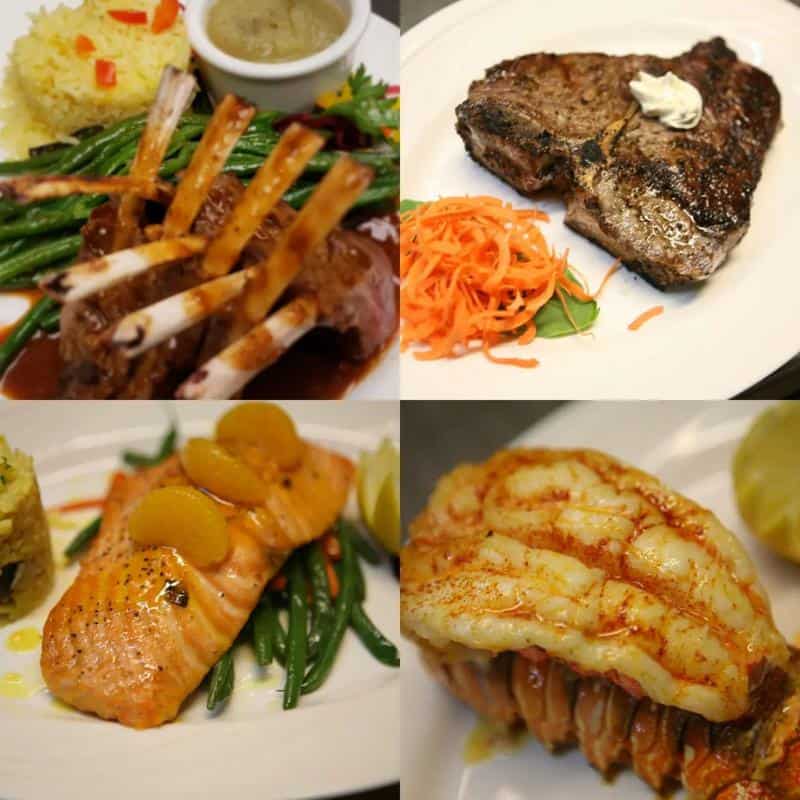 Address: 16100 Chenal Pkwy, Little Rock, AR 72223
Phone: +1 501 821 1838
Known For: featuring select cuts of Wagyu and Kobe from Australia and Japan
Arthur's Prime Steakhouse is one of the best places to eat and celebrate a special occasion. They have one of the best beef-aged steaks in the south, so naturally, this is one of the most favorite steakhouses.
Also, for those looking for exclusive dining, it is one of the few restaurants in Little Rock offering private rooms. You can dine in one of two private wine vaults.
For the perfect dining experience, start your meal with oysters on the half shell, a wagyu beef carpaccio, baked brie, or a colossal lump crab cake. Only USDA dry-aged prime meats are served. Then choose between Arthur's Filet, Bone-in Ribeye, NY Strip, Australian Wagyu beef, Japanese Kobe Beef, and the Prime Chateaubriand for 2. Or try one of their signature entrees like Lobster tail, Alaskan Halibut, Dijon crusted lamb and a roasted chicken breast.
Kemuri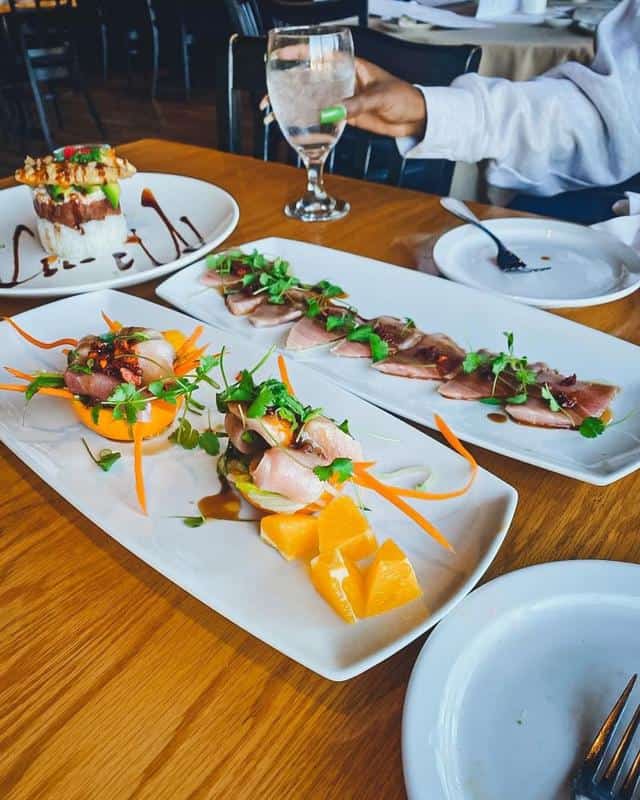 Address: 2601 Kavanaugh Blvd, Little Rock, AR 72205
Phone: +1 501 660 4100
Known For: posh modern Japanese environment
Kemuri is a modern-style Japanese restaurant featuring sushi, seafood, and robata-style skewers. Its elegant ambiance and menu are perfect for a romantic evening date with your partner.
For starters, try the Squid Salad with Tuna Carpaccio. If you are craving sushi, go for the Yellowtail Roll with Scallions or the Crunchy Shrimp Roll. And to finish with the perfect touch, go for a dessert you may never try before and treat your palate to some delicious Sesame Seed Ice Cream.
Additionally, Kemuri is one of the best places to go for a delicious and alternative brunch. They offer Japanese fusion cuisines such as green tea pancakes, miso french toast, eggs benedict with soft shell crab, shishito grits and shrimp, and Kemuri tacos.
Brave New Restaurant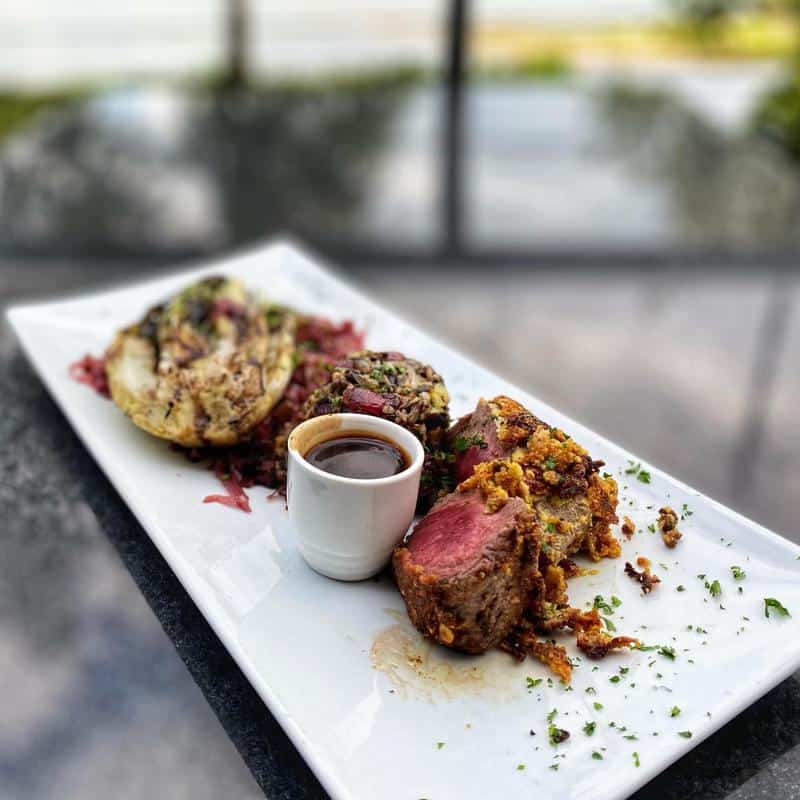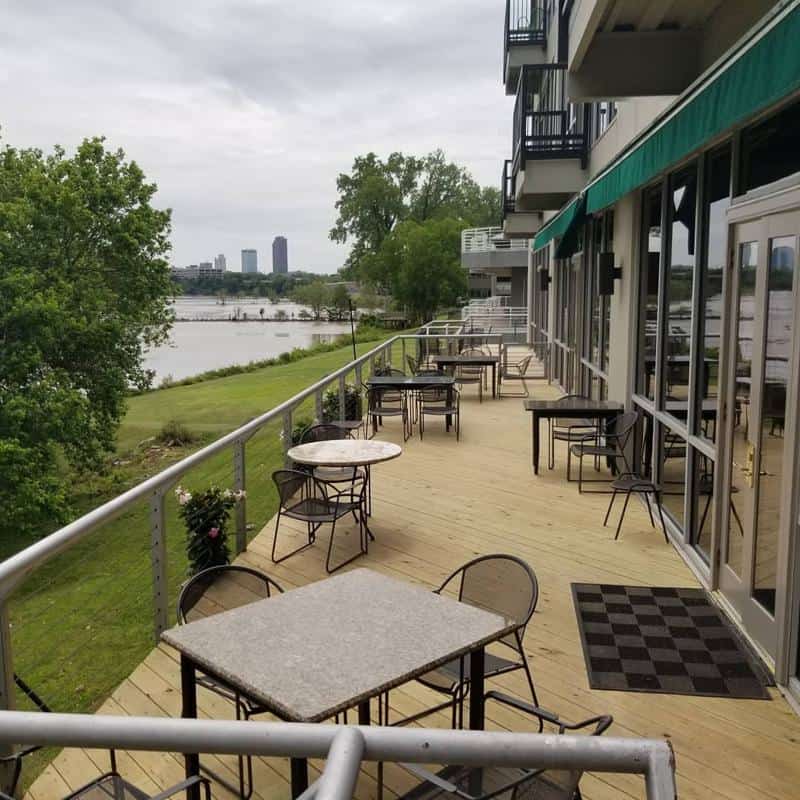 Address: 2300 Cottondale Ln #105, Little Rock, AR 72202
Phone: +1 501 663 2677
Known For: scenic river views
Brave New Restaurant is an upscale restaurant featuring creative American dishes and delectable desserts. It is the best spot if you are looking for fine dining in Little Rock.
Located on a river-facing dock, Brave New Restaurant is the perfect place for romantic dates. But it is also a great spot for exploring the city's long history as a seafaring city. Furthermore, it may be an upscale restaurant, yet it boasts a casual environment featuring a balcony with river views, delectable food, and excellent service. seafaring
The menu is updated regularly to keep Brave New Restaurant fresh and up-to-date. Some of their best dishes are smoked salmon salad, veal with wild mushrooms, or mixed grill. But make sure to try Goat Cheese Mousse for a starter, Walleye for the main dish, and for dessert, don't forget to order the heavenly Chocolate Creme Brulee.
Doe's Eat Place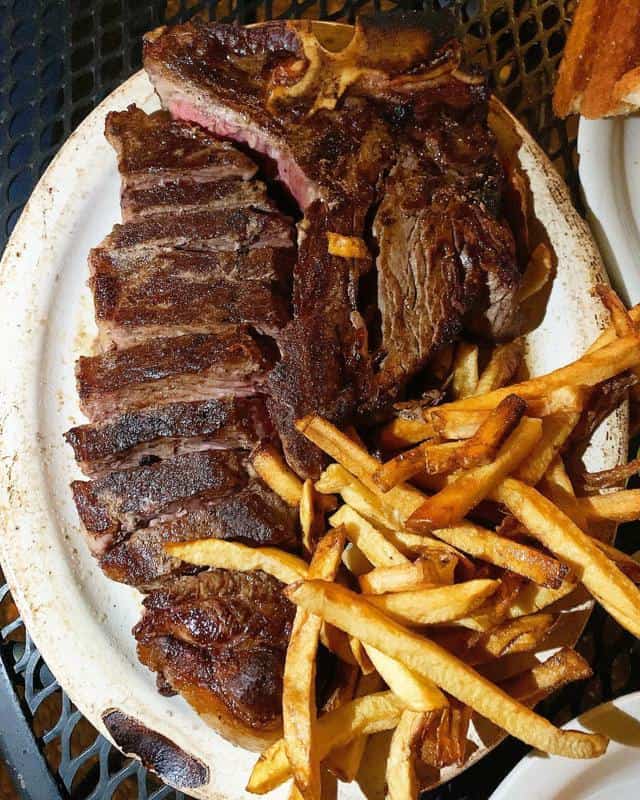 Address: 1023 W Markham St, Little Rock, AR 72201
Phone: +1 501 376 1195
Known For: serving delicious jumbo steaks
Doe's Eat Place is a monumental spot in Little Rock. This restaurant is known for serving family-style jumbo steaks, Cajun seafood, and tamales, all with a homemade and folk-like vibe.
It is among the best restaurants downtown for comfort food, offering a casual, cozy, and homey vibe. It is a restaurant where you can feel at home and part of a big family. After all, the interior of Doe's consists of a wall full of framed photos of valued customers and their greatest waitstaff.
When dining at Doe's Eat Place, you have to order their tasty homemade Tamales. Also, make sure to try the Porterhouse Steak. It is absolutely delicious.
Read More Nearby Food:
Map of Best Little Rock Restaurants
Final Thoughts
Little Rock is a lovely town in Arkansas with many things to do and see. Whether you're coming for a long weekend or staying for a while, it means you can explore the city's diverse and exciting culinary scene.
Little Rock offers a variety of foods to fit everyone's tastes and desires. From staple restaurants to unique local eateries of traditional dishes and alternative or international cuisines.