Boone is a quaint little town nestled within the majestic Blue Ridge Mountains of North Carolina. The picturesque town is known for its rich history, nature museums, and amazingly fresh and local cuisine.
While taking a trip to this gorgeous mountain town, visitors are attracted to the abundance of eateries while exploring the many galleries, scenic landscapes, and museums along the way.
Read our list to know about the best cafés, restaurants, bakeries, and breweries in Boone.
Best Overall Restaurant: Proper
Best Local Restaurant: The Local
Best Family-Friendly Restaurant: Dan'l Boone Inn
Best Restaurant with a View: The Gamekeeper Restaurant
Best Restaurants in Boone, NC
Proper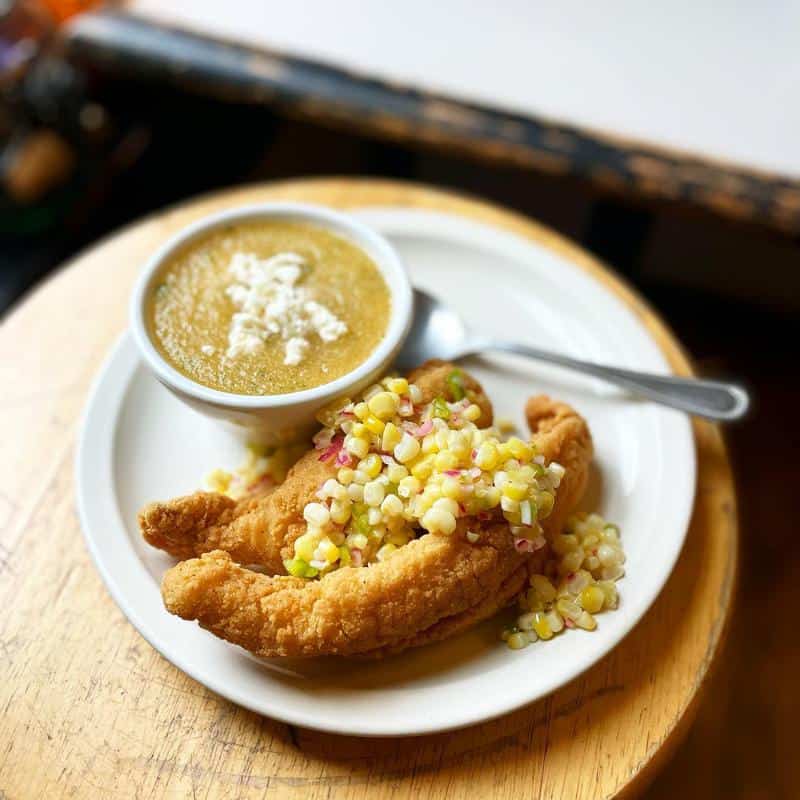 Address:142 Water St, Boone, NC 28607
Known for: Southern comfort meals in a homely and warm ambiance
Treat yourself to wholesome and homely comfort food with a visit to the quaint and welcoming Proper. The relaxed and warm ambiance makes one feel right at home, with the aroma of good-old southern comfort dishes enthralling your senses.
The restaurant has a typical southern setting with locally-sourced ingredients used for every meal. The place successfully captures the small-town charm of Boone with its artistic décor and minimalistic setup.
Try a delectable serving of Fried Chicken, Tomato Pie, Mac and Cheese, or a delicious bowl of Pintos and Rice as the all-time favorite comfort dishes. Enjoy fresh and seasonal vegetables with delectable treats like Melon Gazpacho and Roasted Corn Salsa with Fried Catfish, and end your meals with the famous Chocolate Pecan Pie.
The Local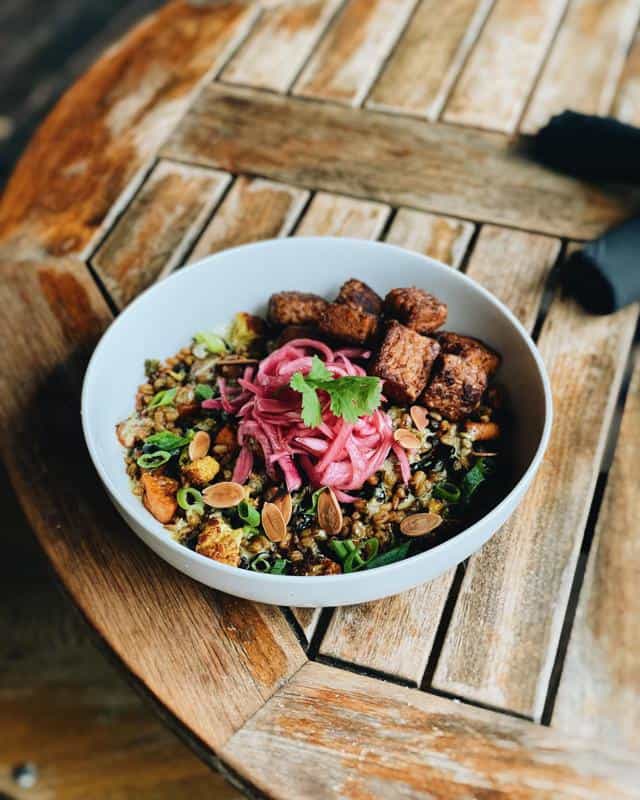 Address:179 Howard St, Boone, NC 28607
Known for: Immense local charm, a variety of salads, and local game with seasonal vegetables
As the name suggests, The Local captures the true local beauty of Boone with its cozy yet charismatic old-town setup and immense local charm. The polished New American restaurant has rustic interiors with wooden beams, a brick fireplace, and country dining chairs.
The restaurant doubles as a club on weekends – and it surely knows how to party. The local game on the menu further adds to the allure of The Local, making it one of the finest places to dine in when in town.
The entrée specials include a variety of salads for health-conscious diners with refreshing local produce and tantalizing flavors. For instance, the hearty yet light Tempeh Buddha Bowl has marinated tempeh, faro, black beans, turmeric cauliflower, pickled onions, scallions, mushrooms, toasted almonds, and citrus cilantro drizzle and is bursting with flavors.
Another great salad on their menu is the Duck Confit Salad, and to elevate its flavors, order it with a warm bowl of Potato Soup. Enjoy the local game in dishes like Grilled Bison with seasonal vegetables.
Dan'l Boone Inn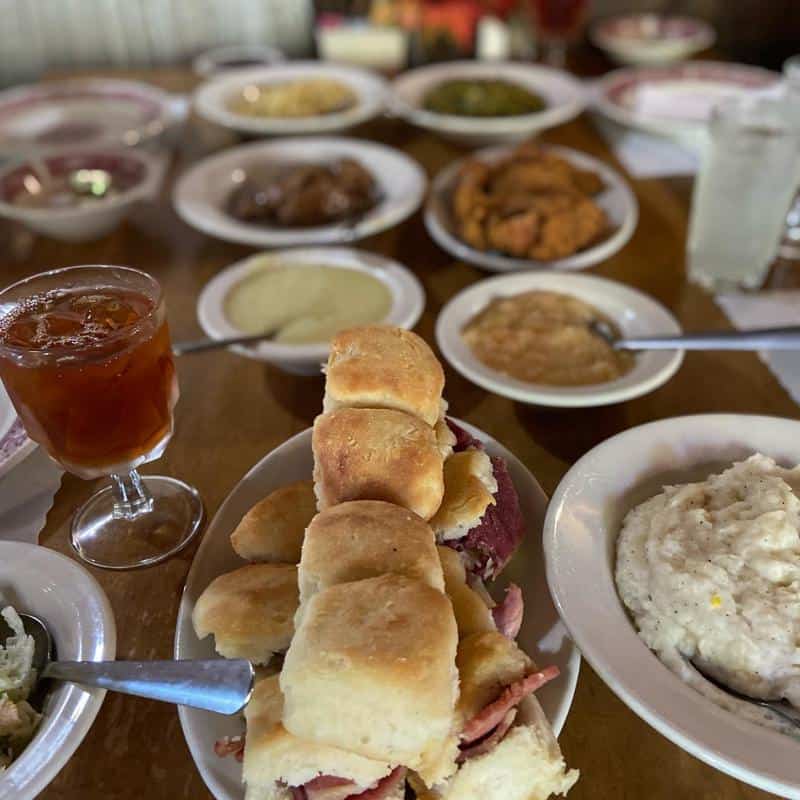 Address:130 Hardin St, Boone, NC 28607
Known for: Charming family-style spot for family dinners and special occasions
A visit to the beautiful and charming Dan'l Boone Inn feels like a warm hug from a loved one. The down-home southern comfort food spot is built inside one of the oldest buildings in the mountain town, and the restaurant is like an institution in Boone.
Running strong for over 50 years, it faithfully serves its patrons and visitors with classic southern delights in home-style flavors. The dining area has a family-style setup and it is an ideal place to take your family for a special dinner night.
The appetizers are filled with delicious Summer Salads and Winter Soups depending on the time of your visit. They have a variety of vegetables, meat, biscuits, preserves, and desserts along with a choice of beverages.
The Gamekeeper Restaurant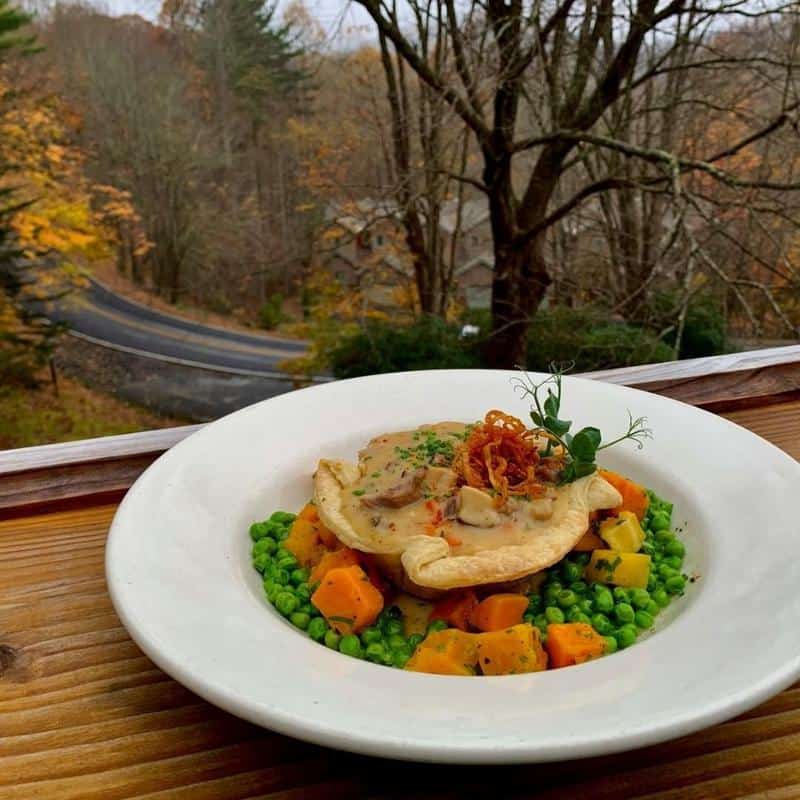 Address:3005 Shulls Mill Rd, Boone, NC 28607
Known for: Beautiful fine dining spot with amazing views and comfort meals
The Gamekeeper Restaurant is one of the best fine dining restaurants in Boone. The rustic cabin-style setup is quite appealing and sets the theme for a romantic, intimate evening filled with wondrous views and great food.
The restaurant opens up to the best views of the Blue Ridge Mountains, looking mesmeric in winter with warm comfort meals to keep you company. The farm-raised meats make excellent entrees with a side of fresh and seasonal vegetables.
Enjoy beautifully cooked Grilled Bison with moist and succulent meat and shiitake jus with bleu mac, or the perfectly comforting Osso Buco and Lamb Pot Pie beautifully presented with micro greens.
Wild Craft Eatery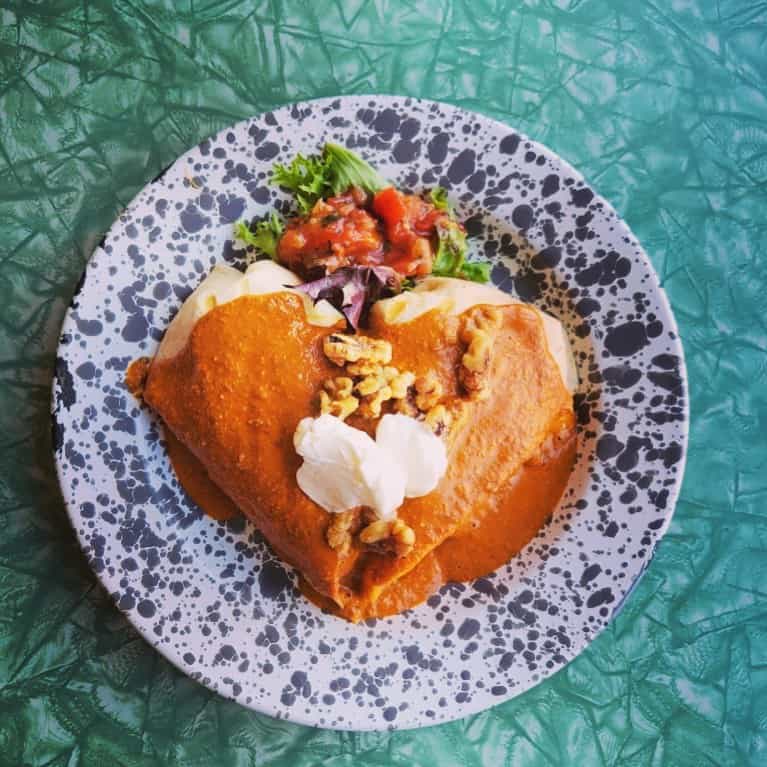 Address:506 W King St, Boone, NC 28607
Known for: Local and organic ingredients, healthy dishes, and vegan options
If you are visiting Boone Downtown, a visit to the Wild Craft Eatery is a must! The refreshing and classy restaurant is located in the heart of downtown and offers a huge variety of healthy options with locally-sourced ingredients and vegan and gluten-free choices.
People on dietary restrictions especially enjoy dining here for its range and quality. The restaurant has a beautiful setup with a laidback ambiance and a breezy outdoor patio to enjoy sunny days.
The restaurant serves brunch, lunch, and dinner with a focus on Asian and Latin fusion flavors and dishes. Try the heavenly indulgent Mushroom Gouda Burger doused with honey mustard, sriracha mayo, and cheese, or the Yardbird from their global grub with grilled chicken breast smothered in mushroom gravy.
Coyote Kitchen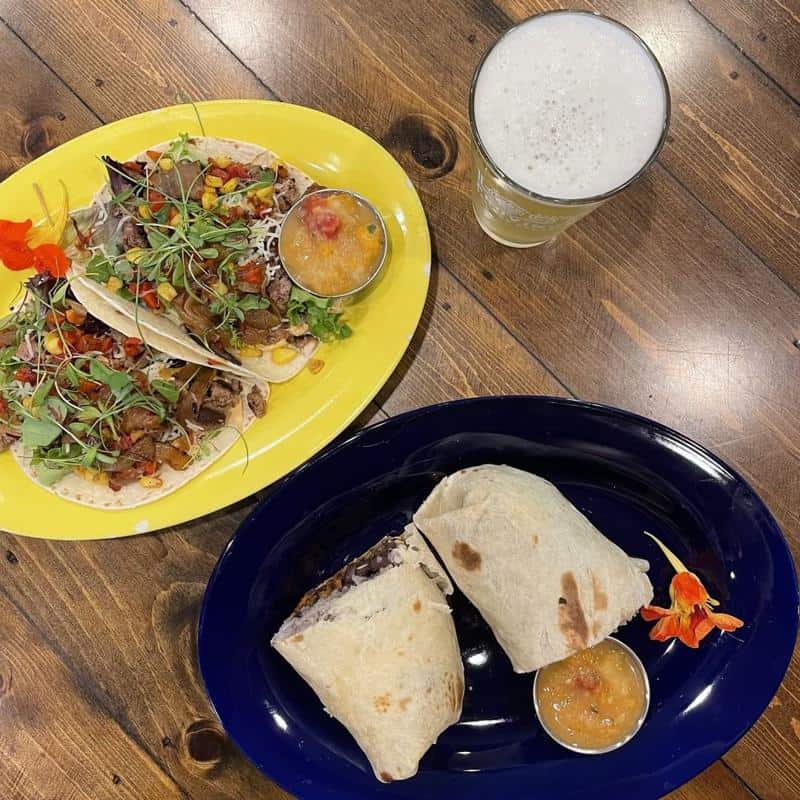 Address:200 Southgate Dr, Boone, NC 28607
Known for: Southwest Caribbean flavors with eco-friendly and locally-sourced ingredients
As intriguing as its name sounds, Coyote Kitchen offers a seamless Southwest Caribbean soul food experience you won't find anywhere else. The restaurant is famous for its quirky and eccentric flavors, Mexican delights, and charming southern hospitality.
With a humble setup and casual ambiance, Coyote Kitchen is a great place for conscious eaters and people with dietary restrictions. It has a lot of vegan and vegetarian options on the menu, with a special focus on eco-friendliness and hormone and antibiotic-free ingredients.
The menu has a huge variety of Salads, Burgers, Sandwiches, and bowls that can be customized as per your request. Try the fully-loaded Burritos and Tacos served with a lot of seasonal veggies and micro-greens with a side of beer for a well-rounded hearty meal.
Vidalia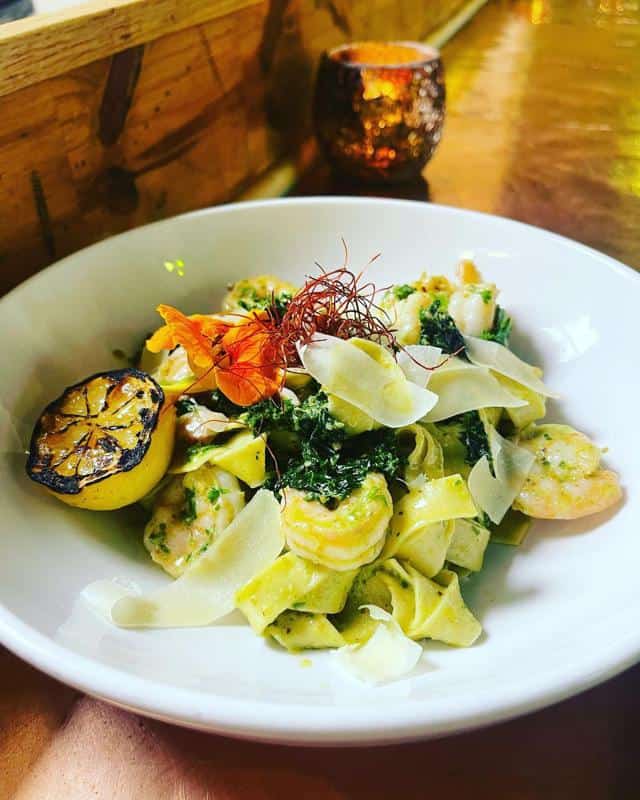 Address:831 W King St, Boone, NC 28607
Known for: Classic southern fare, fresh seafood dishes, and local NC wines, beers, and ciders
Another locally-owned gem in Boone is the bistro-style Vidalia featuring a full menu and wine bar in an upscale setting. The restaurant has Southern fare with its specialty being the infamous sweet onion that shows up in a variety of their dishes including the perfectly crisp onion ring appetizer or elevating the flavors of the entrée as a side item on burgers and Ribeye.
It is a good spot for fine dining as you will find a variety of wines on the menu to go with your food. Whether you are craving something light yet filling like the Wild Ramp Pesto Pasta with shrimp and Watauga country ham, or a rich and hearty Ribeye steak, you will find it all on their menu.
Another famous seafood entrée at Vidalia is the Seared Salmon and Grilled Tuna. Enjoy your meals with your favorite Ciders, Beers, or Wines from local North Carolina breweries.
In the summers, the restaurant has a lovely patio dining setup ideal for date nights.
Eleven80 Eatery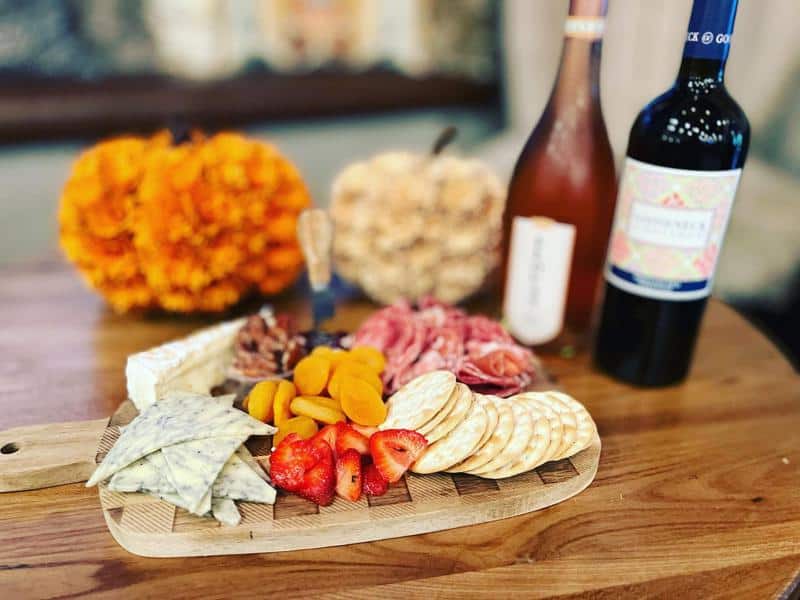 Address: Boone Mall, Next to HomeGoods & TJ Max, 1180 Blowing Rock Rd, Boone, NC 28607
Known for: Small plates and southern dishes, local wine, and a full bar
Located in a busy rear corner next to TJ Maxx and Home Goods in Boone Mall, Eleven80 Eatery is a chic eatery opened by the Lovejoy's. The long-time residents know what the locals want, and the hospitality and dedication to service is reflected in the setup and menu of the restaurant.
It instantly makes you feel at home with a relaxed lounge-style dining area offering a variety of small plates, burgers, flatbreads, and seafood variety with a classic southern twist in flavors and presentation. The best-selling appetizer on the menu is their sweet and tangy Gochujang Shrimp.
Select wines from their cocktail bar in collaboration with the local Grandfather Mountain Vineyards go exceptionally well with the Charcuterie Board, Mini-Chicken and Waffles Plate, and other small plates and appetizers. Try your favorite local brews from their full bar.
Melanie's Food Fantasy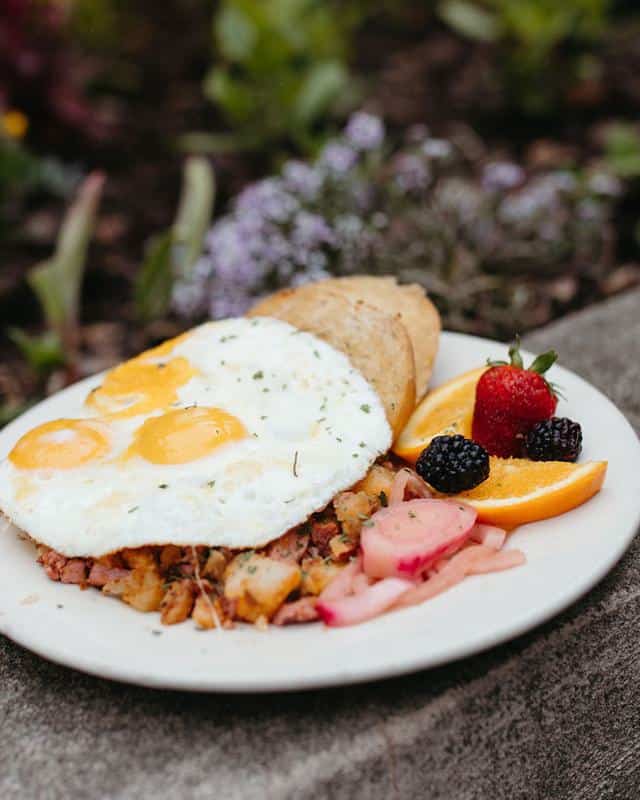 Address:664 W King St, Boone, NC 28607
Known for: Quaint small-town eatery famous for breakfast and brunch
With a classic country setup, Melanie's is a quaint neighborhood eatery established in 1991. The beautiful interiors are heightened with colorful accents reflected in the thrift store-crafted coffee mugs, cloth napkins, and local artwork displayed on the walls.
Bring your family and friends to this lovely little spot for breakfast and brunch on the weekends for a true country experience. Every plate is warmly set with fresh ingredients and an eclectic taste.
The breakfast and brunch are filled with fresh fruits, local produce, farm-raised eggs, organic coffee, and freshly-squeezed juice. Try the Watauga Sunrise with home fries and grit and indulgent house-made apple butter, or go for a classic Western Omelet with Canadian bacon and fresh veggies.
Melanie's Waffles are a popular breakfast choice and come in a huge variety including seasonal fruits, pecans, yogurt, honey, and cinnamon. The house-made Biscuits and Gravy is another top breakfast item with a delicious mushroom and sausage gravy.
CoBo Sushi Bistro & Bar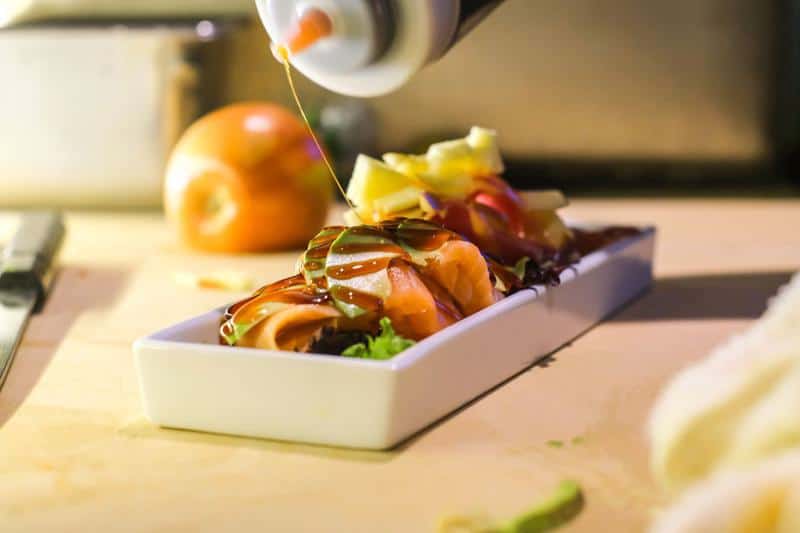 Address:161 Howard St, Boone, NC 28607
Known for: Urbane Japanese eatery with a full Asian menu and bar
If you are craving authentic and traditional sushi and sashimi, head to CoBo Sushi Bistro & Bar for a classy urbane Japanese experience with a full bar. The elegant designer setup adds to the allure of this contemporary Asian bar.
Choose from a variety of options from their creative sushi bar, or try something adventurous and new from their menu like the Storm Peak, Black Dragon, or Appalachian. It is a great place to hang out with friends over a shared love for traditional sushi rolls and dinner dates.
Also, try the Miso Soup or a warm and comforting Teriyaki Plate with a serving of Sake.
Mint Indian Cuisine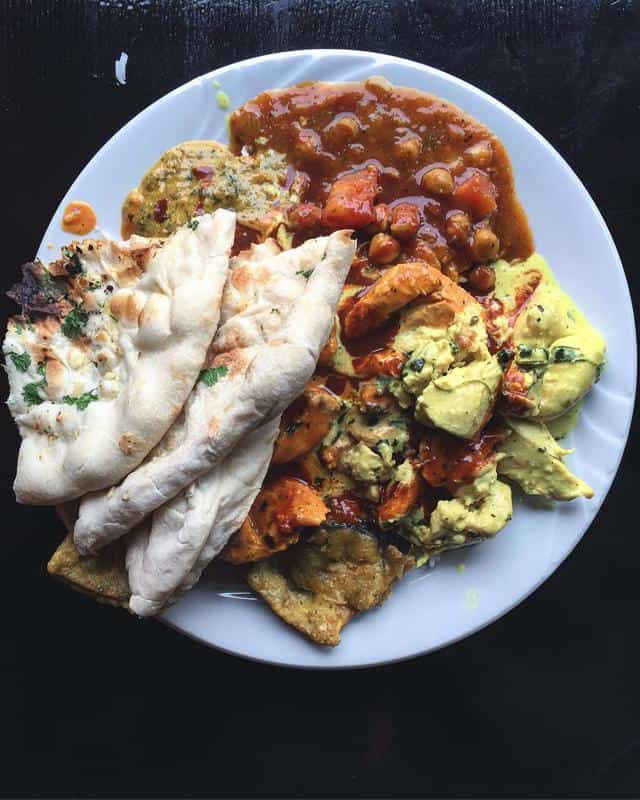 Address:203 Boone Heights Dr, Boone, NC 28607
Known for: Authentic and Traditional Indian fare
Bringing you tangy and spicy South Asian flavors in a simple yet classy ambiance, Mint Indian Cuisine is one of the best restaurants in Boone for good-old traditional Indian food. The extensive menu offers a huge variety of authentic Indian fare, and there is a lunch buffet loaded with delectable delights to satiate your cravings for curries and rice.
The appetizer menu features popular items like Samosa and Fritters, while the entrée focuses mainly on grilled dishes and curry-based delights. Try their Lamb Vindaloo or Chicken Tikka Masala loaded with a variety of spices and bursting with flavors.
They also have seafood dishes like Fish Curry and Shrimp coconut Fritters. Pair your favorite meal with fragrant Basmati Rice or Butter Nan.
Our Daily Bread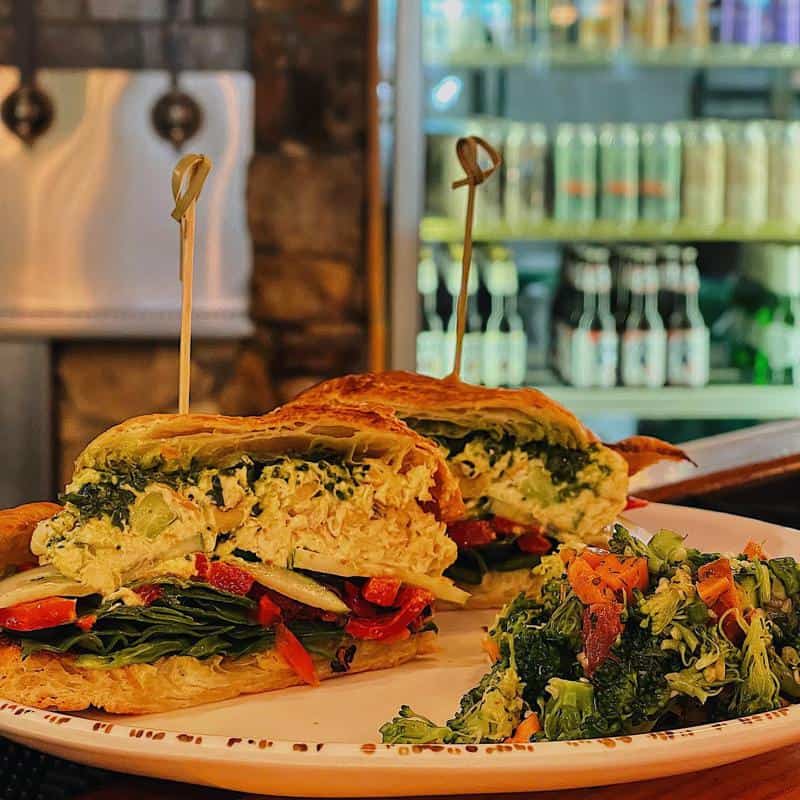 Address:627 W King St, Boone, NC 28607
Known for: Best sandwich shop in Boone for lunch and light meals
Our Daily Bread is a casual eatery that deserves a spot on our list as the best sandwich shop in Boone. With an unpretentious and laidback ambiance, the eatery allows you to relax and unwind on your lunch breaks or grab a quick bite before you head out to start your day.
The quick and light lunch option is the main attraction of the restaurant. Try from a variety of choices, like the Chef Salad, Roast Beef Special, or the House Curry Chicken Salad served with roasted red peppers, spinach leaves, basil pesto, and cucumbers on a toasted croissant.
Enjoy your favorite sandwiches with a side of Zapp's Voodoo chips and a soda.
Come Back Shack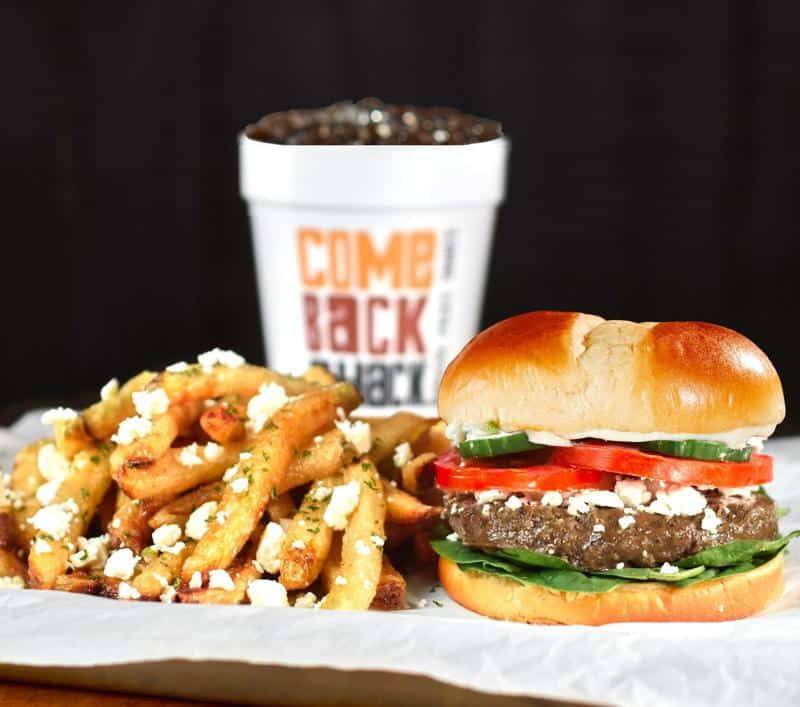 Address:1521 Blowing Rock Rd, Boone, NC 28607
Known for: Delicious burgers, milkshakes, and chicken tenders
Enjoy fast casual dining at the Come Back Shack, an iconic local eatery famous for delectable burgers, chicken tenders, fries, and milkshakes. The family-owned and operated spot oozes local charm and flaunts a comfortable and stylish setup.
The eatery is famous for serving the freshest local produce and hand-cut fries made from Idaho potatoes, and the meat of the burgers comes from sustainable local farms. The chicken is also hand-breaded with a traditional recipe passed down from generations.
The brick-lined dining room is equipped with hanging lights, chalkboard menus, and TVs to keep you busy. Enjoy one of their favorite burgers, like the mighty Greek Burger drenched in tangy and delectable Tzatziki sauce, crumbled feta cheese, cucumbers, tomatoes, spinach, and a zesty Greek dressing.
Lost Province Brewing Co.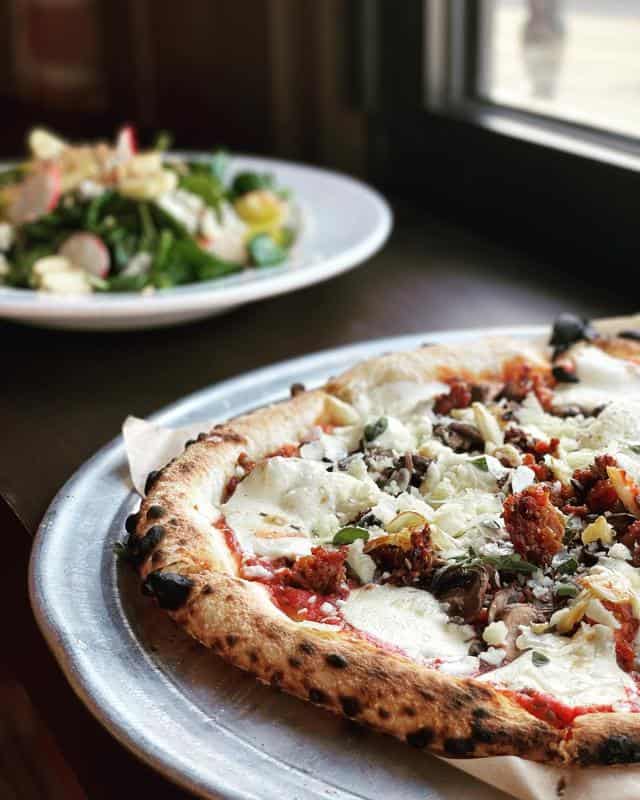 Address:130 N Depot St, Boone, NC 28607
Known for: Best Pizza in Boone with locally-sourced ingredients
Lost Province Brewing Co. is a quaint 2-story eatery with a classic pub-style setting. The restaurant and brewery is famous for its delicious burgers and wood-fired pizzas.
Opening up the best of Boone for you, the restaurant is located within a historic Downtown building that used to be an automobile showroom. The walls are enveloped with tranquil forest scenes and a large wood-fired oven is built at the center with a bar next to it.
The thin-crust pizza makes one reminisce about the cobbled streets in Italy with the same traditional flavors and familiar taste. The restaurant also won the Best Pizza in Boone award in 2021 in the Appalachian.
The pizzas are burgers are made from fresh ingredients directly sourced from local farms and topped with fresh seasonal vegetables. Catch live music on the weekends to enjoy with your food.
Read More:
Conclusion
From familiar Southern comfort food to eclectic and seasonal menus, the charming mountain town of Boone has no shortage of options when it comes to delicious food.
The restaurants on our list offer variety and flavors, with something for everyone to choose from and enjoy while absorbing all the tremendous beauty the town has to offer.