As the largest skiing and snowboarding destination in the Eastern USA, Killington has a lot to boast about.
But this town is more than slopes and après ski. There are fantastic shopping options, great bars, and quality restaurants; the area has the right to shout from the mountain tops.
If you are a foodie, you will be in for a treat; with assorted dining styles and cuisine types available, you will be spoilt for choice.
Here are our top picks for dining options in Killington, Vermont:
Best Dining Experience: Birch Ridge Inn
Best Views: Look Out Tavern
Best Ambience: McGrath's Irish Pub
Best Restaurants in Killington, VT
Liquid Art Coffeehouse and Eatery
Address: 37 Miller Brook Rd, Killington, VT 05751
Phone: +1 802-422-2787
Best known for: Coffee and the Eclectic Menu
Liquid Art Coffeehouse and Eatery was established in 2010 and is a family-run restaurant serving Breakfast, Lunch, and Dinner.
The inside is cozy and welcoming, with leather couches and a built-in fireplace. There is local artwork adorning the walls and a saltwater reef aquarium.
The restaurant dinner menu offers something for everyone, and there are daily specials utilizing seasonal ingredients. The eclectic menu caters well to vegetarians, traditional diners, and more experimental diners.
Menu items including Curry Cauliflower, Lamb Kofta skewers, a Thai chicken salad with mandarin oranges, and a ginger soy vinaigrette will ensure those with adventurous palettes are entertained.
There is an outdoor patio in the Spring, Summer, and Fall, and they offer popular monthly Wine Dinners.
The Garlic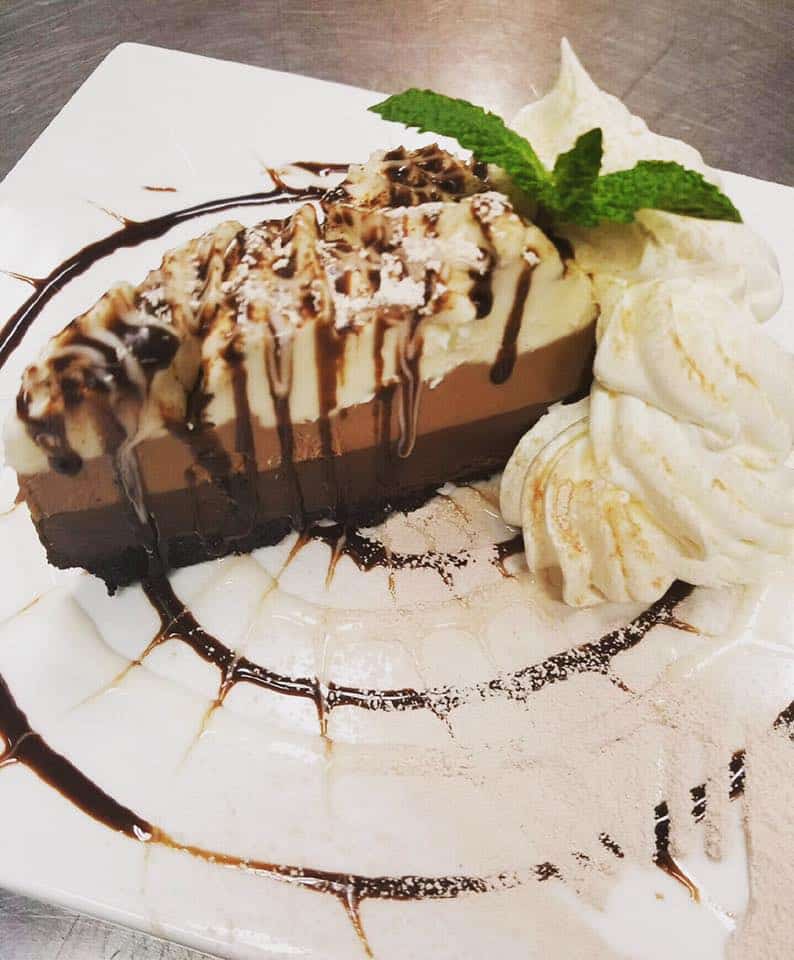 Address: 724 Killington Rd, Killington, VT 05751-9729
Phone: +1 802-422-5055
Best known for: Tuscan style Italian Cuisine
The Garlic is a rustic but casually sophisticated Italian restaurant with a tapas and martini bar. The décor is reminiscent of a Tuscan countryside inn with comfortable booths, harvest tables, and warm lighting.
It is a fine setting for a romantic evening or a family gathering.
The menu is, as expected, traditional Italian. There is a small appetizer menu with clams, mussels, and lamb "lollipops." The Entrée choices again are limited, but there are daily specials.
The highlight, of course, are the pasta dishes, and classics such as Chicken alfredo and Chicken Parmigianino are available. Still, the Penne alla vodka seems to create the best reaction from diners.
One highlight of dining at the Garlic is the house gift at the start of your meal of fresh bread with whole roasted garlic bulbs and olive oil. Quite delicious.
Casey's Caboose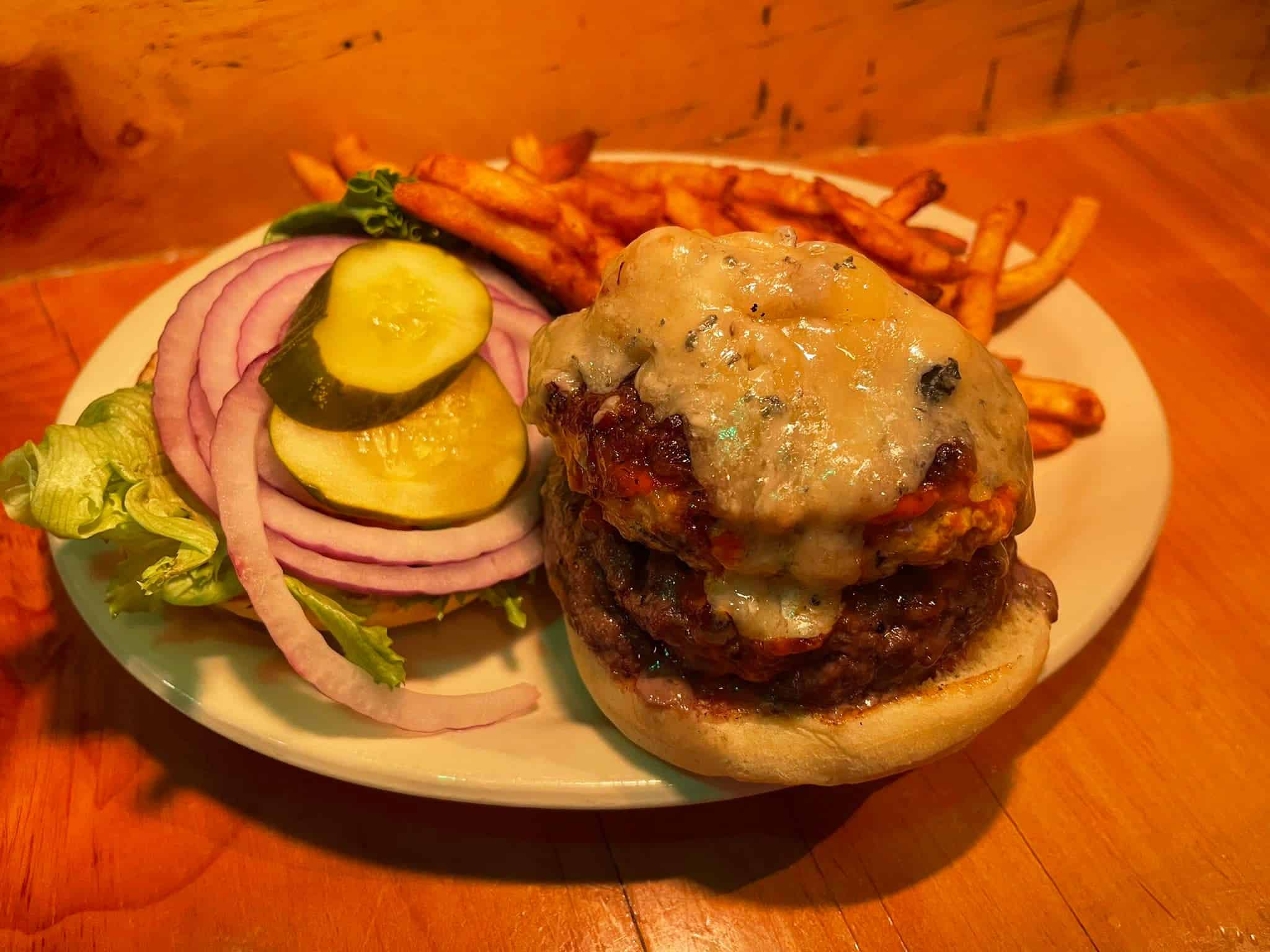 Address: 1930 Killington Rd United States, Killington, VT 05751
Phone: +1 802-422-3795
Best known for: All American food
This is an ingenious restaurant housed in a 35-ton railroad snowplow car from about 1900. You can dine in the raised viewing deck where the engineer directed the train as it plowed or enjoy sitting by the long bank of windows.
Everything about this restaurant is huge, the portions and the menu. The burger menu is so extensive that if you eat one here daily, you will need about 3 weeks to finish them all.
The rest of the menu is full of good old American comfort food. Starters include classics such as Wings, Maryland crab Cakes, and Nachos. There are also plenty of choices from Sandwiches, Hot dogs, Steaks, Seafood, and Mac and Cheese.
The Mac and Cheese they claim to make is "the creamiest and cheesiest in the USA ."Why not try it for yourself and be the judge?
McGrath's Irish Pub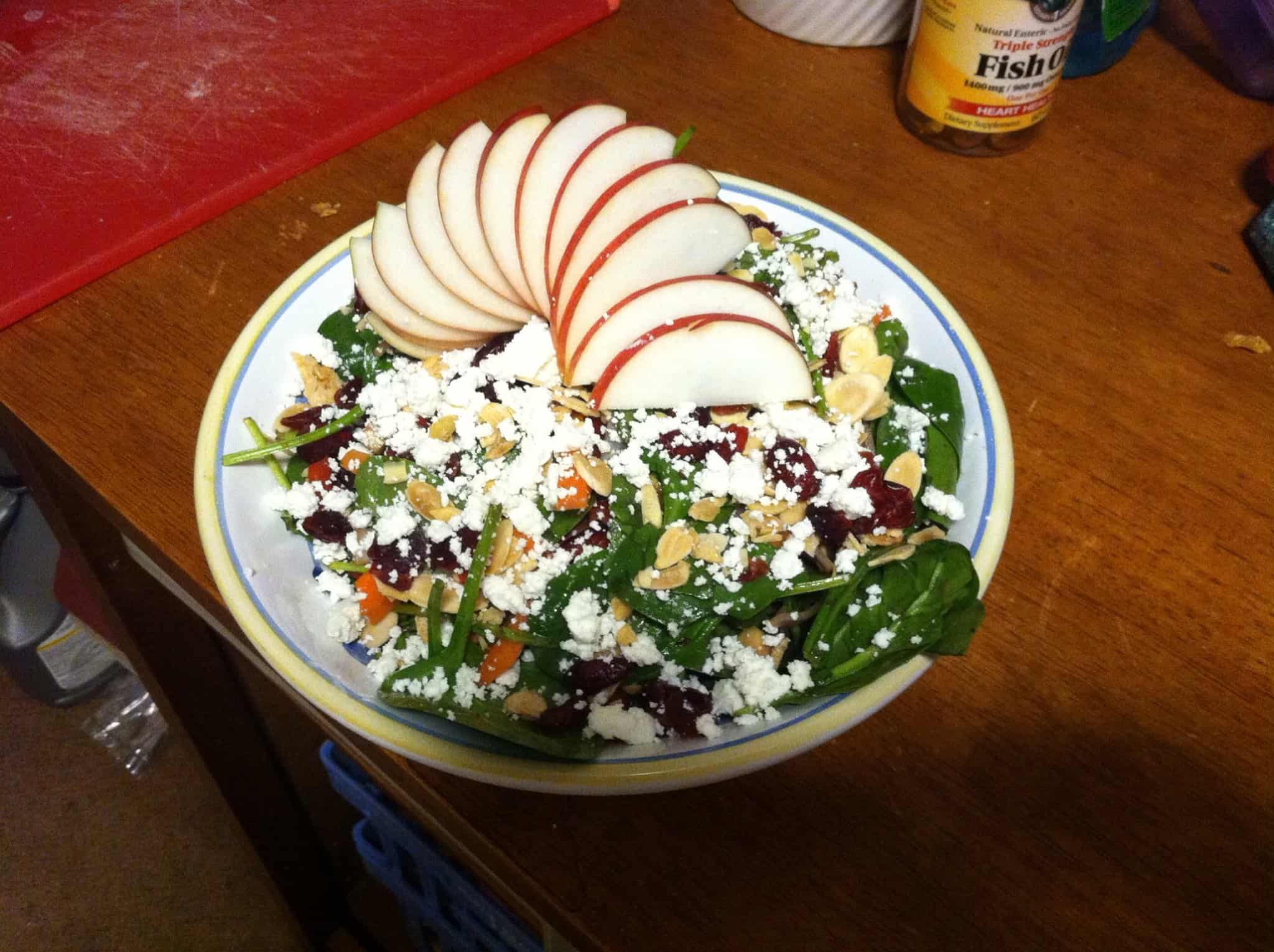 Address: 709 Route 4 Sherburne Pass, Killington, VT 05751-4421
Phone: +1 802-775-7181
Best known for: Traditional Irish Ambiance
McGrath's Irish Pub in Killington was the first Irish pub in the area and is run like a traditional pub in Ireland. This Pub is Family friendly to a tee.
The bar area is always lively, and with Guinness on tap, which has a shamrock stamped in the foam, who wouldn't want a pint?
The food is traditional Irish with some American staples thrown into the mix. Appetizers are simple but good comfort food, stuffed and filled potato skins, bangers and boxty, and nachos, amongst others.
There is a range of salads, sandwiches, and burgers, but the pub favorites keep the customers coming back.
McGrath's has developed a hearty range of menu items, ideal after a hectic day, Guinness Stew, Shepherd's Pie, and a Hash Bowl complete with a fried egg.
Good food, great atmosphere, live music, and fine Irish beers, perfect.
Look Out Tavern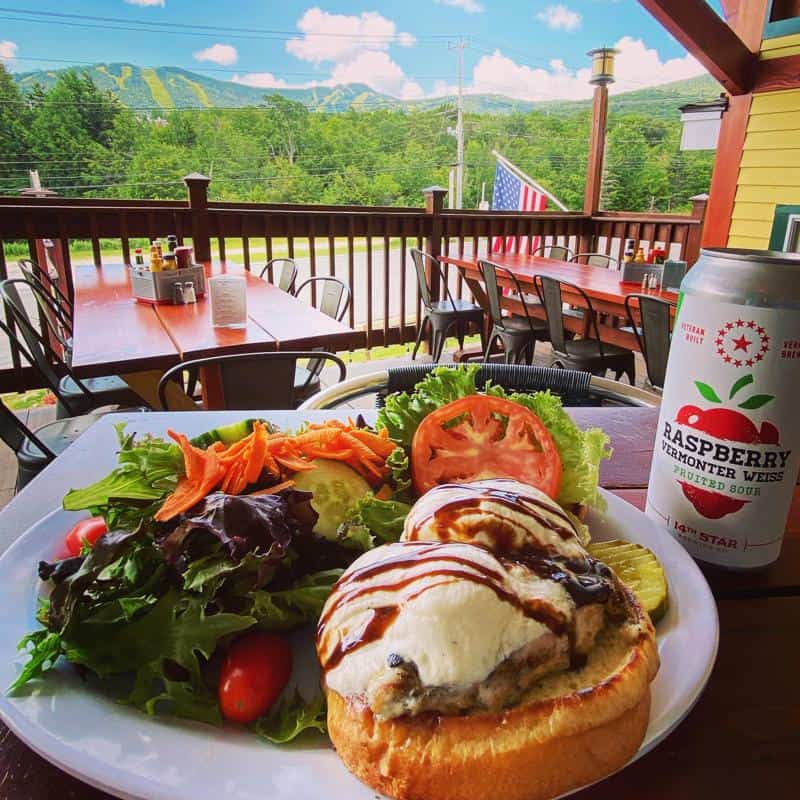 Address: 2910 Killington Rd, Killington, VT 05751
Phone: +1 802-422-5665
Best known for: Tavern Food and Spectacular Views
When the ski lifts close, the savvy slope dwellers head for the Look Out Tavern. Opened in 2000, it offers inside dining and amazing views of the mountain from the rooftop deck, which is dog friendly, so pooch can enjoy it with you.
The menu is simple tavern fare, but that is not a negative. As a Tavern, the menu is what would be expected from this type of restaurant, given its' location. A selection includes wings, salads, burgers, and sandwiches; customers say they do everything well, which must be why they are regularly full.
They have a range of homemade specials such as "your way" burritos, fish and chips, and steak tips, which are all available from 4pm.
While you're there, why not take in the view with a Killington Staple, a Goombay Smash!
iPie Pizzeria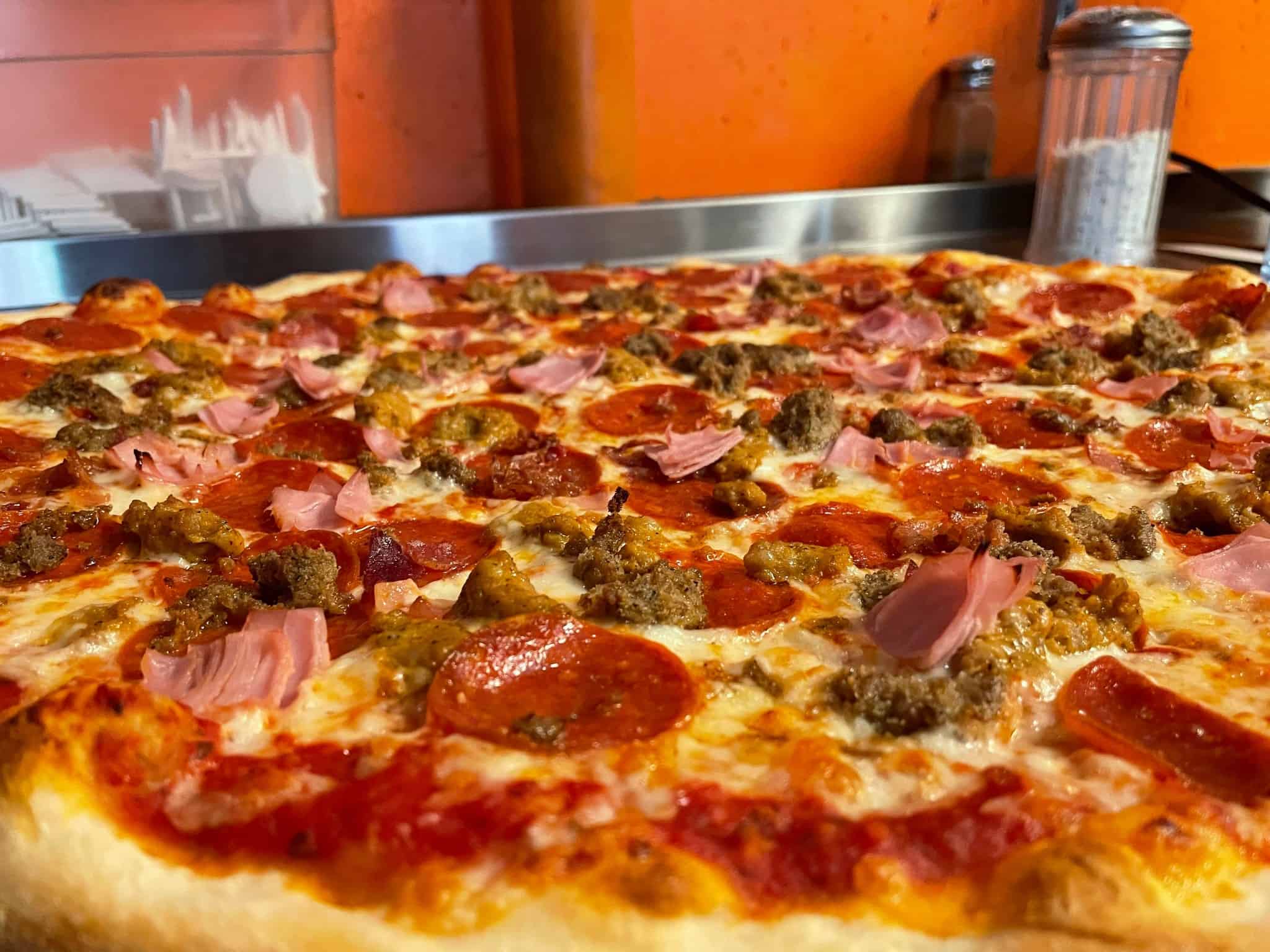 Address: 1307 Killington Rd, Killington, VT 05751-9740
Phone: +1 802-422-4111
Best known for: Housemade Pizza
The iPie Pizzeria and Lounge is a takeout restaurant with a small indoor seating area. They also offer one of the few delivery services in the area.
They make hand-mixed and hand-tossed pizza using only the freshest and finest ingredients.
In fact, they are so confident in their product that they offer a full, no questions asked, money-back guarantee! When was the last time you saw a restaurant doing that?
As would be expected from a pizza restaurant, they offer pizzas. They have a range of pizzas with toppings chosen to compliment each other, and you can also build your own.
To start, you can choose Garlic Knots, Cheesy breadsticks, or wings, and if pizza isn't doing it for you, you can also order Salads, Calzones, and strombolis.
Birch Ridge Inn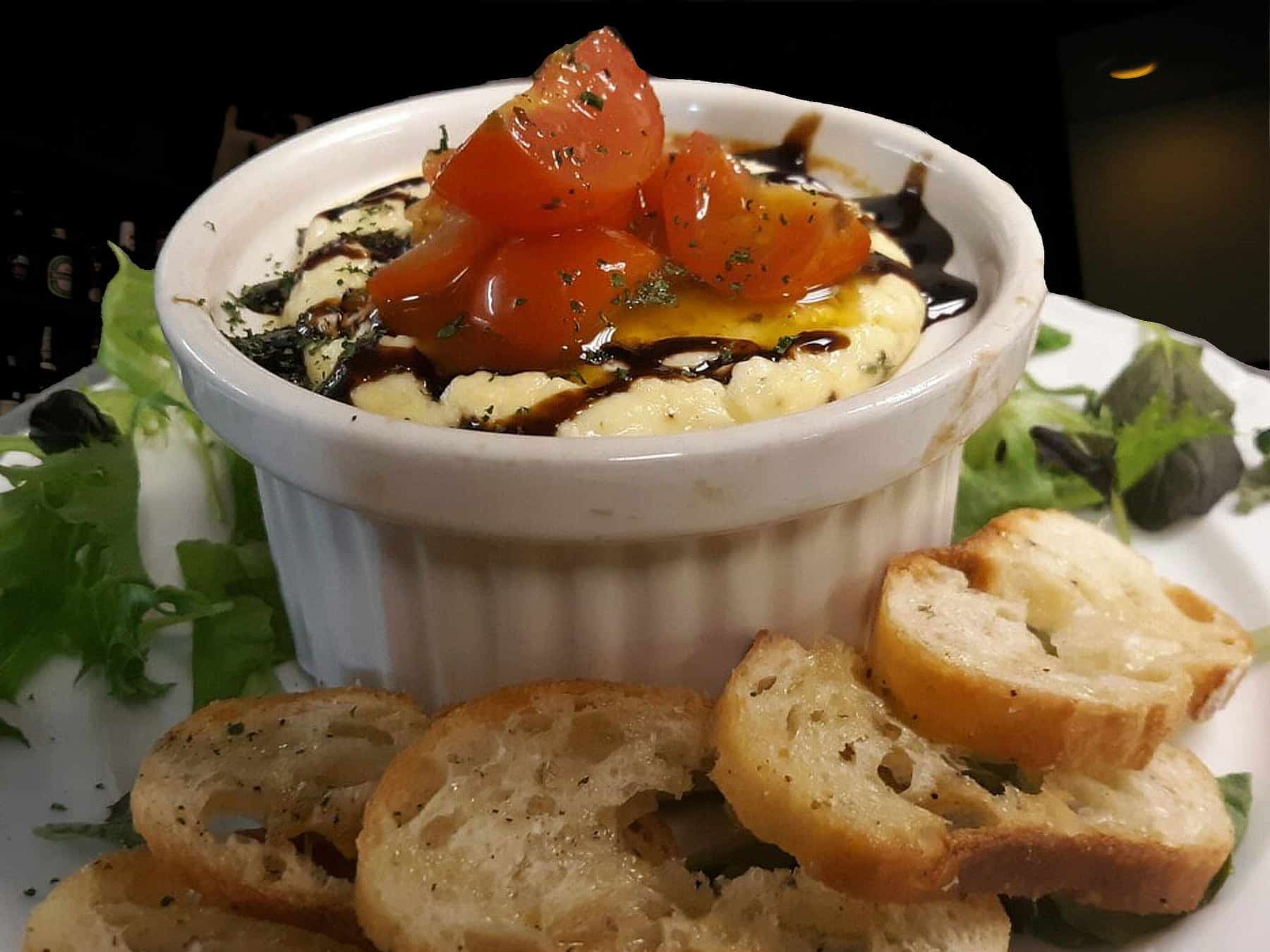 Address: 37 Butler Rd, Killington, VT 05751-9466
Phone: +1 802-422-4293
Best known for: Seasonally based Fine Dining
The Birch Ridge Inn allows you to dine in the intimate restaurant or at the Great Room Lounge bar.
The menu changes weekly and is a fusion of American and Continental cooking styles using seasonal ingredients.
The Entrees are hearty and primarily meat-based, so there is not much choice for vegetarians. Still, I'm sure these talented chefs will accommodate if given advance notice.
With dishes such as Roasted Acorn Squash Soup, Slow Roasted Herb Rubbed Goose, Tomahawk Pork Chop, and Earl Gray Crème Brûlée, you can be assured your tastebuds will not be bored.
A visit to Birch Ridge inn would be a perfect way to round off your Vermont experience.
The Foundry at Summit Pond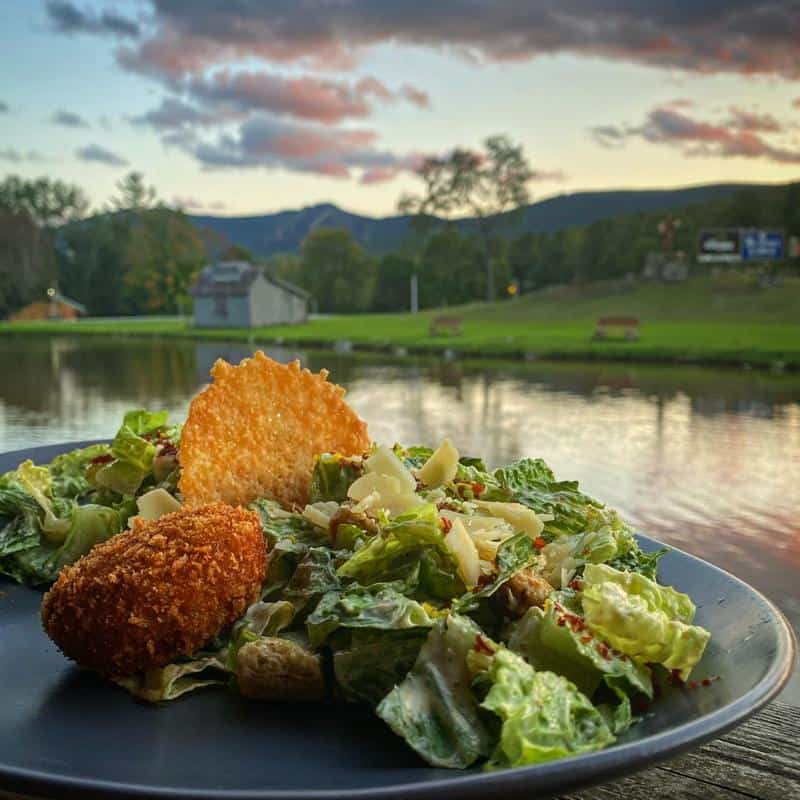 Address: 63 Summit Path, Killington, VT 05751-9782
Phone: +1 802-422-5335
Best known for: Fine Dining and Tapas
The Foundry at Summit Pond is a striking scenic setting for a fine dining restaurant. They have both indoor and outdoor seating.
A fine selection of tapas, including traditional Spanish dishes such as Octopus Duo Gallegas and Rabbit Tenderloin, to start your meal or just to pick at while sipping cocktails.
These two are a delight to see, and the menu is designed for sophisticated palettes.
The menu is extensive, with a vast range of appetizers that have something for everyone.
The main list is similarly extensive, with some unusual offerings. It is uncommon to see dishes such as Cauliflower Pakora and a Rabbit Trio. It is so lovely to see rabbits being used.
There is a good range of steaks, but the menu becomes confusing. What are sandwiches doing on a fine dining menu?
Choices Restaurant & Rotisserie
Address: 2820 Killington Rd, Killington, VT 05751-9733
Phone: +1 802-422-4030
Best known for: Diverse and extensive menu
Choices Restaurant & Rotisserie has been Killington's swish, casual, family-friendly favorite for over 35 years. There is a lovely old-school wrap-around bar where you grab a beer or a snack.
The menu is considerable, with over 40 choices of mostly homemade dishes; it is diverse and contains a few surprises.
There are the omnipresent salads, sandwiches, and a fine array of homemade plates of pasta.
Appetizers range from a quesadilla and mac and cheese to Escargots Bourguignon! – You weren't expecting that were you? The Entrees all have a classic French hint, which is no bad thing at all.
And don't forget the Rotisserie, which adds another menu dimension. Be aware, though, that Choices is only open Thursday–Sunday.
Wobbly Barn Steakhouse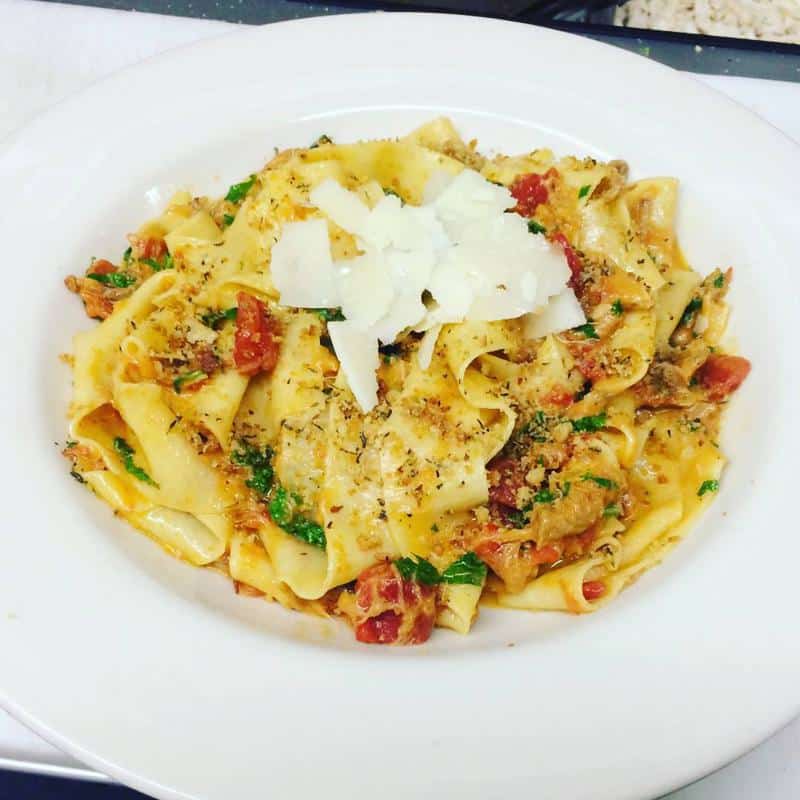 Address: Killington Access Rd, Killington, VT 05751
Phone: +1 802-422-6171
Best known for: Steaks
The Wobbly Barn Steakhouse has existed since 1963, retains much of its old charm, and is a "go-to" destination on Killington.
The Barn was built from the pieces of ten old barns collected from around New England.
Although renowned for their steaks, focusing on them would do the restaurant an injustice. There are no wings on this appetizer menu; instead, you have charred octopus and seared pork belly.
Entrees are very well balanced and offer a good range for people who don't eat red meat. One that caught my eye was the Filet Medallions Oscar, created from lump crab meat, asparagus, béarnaise, and garlic mashed potato.
Indeed, if you are in Killington and fancy a steak, you should look up the Wobbly Barn, but it has plenty to offer outside of the steak.
Read More:
In Conclusion
Killington is more than a ski town; it is a destination town for great restaurants and a wide range of dining options.
You could spend months enjoying the food choices and the diverse styles. In fact, why not come for your next vacation and see what all the noise is about?