Tucson is famous for its stunning southwestern cuisine, influenced by its proximity to Mexico.
With the breathtaking Sonoran Desert and some of the cleanest air of any major city, it has a lot going for it.
The 300-plus days of sunshine ensure Tucson is a top destination for those who love the great outdoors.
If you are one of those people, you will most likely prefer to start the day with a hearty breakfast or brunch, and Tucson has plenty of choices.
Here are our top picks for breakfast and Brunch in Tucson, AZ:
Best Overall Breakfast and Brunch: Agustin Kitchen
Best Cocktails: Union Public House
Best Value Breakfast and Brunch: Black Bear Diner
Best Breakfast & Brunch in Tucson AZ
Agustin Kitchen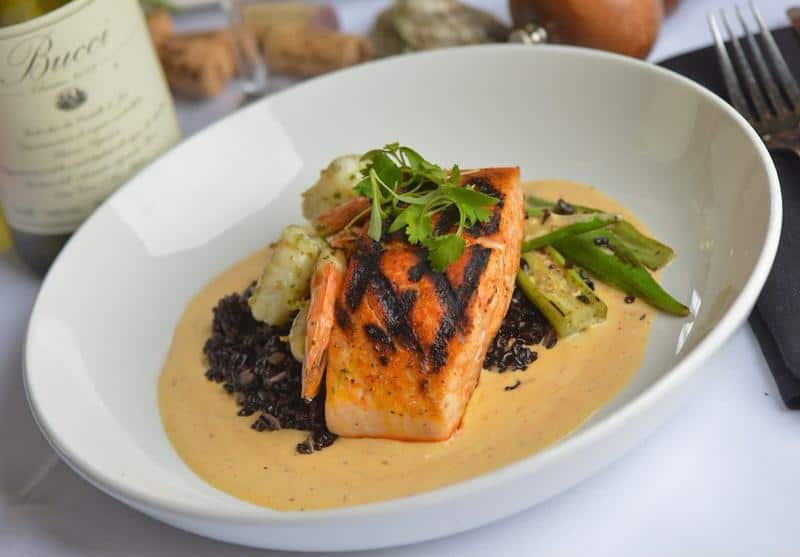 Address: 100 South Avenida del Convento Ste 150, Tucson, AZ 85745
Phone: +1 520-398-5382
Best known for: New American Food
Agustin Kitchen produces cultured New American food that uses locally and responsibly sourced ingredients.
Located in the Menlo Park neighborhood is a family-friendly restaurant and bar with gorgeous indoor and outdoor dining spaces.
A hacienda-style ranch house encircles the enormous outdoor patio with terracotta roofs. And for those inevitable hot summer days, They have a misting system to keep you cool.
The menu at Agustin Kitchen is loaded with brunch and breakfast essentials. Mimosas and Bloody Mary's rub shoulders with fantastic fresh coffee options.
There are plenty of classics with a South Western tweak.
Biscuits and Gravy come with two eggs and house-made Chorizo Gravy.
The Eggs Benedict has green chili turkey sausage, tomatoes, and cilantro and is accompanied by duck fat roasted red potatoes.
If you fancy taking a culinary journey, they are open from 11 am on weekdays and 10 am on weekends.
Culinary Dropout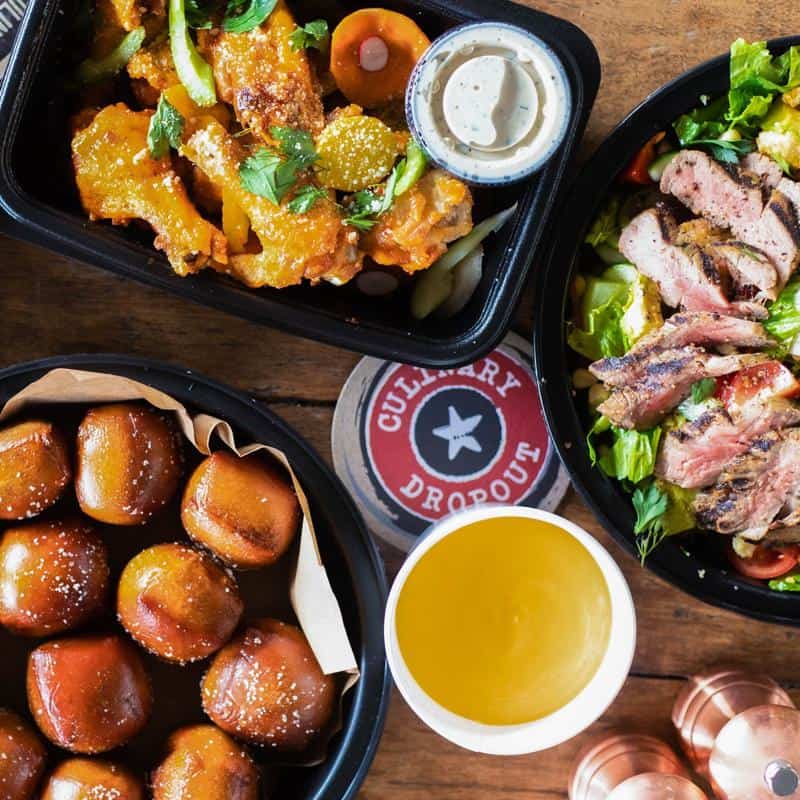 Address: 2543 E Grant Rd, Tucson, AZ 85716
Phone: +1 520-203-0934
Best known for: Impressive Dining areas
The Culinary Dropout is a casual, fashionable restaurant and bar in the Grant/Glenn neighborhood.
The restaurant is inside the historic property that once housed the Grant Road Lumber Yard. The building has been restored and preserved to produce a chic, rustic space with a huge outdoor patio with fire pits.
The menu includes classic breakfasts, brunch dishes, and some unique cocktails.
Try a "Giddy Up Cowboy" blended from Reposado tequila, Borghetti Italian liqueur, Spanish vanilla, and cinnamon-spiced cold brew.
For something to soak that cocktail up, why not try the Smokehouse Hash with slow-roasted bbq pork, crispy potato, charred onion, poblano pepper, sunny-side-up egg, and flour tortilla?
The Culinary Dropout opens from 11 am on weekdays, and Brunch is served 10 am – 3 pm on the weekends.
Union Public House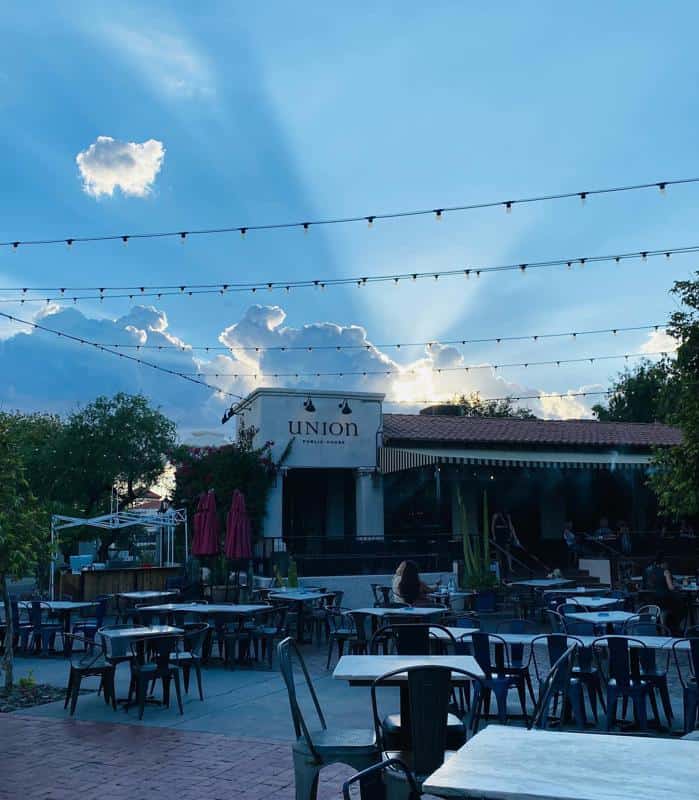 Address: 4340 N Campbell Ave Ste 100, Tucson, AZ 85718
Phone: +1 520-329-8575
Best known for: Fusion food and Cocktails
If you are a cocktail lover, you might want to look up the Union Public House. This establishment is a destination spot for great cocktails and an extensive selection of draft beers and whiskeys.
The dining area has large TVs showing Sports, and the outdoor patio has fantastic views of neighboring St. Philip's Plaza.
The food menu is typically for the area, a fusion of cuisines. There is a Breakfast Pizza loaded with Bacon lardons, fennel sausage, potatoes, baked eggs, and provolone.
Vegetarians have some fantastic options with dishes such as the uninteresting sounding but obviously delicious Veggie Omelet stuffed with arugula, bell peppers, onions, mushrooms, avocado, and provolone.
Brunch is served Saturday & Sunday from 10 am to 3 pm and is worth checking out.
Black Bear Diner Tucson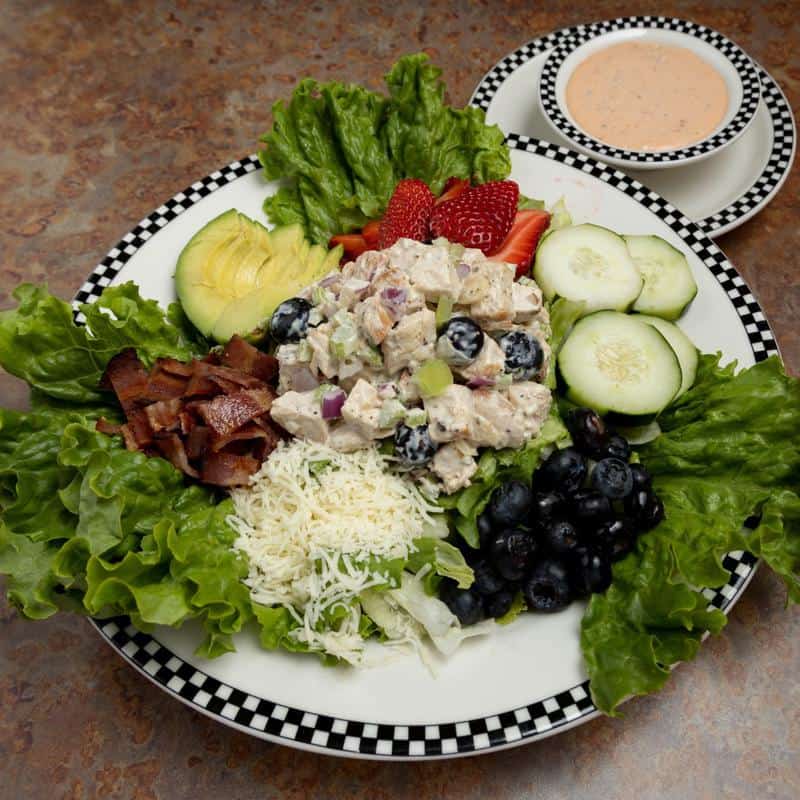 Address: 6095 E Broadway Blvd, Tucson, AZ 85711
Phone: +1 520-790-8881
Best known for: Tasty, Budget Friendly, Wholesome diner food
Black Bear Diner is a family-friendly diner with a rough and ready, wild-west-styled décor.
Based in the Broadway Northeast neighborhood, the Black Bear is popular with locals for its' get good-tasting budget-friendly food.
The restaurant has a fabulous quirky feel, brimming with wooden sculptures of caricature bears and colorful murals of desert skies.
As any good diner should, breakfast is served all day and night, so all day is a good time for Brunch.
If you find the need for a belly-bursting breakfast, opt for The GRIZZ! It is vast and is served with two sweet cream pancakes, three eggs, two slices of thick-cut smoked bacon, two sausage links & a smoked ham steak.
But thankfully, there is also a good choice of lighter, low-calorie breakfast choices for those who don't want to end up looking like a bear!
Saguaro Corners Restaurant & Bar
Address: 3750 S Old Spanish Trail, Tucson, AZ 85730
Phone: +1 520-886-2020
Best known for: Incredible views
Saguaro Corners Restaurant and Bar is something of an institution, having been open since 1956.
The restaurant has panoramic views of mountains and desert skies. It is only a short drive from the Visitor Center in Saguaro National Park.
Again as the Latin influences hit American classics, there is some inspired cooking.
An extensive list of mouthwatering taco platters highlights authentic Mexican favorites like carne asada and carnitas.
A unique find on the menu is the Mini Sonoran Hot Dogs, bacon-wrapped hot dogs topped with pinto beans, grilled onions, tomato, mayo, and mustard.
Or opt for the Birria, comprising traditional stewed red chile beef in a rich broth, chopped onions, cilantro, cotija cheese, and flour tortillas.
Saguaro opens from 11.00, and the Brunch menu is available on Sunday from 10 am to 1 pm.
Five Points Market & Restaurant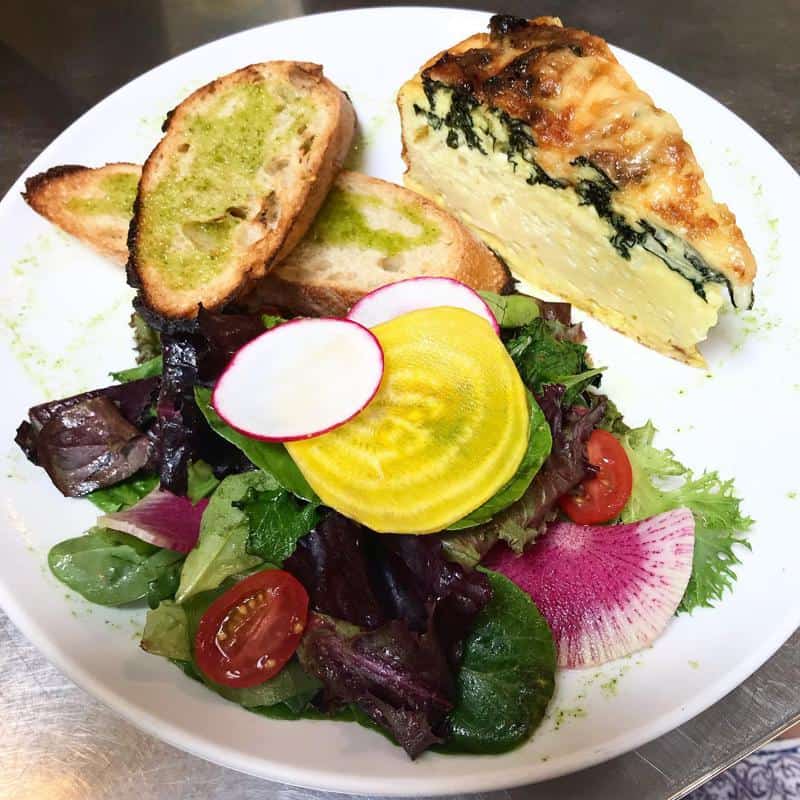 Address: 756 S Stone Ave, Tucson, AZ 85701
Phone: +1 520-623-3888
Best known for: Gourmet food and in-house organic bakery
Five Points Market and Restaurant is a local lounge, café, specialty food, and wine shop that opened in 2014. It serves gourmet food and drinks from a charming industrial-chic environment.
They have a tiny Organic bakery on-site producing cookies, scones, danishes, doughnuts, hand-laminated doughs, different loaves of bread, cakes, galettes, brownies, and pies.
Using only the freshest local ingredients, they make stellar dishes like Pork Torta. Glazed local pulled pork, pear and apple chutney, avocado aioli, and pickled onions on a house-baked sourdough ciabatta.
Look them up if you are in the area and have a browse through their store while you are there.
Nook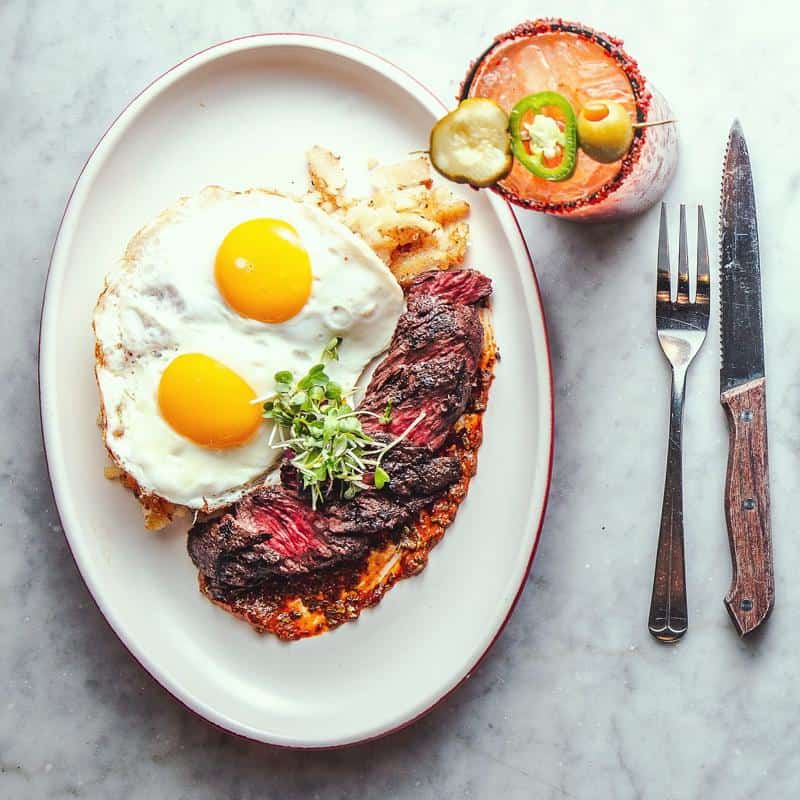 Address: 1 E Congress St, Tucson, AZ 85701
Phone: +1 520-622-6665
Best known for: Chic Dining
Nook is an elegant yet relaxed New American restaurant in downtown Tucson. Decorated and displaying an industrial style that has met the Southwest head-on.
Many dishes are Mediterranean-inspired, bringing a new dimension to breakfast and Brunch cuisine.
Their specialties include a breakfast tamale pie with house-made sweet masa, fire-roasted chilis, cheese, and eggs.
The Godfather Benedict consists of prosciutto, arugula, poached egg, hollandaise, and balsamic drizzle is a nice take on the original.
Nook is open from 9 am, and Brunch is served Saturday and Sunday from 8 am to 3 pm.
Snooze, an A.M. Eatery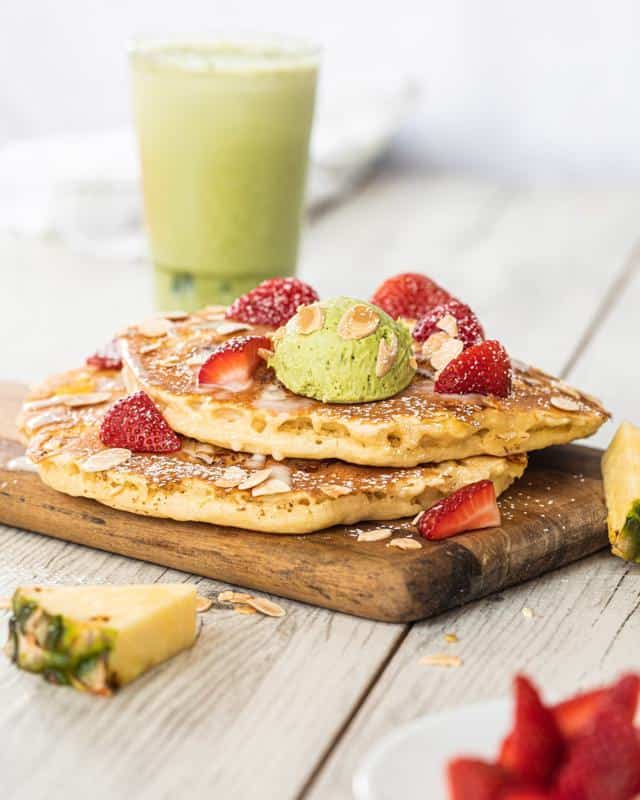 Address: 2500 E Grant Rd Suite 182, Tucson, AZ 85716
Phone: +1 520-815-5500
Best known for: Sandwich I am
Snooze an A.M. Eatery is a nationally much-loved breakfast restaurant and cocktail bar with a customizable brunch menu.
Located near the corner of N Tucson Blvd. and E Grant Rd., they serve up one-of-a-kind breakfast dishes from 6.30 am daily.
They are well known for a range of dishes that meet people's dietary needs; vegans and vegetarians have plenty of options.
Vegetarians should try the Garden Harvest Omelet – Three eggs with sautéed asparagus, mushrooms, zucchini, and red bell peppers. They are topped with chili-lime seasoned avocado and goat cheese and served with citronette & Parmesan-dressed greens.
They have the fantastic "sandwich I am ."A soft pretzel roll filled with scrambled eggs, cheddar cheese, and a sausage patty, served with a side of house-made smoked cheddar hollandaise.
There are also 27 other enhancements you can add to make this the perfect sandwich.
The Oink Cafe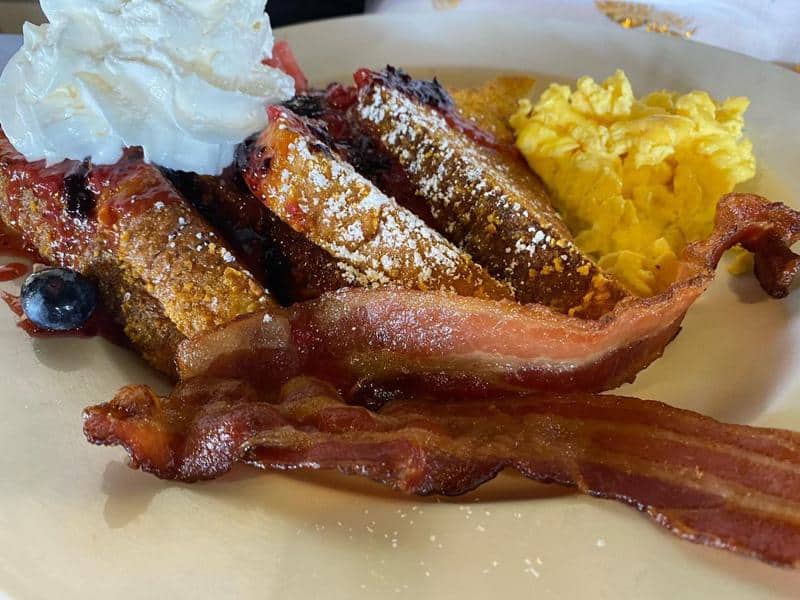 Address: 7131 E Broadway Blvd, Tucson, AZ 85710
Phone: +1 520-296-6465
Best known for: Bacon and Pork
The Oink Café is a family-owned and run café in the Broadway Northeast neighborhood specializing in bacon, pork products, and Bloody Marys.
This modern, comfortable cafe has a massive outdoor covered patio, which is a fantastic place for friends and family to dine and enjoy a breakfast cocktail.
It also has eight delicious flavors of bacon; Apple Cider, Applewood Smoked, Chef's Choice, Hickory, Honey Cured, Jalapeño, Pepper, and Sugar Cured.
They are more than just bacon, though, with sandwiches, salads, and traditional breakfast fare.
The Oink Style Corned Beef Hash comes with Rosemary-infused heirloom potatoes, corned beef, and two eggs. You can choose toast, English muffin, biscuit, or tortilla, and this dish shows versatility.
Oink is open Monday to Sunday, 7 am – 2 pm.
Baja Cafe on Broadway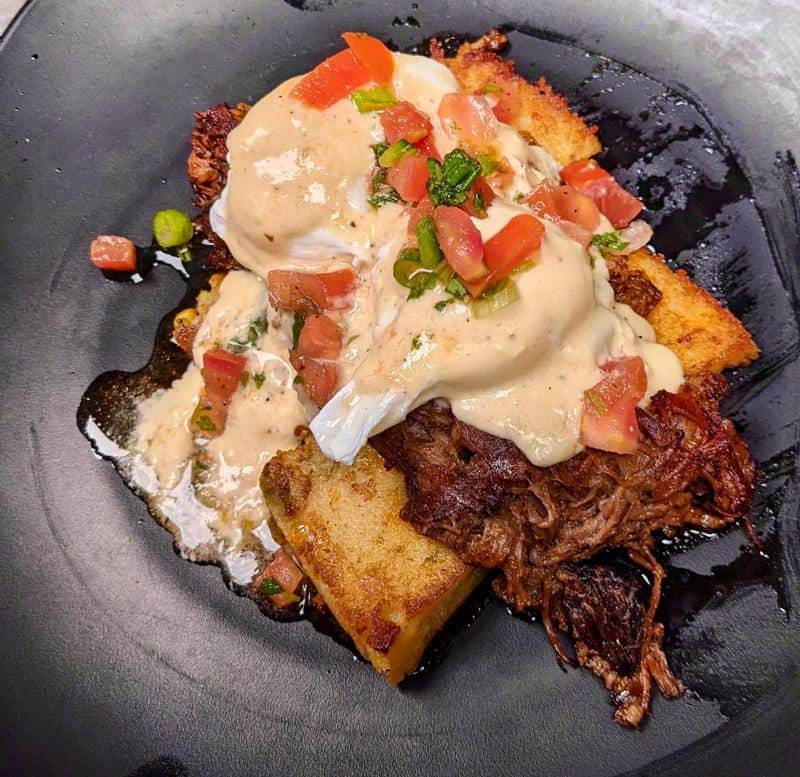 Address: 7002 E Broadway Blvd, Tucson, AZ 85710
Phone: +1 520-495-4772
Best known for: Large range of Eggs Benedict
Baja Café serves breakfast and Brunch with a Southwestern flair and prides itself on offering guests dishes they cannot find elsewhere.
Well known for their range of Egg Benedicts, they offer the classics and varieties with in-house smoked meats, fresh vegetables, and house-made sauces.
Try their unique Snickerdoodle! A classic cookie transformed by being topped with a light vanilla bean cream cheese glaze.
The Black Widow sounds ominous but delicious with a Toasted English muffin smothered with herbed cream cheese.
It is then topped with sundried tomatoes, braised spinach, mushrooms, caramelized onions, artichoke hearts, and two poached eggs. Finished with basil pesto hollandaise, arugula, and balsamic reduction. What a combination.
The Baja Café is open 6 am-2 pm daily.
The Grill at Hacienda Del Sol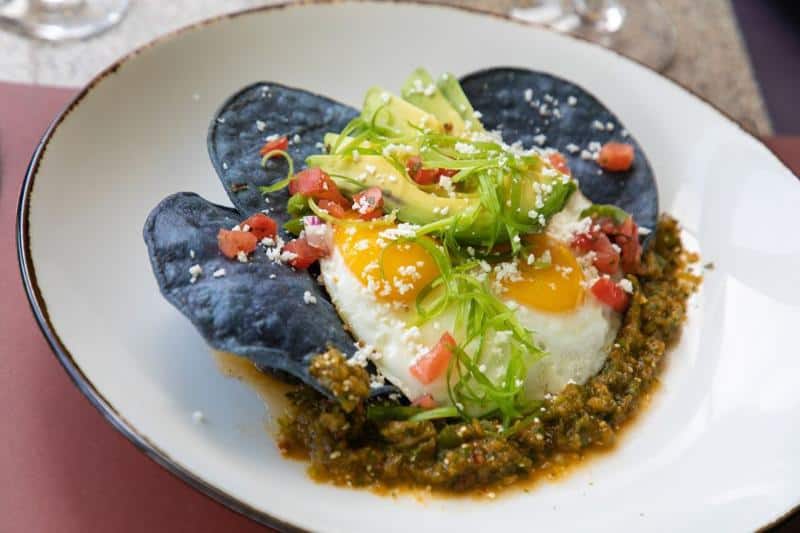 Address: 5501 N Hacienda Del Sol Rd, Tucson, AZ 85718
Phone: +1 520-529-3500
Best known for: Incredible Buffet Brunch
Hacienda del Sol is a fabulously picturesque restaurant on a historic ranch and spa surrounded by mountains.
The Grill is a fine dining New American restaurant using organic and locally sourced ingredients to create award-winning dishes for breakfast, lunch, and dinner.
Sunday Brunch is a buffet style that includes complimentary champagne and mimosas with 25-cent refills.
The buffet has a vast array of the finest cuts of prime rib, seafood, smoked salmon, cheese platters, gourmet waffles, eggs benedict, omelets, roasted vegetables, and more.
The Grill at Hacienda del Sol is open every Sunday, 10 am-2 pm, and costs $50 per adult and $20 for children.
Also Read: Best Sushi Restaurants in Tucson, AZ
Buendia Breakfast & Lunch Café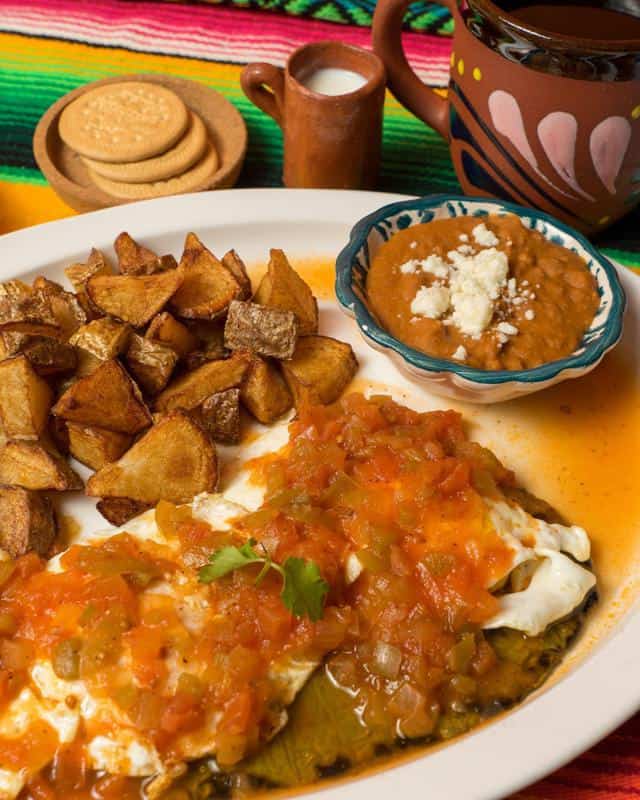 Address: 2530 N First Ave Tucson, AZ 85719
Phone: +1 (520) 849-8487
Best known for: Latino homestyle food
Buendia Breakfast & Lunch Café has a vibrant and lively feel with bright colors and clever lighting putting you immediately into a "happy place."
Guests comment on the authenticity of the food and that it has genuine Latin flair.
The menu is extensive and enticing, with dishes like machaca and eggs and chilaquiles. There are seafood options, and plant-based diets are supported by a good variety of dishes.
Start with the Mexican coffee, piping hot with gorgeous notes of cinnamon and clove, and some little cookies that come free on the side.
This little Mexican gem is open from 8 am.
Read More:
Final Thoughts
Tucson has it nailed when it comes to breakfast and Brunch. The Southwestern hospitality and Latin influences offer a unique fusion that is hard to find elsewhere.
You will certainly not be short of choices with restaurants, from hearty old-school diners to refined dining buffets.
Embrace the cultural mix in the food, and you will have a spectacular breakfast or Brunch.
Why not post your thoughts on the Best Breakfast & Brunch in Tucson in the comments section?
Map of Best Breakfast & Brunch Spots in Tucson