Galveston is one of those places where you simply cannot avoid eating seafood. With the relaxed atmosphere and so much fresh seafood that comes straight from the Gulf, it would not feel right to pass on the opportunity to try some of these delicacies.
There are restaurants and bars on practically every corner of Galveston, but not all of them will give you a top-notch experience. Which one is the best? Here is a list of local favorites:
Best Seafood Restaurants in Galveston
Gaidos Seafood Restaurant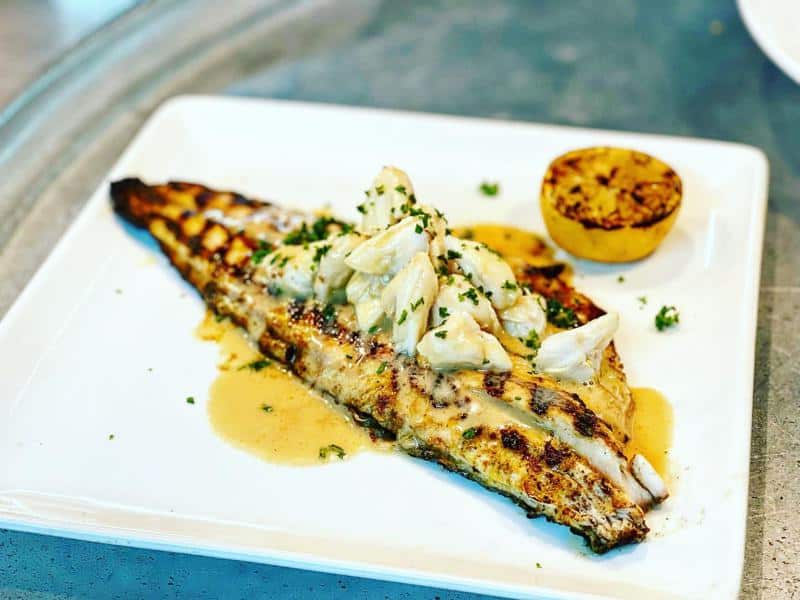 Hours: 11 am – 9 pm; open until 10 pm on the weekends
Address: 828 Seawall Blvd, Galveston, TX 77550
Website: www.gaidos.com
Price: $$
Having first opened its doors in 1911, Gaidos is somewhat of an institution in Galveston. The restaurant is located on Seawall Boulevard, just about a mile up from the Galveston Island Historic Pleasure Pier which is a nice walk, or a 3-minute drive.
Gaidos has a view of the ocean, although somewhat obstructed by the boulevard that separates the restaurant building from the beach. However, the food will quickly turn your focus away from the view.
Before we get into the rest of the menu, it's worth noting that Gaidos hides a pleasant surprise for true seafood lovers: a rich offering of fresh oysters. The oysters are harvested from the nearby Galveston Bay and as far as they can be. The menu offers a plethora of interesting preparations, from simple raw oysters on the half shell to various fried, baked, and grilled options.
The menu at Gaidos is full of Bay staples. The main course features various preparations of fresh seafood including catch of the day specials, one of the local favorites being the American Red Snapper Michael. There are also lots of classic comfort foods like shrimp and grits, bisque, and gumbo.
Miller's Seawall Grill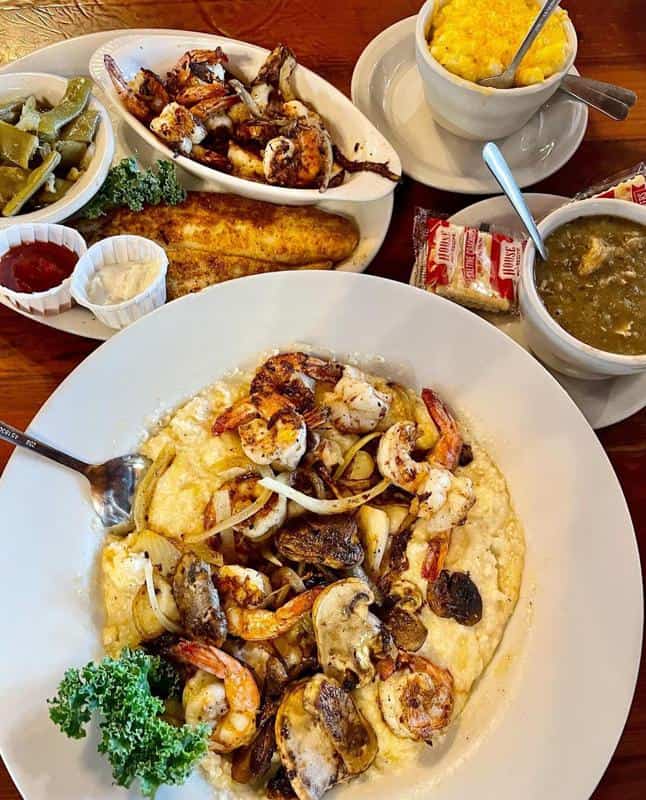 Miller's Seawall Grill is a casual (but not too casual) old-school eatery that has remained immensely popular over the years. The location on Seawall right by the ocean and the Victorian-style decor inside give the place a unique vibe.
The reasonably-priced menu at Miller's will satisfy all your cravings for classic Texas seafood comforts. The appetizer menu is a real feast of munchies, with a range of options like crab & corn chowder, lump crab dip, and calamari rings accompanied with the obligatory hush puppies and fried pickles.
The main course menu contains lots of shrimp, crab, and fresh fish with various fun combo platter options.
P.S. Miller's also has an all-day breakfast menu which always receives raving reviews. Although breakfast is not what people usually think about when they think of seafood, you might be surprised by the Shrimp Fajitas Grits or the Lump Crab Benedict.
BLVD Seafood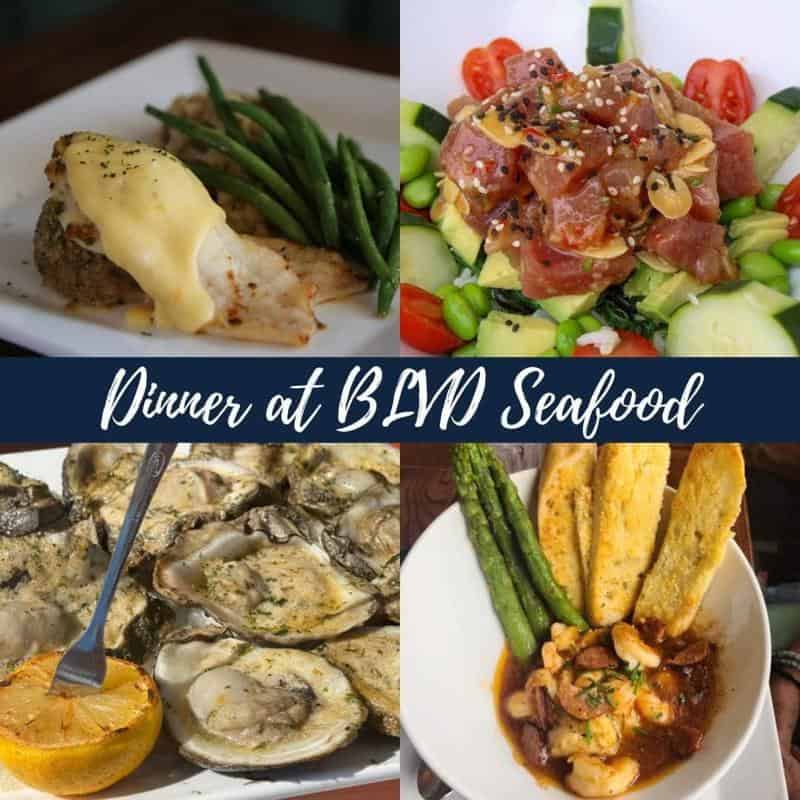 Hours: 11 am – 9 pm
Address: 28th & Seawall Blvd, Galveston, Galveston Island, TX 77550
Website: blvdseafood.com
Price: $$
BLVD Seafood is another option in the seemingly never-ending line of restaurants on Seawall Boulevard. It's not as popular as some other restairants, but it does have a following of faithful customers who keep coming back.
This restaurant is a casual and reasonably-priced spot that serves uncomplicated but artfully prepared seafood meals. It's a great place to stop by for lunch and enjoy a meal like shrimp salad, wild Texas shrimp with rice and green beans, fish & chips, or a shrimp & fish platter with French fries.
The dinner menu offers an array of seafood dishes with lots of shareable options and sampler plates for those who'd like to try a bit of everything (we don't blame you, it's always fun!). They recently introduced some new items to the dinner menu including crab cakes, a tuna poke bowl, and chargrilled oysters.
Katie's Seafood House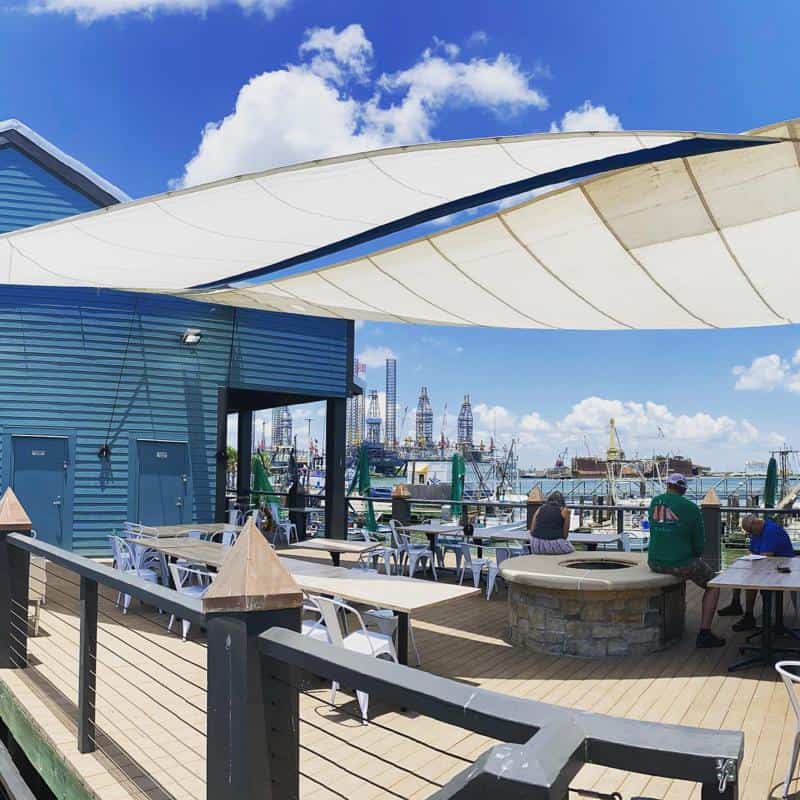 Moving away from the unavoidable Seawall Boulevard facing the Gulf of Mexico, you'll need to go to the North side of the island to find Katie's Seafood House nestled on the pier behind the retired Ocean Star Drilling Rig.
The main selling point of Katie's Seafood House is most likely the fresh seasonal seafood they serve. It comes from Katie's Seafood Market located next door, which is one of the most respected seafood markets on the island that sells fresh seafood to customers and local restaurants.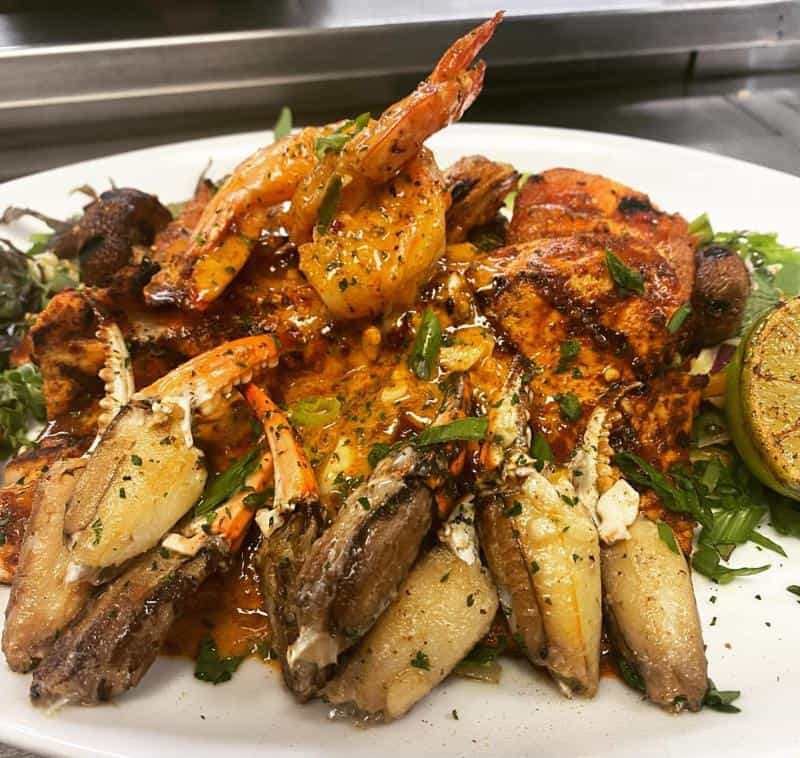 The taste of the dishes is amplified by the atmosphere. Katie's is located right on the pier, with an airy atmosphere and up-beat decor indoors, and a beautiful patio outdoors which is right above the water.
What's more, you can get an unobstructed view of the sunset while enjoying your dinner! Just keep in mind that this is peak time for waterfront tables so do book your place in advance if you can.
The dinner menu at Katie's is the star of the show. With too many options to name here, it offers a real feat of seafood – you can find pretty much every local specialty prepared any way you like. Monday through Friday Katie's serves a lunch menu from 11 am till 2 pm followed by happy hour from 2 pm till 6 pm.
Fisherman's Wharf
Just a stone's throw from Katie's Seafood House there is another great restaurant overlooking the Galveston Historic Port. Fisherman's Wharf is the ideal place for a romantic but relaxed dinner on the water.
Listening to the sound of the waves while watching the ships go by (and the occasional dolphin) is an experience in itself. The shady waterfront patio is the perfect getaway for a hot summer evening.
Fisherman's Wharf serves a lot of fresh seafood. The long menu includes pretty much every island classic. To start, we recommend getting the Galveston Appetizer Trio consisting of calamari, signature Shrimp Kisses, and the Blackened Shrimp Queso accompanied with tortilla chips.
There is also a happy hour Monday through Friday from 3 pm till 6 pm with low-priced drinks and $6 Harborside Bites to go with them. Those include a very tasty version of (beer battered) fish & chips as well as crab cake sliders.
Shrimp N Stuff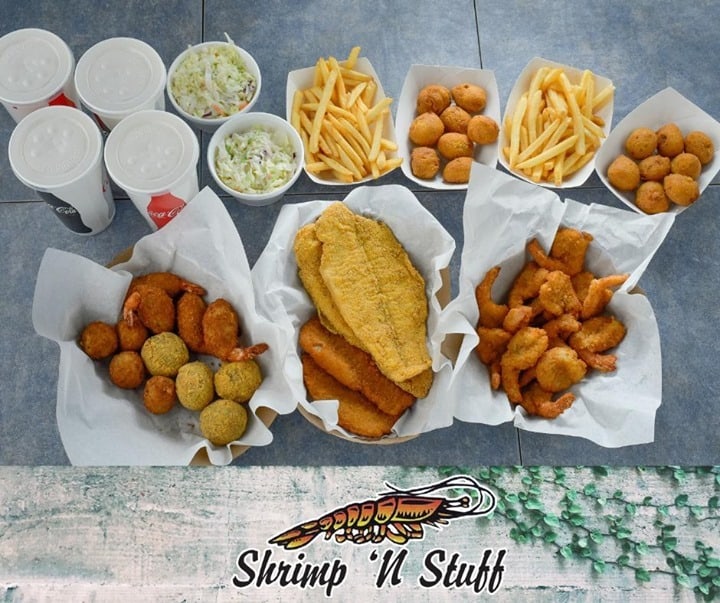 Shrimp N Stuff is the local favorite for affordable and delicious seafood staples. The main (and the prettiest) location is on the corner of Avenue 0 and 39th, but there is also the Shrimp N Stuff Downtown on Ball street plus a food truck on Jamaica Beach.
No matter which location you choose, the quality of the food is the same, so we recommend going to the closest location. If you are craving fried seafood, you are in for a treat. Fried fish, fried oysters, crab balls, fried shrimp… it's all there and it's all awesome. There is also a nice selection of Po Boys and Fish or Shrimp Tacos.
Overall, Shrimp N Stuff is a great place for a quick casual meal.
Visiting other parts of Texas? Here are some best seafood restaurants in Houston and best seafood restaurants in San Antonio.
Shark Shack Beach Bar & Grill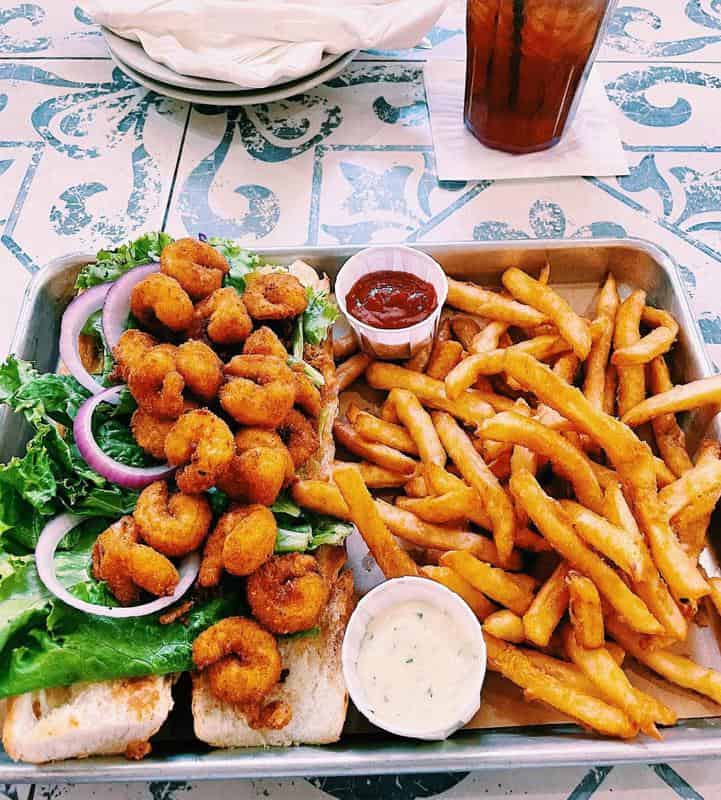 The Shark Shack is the place to be if the relaxed beach bar vibe is what you are after. But, that is not to say that this place doesn't serve some seriously good seafood. The motto of Shark Shack is Seafood + Burgers + Booze, and that's exactly what you should expect.
The seafood menu is exceptionally fun and designed to accompany the awesome drinks they make here. However, their dishes are good enough to stand alone even if you are not drinking. We recommend you try the Cajun Shrimp Fondue from the starter menu, because it's delicious and you won't often find it in other restaurants.
There are lots of seafood specialties on the menu, but some do stand out from the others. The Texas Red Fish Tacos are to die for, and so are the Coconut Encrusted Shrimp with Hawaiian pineapple plum sauce. The New Orleans Pasta Jambalaya is another crowd favorite.
Also Read: Best Seafood Restaurants in Beaumont, TX 
Rudy & Paco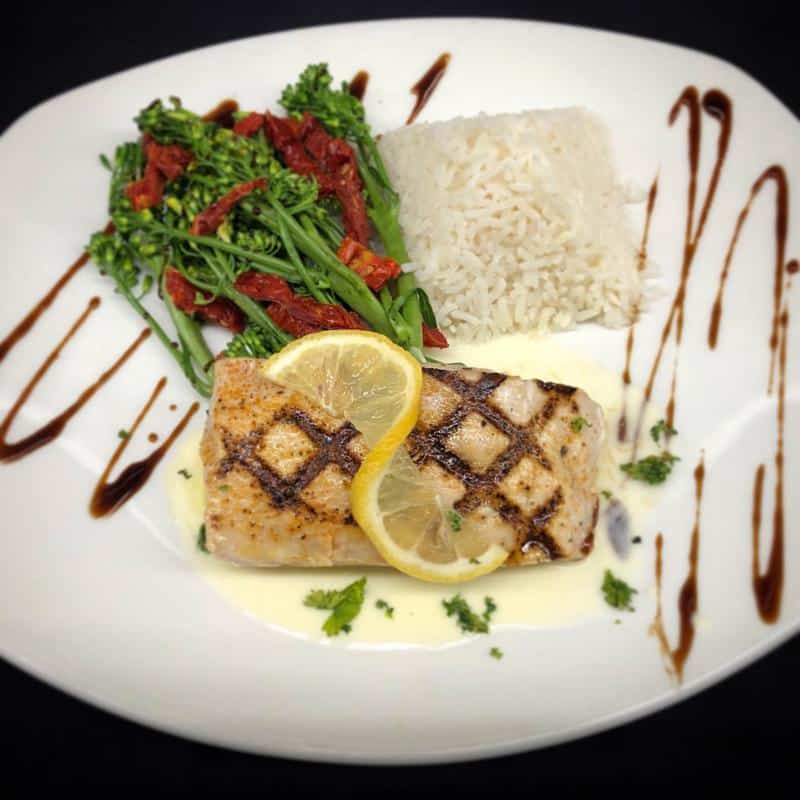 Hours: Lunch Monday – Friday 11 am – 2 pm; Dinner Monday – Thursday 5 pm – 9 pm + Friday and Saturday 5 pm – 10 pm
Address: 2028 Postoffice St, Galveston, TX 77550
Website: www.rudyandpaco.com
Price: $$$
If you are feeling like having a bit more upscale seafood experience, head over to Rudy & Paco Restaurant. While not exactly haute cuisine, Rudy & Paco's offers elaborate seafood meals with lots of South and Central American influence.
The menu at Rudy & Paco's offers quite a few classics, but also some options you don't find that often. The appetizer menu, for example, hides a couple of surprises like Ceviche Cornito made from red snapper filet and the Escargot Francese (or baked snails, in other words). Still, the all-time favorite is Paco's Signature Lobster Tempura.
The main course menu is basically a showcase of all the different ways you can prepare fish – our favorite being the plantain crusted red snapper. Also, you might like the blackened filet of mahi mahi served over a lemon butter sauce and accompanied with chef's rice and vegetable.
Rudy & Paco's is located right next to the Grand 1984 Opera House which makes it the perfect place for a pre-show snack (or a full dinner).
Reservations are recommended, and keep in mind that there is a dress code. Shorts are not allowed at the dinner service, so that's the bare minimum, but many customers kick it up a notch with formal clothing.
Black Pearl Oyster Bar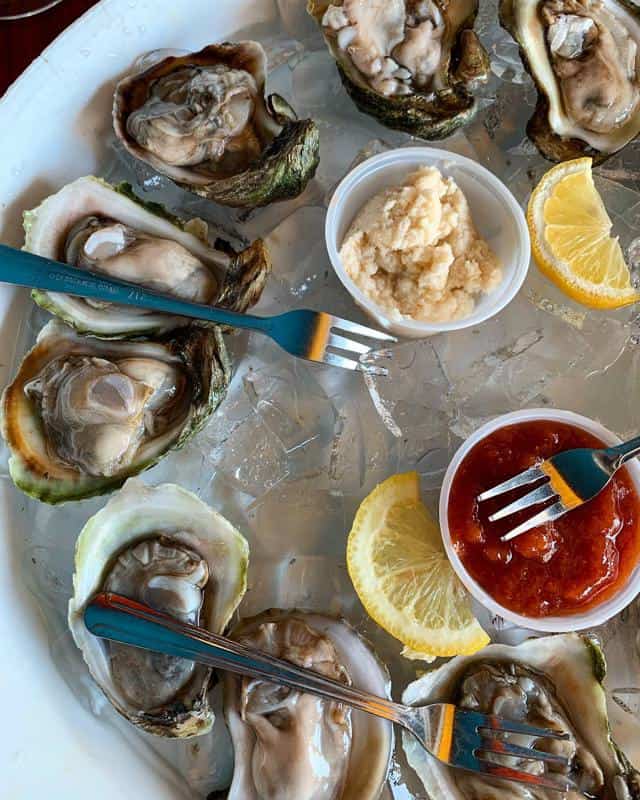 Hours: 11 am – 10 pm most days; opens at 12 pm on Sundays and closes at 9 pm on Tuesdays
Address: 327 23rd St, Galveston, TX 77550
Price: $$
The Black Pearl Oyster Bar is the place to go for fresh Gulf oysters in Galveston. Oysters are the main thing to try, of course. For the classic experience, start with simple, freshly shucked oysters on the half shell, or try one (or 3) of Black Pearl's delightful combinations like oysters topped with crab meat, cheddar cheese, and garlic.
Still, the name of this restaurant is somewhat deceiving because it does offer a lot more than just oysters. Visitors will find a full menu with lots of seafood classics. But since we are on the topic of oysters, let's mention that they also make excellent Po Boys with fried oysters as well as an interesting oyster bisque.
Black Pearl is more of a bar than a restaurant. The actual long bar made from solid wood takes up the center of the space, with a limited number of tables scattered around it. Since it's two blocks away from the Grand 1894 Opera House and surrounded by various art galleries, a visit to Black Pearl is a great intro to an evening filled with art.
Fish Company Taco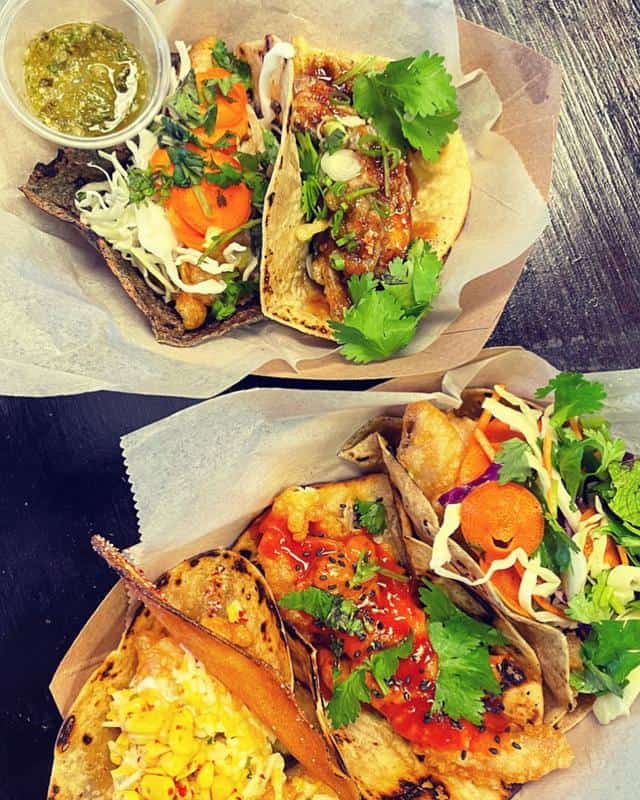 Hours: Thursday – Sunday 11 am – 3 pm
Address: 1914 23rd St, Galveston, TX 77550
Website: fishcotaco.square.site
Price: $$
Fish Company Taco is the true hidden gem of Galveston. Located on 23rd street, just off the infamously busy Seawall Boulevard, this small, tucked away spot is a local favorite.
Their fish tacos are, as one would expect, phenomenal. You get to choose between the 'catch of the day' fish and Gulf shrimp and then pair them with some of the eclectic flavor combinations offered here. There is a vegetarian version available too.
Besides the tacos, there are always a couple of nice soup options with seafood available, like Tom Yum or Tom Kha as well as various "not taco" daily specials by the chef.
Fish Company Taco is the place to go to grab a quick lunch. And keep in mind that's the only time they are actually open. They are quite popular and they sometimes run off the daily fish before closing time, so try to get there before 3 pm.
Also Read: Best Restaurants in Galveston, TX
Seafood in Galveston TX: FAQs
What seafood is Galveston known for?
Galveston, Texas looks right onto the Gulf of Mexico, so one should naturally expect an abundance of Gulf seafood. The redfish (also known as red drum) is one of the most typical catches. However, many other types of fish are frequently caught in the area including grouper and snapper which are also a staple of the island.
Besides the fish, the must-eat seafood of Galveston includes the fresh Gulf oysters and Gulf shrimp.
What seafood is in season in Galveston Texas?
When it comes to oysters, the main season is from the beginning of November till the end of April, but they are actually available all year. Crabs have a similar timeline, being most abundant in fall and winter but actually available throughout the year. The season for fresh shrimp is spring and summer. Summer is also peak season for Mahi-Mahi
Is Gulf Coast seafood safe to eat?
Why wouldn't it be? Well, for those who don't know, the suspicion about Gulf Coast seafood arises from the 2010 Deepwater Horizon oil disaster. However, according to the FDA, Gulf Coast seafood is completely safe to eat, and has been for years already.