The Gulf Coast of Texas is a place that every seafood lover should visit at least once in their lifetime. However, there is still a lot of variation even within this area. The more South you go, the tropical and Latin American influences will be stronger. However, as you get closer to Louisiana, the Cajun influences are inevitable.
This is the case in Beaumont too. All the best seafood restaurants here are a mix of the unique Texas flair and Cajun spices. But which one is the best? It's hard to say, but try any option from this list and you are bound to fulfill your seafood cravings.
Our Top Picks
Best Food: Pappadeaux Seafood Kitchen
Best Value: John's Seafood
Best Atmosphere: JWilson's
Best Seafood Restaurants in Beaumont
Pappadeaux Seafood Kitchen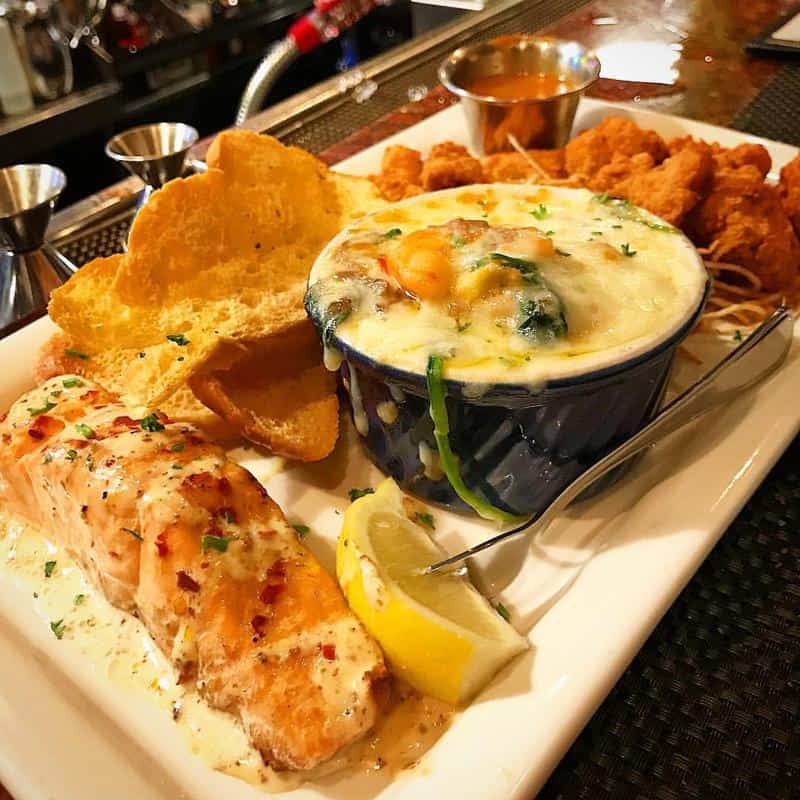 Hours: 11 am – 9 / 10 pm
Address: 040 I-10 South, Beaumont, TX
Price: $$$
Yes, Pappadeaux is a restaurant chain, but don't be put off by this immediately. Not all chains provide only mass-produced speedy meals. Pappadeaux is a chain with a strong concept. The menu is well-thought-out and each dish is prepared fresh with consistent quality each time. It's no surprise that they made it to Tripadvisor's top 10 list of best national restaurant chains in 2018.
Located right off the interstate, the Pappadeaux restaurant in Beaumont is a comfortable experience right from the start. After parking in the spacious parking lot right outside, you'll enter the charming brick courtyard which hides a cozy patio that's also heated during colder months. The indoor dining area is also very spacious and tastefully decorated, giving off an up-scale vibe, although the restaurant is very casual and relaxed.
As for the menu, it's a real showcase of New Orleans-style seafood specialties. You'll find lots of Cajun staples on there, but also some innovative variations and original twists.
If you are craving some Cajun goodness, you'll have lots to choose from. The Crawfish Etouffee is always a good choice, but we also love the blackened catfish with red beans & rice.
However, what everyone seems to be raving about is actually the Pasta Mardi Gras with crawfish, andouille sausage, cremini mushrooms, and jumbo grilled shrimp all smothered in delicious sauce and served over linguini pasta.
If the Cajun flavors are not your thing, you can still enjoy a visit to Pappadeaux. For starters, they have a whole section of the menu dedicated to fried seafood (we recommend getting one of the mixed platters and sampling a bit of everything). Moreover, they actually make really good steaks, and you can even get a live Maine lobster here if that's your jam.
John's Seafood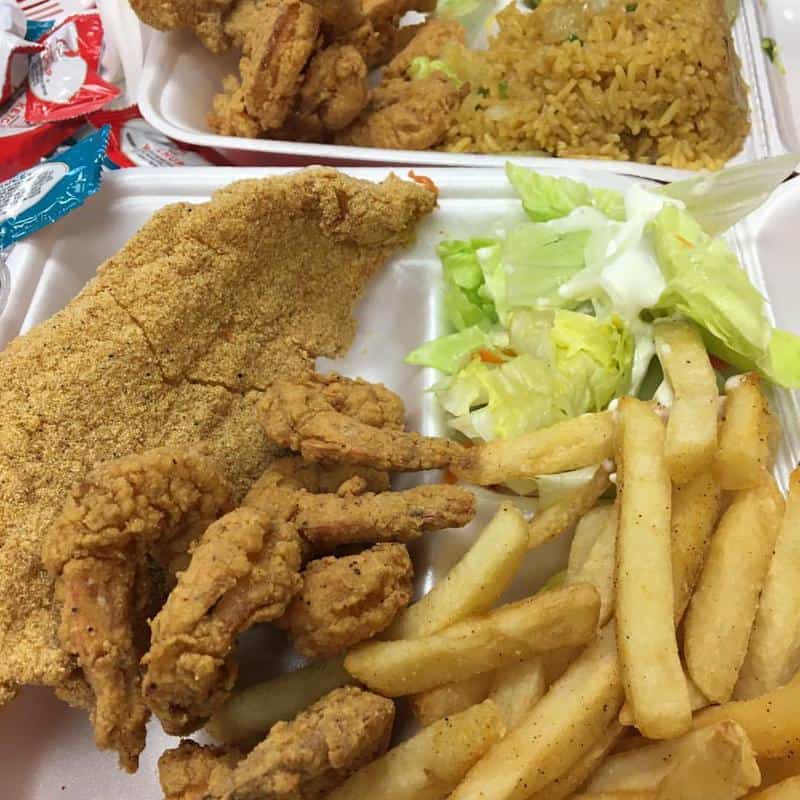 Hours: 10:30 am – 9 pm; closed on Sundays
Address: 2905 Washington Blvd, Beaumont, TX
Price: $
John's Seafood is the type of eatery where all the focus is on the food. The menu is on the wall, you get your orders at the counter, there is nothing remarkable about the interior or the location…. But countless customers keep returning! And the reason for this is simple yet awesome seafood.
In short, John's is the place to go if you want a delicious and fairly-priced seafood meal. Lots of customers choose to get takeout at John's but it's an ok place to sit down for lunch, for example.
As for the menu, it's simple and wholesome, and pretty much heaven for lovers of fried seafood. The fried platters are pretty much the star of the show, and you can get pretty much any imaginable combo of shrimp, fish, and oysters. You can choose between rice and fries for your side, and each order gets a small side of salad and bread. It's really that simple and oh so good.
You can also get grilled seafood platters with a side of shrimp fried rice here, which are quite good too and very filling. Another popular item are the fried gizzards – you either love them or you hate them, but John's definitely makes them really good.
JWilson's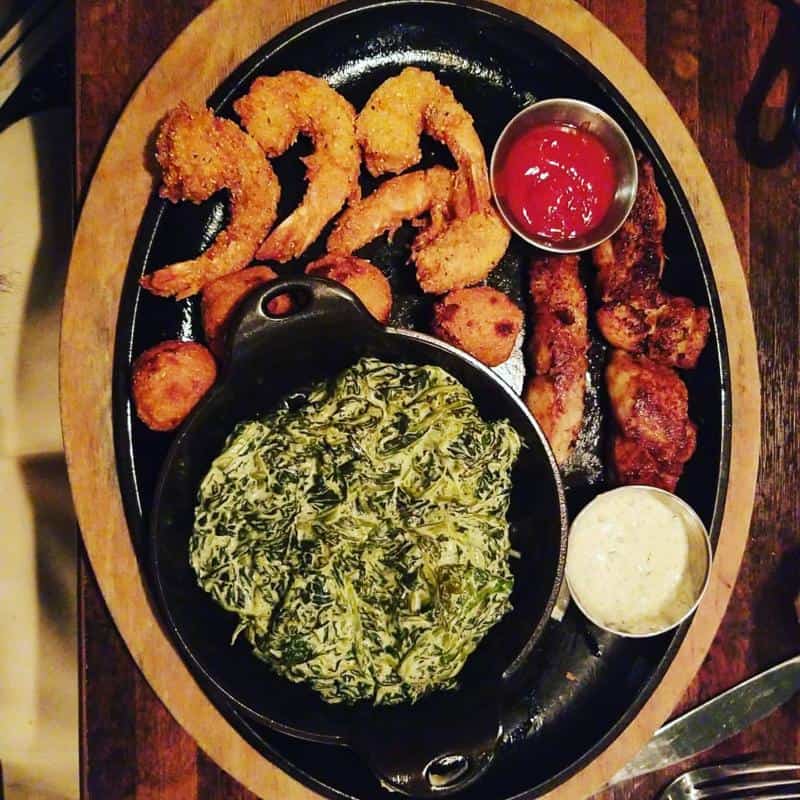 Hours: Tuesday – Thursday 11 am – 10 pm; Friday 11 am – 11 pm; Saturday 10 am – 11 pm; Sunday 10 am – 9 pm; closed on Mondays
Address: 4190 Gladys Ave, Beaumont TX 77706
Price: $$$
JWilson's is not a restaurant that focuses exclusively on seafood, but it's arguably one of the nicest places for a seafood dinner, lunch, or brunch in Beaumont. Lots of people don't know about this place, but everyone who visits it seems to leave pleasantly surprised!
The atmosphere at JWilson's is sometimes busy, but always relaxing and cheerful. The signature large windows create a very airy feeling inside, and the spacious seating and consistently great service makes you feel right at home.
So what's on the menu? Southern-style food with some Cajun influences and some Mexican flavors and a few original twists you can't find anywhere else. If you are set on seafood, you can start your meal with crab cakes, oyster nachos, or shrimp quesadillas as an appetizer, but our favorite is definitely the Gulf coast shrimp & crab flatbread.
For the main course, we recommend the fried catfish or shrimp. The choice might sound a bit boring, but the cajun seasoning on these entrees at JWilson's is outstanding. Finally, if you like shrimp & grits, definitely try them at this restaurant.
Floyds Seafood Beaumont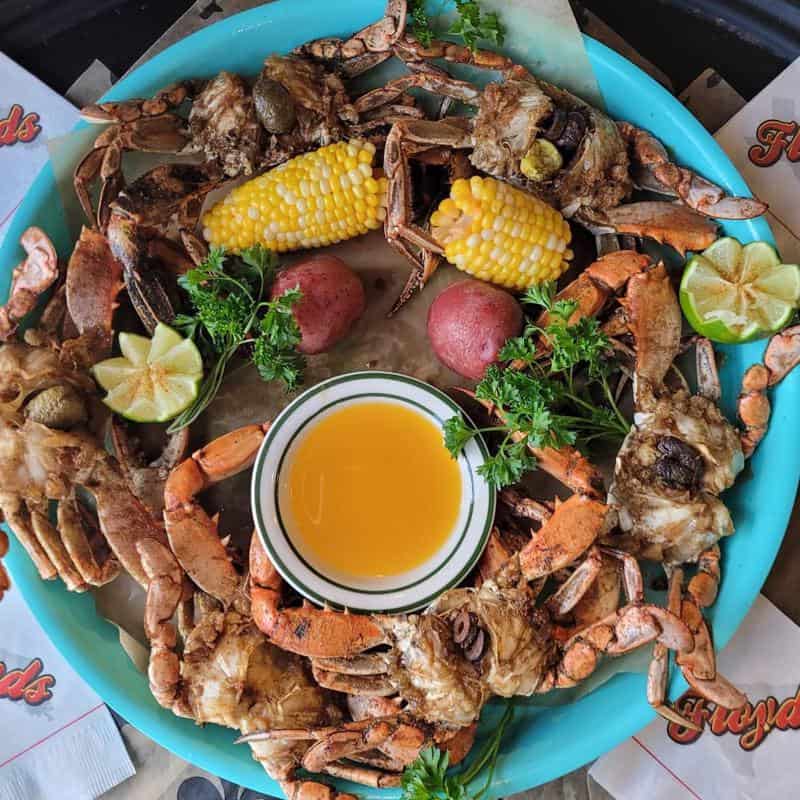 Hours: 11 am – 10 / 11 pm
Address: 2290 I-10 S, Beaumont, TX 77707
Price: $$
Driving along Interstate 10 and towards the center of Beaumont, you'll pass another Texas favorite. Less than 2 miles from Pappadeaux lies Floyds Seafood Restaurant. This is another Texas-native small chain of casual seafood restaurants that serves Cajun-influenced delights. Which one is better? It's hard to decide, and it's definitely recommended you try both while in Beaumont if you like seafood at all.
With a spacious interior full of wood and earthy colors, Floyds Seafood in Beaumont is a restaurant with a very homey atmosphere. The quality of the food is consistent, and the service usually functions impeccably – all there is to do is sit back, relax, and enjoy your food.
As for the menu, there is a big focus on fresh seafood, Gulf Coast-style. While you'll find lots of Cajun comfort foods here, like gumbo, etouffee, and seafood jambalaya, and even fried alligator, there is more to Floyds' menu than that.
The selection of fresh seasonal seafood from the Gulf of Mexico is outstanding. Have your oysters raw on the half shell, baked, or grilled with a variety of toppings and garnishes. Enjoy seasonal delights like crawfish, blue crab, and soft shell crab. Or, perhaps, settle for your choice of fish blackened or grilled – every type of fish is available with crab stuffing too.
In short, Floyds is a seafood-lover's heaven, and reasonably priced too.
Read More: 10 Best Seafood Restaurants in Galveston, TX
Tia Juanita's Fish Camp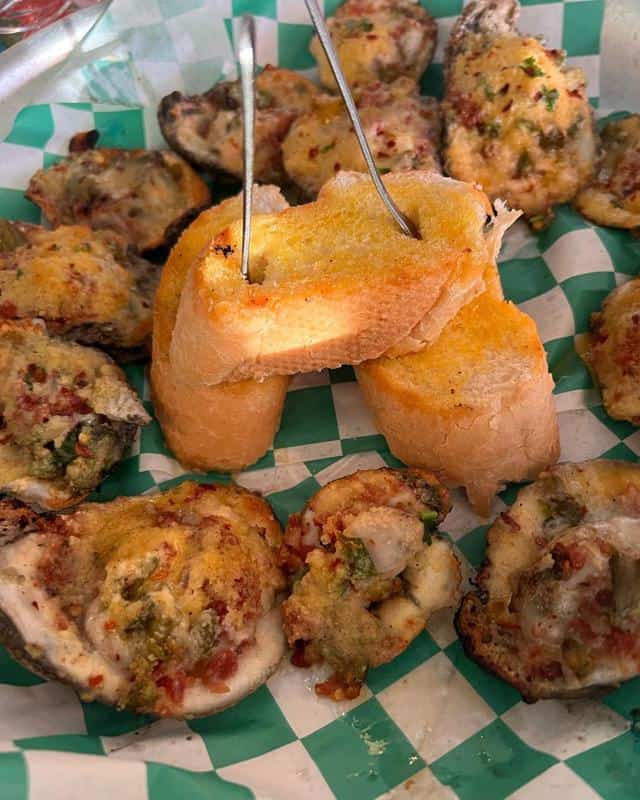 Hours: Monday – Thursday 11 am – 9 pm; Fridays and Saturdays until 10 pm ; Sundays until 8 pm
Address: 5555 Calder Ave, Beaumont, TX 77706
Price: $$
Tia Juanita's is another gem in Beaumont's collection of casual seafood diners with Cajun influences, but there is a unique twist: at Tia Juanita, the menu is a fusion of Tex-Mex and Cajun. If you'd like to try something a bit new and exciting (but also kind of familiar) this is the place to go.
The cheerful turquoise exterior of the building sets the scene for the experience you will have inside. Tia Juanita's offers an upbeat but relaxed atmosphere with the colorful decor complementing the exciting flavors of the food you are about to try.
When at Tia's, you can opt for something really Cajun, like the seafood gumbo, or something really Mexican, like the delightful grilled fish tacos, but the best part is definitely the Mexicajun section of the menu. The nachos with blackened shrimp and/or crab; melted cheese plus guacamole and pico de gallo are to die for!
Kajun Seafood & Wings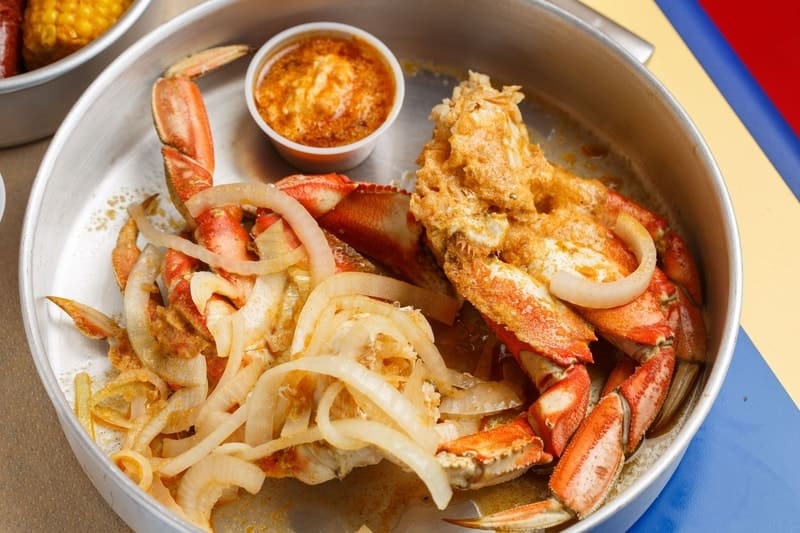 Hours: 11 am – 9:30 pm
Address: 3010 Washington Blvd, Beaumont, TX 77705
Price: $$
Kajun Seafood & Wings is another typical Beaumont spot: a simple, no-frills eatery where all the focus is on the food. Go here for take out or a quick meal – the atmosphere is nothing special, but the food is delicious and fairly priced.
If you are after fried seafood, you are in luck: you can get fried shrimp, oysters, and catfish here (or any combination of the 3) and they are consistently crispy and very good. As you might expect from the name, they also have great chicken wings, but that's not our topic today.
The section of the menu that might come as a surprise are the boiled specials. You'll find great seafood boils here, whether it's unpeeled shrimp with potato, sausage or corn or other seasonal specialties like dungeness crab and crawfish.
In fact, many locals will tell you this is the best place to go for fresh crawfish when in season. Order the garlic butter sauce with it and enjoy the flavor explosion!
Krazy Kajun Seafood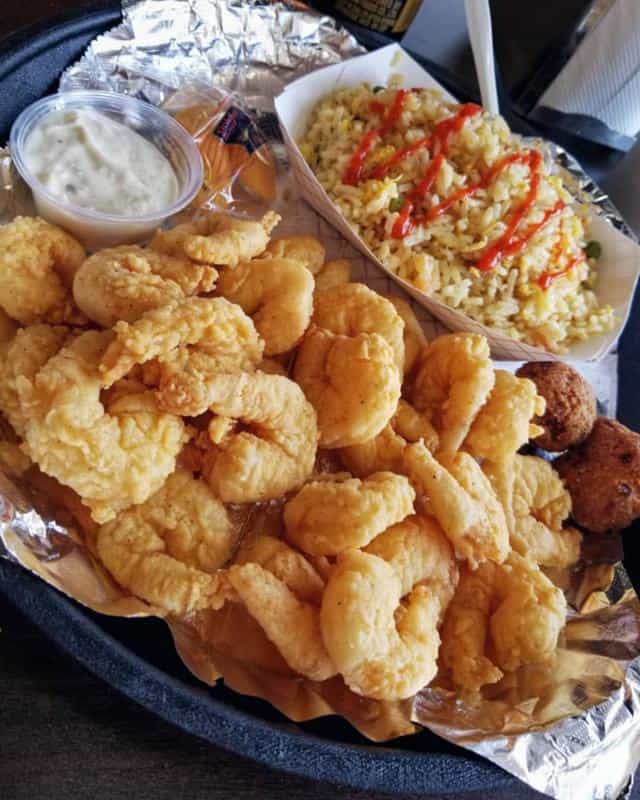 Hours: 11 am – 8 pm; closed on Sunday's
Address: 3015 Dowlen Rd, Beaumont, TX 77706
Price: $
If you've read through our reviews so far, you probably got the picture of the seafood scene in Beaumont. Don't go here if you are looking for a fine dining experience, but if you want an honest wholesome meal, there'll be plenty of places to choose from. Once such place is Krazy Kajun.
Stop here for lunch or dinner and indulge all your seafood cravings. If you are feeling like fried fish or shrimp, you'll definitely be happy with the offer here. The popcorn shrimp are the real deal, but they also make tempura shrimp which are quite good. A grilled fish menu is also available as well as fish, shrimp, or oyster Po'Boys. Simple, but delicious.
Vautrot's Cajun Cuisine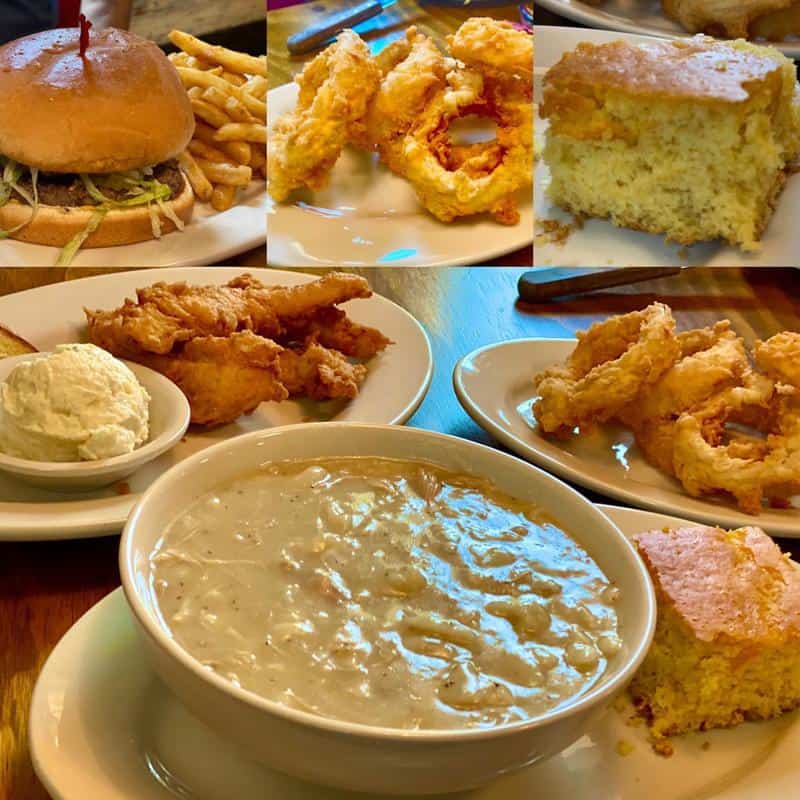 Hours: 11 am – 2 pm; 5 pm – 9 pm; closed on Sundays and Mondays
Address: 13350 TX-105 #3, Bevil Oaks, TX 77713
Price: $$
Vautrot's is not technically located in Beaumont, but in Bevil Oaks. Even though it's a bit out of the way, taking the time to go to this family-owned establishment is well worth it. And it's only a 20-minute drive from downtown Beaumont!
Vautrot's is the perfect place for a relaxed afternoon with family. The menu is a selection of true Cajun family recipes prepared just like grandma did at home; and even the space feels like a home that has been turned into a restaurant.
This is definitely the place to try Cajun classics like the gumbo or the etouffee – both of which have received raving reviews from happy customers. However, you can't really go wrong with anything on the menu, whether you order the fried shrimp, crawfish, oysters, or something else.
Also Read:
Final Thoughts
The verdict is in: Beaumont is a great place for tasting Cajun-style seafood with some Tex (and Mex) influences mixed in. The seafood here is served with a lot of soul and spice, the portions are large, and the atmosphere is relaxed.
If that sounds like your thing, you might as well visit Beaumont just for the sake of trying the specialties like gumbo, etouffee, crawfish or alligator bites.
With both the bayou and the Gulf of Mexico being nearby, there is no shortage of fresh seafood in Beaumont, and the restaurants on the list above serve it in the best way possible.