Bobby Flay is not only the owner of many award-winning restaurants, a prominent Food Network personality but also a star of various famous television programs, including Iron Chef America and Beat Bobby Flay.
His success story features the inspiring "rags-to-riches aspect, as he always tries to ascend from a low beginning to become one of the wealthiest chefs in the world.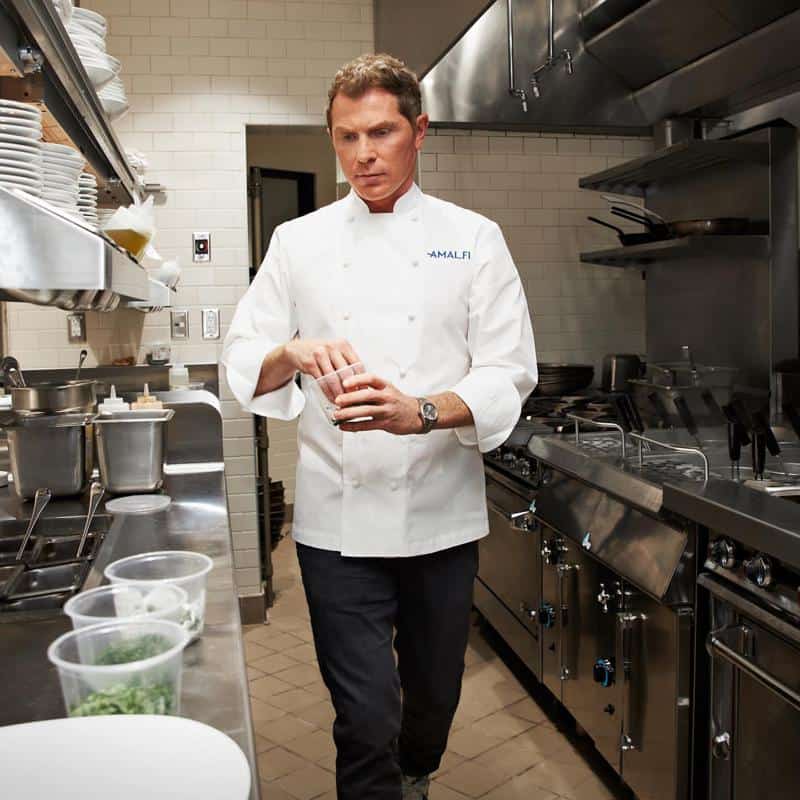 At this point, you may wonder how much Bobby Flay makes throughout his wonderful career. As of 2022, what is his net worth? This article will reveal the answers to those questions. Plus, you will learn more about the life and career of this 57-year-old chef!
An Overview About Bobby Flay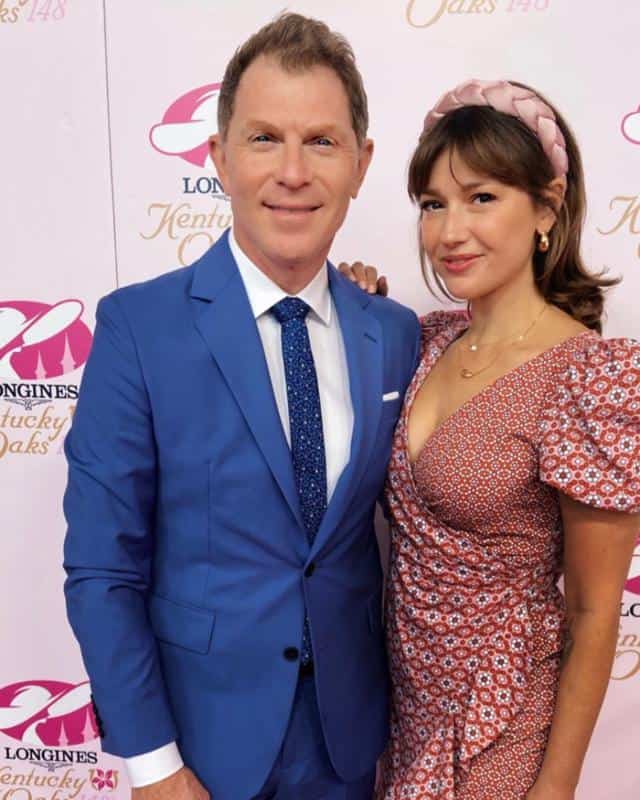 Let's discover whom Bobby Flay is by going over his basic information.
Birth name: Robert William Flay
Nickname: Bobby Flay
Date of birth: December 10th, 1964 (57 years old)
Nationality: American
Profession: Chef
Annual salary: $5 million
Weight: 63kg
Height:79m
Spouse: Debra Ponzek ​(1991-1993)​; Kate Connelly ​(1995-1998)​; Stephanie March ​ (2005-2015)​
Children: Sophie Flay
What Is Bobby Flay's Net Worth?
As of 2022, Bobby Flay has amassed a substantial net worth of $60 million via many ventures throughout his three-decade career. Mainly, his income derives from the Food Network television programs, restaurant business, radio host, and cookbook selling.
Bobby Flay's Early Life
Born in New York City, Bobby Flay is the son of Bill Flay and Dorothy Barbara Flay. During his childhood, he was raised as a Catholic in Manhattan's Upper East Side neighborhood.
How Can Bobby Flay Earn His Fortune?
Let's explore how Bobby Flay can amass such an enormous fortune by going through his long-lasting and successful career.
Bobby Flay's Restaurant Career
At the age of 17, he quit school and started his first jobs at a pizza shop and Baskin-Robbins. Then, he got a job at Joe Allen Restaurant in Manhattan's Theater District.
It was there that the restaurant owner, Joe Allen, discovered Bobby Flay's natural talent. Joe was so pleased that he decided to pay for Flay's education at the French Culinary Institute.
After graduation in 1984, Bobby Flay immediately worked as a sous chef and kicked off his culinary career. He was then promoted to executive chef at the Brighton Grill on Third Avenue after the executive chef here was discharged.
Yet, he soon resigned from the position after he discovered his incompetence in managing the kitchen.
After that, Bobby Flay landed a job at Bud And Jams as a chef. The restaurant owner, Jonathan Waxman, introduced Cajun and southwestern cuisine to him [1]. This introduction has shaped his unique cooking career ever since.
From 1988 to 1990, Bobby Flay came back to be the executive chef of Miracle Grill. During this time, he was recruited as a southwestern-style chef by restauranteur Jerome Kretchmer to work at Mesa Grill, a premise where he soon became a partner.
In 1993, he co-founded Bolo Bar And Restaurant with Laurence Kretchmer, which was only a few steps away from Mesa Grill. He continued expanding his restaurants with Bobby Flay Steak in Atlantic City, New Jersey, and Mesa Grill in Las Vegas, Bahamas.
In 2008, he opened his first Bobby's Burger Palace (BBP) in Lake Groove, Long Island. This burger franchise eventually grew to 19 outlets in 11 states, becoming his only restaurant with the greatest number of locations.
However, due to the COVID-19 impact, the chain reduces its network to 3 locations only (as of October 2021).
Currently, Bobby Flay is the owner of three restaurants with the following details:
Shark (Temporarily Closed)(2019): is an upscale sushi and seafood restaurant with contemporary decoration and a Latin beat, resided at the Palms Casino Resort (Las Vegas). Shark also offers steak, chicken, and vegan options.
Amalfi (2021): is the renovation of Bobby's renowned Mesa Grill into an Italian restaurant. Utilizing the concept of the Italian Amalfi coast, Amalfi is located at Caesars Palace (Las Vegas), featuring pasta and seafood selections.
Bobby's Burger: has 3 outlets in Ceasars Palace, Harrah's, and Paris Las Vegas.
Bobby Flay's Television Career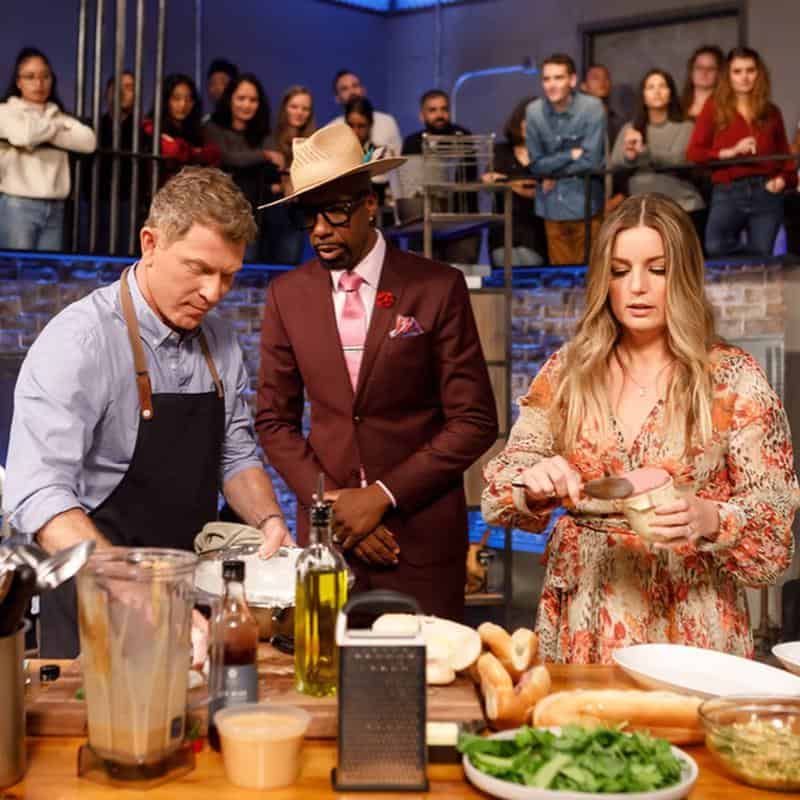 Bobby Flay has been a household name in America for over three decades, since his debut on Food Network in 1995. Since then, he has hosted 16 culinary competitions, including:
Hot Off the Grill with Bobby Flay (1999).
Boy Meets Grill (2002).
BBQ with Bobby Flay (2004).
Throwdown! with Bobby Flay (2006).
Bobby Flay's Barbecue Addiction (2011).
Beat Bobby Flay (2013).
3 Days to Open with Bobby Flay (2012).
He also appeared in other Food Network shows like "Iron Chef", "The Next Food Network Star", and "Wickedly Perfect". These shows won him 4 Daytime Emmy Awards and a Hollywood Walk of Fame's star.
In late 2021, Bobby Flay signed a new three-year contract with Food Network after numerous rumors about his leave after 27 years due to the lack of an agreement on a new deal. This new deal is expected to be $100 million in value.
In addition to his Food Network job, Bobby also gained income from his acting roles in various television series like Scooby-Doo, Entourage, and Portlandia.
Bobby Flay's Book-Selling Career
Besides his successful television and restaurant career, Bobby Flay is also a famous author with 17 wonderful cookbooks. These publications include:
Bobby Flay's Bold American Food (1994).
Bobby Flay's From My Kitchen to Your Table (1998).
Bobby Flay's Boy Gets Grill (2004).
Bobby Flay Cooks American: Great Regional Recipes with Sizzling New Flavors (2005).
Bobby Flay's Grilling For Life (2005).
Bobby Flay's Mesa Grill Cookbook: Explosive Flavors from the Southwestern Kitchen (2007).
Bobby Flay's Grill It! (2008).
Bobby Flay's Burgers, Fries, and Shakes (2009).
Bobby Flay's Throwdown!: More Than 100 Recipes from Food Network's Ultimate Cooking Challenge (2010).
Bobby Flay's Bar Americain Cookbook: Celebrate America's Great Flavors (2011).
Bobby Flay's Boy Meets Grill: With More Than 125 Bold New Recipes (2013).
Bobby Flay's Barbecue Addiction (2013).
Brunch at Bobby's: 140 Recipes for the Best Part of the Weekend (2015).
Bobby Flay Fit: 200 Recipes for a Healthy Lifestyle (2017).
Bobby at Home: Fearless Flavors from My Kitchen (2019).
Beat Bobby Flay: Conquer the Kitchen with 100+ Battle-Tested Recipes (2021).
Sundays with Sophie: Flay Family Recipes for Any Day of the Week (2022).
Bobby Flay's Other Works
Bobby Flay also engages in other projects to add up to his $60-million fortune. Here are some notable works: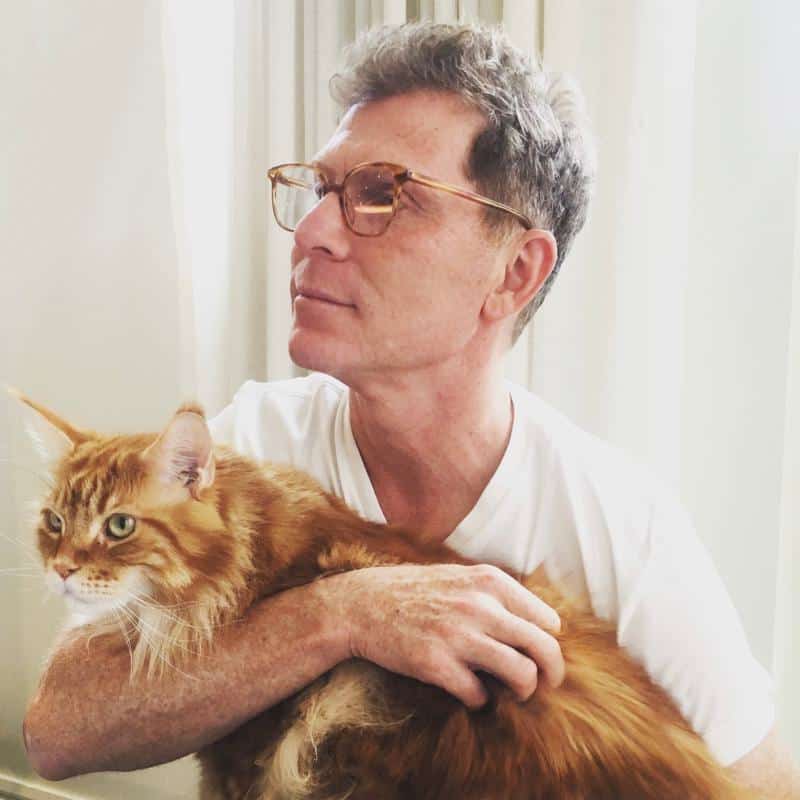 Made By Nacho: This is a popular subscription business for cat food operated by Bobby Flay.
Sirius XM Radio: Bobby Flay hosts a weekly program with a call-in style and focuses on food-related tips for people.
Thoroughbred racehorse: Bobby Flay owns three thoroughbred racehorses. They have won many cups, including Breeders' Cup Juvenile Fillies Turf 2010 and Belmont Stakes.
Also Read: Guy Fieri's Net Worth: How Rich is He
Bobby Flay's Net Worth: FAQs
All your unsolved inquiries about Bobby Flay's net worth shall be discussed in this section.
1. What real estate is Bobby Flay possessing?
Currently, Bobby Flay resides in a $7.6-million modern house in Los Angeles. The American chef and television personality purchased this real estate in February 2021.
2. What is Bobby Flay's first founded restaurant?
In 1991, the 26-year-old chef started his first restaurant, Mesa Grill, in New York City. This premise remained operational until 2004. After that, it was relocated to Caesars Palace in Las Vegas.
3. Does Bobby Flay has any pet?
Yes, the professional chef has a cat named Nacho Flay. The pet is pretty much an Instagram star with nearly 250,000 followers. You can check out its account here.
4. What is Bobby Flay's first job after dropping out of high school?
Bobby Flay shared that busboy was his first non-cooking job after quitting school at the age of 17. However, this career was soon over as he landed the jobs at a pizza parlor and Baskin Robbins.
Final Thoughts
Besides being a captivating television personality with many famous food programs, Bobby Flay is also a restauranteur, entrepreneur, horse racer, radio host, and cookbook author.
His diverse endeavors have brought about a fortune worth $60 million, with an annual income of $5 million. His achievement demonstrates that anybody can achieve success if they have a clear objective and are willing to work diligently towards it.