Tucson is the soul of the Sonoran Desert, the flavor of the Southwest. Tucson is all about the fine things in life, about unplugging, exploring, and freeing yourself.
At Tuscon, there are plenty of adventurous things to do as well as more leisurely and fun activities. You can find from multi-day treks to leisurely strolls for those seeking high-adrenaline activities. Similarly, you can explore, discover and learn about the area's history, geography, art, and even technology and science.
One thing that everyone desires to explore when visiting a new place is food. Tucson is truly the city of gastronomy, so you will definitely be satisfied with its delicious culinary heritage. When it comes to sushi, everyone has their own taste. Some prefer simple traditional nigiri sushi, while others love creative and flavorful sushi. In Tucson, you can find a wide selection of restaurants that cater to your unique tastes.
Check out the restaurant guide reviewing the top All You Can Eat sushi spots in Tucson.
Best All You Can Eat Sushi in Tucson
Takamatsu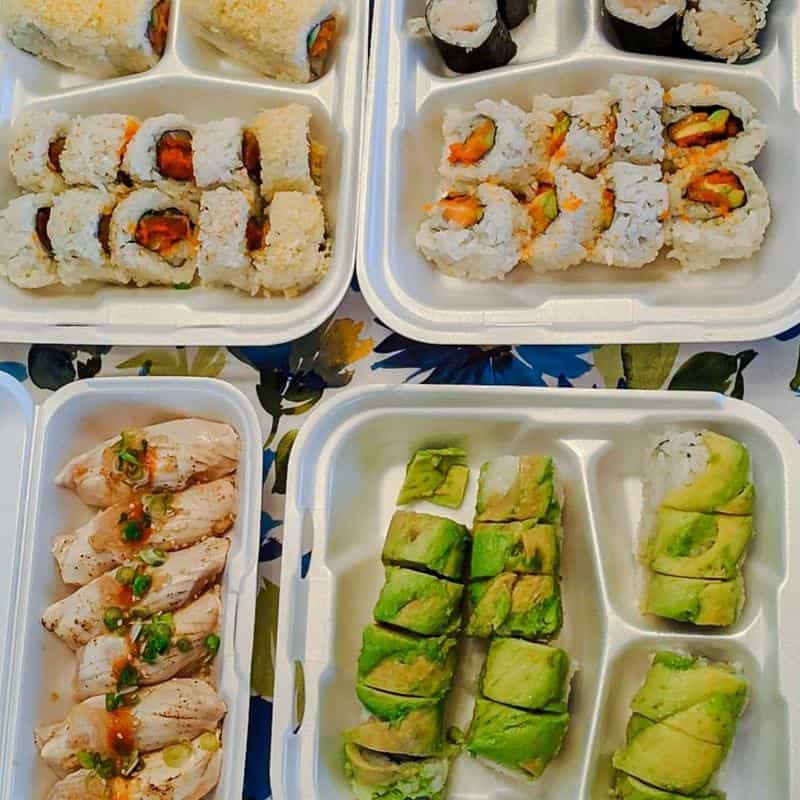 Takamatsu has been a family-owned and operated restaurant since its opening in 1995, offering authentic Japanese and Korean cuisine. It is a charming 40-person Sushi bar for the perfect sushi experience.
The Japanese menu boasts an extensive selection of traditional entrees, contemporary asian dishes and of course delicious sushi rolls. Furthermore, Takamatsu's Happy Hour offers discounted sushi items, appetizers, and drink specials.
If you prefer something different than sushi, the Korean menu includes a wide variety of authentic dishes, including Korean BBQ, which gives you the option to cook savory meats served with all the traditional sauces and side dishes right at your table.
Sushi-Ten Japanese Restaurant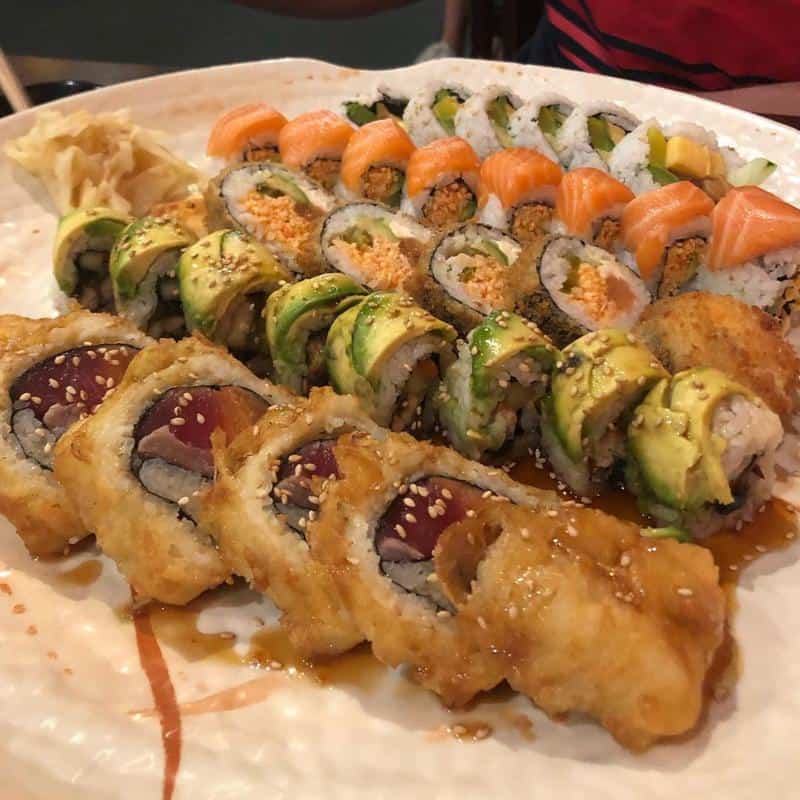 Sushi-ten is a family-owned restaurant operating since 2010. The restaurant's name in Japanese translates to Sushi-heaven, and indeed, this is an excellent destination for heavenly sushi.
Sushi-ten is always ready to serve excellent and delicious sushi at affordable prices. They offer both an All You Can Eat and a Happy Hour menu. The All You Can Eat option is only $23.95 per person, an excellent deal for those who love eating sushi.
There are many delicious sushi rolls to choose from that will make you want to come back again and again. Furthermore, another thing that makes Sushi-ten an absolute must-visit destination is its friendly staff with their excellent and accommodating services.
Sushi Cortaro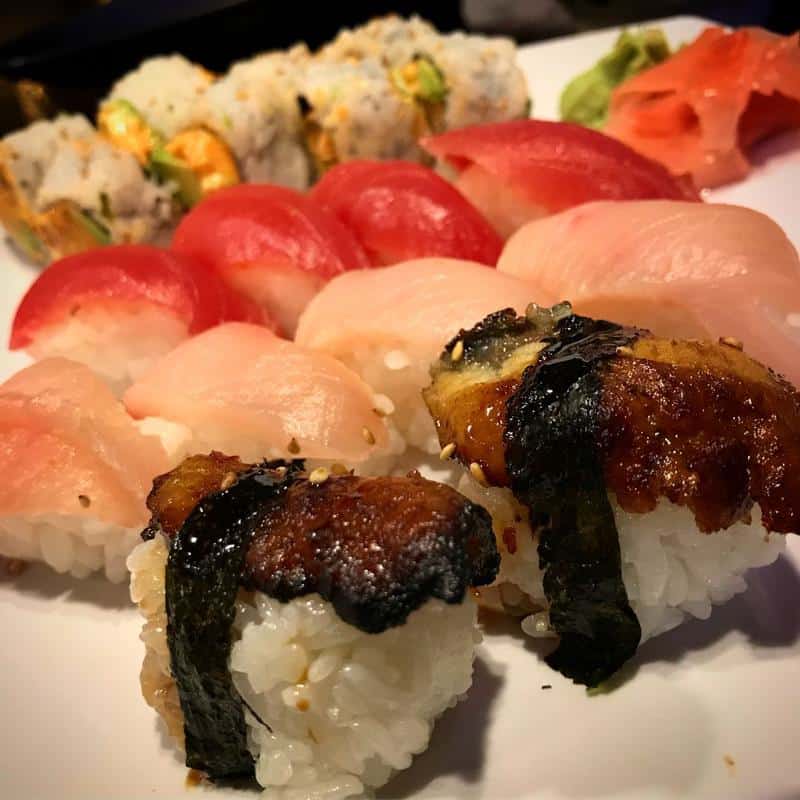 Sushi Cortaro is a contemporary sushi bar offering delicious classic rolls with a twist. It is truly a little heaven on earth. The special All You Can Eat Sushi menu is available all day, and along with a long list of nigiri and sushi rolls, the menu features savory appetizers like Gyoza and Calamari.
The All You Can Eat option is relatively more expensive than other restaurants at $33.95. However, it undeniably offers some of the best sushi rolls in town. Sushi Cortaro also offers great bento and lunch specials for people who want to enjoy a delicious meal at an affordable price. Both specials are served with a cup of miso soup and a house salad.
The restaurant's heavenly sushi rolls and relaxed vibe are perfect for a lovely weekend outing with family or a quick meal with coworkers. The staff offers excellent services and is ready to be of any assistance.
Wok and Roll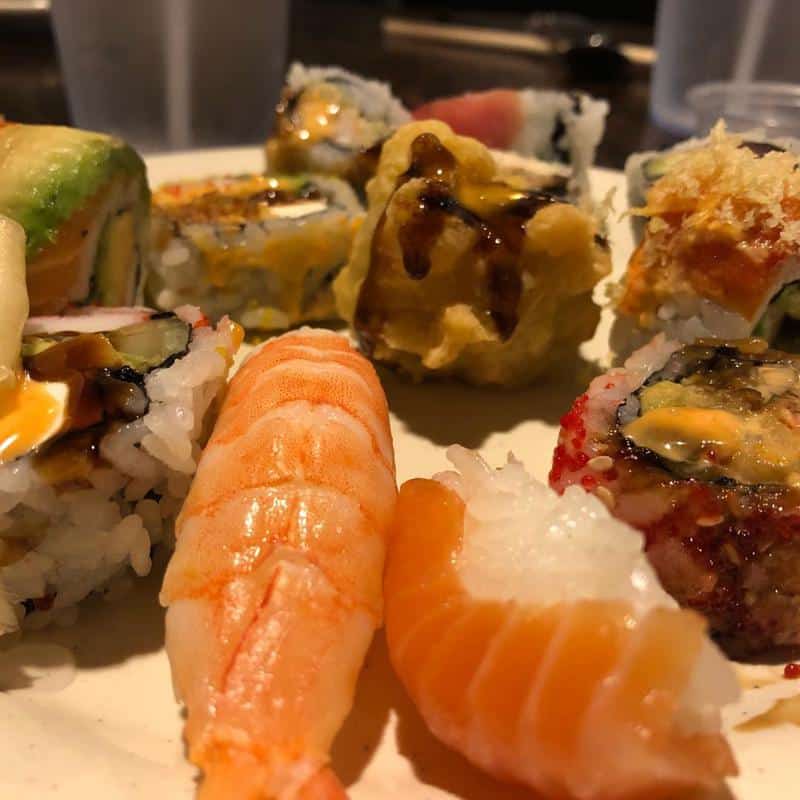 Wok and Roll is a unique All You Can Eat restaurant in Tucson that should not be missed. Here, the sushi chefs work all day to serve fresh sushi, sashimi, seaweed salad, California rolls, specialty rolls, and many more delectable dishes.
Furthermore, they serve delicious hot entrees ranging from pepper steak to steamed crayfish, fresh oysters, cocktail shrimp, mussels, and crab legs. Also, there can't be a perfect All You Can Eat restaurant without dessert. Choose from dutch chocolate, butter pecan, and mint chocolate ice creams for the perfect ending.
Their buffet has a variety of Japanese and Chinese dishes rather than just sushi. If you or one of your group prefers something different, there is anything anyone desires. Furthermore, the price range is from $13 to $24, thus, it is affordable for everyone.
Izumi Sushi Bar Seafood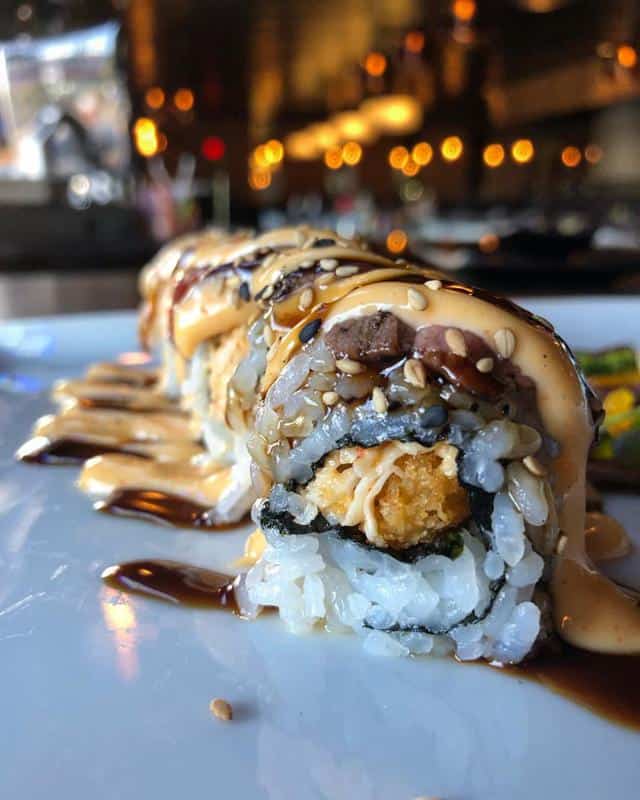 If you are looking for something different and want to change your daily dinner routine, go for a taste adventure at Izumi Sushi Bar Seafood. It is a hot spot for a delicious meal. If you visit the Reid Park Zoo or Randolph Dell Urich Golf Course, then stop in and try a new delicious dish today. Your meal will not just be delicious, it will resemble a piece of art with great precision.
Izumi Sushi Bar Seafood offers authentic Asian cuisine made from always-fresh ingredients. With meals ranging from spicy squid to ramen to sushi rolls, there's something for every level of curiosity. The next time you're thinking about seafood, remember that this joint can satisfy your craving and that their staff will take great care of you.
They have a massive menu of sushi rolls, specialty, and regular. Some notable rolls are Titanic Roll and White Tiger Roll. Furthermore, they also have fantastic combos at affordable prices that you can share with your friends and family.
Related Read: Best Sushi Restaurants in Tucson, AZ
New Town Buffet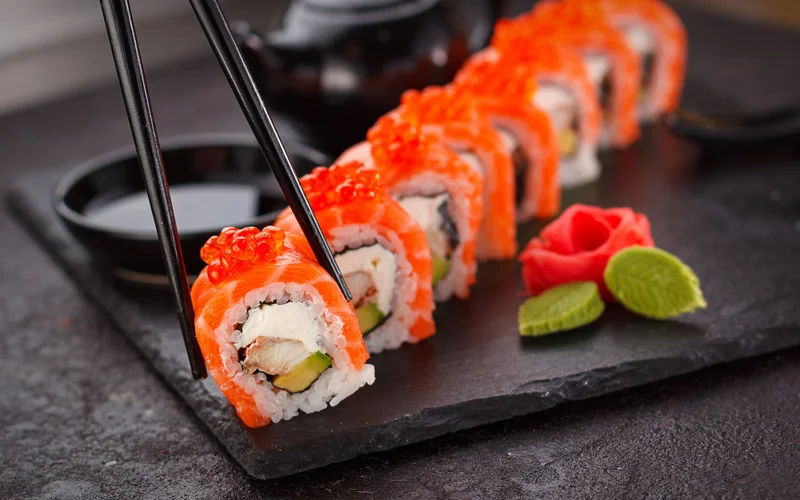 New Town Buffet is an All-You-Can-Eat restaurant emphasizing Japanese, Chinese, and international cuisine located right off the I-10 freeway. It features a great environment and an extensive menu at affordable prices.
The highly trained chefs serve a vast assortment of mouth-watering culinary delights with over 100 items on our daily menu. All dishes are made with the freshest ingredients.
Here you can find special sushi rolls and traditional Japanese sushi that will make you want to come again and again. Its extensive menu and friendly ambiance are perfect for parties.
Sushi Garden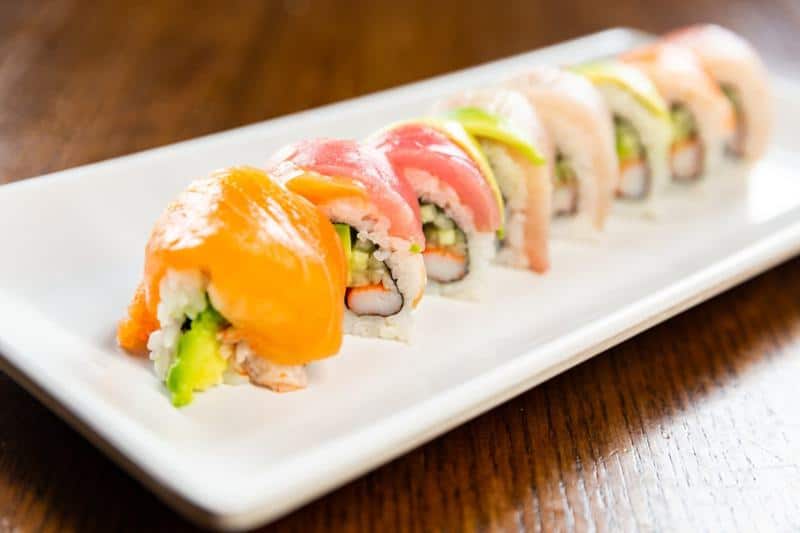 Crafting mouthwatering dishes and creative sushi rolls for more than 15 years, Sushi Garden has been voted 8 times Best Sushi in Tucson and 9 times Culinary Award Winner! After years of experience and dedication, they created a menu full of mouthwatering dishes and creative sushi rolls.
Enjoy their signature Lunch Box Specials starting at $8.95, like Spicy orange chicken, salmon, or steak lunch boxes that include stir fry vegetables, Yakisoba noodles, and rice for a lovely night out with friends.
Sushi Garden is dedicated to customer service, offering a distinctive style that makes them stand out. Here you can choose some of their delectable sushi rolls and enjoy a night of Sushi Celebration with your family.
IOU Sushi III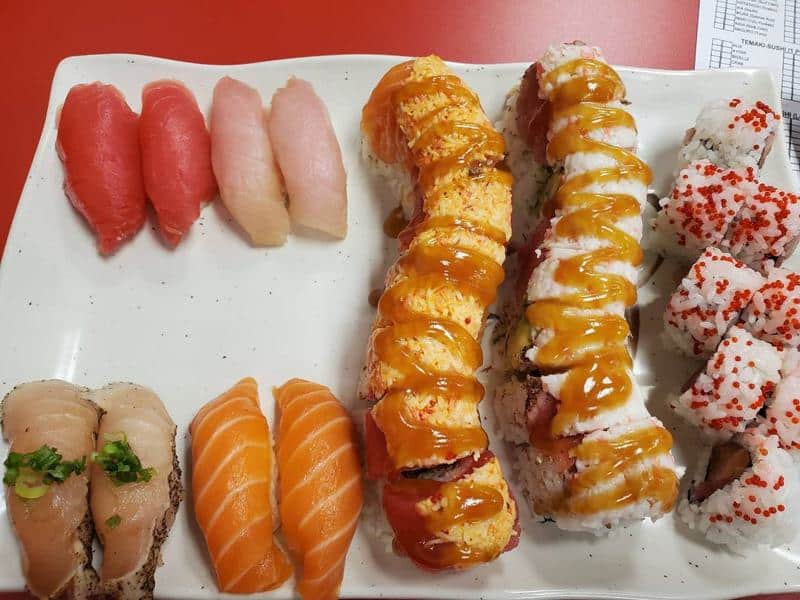 IOU is a cozy diner offering a modern interpretation of classic Japanese dishes. Although it is a Japanese restaurant, IOU pronounced e-yo means "delicious, tasty, sweet" in the Pohnpeian language. Pohnpei is a small island in Micronesia.
Just as its name indicates, IOU's creations are deliciously made with high-quality fresh ingredients. They have an extensive menu of specialty rolls, temaki, nigiri, and maki. Furthermore, they offer an A La Carte menu, and of course, they also have an All You Can Eat option.
The All You Can Eat option is only for $20.99 and offers a variety of rolls for every taste and preference. Their tasty rolls, alongside excellent service and cozy ambiance, surely make IOU an ideal restaurant for all sushi lovers.
New China Sushi Grill Buffet
The New China Buffet serves the best Asian cuisine in the Tucson area serving Japanese, Chinese and international cuisine. Furthermore, it is an all-you-can-eat restaurant focusing on delivering delectable sushi and other Asian dishes.
It offers a great atmosphere and extensive menu at "family-friendly" prices. With personal attention and first-class service, you will find a variety of delicious dishes. Specifically, there is a sushi bar, grilled brazier, salad, seafood, stir fry, dessert, ice cream, etc.
The chef uses only fresh ingredients to create these international dishes. So, you will surely not be disappointed, and you can always find your favorite dishes or other creative dishes. If you plan to visit with a large group, you can enjoy a separate private dining room.
Lin's Grand Buffet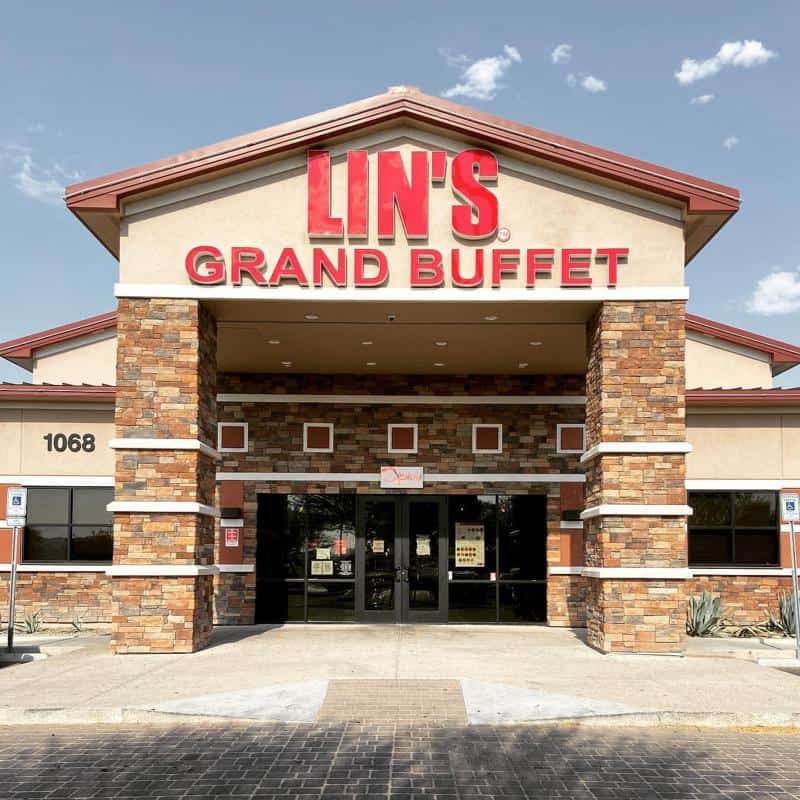 Founded in 2002 in South Texas, Lin's Grand Buffet has always endeavored to provide its guests with a unique and premium buffet experience at an affordable price.
They are committed to delivering an unforgettable culinary and entertaining experience. That's why the team always is working hard to serve dishes that redefine the meaning of being an All You Can Eat restaurant and strive to make sure guests are happier than when they come in.
At Lin's Grand Buffet, you can taste delectable traditional and specialty sushi rolls, as well as delicious Chinese and Mongolian cuisines. You can find unique seafood dishes, fusion dishes, and refreshing desserts.
Read More: Best Breakfast & Brunch Spots in Tucson, AZ
Final Thoughts
Tucson is a terrific city to experience diverse landscapes, history, culture, and fantastic culinary experiences. Tucson is a UNESCO city of gastronomy because the food here has a history that dates back 4,000 years.
The city's culinary heritage is a tapestry of Mexican and Native American traditions. Still, nobody ever said no to alternative cuisines, especially sushi. Sushi is a fun and delicious food that can be prepared with many combinations of meats, veggies, and sauces.
All of these restaurants have outdone themselves with traditional sushi, and some have added a twist.