Park Slope is an inherently interesting little neighborhood in Brooklyn that could be likened to its own little town. It is picturesque and boasts some of the prettiest streets lined with draping trees. They've had their tragedies and triumphs, with plenty of historical events taking place on their doorstep. Interestingly enough, hosting a certain Barack Obama before his rise to the presidency.
Alongside the depth of their heritage, they have a teeming modern scene that includes their cuisine. So, of course, what would you find in this upmarket little place? Sushi and lots of it. You'll find plenty of great places to indulge in gourmet Japanese small plates, from unassuming to outright bold about their presence.
So let's not flounder any longer.
Our Top Picks
Best atmosphere: Wasan
Most affordable sushi: Yamato
Most creative fusions: Ten Japanese Cuisine
Best Sushi in Park Slope
Wasan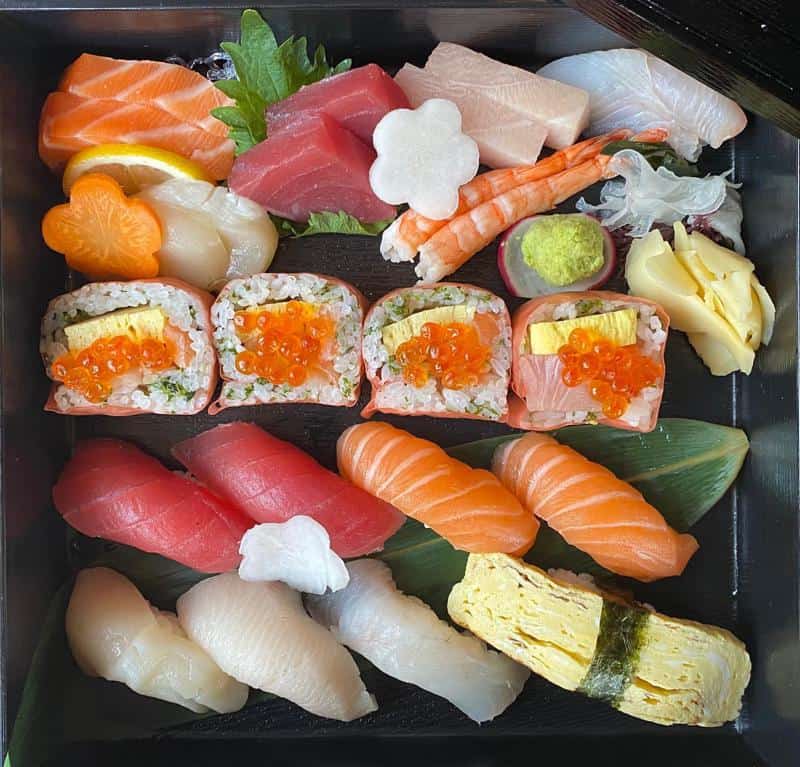 Location: 440 Bergen St, Brooklyn, New York 11217
Hours: 11:30 am to 9:15 pm
Price: $$
Toshiyuki Koizumi and Chef Kakusaburo Sakurai created this brainchild, and it has received nothing but praise since its conception. Of course, you can't expect less from a Wall Street Journal write-up that has hit the ground running and is on a fast track to becoming a fan favorite.
If you're looking for the best in sushi, you might find it here. Variations include cooked and uncooked, and the ingredients are incredible. They, of course, have a fusion side, but Wasan fusion hits a little different when the ingredients are technically Japanese. But they take it untraditional and make it fantastic. Smoked duck sushi, a Wasan Dragon roll, and an eel and avocado roll make you crave more!
The typical Brooklyn-style setup makes it feel more homely, with large windows at the forefront, it opens up the space. But the inside gives off that toasty, cozy feeling that has diners coming back for more. It's family-friendly and allows everyone to have a taste of a fine-dining experience on a dime.
Yamato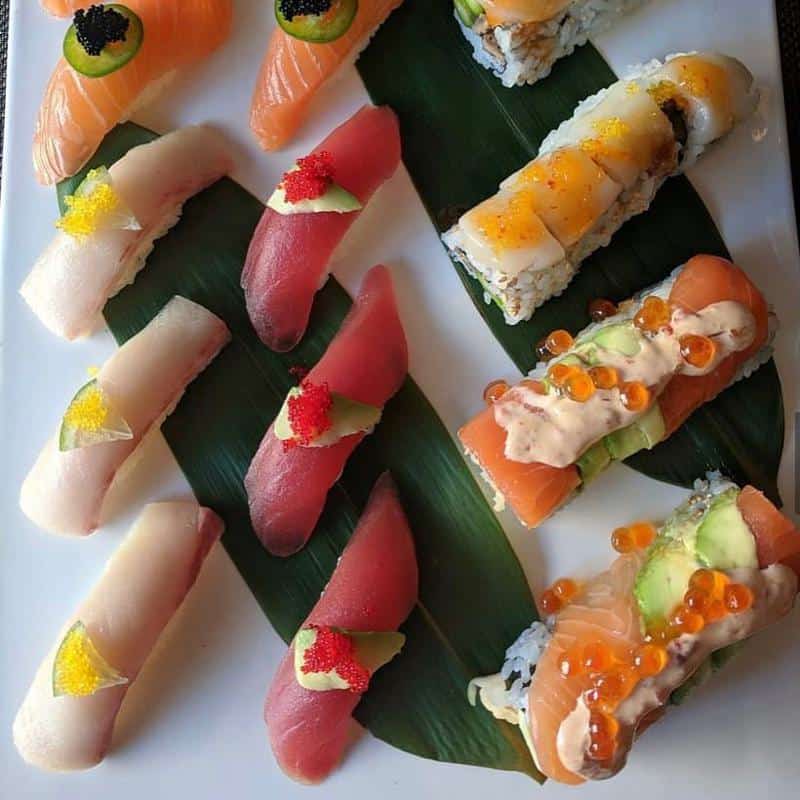 Location: 170 7th Ave, Brooklyn, NY 11215
Hours: 12:00 pm to 9:00 pm, Closed Tuesdays
Price: $$
Yamoto is an incredible eatery that specializes in delicious Japanese cuisine. It's a popular brand and is known for its commitment to quality regardless of its expanding empire. After all, you can't sacrifice taste for growth.
They're a popular pick in the Park Slope neighborhood. They're budget-friendly and experienced in their field, meaning you'll definitely find excellent sushi here. They're not shy on choices either and have everything from specialty rolls. Combining All-American ingredients with Japanese classics and creating the divine dishes that have given them their reputation. Their rolls are a hit, and with sushi in the form of Poseidon rolls, and even Mozza rolls, they have taken a unique twist that can't be found elsewhere.
While they're not grand and spacious, they've utilized their space well. With tables lining a wall and a sense of grandeur thrown in with mirrors making, it feels more expansive. But, it still offers that all-encompassing and comforting feeling that they're known for.
Ten Japanese Cuisine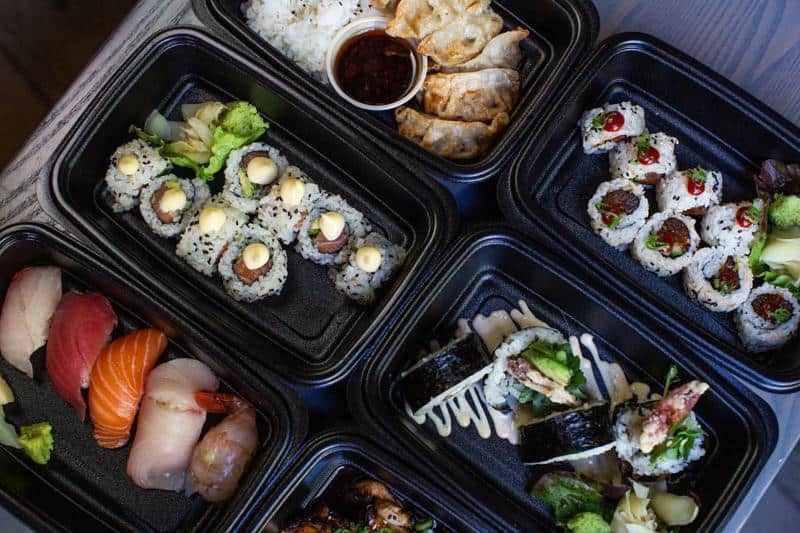 Location: 440 7th Ave, Brooklyn, NY 11215
Hours: 2:30 pm to 9:45 pm (Closes 10:30 pm Friday and Saturday), 4:00 pm to 9:45 pm (Sunday), Closed Tuesdays
Price: $$$
Ten Japanese Cuisine knows exactly how to appeal to its audience. Park Slope has its own reputation for the types of people who live there, and one standout factor is they love health. So what better way to encapsulate the true nature of their home than by offering nothing but excellent food made from fresh, healthy ingredients.
Their menu is incredibly devoted to providing a little something for everyone. If you siphon past the expansive hot meal options, you'll find a paradise you could only dream of. In all its uncooked (and cooked!) glory, sushi from signature rolls, sashimi, and special rolls. The selection seems endless, but they've got you covered. Ingredients vary, and flavors are unique to each roll. So what's the solution? Keep coming back for more.
The menu is unassuming, and many a weary traveler may have walked past the doors, never knowing the taste experience that flourishes within the walls. With limited seating, they're often full, but the staff are courteous and service so speedy that you won't have to wait too long. So dress casual and get ready to relax!
Ki Sushi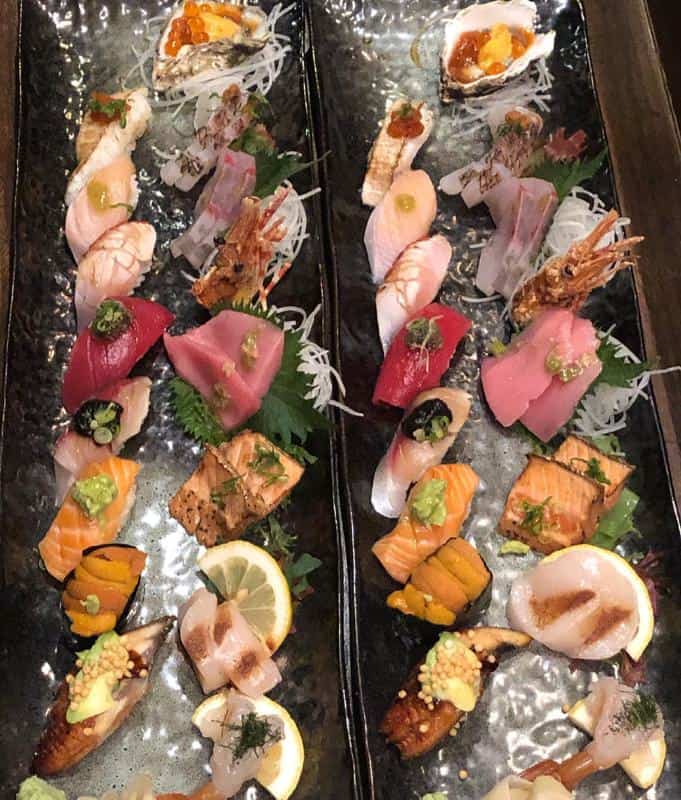 Location: 282 Flatbush Ave, Brooklyn, NY 11217
Price: $$
Ki Sushi throws in all the elegance and glamour of a high-class dining experience, but with the added extra of being completely casual. It's a tongue-twister to think about, but somehow they've made it work and have landed a top spot in the hearts of many a hungry patron that's come through their doors.
Their menu is divine, with options to appease even the fussiest of diners. They're affordable for the quality you're getting and even add in the extra benefit of throwing in some specials every so often. With sushi platters at $19, you have the option to try everything you could possibly want and more! Ala carte, however, is the way to go, and if you're overloaded, then go for the omakase and let the chefs decide what you try!
You're greeted by beautiful wooden accents and branches that bring that little touch of life when you walk in. It's warm and comforting, wanting little from its guests except a happy meal enjoyed between loved ones and friends.
Related: Best Sushi Restaurants in Brooklyn
Sushi Katsuei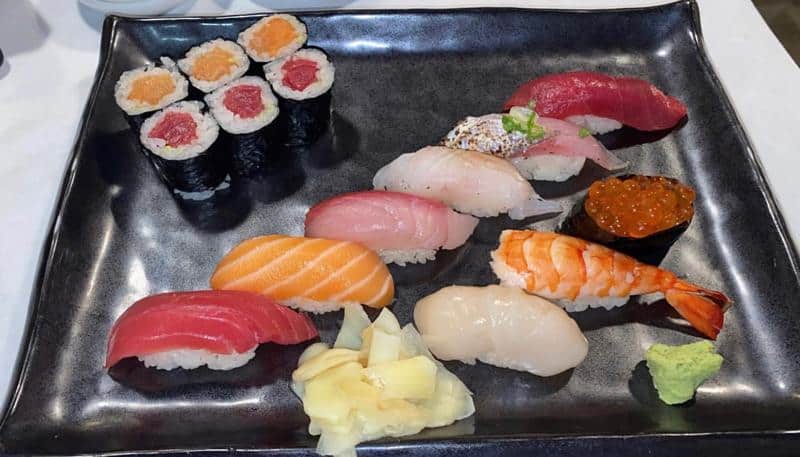 Location: 210 7th Ave, Brooklyn, NY 11215
Hours: 4:00 pm to 9:30 pm, Closed on Tuesdays
Price: $$$
With the never-sleeping New York city being inches from this neighborhood's doorstep, they have a metropolis of competitors to deal with when it comes to incredible sushi. Sushi Katsuei laughed in the face of the challenge and rose above the rest, noted in the press as being the best of the best. But that's something you'd have to find out for yourself.
The chefs are ingenious with their master crafts, throwing together some of the most incredible tasting, refreshing ingredients that they could find. With the option of omakase, and let the chefs indulge your senses with their personal pride and joy, or picking ala carte. Combine some of the menu's delights to create your own taste roller coaster. But make sure to include some of the specialty rolls. You haven't had a fusion quite like this.
It's sleek and welcoming, with plenty of choices for seating either along the sushi bar or at a table if you'd like something a little more personal. It's cozy, it's modern, and it's definitely worth the visit.
Sushi Yashin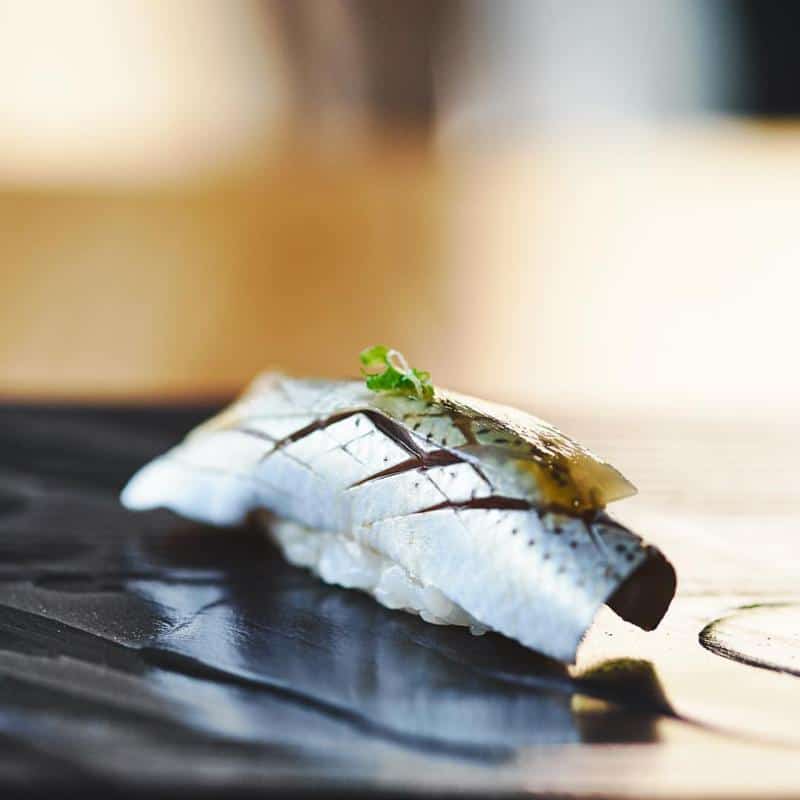 Location: 381 5th Ave, Brooklyn, NY 11215
Hours: 1:00 pm to 9:30 pm (Closes 10:30 pm Friday and Saturday)
Price: $$$
Sushi Yashin is a community sushi spot that has an exuding personality and has kept its neighborhood happy and fed for years. They're innovative and creative with their dishes, taking a modern twist to their sushi that has been a delightful taste experience and has kept the fans coming!
They bundle together delicious ingredients into unique, modern sushi rolls with creativity and mastered skills. Each flavor compliments each other and adds to an incredibly yummy dish that beats traditional sushi any day. In addition, they cater to their region, with their overall flavor infusing All-American flavor with fresh seafood in that classic Japanese way that's become such a global hit. Everything here is a must-try for sushi lovers, from their sashimi to their rolls.
With friendly and endearing staff, you'll find it welcoming and a comfortable experience for any occasion. They have outdoor seating available too, and enough to cater to your family needs or just a fun dinner night out with friends.
JPan Sushi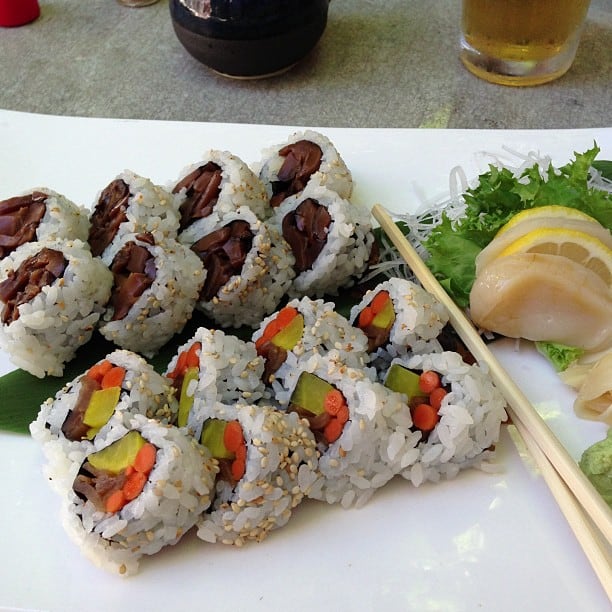 Location: 287 5th Ave, Brooklyn, NY 11215
Price: $$$
JPan Sushi is a small place with a big heart, fast becoming one of Park Slope's favorite sushi hangouts over the years. With dedicated servers and passionate chefs behind the scenes, they create an unforgettable ambiance and enlightening experience that has had patrons flooding back in support.
They believe in making honest-to-good, hearty food that's had the neighborhood raving. Using fresh, quality ingredients blended expertly to create a beautifully delicious sushi plate. Their menu is adorned with all variations, from Nigiri to Sashimi, and all the fusion options in between if you like. From Bonita's rolls, a visual treat and tasty too, to their monster roll with a perfectly cooked oyster to tantalize your tastebuds. Their menu is living proof that you can't have too much of a good thing.
While the venue is small, with limited seating, they bring out all the charismatic charm needed to ensure they hold a steady ship. Friendly staff, great food, and a comfortable and warm atmosphere.
Koto Sushi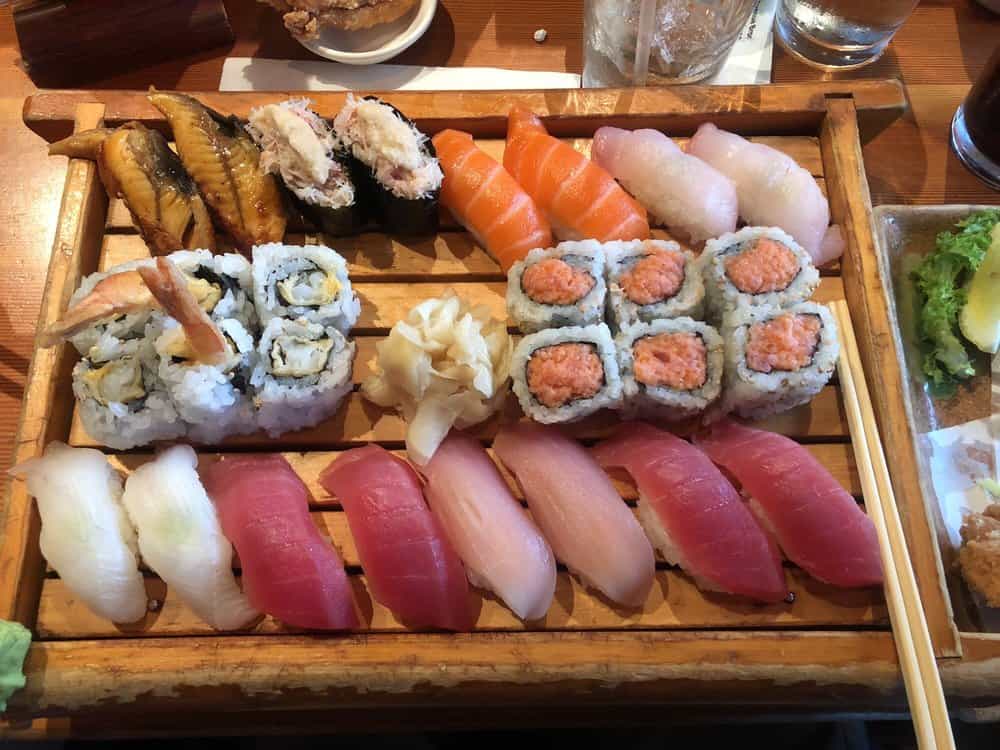 Location: 263 Flatbush Ave, Brooklyn, NY 11217
Hours: 11:30 am to 10:30 pm, Closed Saturdays, 12:00 pm to 10:30 pm (Sunday)
Price: $$
When it comes to understated, Koto Sushi holds a crown. They're a tiny little shop that leaves little to the imagination. They don't have a boisterous and flashy venue. Instead, they're understated and quaint, but for people who say "Looks don't matter," they've provided some incredible sushi and are definitely worth a try.
They bring their own Koto Sushi flair to their dishes, taking traditional sushi to the next level by creating fusion rolls that have been a popular choice on their menu since opening. If you like deep-fried sushi? In the form of their Godzilla roll, they have it deep-fried spicy tuna wrapped in seaweed and rice. Their koto special roll is a mixture of fish, and while it includes a rice pancake, it isn't rice sushi! Their creativity is unassuming, but the taste they offer is incredible!
Koto sushi is a bit of a hole in the wall. It doesn't necessarily offer those Instagrammable photo opportunities young enthusiasts dream of. But honestly, the looks don't matter. They provide whole, hearty, comforting sushi that makes up for their lack of style.
Read More:
Sushi in Park Slope: FAQs
Where does Park Slope find its fresh ingredients?
Park Slope is known for its health markets, which means that a lot of the ingredients used in Park Slope sushi, especially fusion sushi, are fresh and found at the local markets. This means there's sustainability too! This is great if you want to reduce your carbon footprint.
Unfortunately, though, because of the nature of sushi and the traditional ingredients, some things can't be replaced, so they have to import those. It doesn't mean anything for the freshness, as they've developed their ways to ensure the seafood is as fresh as the day it was caught.
What makes Park Slope sushi unique?
As with every state, region, and neighborhood, sushi is unique to them and based on the type of regular visitors. Park Slope residents are considerate of healthy and fresh food, and the restaurants reflect the wants of the community.
With great care taken, each dish is specially designed to appeal to their most common foot traffic, the Park Slope community, of course. And as a tribute, just remember that they also created unique rolls that won't be recreated elsewhere. A little gift from the restaurant to their community to thank them for their support.
Conclusion
With its diverse history, this picturesque neighborhood has brought about its own little culture that thrives on the quality of living you'll find nowhere else. The locals here are one of the most spectacular groups of people who welcome and embrace change and life with open arms.
It's no wonder the culinary culture here is so incredible, and they have definitely found a way to make sure they bring the best of what's offered to their small little patch of heaven.