Do you have a sudden craving for sushi while exploring the mighty Brooklyn Bridge or hanging out in Coney Island? Worry not, we've got you covered!
The highly populous Brooklyn has a robust environment filled with food and entertainment. With so many talented chefs attempting to master Japanese cuisines, you'll find a sushi restaurant at every corner.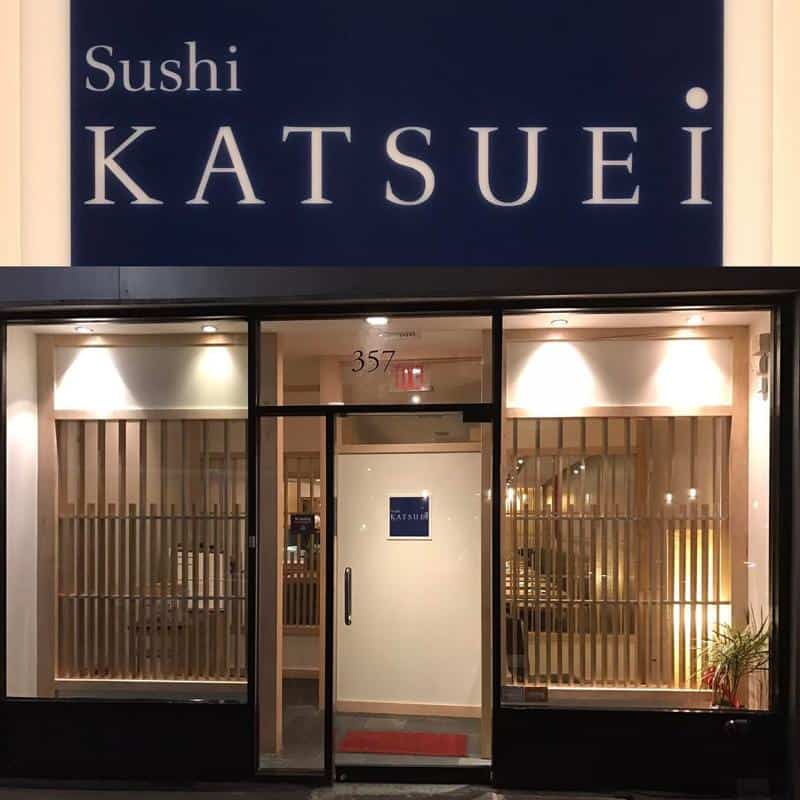 However, it takes a sharp eye to find the ones that offer the best sushi in Brooklyn. We are here to make your sashimi dreams come true with our dedicated list highlighting the best from the world of sushi in the fanciest borough of NYC.
Best Overall Sushi: Sushi Katsuei
Best Family-Friendly Sushi: Iron Chef House
Best Date Night Sushi: Ki Sushi
Best Vegetarian Sushi: Bozu
Best Sushi in Brooklyn
Sushi Katsuei: Best Overall Sushi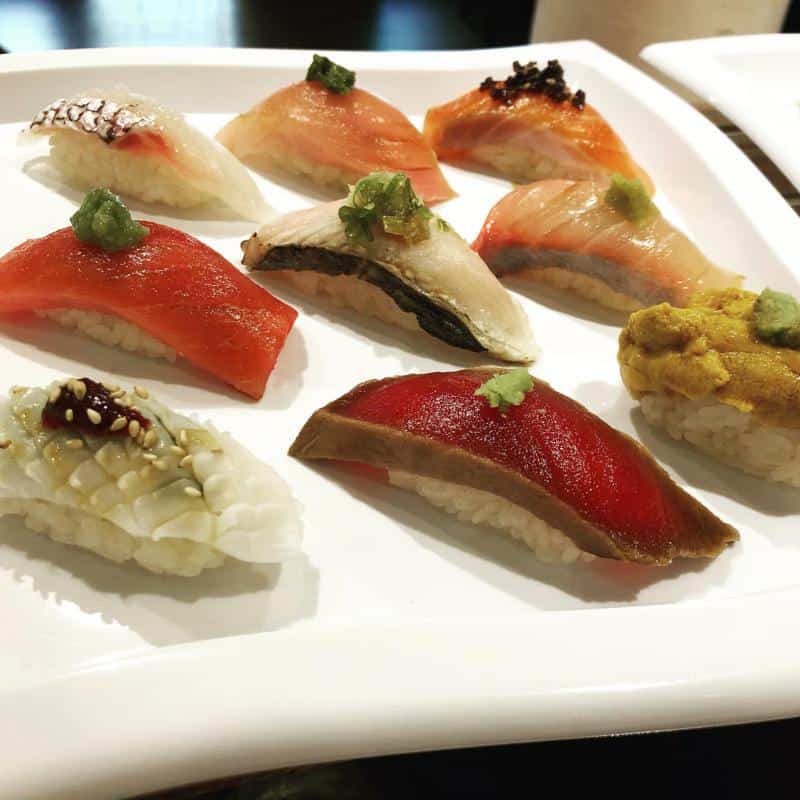 Location: 210 7th Ave, Brooklyn, NY 11215
Highly popular and beloved Sushi Katsuei first opened its doors to the people of Brooklyn in 2014. Tucked along the 7th Avenue just a short walk from Grand Army Plaza, the location is quite accessible for sushi lovers. It is the most visited spot by locals, and its review in the Times speaks for itself.
Staying true to all its 5-star reviews, Sushi Katsuei has a great menu with highest quality ingredients that are fresh and perfectly spiced. They are famous for their sushi rolls, but also have soups, appetizers, salads and other entrees.
The Omakese menu is served at the counter where the chef prepares each roll in front of the guests, making it quite an exciting experience. The chefs are quite friendly and engage in conversations, answering questions and entertaining the guests.
We recommend making a reservation in advance. Pick an experience from standard dining to sushi bar, and enjoy a huge selection of vegetarian and non-vegetarian sushi.
Highlights
Quaint dining area and sushi bar.
Delicious range of sushi.
5-star rating and review in the Times.
Iron Chef House: Best Family-Friendly Sushi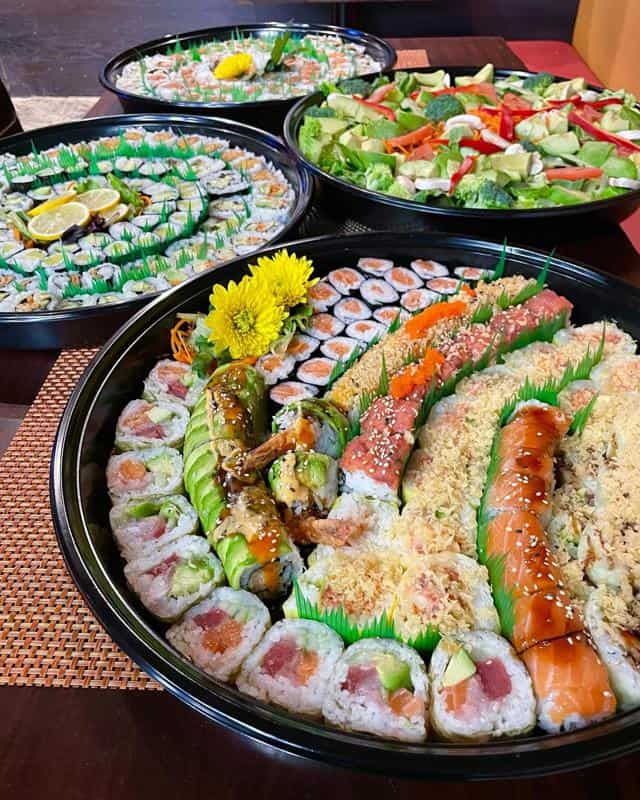 Location: 92 Clark St, Brooklyn, NY 11201
Enjoying a nice spot by the Cadman Plaza Park, Iron Chef House is a family friendly sushi restaurant in Brooklyn with an extensive menu. Weary from exploration of the park's trails, visitors come to Iron Chef House for hearty meals in a casual atmosphere.
The wide variety of Japanese cuisine on their menu keeps everyone happy. While kids slurp on some tasty ramen or good old fried rice, adults can enjoy fresh sushi with a side of their favorite drink.
To turn up the heat, we challenge you to try the Crazy Dragon. Just as its name suggests, it has a spicy kick with perfectly seasoned salmon, tuna, crab meat and eel.
Customers also love their tuna appetizer and Monkey Roll. They also have specials with unique and creative sushi rolls every day.
Highlights
Good family-friendly ambiance.
Wide range of Japanese cuisines on the menu.
Great selection of sushi.
Ki Sushi: Best Date Night Sushi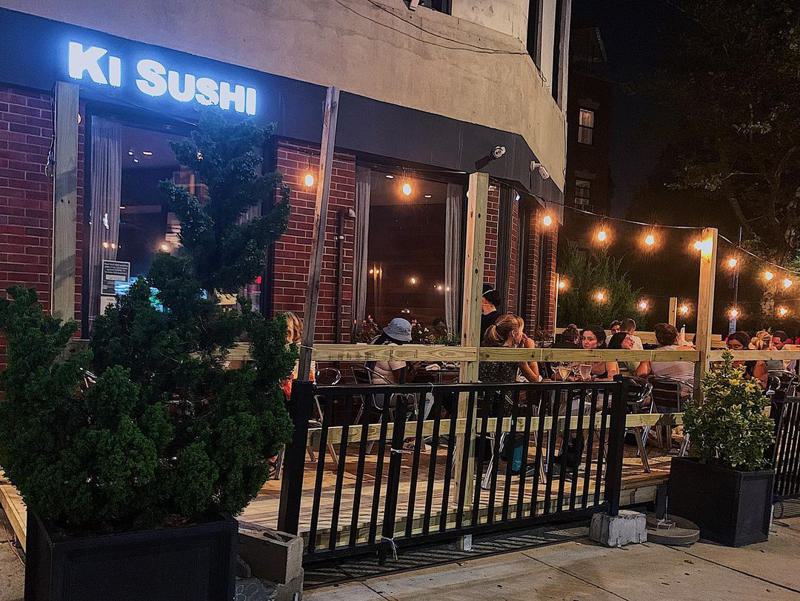 Location: 282 Flatbush Ave, Brooklyn, NY 11217
With two popular branches in Brooklyn, Ki Sushi makes it mark in the city without making you travel too far for it. The restaurant holds the Michelin guide recommendation of 2016 as one of the bets sushi spots, so you can definitely expect some great seafood here.
The different types of raw and cooked fishes beautifully pair with the contemporary and aesthetically pleasing décor of the place.
The relaxed ambiance is inviting, and the warmth and indulging hues make it a good spot for romantic dates. On a nice starry evening, you can also enjoy some delicious Ki Rolls in their outdoor dining area.
The menu is filled with Japanese delights and also caters to vegetarians with plant based options like cucumber or avocado maki.
For a wholesome seafood experience, get the heavenly Seared Tuna Roll, Spider Tempura, and Dragonfly Roll oozing with shrimp tempura.
Highlights
Romantic setup ideal for date night.
Delicious and fresh sushi.
Outdoor dining available.
Also Read: Best Sushi in Park Slope, Brooklyn
Bozu: Best Vegetarian Sushi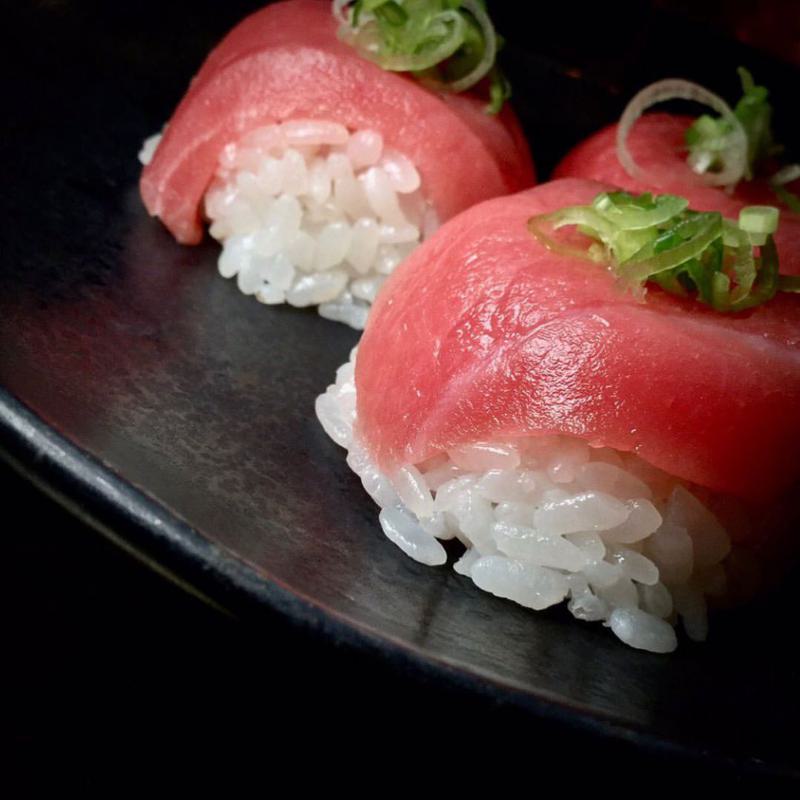 Location: 296 Grand St, Brooklyn, NY 11211
Welcome to the home of sushi bombs!
Bozu is one of a kind. It enjoys a prime location in the heart of Brooklyn. Sharing proximity with Pod Brooklyn and Marsha P. Johnson State Park, it is the top visited sushi spot of nature lovers.
The indoor and outdoor dining is warm and inviting. The delectable sushi bombs are quite a hit. Staying true to its name, they literally explode with flavors in your mouth, delivering the perfect punch of seafood and Japanese goodness.
It is also a favorite spot for vegetarians as you will get some of the best vegetarian sushi ranging from traditional to modern options. We are a fan of their guacamole roll, but they also make a mean Ramo Roll and Mina Roll for a vegan sushi fix.
For an indulgent seafood experience, try their sashimi platter featuring four types of freshly prepared fish on a bed of greens.
Highlights
Indoor and outdoor dining.
Sushi bombs packed with flavors.
Good option for vegetarians.
Sushi Lin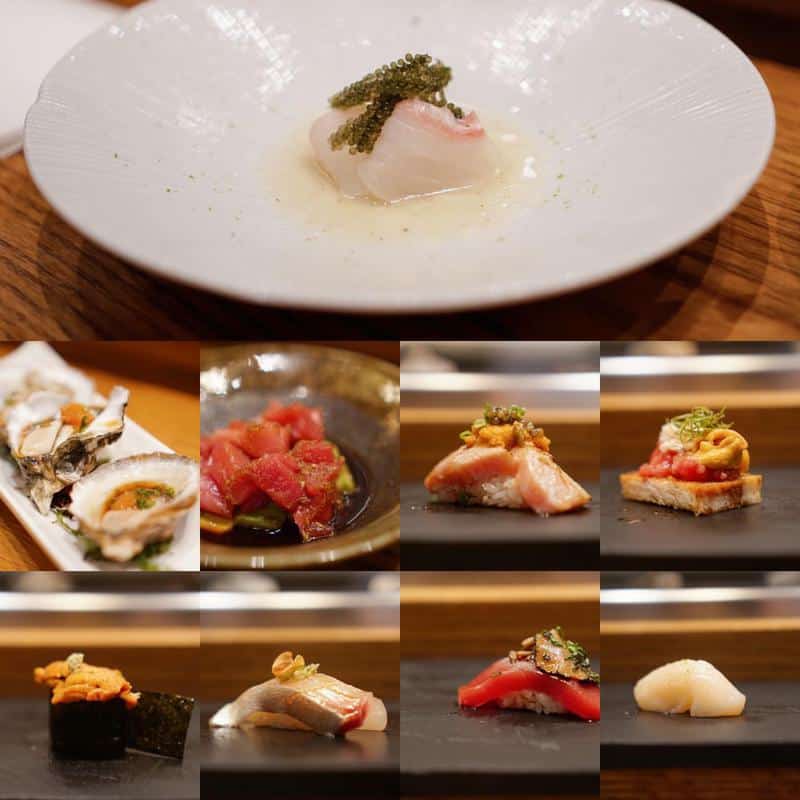 Location: 335 Flatbush Ave, Brooklyn, NY 11217
Shaping his dreams into reality with dedicated efforts and creativity, Chef duo Lins has poured his heart and soul into Sushi Lin to make it one of the best sushi restaurants in Brooklyn.
The restaurant offers something unique to sushi lovers with ingenious dishes and the freshest ingredients sourced from Tsukiji Market, Japan. You will get an Omakase experience unlike any other with textures and flavors that take your taste buds on a journey of their own.
We love the sheer range of traditional and Omakase Japanese delicacies, sushi and sashimi prepared with love and special attention to presentation.
We highly recommend getting the Chef Special Tasting Menu with 10pcs and one roll of Sushi Omakase. They also have the best Chutoro and Hamachi in town, so make sure you bring your appetite!
Highlights
Fresh ingredients sourced from Tsujiki Market in Japan.
Wide range of Omakase sushi.
Beautiful presentation.
Hibino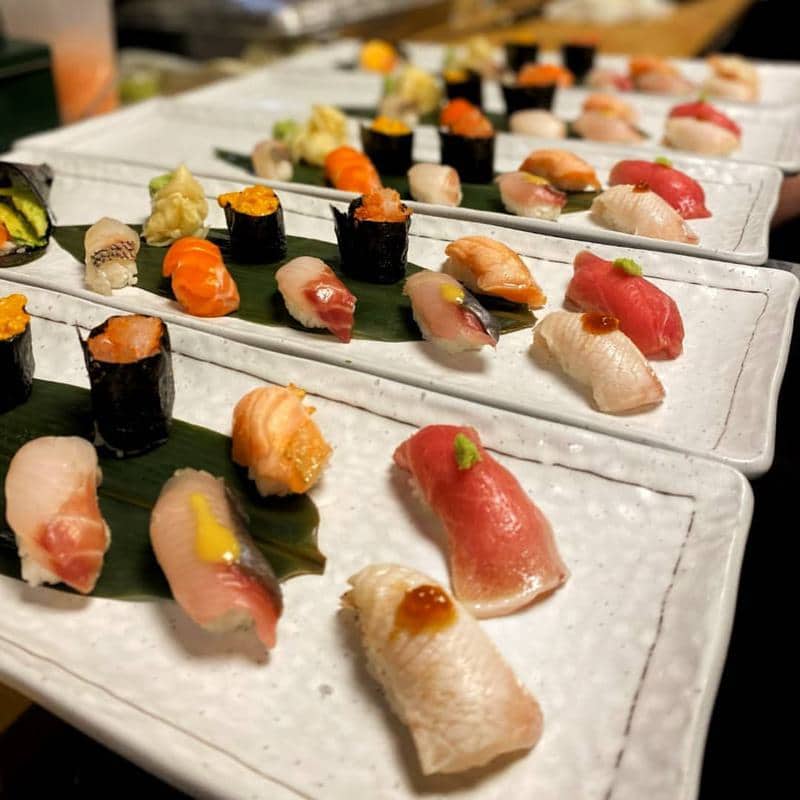 Location: 333 Henry St, Brooklyn, NY 11201
The minimalistic yet warm and welcoming setup of Hibino invites you to try fresh sushi with family and friends and satiate your seafood cravings with their extensive menu.
The highlight of the restaurant is Obanzai (Japanese Tapas), but you will find a lot more on their menu that's worth a try. We love the delicately prepared and presented portions with the perfect seasoning of freshest ingredients and rice.
They make their tofu fresh every day, which is why their Agadashi Tofu Soup is the best starter on the menu and sells like hot cakes all day long.
We also admire them for their authentic Kyoto style sushi with recipes that are passed down from generation to generation and masterfully perfected.
Some of the highest selling main sushi rolls at Hibino include Ume Shiso Roll and Kanpyo Roll featuring scrumptious soy-simmered squash strips. The place is always swarming with customers so make sure you get there early.
Highlights
Kyoto style Obanzai/ Japanese Tapas.
Traditional and modern sushi rolls.
Homemade tofu.
Gen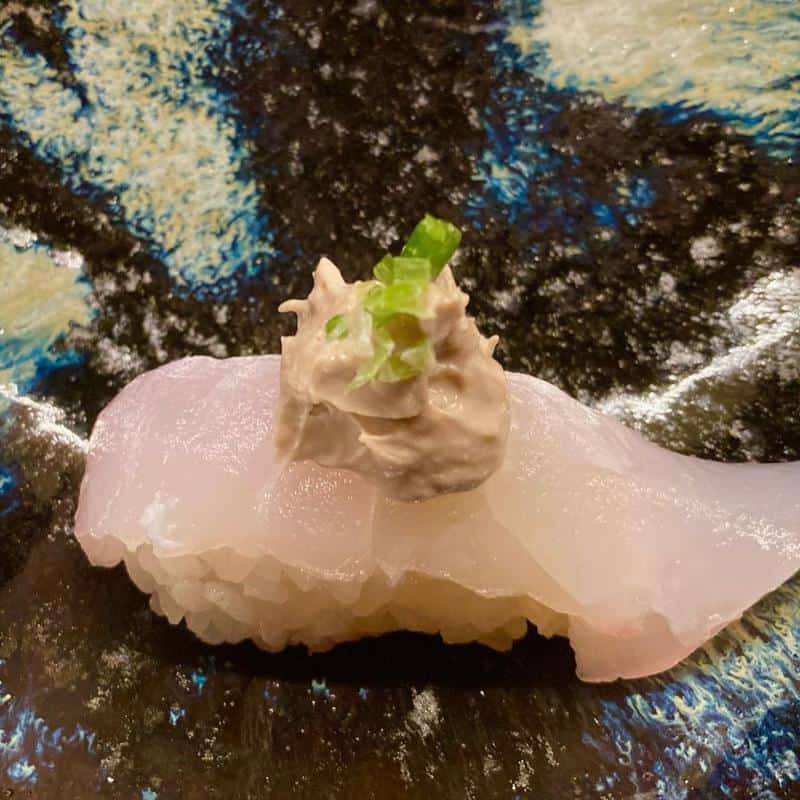 Location: 659 Washington Ave, Brooklyn, NY 11238
Gen is an underrated Japanese sushi restaurant in Brooklyn that deserves a special mention in our list. This hidden gem offers quite an experience for sushi lovers with quaint indoor seating and a funky outdoor area.
The Asian fusion dishes served here is great for vegetarians and seafood lovers. We love their range of sushi platters offering a bit of everything for you to try.
Their also have great Hibachi dishes, Sushi Omasake, Udon and a special selection of Sake to tie up your Japanese cuisine experience perfectly.
The casual eatery is affordable, fun and indulgent, offering weekend brunches and happy-hour deals to enjoy with friends.
Highlights
Lovely indoor and outdoor seating.
Good range of vegetarian and seafood sushi.
Affordable with happy-hour deals.
Oita NYC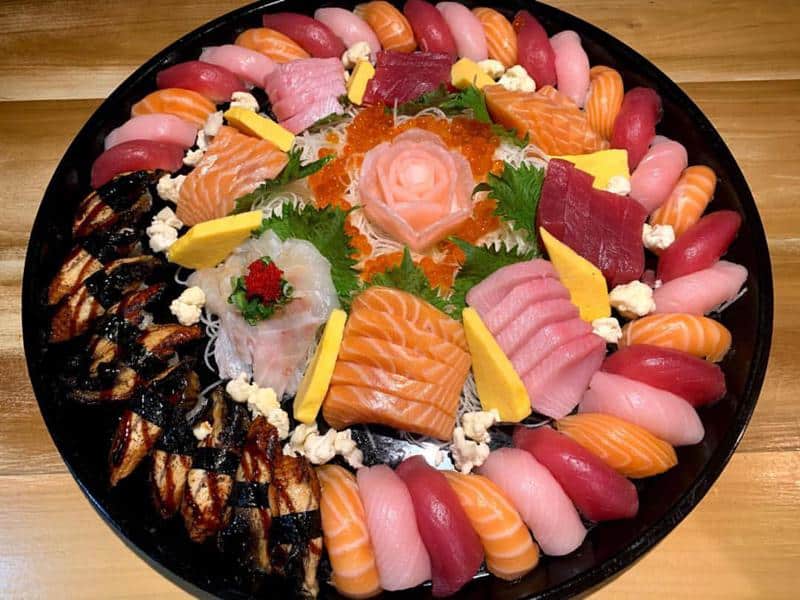 Location: 833 Union St, Brooklyn, NY 11215
Oita Sushi is a great spot in Brooklyn right next to Holiday Inn Express and a short walk from Grand Army Plaza. The restaurant serves authentic Japanese sushi and Korean cuisines.
If you are looking to mix it up with the addition of good old kimchi on the side of your sushi rolls, this is the right place for you.
Oita is known for its high standards and quality. Everything is prepared with just the right flavors and textures. From the perfect stickiness of Tamaki gold rice to the crisp nori, everything stays authentic to its roots.
Furthermore, the serving plates are 'Geochang Yugi', not just for its traditional feel but for imparting germicidal properties and freshness to the food.
Apart from sushi, we also love the wide range of vegetarian appetizers, and can't recommend the spicy kimchi and organic edamame enough!
Highlights
Japanese and Korean cuisines.
Maintaining high quality standards.
Tasteful décor and serving platters.
Okozushi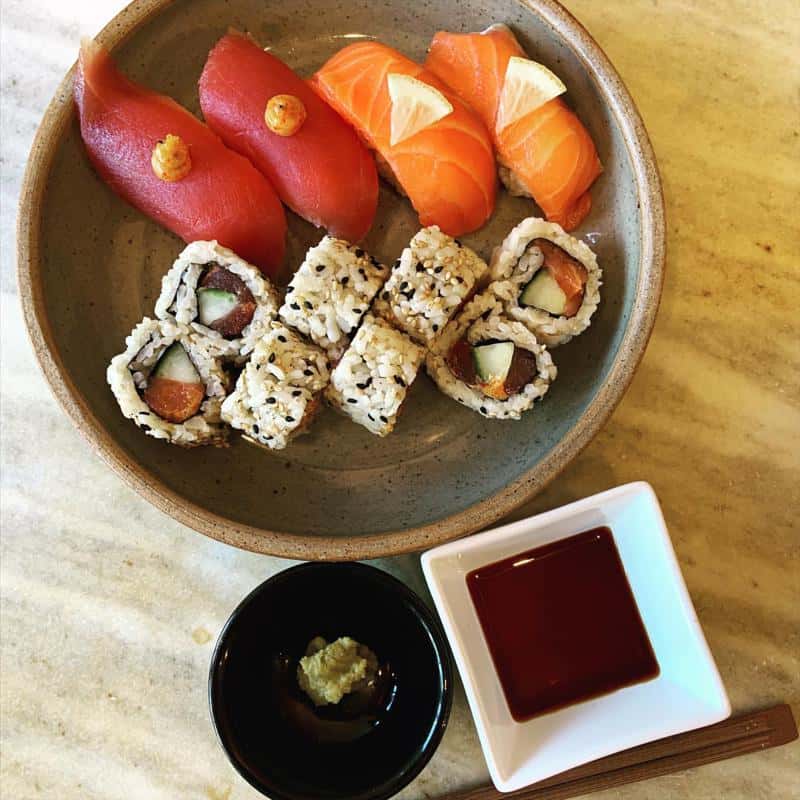 Location: 376 Graham Ave, Brooklyn, NY 11211
Take comfort in the homely, relaxed ambiance and minimalist yet classy layout of Okozushi. The humble setup makes you feel at home and gives you the warmth of comfort food with their delicately prepared sushi.
There are only 10 seats available in the restaurant and they don't take reservations, so we suggest getting there early to reserve your spot. There's nothing too fancy or stand-offish about Okozushi, and it is perhaps their strong point.
They deliver exactly what you expect – delicious sushi that's filling and affordable. All the staples including Omakase set, generously filled sushi bowls, raw and cooked fish topped on seasoned rice, and Spicy Tuna and Salmon Rolls are available on the menu.
Highlights
Homely and comforting ambiance.
High quality sushi sets.
Minimalist and classy setup.
Taiki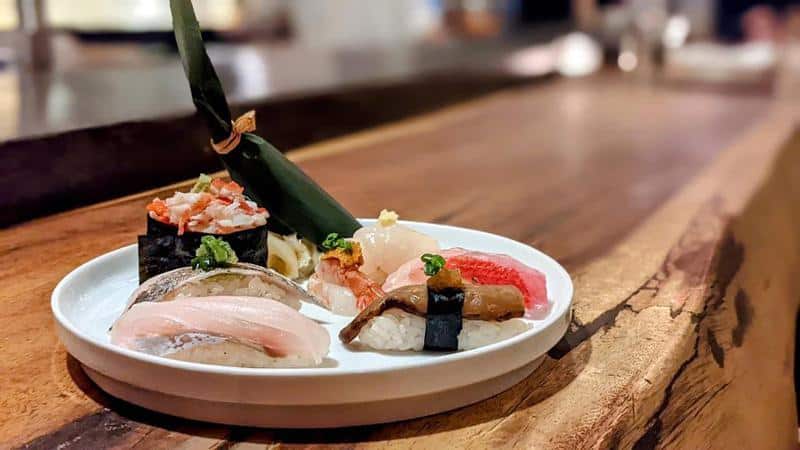 Location: 134 Nevins St, Brooklyn, NY 11217
With a humble setup in Brooklyn, Taiki is a quaint little place to get your sushi fix. Brightened with lamps, plants and white brick walls, the restaurant is quite cozy. Limited seating is available but the fast service makes it up for it, and it is a great place for delivery and takeouts as well.
The reasonable price of sushi is delicious, and pairs well with the lively ambiance of the place. The authentic recipes are passed down and perfect from years of experience of the head chef, Taiki Minamitani.
Start off with traditional appetizers like roasted edamame and monkfish, and enjoy a la carte, sashimi, and Omakase variety with fresh raw or cooked fish.
Highlights
Intimate setup with lush plant life.
Affordable rates.
Good variety of sushi.
Bayridge Sushi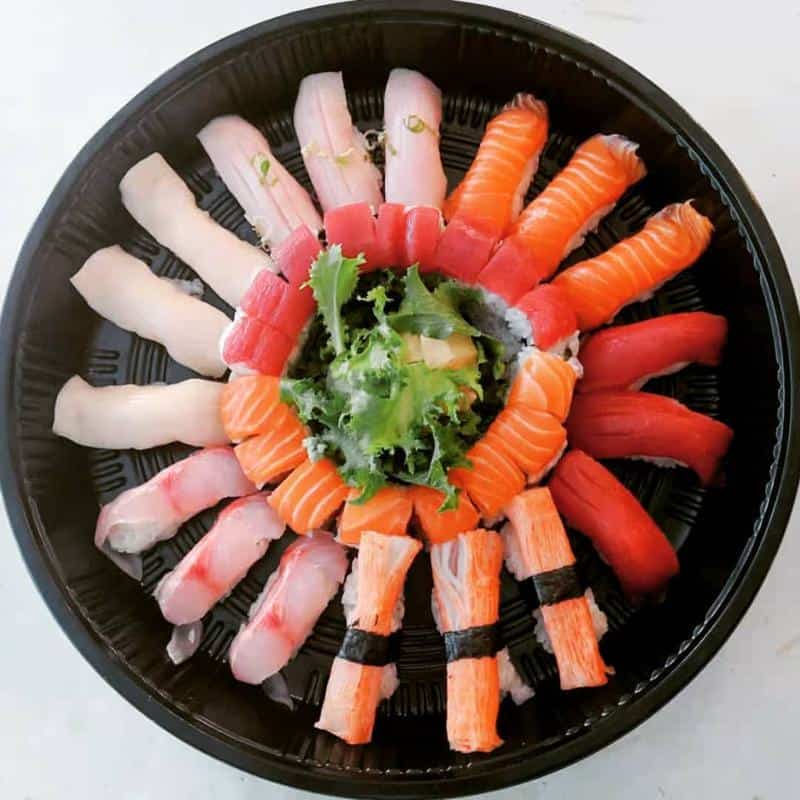 Location: 6914 3rd Ave #1, Brooklyn, NY 11209
Loved by locals and visitors alike, Bayridge Sushi is a hidden gem of Brooklyn. The informal eatery offers an intimate and cozy setup to unwind and relax while you enjoy some great food.
We love the Instagram-worthy presentation of the dishes, reflecting the care and precision poured into their preparation.
The menu is extensive with a huge variety of sushi rolls, along with sashimi and la carte sushi which gives you a lot of options.
They also have special lunch specials, bento boxes and party trays which are quite a crowd pleaser.
Highlights
Cozy and informal setup.
Huge variety of fresh sushi.
Party trays and lunch specials available.
Silver Rice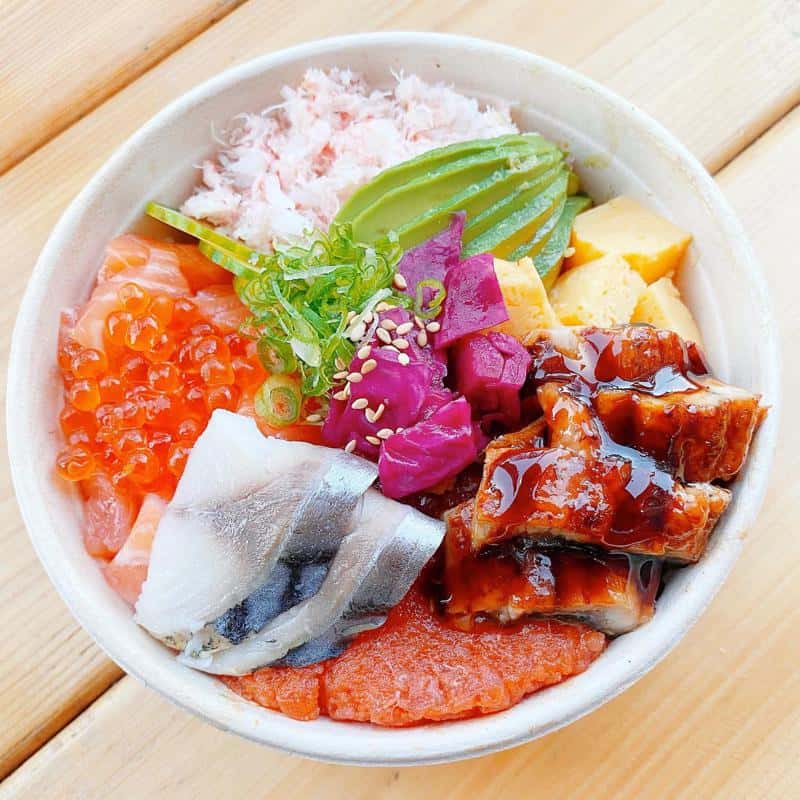 Location: 638 Park Pl, Brooklyn, NY 11238
Longtime friends Sonny and Hideki started Silver Rice in hopes to share their love for Japanese cuisines with the fine people of Brooklyn. Their love and passion is reflected in every corner of the restaurant, and most importantly, in their food.
The high-quality and fresh sushi is carefully prepared with handpicked ingredients. They have rice cups, classic rolls, soups, chirashi and desserts amongst other variety. The mixed platter of sashimi or vegetables is quite a hit.
As the name suggests, they take pride in their superior quality rice seasoned to perfection with a hint of hemp seeds.
Have a well rounded meal with family and friends including tasty sides, salads, drinks and sweet that warm up the belly and heart.
Highlights
High quality ingredients.
Authentic sushi with fresh handpicked ingredients.
Cozy and intimate setup ideal for casual hangout and dates.
Read More:
Conclusion
Sushi is an elite dish, and the Japanese delight is easily available pretty much everywhere in Brooklyn NYC, which can make the hunt for the best sushi somewhat challenging. In our list, we mention the top places in the borough where you'll know for sure that you are getting the real deal.
Whether you crave authentic and traditionally prepared sushi rolls or fusion prep with Insta-worthy presentation, navigating through our list will land you on the best sushi restaurant that fits your criteria perfectly. So enjoy this wonderful Japanese cuisine as you explore the good-old Brooke with friends and family.