There are quite a few things Rochester is known for, but seafood is not really one of them. That might come as a bit of a surprise, but the seafood restaurant scene just doesn't seem to be very active here
While there are a few awesome fish markets and casual options where you can get an awesome fish fry (especially on Fridays), if you are looking for a more upscale seafood restaurant for a special night out you're going to have a hard time finding one.
However, that doesn't mean there is no good seafood to be found! You just need to know where to look. There are actually a couple of awesome restaurants in Rochester that offer great seafood, but that's not their main focus so you can't find that out from the name. Have a look through our top 8 lists to learn about some of these hidden gems.
Seafood Restaurants in Rochester, NY
Black & Blue Steak and Crab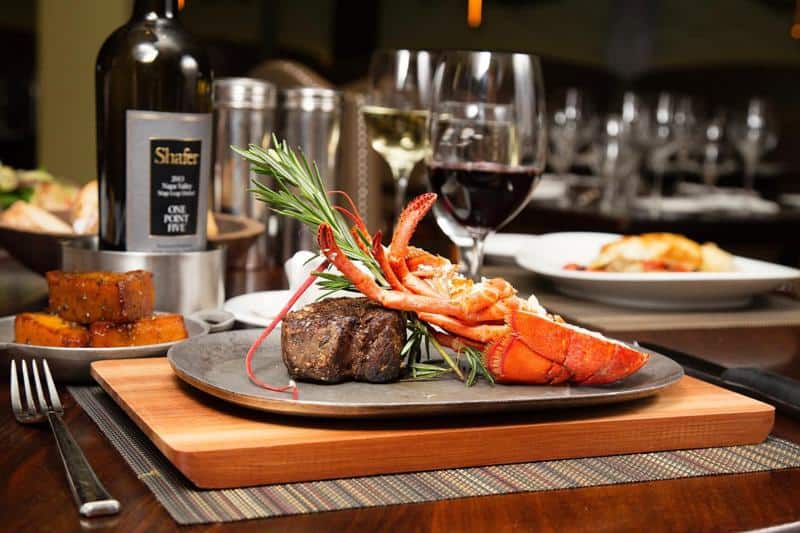 Hours: 4 pm – 9 / 10 pm; open for lunch on certain holidays
Address: 3349 Monroe Ave, Rochester, NY 14618
Website: blackandbluesteakandcrab.com
Price: $$$
The Black & Blue restaurant is not one of a kind. They have four outposts in different cities, one of which is this one on Rochester's Monroe Avenue. However, that's not necessarily a bad thing. Four successful restaurants must mean that they have a well-developed formula – and they do! Fresh seafood and steaks seared to perfection in a fine dining atmosphere, the Black & Blue Steak and Crab is the perfect spot for celebrations and special occasions.
If quality seafood coming from trusted sources is what you are after, Black & Blue might just be your best bet in Rochester. They pride themselves on their Trust Our Fish Program which means knowing the origin of each fish, from the boat to your plate.
The seafood menu consists of classics that are superbly executed. You can start with oysters on the half shell or a shrimp cocktail, but if you are feeling whimsical you can also try their crab & lobster fondue with parmigiano reggiano cheese and toasted pita chips which is to die for.
The options for the main course include the obligatory red snapper and black grouper, but you can also choose one from their various surf'n'turf options that combine seafood with a steak. Their steaks are amazing too so you won't regret it!
Bernard's Grove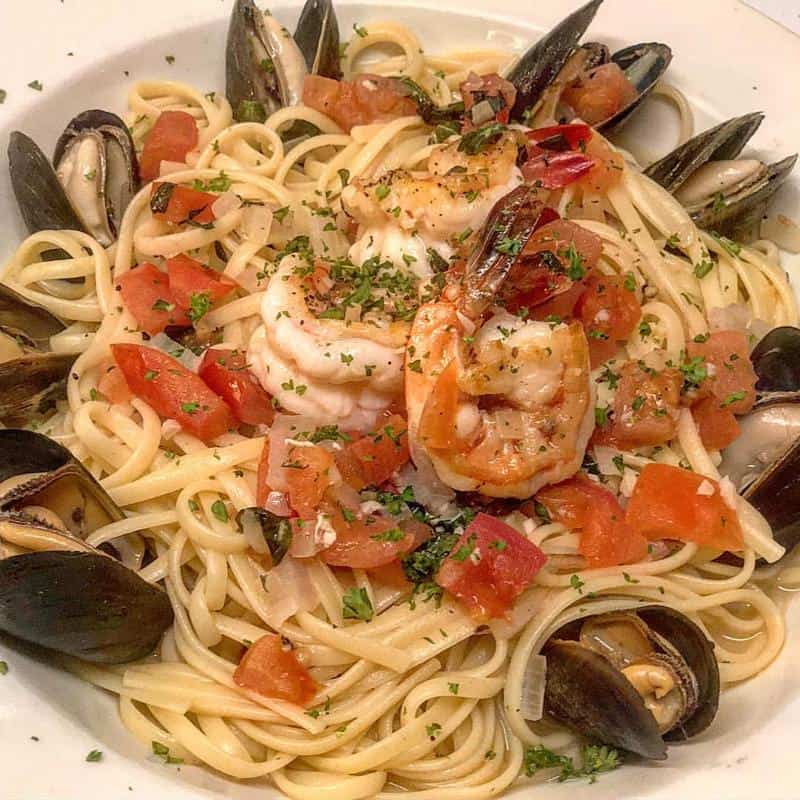 Hours: 4:30 pm – 9 pm, closed on Mondays
Address: 187 Long Pond Rd., Rochester, NY, 14612
Website: bernardsgrovehouse.com
Price: $$$
Bernard's Grove is the type of family-run restaurant that looks humble on the outside but blows you away with the dishes it serves. Set near the Long Pond on Lake Ontario, this charming spot always makes you feel welcome. The atmosphere is always friendly and you can choose to be seated at a cozy table inside or grab a seat on the delightful patio on a sunny day.
Now, this is not a strictly seafood restaurant, but they do make a few seafood dishes that are worth the trip alone. Our favorite is certainly Bernard's Bouillabaisse, a beautiful seafood stew with pretty much everything in it, including lobster tail, clams, mussels, shrimp, and squid. If that's not your style, though, you can opt for the delicious orange-soy glazed atlantic salmon, for example.
But before you get to this part, you might as well try some of the starters which include a delightful Nantucket-style shrimp and crab bisque, littleneck clams with cous-cous and edamame and goat cheese ravioli (this last one is not seafood but it is a crowd favorite, even if you are not a vegetarian).
Shamrock Jack's Irish Pub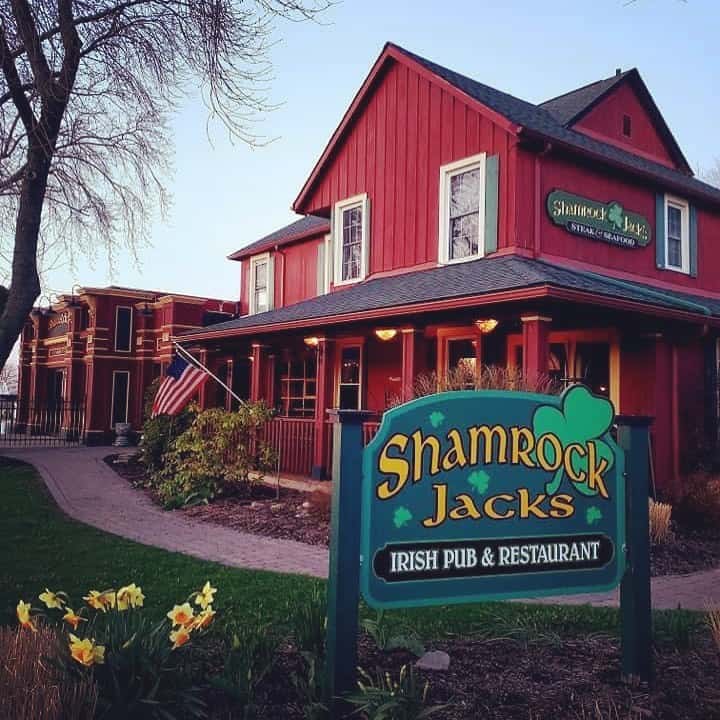 Hours: 1:30 am – 8 / 9 pm, closed on Mondays and Tuesdays
Address: 4554 Culver Rd, Rochester, NY 14622
Website: www.shamrockjacks.com
Price: $$
Seafood at an Irish Pub? True, it's not the first place we'd go looking for top-notch seafood, but Shamrock Jack's can and will surprise you in this regard.
Now, Shamrock Jack's is not technically in Rochester. Instead, it's located in Sea Breeze, a resort on the coast of lake Ontario which is reachable within minutes by car from Rochester.
This pub & restaurant is perhaps more famous for the laid back atmosphere and Irish classics, but the seafood dishes might surprise you. Their entrees include the Garlic Shrimp Dinner, the Clam Strip Dinner, and the Surf & Surf (a giant salmon filet with shrimp).
Finally, if seafood is what you are after, your best bet is to visit Shamrock Jack's on a Friday. Friday is a seafood specials day here and you'll be treated to a choice of Fish Fry, Broiled Haddock, or their signature 'Ultimate Fish Sandwich'.
Rella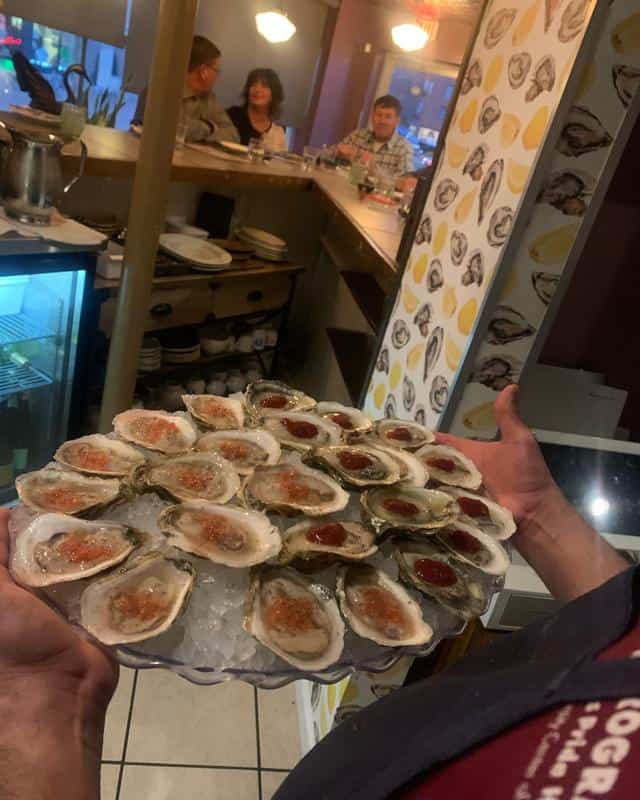 Hours: 5 pm – 10 pm, closed Sundays and Mondays
Address: 181 Monroe Avenue, Rochester, NY 14607
Price: $$$
Opened in 2019, Rella has brought the dash of fresh air the seafood scene in Rochester has been needing for a while. This is the second restaurant in Rochester owned by chef and restaurateur Mark Cupolo. His Italian restaurant, Rocco, is located on the same block and has a faithful fan base, but Rella, the newcomer on the block is where he brought out all of his creativity.
When you walk up to Rella, you'll immediately notice the place is unique. For starters, the whole place is shaped like a triangle. The long bar seats around 16 people and is centered around the kitchen space. So yes, you will be able to see everything that's going on in the kitchen and interact with the chefs along the way.
Also, these 16 seats are the only seats at Rella, besides a couple of additional seats at the window. There are no tables in the classic space. The space is small but intimate, which has its upsides and downsides. It's the perfect place for a date or a quick meal with a glass of wine, but definitely not a place where you should try to organize a big group outing.
Regarding the menu, Rella is more of a shellfish & wine bar than a full-on restaurant, but they always have some delightful options for everyone's taste. The menu changes often with what's in season, and the seafood is flown fresh overnight from Boston.
The Revelry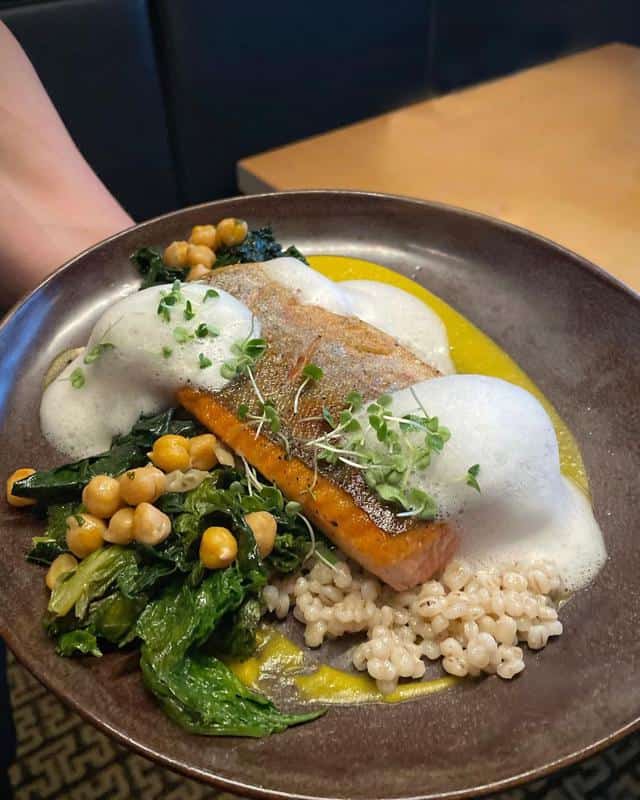 Hours: Wednesdays and Thursdays 5 pm – 9 pm, Fridays and Saturdays 5 pm – 10 pm, Sunday brunch 11 am – 3 pm
Address: 1290 University Ave, Rochester, NY 14607
Website: www.therevelryroc.com
Price: $$$
The Revelry is another entry on this list that is not exclusively seafood-focused, but if you want a good seafood meal at a really nice restaurant, this is a good place to go.
Born and raised in South Carolina, the owner Josh Miles seeks to bring the true southern hospitality and hearty cuisine to Rochester. Set in Rochester's bustling Neighborhood of the Arts, the Revelry is a casual place but one can't help but notice the upscale vibe enhanced by the chic decor. It's the perfect spot for a meal after a day of sightseeing, as well as for gatherings of any kind.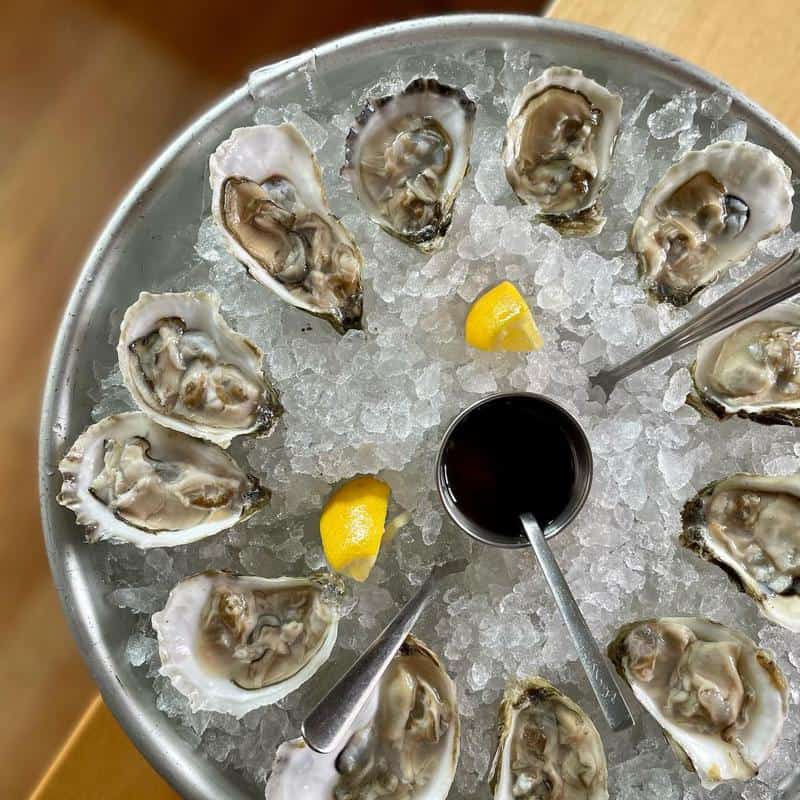 Although there are plenty of non-seafood options, the dinner menu at the Revelry does feature an outstanding number of seafood dishes. Starting with the classic fresh seafood delights like oysters on the half shell and peel & eat shrimp, the menu proceeds to surprise with some hearty but refined options like spanish octopus, atlantic salmon, or icelandic cod all with a carefully selected array of vegetable sides.
Grappa Italian Nouveau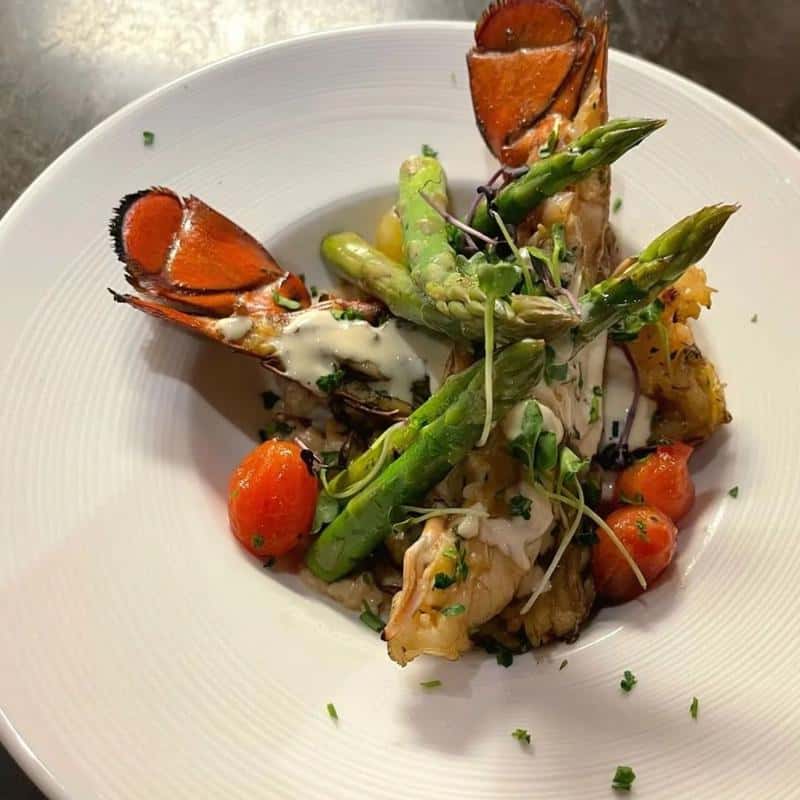 Hours: 5 pm – 9/10 pm; closed on Sundays Mondays
Address: 30 Celebration Dr, Rochester, NY 14620-2664
Website: www.grapparoc.com
Price: $$
Located inside the Hilton Garden Inn, Grappa offers an airy but elegant atmosphere. With ample seating both indoors and outdoors and its minimalist decor, Grappa is the perfect place to grab a light (or not so light) meal with a friend group or even a date.
In accordance with the spirit of Italian cuisine, the dishes at this restaurant are uncomplicated, but what makes them great is the quality of the ingredients used.
From the first look at the menu, you might not feel like there is a lot of choice here in terms of seafood, but when you take a deeper look you'll realize there is plenty of choice for seafood lovers.
Our favorite staple from Grappa Italian Nouveau are the Crispy Calamari with lemon & sundried tomato aioli. However, the Sampi al Forno with roasted garlic butter is also to die for, so it's really hard to choose! There are a few more options available, including the daily choice of fresh fish. Finally, you can also add grilled salmon or grilled prawns to any of the Grappa salads which are delightful.
The Vesper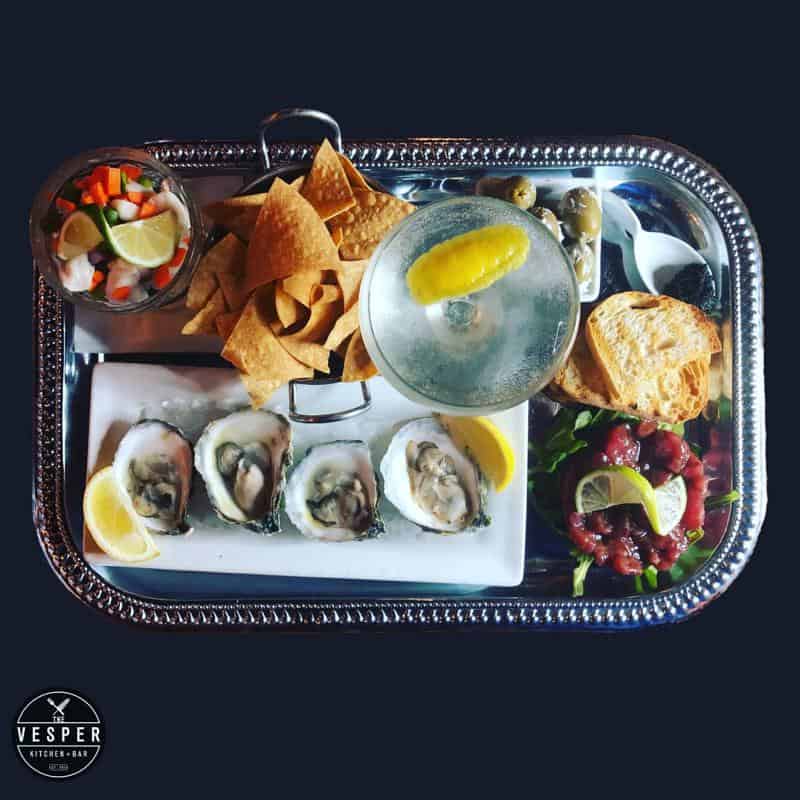 Hours: 4:30 pm – 10/11 pm
Address: 1 Capron St, Rochester, NY 14607
Website: www.rocthevesper.com
Price: $$
Once again, the Vesper is not exclusively a seafood restaurant, but that's the way things go in Rochester. The Vesper is a relatively unknown bar and restaurant on the Rochester scene, but we do believe it deserves more attention. Or perhaps it's best if it stays just like it is now, as too much popularity can certainly spoil a place,
Centrally located in downtown Rochester, the Vesper is tucked away in a small street very close to the GeVa theater. This makes it the perfect location for a bit before the show at GeVa, but it's also close to most other things in Rochester so it's always easy to stop by.
As for the seafood, Vesper is probably the only place in Rochester where you can have decent Ceviche. You'll also find scallops, mussels, and daily preparation of tuna tartare on offer along with some nice and filling fish entrees.
The seafood at Vesper is really a refreshing surprise for Rochester. And if you like oysters, keep in mind that they have a Thursday special every week with $1 oysters.
Captain Jim's Fish Market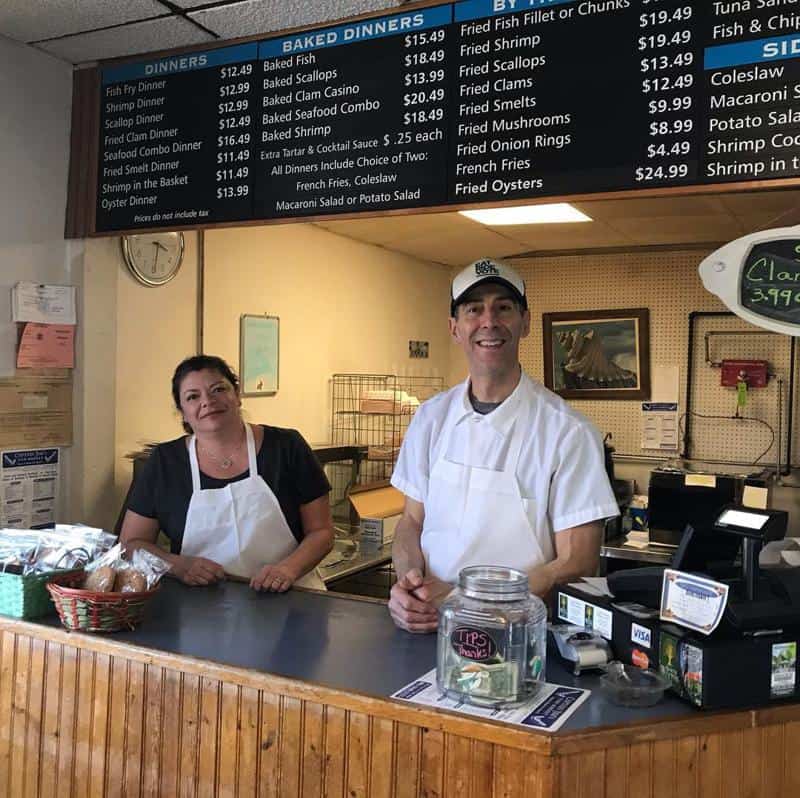 Hours: 9 am – 7 pm
Address: 2329 E Main St, Rochester, NY, 14609
Price: $$
An article dedicated to seafood in Rochester can't be finished without mentioning Captain Jim's Fish Market. This is an honorary mention, though, because Jim's is not really a restaurant. There used to be a dining area pre-pandemic, but since then they've been doing only take-out orders.
We do hope they get the dining area set up again, cause there is no better place for fish fry in Rochester! Either way, their fish is a must try. You can order their 'dinners' with your choice of seafood or fried and baked fish by the pound. Sandwiches and sides are also delightful so don't miss out. Just make sure to call ahead and place your order.
Also Read: