Pittsburgh is a food haven unlike any other, being the creators of global trends like the Big Mac and.
Heinz ketchup they've made a name for itself by becoming a household staple.
Nestled on the Ohio River, you'll be able to find a growing seafood market that comes in the form of many new upmarket restaurants and some as old as the city itself.
One thing Pittsburgh locals can't deny is that a good seafood restaurant is meant to last, and each one thrives in popularity as a refreshing break from the norm.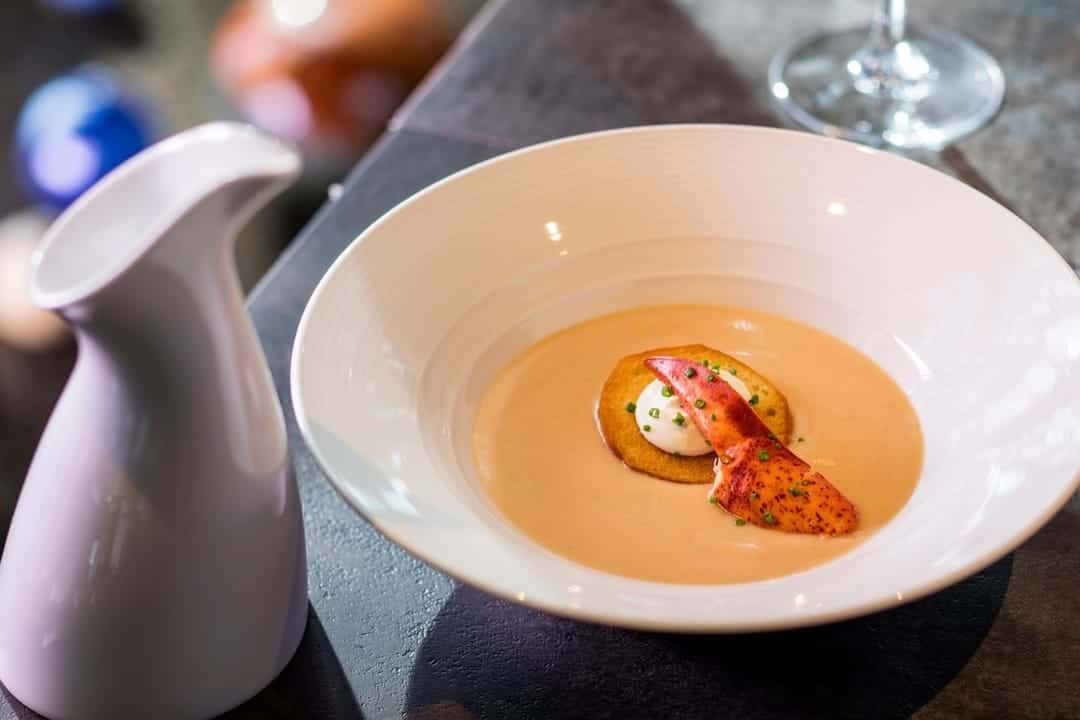 They have everything from casual to fine-dining seafood restaurants, each with its own unique flavors to bring to the plate.
So let's get you hooked!
Our Top Picks
Best view: Monterey Bay Fish Grotto
Best venue: The Grand Concourse
Trendiest restaurant: Penn Avenue Fish Co.
Best menu: Luke Wholey's Wilde Alaskan Grille
Best Seafood in Pittsburgh
Monterey Bay Fish Grotto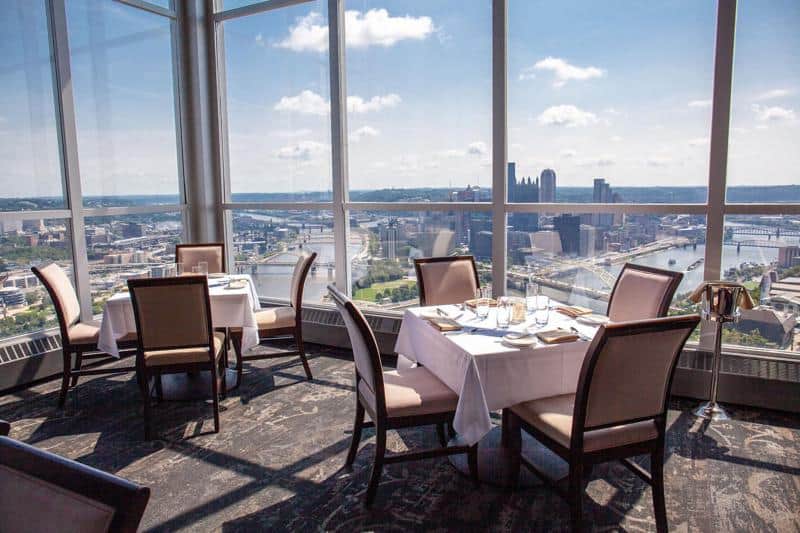 Location: 1411 Grandview Ave, Pittsburgh, PA 15211
Hours: 4:30 pm to 9:00 pm (Closes 10:30 pm Friday and Saturday)
Price: $$$
For riverside dining at its finest, Monterey Bay Fish Grotto cannot come with a higher recommendation. The scenery is exquisite from table to view, which is panoramic from the city all the way down to the Ohio River. It's class, its sophistication, and best of all, it's a seafood paradise.
Serving classics in their glory, like shrimp cocktails, crab cakes, and lobster, you'll feel quite settled into an extravaganza of a menu. But if classic isn't your style, and you like out-of-the-box, foreign concepts, you'll fall in love with everything you can set your sights on.
With entrees featuring Chimichurri Chilean Sea Bass to parmesan-crusted Swordfish, they've spared no expense in delving into fusion cuisine to bring your senses to the next level.
While not a requirement, it's nothing but fitting to put on your black-tie best to enjoy the experience here. It's an out-of-the-ordinary experience that allows for a social air while indulging you in that upper-class feeling we all get curious about.
The Grand Concourse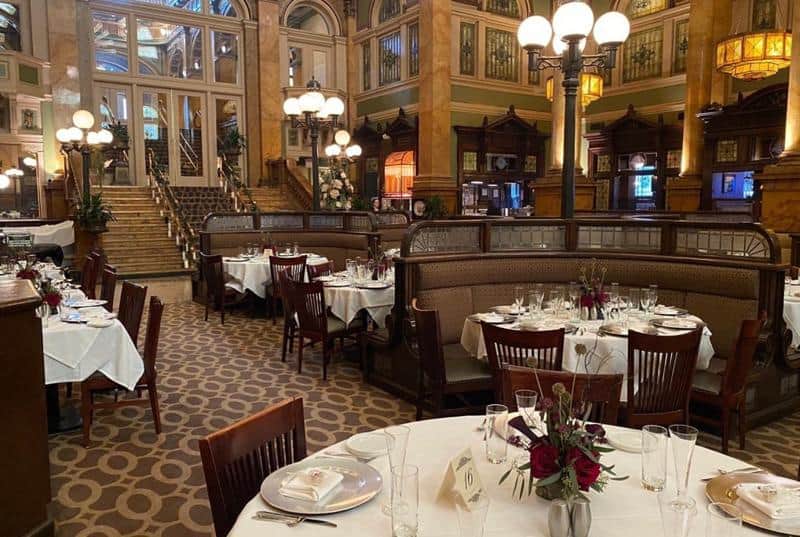 Location: 100 W Station Square Dr, Pittsburgh, PA 15219
Hours: 11:30 am to 8:30 pm (Closes 9:00 pm Friday and Saturday), 9:30 am to 8:00 pm (Sunday)
Price: $$$
Built in a once-bustling train station, the Grand Concourse is a spectacle beautifully incorporated into Pittsburgh history. Every occasion here is an event which is probably why it books to capacity so frequently. Especially on Sundays, it hosts one of Pittsburgh's best Seafood buffets for lunch.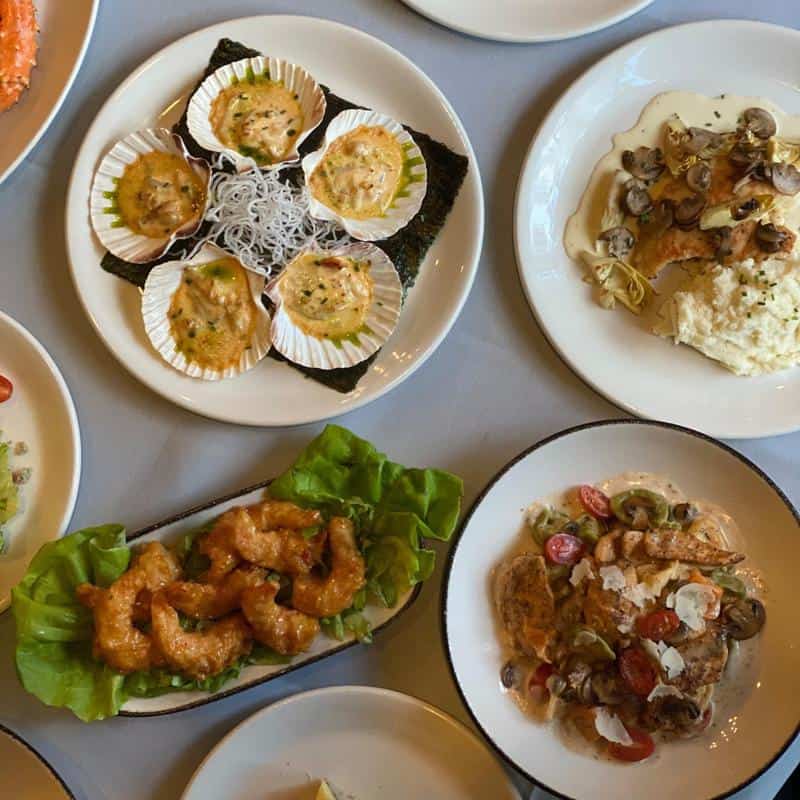 You read that right. It blesses the plates of many a high-end diner with some of the most incredible seafood on the daily. It makes it all-you-can-eat on Sundays. It's not your usual spread with lobster tails shining bright amongst the mix of fried fish, boiled, and raw seafood.
They graciously share their menu with an array of cuisine types. Still, They maintain an All-American flavor that is crucial for their everlasting popularity.
They make up for the lack of spectacular views with a stunning venue. You'd feel less at home in a palace, with the chandeliers dangling from the ceiling and an open-air dining area that can almost take your breath away. It's fancy. Real fancy. So dress your best and go live the high life!
Penn Avenue Fish Co.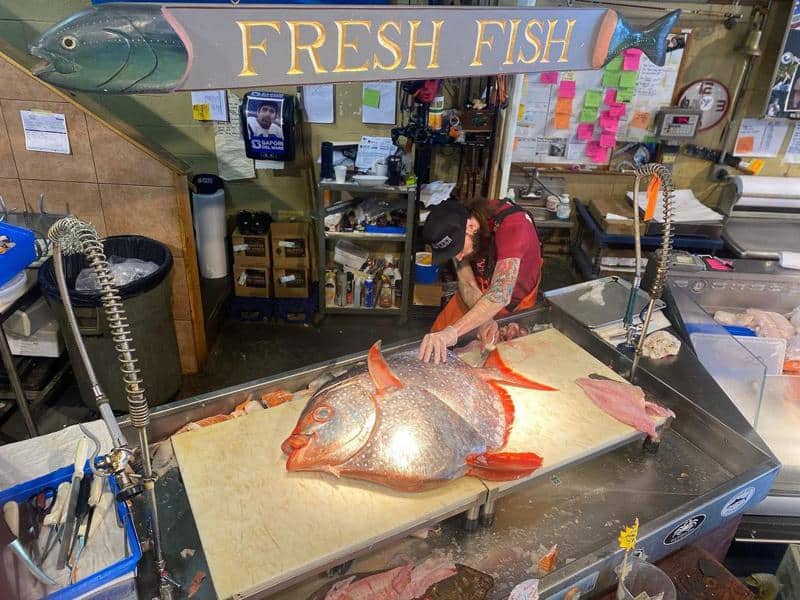 Location: 2208 Penn Ave, Pittsburgh, PA 15222
Price: $$
Urban, fresh, funky, and with a lot of grit, Penn Avenue Fish Co. has undoubtedly captured the hearts and stomachs of Pittsburgh locals. Conceptualized and created in 2008, they've spent a good decade pouring their hearts into providing fresh seafood to Pittsburgh.
They are a venue of firsts, with the mastermind, Henry Dewey, being bold enough to introduce new fish to the seafood scene over the last decade. Their menu is as vibrant as their owners and includes specialty seafood.
You can order your fill of their deliciously prepared sushi if you please, which includes good fusion artistry. Or, if you're feeling for something heartier, perhaps their South Beach Snapper. Don't overlook their daily specials either. They're special for a reason, and your opportunity may be few and far between!
Their industrial-chic interior has a way of escalating what's on the table before you. It's a pristinely decorated restaurant that fits all occasions, from fanciful to fun, and is even family-friendly! You'll find a staff that embodies a passion for their service, and overall won't ever regret your experience here.
Luke Wholey's Wild Alaskan Grille
Location: 2106 Penn Ave, Pittsburgh, PA 15222
Price: $$$
From humble beginnings, Luke Wholey's Wilde Alaskan Grille has grown into a strip favorite. They're airy. They're vibrant and definitely lively enough to keep anyone feeling good the entire evening. Pittsburgh locals flock in their droves for the atmosphere and incredible seafood.
A must-try is their Hot Lobster Roll. They'll have even the most contemptuous critic twiddling their finger to find a fault.
But, if Lobster isn't for you, they have a thriving arrangement and fish and shellfish gracing their pages, and did I forget to mention sushi!? That's right. Wholey's has some of the best sushi in Pittsburgh nestled amongst their seafood bundles. Do you need any further convincing?
With a lively atmosphere that's always bustling with excitement and overflowing with joy, you'll never find a dull moment within their meticulously painted walls. They've brilliantly made the place seem huge by keeping it open and bright. You'll feel nothing but comfort lounging back here.
Muddy Waters Oyster Bar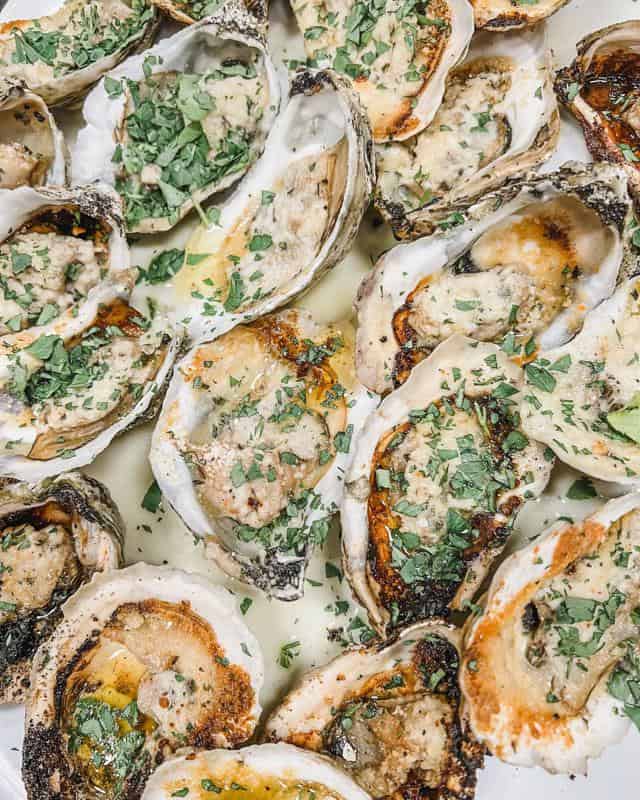 Location: 130 S Highland Ave, Pittsburgh, PA 15206
Price: $$
Muddy Waters Oyster Bar takes a page from the history books to create a trendy and artisanal affair. Framed to look like an old run-of-the-mill oyster shack, it holds all the promise of an excellent dining experience with good food and plenty of memories.
They bring the comfort of good, honest Southern thrill to their menu, taking a page from cajun and creole books and pairing them with new-school fusion. Their menu speaks volumes to the traditions of the South.
It will have any teary-eyed Louisianan reminiscing on childhood treats. With fried oyster po'boys or raw oysters from the shell, they delve into their namesake and deliver it freshly prepared to your plates.
With bar-style seating or table dining options, you'll be able to pick your space and enjoy the old-school class of Muddy Waters in style. They're casual and laid back. Muddy Waters Oyster Bar is not fussed as long as you're not fussy and came to kick back and enjoy incredible seafood.
McCormick & Schmick's Seafood & Steaks
Location: 301 Fifth Ave, Pittsburgh, PA 15222
Price: $$
Over the years, McCormick & Schmick's has become a seafood empire on the rise and gaining traction and popularity everywhere they go. Whilst they may have branched out, they have not sacrificed quality or experience to maintain the same fresh, genuine seafood since opening.
Each area has a different menu. Perhaps it's the Pittsburgh menu that's driven it to such high success, with its promise of fresh Hawaiian swordfish or satisfyingly savory salmon.
They have a plethora of seafood (and steak) options that will keep any fussy diner happy. Using a multitude of different cuisine styles to prepare their meals in a flavor pallet that does wonders for each cut of protein.
They aren't your run-of-the-mill chain restaurant. Each venue is elegant and gives off an atmosphere of fine dining, all while maintaining a price that's well within budget for most. It's a crowd-pleaser and excellent for intimate celebrations.
Eddie V's Prime Seafood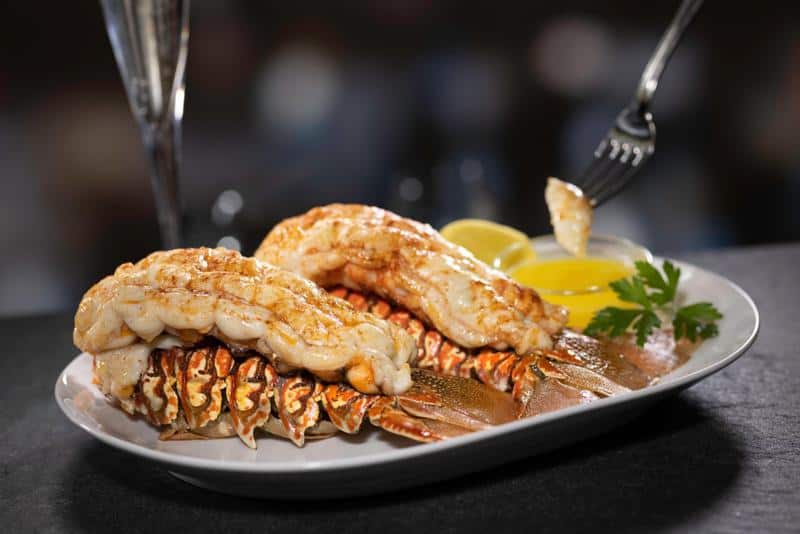 Location: 501 Grant St Suite 100, Pittsburgh, PA 15219
Hours: 4:00 pm to 10:00 pm (Closes 11:00 pm Friday and Saturday, 9:00 pm Sunday)
Price: $$$
If you're out to get wined and dined, Eddie V's is perfect for you. It's classy and sophisticated with features in both decor and dish that could rival Michelin star establishments. They boast an air of jazzy spunk, or maybe that's the live music, but regardless there's a whole new world to be found here.
Serving seafood both ice cold and cooked to perfection, you'll find appetizers along the lines of oysters and sashimi. There are variations to the menu throughout the season. Their house specialty is their Catch of the Day, each artfully prepared in their signature way to accentuate the flavor of each fish and truly indulge the senses.
They're a cool, swanky spot, accentuated by a calm natural tone and pops of color here and there. They feature live jazz bands that keep the mood flowing, meaning there's always a good day to find yourself here. With a beautiful interior, you won't find a place any more fitting for a romantic date than here.
The Original Oyster House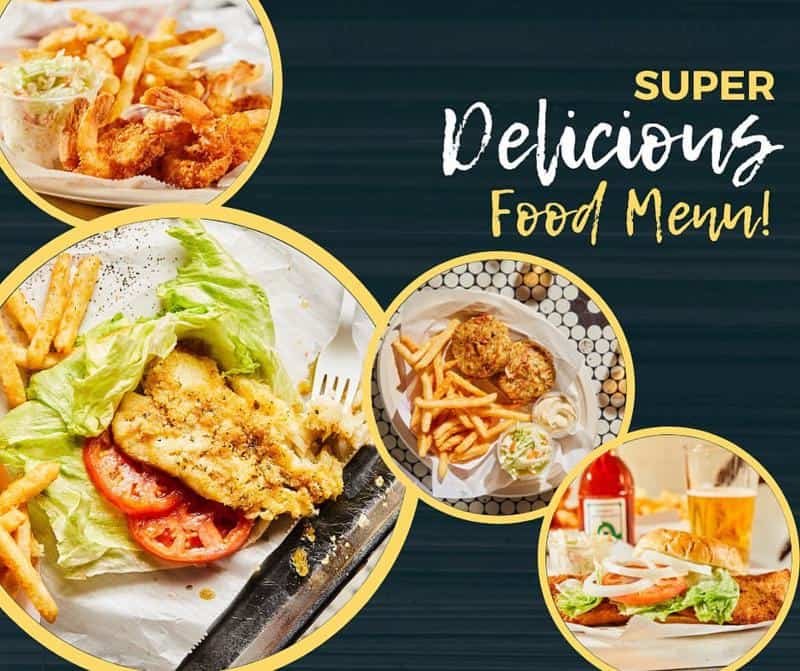 Location: 20 Market Square, Pittsburgh, PA 15222
Hours: 11:00 am to 7:00 pm, 12:00 pm to 8:00 pm (Saturday), Closed Sunday to Tuesday
Price: $$
Over 150 years old and still kicking, the Original Oyster House has the tenacity and a clearly dedicated patronage. They have supported their growth and earned them their much-deserved title of being the OG seafood restaurant in Pittsburgh.
Their menu sports an array of oyster appetizers, varying from raw to battered and fried to perfection. They are a place for comfort food, wholesome, hearty cooking that wants little and gives so much.
Their platters and sandwiches have gained popularity and are definitely worth taking a dive into. Using the freshest cod, clams, and oysters you can find, there's always excellence served in abundance.
Their casual dining space allows families and friends to gather and enjoy a fun-filled evening. They're ornate and bleed their history through their very walls with a few key changes added at the turn of the century. If they've made it this long. What's stopping them from making the next century?
Mitchell's Fish Market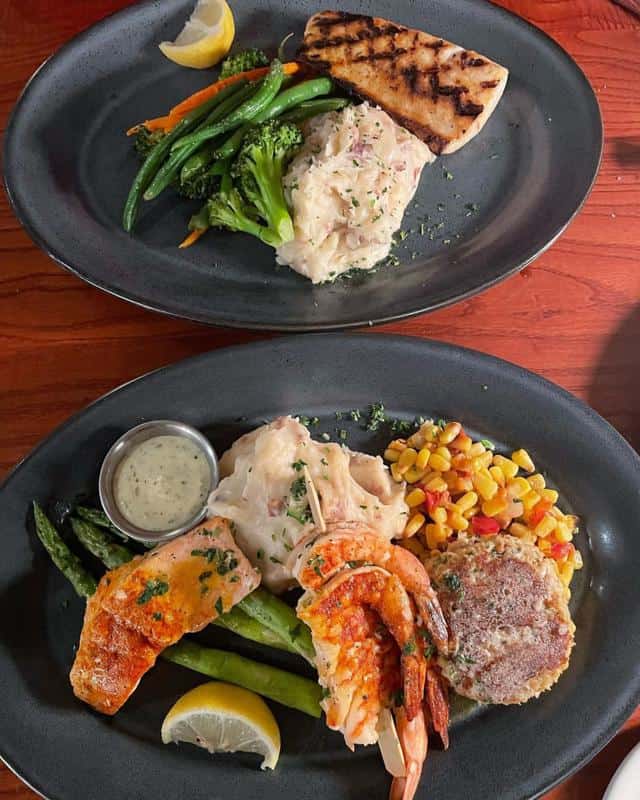 Location: 1500 Washington Rd, Pittsburgh, PA 15228
Hours: 11:30 am to 8:30 pm (Closes 9:00 pm Friday and Saturday)
Price: $$
When one pictures a fish market, they focus on the obvious seafood, seafood, and more seafood all laid out and ready for the picking. While Mitchell's Fish Market bears little semblance, it's kept its own and stuck to the name of the game. Seafood is where it's at. And the bustle of a market? Turn it into a dinner theater.
The menu brings a sense of worldliness with flavor sensations derived from the coasts of Asia to South America and all the local kick you need. Serving chimichurri butter, Maryland crab cakes, and Shanghai sea bass, there's a whole world to explore.
The passionate chefs carefully select and prepare each plate to bring the flavors of the globe to your dish. And it's a steal for the cost, rivaling high-end restaurants both in quality and quantity for a fraction of the cost.
Boasting both indoor and outdoor sections, there are plenty of seats for you and a whole bus to find yourselves comfortable. They've brushed aside casual and incorporated a white cloth feeling in their decor but worry not. Their patrons don't have to follow the decor dress code. It's a casual, comfortable family business.
Redfin Blues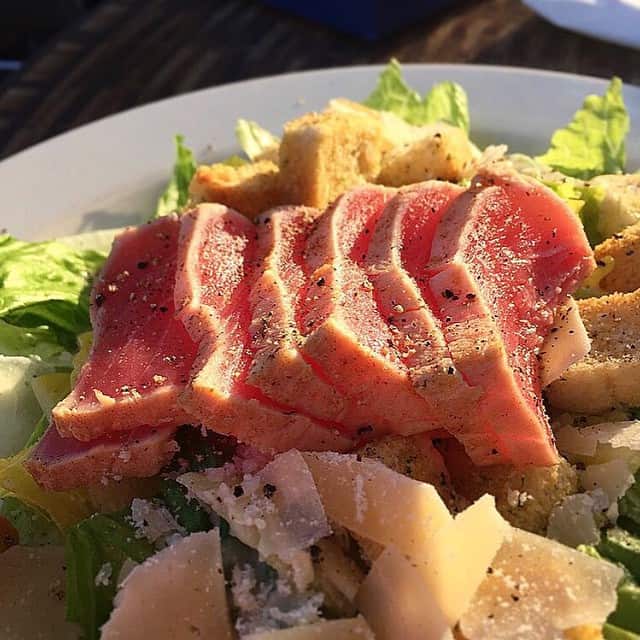 Location: 100 Waterfront Dr, Pittsburgh, PA 15222
Price: $$
Redfin Blues is a perfect riverside hangout that leaves nothing to want for a casual, laid-back dining experience. They're in a pristine spot with river views that their patrons can enjoy from their outside dining area, open-air, fresh seafood on their plates, and a pint of their picking to wash it all down.
They serve a selection of seafood that is cooked to suit its environment. There's no fancy foolery here, just honest-to-goodness pub grub. Although they may not have fancy catch dishes, they do serve Jerk Salmon, Mahi Mahi sandwiches, shrimp in variety, and fish tacos.
The menu has no shortage of offers for seafood lovers! Their crab legs are a hit and one of their most popular serves.
So bring your whole family, even the dog (because they're pet-friendly too), take a seat on the deck, and enjoy spectacular views with craft beer and crab legs! It's a refreshing outdoor spot that doesn't fit into the usual Pittsburgh aesthetic, but that's part of its charm!
Read More:
Conclusion
Overall, Pittsburgh is a rustic, beautiful city filled with amazing places and sights. It's worth a visit every time on this factor alone.
But when you're here, indulge yourself, spend some time sitting back and enjoying river views or watching the bustle of the city. All this while tucking into some of the most incredible seafood that Pittsburgh has to offer!