What is special about Brooklyn style pizza? Is it named after Brooklyn because of where it is made? Is it special because of the Brooklyn style crust? These may be a few of the questions that brought you to this extensive Brooklyn Style Pizza guide.
The New York Style pizza is arguably one of the most famous pizzas throughout the world. Despite its fame, Brooklyn Pizza, named after the New York borough, is an enigma of its own that got popularized by Domino's in the early 2000s.
Like it is namesake, Brooklyn Pizza has its origins in the New York Style Pizza from which it evolved. Read on to know the history of the Brooklyn style pizza, what makes it special, how it compares to other types, and how to make one.
What Is Brooklyn Style Pizza?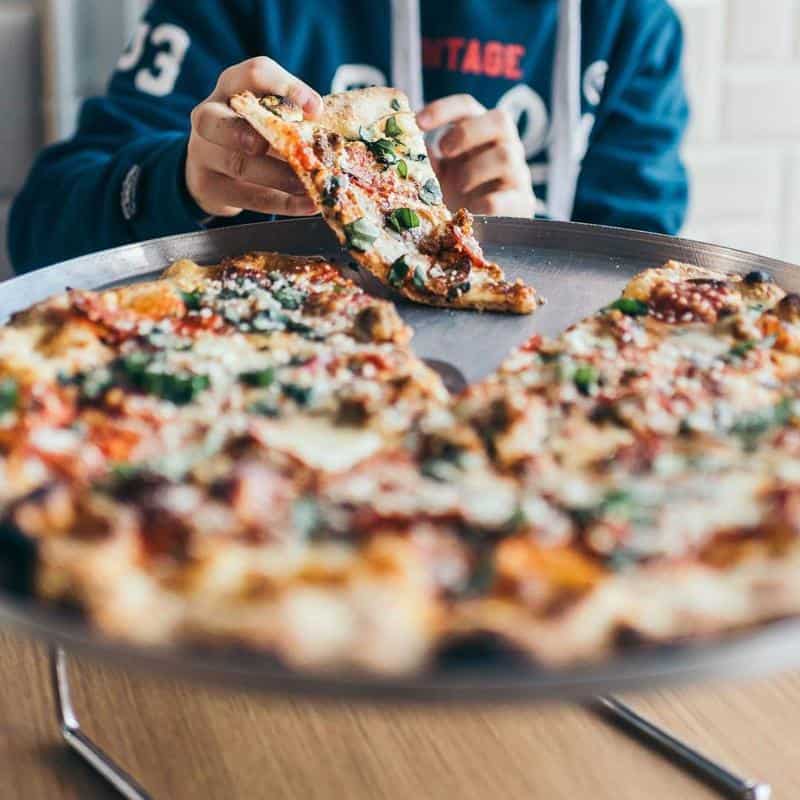 A Brooklyn Style pizza is a thin crispy pizza made of a thin crust and large pie (usually between 18 to 45 inches) with minimal toppings. It is a thinner type of pizza served in square shapes rather than triangular shapes typically seen in other pizzas.
The thin crust makes the pizza floppier; that is why the Brooklyn pizza is served in square shapes. The square shapes are more compact compared to triangle cuts. Square cuts ensure the pizza remains intact instead of disintegrating and collapsing when you fold it up to eat.
Note: Even though the traditional Brooklyn style pizza is served in square cuts, most restaurants choose to go with triangle cuts since they are more common and demanded by customers.
Thin crusts also affect the number of slices on the pizza. Unlike thick crust pizzas, Brooklyn style pizzas are cut into six portions. Thick crust pizzas come in 16 slices or 8 slices, depending on the type or toppings of the pizza.
Brooklyn style pizzas with their six slices add to the compactness of the crust to prevent it from crumbling when you eat.
The pizza is hand-stretched to ensure it has a thin crust. Its dough has less moisture because of this. Brooklyn style pizza is beloved among those who prefer less dough on their pizza and a crispy feel.
More cheese on a pizza means more taste. One may argue that the Brooklyn pizza is less tasty than other pizzas, but the taste can be subjective.
However, the Brooklyn style is 100% less tasty when compared to the New York Pizza, with a thicker crust and more cheese. The good part is that less cheese also means fewer calories.
Brooklyn style pizzas also differ in the number of toppings used compared to popular pizzas like the New York Style and Chicago pizza. The common blend in Brooklyn pizza is 55% Provolone and 45% Mozzarella.
The fewer toppings on Brooklyn pizzas mean they are healthier than thin crust pizzas. Its little dough composition ensures you take in fewer calories, albeit still more, compared to healthy foods like salads and pure meats.
History of the Brooklyn Style Pizza
The Brooklyn style pizza was made popular by Domino's in 2006 when they introduced the Domino's Brooklyn Style pizza. It came in six large slices, featured the thinnest crust in all of Domino's pizzas, and cornmeal was cooked into the crust to make it crispier.
Despite Domino's popular Brooklyn pizza, other famous pizzerias in the neighborhood came in to contest for having made the first Brooklyn style pizza. One major proponent of the new invention was Totonno's Pizzeria, which hadn't officially used the term 'Brooklyn' but had made a similar dish.
Other shops and pizzerias are known for making the Brooklyn pizza range from the local Franny's to Grimaldi's, Roberta's Pizzeria in Bushwick, and Paulie Gee's in Greenport.
New York Style pizza is the predecessor of the Brooklyn pizza. NY pizza is a world-famous style that began in New York in the early 1900s. Lombardi's, the first US pizzeria, is said to have made the first New York Pizza under the guidance of an immigrant pizza maker, Antonio Totonno, from Naples.
The first New York pizza was made using coal-fired ovens. It came with cheese on the bottom, and the top was covered in a light layer of tomato sauce.
Traditionally hand-tossed, the pizza came with a crust made of high-gluten bread flour. Most condiments include garlic powder, basil, and Parmesan cheese.
Antonio Totonno later left Lombardi in 1924 to open up Totonno, the self-proclaimed founding house of the New York Style pizza. The same cooking style used in Lombardi was passed down to Totonno, later copied by other upcoming pizzerias like Di Fara's Pizza and Ray's Pizza.
The Brooklyn pizza inherited some New York Pizza's styles, like the garnished mozzarella and hand-tossed cooking style. Despite both having mozzarella, the Brooklyn pizza uses less.
Both have similar sizes, typically between 18 and 45 inches, but the crust of the Brooklyn can be as small as 25 inches.
Totonno and other pizzerias made thin crust pizzas, but it was until 2006 when Dominos used the 'Brooklyn Style Pizza' name.
The Domino's Brooklyn style pizza is made in a thin aluminum pan to make the crust crunchier. It was introduced to improve the authenticity of Domino's signature pizzas and gain popularity similar to the New York pizza.
Dominos compared the two styles in its marketing and presentation. You could fold the pieces of Brooklyn pizza similar to its predecessor, and their crusts were deemed healthier than other options.
With this, the Brooklyn pizza became widely known and got adopted by many restaurants.
Brooklyn Style Pizza Recipe
Like all classic pizzas, the Brooklyn style pizza recipe ingredients start with the dough, toppings, and sauce.
Dough
Brooklyn pizza is made from hand-tossed and stretched dough. The dough is stretched from a minimal size of 18 inches to a permittable maximum of 45 inches. These sizes make for various offerings like the small, medium, large, and extra-large Brooklyn style pizza.
Cornmeal is cooked into the dough after it is baked. More fat is used for baking the pizza, adding to the crust's crispy nature and a thinner surface. This adds to its calories and fat content.
Toppings
The condiments on Brooklyn style pizza separate it from the rest, especially because of the 55% Provolone and 45% Mozzarella. As you can tell, the amount of cheese on the Brooklyn pizza is low compared to other pizzas.
The minimal toppings entail a blend of cheese at the bottom and a variety of toppings that vary from one establishment to another.
Common and best toppings for Brooklyn style pizza range from pepperoni to mushrooms, sausages, meatballs, olives, and garlic. Uncommon toppings you won't find in Brooklyn pizzas are the likes of hotdogs, plain meat, pineapple, and kale.
The bottom line is that toppings are subjective in the Brooklyn pizza so long as the blend of cheese is included.

A Domino's Brooklyn style pizza review will help in showing the uniqueness of this style of pizza. The toppings are usually mostly pepperoni and meat items (sausages) only over a bland sauce. Mozzarella cheese and Provolone make the thin crust which provides a distinct taste.
How to Serve the Brooklyn Style Pizza
So, why is it important to consider how to serve the Brooklyn style pizza? Well, this is because of the thin crust.
The packaging used in transporting pizza on deliveries and takeouts affects the thin crust. The crustiness of any pizza is decreased because the boxes act as steamer to the pizza and heat it up to affect the texture.
Once the crustiness is reduced, the Brooklyn pizza tends to become floppy, affecting the entire experience. To counter this, the pizzerias tend to serve the pizzas in six slices instead of eight. Moreover, the divide the pizza using square shapes instead of triangles to slow the breakdown.
However, some restaurants can limit the meal to dine-in guests for a more authentic Brooklyn style pizza dish. Eating at the venue ensures you get the pizza's pristine presentation and have it in its crispy, crusty form.
Where to Eat Brooklyn Style Pizza: Pizzerias & Cost
The cost depends on the pizzerias/shop you decide to visit. For example, Domino's Brooklyn style pizza costs $12.99 for the large size, and the extra-large one goes for $15.99.
Before ordering, you should also consider the topping provided by a pizza place. Some offer classic toppings, while others are more creative to provide you with a wide variety.
If you are planning on ordering takeout, then your choices in Brooklyn will be limited to fast food places like Dominos. Traditional pizzerias only give you a dine-in option so that you can feast on the pizza in a cultured way and have a lot more activities to indulge in with your friends and family.
6 Best Brooklyn Style Pizza Shops/Pizzerias in Brooklyn
1. Julianna's Pizzeria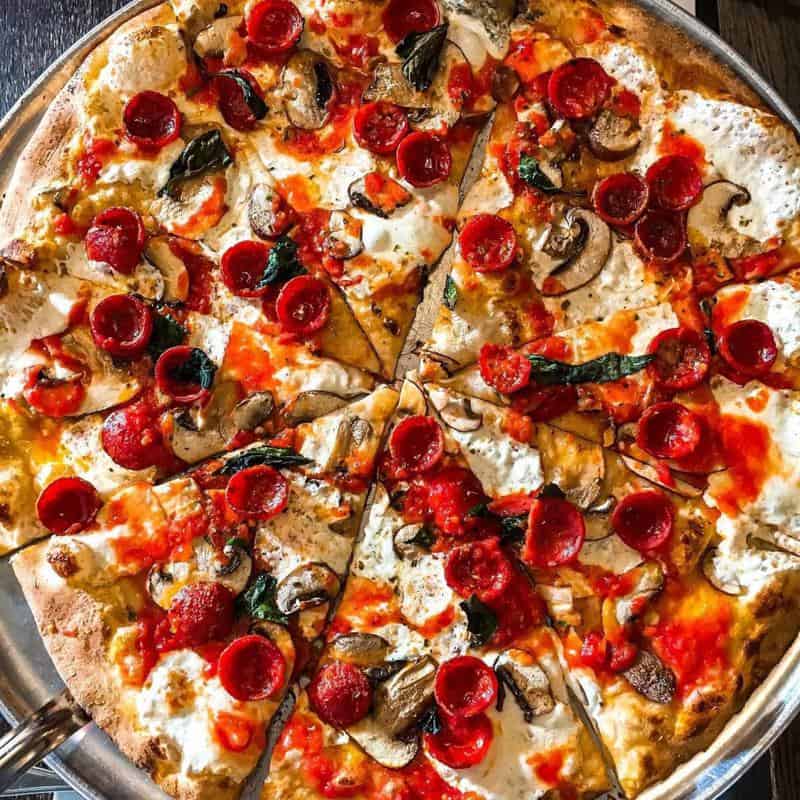 Address: 19 Old Fulton Street, Brooklyn, NY 11201
Phone: 718 596 6700
Known for: classic Margherita pizza
Julianna uses a coal-fired oven that is flamed up to 800 degrees. Brooklyn Julianna has been in operation since 2012. The 2015 Best Pizzeria in the US is known for its flavorful Margherita pizza and other offerings like egg cream seltzer drinks.
Classic pizzas on the menu range from the Margherita pizza to the white pizza with mozzarella and garlic, Calzone pizza without tomatoes, and the marinara pizza without cheese.
2. Grimaldi's Pizzeria on Front street
Address: 1 Front Street, Brooklyn, NY 11201
Phone: 718 858 4300
Known for: 1200 degrees coal-burning ovens
Grimaldi's still uses its coal stoves after 100 years to make its classic selection of pizzas. It is a staple of Brooklyn and one of the powerhouses of inventive pizzas across the United States.
The Brooklyn style pizza on the menu is the Brooklyn Bridge, made from a traditional pizza and topped with hand-pinched Italian sausages, red peppers, and Ricotta cheese.
3. Roberta's Pizzeria in Bushwick
Address: 261 Moore Street, Brooklyn, NY 11206
Phone: 718 417 1118
Known for: championing the Neapolitan movement
Roberta's in Bushwick uses wood-burning ovens instead of coal ovens to make the pizzas that are shipped across the United States using Gold Belly.
The all day menu at Bushwick venue has a variety of meals from desserts like the Bay lead panna cotta, sweet potatoes from the grill, American prosciutto, marinated cucumbers, and the famous original pizza topped with mozzarella, parmigiana, oregano, and chili.
4. Paulie Gee's in Greenport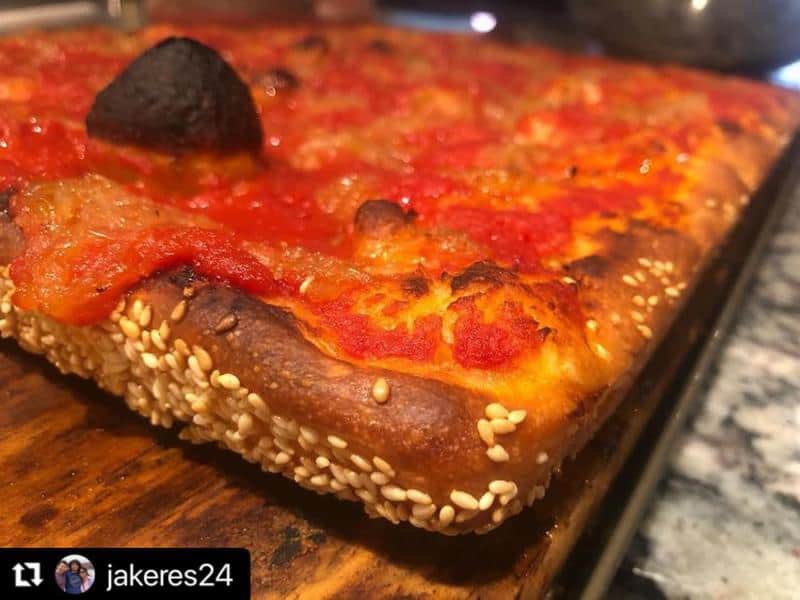 Address: 60 Greenpoint Avenue, Brooklyn, NY 11222
Phone: 347 987 3747
Known for: wood-fired vegan and non-vegan pizzas for dine-in only
Another wood-fired oven in Brooklyn is Paulie Gee's at Greenpoint, that only offers a dine-in option. For take-outs and orders, feel free to visit Gee's other shop at 110 Franklin Street.
The pizza menu is extensive, with vegan and vegetarian pizza offerings like the 'Vegan Shmoogula' made of vegan sauce, baby arugula, and Aleppo chili oil.
5. Lucali Brooklyn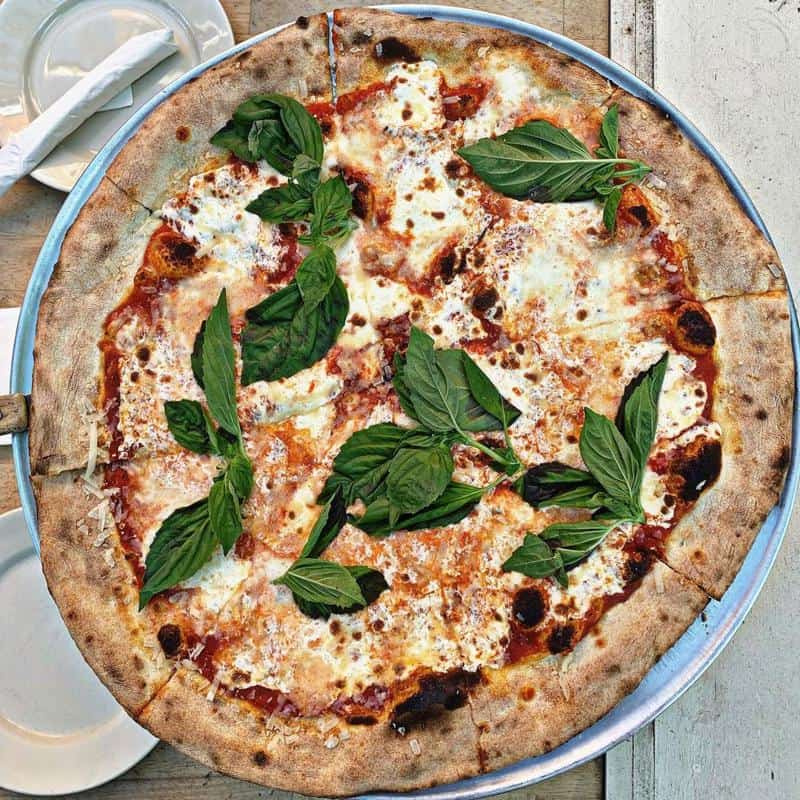 Address: 575 Henry Street, Brooklyn, NY 11231
Phone: 718 858 4086
Known for: classic American pizzas
Lucali's has had several features in prominent media houses, from the New York Times to Eater, Zagat, Food Network, and Vogue. The excellent news about Lucali is you can order the food or go to dine in.
All meals are made fresh on a to-order basis. The only toppings available are shallot, pepperoni, garlic, onion, sweet & hot pepper, mushrooms, and artichoke hearts.
6. Di Fara's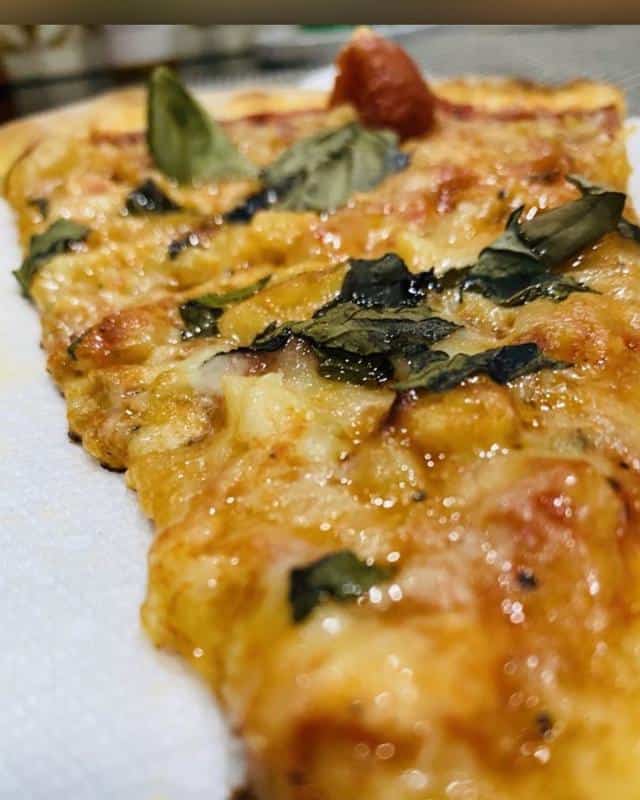 Address: 1424 Avenue J, Brooklyn, NY 11230
Phone: 718 258 1367
Known for: Pizza made with fresh from Italy ingredients
Di Fara's in Brooklyn does not offer indoor dining but has one of the most flavorful pizzas in Brooklyn. The pizzas are highly praised because of the fresh from Italy ingredients used to make them.
Most items are classic pizzas with classic toppings like pepperoni, sausage, mushrooms, garlic, onions, peppers, and black olives. Special toppings are meatballs, wild onions, roasted peppers, broccoli rabe, and eggplant.
Read More:
Frequently Asked Questions
What is Brooklyn Style Pizza Domino's?
A Domino's Brooklyn style pizza's toppings are pepperoni and sausage mixed with a bland tomato sauce. Mozzarella cheese and Provolone make the thin crust which provides a distinct taste from the New York Style pizza it is commonly associated with.
What's the Difference Between Brooklyn Style And Thin Crust
The main difference between Brooklyn style and thin crust pizzas is that the Brooklyn style pizza is thinner and has a crunchier crust.
What Is Brooklyn Style Pizza Crust Look Like?
The crust of the Brooklyn style pizza is distinct from others due to its thin crust that is crunchier. The crust is made crunchier by baking the pizza in more fat, but fewer toppings are used to reduce its calories.