Known as the buckeye state, Ohio is surprisingly popular for its seafood restaurants—many of them being located in Columbus, Ohio!
From oysters and crabs, to shrimp and grouper, the seafood restaurants in Columbus have whipped these popular seafood selections into a dish that personifies their dedication and passion for making delectable food.
Stop on over to Amina's Fish for soul-based and homemade seafood dishes, like their Fish Subs and Fish Platters. For a seafood restaurant reputable for its exceptional service, popularity, and star-rated menu items, Mitchell's Ocean Club boasts dishes like their Blackened Snapper, Chilean Sea Bass, and Florida Grouper.
There are loads of options available in Columbus, waiting to be explored and the many seafood-based menu items ready to be savored. Keep reading for the best seafood restaurant Columbus, Ohio, has to offer!
Seafood Restaurants in Columbus Ohio
Mitchell's Ocean Club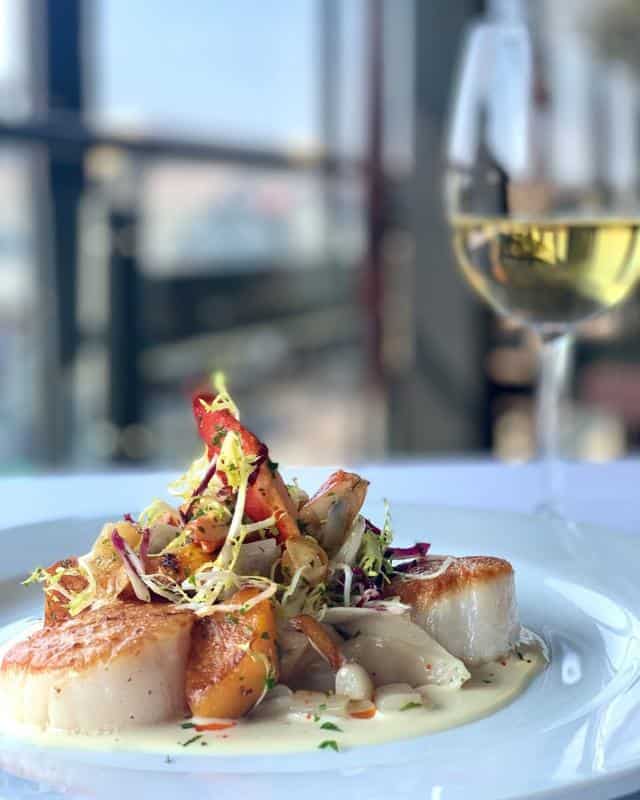 A part of the award-winning Cameron Mitchel Restaurants, Mitchell's Ocean Club is a dedicated nationally-acclaimed modern American restaurant and lounge that features a world-class menu, vibrant atmosphere, and unrivaled service.
Recommended appetizers include the "Surf N Turf", Lobster Bisque Soup, or the Ahi Tuna Tartare Sushi. The "Surf N Turf" includes fresh scallops, perfectly braised short rib, and zesty gremolata. For a decadent and creamy start to dinner, order the Lobster Bisque Soup made with butter-poached lobster Or, for a more invigorating rush to excite your tastebuds, order the Ahi Tuna Tartare Sushi paired with ginger ponzu, avocado, and sesame seeds.
To liven up dinner, order a serving of the Blackened Snapper paired with jalapeno corn tartar and corn spoon bread. Other popular options include the Chilean Sea Bass drizzled with champagne truffle sauce and a side of whipped potatoes or the Florida Grouper paired with gnocchi, lobster, lemon jus, and spring peas.
Diner's Note: At Mitchell's Ocean Club, reservations are recommended.
Jeff Ruby's Steakhouse, Columbus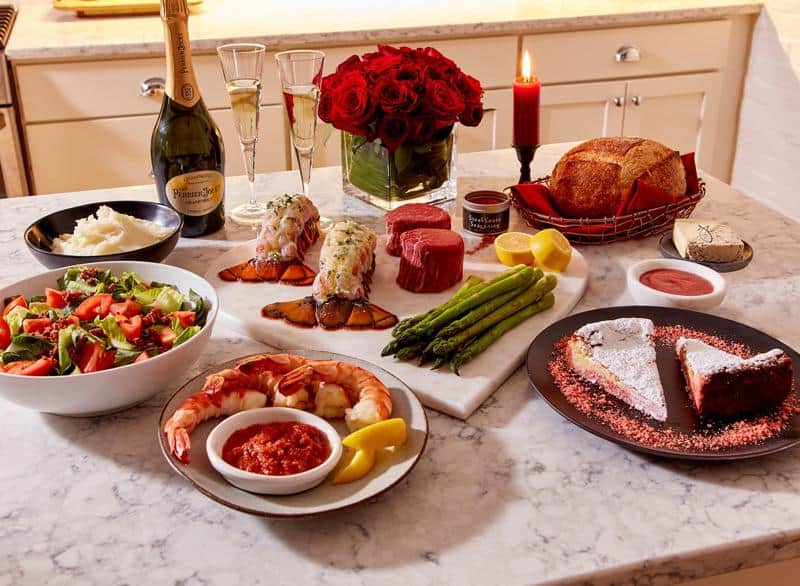 Owning a national reputation for its ability to provide exceptional service, Jeff Ruby's Steakhouse boasts live entertainment, only the highest-quality food items, along with their optimal service provisions.
Seen and celebrated on the Food Network, OpenTable, Wine Spectator, USA Today, and Travel + Leisure, Jeff Ruby's Steakhouse is understandably well-renowned for its dedication to detail and passion for exceptional service.
The Sixty South Salmon combines celery leaf, braised greens, wild mushroom cream, and crispy shiitake for the ultimate salmon-based meal for dinner. Recommended appetizer options include the Tiger Shrimp Cocktail and the East & West Oysters, selected by the Chef and flown in daily.
Diner's Note: If there is any member of your dinner party that requires accommodation for dietary restrictions, allergies, or choices, Jeff Ruby's Steakhouse is happy to comply by offering alternatives.
Frank's Fish And Seafood Carryout (Restaurant)
For seafood classics, step on into Frank's Fish and Seafood Carryout for fresh and delectable seafood dishes like their Po'boy Platters and famous Clam Chowder.
Appetizers to try at Frank's Fish and Seafood Carryout include the Spicy Lettuce Wraps and Shrimp in a Bucket. The Spicy Lettuce Wraps combined three romaine heart lettuce leaves topped with fried fish, tomatoes, seasoned rice, feta, and drizzled with spicy ranch sauce.
With The Shrimp in a Bucket, customers get to decide on either a half-pound of lightly batter flash-fried shrimp or seasoned peel-and-eat shrimp with a side of homemade cocktail sauce.
Popular Platters that are highly recommended include the Bourbon Glazed Grilled Salmon and the Variety Platter. The Bourbon Glazed Grilled Salmon boasts bourbon-glazed grilled salmon paired with seasoned vegetables and rice.
The Variety Platter is for those who have brought their appetite! This dish brings on the seafood with a platter of catfish, calamari, shrimp, cod, perch along with a side of coleslaw and fries!
Diner's Note: The dining setting at Frank's Fish and Seafood Carryout is casual with an emphasis on carryout and online orders. There are tables inside where customers can pick up their orders and if they can't stop the drool and hunger caused by the enticing smells of their pickup order, with the option of sitting down at a table to begin eating their meal.
Marino's Seafood Fish & Chips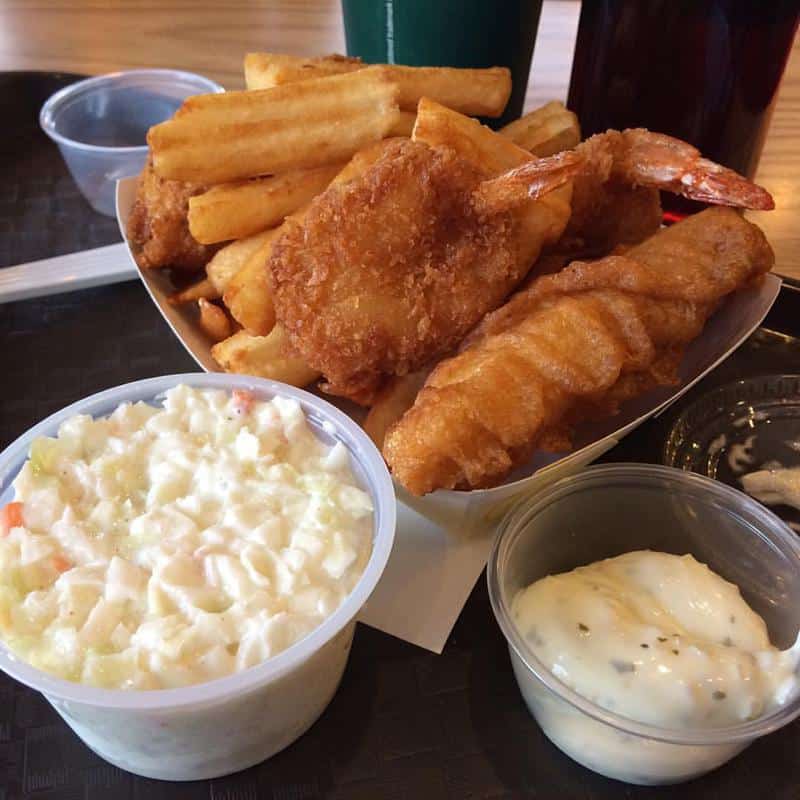 Boasting great service, great portion sizes, great customer service, and great pricing, Marino's Seafood Fish & Chips is a hidden gem of a seafood restaurant located in Columbus, Ohio.
Get a taste of Marino's Specialties, all affordable! The Oyster Platter costs only $9.00, including 8 Oysters, Chips, and a choice of Macaroni Salad or Coleslaw. A second popular option is the Crab Cake Platter, also only $9.00, which is paired with 2 Crab Cakes, Chips, and a choice of Macaroni Salad or Coleslaw.
Customers that visit Marino's Seafood Fish & Chips boast how fast the service is, how affordable the prices are, and how delicious the food is! The indoor setting of this seafood restaurant appeals to the 90s vibe, sticking to its gun for fun and appealing atmosphere of friendly staff and happy customers.
Diner's Note: Seafood specials change every day. On Saturdays, Marino's Seafood Fish & Chips hosts All-You-Can-Eat slaw, hush puppies, fish, and fountain drinks.
Eddie Merlot's Prime Aged Beef & Seafood Columbus
A well-known wine connoisseur, Bill Humphries, nicknamed "Eddie Merlot", is the founder of Eddie Merlot's Prime Aged Beef & Seafood Columbus. The founder has exceeded expectations by opening up his own restaurant to expand his love for wine, steaks, and seafood to members from all over the world.
Surprise your tastebuds with Eddie Merlot's Sensational Seafood Menu! Start the night off with an appetizer of the Margarita Ceviche, made with avocado, fried corn tortillas, scallops, radish, shrimp ceviche, mango vinaigrette, and pickled onion. For the oyster lovers, the Oyster Duo offers two Cajun-style and two Rockefeller-style oysters.
To fulfil your appetite, order the Mojito Marinated Swordfish—minted mango salsa, lime, citrus marinated swordfish fillet, mint, and red pepper coulis. The Arctic Char Del Mar combines pan-seared Arctic char, garlic-infused crab, basil oil, shrimp, and whole grain mustard Dijoinnaise into one meal that will have you craving for more!
Diner's Note: Private dining is available for breakfast, lunch, all day meetings, and dinner events. Simply book the event on their website or call Eddie Merlot's Prime Aged Beef & Seafood Columbus.
The Pearl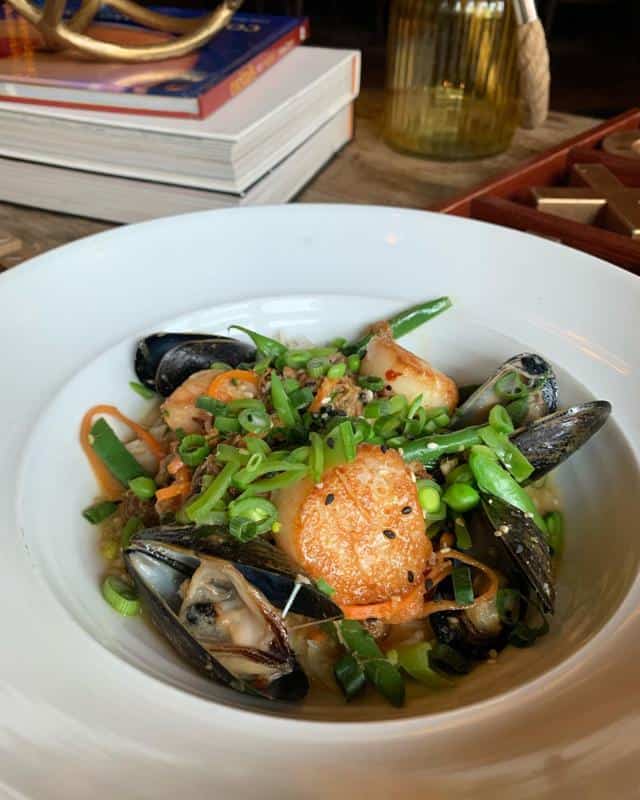 A designated culinary jewel, The Pearl boasts multiple locations. Popular for its fresh, made-from-scratch food, tavern-like atmosphere, and delectable eats, The Pearl is a well-renowned seafood restaurant waiting to be visited, if only to get a bite of their undeniably delicious eats.
The Pearl has notably done a magnificent job in labeling its menu for vegetarian and gluten-free individuals. This adaptation boasts fondness from people that may have diet restrictions.
For the ultimate starter for the night's meal, order a serving of the Teriyaki Octopus. It is paired with spicy whole seed mustard, hearts of palm, roasted sesame pineapple puree, and lime. A second option is the refreshing Harbor Salad that combines avocado, bacon, shrimp, scallops, bacon, crab, red wine vinaigrette, and aged ricotta. Both options are gluten-free!
Dinner recommendations include the Shrimp & Grits, the Arctic Char, and Today's Catch. The Shrimp & Grits menu option boasts poblano peppers, short rib kielbasa, and gouda cheese grits. The Artic Char selection is paired with aged balsamic vinegar, roasted cauliflower, and cauliflower puree for a healthy turn for the night.
And then, last but not least, Today's Catch provides the day's freshest available fish along with pistachio, cumin, yogurt, and chili-glazed carrots.
Diner's Note: Happy Hour at The Pearl lasts from 4 PM-6 PM.
The Pearl makes fresh pies daily, make sure to ask your server what's on the menu for dessert!
Kai's Crab Boil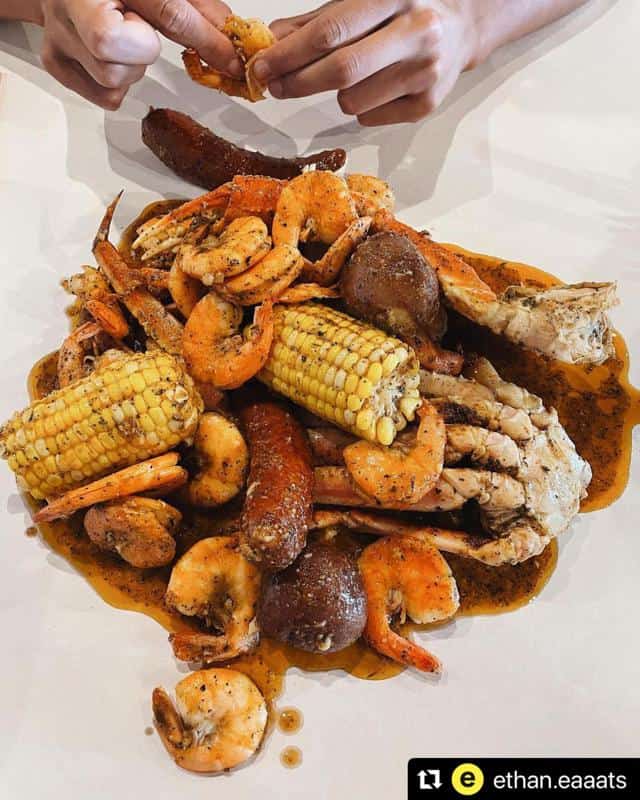 Locally-owned, Kai's Crab Boil is a neighbor-friendly seafood restaurant loved by the Columbus, Ohio, community. Specializing in spiced lobster, crab, and crawfish boils, Kai's Crab Boil is determined to bring the ultimate flavor to any that step through their doors.
Get a taste of Kai's Signature Boil, with your choice of shellfish of Shrimp, Snow Crab Legs, King Crab Legs, Lobster, Dungeness Crab, Crawfish, Mussels, or Clams. Pick your choice of add-ons of Potato, Corn, Egg, or Sausage, along with your choice of Kai's famous homemade sauces for Flavor of Garlic Butter, Lemon Pepper, or Kai's Kajun. Then choose your heat level of No Heat, Mild, Medium, Hot, or OMG!
For fried seafood options try the Fried Favs! The Fried Calamari and Hand-Breaded Shrimp Basket are popular options paired with fresh Cornbread or the Veggie of The Day. Grab a side of Kai's Kajun Garlic sauce for the ultimate sauce-y pairing for your meal!
Gilbert's Wood Fired Steaks & Seafood
Named after a legendary Kansas City restaurateur, Joe Gilbert, J. Gilbert's Wood Fired Steaks & Seafood embodies high-quality hospitality with a dedication to serving honest, good food.
Gilbert's Wood Fired Steaks & Seafood's allegiance to serving honest good food is exemplified by its farm-to-table concept. They have an enigmatic goal to buy from local farmers, artisan purveyors, and craftsmen as often as they possibly can.
Start off with an appetizer of the Shrimp Durango or the Oysters Rockefeller. The Shrimp Durango features basil, tomatoes, spinach, Parmigiano Reggiano, and ancho chili butter. The Oysters Rockefeller boasts freshly shucked oysters with garlic, parmesan, shallots, bacon, and creamed spinach, and is baked to bubbly perfection.
Popular seafood-based dinner options include the Maple Plank Roasted Salmon and the Twin Canadian Cold Water Lobster Tails. The Maple Plank Roasted Salmon entices with a bourbon glaze, asparagus hash, and herb-roasted potato for a filling, rustic dish. The Twin Canadian Cold Water Lobster Tails include Yukon mashed potatoes, grilled asparagus, and drawn butter MKT.
Final Thoughts
Columbus has many seafood restaurants waiting to be explored. From dishes like Shrimp & Grits, Bourbon Glazed Grilled Salmon, and Mojito Marinated Swordfish, each restaurant boasts its own professional take on seasoning, plating, and flavor for an optimal impression that will have you coming back for more.
Make sure to check the diner's note to avoid showing up to dinner without a reservation or wearing improper attire. We've added Happy Hour times for all who like a refreshing drink with their appetizing meal. Now, it's time to devour some lip-smackin' good seafood!