Daytona Beach is a Floridian paradise unlike any other. In Summer, it is teeming with life, with everybody flocking to the incredible beaches to enjoy some of the excellent live entertainment. You can kick back on the golden sands or go for more adventurous options like watching the Daytona 500 or visiting Daytona Lagoon for thrilling rides.
With a pristine location, it's clear that you can find some incredible seafood tucked in the City. But the wit and knife skills of dedicated sushi chefs truly deserve some praise. Daytona Beach truly is on Heaven's doorstep, with some incredible sushi restaurants just waiting for eager patrons to walk in. So to make your venture easier, we've compiled some of the best sushi spots you can find.
Best Sushi in Daytona Beach
ICHI NI SAN Asian Grilled Ramen & Sushi
Location: 246 S Beach St, Daytona Beach, FL 32114
Price: $$
ICHI NI SAN was opened in 2018 and has become an integral part of its community. The venue itself is almost unassumingly a sushi restaurant at first glance, but once inside and looking at the menu, you know exactly what you're in for!
The menu has a variety unlike its competitors, with traditional dishes that are either Thai or Japanese in origin, with a few fusion tasters as well. The sushi itself includes some meticulous and unseen dishes that are bang for their buck. You can order sashimi platters or choose your selection through the ala carte options too.
The venue is reminiscent of a small-town coffee shop. It offers all the warmth and comfort of familiarity. If it weren't for a view obvious hints, you might assume you're about to get a cup of coffee rather than delicious sushi. The staff are vibrant and friendly, too, making your experience here pleasant and cozy.
Fancy Q Japanese and Thai Restaurant
Location: 2525 US-92, Daytona Beach, FL 32114
Price: $$
What happens when Thai cuisine and Japanese cuisine meet? Fancy Q might just have the answers you're looking for. It is a small and courageous hole in the wall that might often be overlooked. But as far as strip mall-styled eateries go, Fancy Q Japanese and Thai Restaurant pack a powerful punch. How? By incorporating flavors that have made them a favorite amongst locals for years.
Their meticulous selection of fresh, locally sourced ingredients ensures that each dish comes served with the same quality and sensational taste as upper-class eateries, only for a fraction of the price. Once you see their food, it's no wonder they've gained so much popularity and attraction over their life.
The menu is a vibrant variation of cultural clash that surprisingly works incredibly well. With plenty of dishes to choose from, even the fussiest patron can leave smiling. Their sushi alone is out of this world, with each ingredient matched and paired perfectly to enhance and escalate flavors. Selections range from neo-traditional to Western and everything in between.
As with anything in Daytona Beach, they are a family-friend and casual restaurant, with ample seating to allow for all occasions.
Miyabi Sushi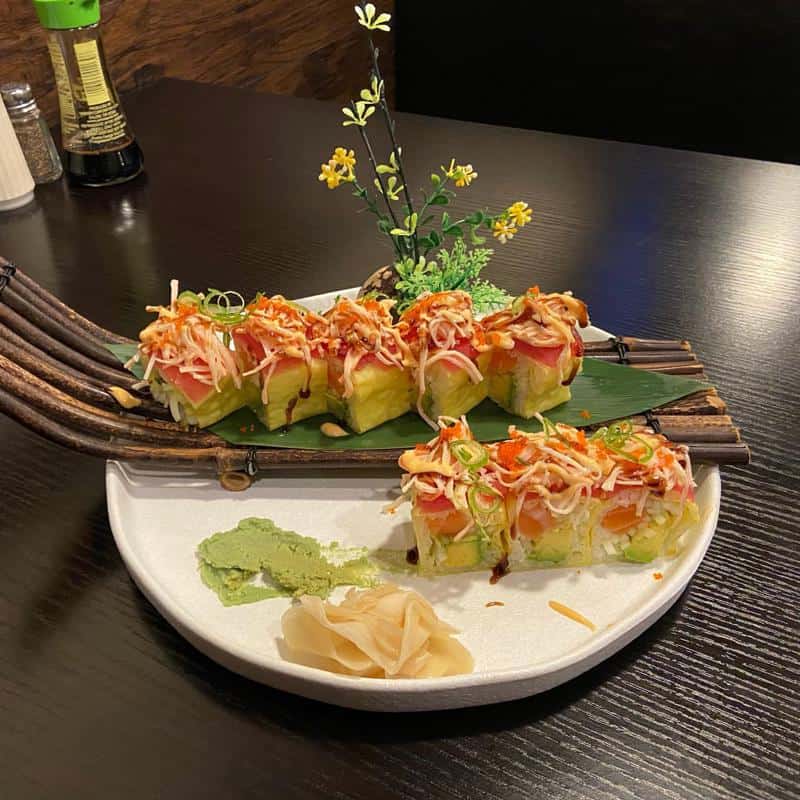 Location: 2429 N Atlantic Ave #40, Daytona Beach, FL 32118
Price: $$$
Miyabi is an exquisite experience for sushi and Japanese cuisine lovers. They are a comforting and welcoming establishment that encapsulates their guests with a taste epiphany that's bound to keep them coming back for more.
Everything is made fresh, and the chefs pour their souls into the dishes they create. The sushi is incredibly delicious and takes a fusion approach that collates the best of Japanese tradition with fine local ingredients. You can find everything from Octopus to Eel, with each dish being masterfully created to ensure the best taste experience.
So take a seat at one of the wooden booths and let the restaurant take the wheel as you enjoy a good atmosphere and even better food. With such an expansive menu, you're sure to leave fully satisfied.
Cafe Du Japon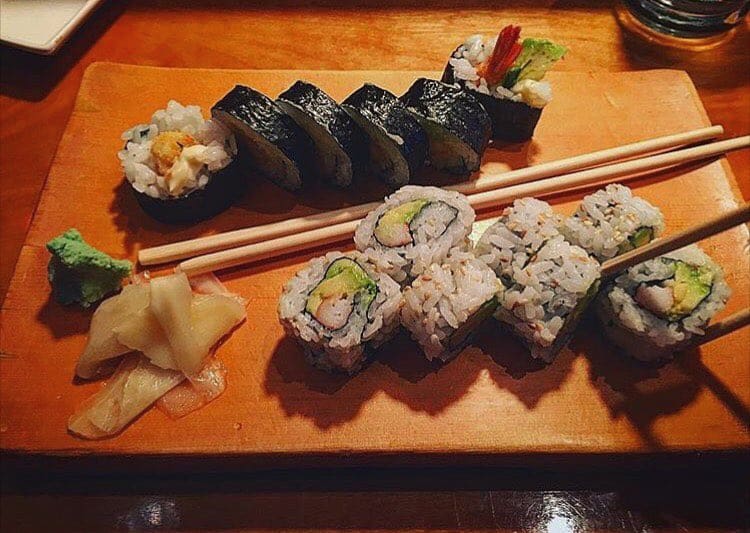 Location: 306 Seabreeze Blvd, Daytona Beach, FL 32118
Price: $$
Cafe du Japon has a highly creative take on its cuisine, which has undoubtedly gained them a lot of loyal followers over the years. For a no-frills restaurant, they dedicate their effort to ensuring their meals' are of the highest quality. Best believe, they deliver ten-fold.
The kitchen serves an abundance of various styles, from appetizers to mains. They use their ingenious creativity to make incredibly delicious fusion sushi that not only presents well but tastes unbelievable. Using ingredients to create an authentic and vibrant taste experience, you can find plates of sushi rolls, sashimi, and nigiri in abundance.
Ronin Sushi & Bar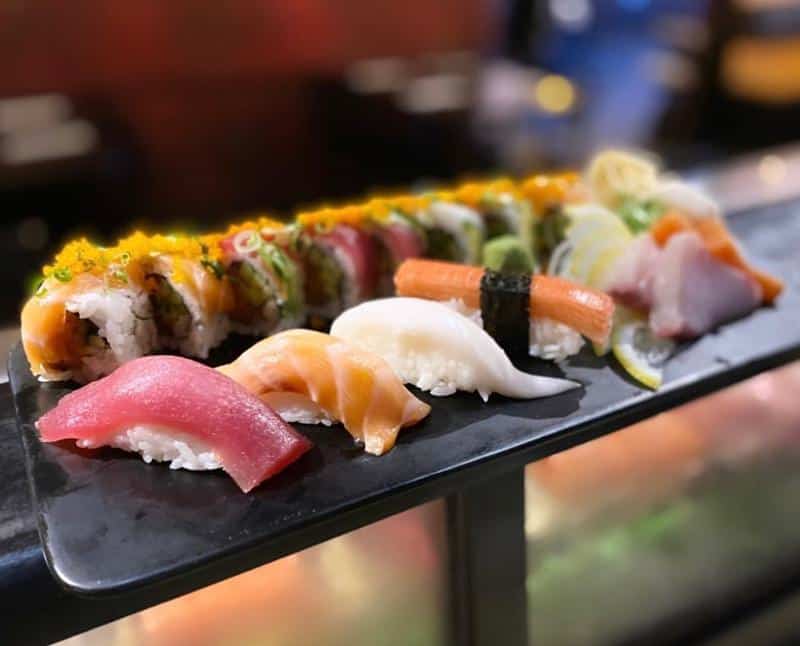 Location: 111 W International Speedway Boulevard, Daytona Beach, Florida 32124
Price: $$
Ronin Sushi & Bar is a beautiful and vibrant venue, with a romantic and classic flair exuding from the inside out. They are not your usual type of fare and dedicate themselves to eclectic and authentic Japanese flavors.
They do not share as versatile of a menu as their competitors. The sushi is the star of the show here and is so beautifully crafted it almost seems unreal. The ingredients are incredibly fresh and diverse, bringing new light to the flavors of the seafood of your choice. We highly recommend the Volcano roll, but they also have a variety that includes Vegetarian sushi.
So no matter what kind of sushi you're looking for, they've likely got something to satisfy the taste buds. Ronin Sushi & Bar is a must-visit for young couples visiting Daytona.
Wild Ginger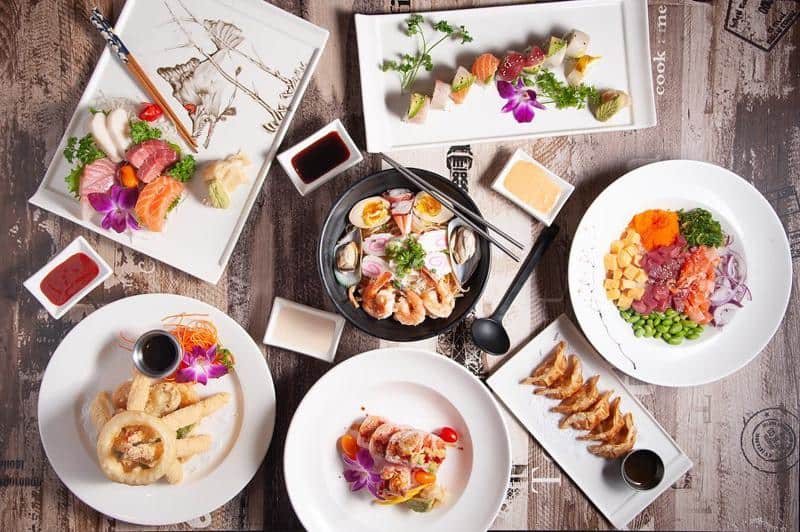 Location: 1115 Cornerstone Blvd, Daytona Beach, FL 32117
Price: $$
Wild Ginger is a classically creative and modern sushi spot that has become a well-established part of its community. Bringing all the joy of Japanese culinary expertise to the plate, you'll find the food and venue a rather enriching experience.
Their popularity is well-earned through their innovative use of ingredients to create delicious and flavorsome dishes. They have cleverly infused American ingredients into their Japanese artistry, creating an array of unique specialty rolls you won't find anywhere else. But, don't worry; they don't skimp on the quality and freshness either, using only the finest ingredients.
The pricing is extremely reasonable for what you get. In addition, you can experience it all sitting within a fairly modern and well-decorated venue with ample seating for you and your loved ones. It's a great place to get a quick, delicious meal and enjoy some great company in a charming environment.
Sushi King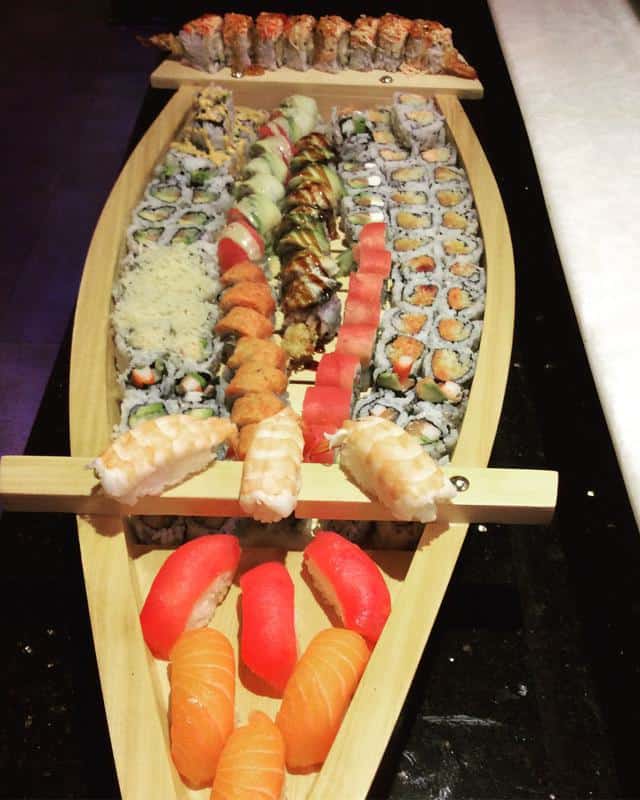 Location: 238 N Nova Rd, Daytona Beach, FL 32114
Price: $$
Sushi King in Daytona Beach certainly fits the bill for Royalty. It may not be the most spectacular of restaurants for a number of reasons. However, the sole focus is on delivering delicious, fresh sushi in abundance, which means they're well worth checking out!
The sushi is a clash of American flavor meets Japanese mastery, and they have created a plethora of innovative and tasty rolls that incorporate the best of both worlds. However, sushi is not the only thing on the menu. You can find other Hibachi-style hot plates and even some more westernized seafood options, meaning there's plenty to choose from.
They are a quaint and quintessential business in their neighborhood. They have taken a more straightforward approach to their layout and decor. This isn't to say it's bad by any means, but it's perhaps not as impressive as it is in other venues of a similar size. On the other hand, it is a large venue, so you can bring through a large dining party without much worry.
Sakana Japanese Steakhouse & Sushi Bar
Location: 501 Seabreeze Blvd, Daytona Beach, FL 32118
Price: $$
Sakana Japanese Steakhouse & Sushi Bar is a no-frills restaurant that is perfectly suited to large gatherings. It's a quaint venue that offers a simplistic approach that seems to work in every possible way. The venue, while small, holds a great deal of character and charm.
The centerpiece is a sushi bar that has ala carte options as well as platters in abundance. It's a quaint and eccentric addition but definitely attracts the eye to the delicious and beautifully present sushi rolls that stand upon their steeds. You can also find a variety of kitchen meals, served hot, that are just as flavorful and delicious as the next.
You can enjoy a nice night out with friends and family while enjoying great food in a friendly atmosphere.
Read More:
Conclusion
Daytona Beach is a beautiful beach paradise that thrives off everything its perfect location gives them. With all the fun and fanfare going around, it works up an appetite. With so many options surrounding you, make sure to check out a sushi restaurant or two while in the area!
We cannot describe a better way to end a busy day than with Daytona Beach's sushi restaurants. They have managed to create innovative and delicious menus that are everything you could possibly need. So what better way to cap off a Daytona adventure than some fresh sushi?