Seafood cooking styles and techniques vary across different regions, with many restaurants having specialized recipes for seafood. This also applies to Milwaukee, which has a unique seafood cuisine that is wonderful in its own right.
If you're in Milwaukee, figuring out which seafood restaurants to visit can be challenging if you don't have information or recommendations from anyone. We've got you covered if you fall into this category.
Check out some of the best seafood restaurants in Milwaukee. But first, we need to show you how we made our selection.
How We Chose the Best
We selected the best restaurants in this list by using the following factors:
Quality
Since we're talking about food, quality was at the top of our list as it's one of the most critical factors. Apart from making sure that the restaurants on this list have tasty food, we also considered the freshness of the food and if the restaurant sourced it locally. Poor quality food can adversely affect your health, so we avoided putting those restaurants on this list.
Variety
Even though a restaurant has good-tasting food, you will get bored of it, especially if you visit the restaurant often. So, we checked restaurants that have several recipes or delicacies on their menu so you can mix it up and try new things. Having a wide choice of options can make your dining experience far better.
Hygiene
We look around the restaurant setup to see how clean the floors, tables, and restrooms are. We also check the staff who attend to us and the servers to see if they take proper precautions. If these restaurant areas are clean, then there is a very high chance that the kitchen is immaculate too and that you aren't putting your health at any risk.
Entertainment
Some restaurants have live music or screens for games, which is always a welcome addition for some people. Apart from enjoying the food, enjoying the background music or catching up with the game can be exciting if you're dining in.
Review from Locals
Apart from visiting the restaurant ourselves to check out their offerings, we also asked the locals about their restaurant reviews. They might have other information about the restaurant we might not know from our limited visits, and we always see this as an essential step.
Best Seafood Restaurants in Milwaukee
Check out the restaurants we decided are the best in Milwaukee from the above factors.
1. St. Paul Fish Company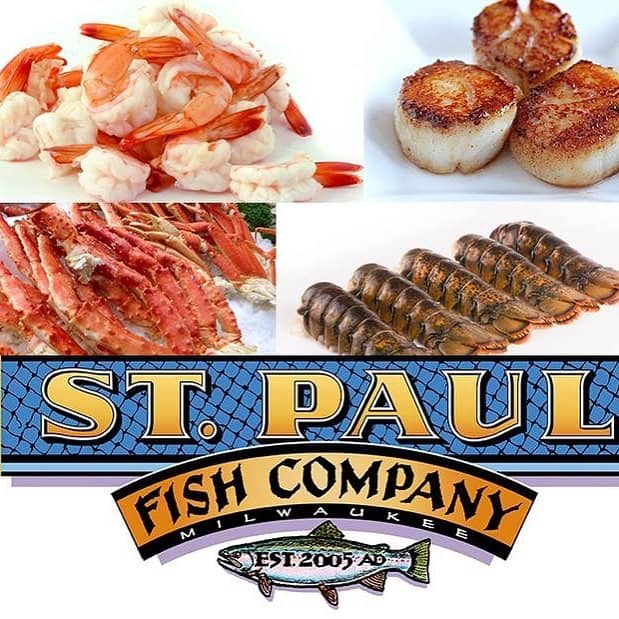 Opening Hours: Sunday 11 pm-6 pm, Monday-Saturday 11 am-8 pm
Address: 400 N. Water St.
Phone: 414-220-8383
Website: www.stpaulfish.com
Price: $$
St. Paul Fish company has universal love from any local review or anyone we asked. You will find St. Paul fish company inside the Milwaukee public market, so you can take advantage of the parking spots and explore the remaining Historic Third Ward from the restaurant. One thing that stands out in this restaurant is the freshness of their seafood and fish. The restaurant is in two parts – a seafood counter where you can buy fresh seafood to take home, an oyster bar, and dining areas with the wait staff.
If you visit during summer, they would've set up an outdoor oyster bar with extra seating. Apart from the daily oyster bar's large section, you also have many choices, including the Lobster Roll, sandwiches, or the Jamaican jerk swordfish. As appetizers, we suggest starting your dining experience with the St. Paul bouillabaisse, smoked salmon on a stick, fried surf clams, etc.
Pros
Fresh and quality tasting food
Inexpensive food with great servings
Great outside bar with a tropical theme
Extensive collection of food
Great service and waitstaff
Cons
Wait time to get meals may be long, especially if the restaurant is full.
Because of the location (in the public market), there may be many people.
2. Harbor House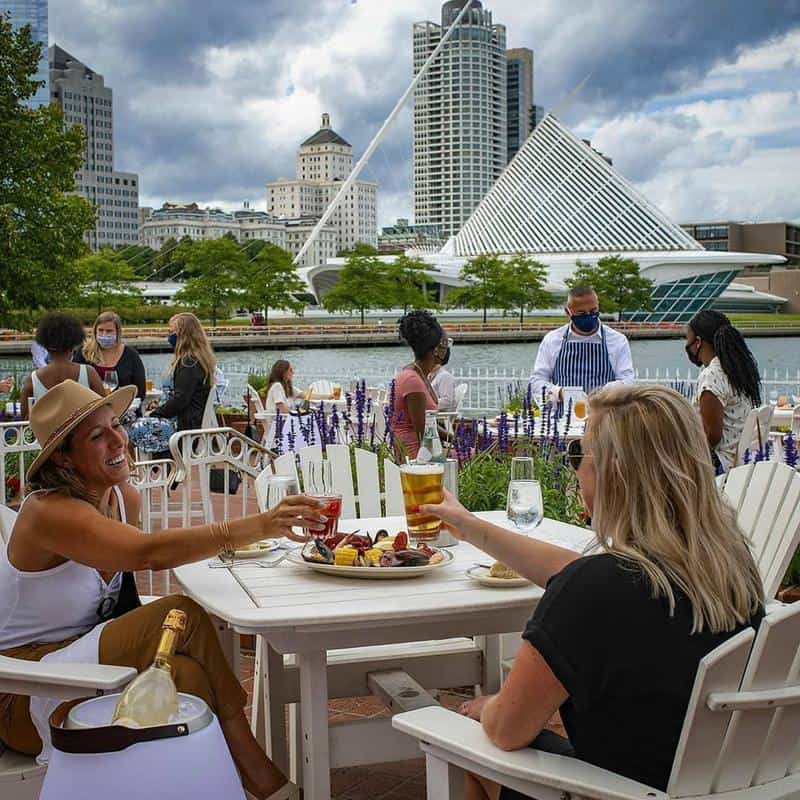 Opening Hours: Wednesday – Friday 5 pm-9 pm, Saturday and Sunday 11 am-2 pm and 5-9 pm
Address: 550 N. Harbor Drive
Phone: 414-395-4900
Website: www.bartolottas.com
Price: $5$
Harbor House is one of the pioneer Milwaukee seafood restaurants. It boasts of one of the best views in Milwaukee, giving you an excellent look at Lake Michigan in the city and overlooking the Milwaukee Art Museum.
The dining in Harbor place is ideal for group dining or a date night with your significant other. Their seafood has brunch, lunch, or dinner menus, each of which the chefs have carefully selected to give you the best experience.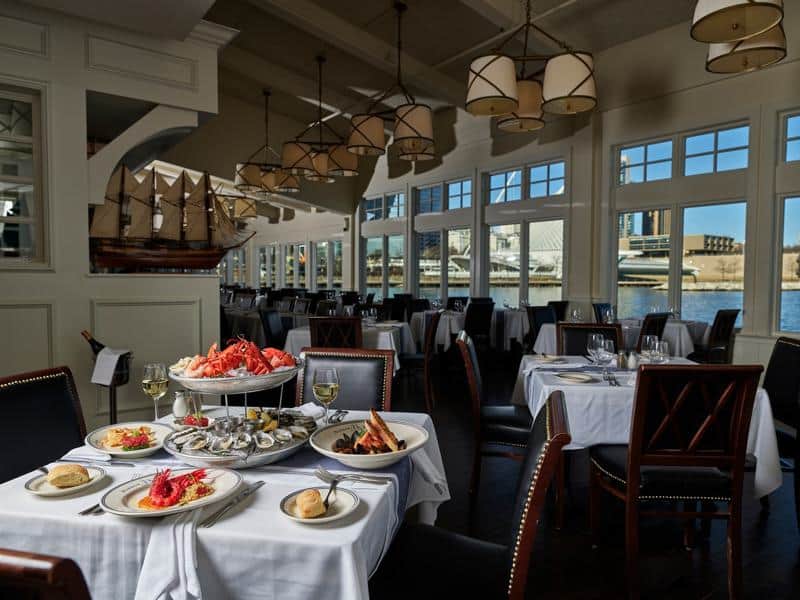 It also has a great bar with small plate specials and a fantastic happy hour. You can pair your meal with a drink from their selection if you're in the mood. If you visit this restaurant during the summer months, you'll be amazed by the outdoor patio that gives a great view while you enjoy your visit. If you are reading this in the summer, a visit is necessary.
Pros
Great tasting food at a reasonable cost
Perfect location to grab a meal after a visit to the Milwaukee Art museum due to its proximity
Friendly, attentive, and accommodating staff
The gorgeous setting outside and the restaurant give great views of the beauty.
No stress valet parking
Cons
Intense/Excessively tiring policy for COVID
May charge you for safety protocols
3. Barnacle Bud's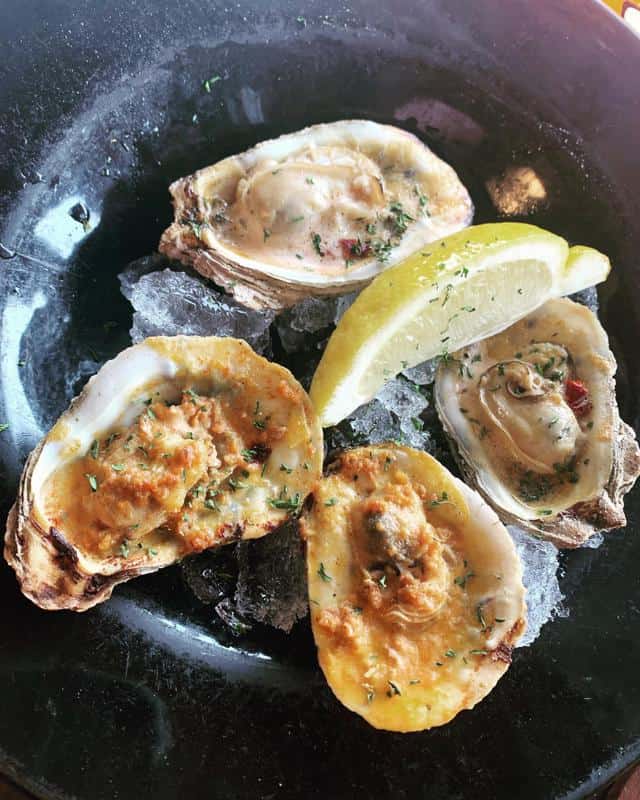 Opening Hours: Wednesday – Friday 5 pm-9 pm, Saturday and Sunday 11 am-2 pm and 5-9 pm
Address: 1955 S Hilbert St, Milwaukee
Phone: (414) 481-9974
Website: www.barnaclebuds.com
Price: $$
This is a convenient spot just about 15 minutes away and situated along the Milwaukee River among warehouses if you're coming from downtown. Its unique location makes it great for lunch or dinner after having a fun day on a boat or downtown Milwaukee. You will find the casual setting exciting as it isn't a fancy place that you need to dress up for.
If you visit on a Sunday, you will get a treat of their Bloody Mary bar. We suggest starting your meal with a tasty appetizer like crab cakes or freshly shucked oysters if you're visiting on a Tuesday.
They have a nice variety of seafood sandwiches, and we recommend you try at least one from the crab cake sandwich, trooper Reuben, a grouper, or lobster roll. If you want to mix with non-seafood options, they also have sausages, chickens, and burgers.
Pros
The vibe of the restaurant is upbeat
Welcoming and helpful staff
Nice view of the water where you can watch the boats
Great patio to catch fresh air and enjoy your meal
Generous food portions
Cons
You might experience a little difficulty locating the restaurant
Check where you park carefully, as you may get towed
4. Milwaukee Sail Loft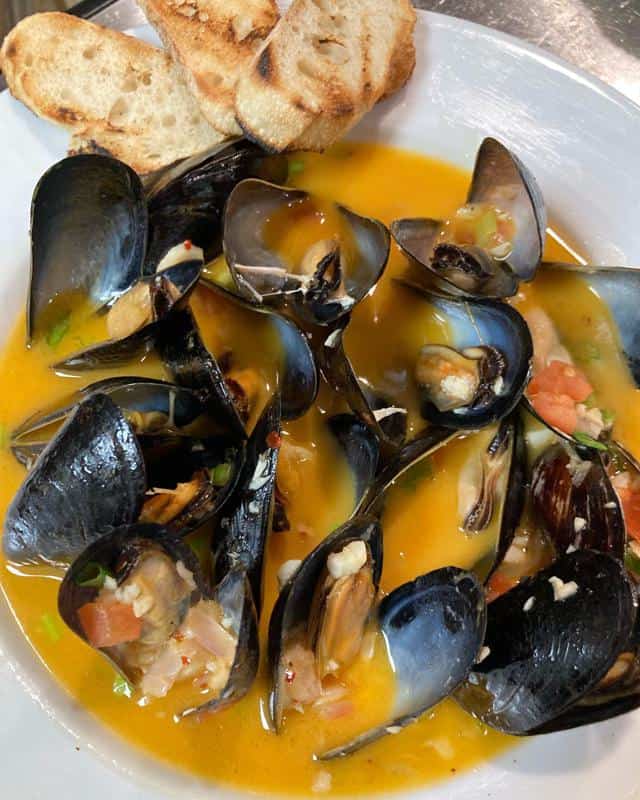 Opening Hours: Sunday, 11am-9pm |Monday 3pm-10pm |Wednesday-Saturday, 11am-10pm | Closed Tuesday
Address: 649 E. Erie St., Milwaukee
Phone: 414-223-0100
Website: www.milwaukeesailloft.com
Price: $
You will find this restaurant at the end of Erie, tucked behind some of the parking lots for the Summerfest grounds in a still street in the Historic Third Ward. Even though the restaurant is nondescript from the front, you will be pleased to know that the dining areas overlook an area of Lake Michigan with a patio area in an excellent spot for outdoor eating.
However, if you don't feel like eating outdoors, there is plenty of space inside and even a bar which still gives some great views.
The menu of Milwaukee Sail loft caters to different age groups and individuals – you will find what suits you. We tried their excellent salads and soups, and we recommend you do the same. The Milwaukee Sail Loft also has many creative sandwiches, making the menu diverse and fun.
You will find a great pick and selection of food on any day of the week that you decide to check out this restaurant.
Pros
Quick and efficient staff
Quality and fresh seafood
Great prices at a top-notch location
A varied menu that gives you a lot of choices
Friendly atmosphere
Cons
You may have to wait for a while to get seats
The hygiene could be better
5. Maxie's Southern Comfort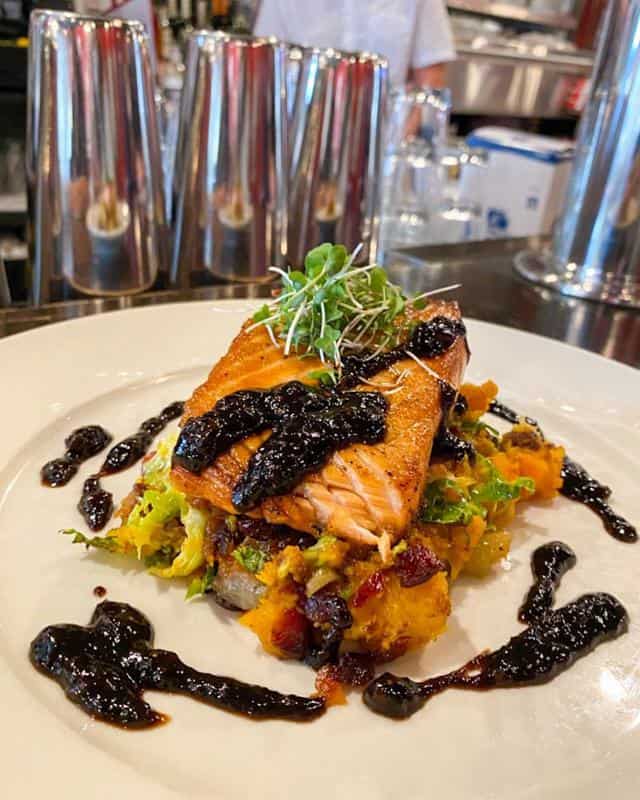 Opening Hours: Tuesday-Saturday, 4 pm-9 pm |Closed Sunday & Monday
Address: 6732 W. Fairview Ave.., Milwaukee
Phone: (414)-292-3969
Website: maxiesmke.com
Price: $$
If you have a soft spot for Cajun restaurants, Milwaukee has no better choice than Maxie's Southern Comfort. As the name suggests, many of their offerings and meals have Southern inspirations focusing on "low country" cooking off the Carolinas.
You will find that this restaurant is nearly almost crowded anytime you visit it, which is a testament to the quality of their food. It has two floors and is situated on the West side of Milwaukee, giving it a Mardi Gras feel at any time of the year you visit.
Their food gives you a taste of New Orleans cuisine prepared in traditional Louisiana methods in local Milwaukee. The restaurant has put considerable effort into offering several options to provide you with a unique dining experience.
We recommend checking out the nightly food specials that pair excellently with discounted drinks at the restaurant. Also, check their menu for amazing daily specials that excite your taste buds.
Pros
The restaurant can accommodate service animals
Excellent tap beer list and cocktails
Bold flavors and generous servings
Great hangout spot to relax with friends or groups of people
Excellent and attentive staff
Cons
It May take a long for your food to come, especially on weekends
We advise staying away from their chicken and focusing on seafood delicacies
6. Third Coast Provisions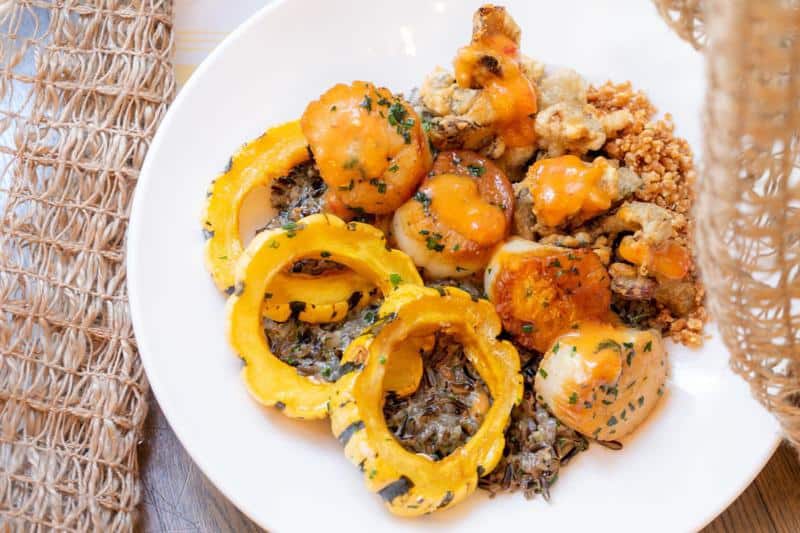 Opening Hours: Wednesday, Thursday, and Sunday 5 pm-9 pm | Friday and Saturday, 5 pm-10 pm | Closed Monday & Tuesday
Address: 724 N. Milwaukee St., Milwaukee
Phone: 414.323.7434
Website: www.thirdcoastprovisions.com
Price: $$
This is the newest and trendiest of all the other restaurants on this list, specializing in seafood. Situated in the middle of downtown, this restaurant attracts crowds, especially at weekends, and we recommend you make a reservation if you want to visit. Third Coast provisions are more like two restaurants in one with Oak & Oyster like a casual bar and small plate joint serving great specials on food and drinks.
The seafood restaurant serves gourmet seafood dishes that cater to a large audience. Choose from their variety of grilled or raw oysters and get blown away by the flavours. You can choose from small plates like the pimento cheese croquettes or the blue crab.
We suggest you try any of the whole fishplates or go all out with the seafood plateau with lobsters, shrimp cocktail, whitefish, and oysters if you're visiting for dinner.
Pros
Attentive and friendly wait staff
A creative and exciting menu that gave us a lot of options
Fresh, flavourful, and unique meals
Great ambiance and excellent selection of wines
Generous food portions
Cons
Food is a bit on the expensive side
Their service organization could better
Read More:
Seafood in Milwaukee: FAQs
Check out some of the most popular questions about seafood restaurants in Milwaukee.
How would you describe a seafood restaurant?
A seafood restaurant is a restaurant that focuses on seafood dishes and seafood cuisines like shellfish and fish. Seafood restaurant sources their food from the sea as opposed to frozen products.
Does Milwaukee have good seafood?
Yes, Milwaukee restaurants have excellent seafood. We've gathered some of the best seafood restaurants in Milwaukee above in no particular order.
What is the seafood capital of the world?
The seafood capital of the world is the town of Calabash, NC. It is less than 30 miles up the coast from Myrtle Beach, SC, and has since established itself as the seafood capital of the world.
Is Wisconsin known for seafood?
Wisconsin is the home to some great and mouthwatering seafood. Some of the options you have from Wisconsin include fish, lobster, and lots more. Some of the tastiest seafood dishes you'll find are in Wisconsin.
Conclusion
You'll have a swell time at any of the restaurants listed above as they are the best out of the seafood restaurants in Milwaukee. If you only have time to check out one of the restaurants, we suggest you go to St. Paul's as that is our personal best.