Memphis, Tennessee, has long been known for its unique barbecue, toe-tapping music on Beale Street, and beautiful home of Elvis Presley. What you may not know is that there are all kinds of impressive brunch places in Memphis, too!
Regardless of whether you're in town on a trip or you're local to the area, finding a great brunch spot is a highlight for anyone in Memphis. There's something for everyone, from Southern classics to modern takes or simple bottomless drinks.
We've compiled 15 mouthwatering spots for you to get the best brunch in Memphis.
Best Brunch in Memphis
Arcade Restaurant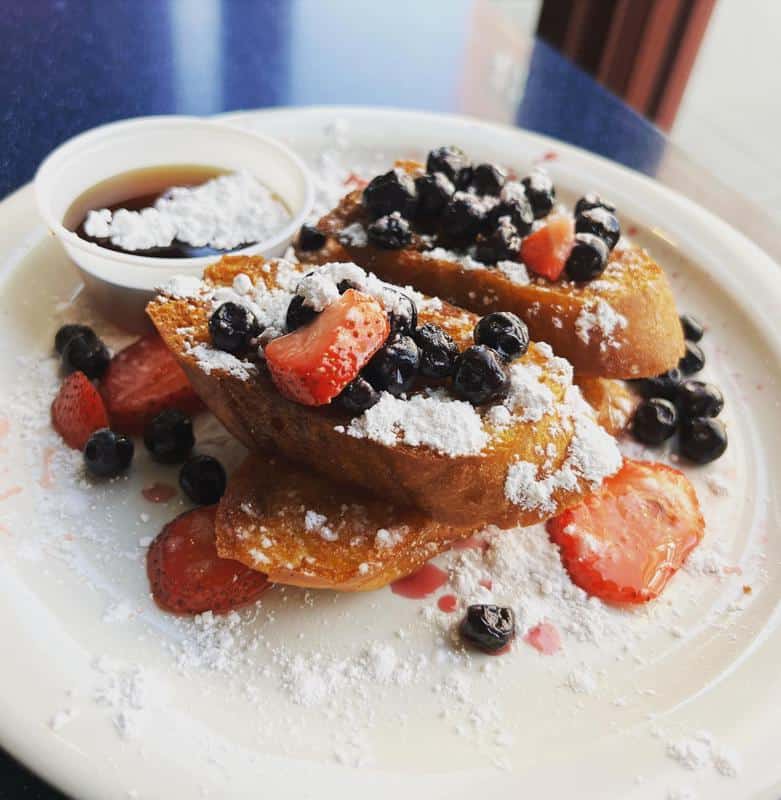 Location: 540 South Main Street, Memphis, TN 38103
Price: $$
Known for: Memphis's oldest café, welcoming 1950s atmosphere
Since the doors first opened in 1919, the Arcade Restaurant is nothing short of a Memphis tradition. Over the last century, this eatery has continued to impress guests with its classic 1950s style, welcoming staff, and delicious menu options. Head to brunch with the girls or enjoy a slow family breakfast.
For something traditional, you can't go wrong with the French toast or country fried steak. If you want something more unique, check out the sweet potato pancakes or Harry's Hash Brown Bowl. For your drink of the morning, try a spiked mimosa or Arcade's Bloody Mary, featuring vodka made right here in Memphis.
Bardog Tavern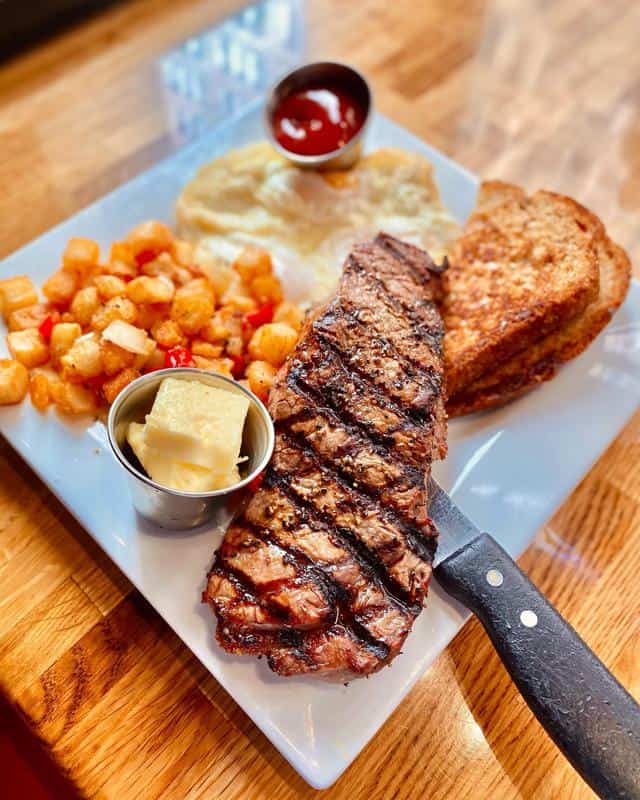 Location: 73 Monroe Avenue, Memphis, TN 38103
Price: $$
Known for: Fun jukebox tunes, friendly staff, great Downtown location
When it comes to brunch in Downtown Memphis, you can't go wrong with a trip to Bardog Tavern. The atmosphere invites you to sit down and stay awhile, but the food comes out so quickly that you'll be tempted not to linger. Brunch is one of the most popular meals here, but you can also come and enjoy drinks and light fare throughout the evening.
At brunch, treat yourself to classic entrees like the lobster sandwich, Grandma's French Toast, or the sumptuous Caprese Grilled Cheese. You can also go for The Classic, which includes a 12-ounce New York strip steak, two eggs either fried or scrambled, and a slice of toast. To quench your thirst, go for an energizing coffee or a luxurious mimosa.
Café Eclectic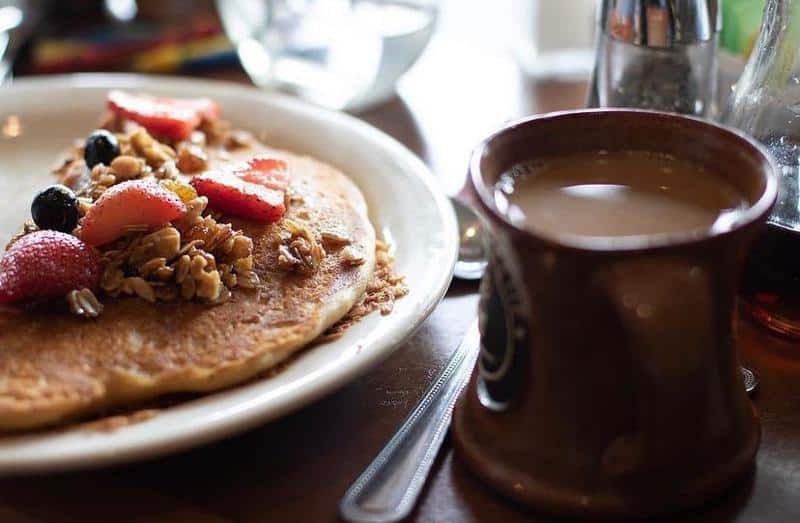 Location: 4603 N McLean Boulevard, Memphis, TN 38107
Price: $$
Known for: Unique soda fountain and seasonal specials
For a brunch spot the entire crew will enjoy, visit Café Eclectic. Since its opening in 2008, Café Eclectic has attracted guests with its all-day breakfast, artisan coffee, and housemade pastries. Café Eclectic makes a priority of working with local vendors and utilizing eco-friendly practices, like composting food waste and recycling whenever possible.
You can indulge in whatever breakfast food tickles your fancy, from Smoked Salmon Benedict to the Sunny Tater Hash or the Brioche French Toast. Vegans and vegetarians will also find plenty to enjoy, like the Vegan Pancakes, Rachel's Breakfast Wrap, and the Nutty Quinoa Bowl.
If you're visiting closer to lunchtime, consider a salad or sandwich from their menu. Be sure to try some Illy's Coffee while you're here, too!
Also Read: What Time Is Considered Brunch?
Belltower Coffeehouse & Studio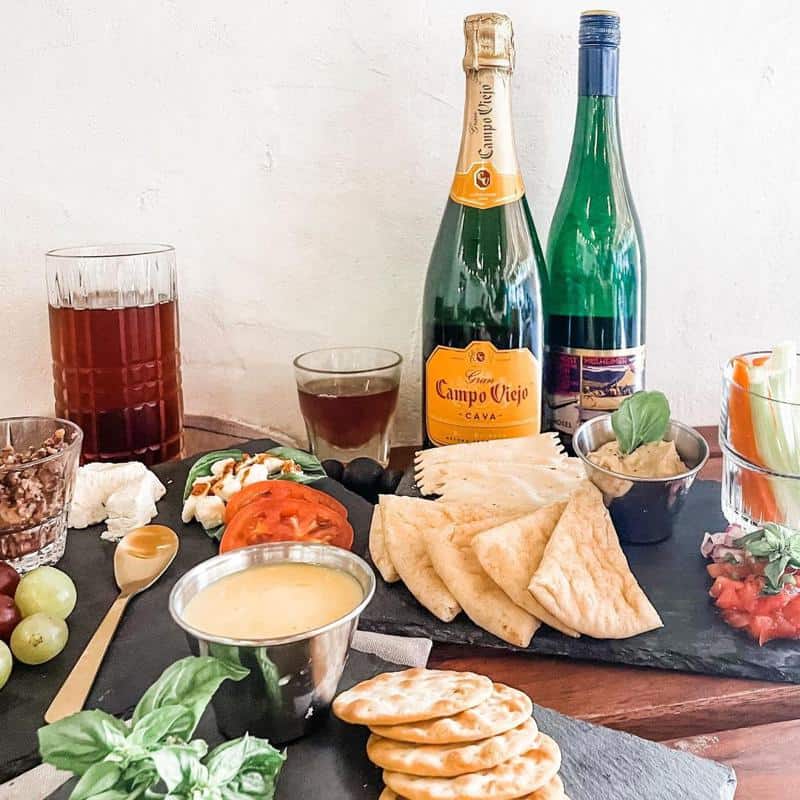 Location: 525 South Highland Street, Memphis, TN 38111
Price: $
Known for: Unique menu and pottery studio in the back
There's so much more to enjoy than just brunch when you visit Belltower Coffeehouse and Studio. Founded in 2016, Belltower offers a truly unique experience. Not only will you be getting fresh pastries and specialty coffee options, but you'll be served your meal in handmade bowls, mugs, and plates crafted in the on-site pottery studio.
When you're looking for a drink to begin, you can select a specialty coffee or hot tea. As far as food, you'll find delectable options that present something for everyone. Try the Chicken Biscuit, Protein Plate, or Chorizo Burrito if you're looking for a filling meal on a budget. After you eat, consider visiting the pottery studio to browse the art or purchase a piece to bring home.
Tug's Casual Grill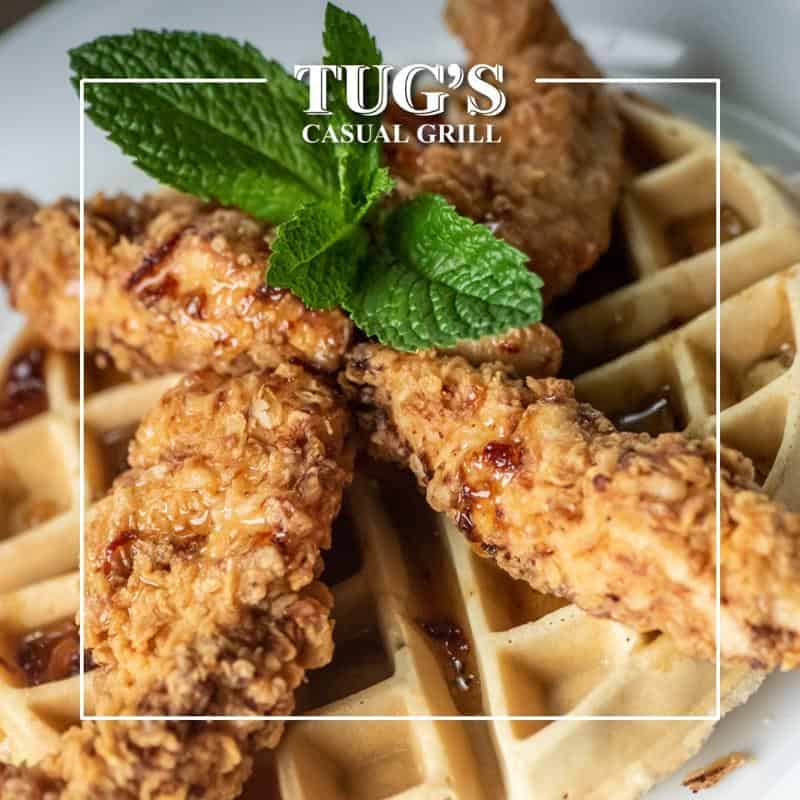 Location: 51 Harbor Town Square, Memphis, TN 38103
Price: $$
Known for: Beautiful riverside location, specialty handcrafted pizza
Located just across the street from the Mississippi River in a quaint section of Memphis called Mud Island, Tug's Casual Grill is the perfect place to escape downtown and enjoy brunch. Tug's strikes the perfect balance between casual and upscale, making this restaurant ideal for a romantic brunch with your partner or a fun morning out with friends.
Consider indulging during brunch by ordering the chicken and waffles, Tug's Famous Pancakes, or a Belgian waffle. If you'd rather have eggs, you can craft your own omelet or try the tempting Spinach and Artichoke Benedict.
Their drink menu doesn't disappoint, either, offering flavored mimosas and seasonal beverages throughout the year. Ask your waitstaff what's on offer during your visit.
Edge Alley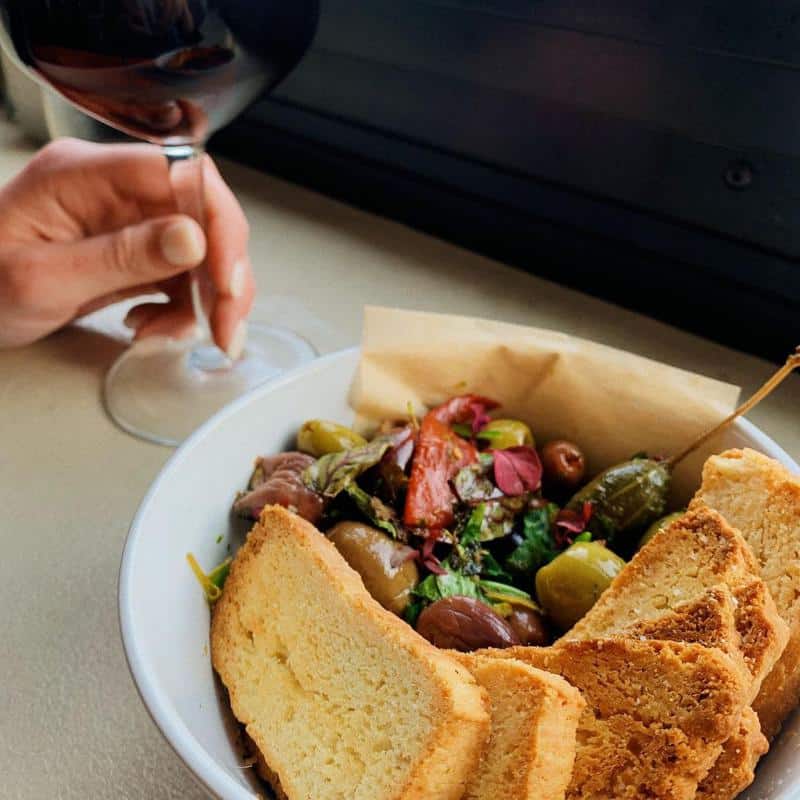 Location: 600 Monroe Avenue, Memphis, TN 38103
Price: $$
Known for: Upscale atmosphere and extensive wine list
If you're looking to get fancy for brunch, Edge Alley is the place to be. Every Saturday and Sunday, guests flock in to enjoy a new take on classic brunch, all just minutes from the downtown area. Select a handcrafted cocktail to start you off before you dive into the main menu, or pick a drink from their large wine selection.
Start with a shareable for the table, whether it's the Cinnamon Sticky Bread or the Smoked Pimento Cheese. Then, try the Steak N' Eggs or French Toast Waffles for your main. Other popular options include the House Cured Salmon Lox, Vegetable Grain Bowl, and Shrimp & Grits.
Hustle & Dough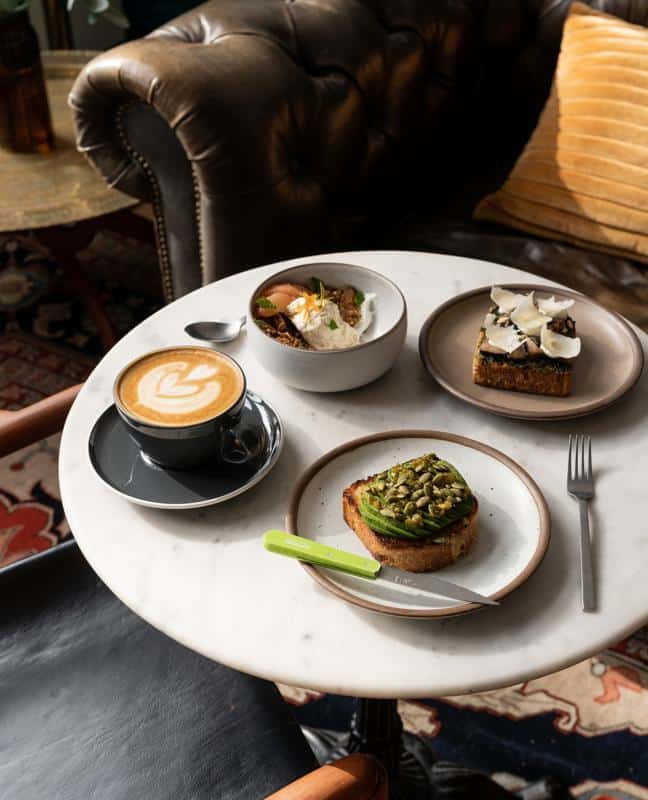 Location: 477 South Main Street, Memphis, TN 38103
Price: $$$
Known for: Gourmet pastries and all-day brunch
If it's weekday brunch in Memphis you're looking for, head to Hustle & Dough. Serving up their entire menu daily from 7 a.m. to 4 p.m. Hustle & Dough allows you to indulge in brunch whenever the mood strikes you. Stop in to grab a quick pastry to go or stick around to enjoy the atmosphere while you savor your meal.
In the pastry case, you're likely to find delicacies like hand pies, sweet and savory scones, jam bars, and more. For a more substantial meal, consider the Classic French Toast, Beet Panzanella, Tamago Sando, or Avocado Sandwich. Be sure to get some coffee as well; Hustle & Dough gets their brew from another Memphis company, Vice & Virtue.
Boscos Restaurant & Brewing Company
Location: 2120 Madison Avenue, Memphis, TN 38104
Price: $$
Known for: Memphis's only restaurant and brewery, dozens of beer awards
For an experience that's truly unique to Memphis, head to Boscos. Since opening in 1992, Boscos has provided award-winning beer and fresh food to guests from all walks of life. The staff always greets you with a smile, and the beautiful view from the patio leaves nothing to be desired.
Sunday brunch in Memphis is one-of-a-kind here at Boscos. Begin with an appetizer like fried artichoke hearts or calamari before considering entrée options like Steak Benedict, Chicken and Red Pepper Frittata, or Biscuits and Gravy. There are also plenty of breakfast plates, sandwiches, and waffle options to choose from. Be sure to come back later in the day to try some beer!
Staks Pancakes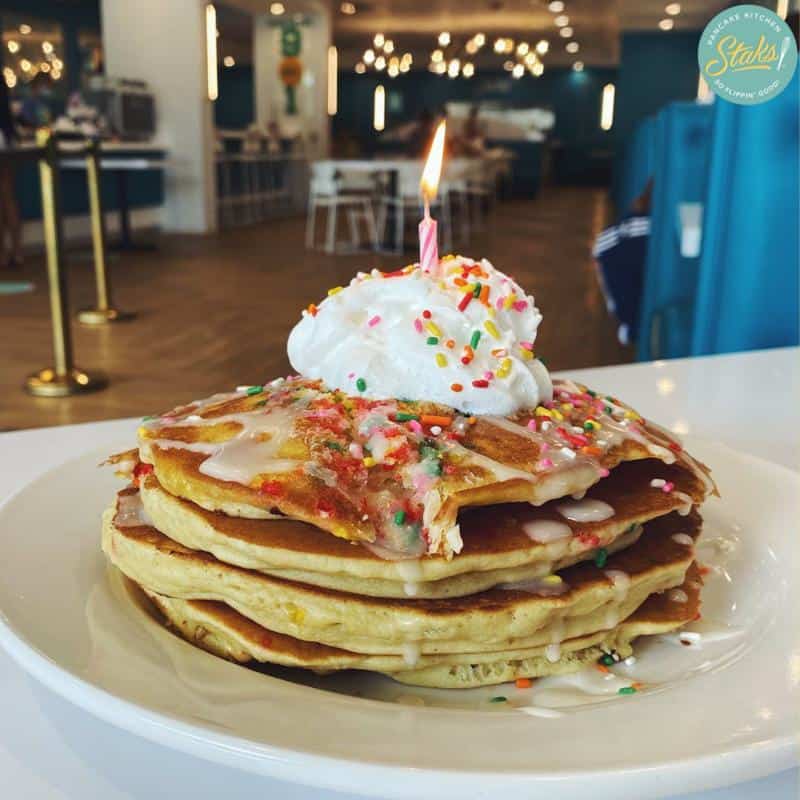 Location: 4615 Poplar Avenue, Suite 102, Memphis, TN 38117
Price: $$
Known for: Unique pancake varieties, "Best New Restaurant" award in Memphis Magazine
Nothing says "brunch" quite like pancakes, and for good pancakes in Memphis, you go to Staks. You'll often find families, groups of friends, and diners of all ages indulging in their pancakes made to order. After experiencing Staks for yourself, you'll understand how this establishment has expanded to five locations around the area.
Stuffed French Toast and Pancake Beignets make great appetizers to share with the table. As for your main course, choose classic pancakes or switch it up with varieties like the Elvis (featuring chocolate, peanut butter, and bananas), Lemon Ricotta, or Gluten Free Sweet Potato. If you don't want pancakes, you can also get an omelet, French toast, or a Staks Specialty.
The Beauty Shop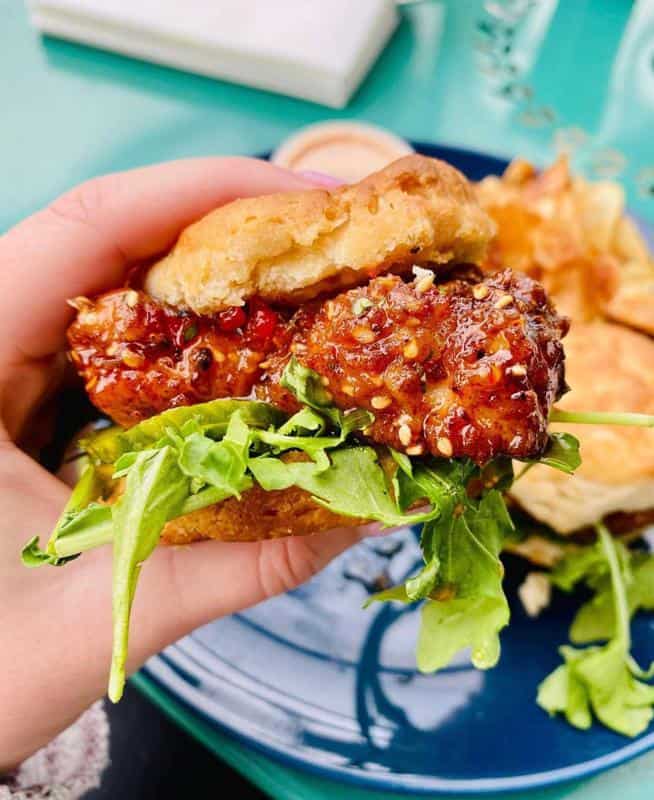 Location: 966 Cooper Street, Memphis, TN 38104
Price: $$$
Known for: One-of-a-kind setting, female chef team
Step back into the 1950s when you enjoy Sunday brunch in Memphis at The Beauty Shop. "Look Good. Eat Good." is the slogan in this unique '50's-inspired spot, designed to look like a beauty shop (hence the name) from this Golden Age. Dine inside or get a seat on the patio.
The restaurant's vibes offer the classics with a twist, which is exactly what you'll find on the menu as well. Start with corn fritters, beignets, buttermilk biscuits, or grilled peaches before checking out the rest of the menu.
Local favorites for entrees include the Beneduck, Watermelon and Wings, Challah French Toast, and BBQ Shrimp with Cheddar Gouda Grits. Don't forget to ask about the daily desserts!
Magnolia & May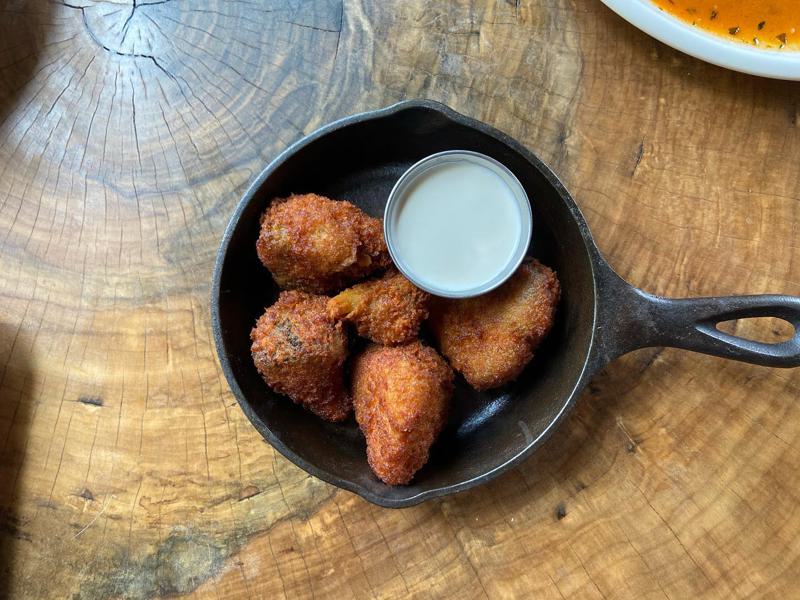 Location: 718 Mt. Moriah Road, Memphis, TN 38117
Price: $$$
Known for: Distinctive Southern flair with an upscale feel
Magnolia & May is the quintessential Southern eatery updated for the modern age. Chef Jeffrey Dunham has been working in Memphis restaurants for more than 20 years now and brings plenty of expertise to this "country brasserie," combining classic French technique with delectable Southern flavors.
Brunch begins with tempting appetizers like the LA Strawberry and Lemon Muffin and Biscuit or the Foie Gras Toast. The main menu changes every week to take advantage of fresh local ingredients, but lately, guests have been loving options like the Brunch Burrito, Low Country Shrimp n' Grits, Tacos con Mempho, and BBQ Sweet Potato Sandwich.
Big Bill's Bar-Be-Que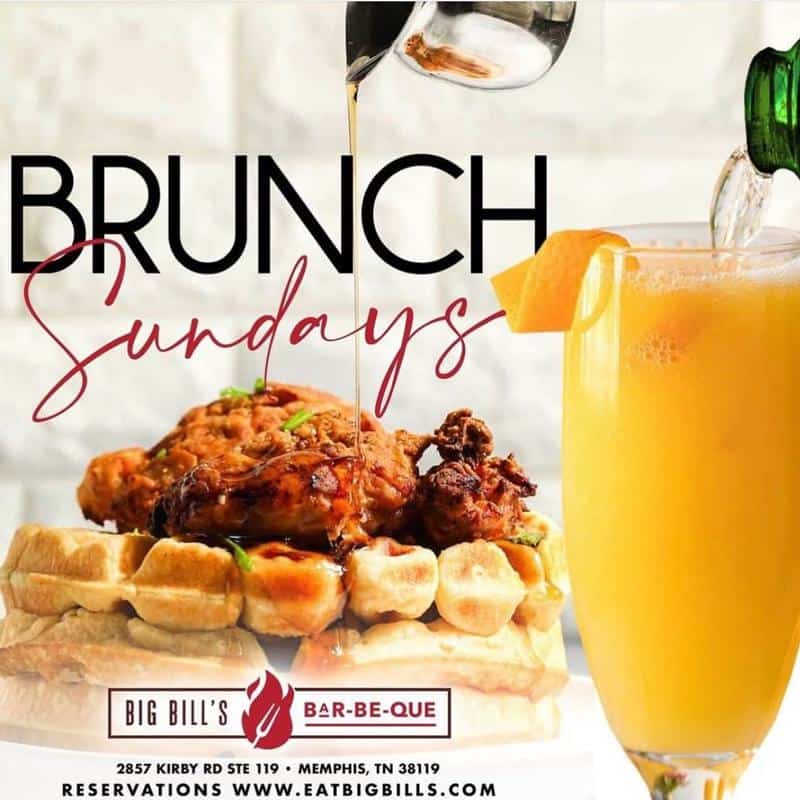 Location: 2857 Kirby Road, Suite 118, Memphis, TN 38119
Price: $$
Known for: Bottomless brunch served by friendly staff
Memphis has long been known for its barbecue, but a barbecue joint might not be the first place you think to visit for brunch. Nevertheless, one of the most popular spots for bottomless brunch in Memphis is Big Bill's Bar-Be-Cue. You and your crew will enjoy a laid-back meal with all the drinks you could ask for (just make sure to appoint a designated driver!).
Come enjoy brunch with bottomless mimosas every Sunday at Big Bill's. Keep in mind that reservations are required, so be sure to plan ahead. The brunch menu is subject to change from week to week, but you can always expect to find classics like grits, scrambled eggs, cinnamon rolls, assorted fruit, French toast, and more. Keep up with Big Bill's on social media to see the new brunch options coming each week.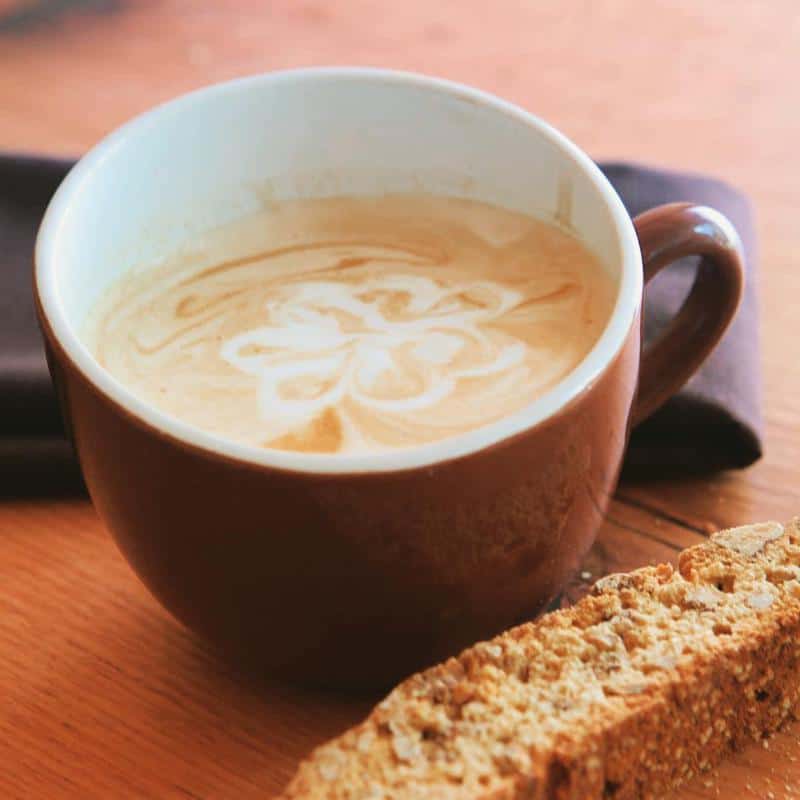 Location: 122 Gayoso Avenue, Memphis, TN 38103
Price: $
Known for: Laid-back atmosphere and unbeatable prices
This fast-casual eatery offers the perfect way to get your day started. When you visit this coffee shop and café, you have the option to linger and savor your coffee and food or order to-go and expect to be out the door within 10 minutes. The menu has been carefully crafted to offer plenty of variety with the best local ingredients.
If you want something light, consider grabbing an English muffin or the Acai and Greek Yogurt bowl. Looking for a bigger meal? Try the Veggie Verde Burrito, Cheddar and Bacon Breakfast Sandwich, or customized Avocado Toast. Be sure to get some coffee to wash everything down, whether you want a classic cup of drip coffee or a fancier espresso option.
Libro at Laurelwood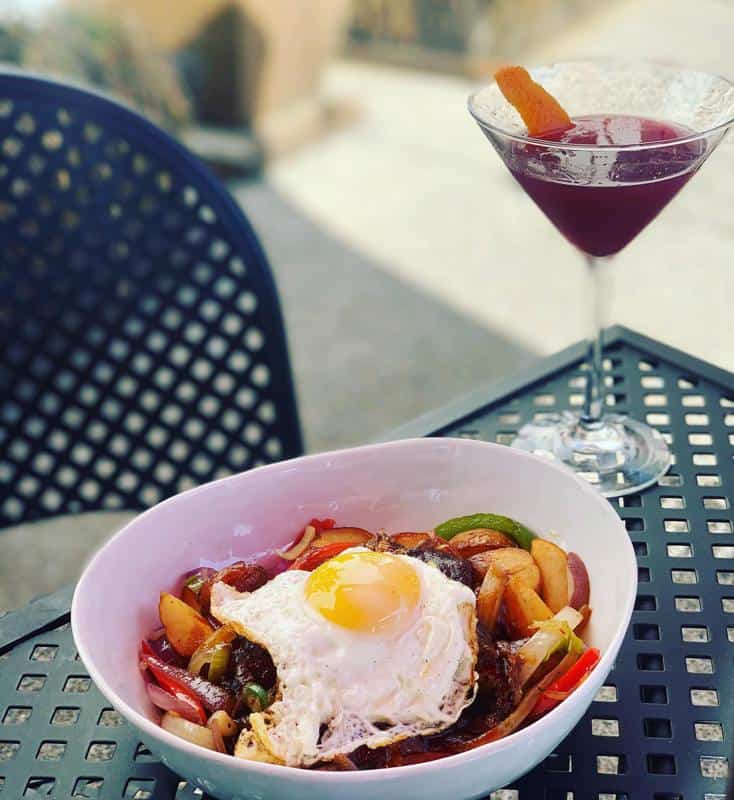 Location: 387 Perkins Extended, Memphis, TN 38117
Price: $$$
Known for: Unique location inside a bookstore
Bookworms won't want to miss the chance to spend brunch at Libro at Laurelwood. Every Sunday, guests come in to indulge in brunch and pick out a new read to add to their shelves, as this impressive eatery is located in the midst of a bookstore!
When you come to brunch here, you'll have the perfect excuse to treat yourself. Sumptuous menu options such as Chicken and Waffles, Lobster Benedict, Jumbo Lump Crab Cakes, and Steak and Eggs are sure to impress. You can finish your meal with a la carte sides like Greek yogurt and honey, seared potatoes, or housemade biscuits. Enjoy a delicious brunch before browsing the shelves for a fulfilling morning.
Elwood's Shack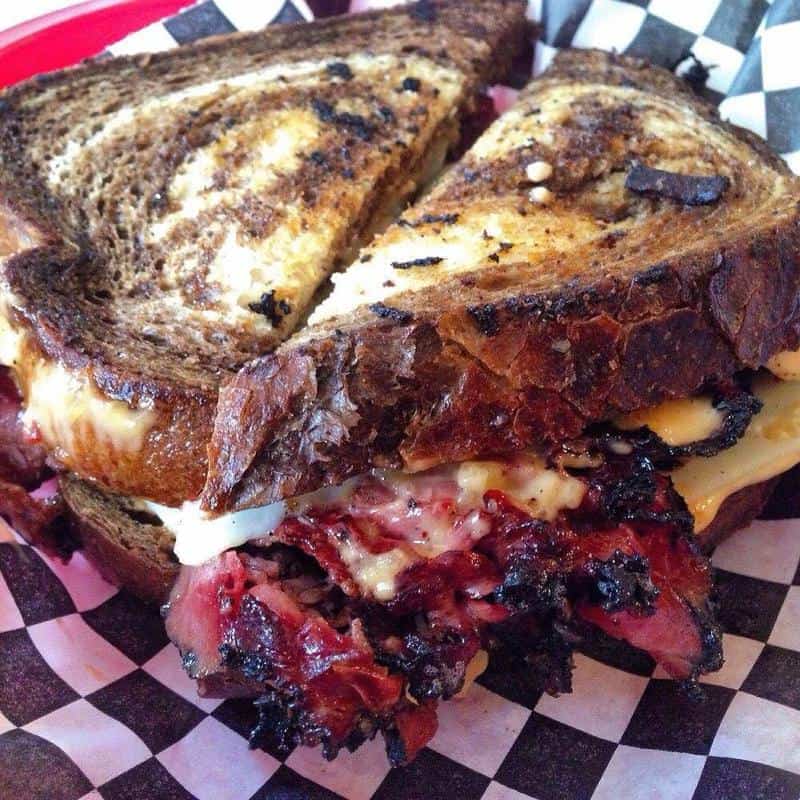 Location: 4523 Summer Avenue, Memphis, TN 38122
Price: $
Known for: Chill atmosphere and massive menu
Sometimes you want to get fancy for brunch, but sometimes, you just want some good food without the muss and fuss. In that case, head to Elwood's Shack. The employees and guests here are as friendly as could be, and you're invited to come just as you are and enjoy some delicious brunch.
Here, you'll find yummy brunch favorites straight from the South. Eggs Benedict is a classic choice, but you may want to elevate it and go for the Crab Cake Benedict. Get French toast or Elwood's Pancakes, both with applewood bacon. The Avocado Skins and Pimento Cheese Biscuits are big hits as well.
Read More:
Final Thoughts
It's nearly impossible to narrow down where to get the best brunch in Memphis, but this list gives you a good place to start. No matter what day it is, how much you want to spend, or what you're in the mood for, Memphis is sure to deliver the ultimate brunch experience.