Branson receives a lot of love for its musical shows and live performances, but you'll be surprised to know that the city has an equally impressive culinary scene.
With an incredible range and variety, the Live Music Capital of the World hosts an array of fine-dining restaurants and casual bistros.
The endless classic offerings include traditional American delights as well as globally-influenced and innovative dishes. If you are interested to find out the best restaurants in Branson, keep reading to know all about them!
Best Overall Restaurant: Farmhouse Restaurant
Best Restaurant with Brunch: The Keeter Center-Dining
Best Barbecue Restaurant: Gettin's Basted
Best Places to Eat in Branson, MO
Farmhouse Restaurant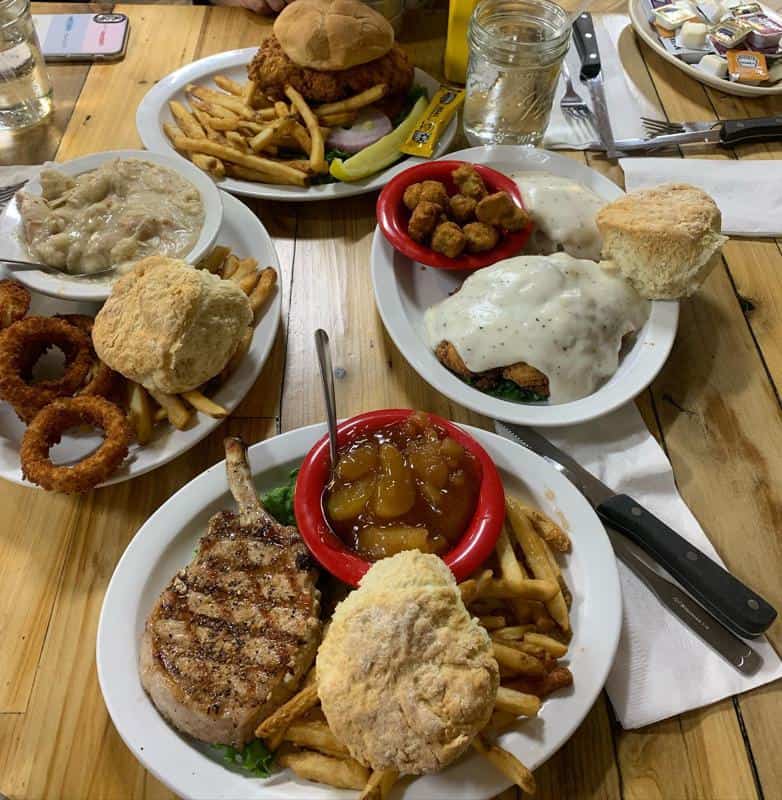 Address: 119 W Main St, Branson, MO 65616
Known for: Cozy little spot in historic downtown with traditional American comfort food
The warm, welcoming and homely Farmhouse Restaurant feels exactly like grandma's kitchen with familiar aromas filling up your senses and a cozy ambiance awaiting your welcome. The intimate café is loaded with small-town charm with friendly service and unpretentious surroundings.
Located in the heart of the historic downtown, the restaurant is a must-visit whenever you are in the area. Enjoy hearty American dishes with classic sides and cocktails.
Farmhouse signature items include crispy Fried Chicken, Light Breaded Catfish, Biscuits and Gravy, a variety of Steaks and Burgers, and an all-day breakfast menu. The sides include cinnamon apples, sweet potato fries; red skin-mashed potatoes, and fried okra.
The Keeter Center-Dining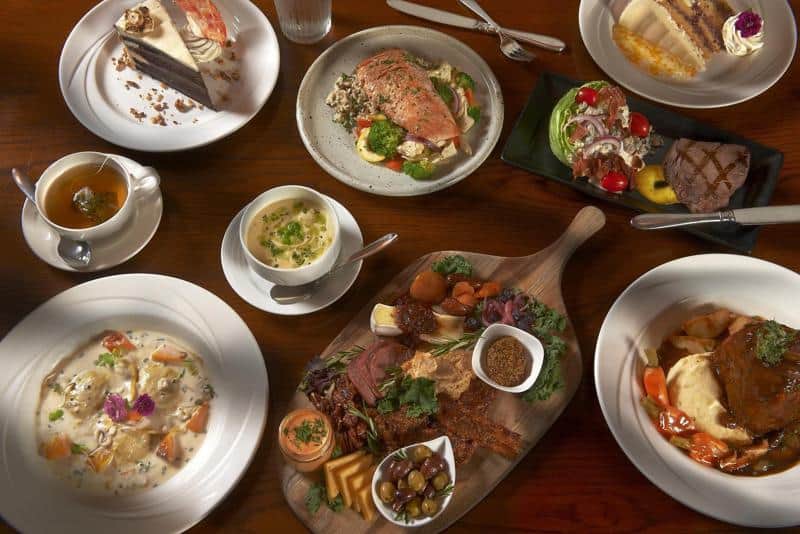 Address: College of the Ozarks, 1 Opportunity Ave, Point Lookout, MO 65726
Known for: Farm-to-table fare and Sunday brunch buffet
Experience enriched farm-to-table dining at The Keeter Center-Dining with fresh and locally-sourced ingredients and an extensive menu. The fancy diner has classic American lunch and dinner options as well as a lovely Sunday brunch buffet with live instrumental music.
Popular dishes on the menu include Potato and Leek Soup, Keeter Barbeque Loaded Chips, Campus Kale and White Bean Hummus, Tomato-Bacon Jam Burger, Fried Green Tomato Caprese, Maple Thyme Chicken Salad Sandwich, Field Mushroom Ravioli, Cherry Bakewell Tart and Braised Osso Bucco.
The brunch buffet features hot and cold stations with made-to-order omelets and waffles and a carving station. The dessert option includes Cherry Bakewell Tart, Cran-Apple Cobbler, and Rocky Road Cake as the top-selling items.
Gettin's Basted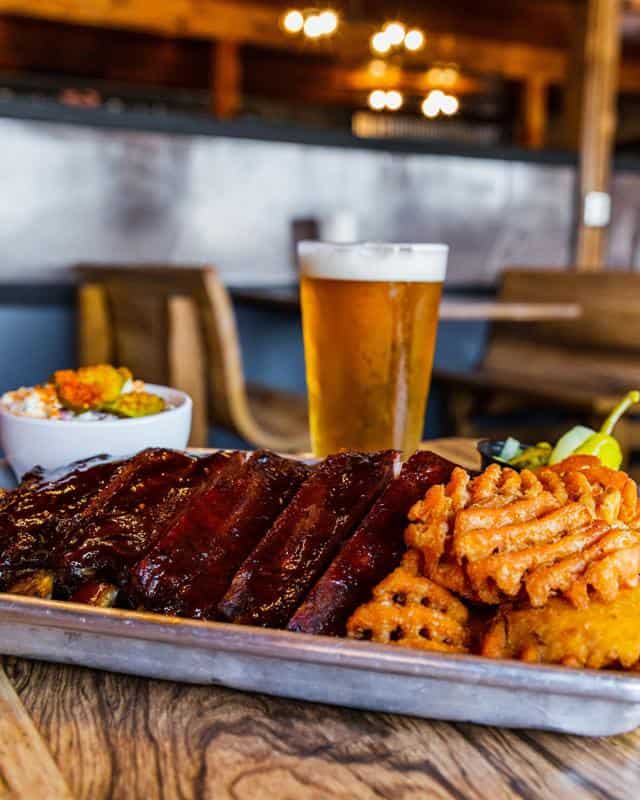 Address: 2845 W 76 Country Blvd, Branson, MO 65616
Known for: Delicious barbecue treats in a casual ambiance
Gettin's Basted is a BBQ heaven in Branson's entertainment district. Every meat lover must visit this restaurant for melt-in-your-mouth meats with a smoky surprise.
The restaurant has a casual and laidback setup with a unique method of preparing Ozarks barbecue. The service here is impeccable and you will find the ambiance just perfect for a family dinner.
The scrumptious Smoked Brisket is the star dish on their menu with an indulgent smoky taste and classic sides. The Nashville Hot Sandwich and Chicken Wings are great for light meals, and the large platters have a little bit of everything from briskets, ribs, and chicken to pulled pork and sausages.
Danna's BBQ and Burger Shop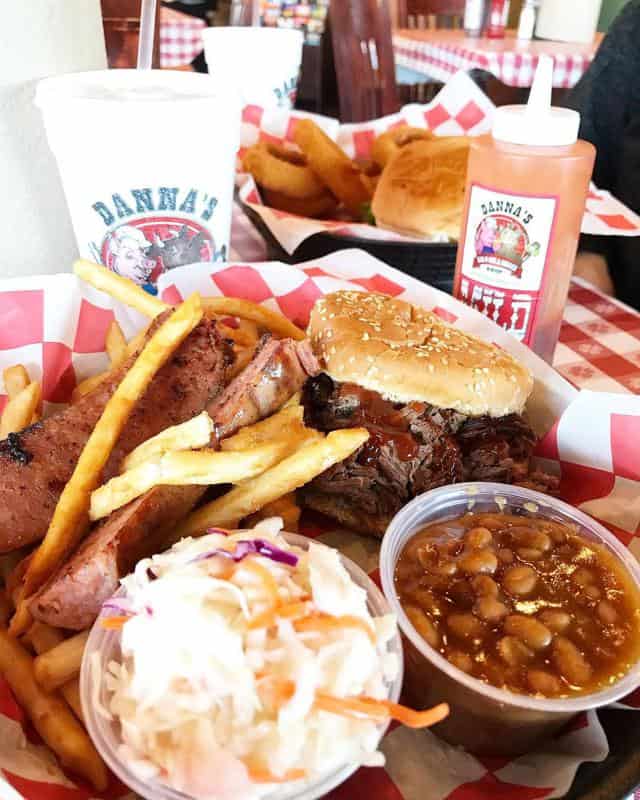 Address: 963 Historic Hwy 165, Branson, MO 65616
Known for: Delectable fall-of-the-bone smoked meats and burgers
Another wonderful barbecue spot in the city is Danna's BBQ and Burger Shop. The local favorite eatery is a go-to hotspot for delicious barbecue meats and fall-of-the-bone tender preparations.
The secret spice rub and flavors give it the signature taste that is well-loved by locals and visitors alike, and the meat is left to marinate overnight so that the flavors are sealed inside perfectly.
We highly recommend their mouthwatering Barbecue Platters loaded with tender smoked creations. This includes chopped beef, pulled pork, ribs, and sausages.
Also, try their handmade burgers topped with generous amounts of bacon and cheese.
Pickin Porch Grill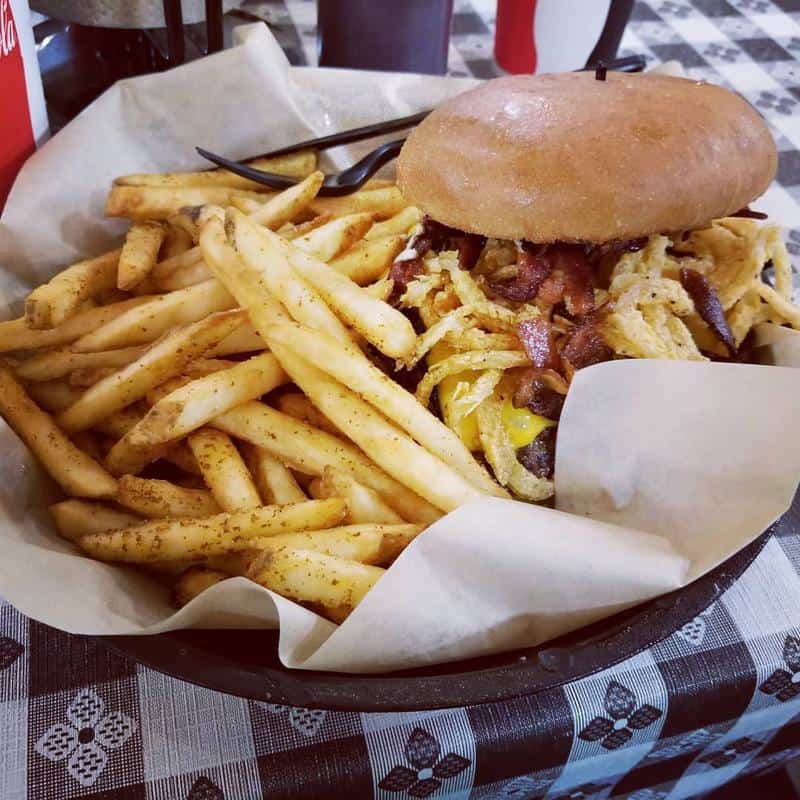 Address: 694 Historic Hwy 165, Branson, MO 65616
Known for: Best burgers in Branson
Pickin Porch Grill is a delicious burger spot in the Branson Craft Mall. The restaurant is tastefully decorated with local artwork to provide a contemporary and aesthetically pleasing atmosphere.
The restaurant is quite famous among locals and it also hosts live music performances on selected days. Stop by for lunch or dinner after a day of shopping in the mall and discover the most scrumptious burgers you'll ever have.
A classic favorite is their Anaheim Burger stuffed with a mighty charbroiled Angus along with grilled onions, peppers, avocado, lettuce, cheese, and chipotle lime aioli. For an added touch of spice, get the Chorizo Burger loaded with candied jalapenos.
Wakyoto Japanese Restaurant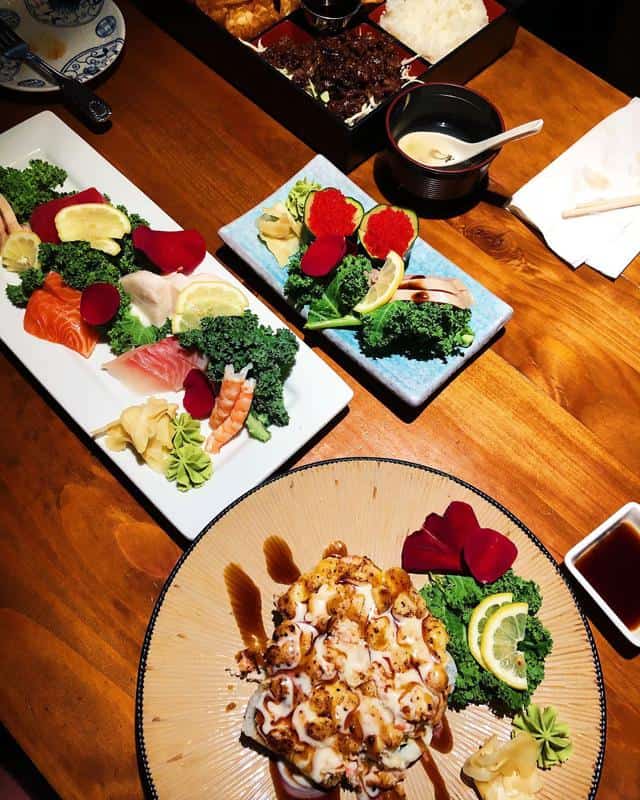 Address: 2005 W 76 Country Blvd #201, Branson, MO 65616
Known for: Authentic and traditional Japanese fare and sake
The unassuming and laidback Wakyoto Japanese Restaurant enjoys a fine spot in a strip mall and is a go-to place for traditional Japanese fare. From imaginative sushi rolls to authentic Japanese drinks and cocktails, the original sushi house will satiate all your cravings.
Popular items on the menu include a mouth-watering bowl of Chicken Teriyaki with Rice, Wakyoto Special Roll, and Branson Roll. For a classic Japanese lunch, grab their Lunch Box with house salad, soup, steamed rice, four pieces of California roll, and seasoned fruit.
Pimp My Roll is another house specialty that has California roll topped with scallops. The Sushi Nigiri Combination has sushi rolls with Cali roll, soup, and salad.
Mel's Hard Luck Diner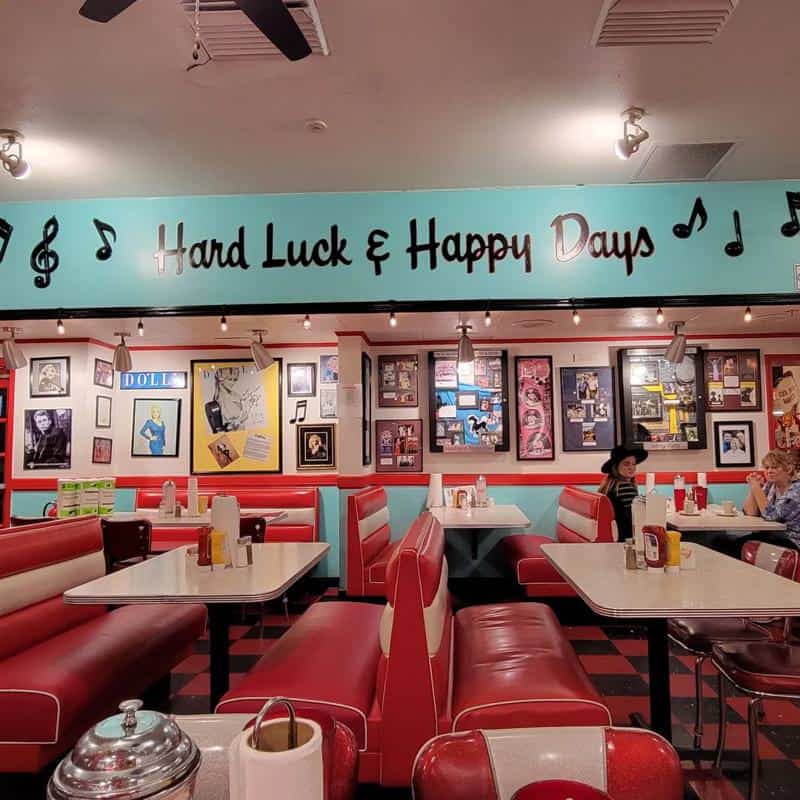 Address: 2800 West Highway, W 76 Country Blvd, Branson, MO 65616
Known for: A fun-filled musical diner with traditional diner grub and a full-service soda fountain
Sing to the tunes of your favorite song at Mel's Hard Luck Diner with some delicious diner grub to go with it. The lively and upbeat diner has a classic 1950s atmosphere where servers are found serenading the guests all through the day.
Affectionately titled "home of the original singing servers", the diner gives you a wholesome experience of small-town charm with a talented crew serving and entertaining you. The menu has traditional American soul food to satiate your cravings and warm your heart.
Order from a variety of Burgers, Chili Dogs, and Hot Sandwiches with hand-cut fries. The full-service soda fountain awaits your welcome to fill up your glasses with old-fashioned sodas and shakes as well as ice-cream sundaes and banana splits.
India Clay Oven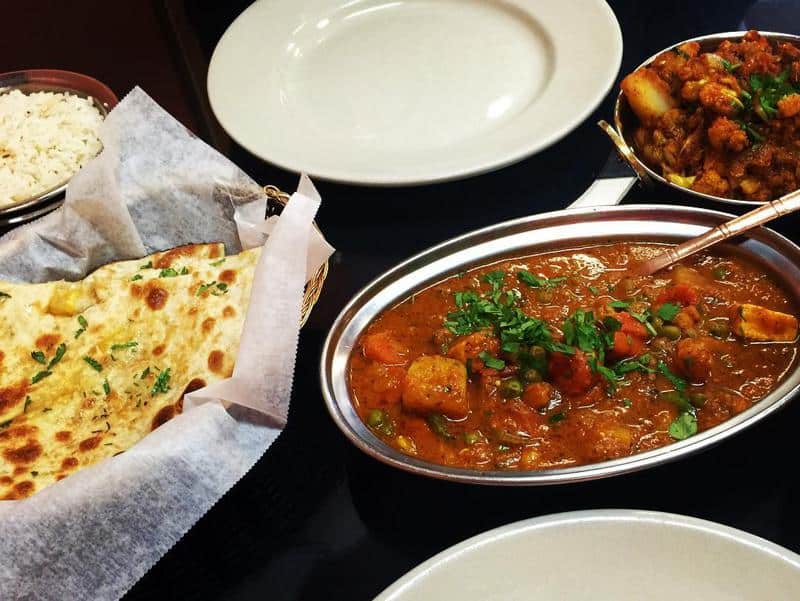 Address: 2005 W 76 Country Blvd, Branson, MO 65616
Known for: Authentic Indian fare in a comfortable family-style atmosphere
Bringing you the tangy and spicy taste of South Asia close to home, India Clay Oven is a wholesome Indian restaurant serving Punjabi-style dishes in a homely ambiance. With a lot of options ranging from gluten-free, vegetarian, and vegan dishes, everyone will find something they enjoy on their menu.
The delectable offerings include a wide array of meats, sauces, curry-based dishes, and mix-and-match vegetables. The warm and cozy ambiance makes it a perfect spot for family dinners.
Start your evening with a crunchy vegetable samosa filled with perfectly seasoned green peas and potatoes. The entrees include Chili Chicken, Chicken Tikka Masala, and many other curry-based dishes.
Enjoy your favorite dishes with Butter Naan or fragrant basmati rice with a side of raita and salad.
Mitsu Neko Fusion Cuisine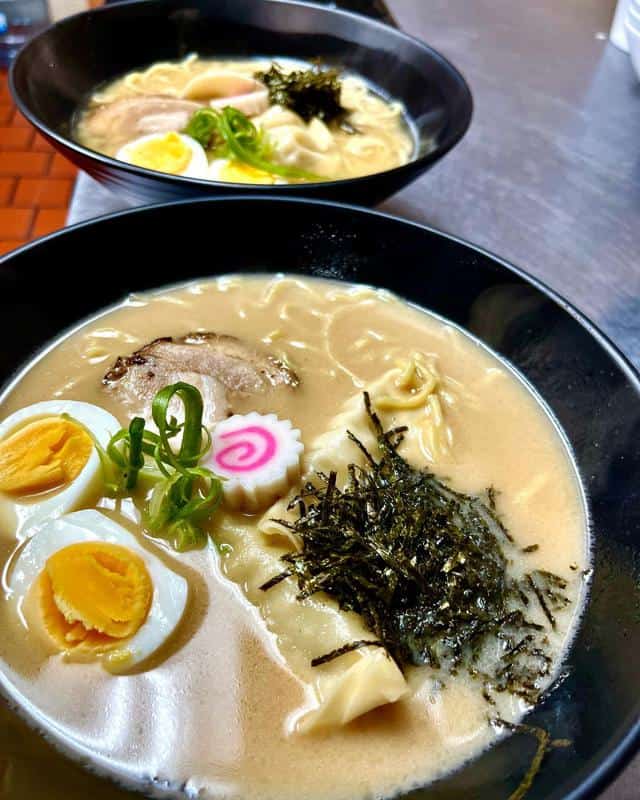 Address: 1819 W 76 Country Blvd, Branson, MO 65616
Known for: Eclectic theme and vibrant ambiance with traditional Japanese fare
The vibrant and psychedelic Mitsu Neko is a lovely Japanese eatery with an eclectic indoor theme and fusion cuisines. The trendy little place is famous for its sushi and nigiri offerings with a variety of other fusion dishes you wouldn't taste anywhere else.
The restaurant also has Happy Hour specials from Monday to Saturday with discounts on specialty cocktails, beers, and local and imported drinks. Enjoy a variety of sushi starters and platters as well as sashimi samplers to get your taste buds rolling.
The Miso Soup is also a great starter for a traditional Japanese dining experience, and the Spicy Ramen hits all the right places to give you a classic punch of spices. Also, try the seafood main course dishes loaded with scallops, shrimp, and lobsters.
Vasken's Deli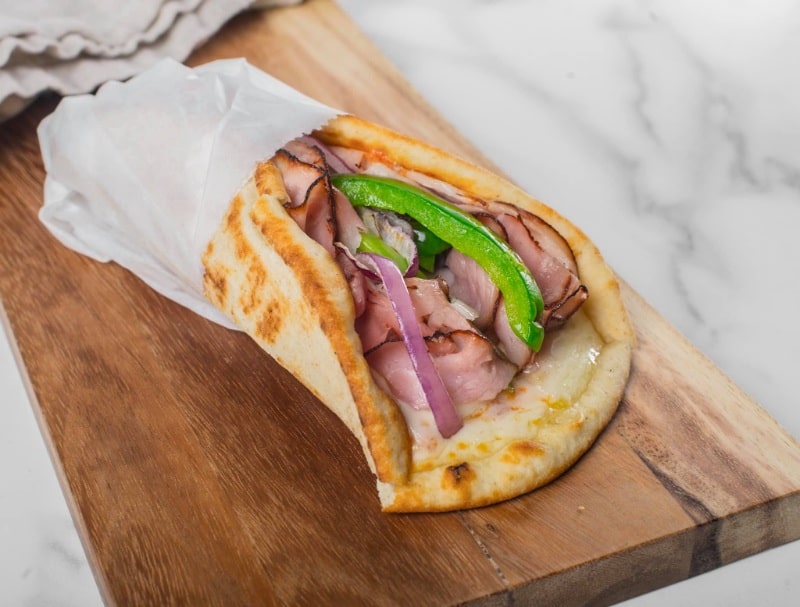 Address: 3200 Gretna Rd #100, Branson, MO 65616
Known for: Mediterranean deli with gyros, hummus and falafel platters, and a friendly atmosphere
Vasken's Deli is a cozy local diner serving fresh and delicious food with locally-sourced ingredients and friendly service. The warm and welcoming ambiance invites you to try a variety of dishes, including their famous gyros on pita bread.
The delectable Mediterranean items on their menu include a Combo Platter of hummus, baba ganoush, falafel, grape leaves, tahini, tzatziki dip, feta cheese, tomatoes, and olives served with pita bread. Dolmas, Tabouli, and Baba Ganoush are the most ordered side items with their main dishes.
Vasken's Famous Gyro is by far the best-selling item made with homemade tzatziki sauce, a combination of beef and lamb, tomatoes, onions, and green leaf lettuce with feta and olives.
Rocco's NY Style Pizza by Mama D's House
Address: 2722 State Hwy 248, Branson, MO 65616
Known for: A cozy pizzeria with an array of hand-tossed pizzas, pasta, and lasagna
Rocco's NY Style Pizza by Mama D's House is a cozy family-owned pizzeria near downtown. The humble and unpretentious setup invites you to indulge in a variety of delicious pizza preparations.
The pizzas are made fresh every day with homemade dough and traditional toppings. They also serve a variety of pasta and lasagna.
The Rancho Romano, Margherita, and Hawaiian are all great options if you don't mind a little bit of pineapple. Doused in homemade ranch and fresh toppings, Mama D's special homemade lasagna is also a delicious item on their menu.
Hungry Hunter Restaurant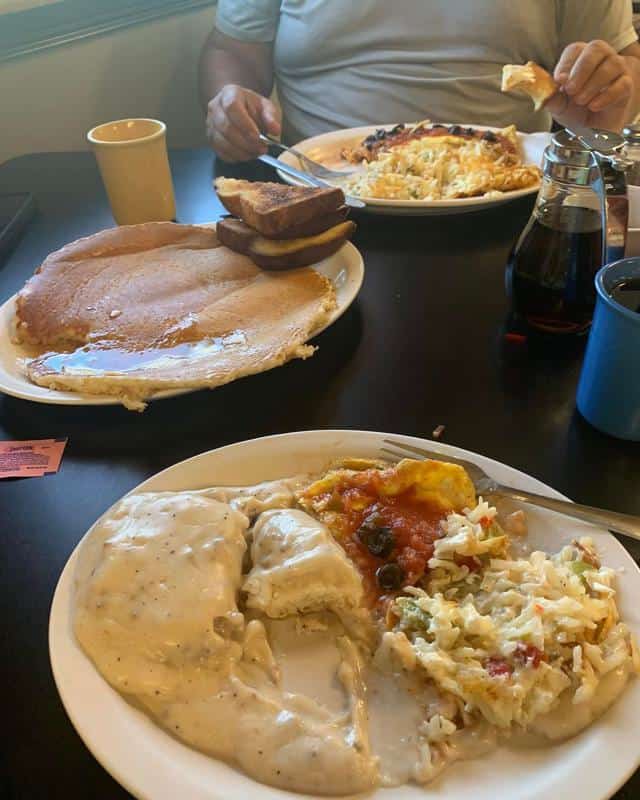 Address: Branson Stagecoach Campground, 5753 Historic Hwy 165, Branson, MO 65616
Known for: Family-owned breakfast restaurant serving massive pancakes and homemade delights
Hungry Hunter Restaurant is home to the city's largest pancake to share with the whole family. The family-friendly breakfast restaurant is highly affordable and features a homely layout for a comforting breakfast on the weekends or right before you head out for the day.
The restaurant has a lovely indoor setup and an outdoor seating area as well to enjoy a sunny morning with your caffeine boost. The diner-style menu offers massive pancakes to curb your cravings.
Also try their Philly Cheesesteak Omelet packed with juicy Philly meat, Rise and Shine biscuits with homemade sausage gravy and hash browns, and Big Boy Meals that include Chopped Steaks, Corned Beef Hash, and Chicken-Fried Steak.
Billy Gail's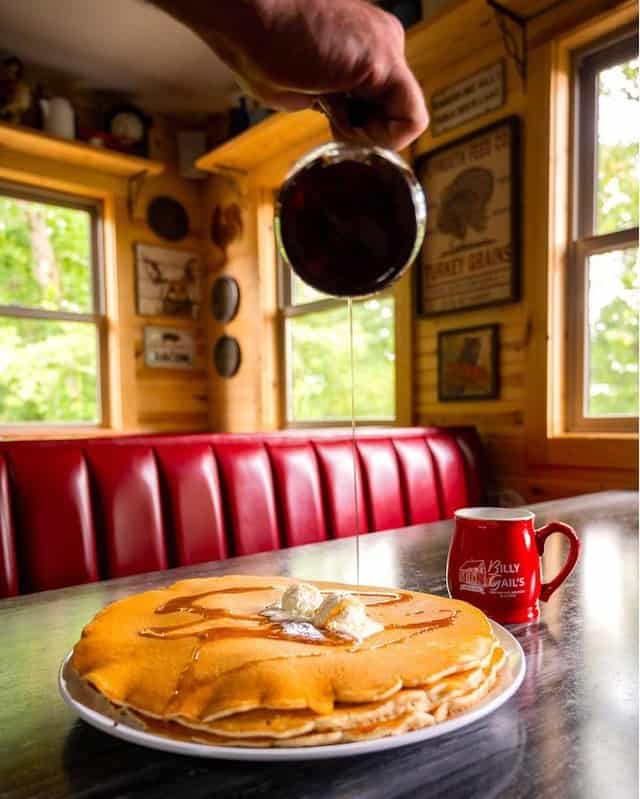 Address: 5291 State Hwy 265, Branson, MO 65616
Known for: Comfort breakfast meals in a rustic ambiance with enormous portions
When talking about giant pancakes, we can't leave behind the good old Billy Gail's family diner. The rustic décor and comfortable ambiance make it a lovely little spot for a relaxed morning breakfast with the family.
Enjoy their stunning décor with friendly service and a delicious range of traditional American breakfast delights. The enormous portions are quite filling, and the restaurant is considered a local landmark as it is loyally serving its customers since 1995.
Try the Billy's Belly Buster Breakfast which has three eggs with sausage, bacon, or ham, along with their famous sweet-cream vanilla pancakes and bread. The breakfast sandwiches are also quite yummy, with Josh's Smoked Tri-Tip Sandwich one of the best ones on the list.
Smith Creek Moonshine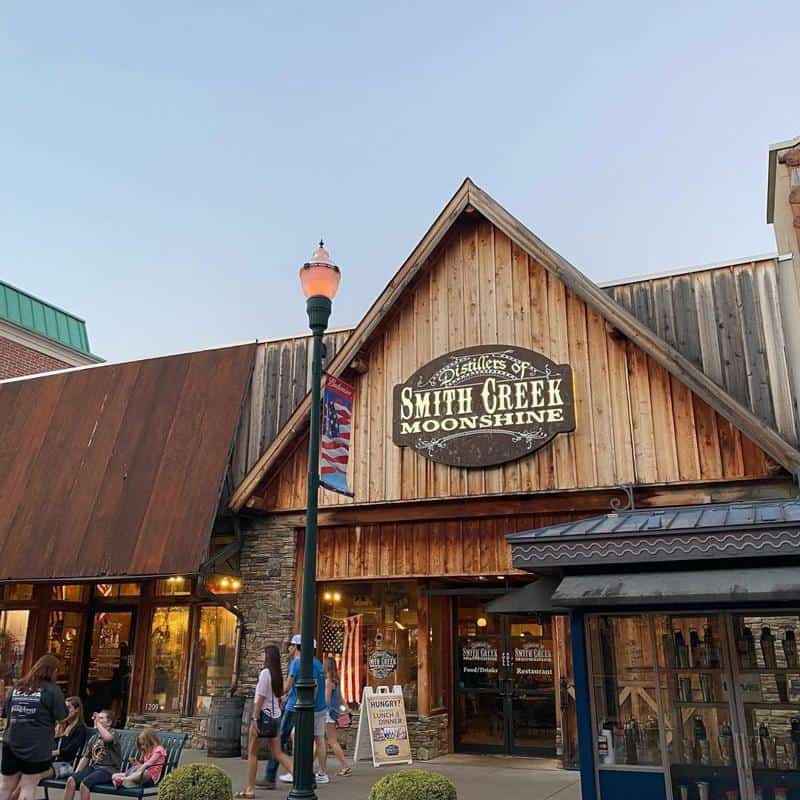 Address: 1209 Branson Landing Blvd, Branson, MO 65616
Known for: Moonshine-tasting, mixology bar, and hamburger joint
Shining bright upon the locals and visitors, Smith Creek Moonshine is known for its creative burgers and moonshine with a unique pickup that sits in the dining room. It is first and foremost a moonshine-tasting destination but one simply can't resist the meaty burgers included in the package.
The hamburger restaurant is a unique attraction as it includes a bar and grill with master mixology and moonshine tasting, and visitors have their hands full of jams, bottled shines, dry rubs, sauces, and much more on their way out.
The setup is that of a distillery with rustic and contemporary accents and live music on select nights. Try the Moonshine in a variety of flavors including Salted Caramel, Cinnamon, Apple Pie, Straight White Lightnin', Peach, Coffee, Sweet Tea, and Chocolate Silk.
Big D's BBQ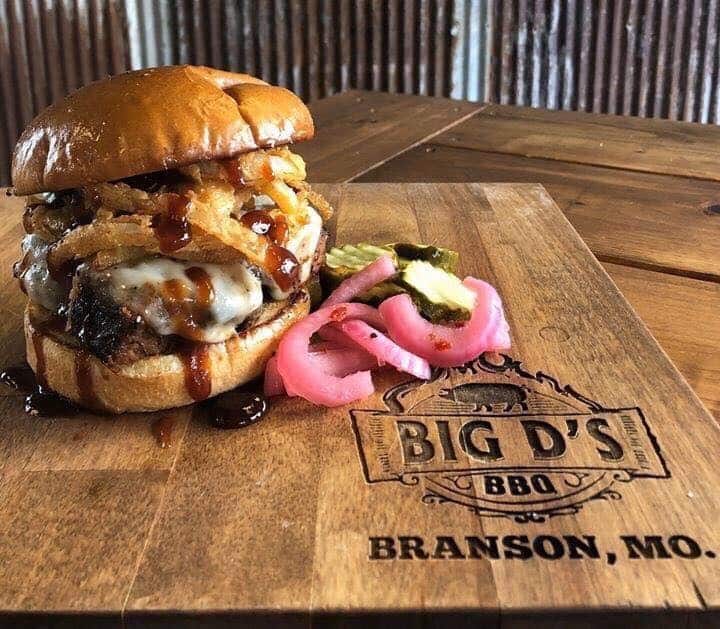 Address: 1550 State Hwy 248, Branson, MO 65616
Known for: Delicious slow-cooked meats and barbecue delights
With humble beginnings as a food truck, Big D's BBQ has made its way into the hearts of Branson's citizens with its delectable barbecues and slow-cooked meats. The barbecue place got the Best of Branson awards four years in a row.
The quaint restaurant is located where the Starlite Theater once stood and it has a casual diner ambiance with a lot of barbecue meats on the menu. One of the best items on the menu is their Memphis-style Baby Back Ribs with a mouthwatering seasoning and flavors that hit all the right spots.
The Texas-style Brisket and Homemade Salted Caramel Banana Pudding are other top-selling items on the list. Daily specials include treats like Corndogs, Brisket Chili Cheese Fries, Redneck Reuben, Big D Burnt End Sandwich, and FryDay Deep Fried Catfish.
Read More:
Conclusion
Enjoy great music and even better food in the lively city of Branson. The restaurants on our list offer the best range and quality with flawless service and hospitality, offering a seamless small-town experience to visitors.