Located in the foothills of the Smoky Mountains, Pigeon Forge is one of the most popular tourist destinations in eastern Tennessee. This picturesque city is a perfect place for a road trip or a weekend getaway.
Whether you wish to enjoy hiking, visit the world-famous Dollywood, or check out some of the best country music venues in Tennessee, there is so much to look forward to when staying in Pigeon Forge.
When it comes to dining out in Pigeon Forge, the options are plentiful and diverse. Foodies will have an opportunity to enjoy everything from soul-satisfying southern food to International cuisine. For an epic culinary adventure in eastern Tennessee, check out our list of the best restaurants in Pigeon Forge.
Best Restaurants in Pigeon Forge
Blue Moose Burgers & Wings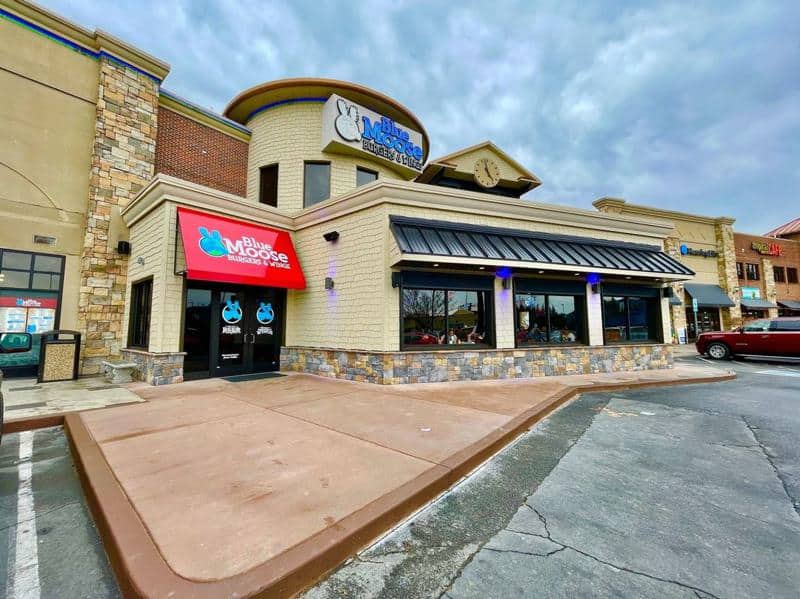 Address: 2430 Teaster Ln #108, Pigeon Forge, TN 37863
Phone: +1 865-286-0364
Are you a fan of sports and chicken wings? Pay a visit to Blue Moose Burgers & Wings, an award-winning restaurant in Pigeon Forge well-known for its juicy burgers, finger-licking chicken wings, and tasty sandwiches and hot dogs.
With over 20 large flat TVs, Blue Moose Burgers & Wings is also a great spot to watch live sports games with family and friends. The food menu is pretty much straightforward with a variety of casual American fare.
Let's start with the burgers. Every burger you order here at Blue Moose Burgers & Wings comes with a half-pound of 100% USDA American beef. Get the Junkyard Burger served with cheese, coleslaw, mushrooms, bacon, and onions, or go for the Big Mushroom Melt Burger. The award-winning jumbo chicken wings are also a must-order.
With over 20 chicken wings options available, there is plenty to choose from. If you are into spicy burgers, we recommend signature hot or Sriracha ranch. Not in the mood for burgers and wings? Try the Brotherly Love (cheesesteak sandwich) or order the Tennessee Dog (quarter-pound hot dog).
Pigeon Forge Deli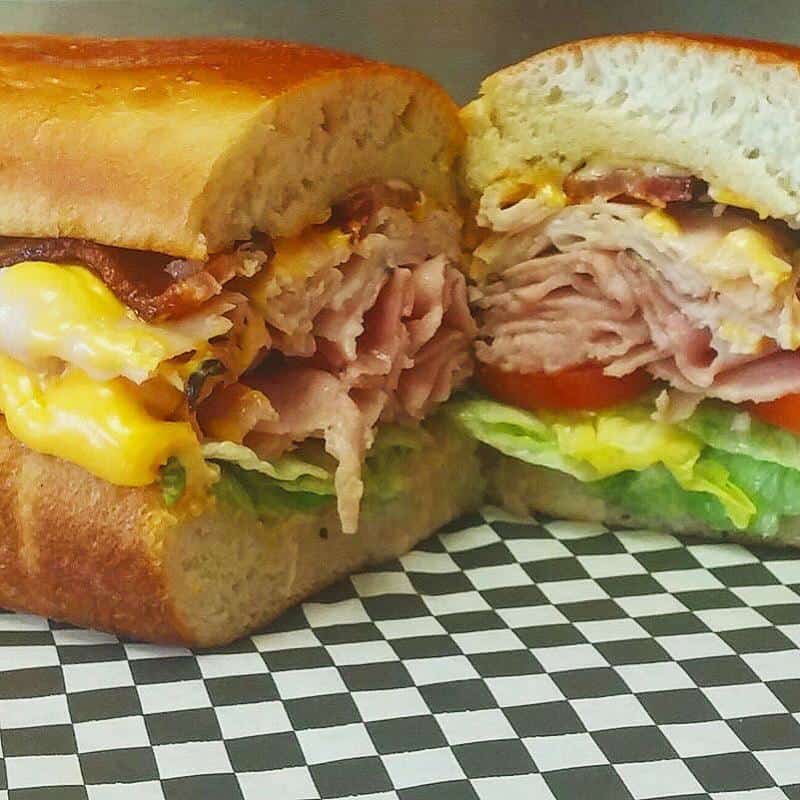 Address: IN THE CORNER OF SHOPS, 159 E Wears Valley Rd #13, OF, Pigeon Forge, TN 37863
Phone: +1 865-908-3713
There is no shortage of awesome restaurants in Pigeon Forge and Pigeon Forge Deli is one of them. This casual eatery was founded by a local couple who wanted to create that perfect deli sandwich. Did they succeed in their mission? There's only one way for you to find out.
Step inside their restaurant to try a plethora of baked treats made from scratch. Expect to find everything from sub rolls to whole wheat bread.
The high-quality sandwiches menu is quite extensive with plenty of options to choose from. Made with banana peppers, bacon, cheese, and corned beef, the Ultimate Reuben is a big crowd pleaser at Pigeon Forge Deli.
There is also the Pot Roast Sub which is served with Swizz cheese and onions. If you are a fan of fresh mozzarella, order their signature Pot Roast Sub which is served on a doughy sub roll and comes with tasty meatballs, mozzarella, and tomato sauce. We should also mention how almost any menu item at Pigeon Forge Deli can be made gluten-free.
Old Mill Restaurant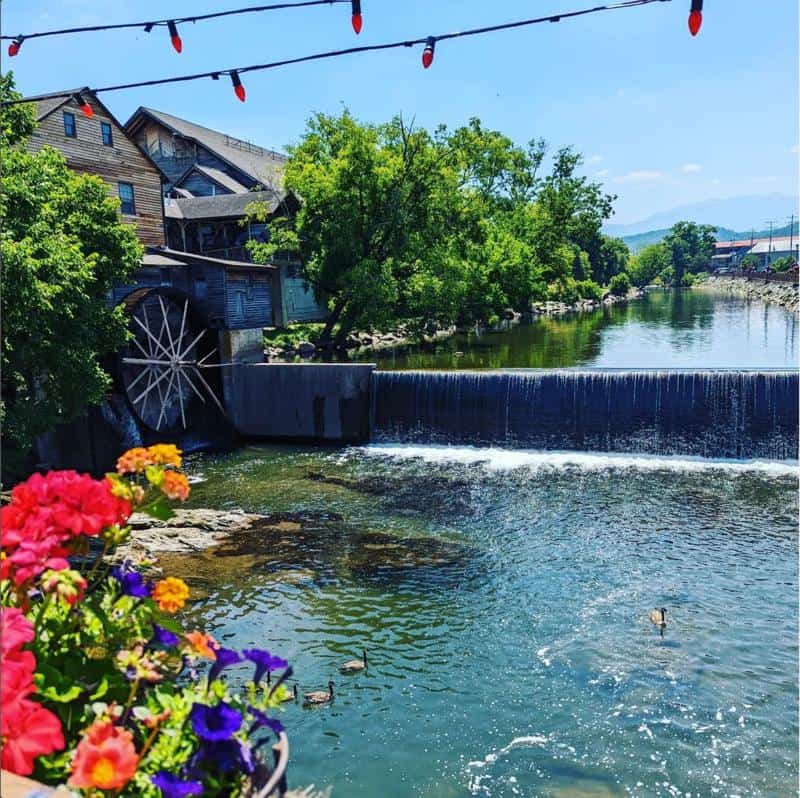 Address: 164 Old Mill Ave, Pigeon Forge, TN 37863
Phone: +1 865-429-3463
One of the most popular restaurants in Pigeon Forge, the Old Mill is beloved by tourists and locals alike. Located just off the Parkway, this family-owned restaurant is all about hearty Southern cuisine. Expect to find comfort foods such as Southern-style fried chicken, pecan pie, and corn chowder.
The restaurant's dining area provides the most amazing views of the Little Pigeon River. The interior looks inviting and offers a perfect setting to enjoy the Southern hospitality, delicious comfort food, and ridiculously large portion sizes.
For breakfast go for the homemade biscuits and gravy or order Old Mill's delicious pancakes. Lunch and dinner options include dishes such as slow-cooked green beans, dumplings, country-fried steak, and pot roast. However, the mouthwatering corn chowder made from fresh corn, potatoes, bell peppers, onions, and other ingredients is one of the most popular dishes on the menu.
For dessert, don't look further than their legendary Pecan Pie. Let's just say that Old Mill Restaurant serves more than 700 slices of pecan pie each day!
Smokies Cuban Café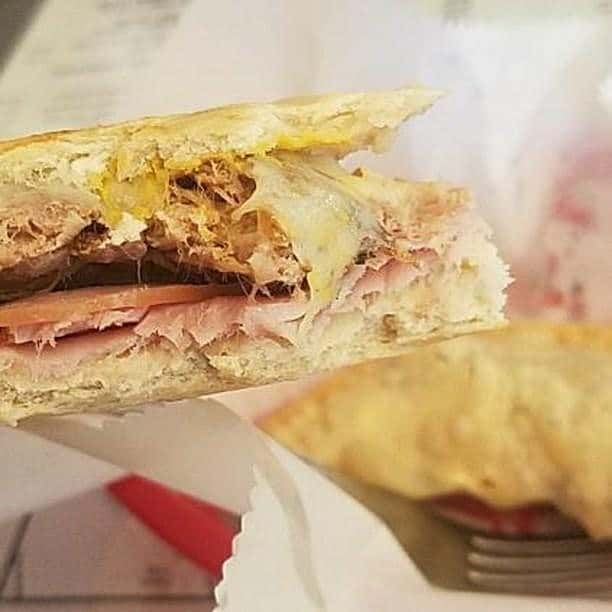 Address: 3526 Parkway #4, Pigeon Forge, TN 37863
Phone: +1 865-365-1700
Do you want to sample some truly awesome and authentic Cuban food while visiting Pigeon Forge? Book a table at the charming Smokies Cuban Café where Cuban-born chef Carlos prepares fresh-to-order Cuban dishes daily.
The restaurant offers an intimate setting and a small, but carefully chosen food menu. The Cuban sandwich practically melts in your mouth, while black beans and rice are cooked to perfection.
There are also tostones, pastelitos, empanadas, and other authentic Cuban dishes available on their menu. Don't leave the Smokies Cuban Café before trying their Cuban Coffee.
Brick and Spoon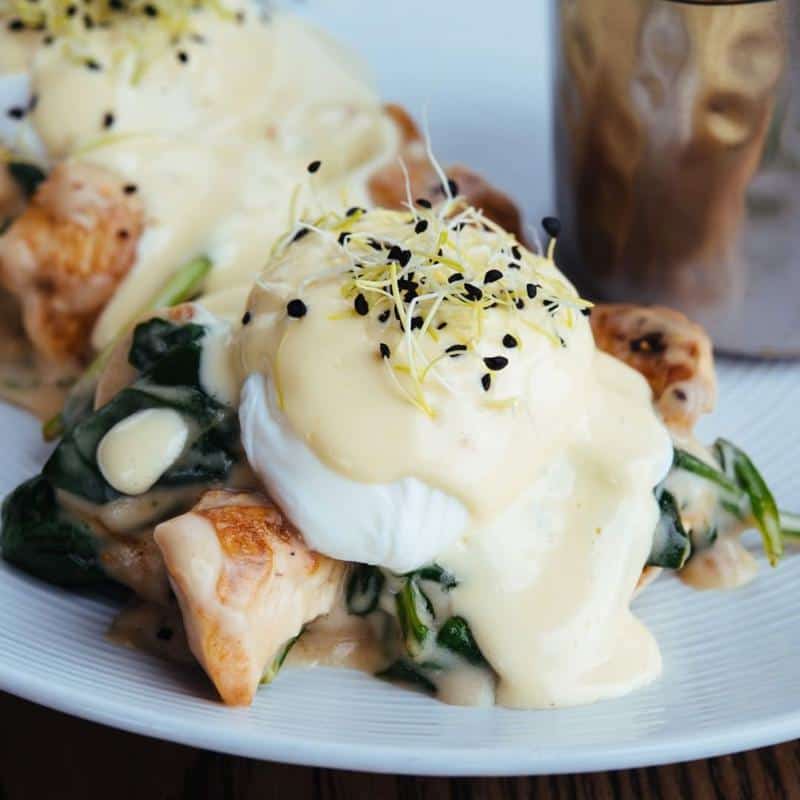 Address: 136 Community Center Dr, Pigeon Forge, TN 37863
Phone: +1 865-410-1221
Open for breakfast and lunch, Brick and Spoon is one of our favorite restaurants in Pigeon Forge. With a menu that contains classic American dishes, Southern hospitality, and a cute interior, it is easy to see why this dining establishment is always packed with people.
If you are looking for a place to have brunch in Pigeon Forge, you'll be pleased to hear that Brick & Spoon was nominated as a Top 10 brunch experience by Travel & Leisure magazine.
So, what's on the menu? Expect to find everything from seafood and Creole flair dishes to stuffed French toast sliders. The breakfast tacos which are served with scrambled eggs, cheddar cheese, romaine, mango salsa, sour cream, and chorizo are simply amazing. Shrimp & Mac n Cheese which combines gouda mornay sauce, tasso, cavatappi, and Gulf shrimp is also worth ordering.
Seafood lovers visiting Brick and Spoon will want to order Shrimp Po Boy (Louisiana-style shrimp po boy served with tomato, lettuce, and aioli in a bun.
Junction 35 Spirits & Kitchen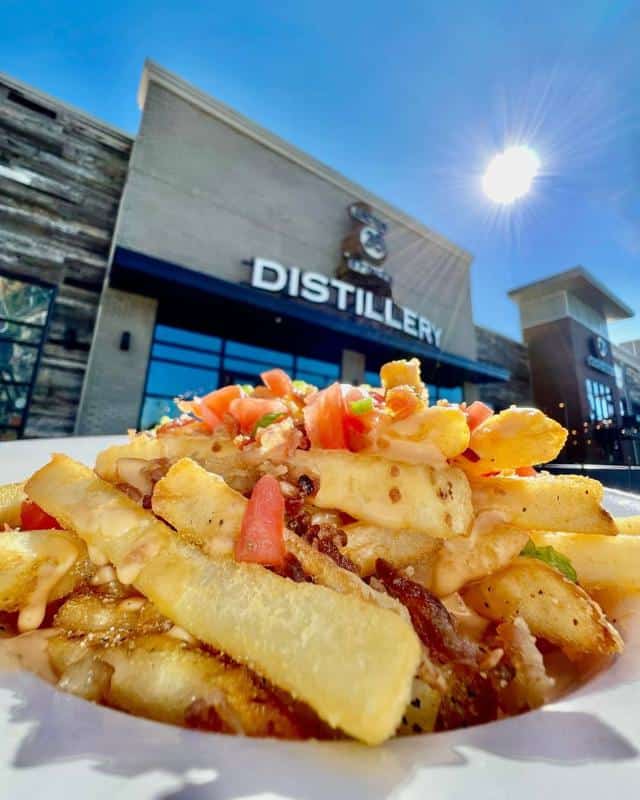 Address: 2655 Teaster Ln Suite 280, Pigeon Forge, TN 37863
Phone: +1 865-365-1019
Junction 35 Spirits & Kitchen is one of the newest additions to the culinary scene in Pigeon Forge. Located in the Tower Shops, this distillery, kitchen, bar, and a gift shop is a place where you can easily spend an entire day.
Start with one of their handcrafted cocktails from the bar, check out the offerings in the gift shop, and do a tasting at the distillery before going to the on-site restaurant to have a memorable dining experience.
The food at Junction 35 Spirits & Kitchen is delicious, to say the least. From slow-cooked BBQ and artisan pasta to wings, burgers, and sandwiches, everything you order here is prepared to perfection. The restaurant also offers homemade sauces and their line of cocktails made with their in-house spirits.
Junction 35 Spirits & Kitchen is without a doubt one of the best restaurants for lunch in Pigeon Forge.
Sawyer's Farmhouse Restaurant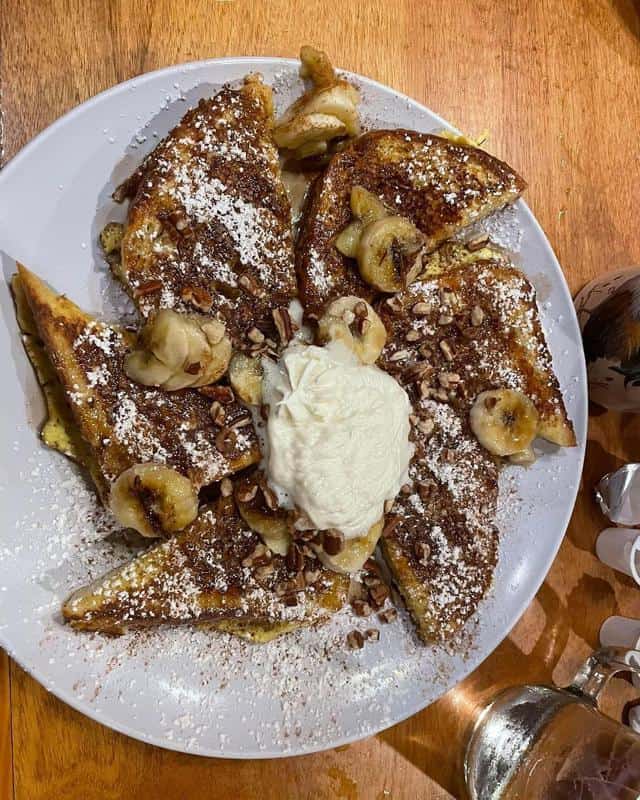 Address: 2831 Parkway, Pigeon Forge, TN 37863
Phone: +1 865-366-1090
A relative newcomer to the dining scene in Pigeon Forge, Sawyer's Farmhouse Restaurant is well-known for its inviting farmhouse décor, swift and friendly service, amazing all-day breakfast, and mouth-watering lunch menu.
Keep in mind that this cozy farmhouse restaurant in Pigeon Forge is open only until 2 pm every day of the week. On the menu, you will find everything from made-from-scratch pancakes to savory breakfast dishes with a touch of Southern flair.
Pancakes with freshly whipped butter and cinnamon cream syrup are to die for, while Corned Beef Hash is also something you just have to try here at Sawyer's Farmhouse Restaurant.
Lunch options are plentiful and include cool dishes like Bacon Egg Cheeseburger, bison burgers, garden salads, and the signature brunch Mountain Man (plate with three eggs, home fries, a biscuit, and gravy, sausage, ham, bacon, and three buttermilk pancakes).
Local Goat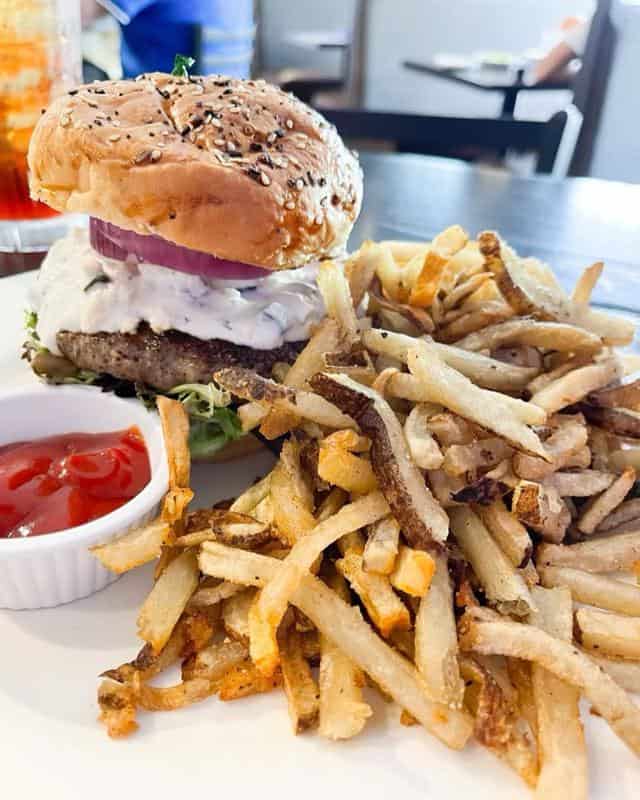 Address: 2167 Parkway, Pigeon Forge, TN 37863
Phone: +1 865-366-3035
Welcome to Local Goat, one of the best places to eat in Pigeon Forge. Housed in a former O'Charley's building, this farm-to-table restaurant is all about food from locally sourced and sustainable farms and cooked from scratch dishes.
On the menu, you will find American favorites along with some great craft and specialty beers (24 craft beers, 20 of which are regionally sourced from local breweries).Order wings, burgers, salads, and sandwiches with a Southern twist. The deep-fried deviled eggs is one of the signature dishes here at Local Goat.
Some of the other popular foods at this charming farm-to-table restaurant in Pigeon Forge include steaks, seafood, and chops. Also, they have craft cocktails and fine wines.
Alamo Steakhouse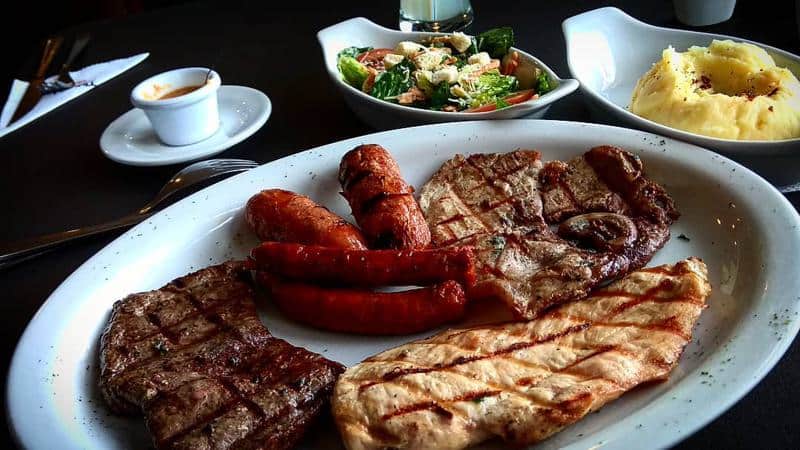 Address: 3050 Parkway, Pigeon Forge, TN 37863
Phone: +1 865-908-9998
Alamo Steakhouse is an award-winning restaurant in Pigeon Forge that specializes in hand-cut and cooked over an open oak fire beef. Whether you are craving some filet mignon or you are in the mood for a juicy New York strip, everything you order here at the Alamo Steakhouse promises to be a treat for your taste buds.
Go for the oak-fired pork chops and you won't be disappointed.Aside from the delicious steaks, this popular dining establishment in Pigeon Forge offers a huge selection of seafood, chicken dishes, sandwiches, salads, and soups. For instance, Bacon-Wrapped Shrimp is one of the most popular dishes on the seafood menu. Grilled on an oak flavor and dipped in honey BBQ sauce, this dish has that perfect smoky flavor.
Try the Horseradish Crusted Filet, the most delicious item on the meat menu. This hand-cut filet mignon with horseradish-Parmesan topping is simply to die for. Are you in the mood for something on the healthier side? Try the Wedge Salad with bleu cheese crumbles, bacon, red onion, and Catalina dressing. Pigeon Forge is also known for its extensive wine list. To avoid a long wait, bookings are highly recommended.
Bullfish Grill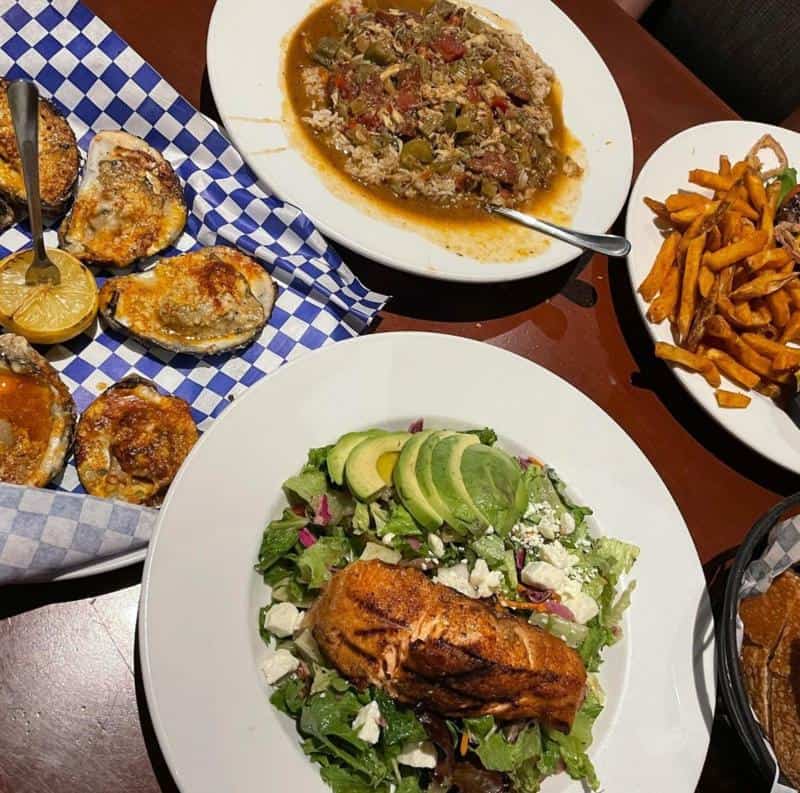 Address: 2441 Parkway, Pigeon Forge, TN 37863
Phone: +1 865-868-1000
Voted one of Pigeon Forge's best restaurants, Bullfish Grill is a perfect spot to feast on the freshest seafood in the Smokies. The seafood here is delivered daily and everything you order is fresh and delicious.
On the seafood menu, expect to find dishes like Seared Ahi Tuna, Pan Seared Crab Cakes, and Lime Grilled Shrimp. Want to hear more good news? Bullfish does serve more than just seafood, the restaurant is also known for mouthwatering steaks, garden-fresh salads, and signature pasta dishes.
The restaurant has a cool children's menu with favorites such as fish 'n chips and fried shrimp. Leave some room for dessert and order their tasty strawberry cake.
Huck Finn's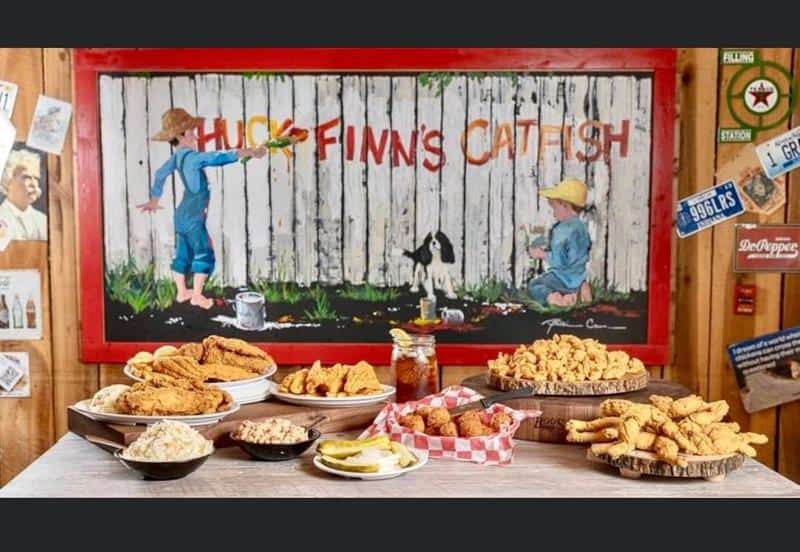 Address: 3330 Parkway, Pigeon Forge, TN 37863
Phone: +1 865-429-3353
If you wish to dine with the locals and experience Southern dishes, pay a visit to the iconic Huck Finn's. This family-owned Pigeon Forge restaurant offers an extensive southern menu with options such as frog legs, fried chicken, fried steak, shrimp, and much more. However, the most popular item to order here is the award-winning all-you-can-eat catfish and chicken.
Each meal at the restaurant is kicked off with some coleslaw, white beans, french fries or mashed potatoes, hushpuppies, dill pickles, and onion slices. They call this treat "vittles" here in the South. End your dining experience on a sweet note with a bowl of Mo's 'Nana Pudding!
Mel's Classic Diner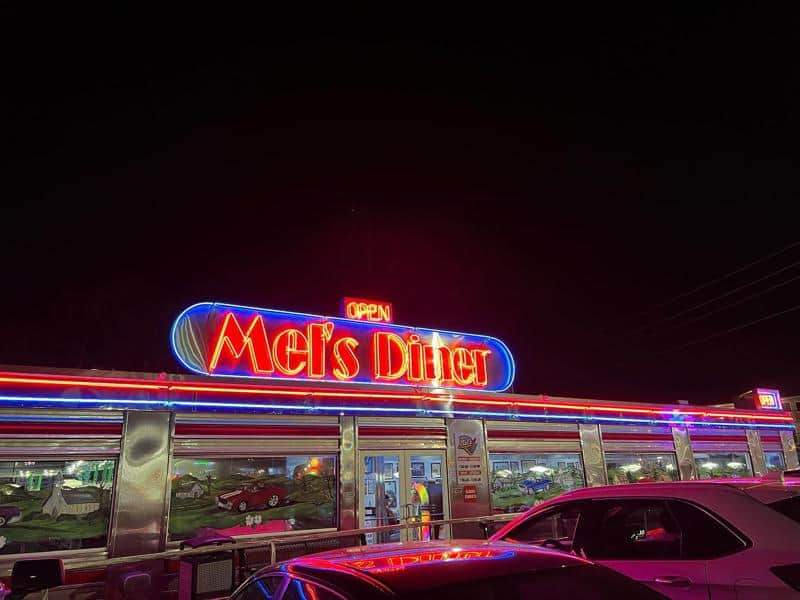 Address: 119 Wears Valley Rd, Pigeon Forge, TN 37863
Phone: +1 865-429-2184
A family-owned American diner, Mel's Classic Diner is definitely one of the best budget-friendly places to eat in Pigeon Forge. They do all-day breakfast, have the most amazing homemade desserts, and offer swift service. Try Mel's famous banana split or enjoy something from their extensive burger list.
On the menu, you will also find a range of sandwiches, soups, and salads. We really like the American classic 50's diner vibes here and the food is also amazing.
Downtown Flavortown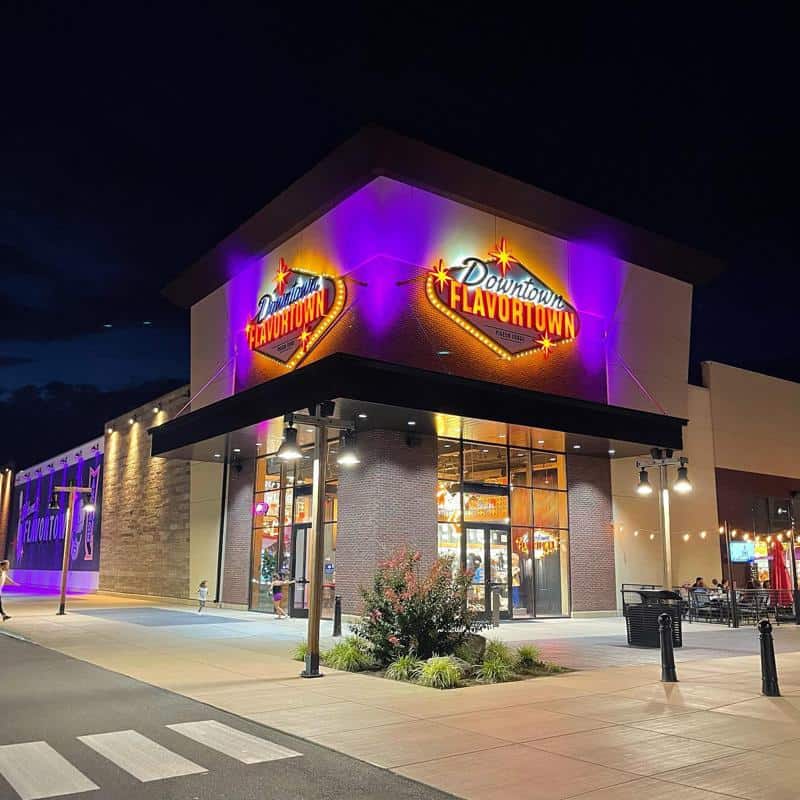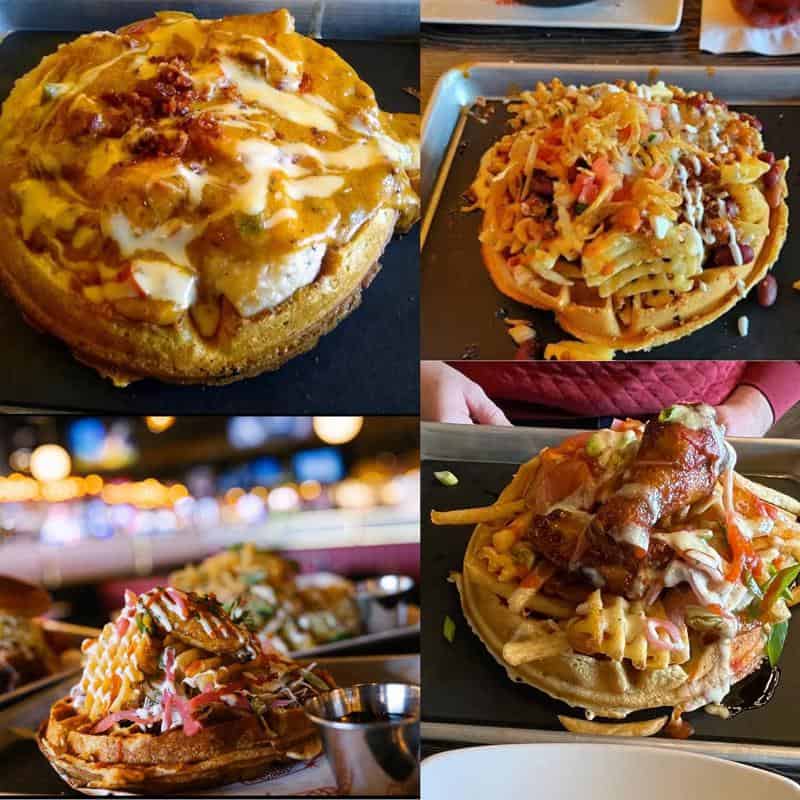 Address: 2655 Teaster Ln, Pigeon Forge, TN 37863
Phone: +1 423-518-0742
The new Downtown Flavortown restaurant in Pigeon Forge is not-to-be-missed when exploring the Smokies. Run by chef, restaurateur, New York Times Best Selling author, Guy Fieri's, this 300+ seat restaurant offers award-winning cuisine and plenty of entertainment.
Try the Trash Can Nachos with cheese and pulled pork, order Chili Mac and Cheese Waffle, or treat your taste buds with a slice of Layered Chocolate Whiskey. Some of the other popular items on the menu include Flavortown's signature sandwiches, chicken and fries, steaks, and big bite burgers.
Downtown Flavortown is not your average restaurant. Here, you will also find state-of-the-art arcade games, a bowling alley, and the charming tiki bar where you can order superb cocktails like Caribbean Painkiller and Don Zombie.
Also Read:
Map of Best R
estaurants in Pigeon Forge
Final Thoughts
Pigeon Forge is a perfect gateway for the Smokies. This picturesque town is also a great place to enjoy delicious food and try the famous soul-warming southern food.
The good news is that in Pigeon Forge there is something for everyone, from casual eateries serving budget-friendly meals to upscale dining establishment where you can sample southern dishes with a modern twist.
To sum it all up, foodies will instantly fall in love with the food scene in Pigeon Forge.
Must Try Foods in Pigeon Forge:
Hand-cut beef at Alamo Steakhouse
Award-Winning wings at Blue Moose Burgers & Wings
Corned Beef Hash at Sawyer's Farmhouse Restaurant
Pecan Pie at Old Mill Restaurant