The largest city in Vermont, Burlington is a mecca for foodies.
A leader in farm-to-table dining, this picturesque city is home to many farmers' markets and restaurants serving locally inspired meals and seasonal delicacies.
It's all about locally grown fare in Burlington. In fact, it seems impossible to find a dining establishment in the Green Mountain state that doesn't offer locally grown fresh flavorsome seasonal foods.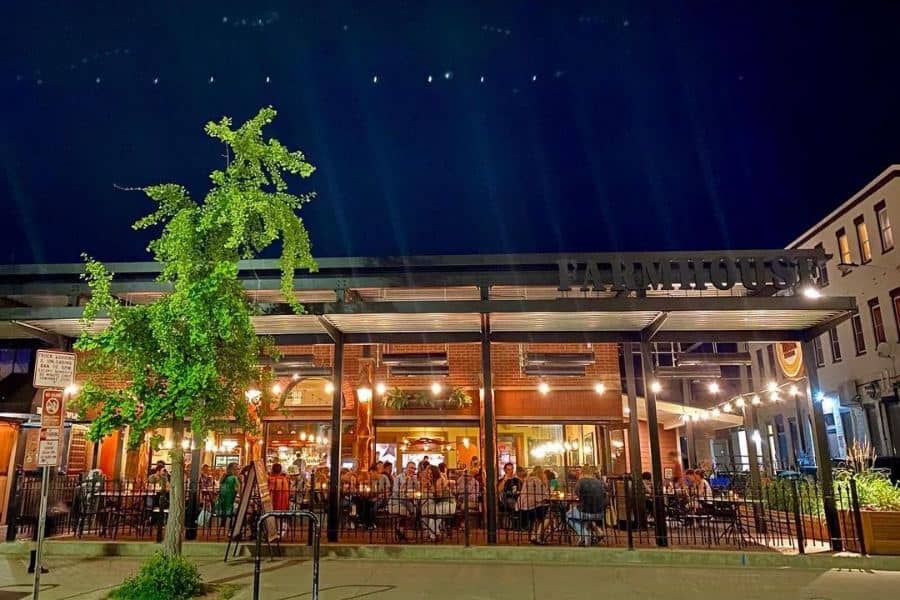 The best thing about dining in Burlington is that it offers something for every traveler. Whether you wish to enjoy fine dining and wine pairing at classy dining establishments or wish to try humble local dishes in casual eateries, there is so much to choose from.
To help you make the most of your trip to Vermont, we've put together a list of the best restaurants in Burlington.
Best Restaurants in Burlington, VT
Penny Cluse Café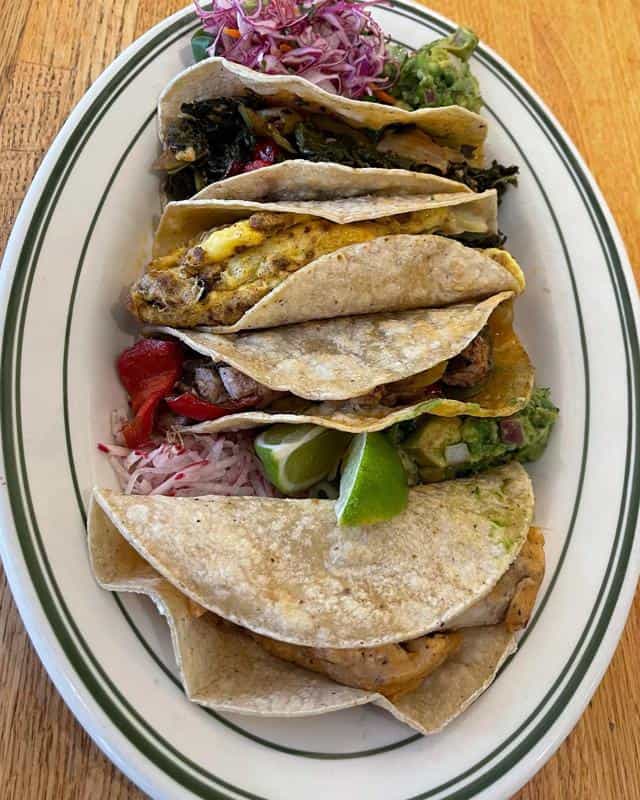 Address: 169 Cherry St, Burlington, VT 05401
Phone: +1 802-651-8834
Penny Cluse Café is one of the most popular restaurants in Burlington among brunch-goers. Serving the freshest morning eats in the city for more than 20 years, this daytime eatery is a perfect place to get rid of that Sunday hangover.
The food menu here is extensive with options such as gingerbread pancakes, huevos rancheros, and biscuits & gravy, banana bread, and smoked salmon & avocado toast.
The fish tacos (crispy pollock in warm corn tortillas served with black beans, avocado salsa & fresh lime) are to die for!
Don't leave Burlington's favorite brunch spot before trying their Turkey tortilla soup with avocado, tomato, cilantro, and fresh lime.
Penny Cluse Café actually has a celebrity status. Politicians like Senator Bernie Sanders and US President Joe Biden ate here!
We should also mention that you should arrive early in the morning since Penny Cluse Café doesn't take reservations.
Hen of the Wood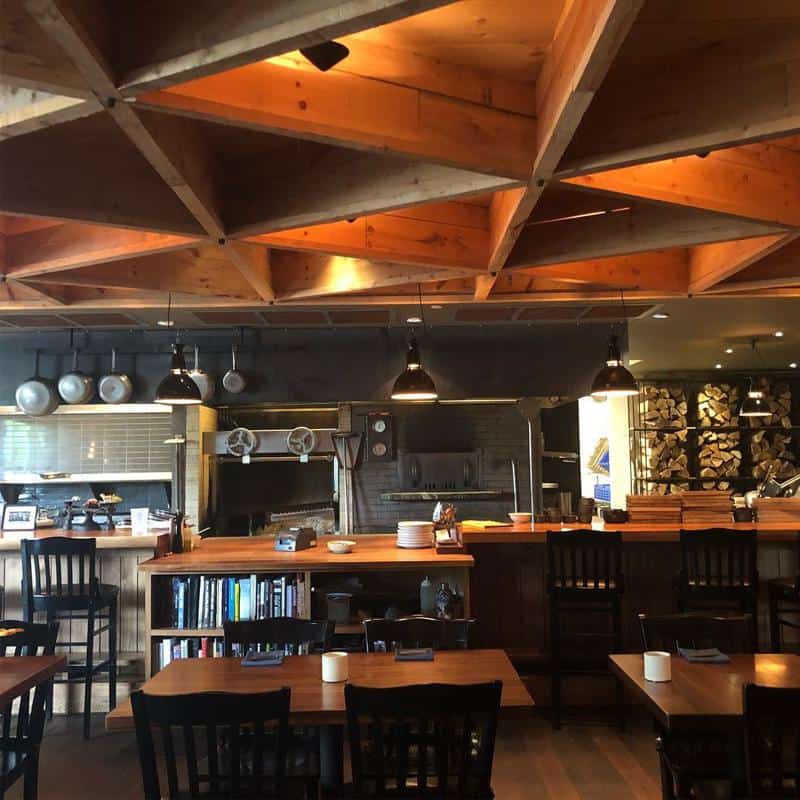 Address: 55 Cherry St, Burlington, VT 05401
Phone: +1 802-540-0534
With fresh produce delivered daily from nearby farms, Hen of the Wood is a lovely restaurant in Burlington that offers farm-to-table dining. This welcoming dining establishment offers a daily-changing menu depending on what is in season.
Chef Eric Warnstedt is in charge of preparing delicious meals at Hen of the Wood. You will have an opportunity to see a glimpse of chefs at work through the open-plan kitchen.
Guests can choose from a selection of plates for two, entrees, and appetizers. From seafood and meat dishes to plenty of vegan options, there is plenty to choose from on the menu.
Order the mushroom toast with farm eggs and bacon or go for the signature rabbit leg with strawberries. The drinks list is also impressive with options like craft cocktails, wines, and locally sourced beers.
Istanbul Kebab House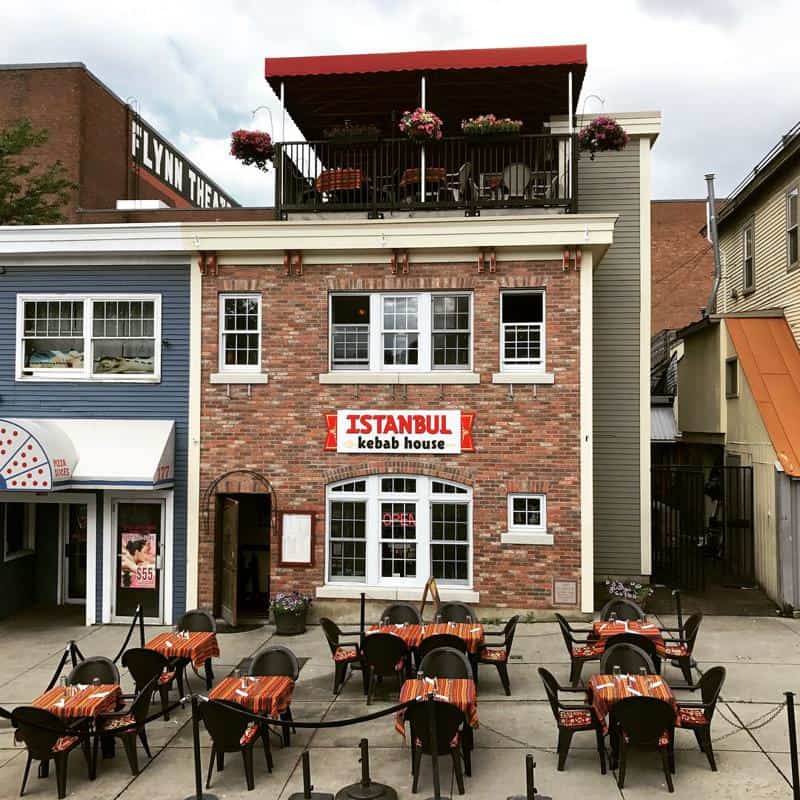 Address: 175 Church St, Burlington, VT 05401
Phone: +1 802-857-5091
In the mood for some Turkish cuisine while staying in Burlington? Pay a visit to the Istanbul Kebab House on lower Church Street and enjoy authentic Turkish dishes without breaking the bank.
Opened by Turkish immigrants, this cozy eatery serves a variety of salads, soups, appetizers, and desserts. The ingredients are imported from Turkey by the owners, Hasan, Vural, and Jackie Oktay.
Chef Veli Cetin prepares the most delicious meat and seafood kebabs and traditional Turkish casseroles. You also have to try the maple baklava and Turkish rice pudding.
Don't leave this unassuming restaurant in Burlington before trying their Turkish coffee and wine which is available by the bottle or glass. If you are visiting in summer, book a table on their beautiful canopy-covered rooftop.
Bistro de Margot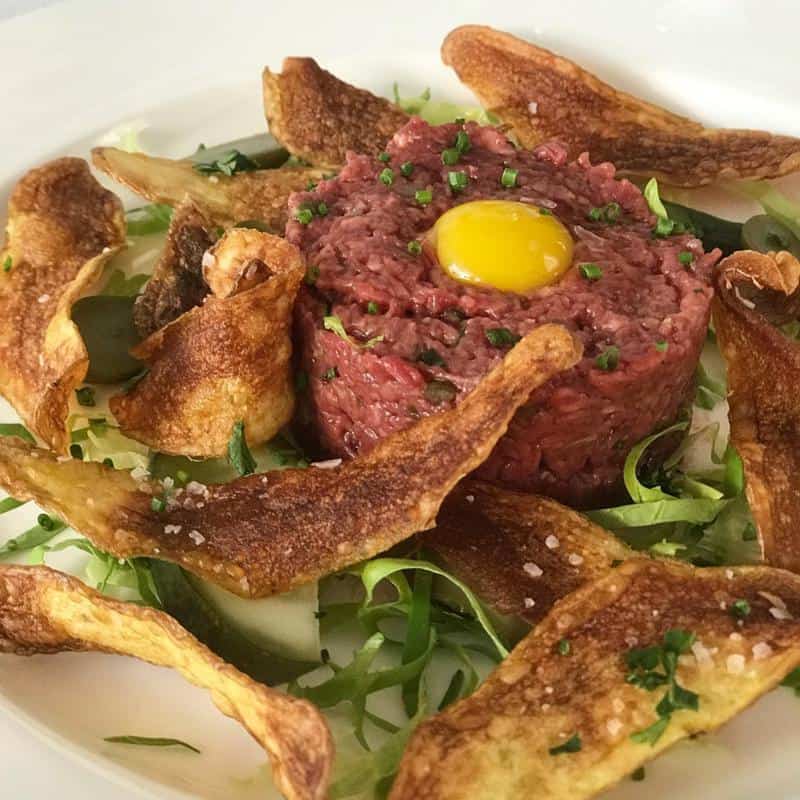 Address: 126 College St, Burlington, VT 05401
Phone: +1 802-863-5200
If you are looking for an upscale dining establishment with a cosmopolitan setting in Burlington, reserve a table at Bistro de Margot. Opened in 2015, this popular bistro offers classic French cuisine with a modern flare.
With candle-lit tables and beautiful wooden chairs, the décor of this place is absolutely gorgeous and offers an ideal setting for a memorable dining experience.
French chef Hervé Mahé decided to name the restaurant after his grandmother. He has come up with an innovative menu that includes a variety of French-inspired appetizers, main courses, and desserts.
Steak au poivre is a culinary delight, as well as the pan-roasted chicken breast with potato. Some of the other popular dishes at Bistro de Margot include braised lamb and moules Frites (steamed oysters).
For dessert, get the vanilla crème brûlée and you won't be disappointed. Bistro de Margot also offers a variety of French wines, local craft beers, and French-inspired cocktails. We should also mention that the restaurant is open for dinner only.
American Flatbread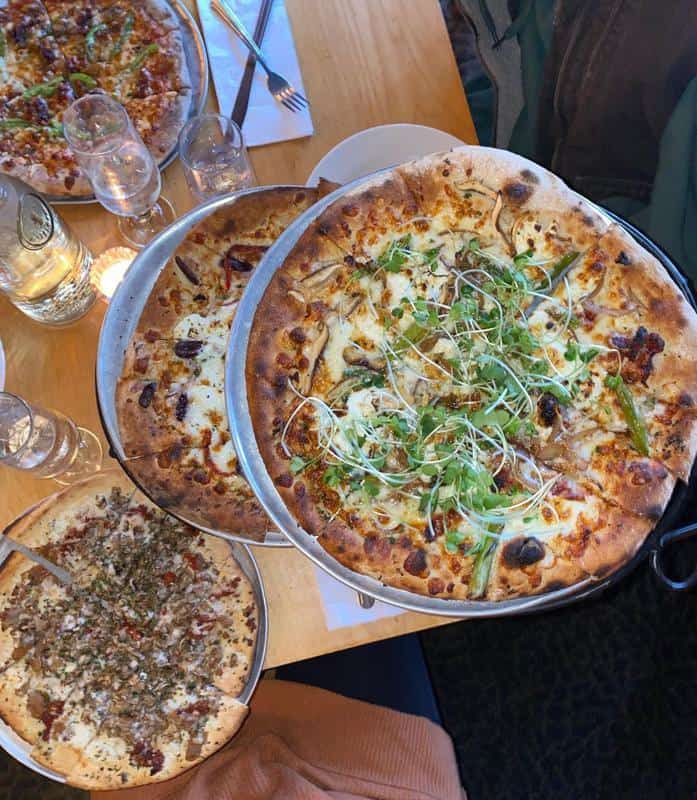 Address: 115 St Paul St, Burlington, VT 05401
Phone: +1 802-861-2999
American Flatbread has 3 locations in Vermont and one of them is right here in Burlington.
The restaurant is all about a lively atmosphere, flatbread with organic toppings, in-house craft brews, and a range of wood-fired pizzas. It's a restaurant where wheat for the pizza is organically grown and where everything you order feels like a gastronomic treat.
Needless to say, pizza at American Flatbread is made on- the- spot in a huge oven made of stone. What should I order? American Flatbread pizza topped with creamy mozzarella and Grana Padano cheese is to die for.
If you wish to eat healthily, we recommend getting the Medicine Wheel with fresh herbs. You will also find a variety of desserts and salads on the food menu.
The drinks list is also cool with craft beers brewed on-site, cocktails, and wines. We recommend getting here early, as they only do reservations for groups of 7 people or more.
ArtsRiot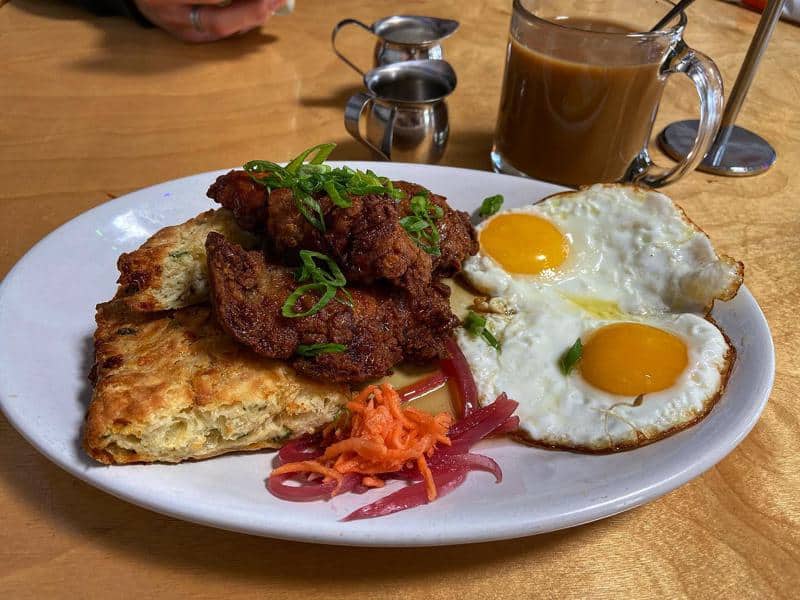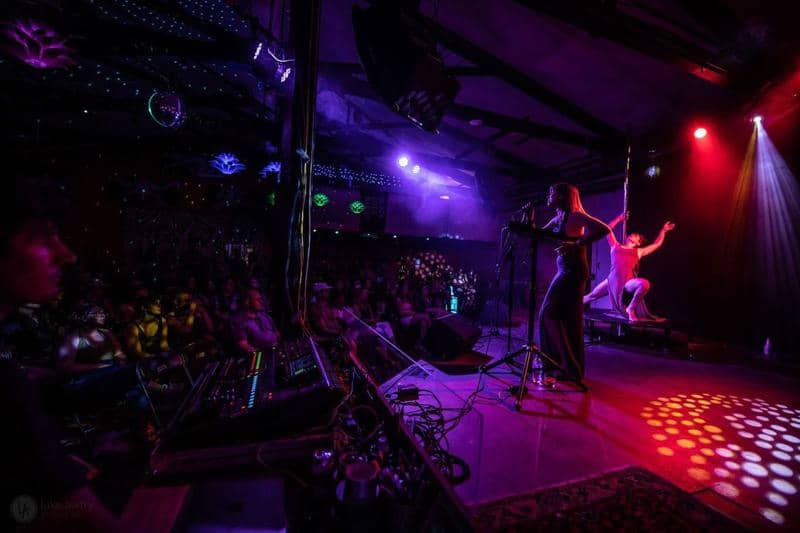 Address: 400 Pine St, Burlington, VT 05401
Phone: +1 802-540-0406
Welcome to ArtsRiot, one of the most artistic restaurants in Vermont. With a café, gallery, and performance space, this picturesque venue is one of the most popular spots in Burlington.
So, whether you wish to listen to regular live performances which are scheduled throughout the year, check out the puppet theater, attend a book reading, or enjoy delicious food, there is plenty to keep you entertained when visiting ArtsRiot.
Chef, Sean Richards, a native Vermonter, has put together an amazing southern-inspired brunch menu and an international street food menu with a farm-to-table twist. Saag paneer poutine is crafted to perfection, as well as the shrimp and grits with poached eggs.
The food menu is quite extensive and covers pretty much everything from Mexican tacos and American fried chicken to Vietnamese banh mi.
Honey Road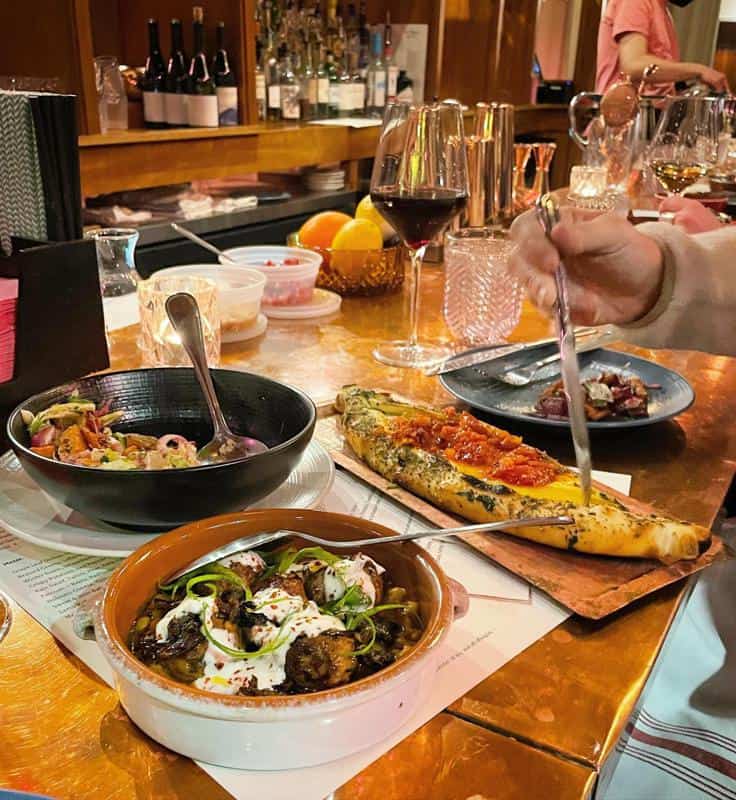 Address: 156 Church St, Burlington, VT 05401
Phone: +1 802-497-2145
Located in the city center of Burlington, Honey Road is an award-winning restaurant that offers Mediterranean and Middle Eastern fare. Foodies are in love with this place for a reason.
The restaurant's chef was nominated for the best chef in the Northeast. Honey Road was also nominated a few times for the prestigious James Beard Award.
The food menu focuses on veggies and each dish is prepared using locally sourced ingredients. The fried eggplant topped with amba is a must-order dish, as well as the homemade pita and baklava. Fish lovers will want to order buttermilk crab cakes or go for the grilled octopus.
If you wish to have some meat and enjoy a fusion of fresh flavors in your mouth we recommend getting the lamb and red pepper kofta.
Pizzeria Verita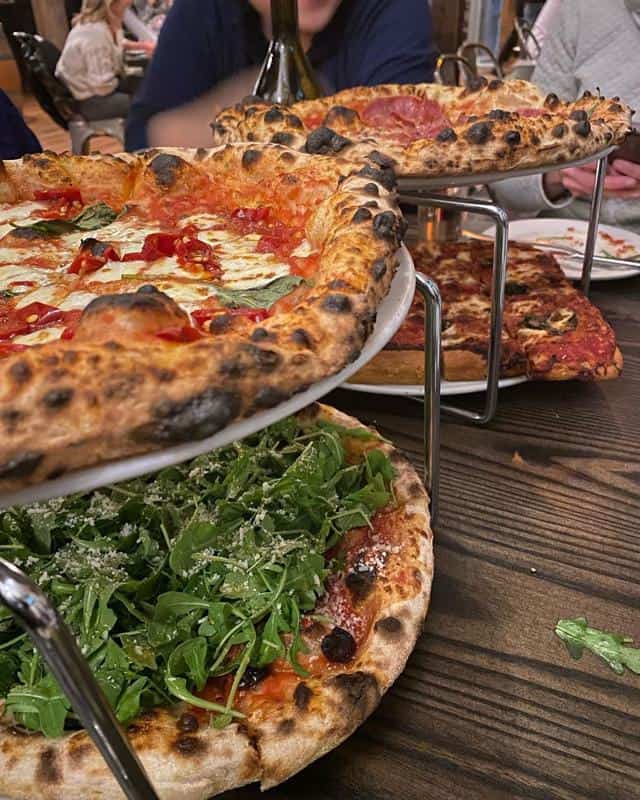 Address: 156 St Paul St, Burlington, VT 05401
Phone: +1 802-489-5644
Pizzeria Verita is definitely the best restaurant in Burlington to enjoy wood-fired pizzas made from fresh local ingredients.
Opened in 2012, this restaurant focuses on those yummy thin-based Neapolitan pizzas that are hand-made from scratch.
Start your meal with antipasti and order a platter for two that includes charcuterie, cheese, and marinated veggies.
The Diavolo will definitely set your taste buds on fire! You can also order gluten-free pizzas here, as well as the innovative pizza with minced pork. In addition to pizza, this restaurant in Burlington specializes in cocktails and house-made bitters.
Keep in mind that Pizzeria Verita is one of the most popular pizza joints in the city and you will probably have to reserve a table a few days in advance.
Juniper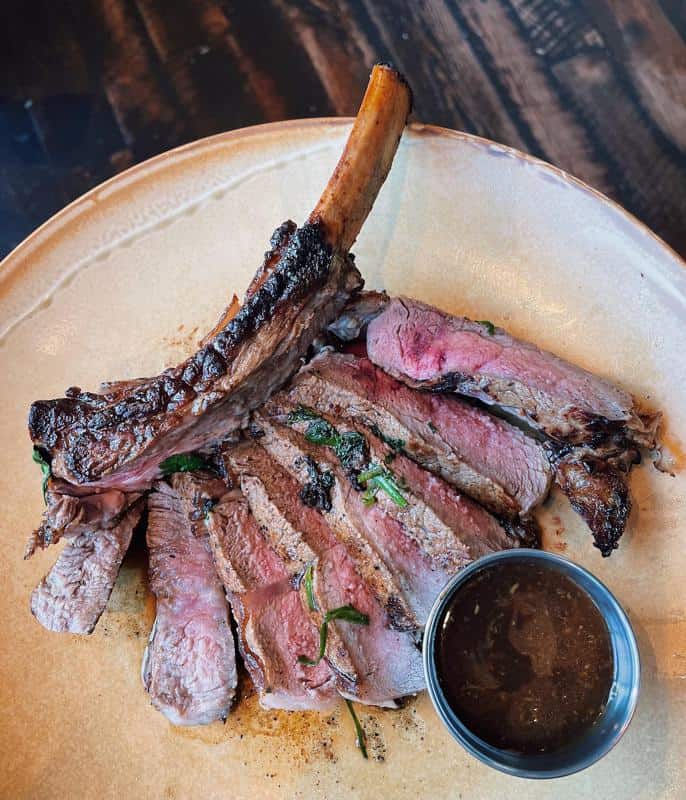 Address: 41 Cherry St, Burlington, VT 05401
Phone: +1 802-651-5027
Juniper Bar and Restaurant at Hotel Vermont is one of the finest dining establishments in Burlington. With its stylish interior and a picturesque patio that offers magnificent sunset views of Lake Champlain, Juniper is also one of the most beautiful restaurants on this list.
Open for breakfast, lunch, and dinner, the restaurant is all about farm-to-table dining. The Maple Wind Farm chicken with Fresno chili melts in your mouth.
The leek and mushroom tart is a delicious starter. If you wish to feast on fresh fish and seafood, get the fried Lake Champlain perch served with frisée, malt vinegar, and shallots.
The drinks menu at Juniper is fantastic and super local. From Vermont-made ciders and chamomile-infused gin to the hotel's own line of vodka, gin, and bourbon, there is plenty to choose from.
Want to visit this hotel restaurant for brunch? Order popular brunch dishes like duck eggs with steamed local greens and smoked salmon bagels.
Pho Hong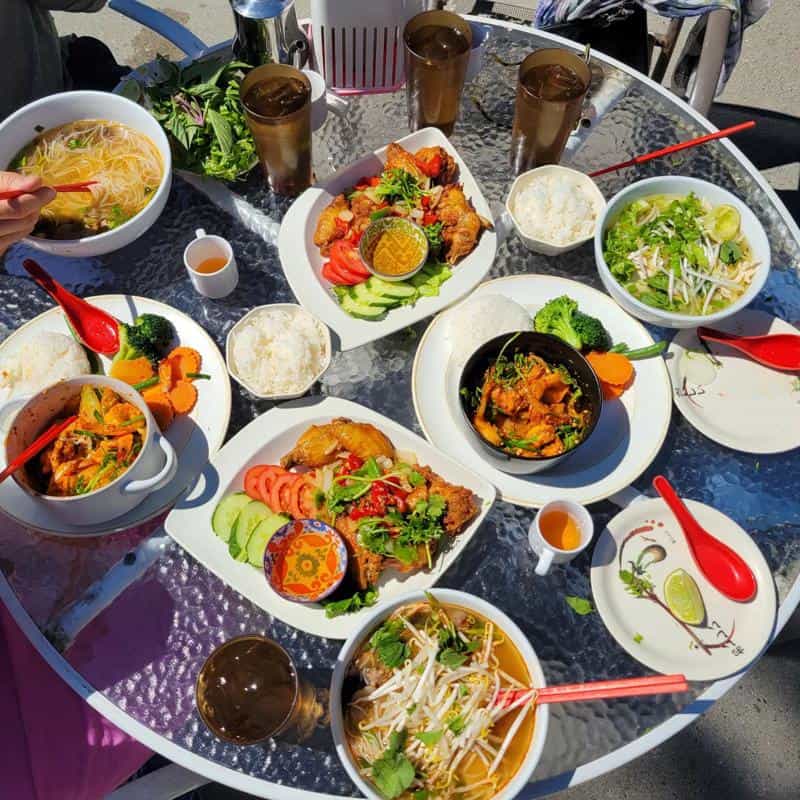 Address: 325 N Winooski Ave, Burlington, VT 05401
Phone: +1 802-865-8031
No list of the best restaurants in Burlington would be complete without mentioning the legendary Pho Hong.
Don't expect anything fancy when visiting this Vietnamese Restaurant. The interior is pretty much basic with landscape paintings decorating the walls.
However, the food here at Pho Hong is amazing. The steaming bowls of pho promise to be a real treat for your taste buds.
The restaurant also offers a range of noodles, as well as tasty stir-fries and curries. Other popular dishes on the menu include grilled fish, cha ca, and Mi Xao Don (noodles with chunks of beef).
What we like about this place is that the food is reasonably priced and that they have a BYOB policy.
If you wish to enjoy delicious Asian foods without breaking the bank in Burlington, look no further than Pho Hong.
Related: 20 Best Vietnamese Food
A Single Pebble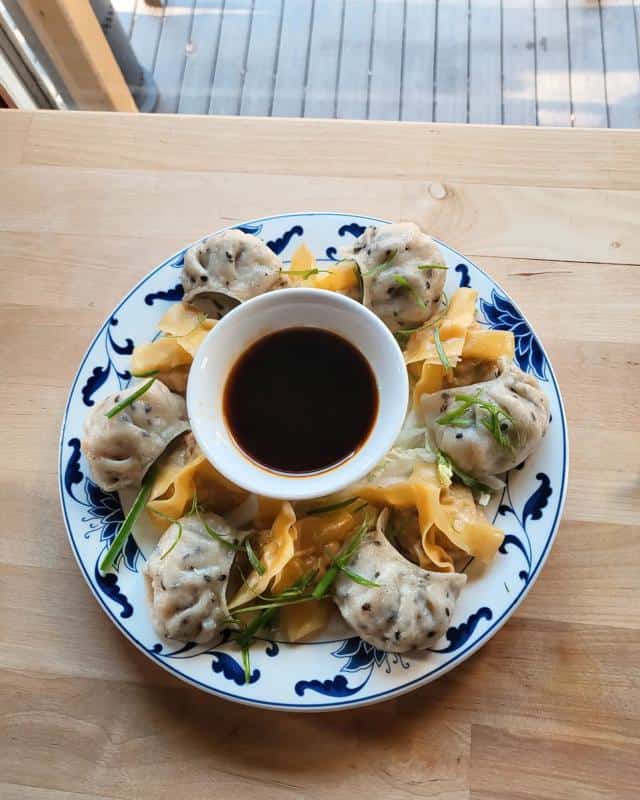 Address: 133 Bank St, Burlington, VT 05401
Phone: +1 802-865-5200
Situated inside an old Victorian house in Burlington, A Single Pebble is a perfect place to feast on traditional Chinese dishes. This award-winning restaurant is without a doubt one of the best Chinese dining establishments in Vermont. It was even featured in the popular show The Best Thing I Ever Ate on Food Network.
Owner and head chef, Chiuho Duval is in charge of the kitchen where he prepares authentic Chinese dishes from the freshest local ingredients and imported Chinese spices.
On the menu, you will find meals that are designed to be shared among 2 people. Some of the signature dishes include the Cantonese pineapple BBQ pork, crispy lemon chicken, red chili shrimp, red Thai curry soup, Lo Mein, and Tan Tan noodle.
Fan of dumplings? Order a portion of steamed pork dumplings or get the Chef dumpling (the description of this dish changes daily). You can also get seafood of the day. To try a bit of everything, we definitely recommend going for the nine-course Chef's Tasting Menu.
Trattoria Delia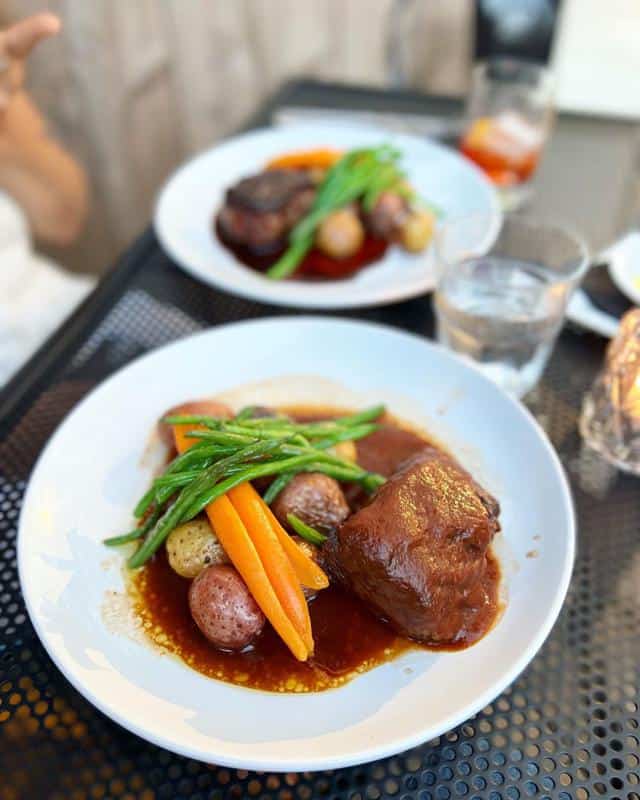 Address: 152 St Paul St, Burlington, VT 05401
Phone: +1 802-864-5253
Opened back in 1993, Trattoria Delia is a family-owned restaurant that offers authentic Italian dishes served in a trattoria-style setting.
Situated inside a 19th-century building, this place looks amazing. The restaurant's exposed old stone walls, wooden ceiling beams, and the dim light from the traditional lamps make a perfect setting for a memorable dining experience. It's a great place to go on a romantic date with that special someone.
What's good to order at this Italian trattoria? Torchio Con Ragu is for pasta lovers. Beef pork and sauce Bolognese go perfectly together with Grana Padano cheese.
You can also get their signature seafood soup called acqua pizza or go for the classic lasagne. Fan of chicken? Order Pollo al mattone (marinated chicken with potatoes).
Farmhouse Tap & Grill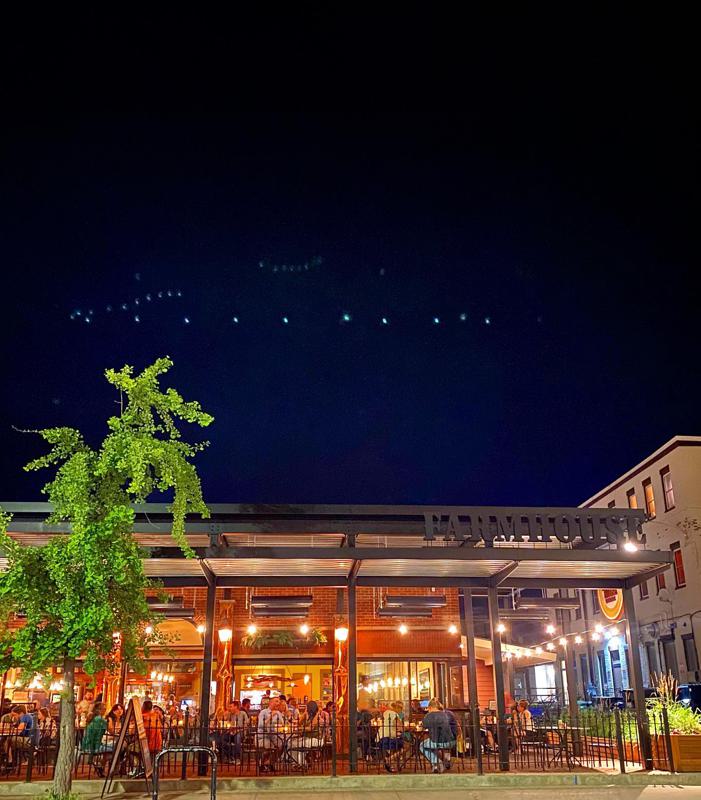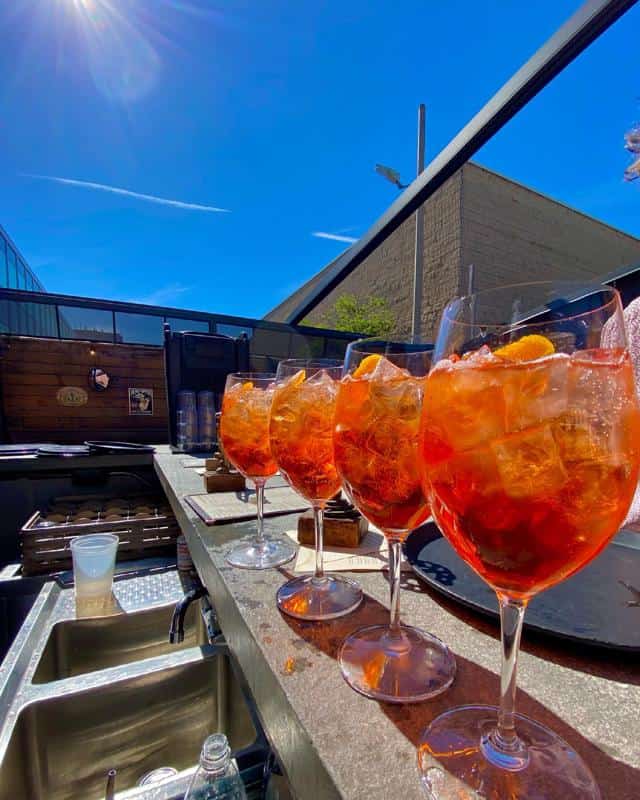 Address: 160 Bank St, Burlington, VT 05401
Phone: +1 802-859-0888
Located on Bank Street in Burlington, Farmhouse Tap & Grill is a great place to feast on juicy burgers and enjoy craft beers. The restaurant has a lovely beer garden and alongside burgers offers a full menu of tasty seasonal dishes. Visitors like the freshly made Jericho Settlers Farm salad and the local Vermont cheddar ale soup.
If you are into seafood, ordering something from the restaurant's Raw Bar is simply a must. Other popular items on the menu include classics like pork schnitzel, mac and cheese, and fish and chips.
The drinks list is impressive. This comes as no surprise, as Farmhouse Tap & Grill is one of the best drinking dens here in Burlington. They have more than 30 craft beers on tap including the popular local Alchemist's Heady Topper IPA.
Alongside an extensive beer list, Farmhouse Tap & Grill also serves spirits, wines, and some American craft whiskeys. The interior with a roaring fireplace and communal seating also looks spectacular.
If you are visiting in summer, book a table at their outdoor patio and listen to live music performances while enjoying hearty pub grub classics and craft beers.
August First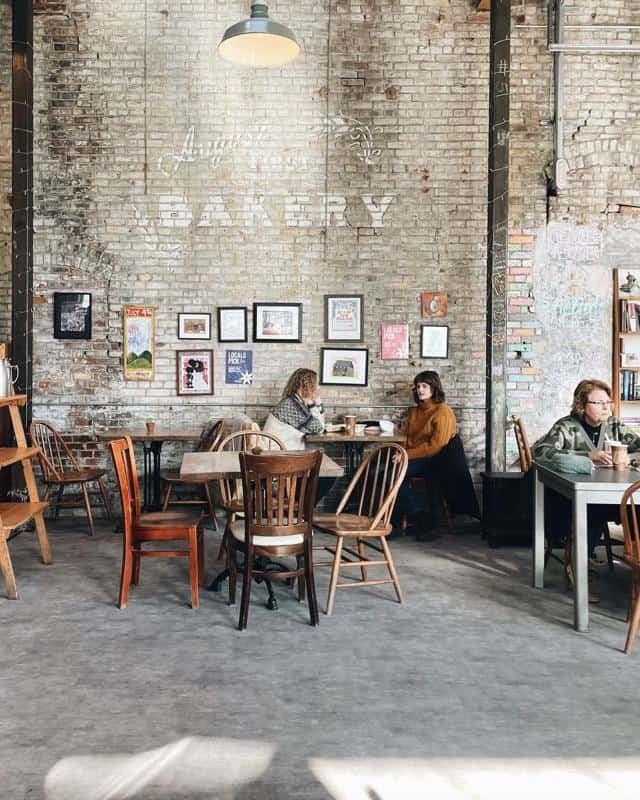 Address: 149 S Champlain St, Burlington, VT 05401
Phone: +1 802-540-0060
We decided to include a cool bakery on this list of the best restaurants in Burlington. Welcome to August First, a charming café and bakery offering breakfast, brunch, and lunch. With both indoor and outdoor areas, the café is known for its delicious freshly baked bread and pastries.
On the menu, you will find everything from skillets and sandwiches to a variety of pastries, healthy salads, and soups. August First is a reasonably priced joint that attracts lots of locals.
We should also mention that vegan customers won't stay hungry here, as the bakery offers plenty of vegan foods and cap remove animal ingredients from most dishes found on the menu.
Read More:
Conclusion
If you are visiting Vermont, spending a weekend in Burlington is definitely something you should add to your bucket list of things to do. It's a beautiful city with a truly awesome foodie scene.
What we like is that there is something for everyone. You can grab a glass of craft beer and eat pub grub, enjoy authentic farm-to-table dining, or feast on Vietnamese, Italian, and Middle Eastern fare.