Everyone knows of legendary chef Guy Fieri. After all, he's an American staple in the food industry.
He's got restaurants all around the country, so let's take a look at some of those very restaurants in Las Vegas and learn more about this incredible chef.
Who is Guy Fieri?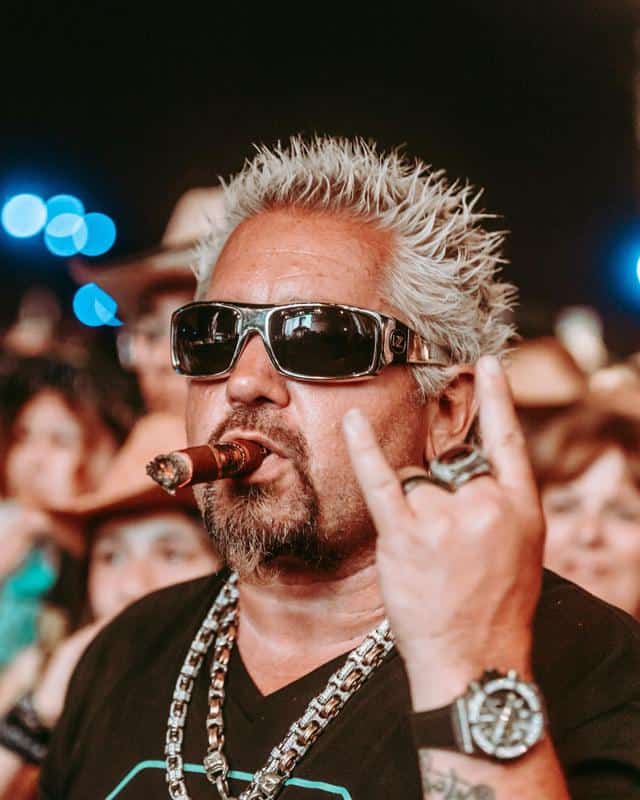 Guy Fieri is somewhat of a culinary icon in America. A well-known TV personality as well as chef, he's entertained millions with his whirlwind food adventures that lead him to chase after some of the downright most bizarre concoctions you could think of.
He has spent his entire life around a passion for food, starting young and working with flair and enthusiasm, which eventually landed him a dream opportunity to go study in Chantilly, France. It was here that his love for international foods really kicked off.
Upon returning to the US, he earned a degree in Hospitality, and that is where his concept restaurants began to start. With blood, sweat, and tears, Guy eventually started to grow his empire in Northern California.
But he was adamant about more and was soon to enter a FoodNetwork competition to be awarded the title of "Next Food Network Star." Of course, he stunned the judges and won the season in 2008. From there, he hasn't bothered to turn back.
He's had multiple hit shows on TV. He has featured in many others, including "Beating Bobby Flay," where he has challenged other celebrity chefs to a cook-off.
Guy is one of the few chefs to have ever had a star placed on the Hollywood Walk of Fame and has had dozens of awards, including Emmy's, given to him in the past two decades.
Guy Fieri continues to cook passionately and is often spotted in his Vegas restaurants, spending time with fans and bringing his lively personality to the table. He is a family-orientated man and really believes in good food.
So what better way to dedicate some love to him than showing appreciation for his hometown?
Guy Fieri Restaurants, Las Vegas
Guy Fieri's Vegas Kitchen & Bar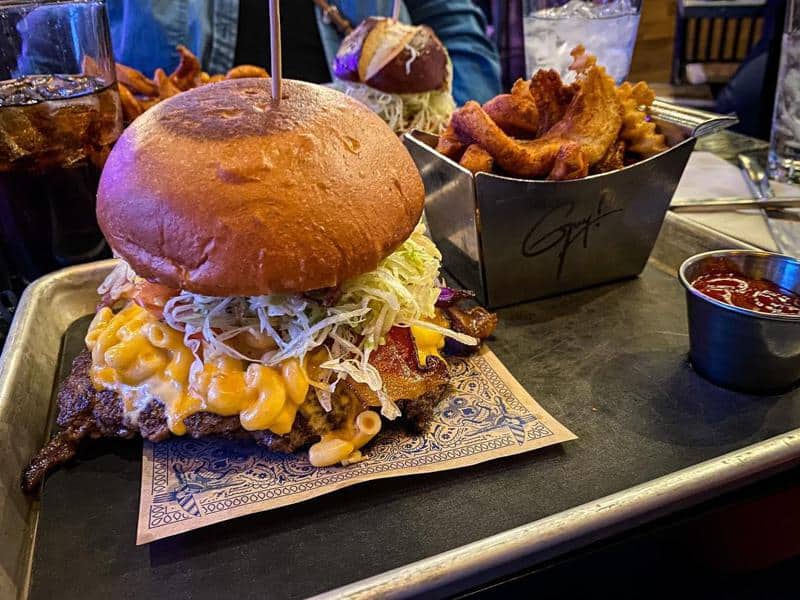 Location: The LINQ Hotel + Experience, 3535 S Las Vegas Blvd, Las Vegas, NV 89109
Price: $$
Guy Fieri is renowned for casual, wholesome comfort food. His restaurants are equally modeled from these ideals. Guy Fieri's Vegas Kitchen is likened to Game Day in your friend's Man Cave.
It's an extremely casual eatery which is beyond the norm for a celebrity chef. However, it's a tribute to his favorite things, and each Kitchen & Bar chain explodes with his personality.
As an avid lover of casual foods, the menu itself is a testimony to all the best wholesome American meals you can get. Of course, it's highly encouraged to dive straight into his burgers. After all, they are one of his most famed specialties!
But not his most infamous dish. That honor is bestowed upon the Trashcan Nachos, whose name doesn't do them any justice. It's a guarantee you'll never want nachos from anywhere else. And for dessert, try the Cheesecake challenge. It's incredible.
He has decorated the space with things that make him happy, hence why it's easy to mistake for a Man Cave. Guy completely toppled the ordinary and has built a place that is entirely his own. A place where his personality shines through, not just in the atmosphere but the excellent food too.
For those of you lucky enough, you may be able to spot Guy in action at this location. He's somewhat of a regular to his own establishment, and it's an honor to be served by the face behind the name!
Also Read: Heart Attack Grill Last Vegas: Menu, Burgers, Theme
Guy Fieri's El Burro Borracho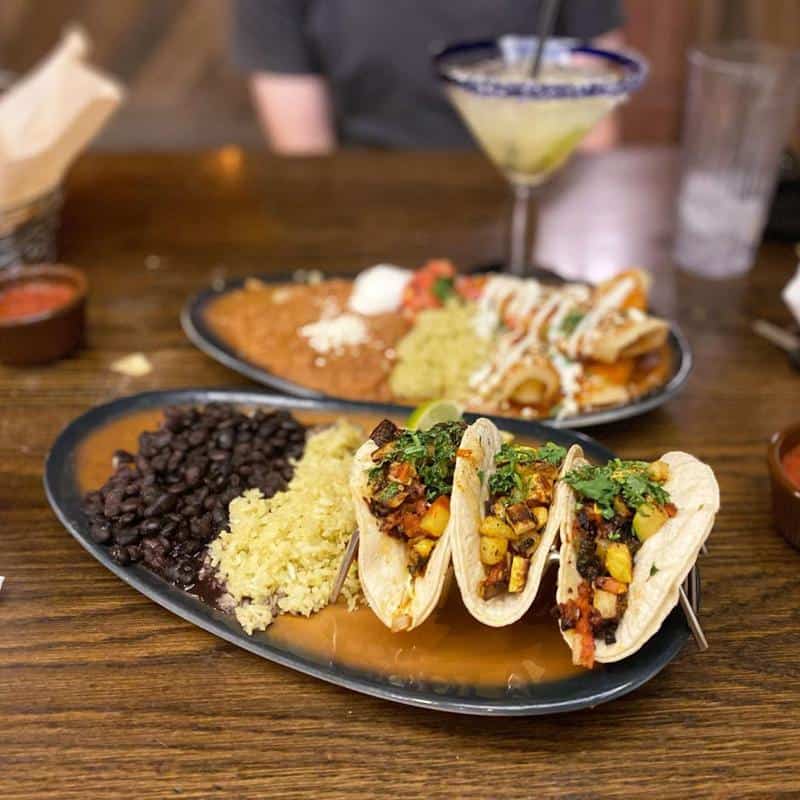 Location: 3700 W Flamingo Rd, Las Vegas, NV 89103
Price: $$
El Burro Borracho is still recovering from COVID-19 and, as a result, is open less frequently. Still, for such a quality restaurant, we're willing to wait. It's a fiesta outside of Mexico, decorated with artwork from stem to stern that accentuates its inspiration. You'll feel as though you've joined a Cinco De Mayo parade every time you enter here.
Of course, it's all par for the course for a Mexican-themed restaurant to serve the most rambunctious Mexican cuisine around. They'll have you throwing yourself at those World-famous trashcan Nachos in record time.
You may also find your eyes wandering over the array of choices and feel absolutely lost for words at what is presented on a plate. While the cuisine may be Mexican, Guy couldn't help but spread some fusion in there, making it wholly new and exciting to try! Of course, we can't just pass over the bottomless chips and salsa. Yes, it's a thing.
Above the food, El Burro Borracho takes its name from "Drunken Donkey," and upon seeing the menu, you'll quickly understand. Not only do they serve great food, but they have a boozy selection that'll really get you merry.
Guy can't resist ensuring there's plenty to go around, from beers to cocktails! In addition, there are a ton of craft options to pick from! Ales, whiskeys, and that all-important tequila!
El Burro Borracho is a fun-filled bonanza, and it's worth every trip. So take your friends and go indulge in something that puts Taco Bell to shame!
Flavortown Kitchen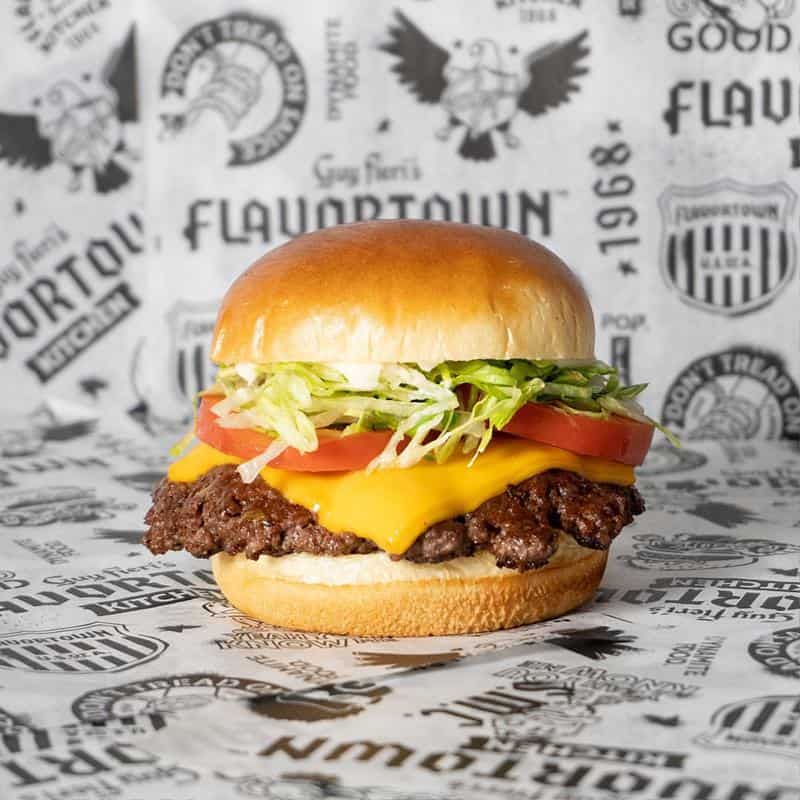 Location: Delivery Only
Price: $$
Guy Fieri has introduced a game-changer in the form of Flavortown Kitchen. It's a "virtual dining experience" and deals in delivering your favorites to your front door. It is a glimpse into the future of food, with delivery services being on the rise.
You can order yourself a choice selection of Guy Fieri classics, including his famed burgers. In addition, there are options for shareable (though you might want to hide them from your friends) where you can bite down into crispy coated S-M-Cheesesteak egg rolls and deliciously juicy wings. Or, if you're feeling for a fuller meal, why not order a chicken parm-eroni.
The thing about this comfort food is you can enjoy it lounged back on your couch with your slippers on.
See Also: 3 Bobby Flay Las Vegas Restaurants
FAQs
Do You Need to Reserve a Table at Guy Fieri's Restaurant?
Many of Guy Fieri's establishments do not require reservations for parties of less than 14 people. It's all on a first-come, first-serve basis; however, they require large parties' reservations. I
t's also a courtesy to ensure the staff is highly prepared and ready to deliver delicious food without feeling rushed. For the most part, you can just walk straight in and be seated by the staff, who will proceed to cater to your whims and wishes for the remainder of your stay.
How Many Restaurants Does Guy Fieri Own?
Guy Fieri has made a household name of himself over the years and, with his gaining popularity, has opened up a multitude of restaurants.
He currently owns and loans his name to over 80 restaurants across the world and has recently introduced the concept of Flavortown Kitchen, which has exploded into over 150 venues across the United States.
What Shows Does Guy Fieri Have on The Food Network?
He is a great TV personality who has won the hearts of many fans through his cuisine adventures across the United States. FoodNetwork has proudly hosted many TV shows where Guy has been a key player.
Most notably so, Diners, Drive-Ins, and Dives. However, this is one of many. He is also a host to Guy's Big Bites, Ultimate Recipe Showdown, and more, with over a dozen shows featuring the celebrity chef as a guest as well!
What Are Some of Guy Fieri's Awards?
Guy Fieri is one of the few chefs in the world to have ever been given a star on the Hollywood Walk of Fame in 2019, which was no easy accomplishment. He has also been both nominated and awarded for multiple Emmys throughout his career, winning his first nomination in 2014 in the category "Outstanding Structured Reality Program."
He has also been inducted into the Barbeque Hall of Fame. This, amongst many other accomplishments, is reason enough to want to try his cooking!
Why Did Guy Feiri Change His Name?
As mentioned before, Guy Fieri is extremely family-oriented. He was born to the name Guy Ramsay Ferry to a family with a deep Italian heritage. It was his grandfather who had initially changed the spelling of his surname from Fieri to Ferry when he came from Europe to the United States.
However, Guy wanted to give homage to his grandfather and their heritage and changed the spelling back to its roots.
Read More: Gordon Ramsay Restaurants in Las Vegas
Conclusion
Guy Fieri is a fiery personality that has grabbed the hearts and tastebuds of fans from all across the globe. He is a natural-born entertainer who learned the most important rule of life. The way to the heart is through the stomach!
He is still on a hot streak, and we hope to see more coming from this celebrity chef soon. He's a wild take on your normal decorum, but that's nothing to sneeze at. You'll be far more entertained by a trip to one of his restaurants than anything else!
But for now, pay his restaurants a visit whenever you find yourself lost in Sin City. You'll never feel more at home.