Potatoes are truly a gift from God. The tasty and versatile vegetable can be cooked any way you like and you can't go wrong with it. One of the best culinary inventions with potatoes is the good-old French fries.
We order it with pretty much anything and everything and it exponentially elevates the dining experience by pairing well with most entrées.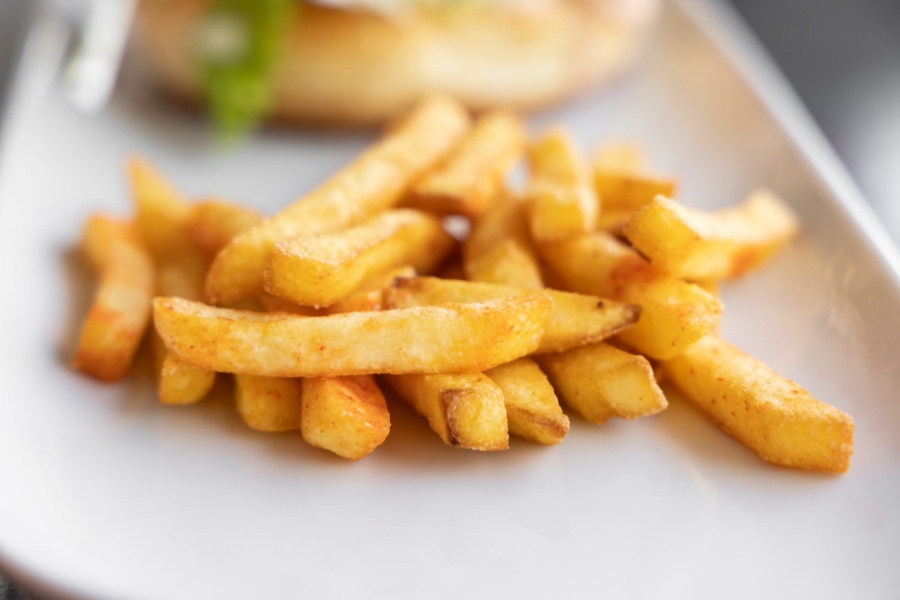 Why not celebrate this amazing invention by exploring the various kinds of French Fries around the world and all the different ways they are served?
Here's our list of the best types of French fries – make sure to keep a plate of fries handy before you read further or else you only have yourself to blame for the extreme cravings.
Classic French Fries – A Gift from Belgium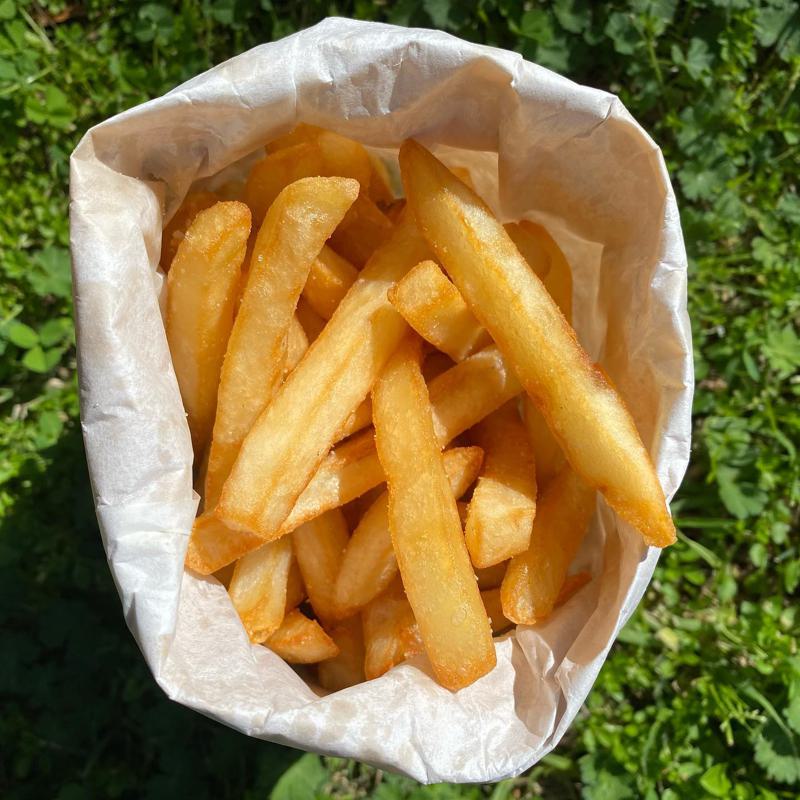 It is said that French fries were first discovered during WWI by American soldiers in Belgium. As southern Belgium is fluent in French, they were named French fries.
We now differentiate them from the rest of the fries by calling them "Belgian fries". Belgian fries have a thick cut and are usually fried twice so that they are crisp on the outside while staying soft and delicious on the inside.
America's Take on The Classic Fries
Though the ingredients stay pretty much the same, you will see some variation in American restaurants -each offering a unique preparation that slightly alters the taste of the fries.
Some do it by keeping the skin intact, while others simply change the thickness of the cuts or give them different shapes as a signature preparation of the restaurant.
Here are some of the fries commonly found in America.
Regular Fries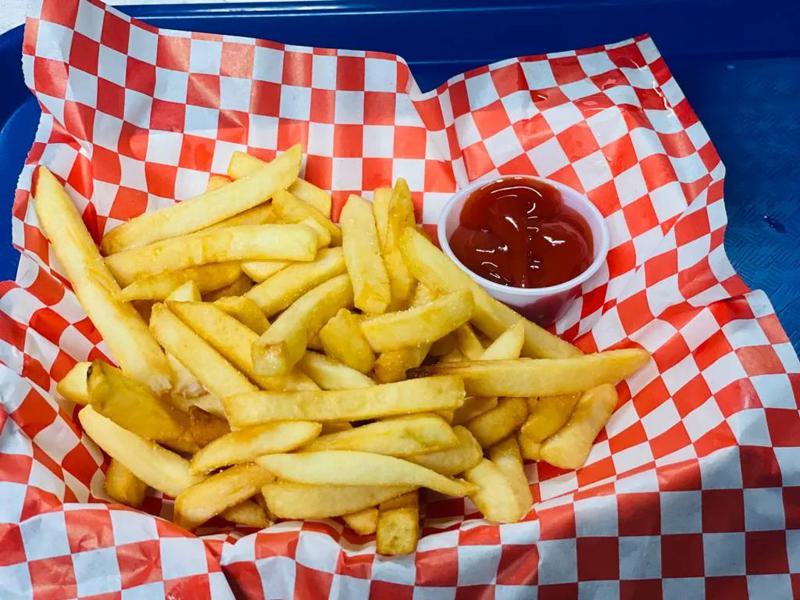 The go-to variety of fries is the regular fries with uniform thickness. They are deep-fried in a neutral-flavored oil and lightly tossed in salt.
They are simple, but they pair beautifully with a huge variety of casual American cuisines. Whether you go for a classy cheeseburger or a succulent steak, regular fries will elevate the dish with its amazing taste and texture.
Fast food chains like Burger King and Wendy's keep it simple with regular fries, although Wendy keeps a little bit of the potato skin intact for an earthy aftertaste.
Crinkle-Cut Fries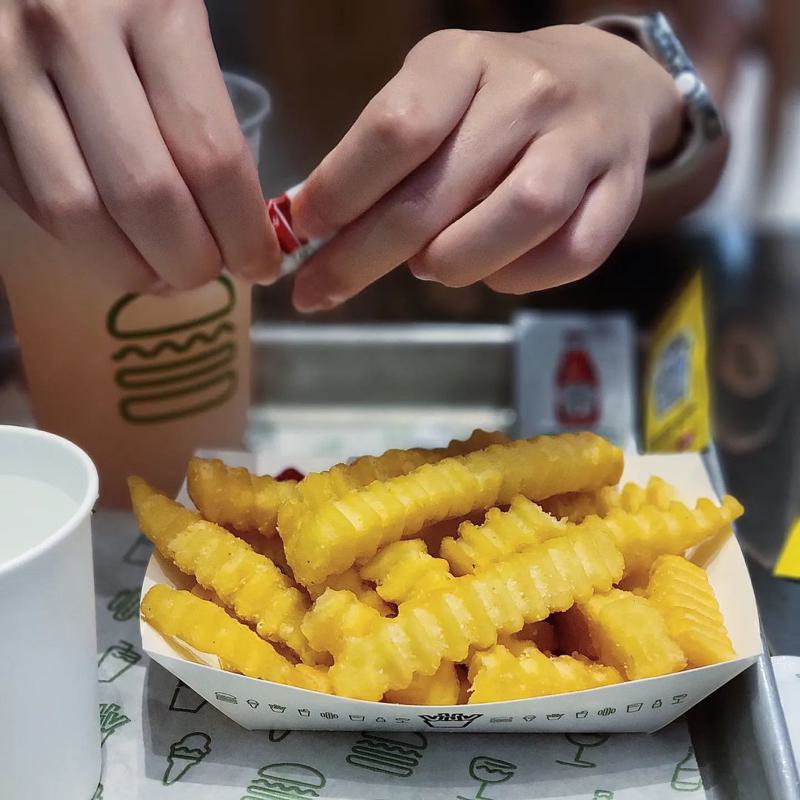 Playing with texture and appearance, crinkly-cut fries are slightly thicker than regular fries. The ridged surface of these fries retains the maximum amount of flavor and sauces, so most restaurants toss in some pepper or an herb mix to enhance the taste.
Popular fast food chains serving Crinkle-cut fries include Shake Shack and Arby's.
Curly Fries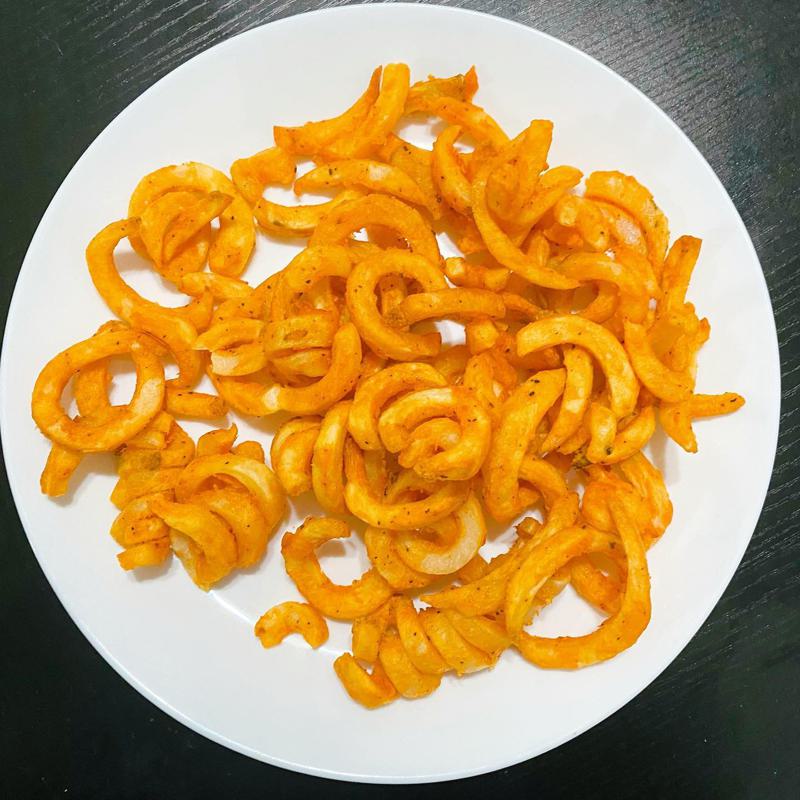 Curly fries are not as common as other varieties, which is why getting them instantly upgrades your dish! Due to their shape, they are not as crispy and much longer than standard fries.
The spirals are usually made with whole potatoes that are heavily seasoned. Curly fries are a specialty of Burger King.
Waffle-Cut Fries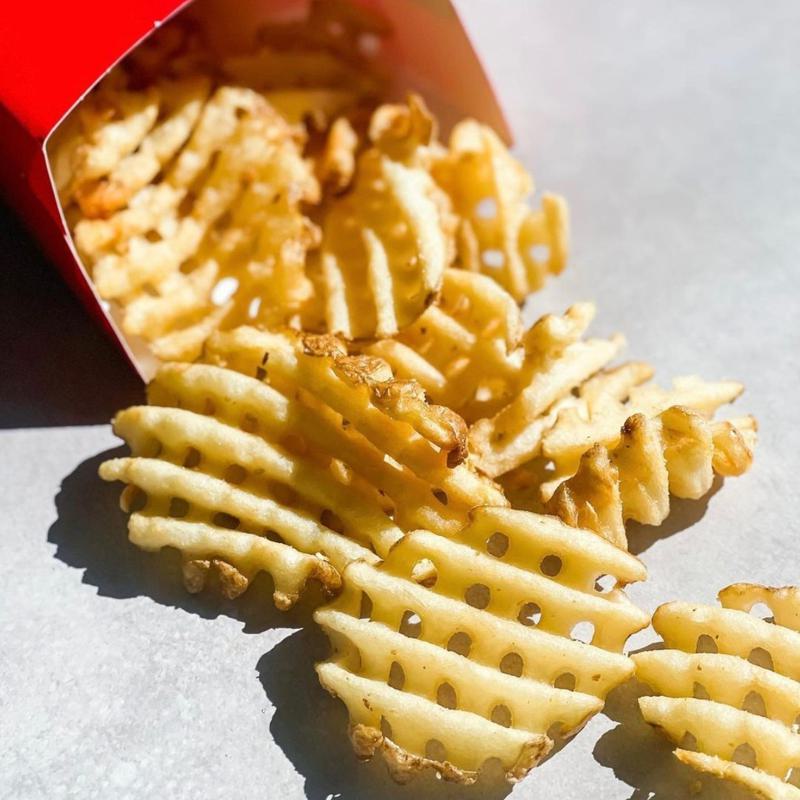 The quirky and unique waffle-cut fries are made from special slicers and mandolin blades. As these fries have a larger surface area, they turn out quite crispy and retain flavors and sauces pretty well.
Chick-fil-A is one of the few fast-food restaurants that serve waffle-cut fries. Try it with one of their famous dipping sauces and you will instantly fall in love with its texture and flavors.
Potato Wedges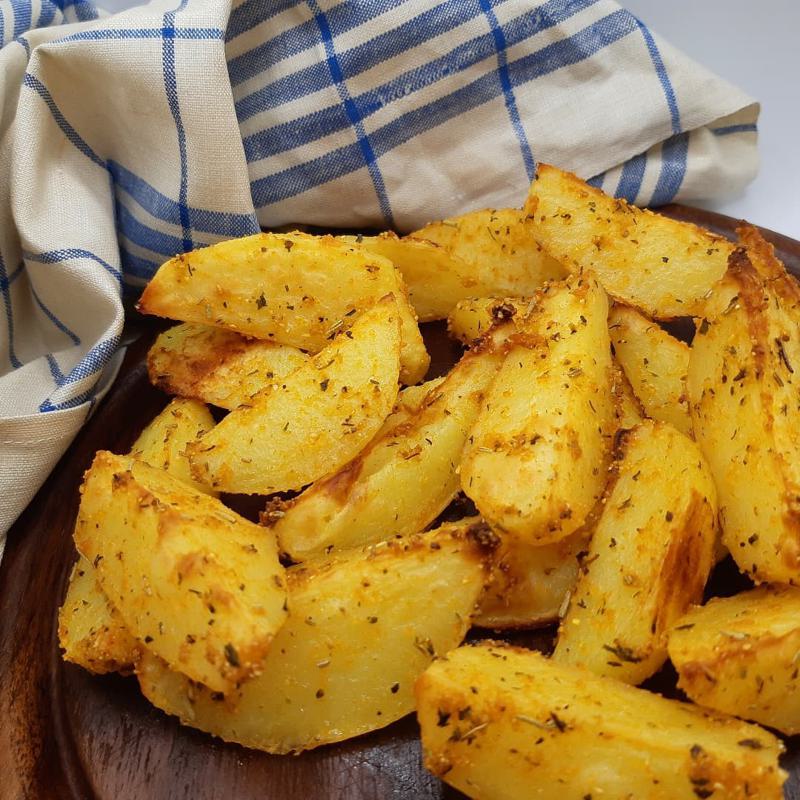 If you like your fries thick, opt for potato wedges for the ultimate thickness and maximum taste of the potato. As the name suggests, these are wedge-shaped and incorporate big chunks of potatoes with the skin intact.
Loaded with seasoning and flavors, potato wedges are usually twice-fried or baked to get a somewhat crispy texture. However, they are still quite soft and taste great with ketchup.
Pizza Hut is a go-to fast food restaurant for potato wedges. Might we suggest trying them with the pizza? You will be surprised at how well they both go together.
Steak Fries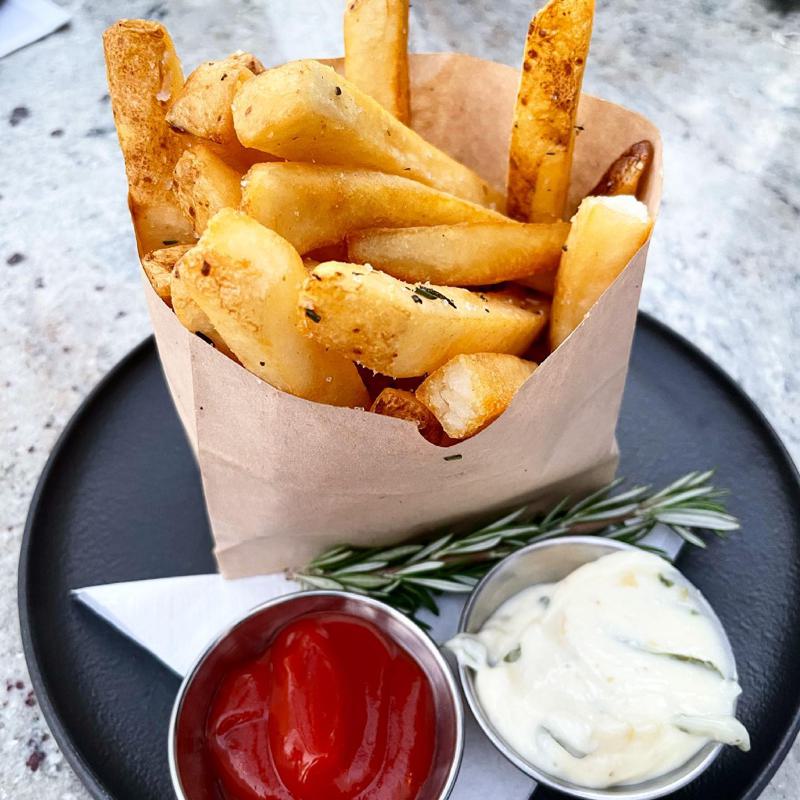 Steak fries are also a variety of thick-cut fries that are used in high-end restaurants as a classic side for steaks and burgers. Another reason why they might be called steak fries is that the slab-like shape resembles the cuts used for steak.
Steak fries are best for those who love to keep it balanced between crispy and soft. The shape is also great for loading generous amounts of your favorite condiments.
Thin-Cut Fries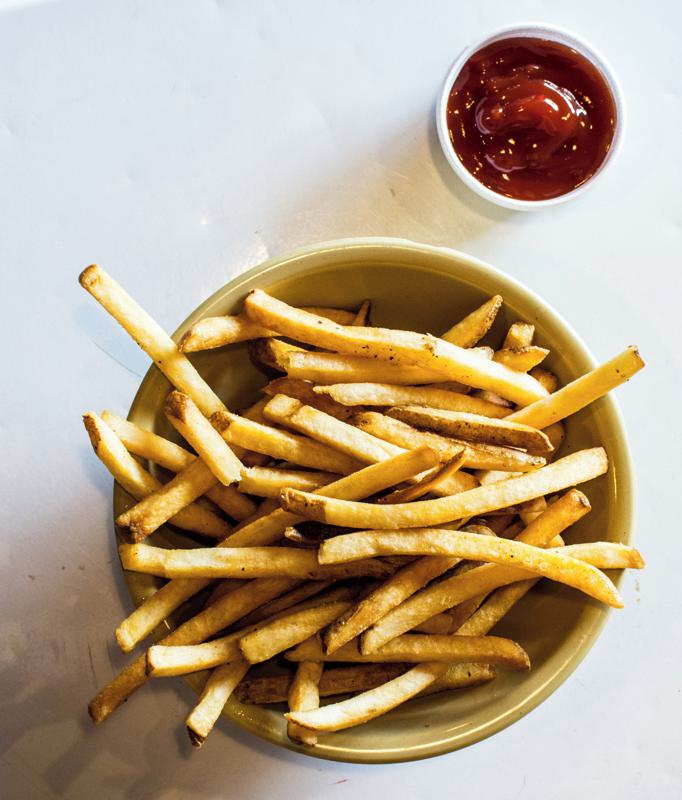 The likes of "shoestring" and "matchbox" fries fall under this category. You might not find the name as tempting, but if you love your fries crispy, you will absolutely love this variety.
Popular fast-food restaurants like Mcdonalds and KFC keep their fries slightly thinner as compared to other restaurants. This ensures a crispy texture that's unmatched by other varieties of fries.
Matchstick fries are possibly the crispiest variety of fries as there is no potato left in the interior for that fluffiness when you bite into it.
Loaded Fries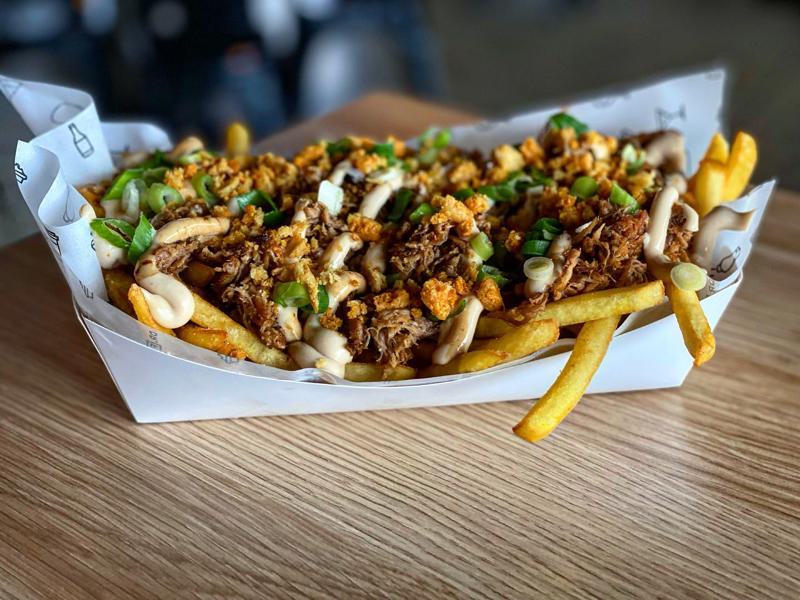 The mind boggles at the scope for creativity and experimentation that can be done with "loaded fries". As the name suggests, this variety of fries comes loaded with toppings that make it a complete dish on its own as opposed to being a side dish.
Almost all loaded fries have cheese as one of the ingredients – or even the sole ingredient for cheese fries. Loaded fries can have toppings like chili, a variety of meats, gravy, vegetables, and condiments.
Tornado Fries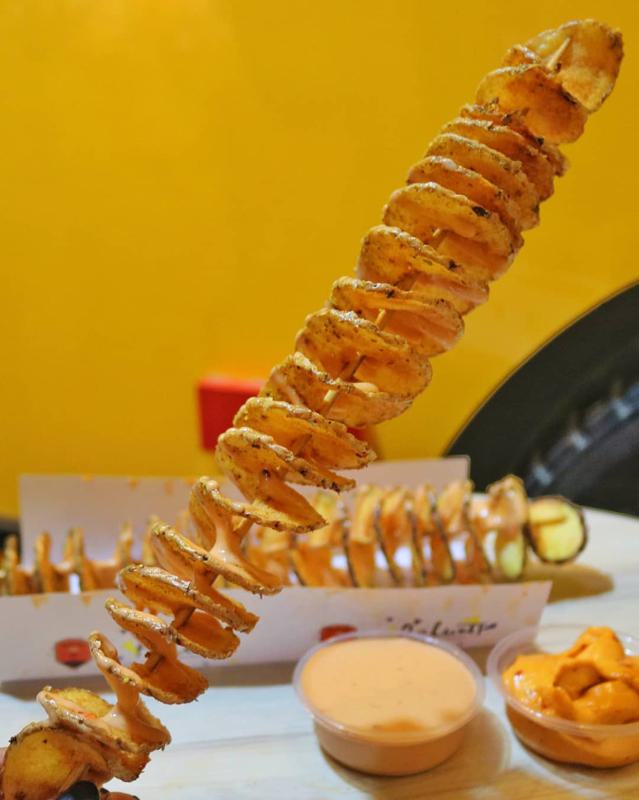 You will usually find Tornado fries at festivals and events. These tasty treats use the whole potato cut into a spiral and served on a stick in a fanned-out design which is then deep-fried.
You can't leave a carnival without trying one of these. The vendors usually have a whole array of spices in salt shakers ready to sprinkle according to your liking.
Tater Tots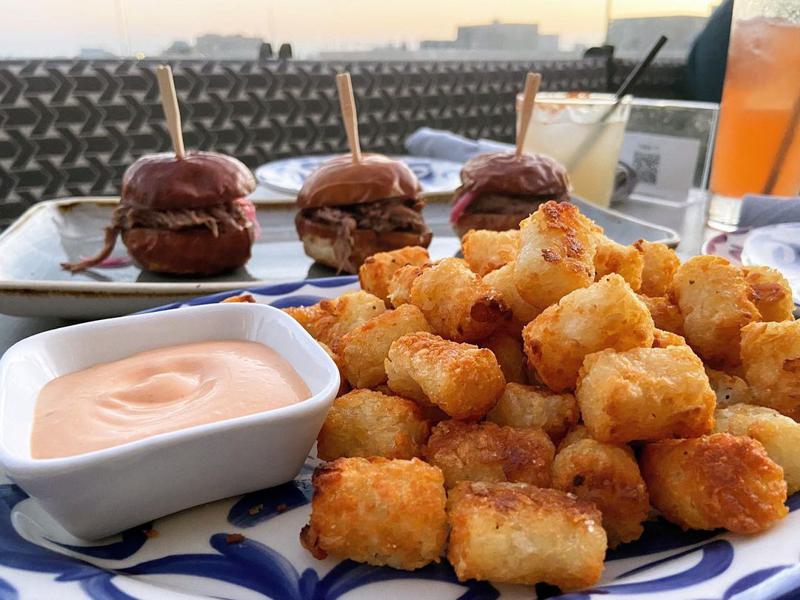 Technically these aren't 'fries', but we can't do the injustice of excluding the good-old tots from our list. The fun-shaped bite-sized treats are a tie between fries and wedges.
Enjoy these tasty treats as a snack, or use them as a side dish with a variety of dishes.
Truffle Fries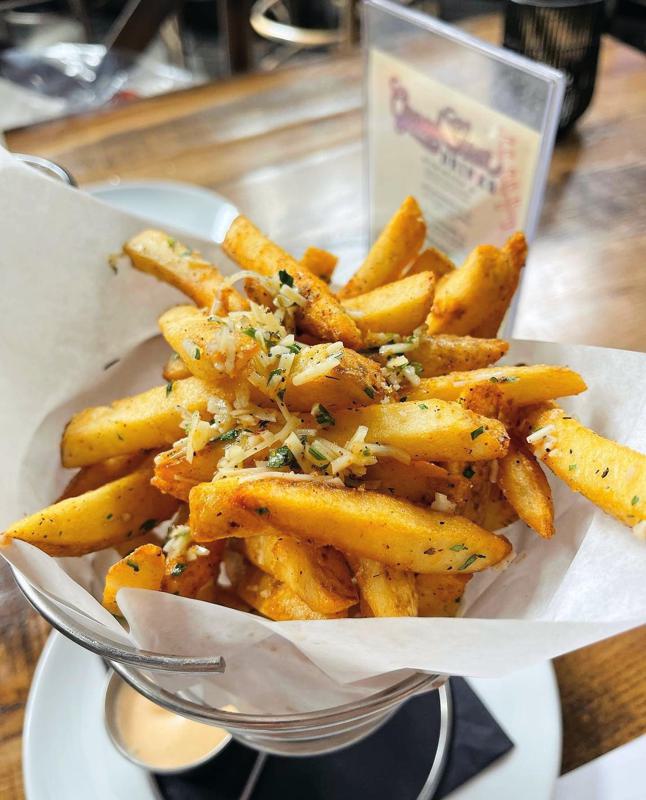 If you think fries are a casual side item, Truffle Fries are here to prove you wrong. The fanciest of all, truffle fries are an elite variety of fries that are served in fancy fine-dining restaurants.
They are usually thin-cut fries that are seasoned with a generous amount of truffle oil or fresh truffles lightly shaved and sprinkled on top. Other toppings that might accompany the truffle include parmesan and parsley.
Along with the fluffy and crispy goodness of potatoes, these fries offer a mouth-watering umami punch from the truffle.
Sweet Potato Fries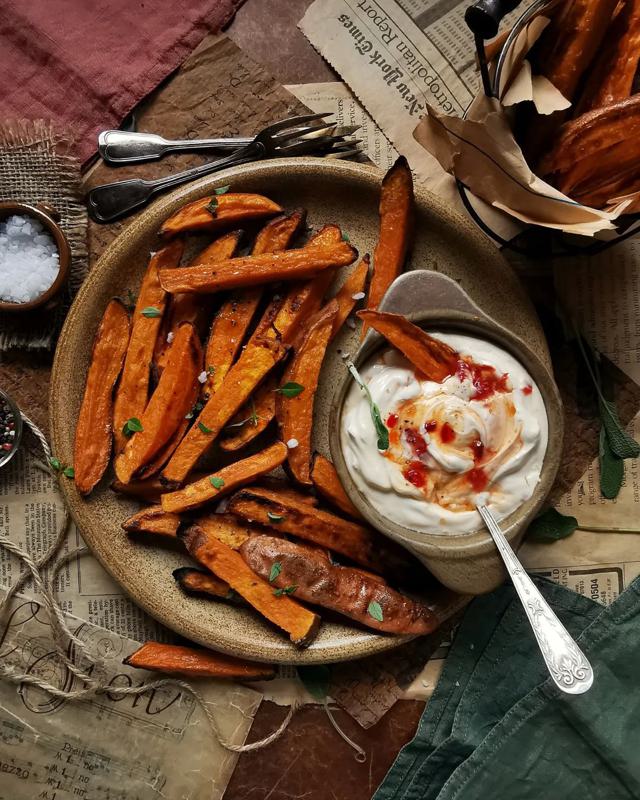 A healthier take on French fries, sweet potato fries are made from sweet potatoes and are either fried or baked. The sweet and heavy flavors are quite satiating and aptly fill that void in our hearts that only French fries can fill.
The best condiment to pair with sweet potato fries is a honey mustard sauce.
Poutine it in your Mouth the Canadian Way
Originating in Quebec, Poutine is a French fries dish served with thick brown gravy and cheese curds. It is one of the crown jewels of Canada and is a must-try for French fries aficionados.
The base of the dish has crispy golden French fries but the magic happens with the freshest cheese curds and piping hot gravy poured on top and consumed as soon as it is prepared. As with any fries dish, poutine also has many variations.
The main ingredients stay untouched, but you can get it with a huge variety of toppings including meats, cheeses, garnish, and condiments. Rumor has it that people inexorably start singing "Oh Canada!" as soon as they gulp down the first spoonful.
Pommes Souffles – A Delicacy from France
So what if French fries don't have a French origin? Pommes Souffles are the true "French" fries, here to complicate your life in all the right ways.
Making this French variety of fries is no joke! It takes effort, technique, and a lot of patience – which is why we recommend getting them from an authentic French restaurant.
Pommes Souffles are puffed fries that look (and taste) very fancy. The potato slices are delicately sculpted in oblong shapes and deep-fried twice.
In high temperatures, the potato puffs up and makes it light and crispy. Enjoy them freshly fried as they can deflate fairly quickly.
Chips – An Englishman's One True Love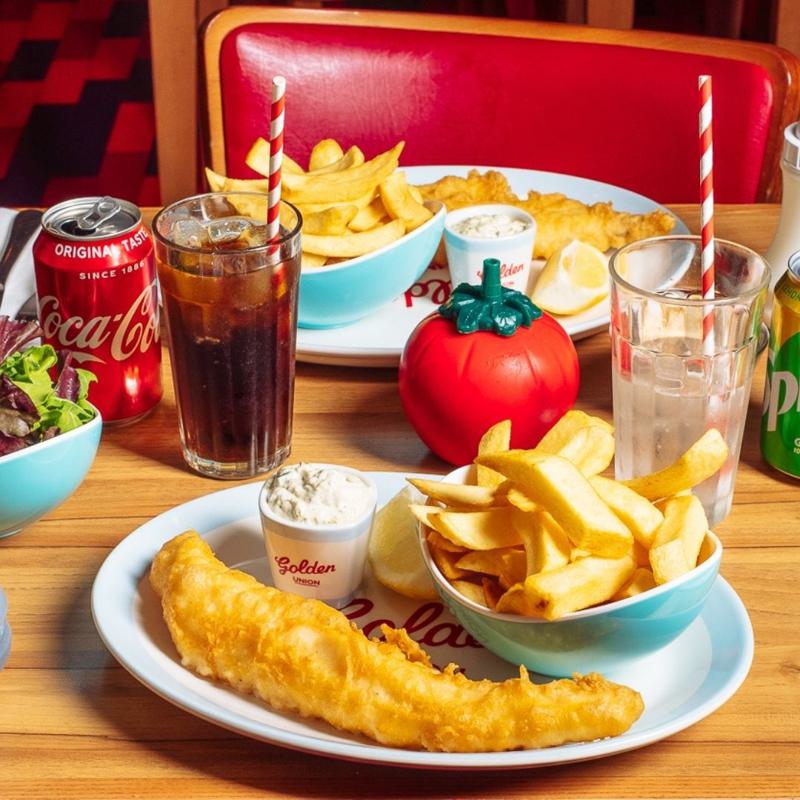 Yes, we do mean the classic "Fish and Chips". They seem like standard fries, but the fries used for fish and chips have a different preparation.
The thick-cut fries are shorter and make a heavenly divine pair with fried fish. Often fried in the same oil, they can also have a fishy taste and pair well with tartar sauce.
Spice Up your life with Masala Fries from Kenya
"Masala" translates to spices, and Kenya doesn't shy away when it comes to seasoning and flavoring up the standard fries. Playing with your tastebuds with a bit of tang and zesty surprise, the masala fries are tossed in a variety of seasonings.
People usually do it any way they like, but the most commonly used spices are chili powder, paprika, chaat masala, and tandoori masala. Besides the dry spices, some masala fries may also have an indulgent and rich garlic-based or tomato-based sauce.
Sprinkle some lemon on top and you can enjoy this delicious side with barbecues and burgers.
Carne Asada Fries – A Mexican Feast
Imagine nachos – but make it with fries. This is a variety of loaded fries made the Mexican way with a tornado of flavors that take your taste buds on a ride.
The crispy thick-cut fries are topped generously with a Mexican cheese blend and all the typical vegetables you'd expect to find on loaded nachos or tacos. Finally, the flavors of sour cream and guacamole shine through for a perfect Carna Asada.
Sometimes, these fries are tipped with skirt steak, seasoned flank, or grilled meats, making it a complete meal.
Salchipapas – the Peruvian Pride
Enjoyed widely in Peru and Latin America, Salchipapas are a variety of fries with exotic flavors and delicious ingredients. Typically, the dish has thin flanks of sliced sausages fried with fries and doused generously in mayo, ketchup, and hot peppers.
It is a famous street food so don't be surprised if you find some unusual toppings on it. some places also use Aji Amarillo paste, sour cream, tomatoes, and mustard.
Finger Chips – Ruling the Streets of South Asia Since the Dawn of Time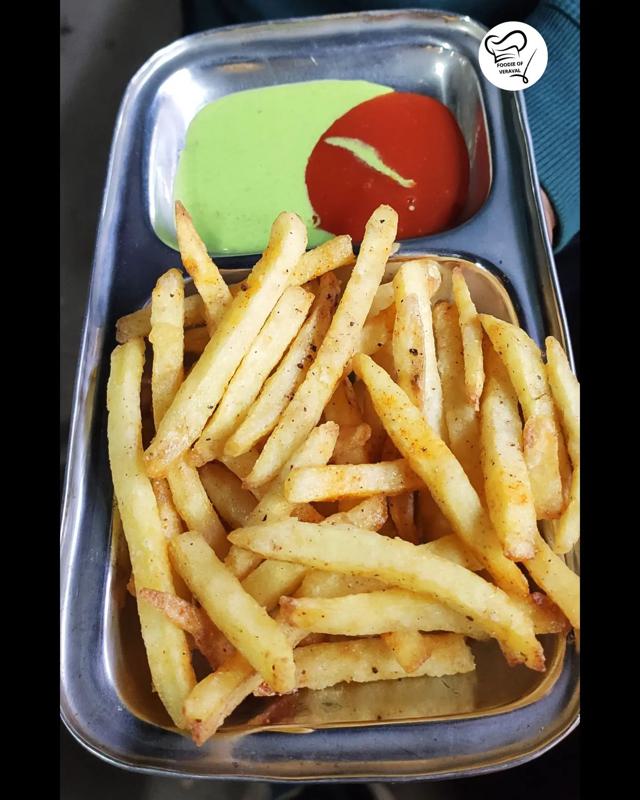 Famous street food in India and Pakistan, finger chips are a variation of fries made with eastern spices like turmeric and chaat masala.
While the preparation of finger chips is the same as regular fries, the complex spices of South Asia make it unique. Besides the traditional ketchup and mayo, these fries are also served with special mint or turmeric chutneys.
Bratkartoffeln – Hard to Pronounce but Delightful to Eat German Fries
It's easier to make it than pronounce it.
The German variety of French fries is pan-fried potatoes cut into thin slices. Accompanying ingredients include onions, bacon, and German seasonings.
Keeping things traditional, the bacon used for this dish is 'bauchspeck' with a smokey taste that goes very well with starchy potatoes. People also like to add fried eggs and spring onions for a wholesome meal.
The Spicy Spanish Patatas Bravas
In Spain, people like their fries thick to retain the maximum flavors of the potato. Made with white potatoes cut into cubes, these fries are served with a spicy sauce that gives them a distinct flavor.
The characteristic "salsa brava" sauce is made with smoked paprika, tomato paste, and extra virgin olive oil and will make you yell out "Exquisito!" with every spoonful.
War Fries or Patatje Oorlog from Netherlands
Feast on a lip-smacking combination of fries, onions, mayo, and satay sauce. A popular street food in the Netherlands, you will find this mouthwatering variety of fries on every corner.
While the preparation of fries closely resembles the traditional French fries, it's all about the toppings that set it apart. The satay sauce is the star ingredient of the dish and gives intense flavors of soy sauce, chili, peanuts, and sambal oelek.
South Korea's Sweet and Salty Honey Butter Fries
Tantalizing your tastebuds with a delectable sweet and salty goodness, the Honey Butter Fries is a South Korean specialty. Available in most fast-food restaurants, these fries are served hot with a generous topping of butter and a drizzle of honey.
Read More:
Final Thoughts
There's no wrong way of consuming French fries. Whether you choose to stick with the standard fries or try one of the traditional recipes from around the world, you won't be disappointed.
Get a chilled can of soda to go with it and put on your favorite show, French fries have got your back.