As the state capital of Mississippi, Jackson always has something fun going on. This exciting destination has been immortalized as the filming location of The Help.
In Jackson, you'll find dozens of historical sites and museums along with multiple sports teams, a beautiful zoo and botanical garden, and tons of unique shops and restaurants around every corner.
Speaking of restaurants, Jackson has some of the finest eateries in the South. Here are 15 restaurants to choose from on your next trip to Jackson.
Best Restaurants in Jackson MS
Char Restaurant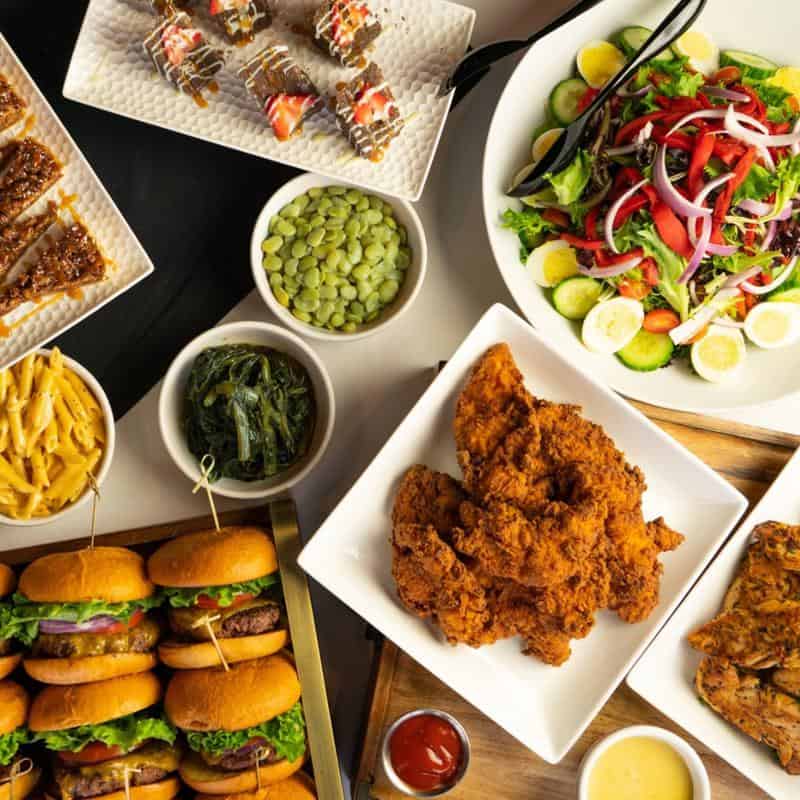 Location: 4500 Interstate 55 North Frontage Road, Jackson, MS 39211
Price: $$$
Known for: Southern steakhouse with upscale setting
When you think of Southern food, you probably picture a quick-casual place with old menu boards on the walls. Those joints are definitely delicious, but Char Restaurant brings the same deliciousness in an upscale atmosphere.
The dining room is spacious and inviting, and the food puts a unique twist on all your classic Southern favorites. This eatery is perfect for a special occasion or a romantic night out with your partner.
Some of the most popular options on the menu include the 20oz. Cowboy Ribeye, lamb chops, fried green tomatoes, and pecan pie for dessert. Any beef, veal, or lamb you may order will be USDA Prime and Choice cuts.
Char gets pretty busy on the weekends in particular, so it's best to make a reservation.
The Iron Horse Grill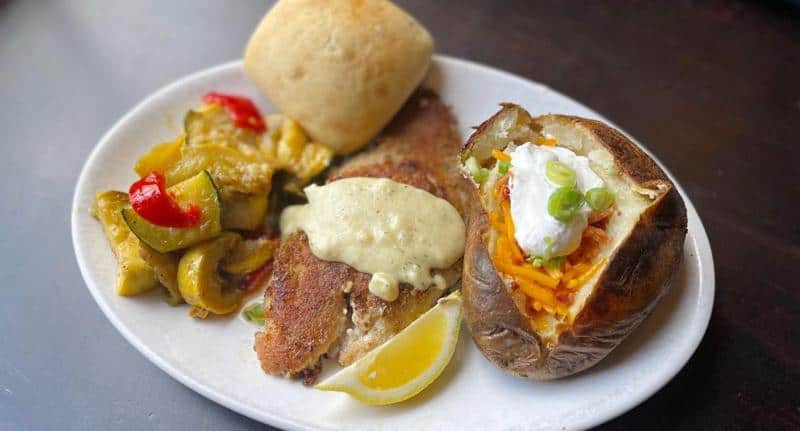 Location: 320 West Pearl Street, Jackson, MS 39203
Price: $$
Known for: Pub fare, unique industrial space
Whether you're heading out with your family or your friends, there's something for everyone to love at The Iron Horse Grill. The setting is airy and welcoming with a one-of-a-kind industrial feeling, guaranteeing a dining experience unlike any other.
When you come in for dinner, there are plenty of mouthwatering Southern foods to choose from. Consider indulging in menu options like ribeye steak, pork chops, chili, and more.
While guests certainly boast about the food, the staff is equally as impressive. Everyone who works here is friendly and attentive, ensuring you have a meal worthy of royalty.
The Iron Horse Grill has been a local staple for decades, and it's easy to see why. Enjoy dinner on Friday or Saturday to listen to live music while you dine.
The Pig & Pint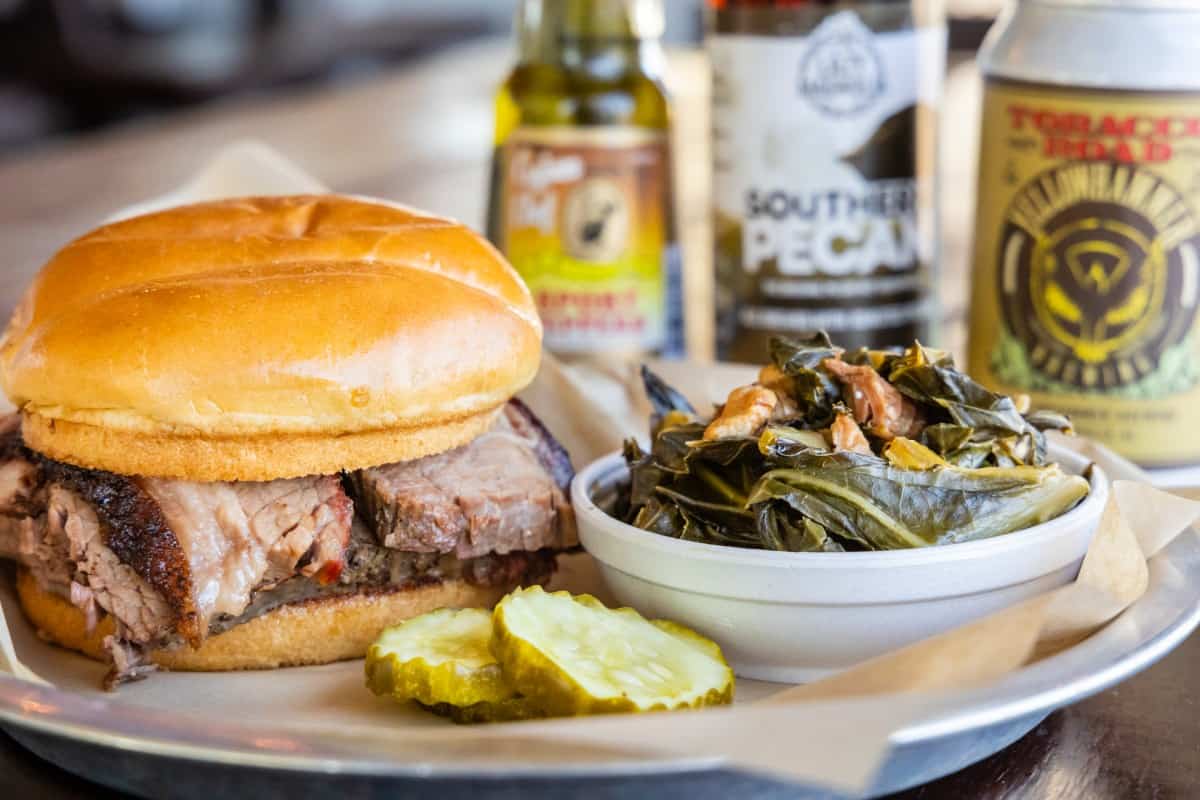 Location: 3139 North State Street, Jackson, MS 39216
Price: $$
Known for: Plenty of craft beer, globally inspired dishes
No trip to Mississippi is complete without barbecue, which is why The Pig & Pint comes so highly recommended. The setting is rustic yet modern, great for groups of all sizes and guests of all ages.
If you're on a budget, you'll love how much "bang for your buck" you'll get here. Consider options like ribs, taco sampler, brisket, pulled pork tacos, and more.
Want to try something a bit more adventurous? Check out unique selections like the Pork Belly Corn Dogs or the BBQ Chicken Tacos with Mango Jicama Slaw.
To wash everything down, you can make a selection from the extensive menu of craft beers. Enjoy it all inside the dining room or outside in the covered seating area.
Saltine Restaurant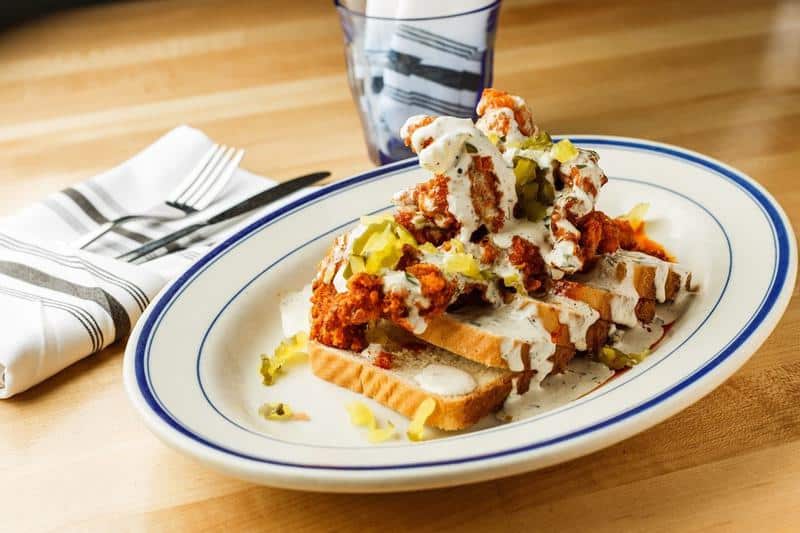 Location: 622 Duling Avenue, Jackson, MS 39216
Price: $$
Known for: Cozy and contemporary space, Southern-style seafood
Saltine Restaurant takes the idea of Southern comfort food and prepares it in a beautifully modern space that's sure to impress. Stop in for brunch with your friends or enjoy dinner with the whole family.
It would be impossible to list all the most popular menu options, but rest assured you can't go wrong. Just a few of the notable selections include Cajun pasta, fish and chips, shrimp and grits, and an oyster sampler.
Enjoy fresh seasonal vegetables and a wide range of gluten-free options in addition to the seafood that's made this restaurant popular. When it's time to finish your meal, indulge in a piece of cinnamon bun cheesecake!
Note that Saltine Restaurant maintains a business casual dress code.
Babalu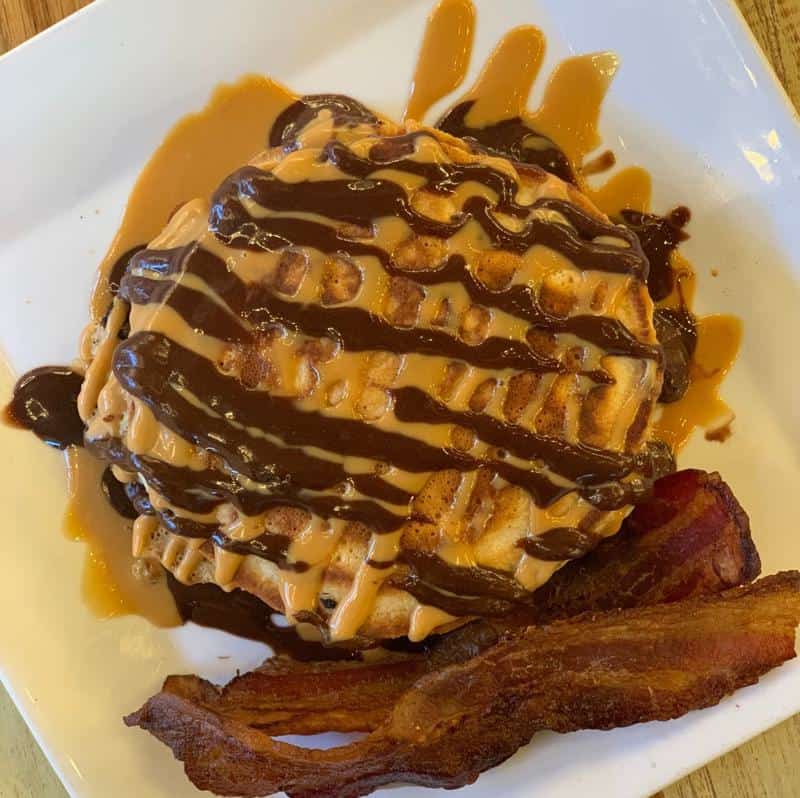 Location: 622 Duling Avenue, Jackson, MS 39216
Price: $$
Known for: Tacos and tapas with a Southern twist
For a quick bite to eat that never sacrifices quality or flavor, head to Babalu. All dishes are made fresh to order, and every option is carefully crafted to provide an eating experience like none other.
The wait staff here is known for their Southern hospitality, but when you look at the menu, you'll find dishes that head south of the border. Try the fresh-made guacamole, go for a one-of-a-kind taco, or enjoy seafood like the blackened salmon.
Many patrons also enjoy the drinks available at Babalu. The pomegranate margarita is always a big hit, along with blood orange or pineapple mimosas.
On the weekends, Balabu is a popular place to be. Make a reservation ahead of time or see if you can snag a free seat at the bar.
Drago's Seafood Restaurant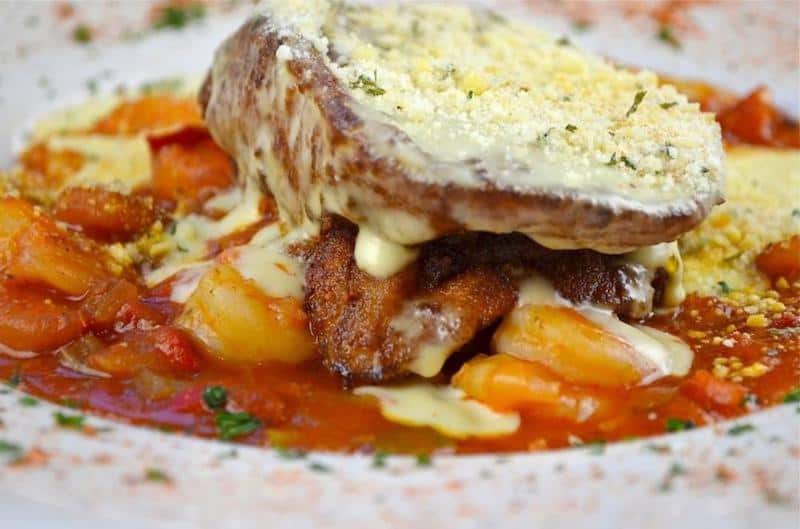 Location: 1005 East County Line Road, Jackson, MS 39211
Price: $$$
Known for: Unique seafood dishes, great happy hour deals
Known as the "home of the original charbroiled oyster," Drago's Seafood Restaurant is a dining experience like none other. There are multiple locations spread throughout Lousiana, but luckily, you can enjoy the mouthwatering seafood right here in Jackson as well.
Start with an appetizer like the crabmeat au gratin dip, tuna with aioli, or BBQ shrimp. There's also a tempting oyster menu to choose from, offering oysters Voisin, the Original Charbroiled Oysters, and raw oysters on the half-shell.
You can also enjoy gumbos and soups, fried seafood, house specialties, and a unique Catch of the Day on every visit. When it's time to finish up, try the apple cobbler, cheesecake, or Key Lime parfait.
BRAVO! Italian Restaurant & Bar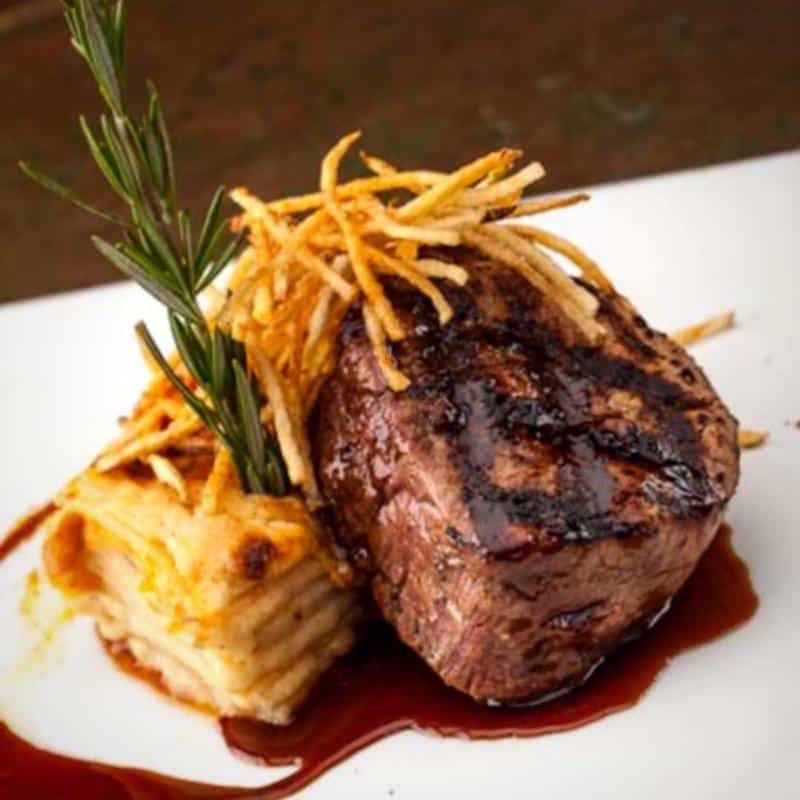 Location: 4500 Interstate 55 N, Highland Village, Suite 244, Jackson, MS 39211
Price: $$$
Known for: Classic Italian dishes, unique gluten-free menu
You might not think to come to Mississippi for mouthwatering Italian food, but a visit to BRAVO! will make you think again. Come visit them in the Highland Village Shopping Center.
Of course, you'll find plenty of pizza options here, all prepared in the wood-fired oven. You can also find steak, chops, seafood, salad, pasta, and so much more.
Take a seat at the bar or enjoy the main dining area. Either way, you'll be served by the friendliest staff and will appreciate the attention to every detail.
If you or someone in your group has a dietary restriction, note that BRAVO! offers a gluten-free menu. Everyone in your party is sure to find something to love.
The Manship Wood Fired Kitchen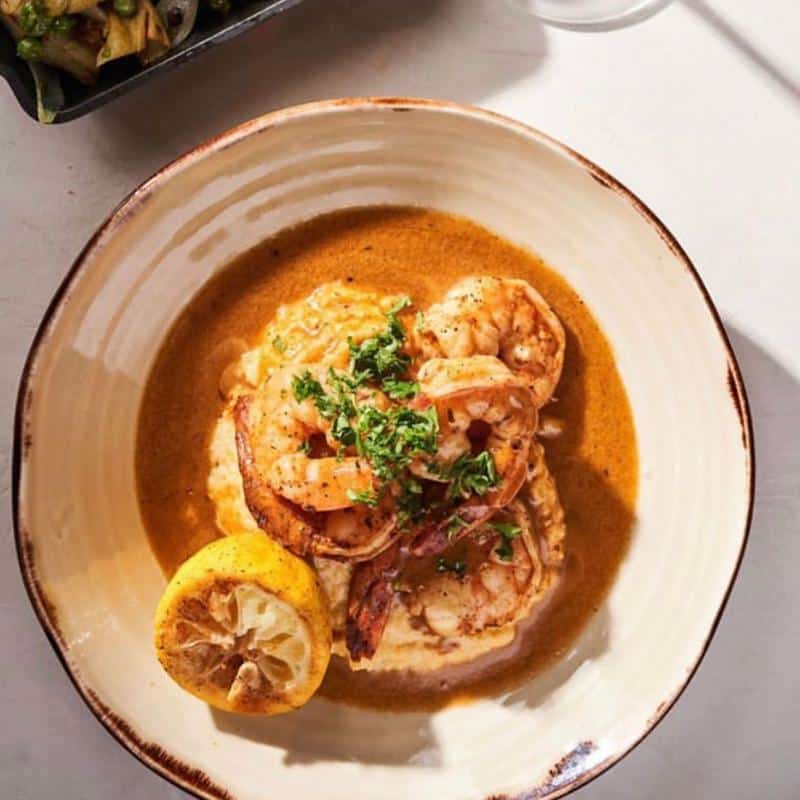 Location: 1200 North State Street #100, Jackson, MS 39202
Price: $$
Known for: Southern and Mediterranean meals, beautiful outdoor seating
Whether you sit in the bright and airy dining room or outside on the patio, you'll experience a unique and mouthwatering meal at The Manship Wood Fired Kitchen.
You can find Southern dishes like short ribs or pimento cheese, or if you're looking for Mediterranean food, enjoy the hummus or veggie plates. Other notable dishes include sweet potato home fries, orzo, salmon croquettes, and lemon rotisserie chicken breast.
If you'd simply like a drink, make your way up to the bar. Order one of your favorite cocktails or go for a specialty variety like the Frozen Porch Swing.
You'll find The Manship Wood Fired Kitchen right next door to Mississippi Baptist Medical Center.
Bully's Soul Food Restaurant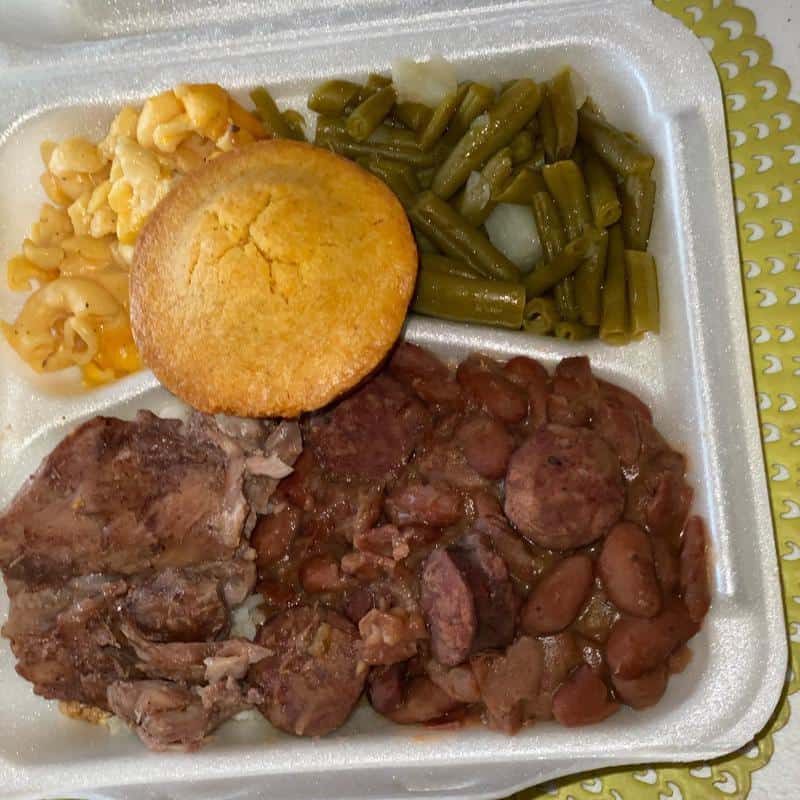 Location: 3118 Livingston Road, Jackson, MS 39213
Price: $
Known for: Homemade soul food in a casual atmosphere
You might not always want to go somewhere upscale to enjoy a good meal. When you come to Bully's Soul Food Restaurant, you'll find the classic and casual Southern atmosphere you're craving.
This eatery offers no muss and fuss and simply focuses on their delicious offerings. Once you stop in for yourself, you'll understand why it's a favorite of locals and visitors alike.
One of the most popular offerings here is the chitterlings, which they only have every so often (so be sure to check in advance if you know you're coming!). You can also try options like beef tips, collard greens, sweet yams, cornbread dressing, catfish, and more.
Comfort food doesn't have to be complicated. Enjoy the food inside of Bully's or get it to take with you.
Walker's Drive In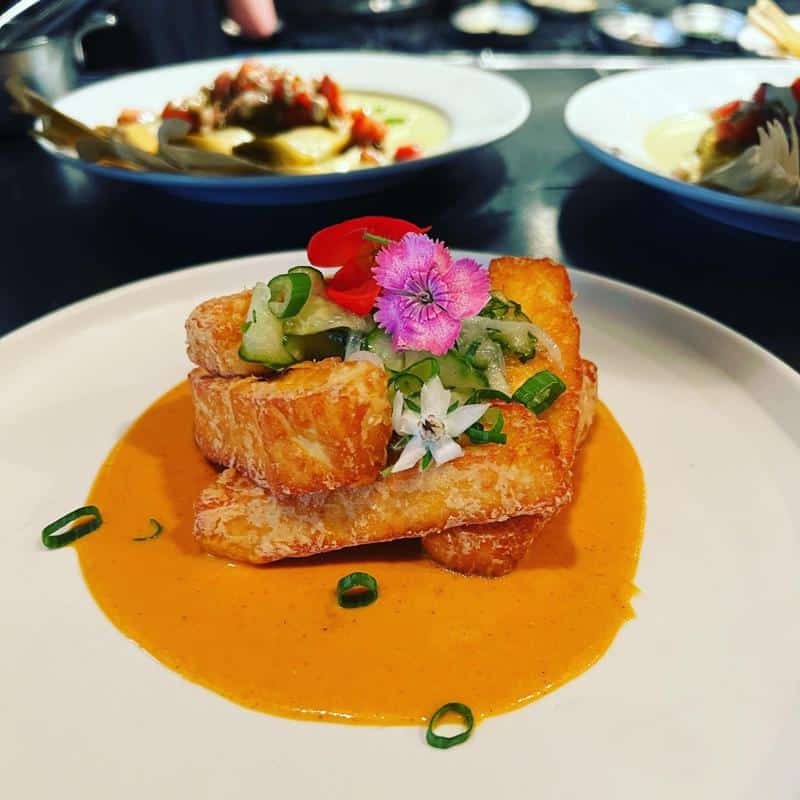 Location: 3016 North State Street, Jackson, MS 39216
Price: $$$
Known for: New American fare in a stylish setting
When you think about dining at a drive-in, you're probably thinking about eating in your car when a carhop brings your meal outside. But at Walker's Drive In, the experience is completely different.
This stylish bistro has an upscale setting that's popular among guests of all ages. The food is nothing short of top-quality, and the service is equally as impressive.
The menu here offers plenty of seafood options, including red snapper, lump crab, and scallops. If you'd like something other than seafood, consider the Wagyu hangar steak or fried portobello mushrooms.
Be sure to save some room for dessert! You'll find tempting options like the Mississippi peach fried pie and vanilla bean ice cream.
Rooster's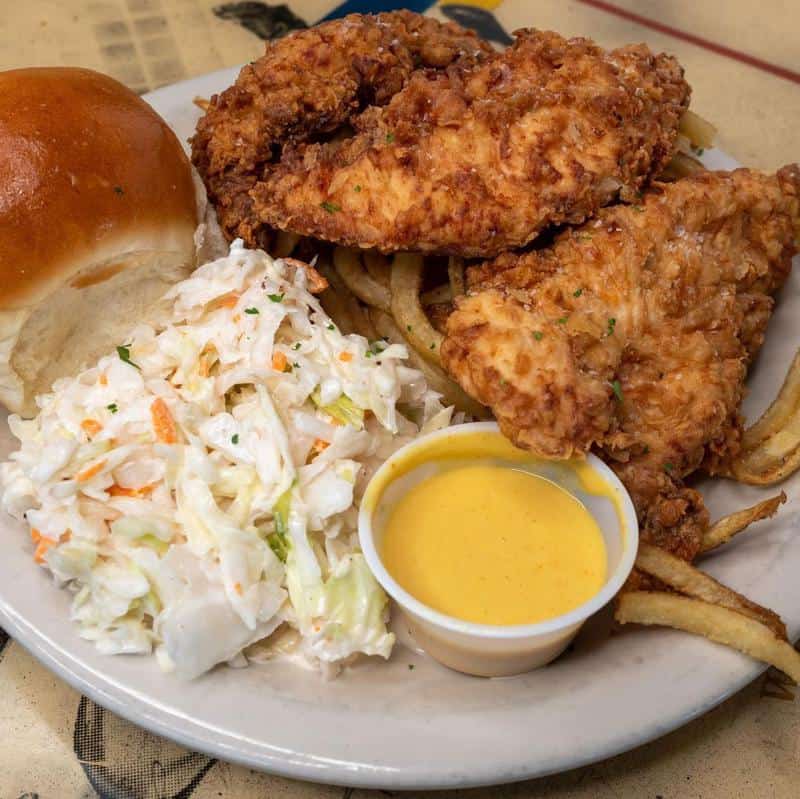 Location: 2906 North State Street #104, Jackson, MS 39216
Price: $$
Known for: Relaxed atmosphere with friendly family of owners
This family-owned establishment has long been one of the best restaurants in Jackson, MS. Come grab your food from the counter for a classic down-home experience.
There's no question that the staff here knows what they're doing. Everything on the menu feels as if you're at a Southern barbecue, complete with chicken fried steak, mashed potatoes, homemade gravy, and more.
But the mouthwatering flavors don't stop there. You can choose chicken strips, mac and cheese, hamburgers, and chopped steak.
When it's time to finish your meal, grab a cookie or indulge in some banana pudding. Throughout your time here at Rooster's, the staff will do all they can to make you feel like a member of their family.
Mayflower Cafe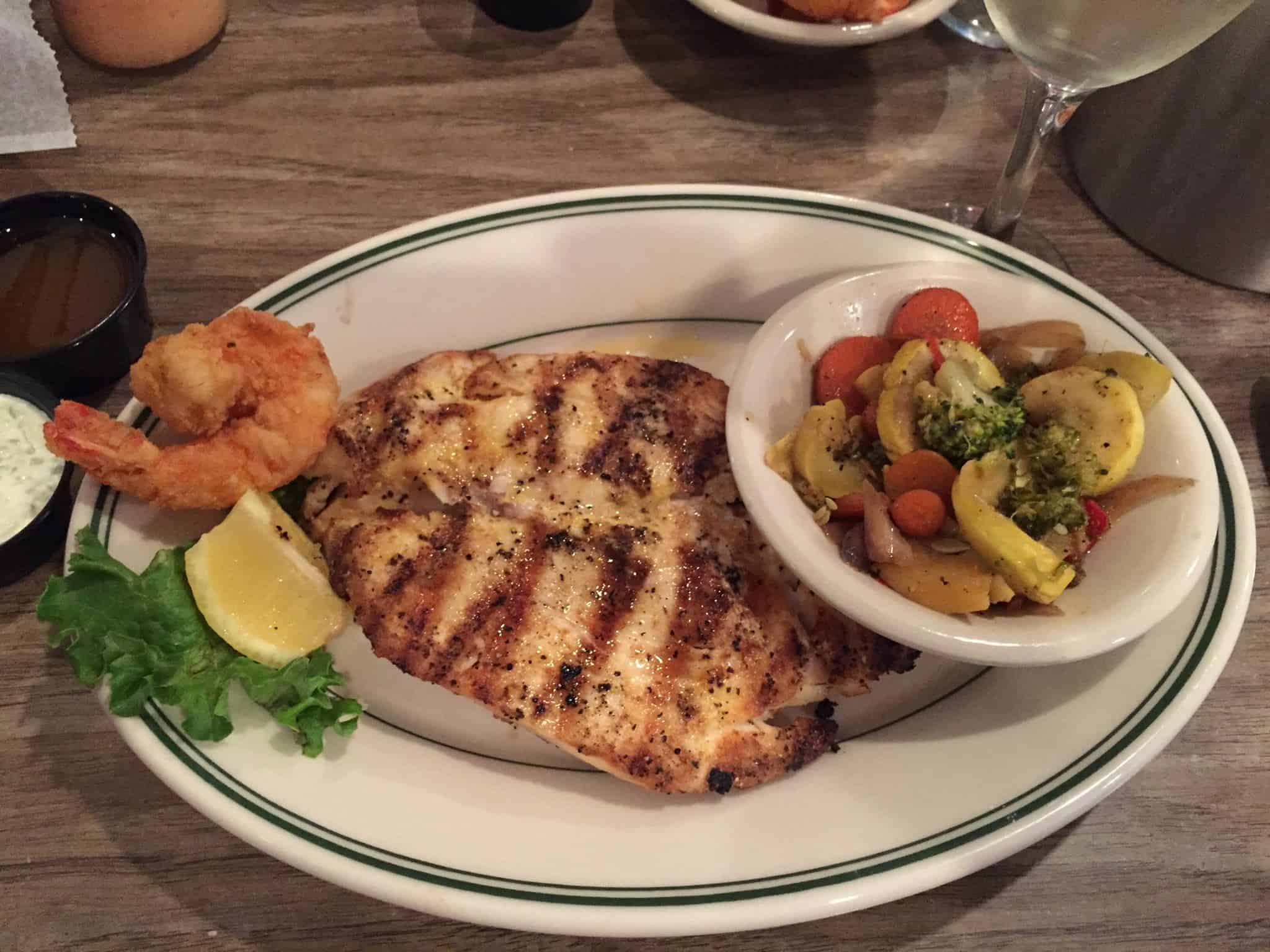 Location: 123 West Capitol Street, Jackson, MS 39201
Price: $$
Known for: Historic location, Greek-inspired eats
Mayflower Café is a unique eatery that can trace its roots back to 1935. While you might think this restaurant is nothing special at first, you'll soon be proven wrong.
The atmosphere is casual and welcoming for guests of all ages, great for families with kids. You'll find affordable eats that channel fresh, local ingredients along with the tempting flavors of Greece.
Some popular menu options here include club sandwiches, pot roast, redfish, and fried eggplant. There's a little something for everyone, so no one in your party should leave hungry.
Come see for yourself why Mayflower Café has been featured on the Food Network show The Best Thing I Ever Ate! This restaurant has a convenient location in downtown Jackson, so you can easily go explore the city once you're done with your meal.
Aladdin Mediterranean Grill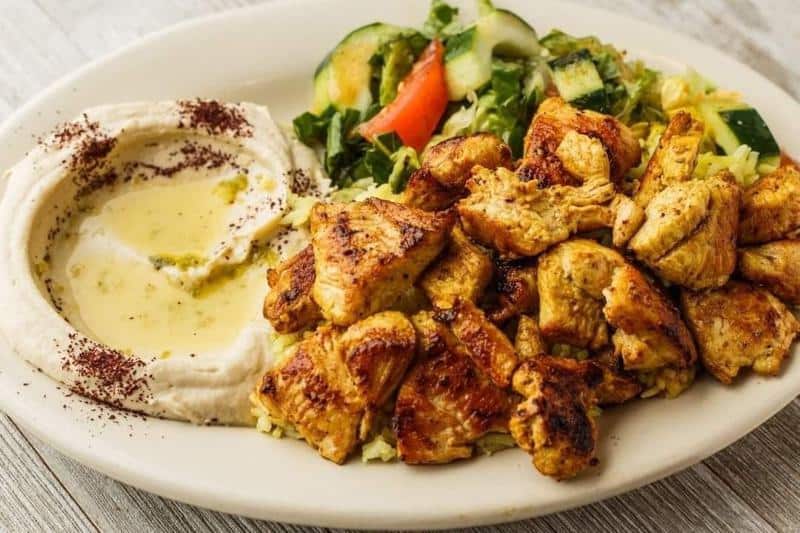 Location: 730 Lakeland Drive, Jackson, MS 39216
Price: $$
Known for: Laid-back atmosphere, BYOB
Bring your favorite drink and sit down to a one-of-a-kind Mediterranean meal at Aladdin. Enjoy your dinner inside in the dining room or outside on the patio.
The wait staff here are passionate about what they do, and it shows from the moment you step in the door. Don't hesitate to ask for a recommendation or an explanation about what is in a certain dish.
Every dish here is prepared with care, from the sea bass to the baklava to the kebabs and more. For dessert, sample the tiramisu to end your meal on the perfect sweet note.
This family-owned and operated restaurant is a bit of a hidden gem, so you should have no trouble finding a table. You can also rest assured knowing that dietary restrictions aren't a problem thanks to the halal, vegan, and gluten-free options.
Sal & Mookie's New York Pizza & Ice Cream Joint
Location: 200 District Boulevard East, Jackson, MS 39211
Price: $$
Known for: New York pizza, adults-only lounge
You don't have to travel all the way to New York City to get authentic New York-style pizza. You can find it in the heart of Jackson when you visit Sal & Mookie's.
Guests come here for the pizza, of course, but that's not all that's on offer here. Try one of their burgers, strombolis, or pasta options if you're not in the mood for a pizza pie.
As the name of the restaurant suggests, Sal & Mookie's also offers dozens of ice cream options for you to try. Guests of any age will love getting to find their perfect flavor to finish their meal!
Bring the kids and dine in the family-friendly outdoor space for the ideal evening.
Scrooge's Restaurant & Pub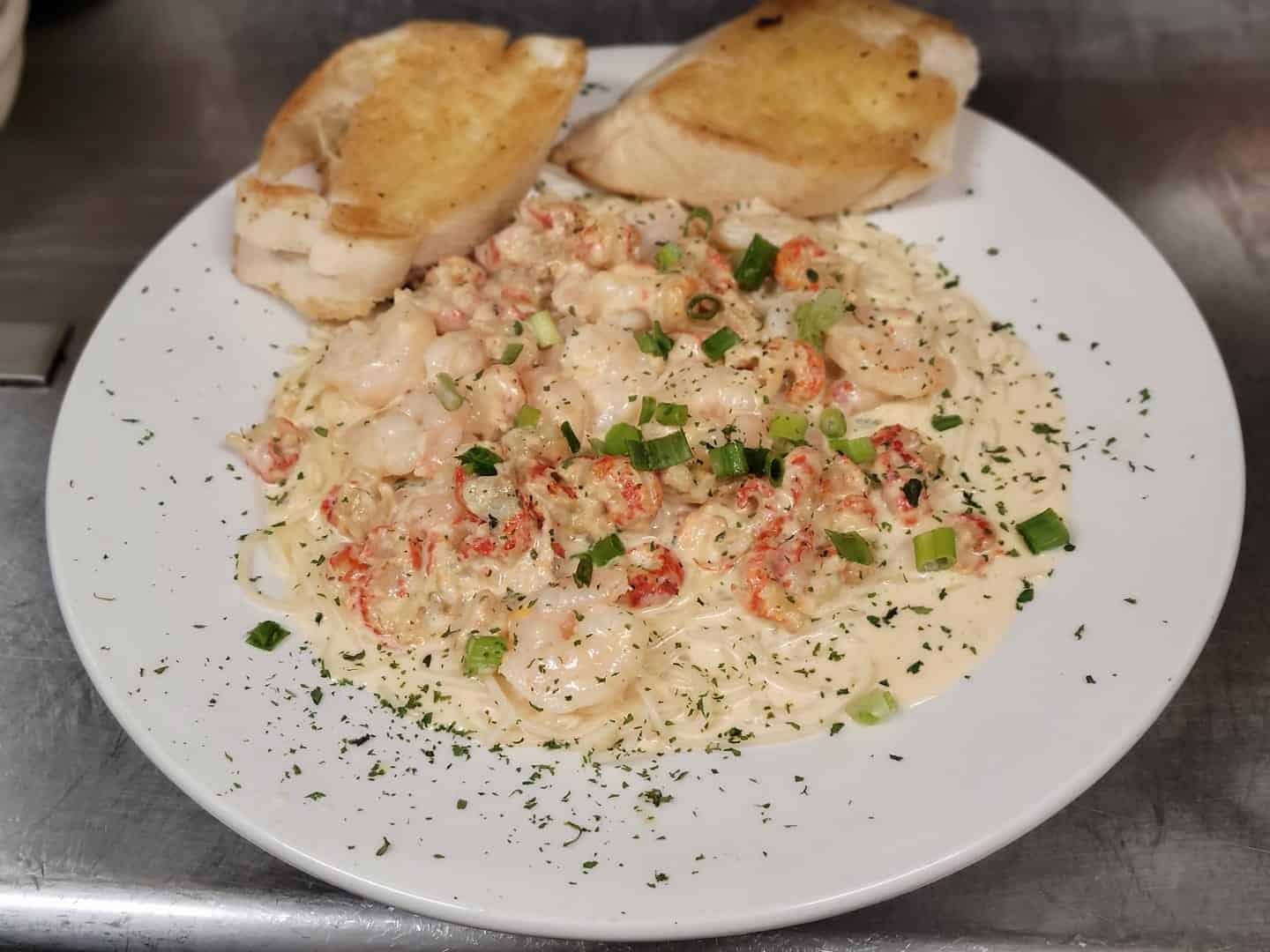 Location: 5829 Ridgewood Road, Jackson, MS 39211
Price: $$
Known for: Classic Southern food, welcoming staff
The Scrooge here isn't the grump from A Christmas Carol. In fact, when you come and enjoy a meal at Scrooge's Restaurant & Pub, you're sure to be anything but grumpy!
When you step inside, you'll be greeted with a smile and will be presented with dozens of menu options to choose from. There are all kinds of Southern classics, along with favorite dishes from around the country.
Start off with an appetizer of loaded nachos or fried zucchini for the table. Then, move on to an entrée like the Reuben on Rye, shrimp po'boy, or Scrooge's Crab Cakes.
Finish your meal with the buttermilk pie or pecan cobbler and ice cream. You're sure to be satisfied no matter what you select.
Read More:
Final Thoughts
The next time you find yourself in the area, enjoy one of the best restaurants in Jackson, Mississippi. With everything from upscale and modern to downhome Southern eateries, Jackson is sure to offer something for every member of your group.