If you're hungry or going out for dinner in Tampa, sushi is one of those incredible cuisines that will give you an exceptional experience. After all, what better way to flaunt your chopstick prowess than this?
Since Tampa is situated exactly into Florida's coastline, eateries here can order the freshest fish available every day, ensuring that only the best quality sushi prepared by professional sushi chefs is served.
They have a wide variety of Japanese delicacies, including those that are difficult to find, at extremely affordable prices. Relax with a warm bottle of sake and a salted edamame entrée or the more seductive fried oysters.
You can't go wrong with the great sushi here, whether you're looking for adventurous Maki rolls or the tastiest sashimi.
Best Sushi Restaurants in Tampa
Here are our top picks for the best sushi spots in Tampa:
Water+Flour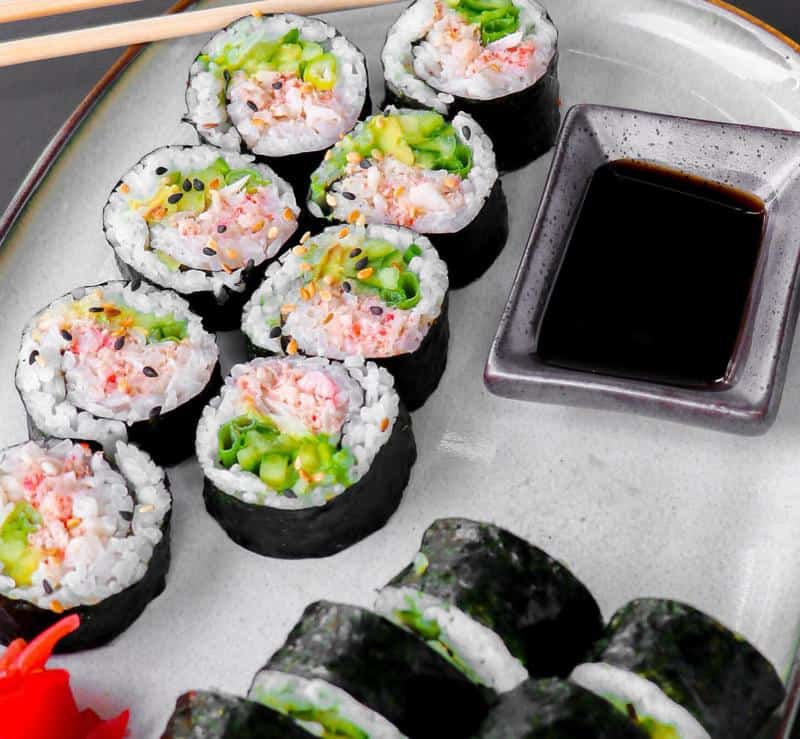 Location: 1015 S Howard Ave, Tampa, FL 33606
Water+Flour serves as the creative hub for all of CRG's innovations, with constantly evolving menu selections and flavors. It's a California-themed establishment that mainly focuses on upscale, artistic sushi rolls, and they've already shown to be masters.
W+F now has a distinct look, with an outside patio with dining and lounge space and a separate takeout and delivery area. W+F offers the cuisine and ambiance to spice things up, whether you're in for a quick lunch, date night retreat, or a party with family and friends.
Locally sourced pasta, naturally fermented sourdough brick oven pizza, and freshest sushi, including their original bowls, complement their chef's versatility and creativity.
Why should you dine here?
WATER+FLOUR serves lunch, brunch, and dinner, but we think the evening menu, with all of the delicious sushi selections, is where their specialties really shine. They emphasize plant-based and gluten-free alternatives in their commitment to healthier, lighter, and full-flavored dishes.
Specialties: Ahi Tuna, Focaccia, Miso Soup, Caesar, Antonio, Pesto Verde, Mushroom Marsala, Limone, Salmon, and Tuscan
Also Read: Best Breakfast & Brunch Places in Orlando
Jackson's Bistro & Sushi Bar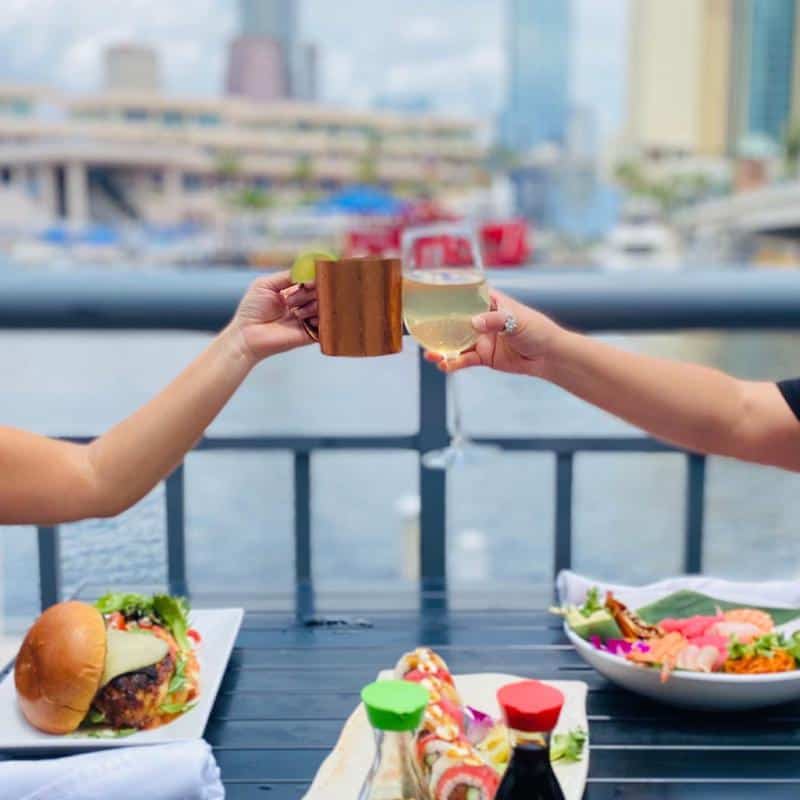 Location: 601 S Harbour Island Blvd Suite 100, Tampa, FL 33602-5735
Jackson's Bistro Bar & Sushi is a fancy sushi spot with a view of Tampa's downtown harbor. This restaurant, on Harbor Island, is tucked away from the hustle and bustle of downtown, with a broad and sophisticated selection that includes everything from oak-grilled NY strip steak to hand-rolled sushi.
Jackson's Sunday brunch includes a buffet with carving stations for roast beef, ham, and turkey, as well as pasta stations, a waffle bar, and sushi stations. Their comprehensive wine list also makes this eatery popular.
Why should you dine here?
The ambiance is elegant and romantic, with candle-lit tables and dark mahogany walls. However, the Garrison Channel and Tampa skyline scenes steal the show! Take full advantage of their spacious outside patio if the weather allows.
Specialties: Edamame, Sushi Jackson's, Miso Soup, Tuna Tataki, Krab Salad, Seaweed Salad, Sashimi Dinner, Oysters, Shrimp, And Blackened Salmon Salad
Read More: Best Seafood Restaurants in Tampa Bay
Samurai Blue Sushi & Sake Bar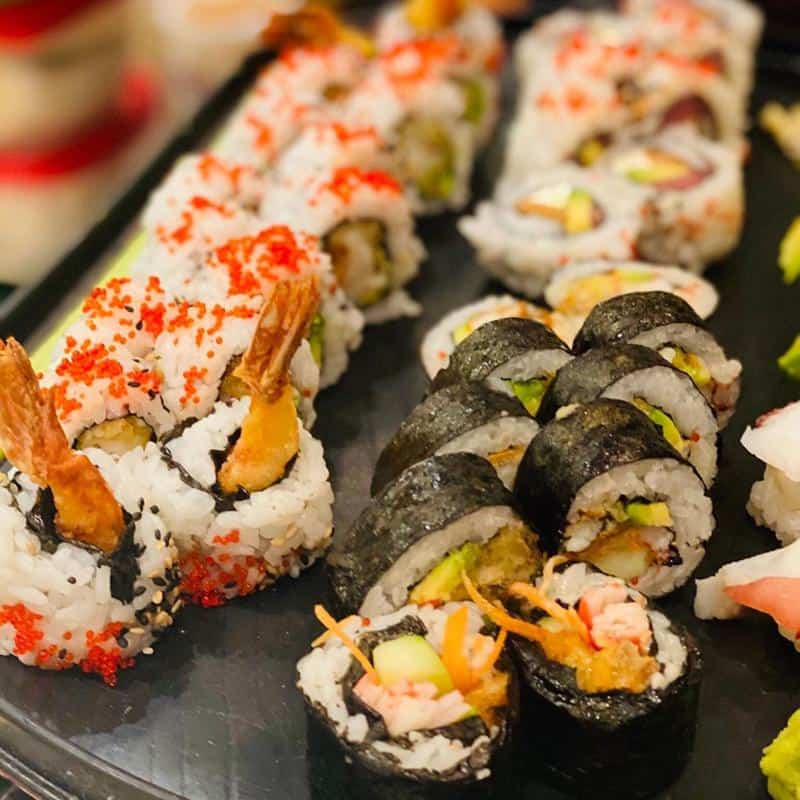 Location: 1600 E 8th Ave, Tampa, FL 33605
You can never go wrong with the Samurai Blue Sushi & Sake Bar if you desire delicious sushi! This sushi restaurant is in Ybor City, which is closer to downtown Tampa. There are numerous entertaining activities to do and wonderful views, but one thing particularly stands out: Samurai Blue!
You'll discover a large selection of sushi and other delectable dishes here, including nigiri, sashimi, tobiko, and the beloved makimono rolls stuffed in seaweed.
There are several popular specialty rolls to choose from, but the volcano roll is the fans' favorite. Try their panko-seared crab cakes and teriyaki-salmon wrap sandwich if you want something with a more unique look and taste.
Why should you dine here?
The Ybor City restaurant gets a thumbs up for its sophisticated ambiance and has established itself as Tampa's go-to sushi spot.
Specialties: Tuna, Ebi Tempura, Striped Bass, Hamachi Kama, Salmon, Garlic Tuna, Mackerel, Age Dash Tofu, and Baked Wasabi Green Mussels
Ebisu Sushi Shack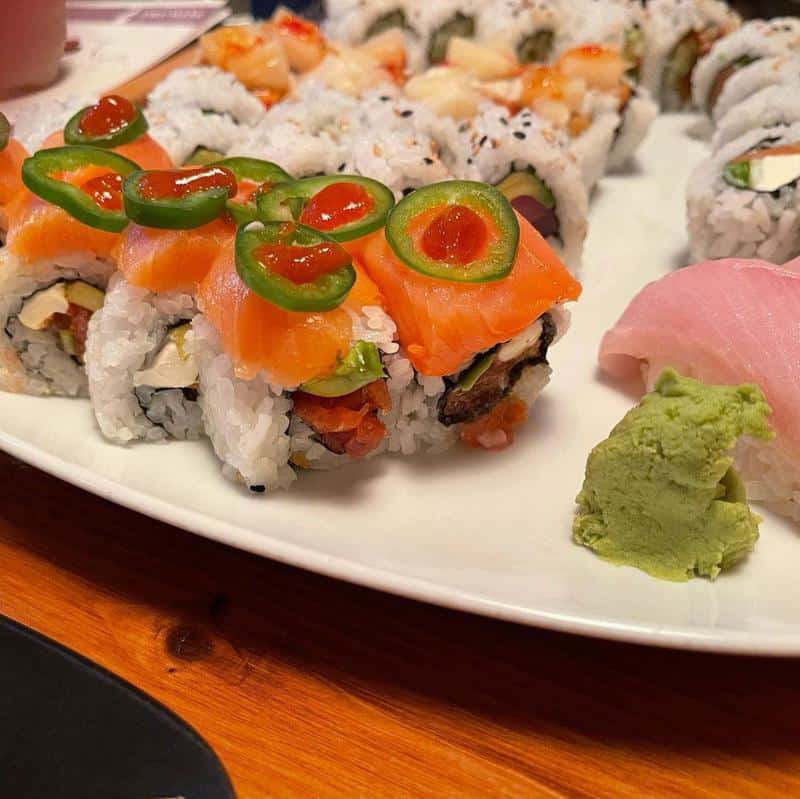 Location: 5116 N Nebraska Ave, Tampa, FL 33603
The Ebisu Sushi Shack in Tampa has immensely garnered a devoted fan base in an area renowned for its excellent cuisine selections. This adorable sushi restaurant will not let you down!
The Ebisu, nestled in a remodeled cottage in Seminole Heights, is a memorable site. It is quickly establishing itself as a laid-back local hangout where visitors can enjoy high-quality sushi at good prices.
Even though it has only been open for approximately two years, it has already established a reputation for excellent sushi and fantastic offers. Some of the rolls, such as the Naruto special roll and Jabba the Hutt fried roll, are even named after iconic movie and television characters.
Why should you dine here?
With its earth-toned surrounding and subdued lighting, the vibe at Ebisu is quite peaceful and laid-back, but the cuisine is extremely exciting and vibrant.
There will always be something tasty waiting for you at Ebisu, whether it is the usual favorites such as the Orange Sunrise and Volcano Rolls, or maybe something creative on the Specials Board.
Specialties: Smoked Salmon, Edamame, Tuna, Krab, Miso Soup, Seaweed Salad, Krab Rangoon, Gyoza, Takoyaki, Mackerel, Iced Tea, and Mocha Ice Cream
Matoi Sushi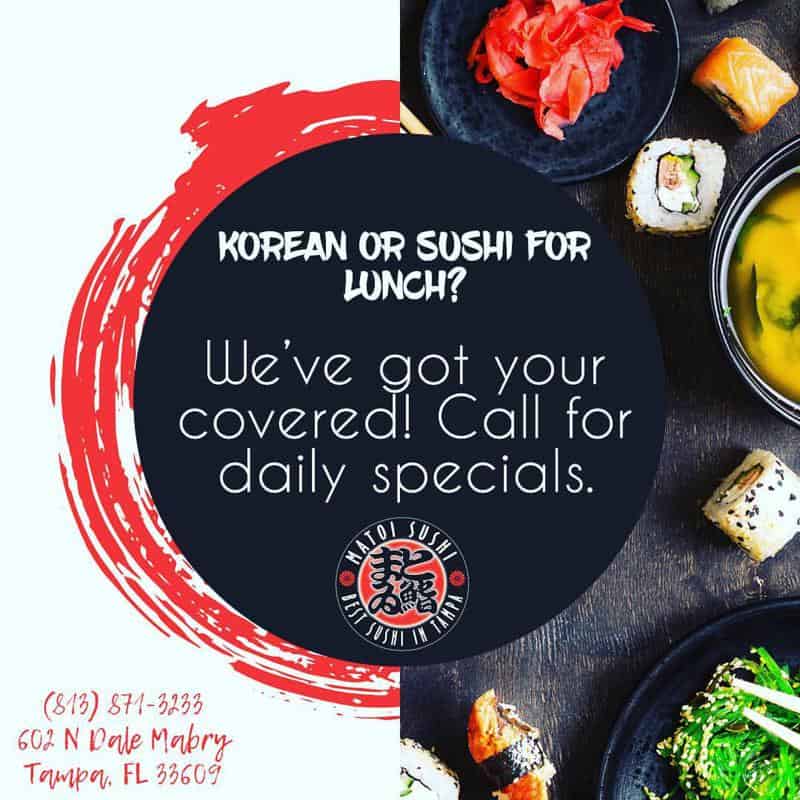 Location: 602 N Dale Mabry Hwy, Tampa, FL 33609
This vibrant Japanese-Korean blend restaurant is nestled in the North Bon Air area and quickly becomes a Tampa sushi favorite spot.
Matoi features several intriguing specialty rolls that are uncommon in many other restaurants, such as their gator roll, which contains avocado and fried gator tail. Matoi Sushi's sushi is world-class, just as nice as you'd get in Japan!
You may also get some delectable Korean meals to accompany your sushi. Visit this sushi place for a delicious and memorable meal. The restaurant has a friendly, a little dated, relaxed, and comfortable environment.
Why should you dine here?
The cheerful and competent staff of Matoi Sushi Restaurant will make your eating experience a memorable one. While the atmosphere is simple, the sushi is just everything you would want here! It's well prepared, and its pricing is reasonable.
Specialties: Sushi Sashimi, Volcano Roll, Dancing Eel, Gator Roll, Bucs, Crunch Salmon, Tempura TT, Chicken Roll, Krab Delight, Dynamite Roll, and Rainbow Roll
Yoko's Japanese Cuisine & Sushi Bar
Location: 3217 S Macdill Ave Ste E, Tampa, FL 33629-1719
The Yoko's Japanese Restaurant, situated just south of Palma Ceia Golf & Country Club, offers some of the best sushi in Tampa Bay and some of the most genuine bowls in the area.
Yoko's has been operating for a long time, providing top-notch sushi and many other Japanese cuisines to the Tampa region. There is a featured sushi menu, happy hour menu, a lunch menu, a sushi menu, and an anytime menu to pick from at this eatery.
Yoko's sashimi and sushi are unparalleled! Smoked salmon, white tuna, and shrimp are some of the fans' favorites, but they also have other unique selections such as quail eggs & scallops!
Why should you dine here?
Yoko's Japanese Restaurant in Tampa has earned multiple awards and recognition for its genuine sushi delicacies. This is a nice spot to come with kids because it has a laidback, informal environment with a special children's menu.
Specialties: Agedashi Tofu, Crab Rangoon, Edamame, Katsu, Yasai Tofu, Yakitori, Gyoza, Gesso, Chicken Tatsutaage, Negimaki, and Tempura
Soho Sushi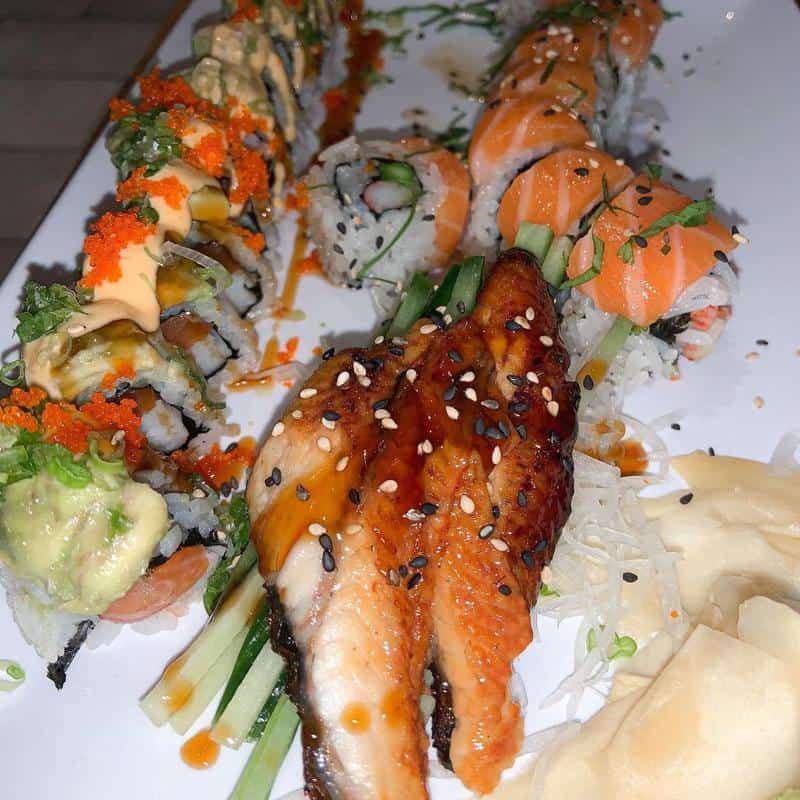 Location: 3218 W Kennedy Blvd, Tampa, FL 33609
The name SoHo sushi originated from its initial site on South Howard Avenue in Tampa's SoHo District, which is known for its broad range of restaurants.
SoHo Sushi is a magical place in West Tampa that really combines aesthetics and flavor by offering some of Tampa Bay's best handmade sushi.
Their highly-trained chefs create local specialties like the Green Menace roll that contains scallops and tempura chips wrapped in avocado, focusing on imaginative and fresh sushi/sashimi. Another delicacy is the Red Devil roll comprising lobster and fried shrimp topped with avocado and tuna.
Why should you dine here?
This Japanese eatery has constantly been expanded and remodeled to meet the high demand. Each dish is perfectly designed and made like a masterpiece of artwork that will compel you to stare at it for seconds before devouring it.
Specialties: Tempura Shrimp, Eel Sauce, Scallion, Tempura Chips, Krab Salad, Avocado, Spicy Mayo, Sesame Seeds, Carrot Wasabi Mayo Coleslaw, and Teriyaki Bun
Ichiban Japanese Cuisine & Sushi Bar
Location: 2786 E Fowler Ave, Tampa, FL 33612
You will love the variety of sushi and other Japanese cuisine selections available at Ichiban Japanese Cuisine & Sushi Bar. You can also order online and collect your food if you don't have time to sit and dine.
Ichiban is popular among college students because of its strategic location near the university, but it's also great for anyone looking for delicious traditional Japanese cuisine.
Why should you dine here?
The sushi and sashimi selections at Ichiban are abundant, but the favorites are the fried tempura rolls, particularly the asparagus tempura rolls with eel sauce and shrimp.
Specialties: Yaki Tori, Kushi Yaki, Tempura, A-Ge Tofu, Gyoza, Sesame Chicken, Teriyaki Mussels, Salmon Shioyaki, Negimaki Beef, Negima, Soft Shell Crab, Dynamite, Tekka Yuki, Tuna Tataki, Tempura Shumai, And Sashimi
Umami Sushi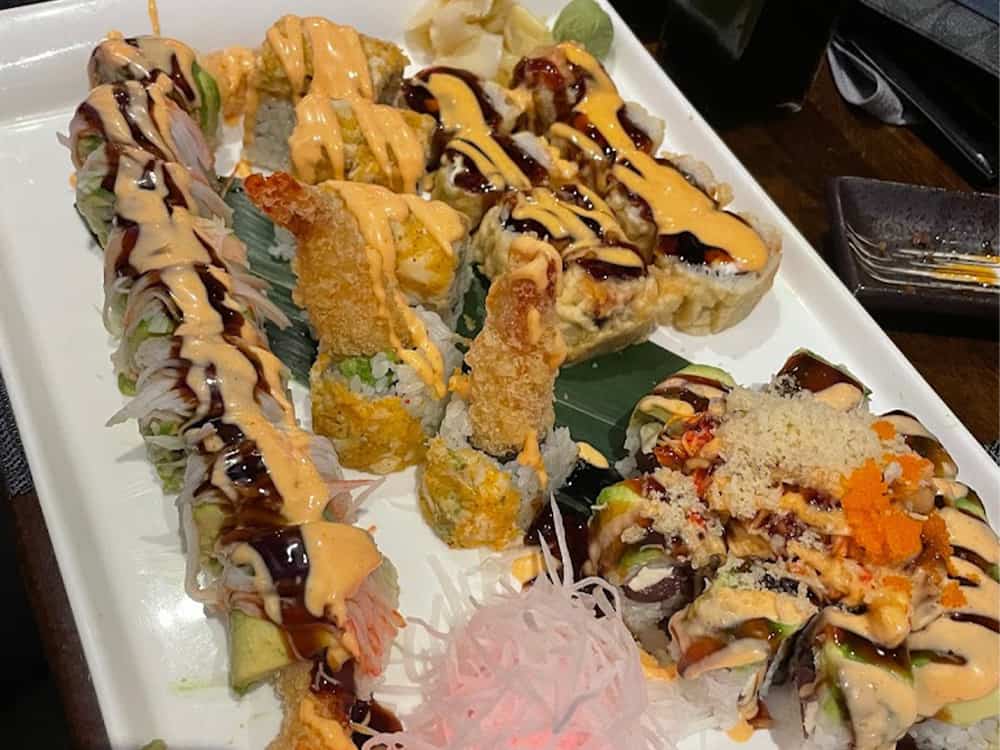 Location: 17677 N Dale Mabry Hwy Lutz, FL 33548
Umami Sushi is indeed a prominent sushi point in the northern area of Tampa that is open for dinner and lunch. This regional establishment attracts guests from all over the city because of its excellent quality and service.
Visitors to the area often enjoy great sushi at moderate prices in Umami after long shopping days at the Tampa premium outlets. They have a large selection of fresh, delicious sushi and sashimi, which you can choose from, and a comprehensive list of the chef'schef's distinctive rolls.
Why should you dine here?
Whatever you choose, you can expect excellent preparation and stylish presentation with plenty of natural ingredients. The interior is contemporary, with plenty of seating and a short wait time.
Specialties: Spicy Salmon, Shrimp Tempura, Volcano Roll, Gyoza, Tuna, Tiger Roll, Bento Box, Angry Lobster Roll, Crab Lobster Rangoon, and Yummy Roll
Read More: Best Seafood Restaurants in Clearwater, FL
Izakaya Tori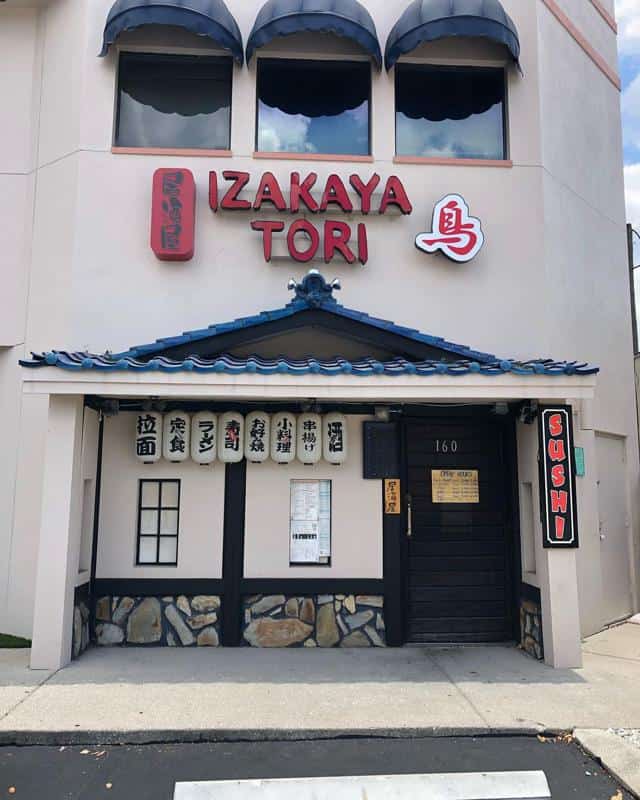 Location: 310 S Dale Mabry Hwy #140, Tampa, FL 33609
In the Tampa region, they are a fresh new Izakaya (Japanese tapas) establishment. Izakaya Tori, located away in the Bon Air area, is well-known around Tampa Bay for its innovative renditions of classic Japanese delicacies.
If you want to experience a Japanese restaurant in Japan, come here because that's what they're trying to bring forth. Sushi, ramen, and Japanese skewers are available, as well as tap beers, sakes, and Japanese craft beer.
We'd recommend starting with the incredible tuna tataki as an appetizer, and their favorite rolls here are the Mexican roll and spicy conch roll. Still, you'll be in for a treat regardless.
Why should you dine here?
Excellent cuisine, nice wine, a good vibe, and wonderful folks are all found in this restaurant. Feel free to visit them and have an adventure with them!
Specialties: Izakaya Special Roll, Tuna Roll, Futomaki, Spicy Tuna Roll, Salmon Avocado Smelt Roe Roll, Yellowtail Jalapeno, and Yummy Roll
Also Read:
Conclusion
Finding the perfect restaurant can be challenging at times, especially if you're looking for a new one! However, you can't go wrong with any of these wonderful establishments on our list if you're hunting for the tastiest Sushi in Tampa, Brandon, or the Bay area!
There is absolutely plenty of dishes to choose from no matter what you are in the mood for with all of the above fantastic options and varieties of sushi restaurants!