Hattiesburg, Mississippi, is one of those cities that shouldn't be missed. It is home to the University of Southern Mississippi and William Carey University. Therefore, it is a student city that offers lively nightlife, bountiful shopping places, fantastic restaurants, and abundant restaurants and bars.
First of all, Hattiesburg is known as the "Birthplace of Rock and Roll," alongside Clarksdale, Memphis, New Orleans, and Detroit. Furthermore, the 1964 Freedom Summer Trail is an essential destination in telling the story of the Civil Rights Movement.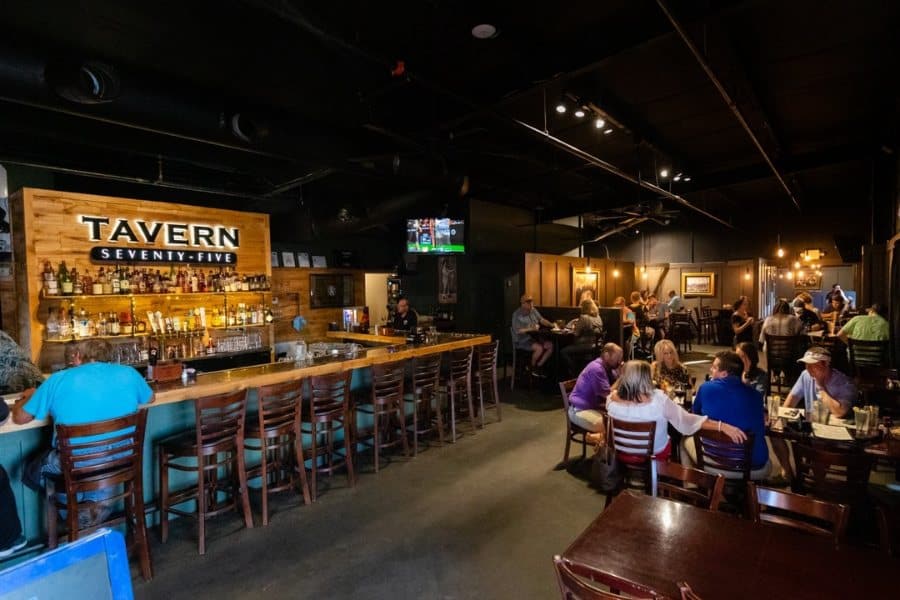 Also, Hattiesburg's location is at the intersection of Interstate 59 and Highways 49, 98, and 11. It is a midway point between Jackson, Biloxi, New Orleans, and Mobile, Alabama, so it gained the nickname "Hub City."
But one of the most surprising identities of Hattiesburg is its lure for foodies. Even though there are many chain restaurants in the city, there are also 200 locally-owned eateries giving regional flair and culinary options.
So, let's check out the 12 best restaurants you should visit in Hattiesburg.
Best Restaurants in Hattiesburg, MS
Ed's Burger Joint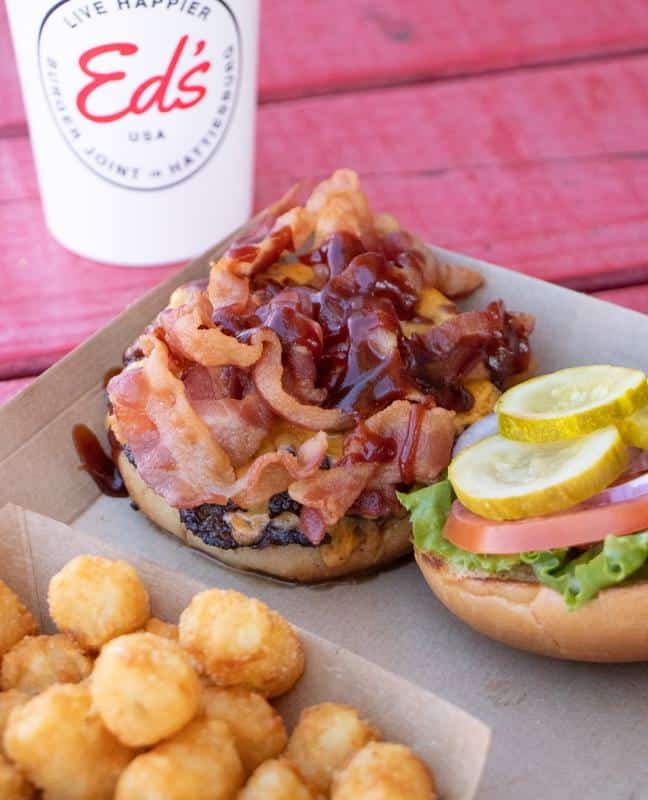 Address: 3800 Hardy St, Hattiesburg, MS 39402
Phone: +1 601 602 2601
Known For: double-patties burgers
Ed's Burger Joint Ed's Burger Joint is a playful bistro owned by Chef Robert St. John serving double patties burgers, hot dogs, and other gourmet fast-food favorites.
The restaurant's unique hubcap decor will remind you of a different decade bringing back fond memories. Similarly, its menu of cheeseburgers, hot dogs, shakes, salads, and tap beers is perfect for a relaxing dining experience.
If you order a Fat Ed, you will be greeted with a triple-patty burger described as "enormously humongous." Furthermore, the homemade bacon jam puts many of the menu's items over the top in terms of flavor, and the buns are baked fresh every morning.
Mugshots Grill & Bar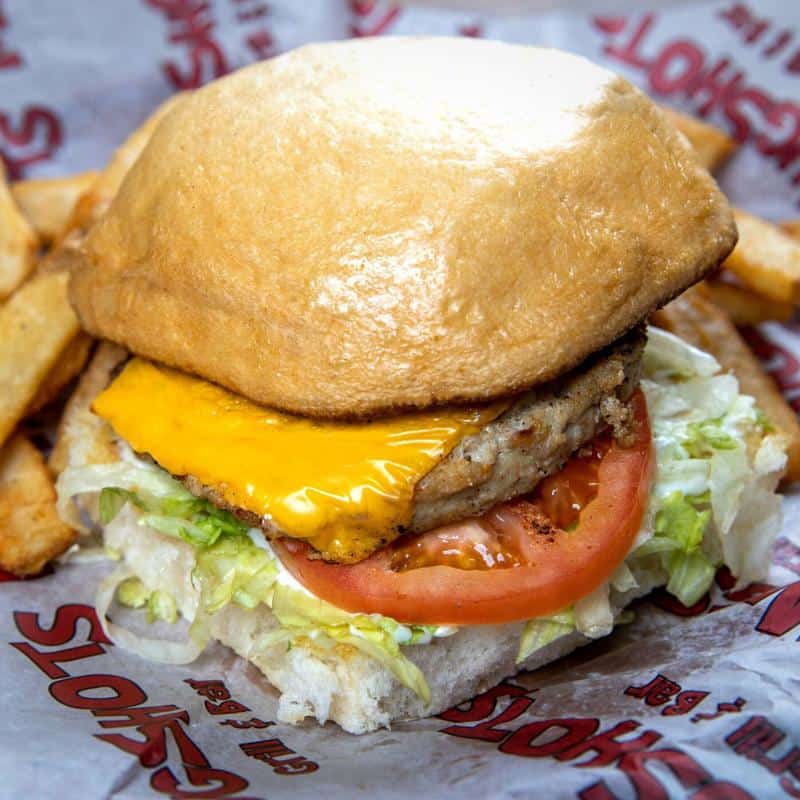 Address: 204 N 40th Ave, Hattiesburg, MS 39401
Phone: +1 601 271 2299
Known For: best burgers in Mississippi
Mugshots Grill is a popular convivial spot for American fare with a Hawaiian twist. Its friendly environment makes it the perfect restaurant for a social gathering with friends and family.
If you haven't been to Mugshots yet, you are in for a real treat. This laid-back spot excels in burger creations, salads, sandwiches, and cold beer. In fact, it is often named the Best Burger in Mississippi.
Generally, Mugshots has a menu of original and specialty burgers that make it quite hard to choose just one. A popular choice is The Gamble. It is piled high with chili, housemade Rotel, sour cream, jalapeños, and lettuce.
Also Read: Best Burger Chains In America
Crescent City Grill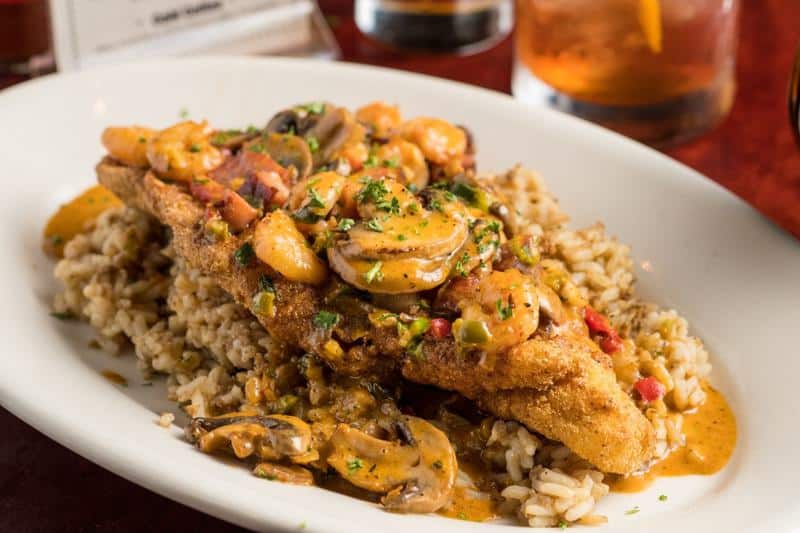 Address: 3810 Hardy St, Hattiesburg, MS 39402
Phone: +1 601 264 0656
Known For: creative New Orleans-inspired cuisine
Crescent City Grill is another restaurant owned by the creative and talented chef Robert St. John. However, this is considered the fanciest thanks to its inviting wood, stained-glass accents, and lovely courtyard.
The menu consists of New Orleans-inspired seafood and creole dishes with an impressive wine and beer list to compliment the delectable food. Moreover, all the seafood is fresh and straight from the Gulf of Mexico.
Appealing appetizers include Blackened Shrimp Pie, Chargrilled Oysters, and Boudin and Shrimp Fritters. Other must-try dishes are Gumbo, Corn and Crab Bisque, and Po'boys. For dessert, be sure to try their white chocolate bread pudding.
Sully's Hattiesburg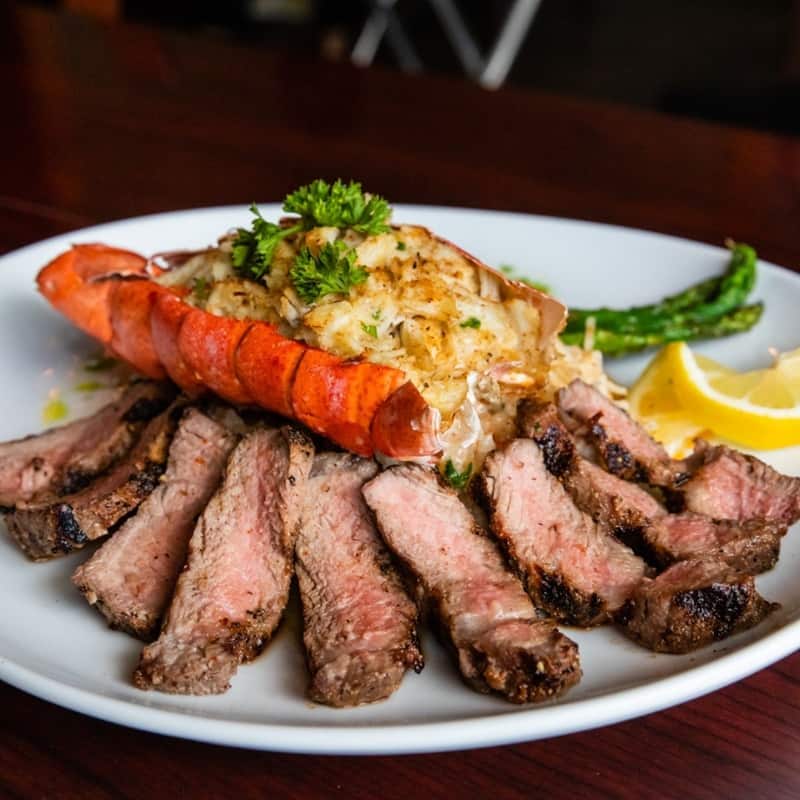 Address: 213 Sullivan Kilrain Rd, Hattiesburg, MS 39402
Phone: +1 601 336 5358
Known For: memorabilia from the last bare-knuckle fight in the 1880s
Sully's is a casual, family-friendly place with great food. Though to be more precise, it is all about the steaks. They are cut from wet-aged, never frozen, Certified Angus Beef, and, when cooked, they are just delicious.
But it also brings back forgotten history. The restaurant is near the site of the last known bare-knuckle fight in 1889, which Sullivan won against fierce contender Jake Kilrain. So, its décor and the name reference John Sullivan.
Nevertheless, for a complete meal, get some of their delectable appetizers, such as the South of the Border Egg Rolls, the Sully Sacks, or the jalapeno cheese curd. Lastly, Sully's atmosphere is enhanced by live music every night, making it perfect for a lovely dining experience.
Keg & Barrel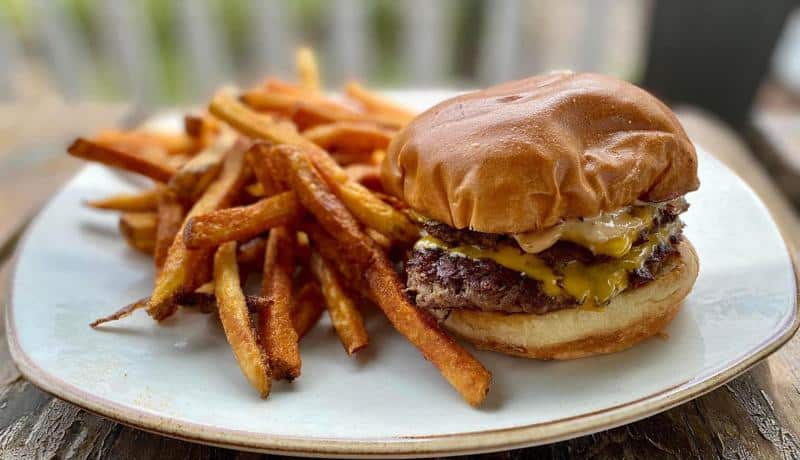 Address:1315 Hardy St, Hattiesburg, MS 39401
Phone: +1 601 582 7148
Known For: delicious creative burgers
Keg and Barrel Keg and Barrel is Mississippi's exclusive beer boutique and brewpub, featuring more than 120 beers. There are two locations in Hattiesburg and one in Ocean Springs.
Apart from tasty beers, you will also find upscale pub grub, including KB chicken nachos and Greek dip duo. Also, you can find Southern favorites, such as house-made fried pork rinds and boiled peanuts.
The pub has indoor and outdoor seating, a lively atmosphere, and a historic tap. But to fully enjoy a vibrant evening out, go for one of their creative burgers, such as the Korean BBQ with kimchi, carrots, green onions, Korean BBQ, and garlic mayo.
Glory Bound Gyro Co.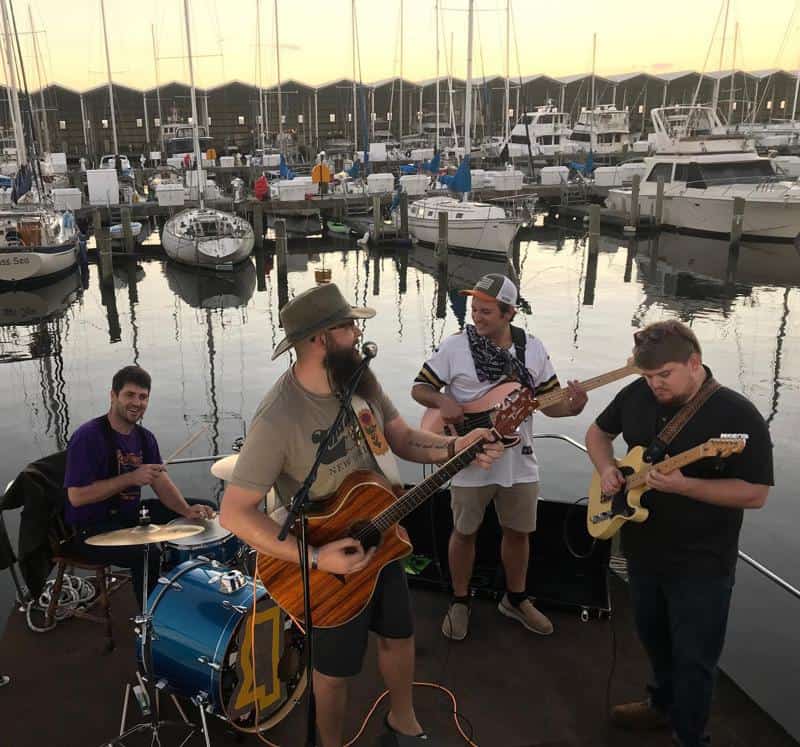 Address: 6174 US 49, Hattiesburg, MS 39401
Phone: +1 601 582 8252
Known For: authentic Mediterranean cuisine
Glory Bound Gyro Co. is a casual restaurant offering indoor and outdoor seating, live music, and excellent food. Glory Bound Gyro's tagline is "craft hummus x unique gyros x craft beer," and indeed, it doesn't disappoint.
The food here always comes in large portions, while the service is always top-notch. Furthermore, plates come with the meat of your choice, a side of hummus, pita bread, lettuce, onions, tzatziki, and grilled veggies.
The craft-made hummus varieties are a favorite at Glory Bound Gyro. They include original taste, Mediterranean olive, garlic-basil, spinach-pesto, jalapeño-cilantro, and roasted red pepper.
Patio 44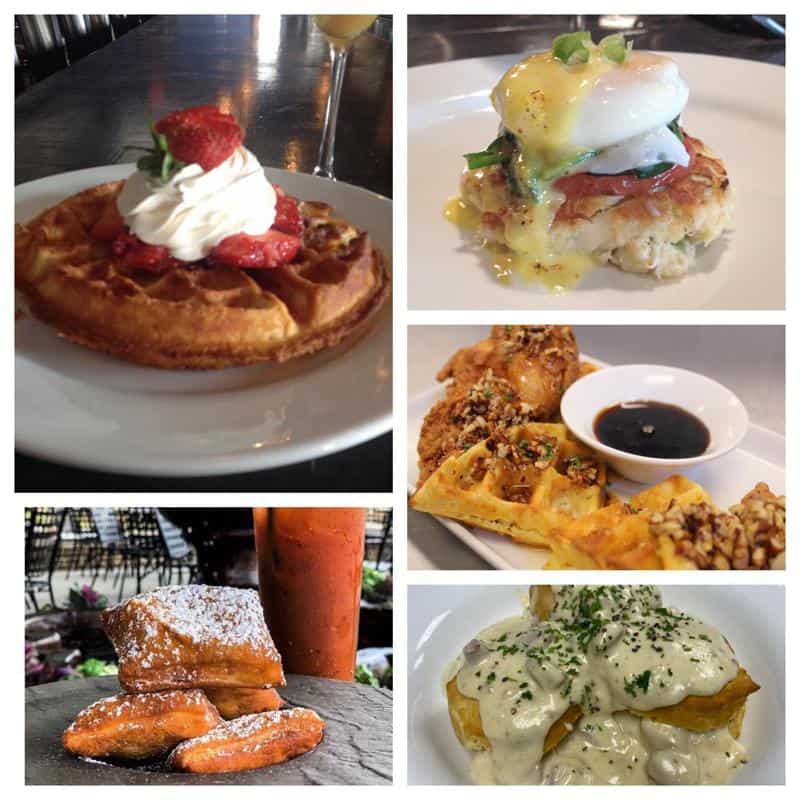 Address: 3822 W 4th St, Hattiesburg, MS 39402
Phone: +1 601 602 6907
Known For: elevated New American food
Patio 44 Patio 44 is an elegant restaurant and bar featuring all your favorite dishes, from steak to seafood and other elevated New American food, plus a spacious patio.
Patio 44 has both a lunch and a dinner menu. So, you can either save a few bucks by going for your mid-day meal. Or, enjoy an elegant dinner night out with your significant other.
Some of the most favored dishes are the Blue Crab Fondue, served with toasted baguette, and the Duck Strips with remoulade. Also, the Sweet-Hot Pecan Chicken, with a roasted garlic mash. The sweet hot pecan sauce that comes over the chicken is absolutely mouthwatering.
Petra Cafe Greek & Mediterranean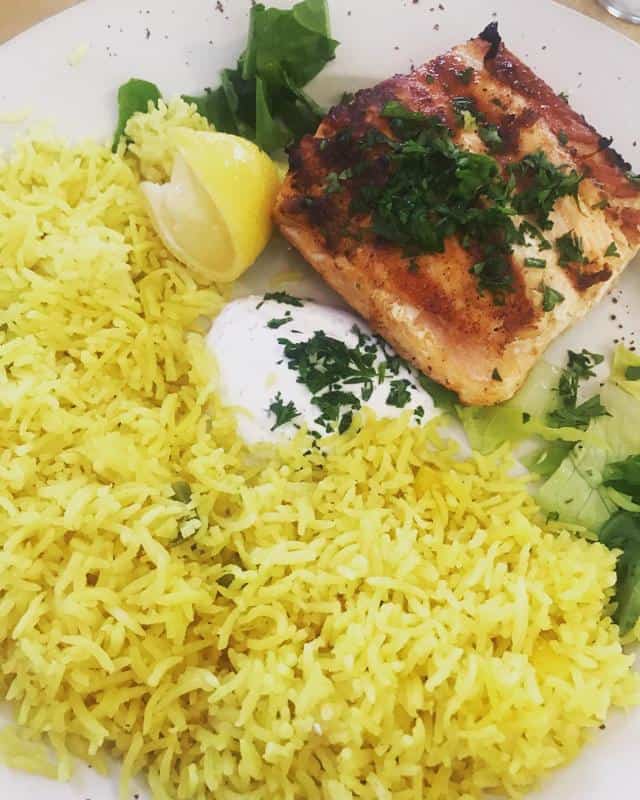 Address: 6060 US 49, Hattiesburg, MS 39401
Phone: +1 601 268 8850
Known For: large portions of gyros and kebabs
Petra Cafe is the perfect destination for those looking for something different with light and rich flavors. It is a casual spot offering Greek, Mediterranean, and other Middle Eastern specialties.
The restaurant has a diverse menu with delectable food for lunch and dinner and is served in laid-back surroundings. The most popular servings are gyros and kebabs.
Start your meal with salad and hummus and a basket of pita bread. Then continue with one of the special gyro plates, and make sure to try the fried cheese for extra flavor. Otherwise, try the Petra Mezze, which gives you a variety of every item they have on the menu.
The Midtowner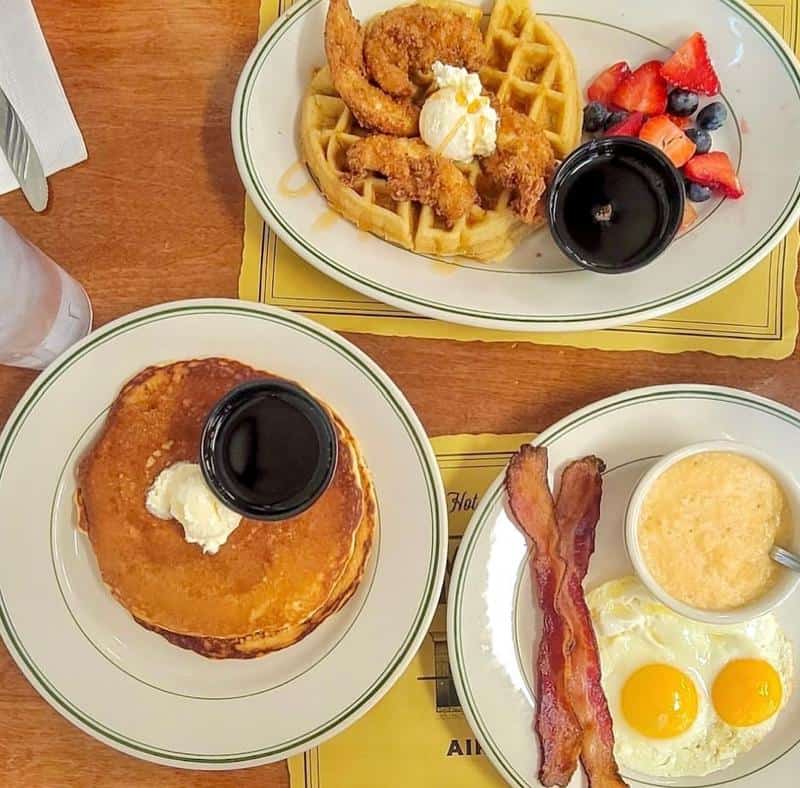 Address: 3000 Hardy St, Hattiesburg, MS 39401
Phone: +1 601 602 2273
Known For: breakfast, brunch and lunch items
The Midtowner is across the University of Southern Mississippi's entrance, so it is quite popular among students. This is primarily a breakfast and lunch diner serving Southern comfort food.
Its most popular dishes are the sweet tea-brined chicken and gigantic buttermilk pancakes. Other significant dishes are cathead biscuits, waffles, and French toast.
If you want a hearty meal that will leave you happy and satisfied, go for the Hardy Breakfast. It comes with eggs, two pancakes, and your choice of breakfast meat.
Indian Delight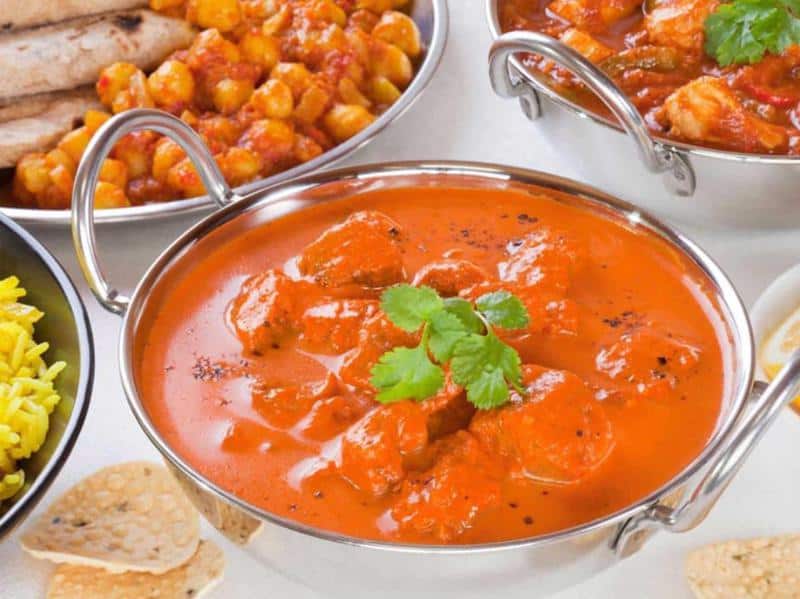 Address: 163 Turtle Creek D #10, Hattiesburg, MS 39402
Phone: +1 601 602 6585
Known For: lunch buffet on weekdays
For those who love spicy food or want to try something different, Indian Delight serves authentic Indian cuisine. It offers fantastic deals, reasonable prices and of course good food.
On weekdays the restaurant offers a lunch buffet so you can enjoy a little bit of everything and immerse yourself in Indian culture through food. Or, you can choose a dish from their diverse regular menu and enjoy a mouthful of your favorite Indian food.
To start your meal, choose the Mix Bread Basket appetizer, which consists of five bread options plus four condiments to eat with them. Then go for traditional dishes such as Butter or Tandoori Chicken.
Mario's Italian Restaurant & Bar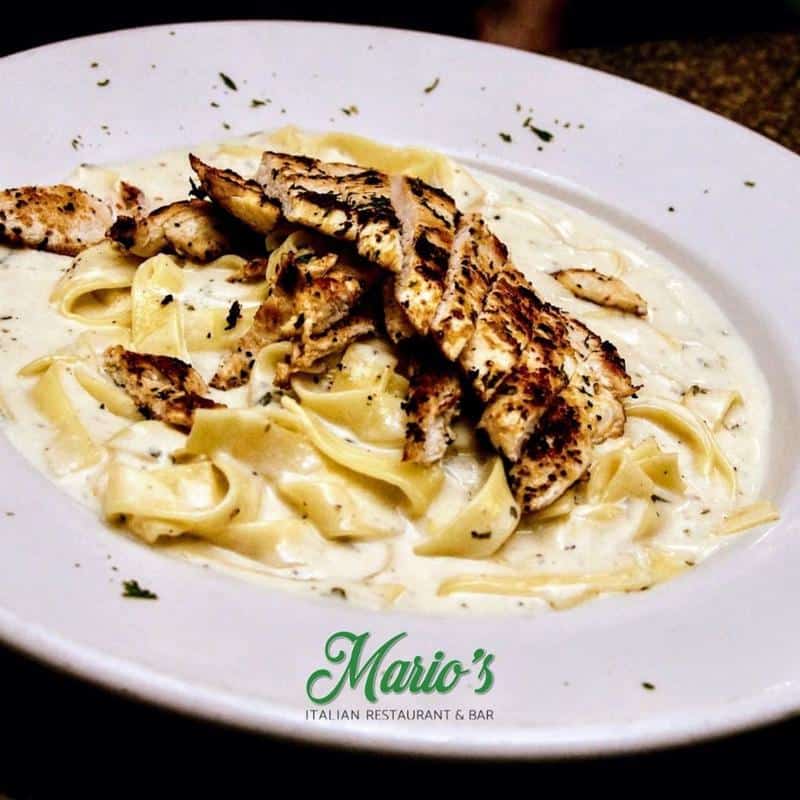 Address: 1410 N 31st Ave, Hattiesburg, MS 39401
Phone: +1 601 336 9384
Known For: authentic Sicilian cuisine
Mario's serves authentic Italian cuisine and is undoubtedly a pasta lover's paradise. The restaurant is owned by three Italian brothers who desire to bring Hattiesburg Sicilian flavors.
For their dishes to be as authentic as possible, all their food is made from scratch. In fact, their alfredo sauce is said to be divine. Furthermore, the brothers are often seen cooking, serving, and even bussing tables to make the atmosphere friendlier and warmer.
Naturally, the menu is all about Italian food so expect rich flavorful dishes of pasta, pizza, and specialties served with bread or salad, as well as a fantastic wine list and other beverages.
Jutamas Thai Restaurant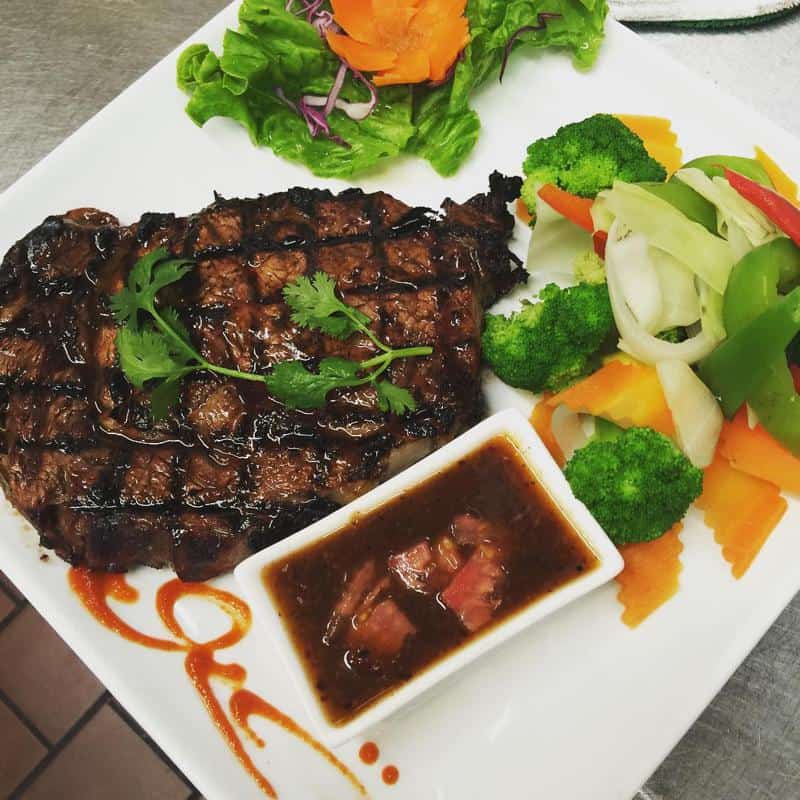 Address: 910 Timothy Ln, Hattiesburg, MS 39401
Phone: +1 601 584 8583
Known For: delicious authentic Thai cuisine
Jutamas is a Thai restaurant with two locations in the city. And that proves how much favored it is by the locals. Usually, it is described as "fine" and "authentic" due to its atmosphere and menu.
Expect to find made-to-order dishes with fresh ingredients. The pineapple fried rice served in a pineapple shell is extremely popular, but everything is absolutely delicious. After all, they have a unique variety of professionally designed appetizers, entrees, and desserts that are sure to delight everyone's taste palate.
Furthermore, at Jutamas, they are proud of their exceptional service. In fact, their high standard of service and quality sets the standard for south Mississippi.
Read More:
Final Thoughts
Hattiesburg offers a variety of foods to satisfy your preferences and cravings after a day of exploring the city. Restaurants range from elegant fine dining restaurants to unique local bistros of traditional American dishes and alternative or international cuisines.
Furthermore, you can find some of the best local wines, craft beers, and specialty cocktails at their pubs and tap rooms, along with tasty snacks.
Map of Best Restaurants in Hattiesburg, MS