Burlington is a quaint and picturesque town in Massachusetts filled with wonderful restaurants. From chain establishments that everyone knows and loves to hidden gems and beloved local spots, there's much to explore in the city.
The town is also famously known for upscale restaurants ideal for business meetings and formal affairs.
If you are looking for a good place to eat in Burlington, check out the best restaurants on our list with the best food, service, and quality.
Best Overall Restaurant: Seasons 52
Best Seafood Restaurant: Row 34
Best Affordable Restaurant: Burtons Grill and Bar
Best Breakfast and Brunch Restaurant: The Friendly Toast
Best Restaurants in Burlington, MA
Seasons 52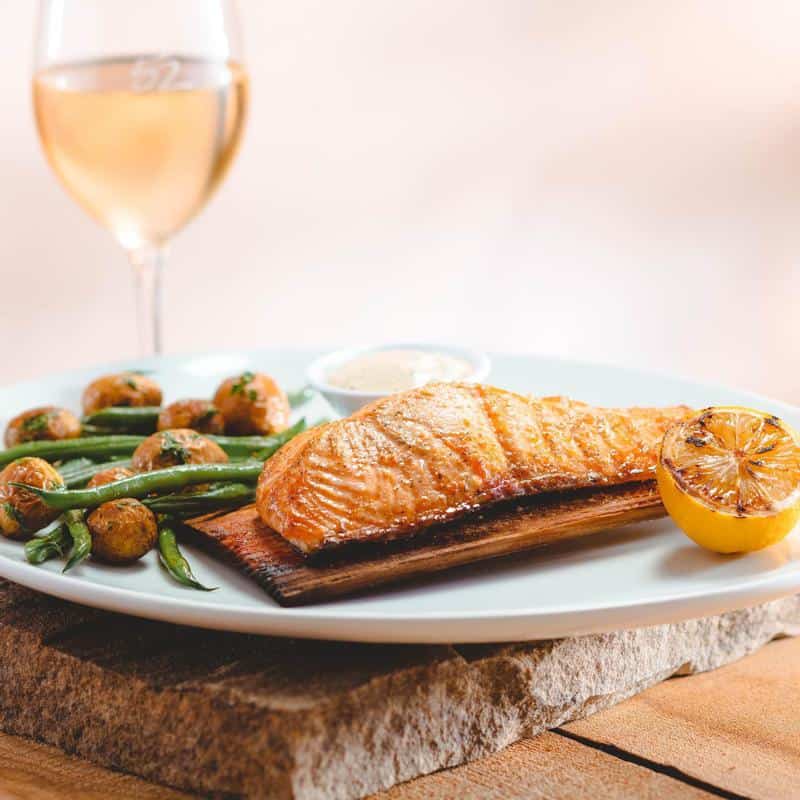 Address: 6 Wayside Rd U, Burlington, MA 01803
Known for: Seasonal New American menu with an international wine list in a chic setting
Seasons 52 has a lovely little setup in Wayside with a rotating seasonal menu of delectable New American dishes. The upscale setting is ideal for intimate dinners and business meetings with a wide list of international wines.
Menu changes with the season to guarantee 100% fresh and locally produced ingredients. The steaks and seafood are prepared on an oak-fire grill and brick oven roast.
The best item on their menu is the Wild Alaskan Salmon and Sweet corn, Florida Stone Crabs, and California Golden Beets. The lunch menu features a selection of soups and salads with signature flatbreads.
Row 34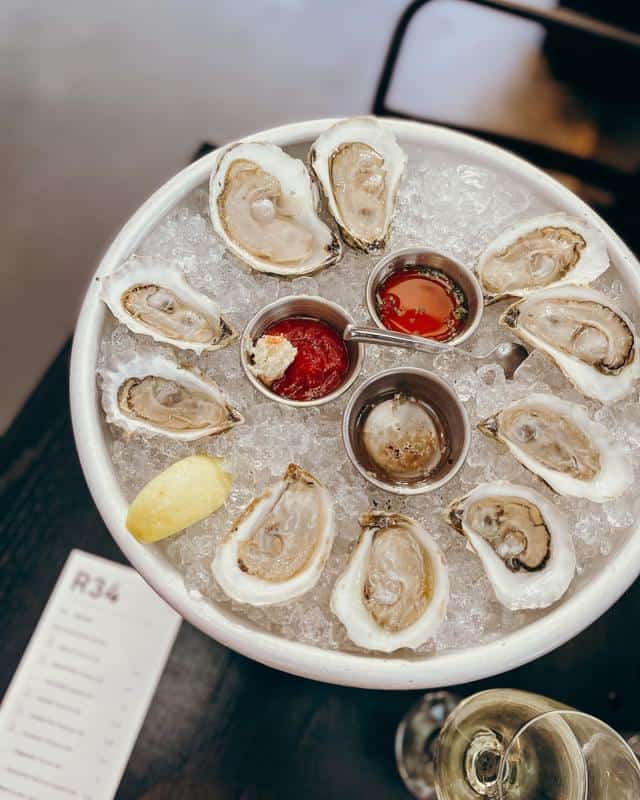 Address: The District, 300 District Ave, Burlington, MA 01803
Known for: Best seafood in Burlington with a raw bar and gourmet cocktails
Row 34 is one of the best seafood restaurants in town. From raw oysters with classy and innovative drinks to a hearty lobster ravioli with the freshest ingredients, you will find everything here and more!
The restaurant serves a variety of cocktails and specialty drinks, and the gourmet cocktails are quite famous. The interiors are classy and elegant with great service and a raw bar.
Talking about the raw bar, you simply can't skip the magnificent Shellfish Tower which has a bit of everything to satiate your cravings for fresh seafood.
There are several other varieties of cured and smoked seafood dishes, as well as specialty rolls.
Burtons Grill and Bar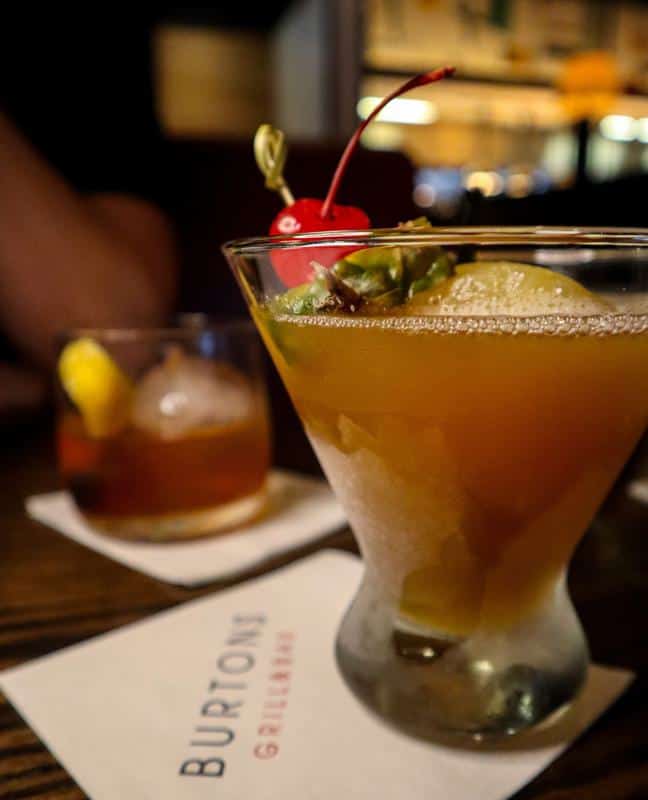 Address: 43 Middlesex Turnpike Unit 10B, Burlington, MA 01803
Known for: Affordable American dishes with grilled variety and an extensive drinks menu
Serving hearty American delights with a contemporary twist, Burtons Grill and Bar is a lively spot with affordable dishes and a variety of cocktails.
The dishes are prepared fresh from scratch every day and accommodate people with dietary restrictions with their extensive menu.
The cozy ambiance at night with live music makes it a good place for dates. With a rustic, industrial-chic layout, hanging lamps, and dimly lit booths, you can have a relaxed and private time while enjoying your meals.
The lunch and dinner menus have fancy treats to share with your beau, including the famous General Gao's Cauliflower. Try their steaks or a beautifully prepared salmon as the main entrée with your favorite drink.
The Friendly Toast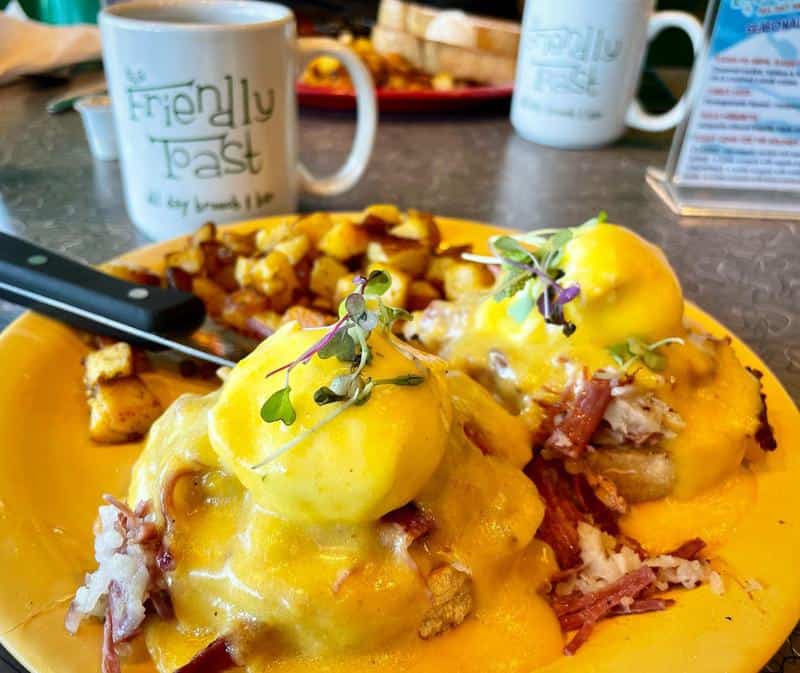 Address: Burlington Mall, 75 Middlesex Turnpike #1015B, Burlington, MA 01803
Known for: Quirky layout with all-day breakfast, weekend brunch, seasonal items, and boozy breakfast drinks
The Friendly Toast is a colorful and trendy breakfast spot serving all-day breakfast items in eccentric surroundings. The restaurant also has lunch and dinner options with a full bar.
Seasonal food features smartly named dishes like Chef Ingrid's Breakfast Quesadillas, You Bowl Me Over! and Battle of the Breakfast Sandwich. You can't help but smile while going through their menu, and you'll be delighted to know that they taste equally awesome.
The weekend brunch is quite famous as well, with Eggs Benedict as the star dish pairing wonderfully with Bloody Mary or Mimosas. Other boozy brunch delights share the same fun quirky names as the main dishes, like 'Strawberry Shortcake' and 'Tropic Like It's Hot'.
Fogo de Chao Brazilian Steakhouse
Address: Burlington Mall, 75 Middlesex Turnpike Space 1630, Burlington, MA 01803
Known for: Upscale Brazilian steakhouse with open-air churrasco grill and salad bar
Fogo de Chao Brazilian Steakhouse follows the centuries-old grilling tradition with exceptional meat preparations and natural flavors. The upscale Brazilian restaurant has an all-you-can-eat meat carved tableside and a lavish salad bar.
The open-air churrasco grill welcomes the guest with a mouth-watering charred aroma in comfortable surroundings. Inspired by the markets of Brazil, the menu features a huge variety of specialties and seasonal delights.
The meat Charcuteries include Cured Meats that are excellent for sharing. On weekends, there's a classy Brazilian brunch with a Brazilian-inspired menu featuring traditional dishes like Bolo de Fuba, Brazilian Sausages, and Braised Beef Rib Hash.
Redstone American Grill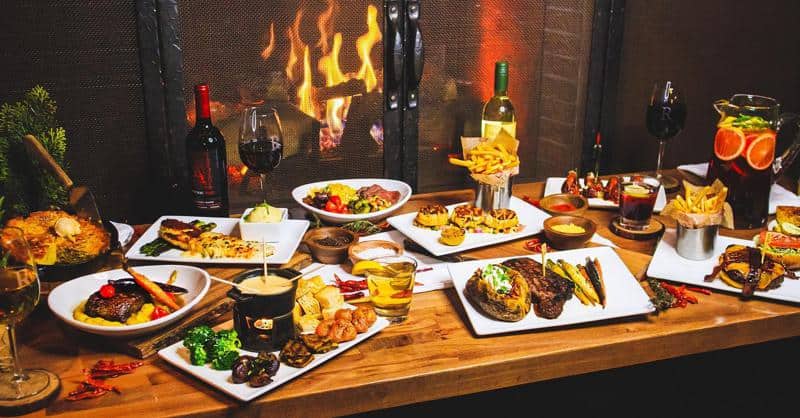 Address: 20 3rd Ave, Burlington, MA 01803
Known for: Upscale and modern American grill house with wood-fired steaks and an extensive wine list
Redstone American Grill serves delectable American cuisine in a modern setting. The grill house has a diverse menu with an impressive wine list, wood-fired steaks, seafood, and an array of sandwiches ideal for a light lunch.
The sleek and contemporary layout is ideal for intimate dinners, business meetings, or drinks with friends. They also have a spacious outdoor patio for after-dinner drinks and an exciting Sunday brunch.
Try something from the shared plates like the Classic Cheese Fondue or perhaps a basket of Grilled or Fried Chicken Wings. Dinner entrees include a variety of barbecue meats and fresh seafood.
Tavern in the Square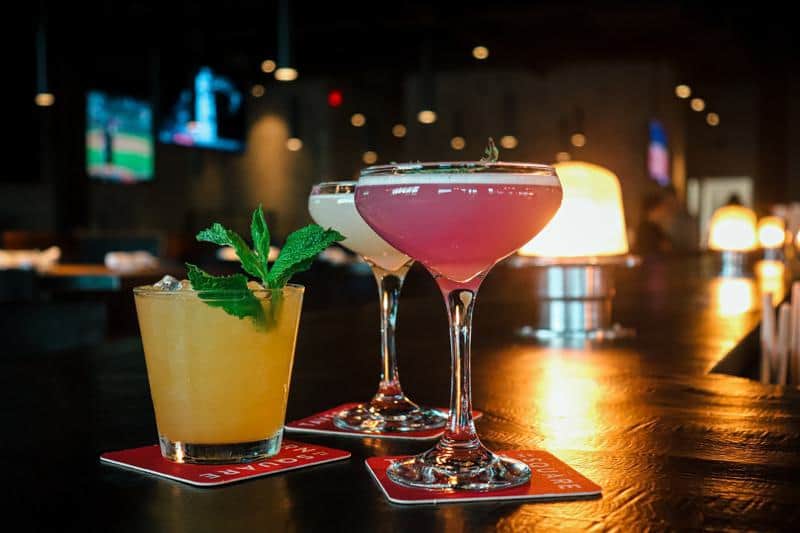 Address: 100 District Ave, Burlington, MA 01803
Known for: Comfortable ambiance with American dishes, patio, sports TV, and drinks
Tavern in the Square is a laidback American restaurant in The District. The spot has comfortable seating with patio seats, TV sports, and beer on tap.
The small bites pair well with the specialty cocktails, especially the Crispy Sweet Potato Pakoras – a south Asian appetizer that's not very common in American restaurants.
Starters also feature classic pub grub if you are not in the mood for pakoras, with Smoked Wings in an indulgent cherry cola BBQ selling out like hotcakes.
The lunch and dinner menu is kept simple and classy with traditional American dishes like burgers, pizzas, and sandwiches. If you are looking for a healthier option, try one of their bowls with plant-based options, grilled chicken, and seafood.
Yard House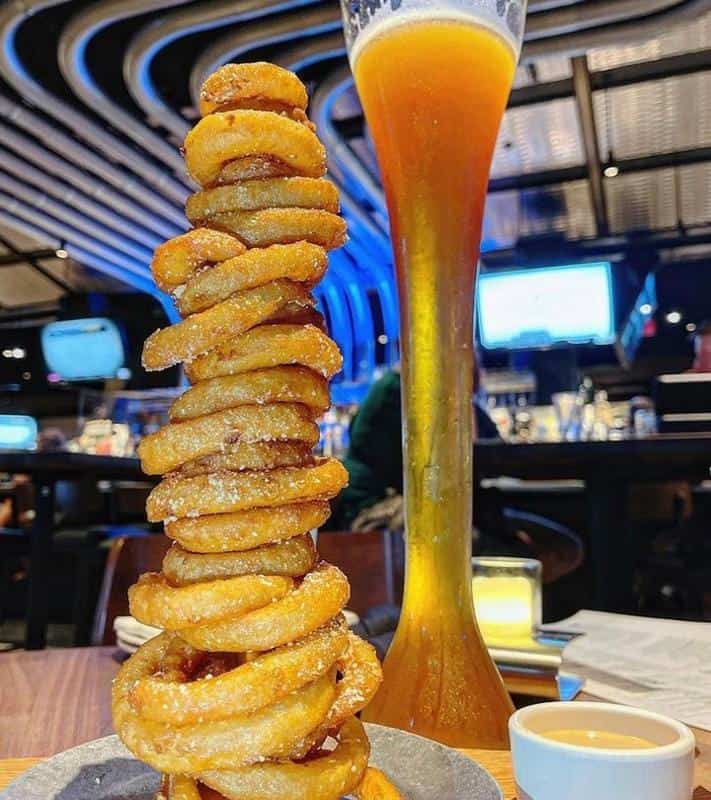 Address: Burlington Mall, 108 Middlesex Turnpike, Burlington, MA 01803
Known for: Chic sports bar with international beer menu, onion rings tower, and classic pub grub
Get your group together and head to the Yard House for beers on tap and delectable pub grub. From onion ring towers to international beer menus and unique cocktails, there's much to bond over a shared interest in sports.
The industrial-chic space is huge and airy, housing many booths and tables for large parties. The menu is equally huge to satiate every craving and offer something for everyone.
The options range from a variety of burgers, pizzas, steaks, tacos, and quesadillas, to lighter options like salads and sandwiches – and of course, a good old bucket of chicken wings.
Apart from traditional sides, the restaurant also serves Roasted Brussel Sprouts and Mac and Cheese.
The Bancroft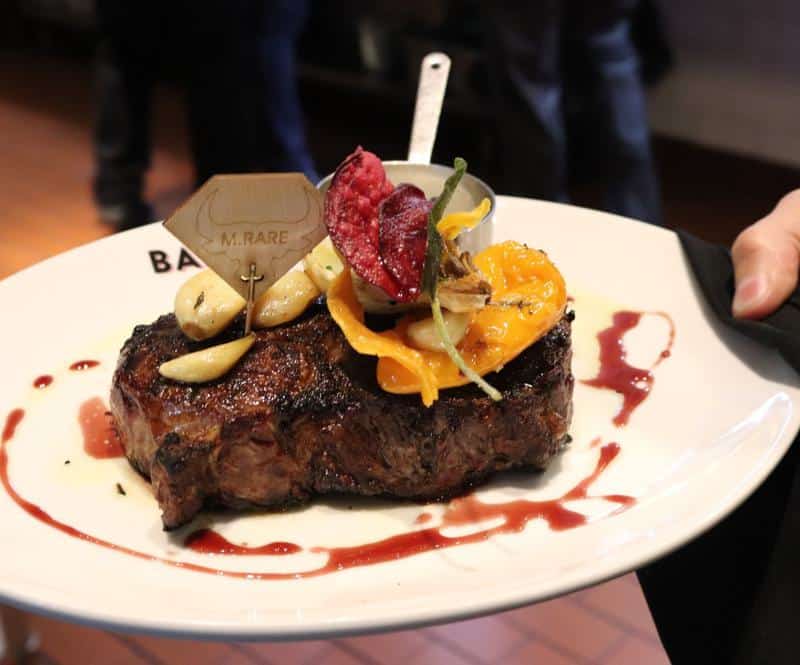 Address: 15 3rd Ave, Burlington, MA 01803
Known for: Swanky and spacious setting with delicious steaks, craft cocktails, and fresh seafood
The Bancroft is a sizzling steakhouse with a chic and contemporary ambiance. The dramatic space is filled with spacious indoor seating and a huge bar with craft cocktails.
The edgy and urban atmosphere invites you to socialize after work or celebrate a special night out while treating yourself to excellent steaks and burgers. Start the evenings with a classy appetizer like a hearty and rich Boston Clam Chowder.
Steaks are prepared just the way you like them and include the succulent 28-Day Prime Aged Rib Eye as the best entrée for meat lovers. For fresh seafood, we recommend the Seafood Tower which includes a bit of everything.
Border Café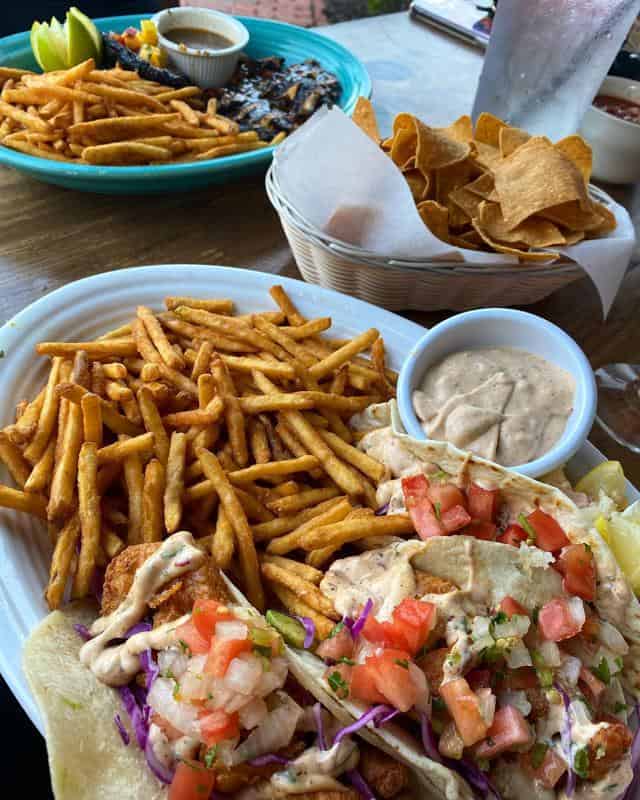 Address: 128 Middlesex Turnpike, Burlington, MA 01803
Known for: Traditional Tex-Mex dishes, complimentary chips and salsa, and drinks menu featuring margaritas and sangrias
Border Café is a warm and welcoming restaurant with an inviting Tex-Mex menu and sangrias. The comfortable ambiance makes you feel right at home with music and complimentary chips and salsa to get the party going.
Locals love a simple starter of Chicken Enchiladas. Authentically prepared with traditional Mexican flavors, the dish is served with a side of rice and beans with perfect seasoning.
Guests also enjoy the Salmon Tacos and Shrimp Tacos served with shoestring fries and a side of house-made sauces. Strawberry margarita is the highlight of their drink menu, and there are a lot more options of margaritas and sangrias to try out.
Eddie V's Prime Seafood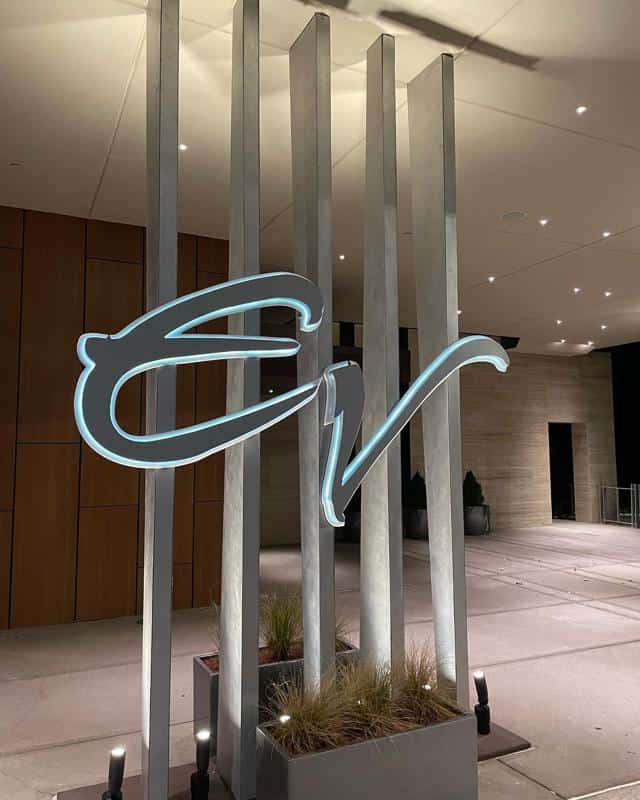 Address: 50 South Ave, Burlington, MA 01803
Known for: Exquisite seafood and steaks with hand-curated cocktails, signature appetizers in V lounge, and live music
If you are looking for a trendy and elegant fine dining restaurant, look no further, Eddie V's Prime Seafood is here to serve you elevated American dishes in a contemporary ambiance. The restaurant has a chic and modern setup with signature dishes, hand-crafted cocktails, and an impressive selection of fine wines.
The curated cocktails beautifully complement the exquisite seafood variety and succulent steaks made from locally sourced and high-quality ingredients and served with classic sides.
The V lounge is perfect for enjoying a few cocktails after dinner with signature appetizers like Tableside Steak Tartare and Maine Lobster Tacos.
For seafood lovers, the Shellfish Tower is a perfect choice which comes loaded with Oysters, Colossal Crab, Maine Lobster, and Shrimp. There is a drinks happy hour and live music on selected nights.
The Capital Grille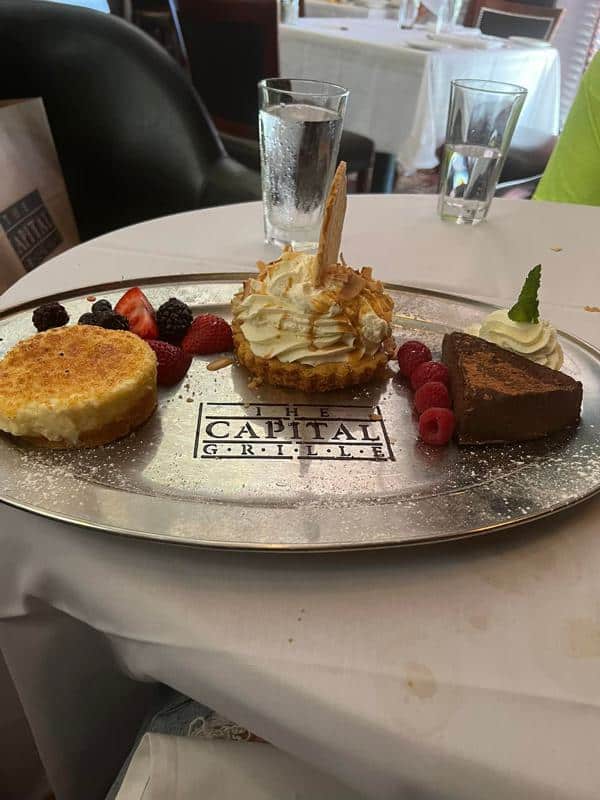 Address: 10 Wayside Rd, Burlington, MA 01803
Known for: elegant fine dining restaurant with steaks, fresh seafood, drinks, and delicious house-made desserts
The trendy and high-end The Capital Grille is a fine dining restaurant ideal for formal dinners and date nights. The chain restaurant has classy and elevated interiors with a comfortable yet refined ambiance and friendly service.
Treat yourself to deliciously prepared steaks and fresh seafood varieties like Lobster Tail with Filet Mignon combo served with classic sides and fresh seasonal vegetables. For healthy variety, they have entrée salads and sandwiches served on a grilled French loaf.
Dinner entrée is loaded with perfectly prepared steaks, signature appetizers, soups, and salads. The dessert menu is equally impressive with upscale house-made items like cheesecakes and Crème Brulee served with seasonal fruits and fresh berries.
Read More:
Conclusion
Burlington has a great selection of restaurants ranging from casual hangout spots to refined fine dining establishments.
With a variety of options to choose from, the best restaurants in Burlington on our list satiates every craving.