Woodstock, VT is a go-to for picturesque farm views and a quaint, quiet break from the hustle and bustle of the city. It's been voted "the prettiest town in America" multiple times, thanks to its rustic New England charm and lush terrains.
The town is known for its comforting, laidback atmosphere, reminiscent of simple farm life. And wherever you turn, you'll find heritage farms, pottery barns, majestic Queen-Anne-style mansions, and charming local boutiques.
With a population of just over 3,000 people, Woodstock is by no means a huge city. But this small town packs a punch when it comes to activities for nature lovers and those looking to experience the quiet, relaxing life on the ranch for a few days.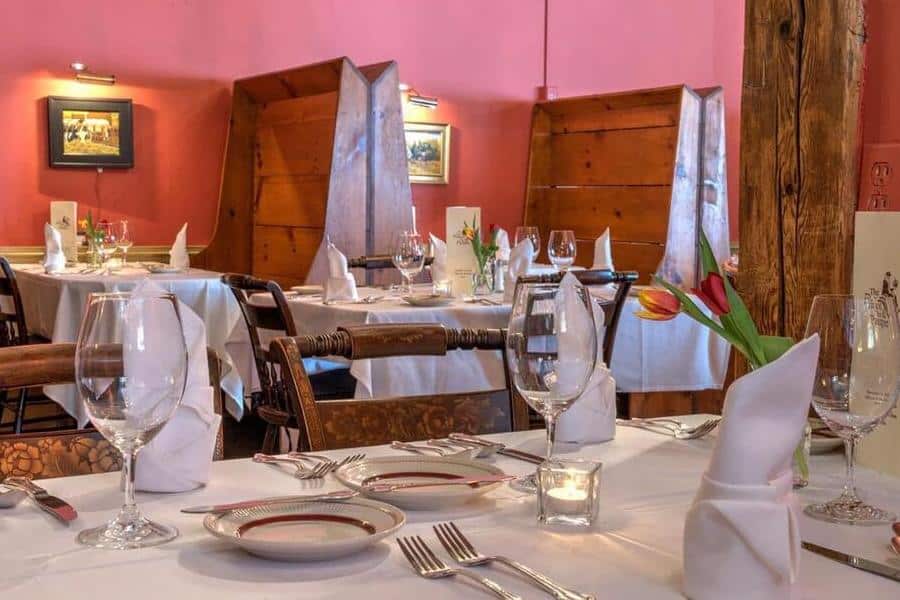 Many people assume that small towns don't have much to offer when it comes to food. But with Woodstock, they couldn't be more wrong. This town is immensely proud of its local restaurants, most of which serve dishes made with farm-fresh ingredients.
Here are the top nine restaurants to check out when you're in the area to get a taste of that homey, authentic farm-to-table goodness.
Best Restaurants in Woodstock, VT
Worthy Kitchen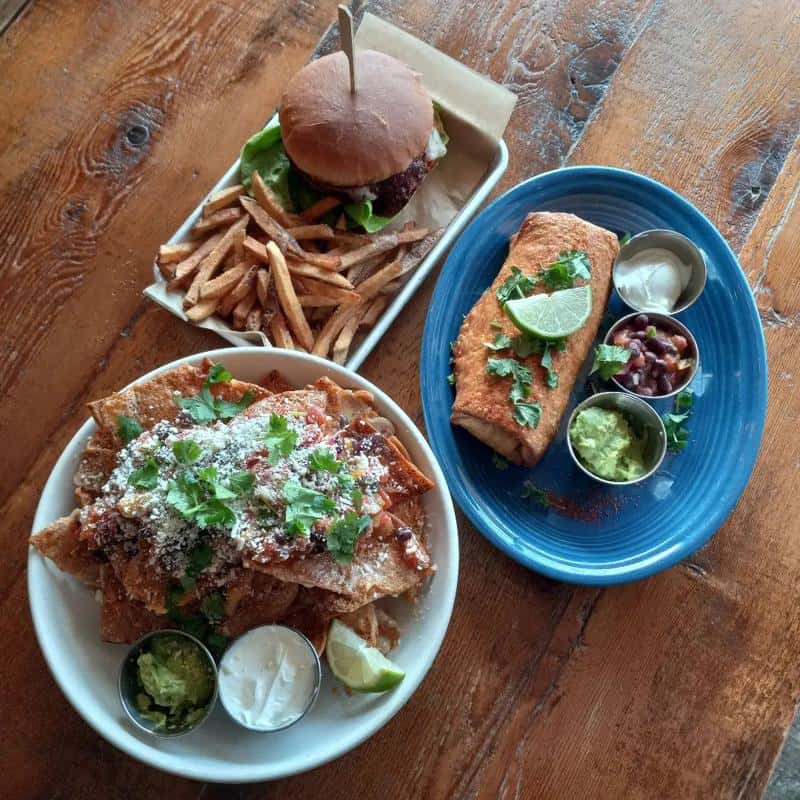 Address: 442 Woodstock Rd.
Known for: Gourmet burgers and sandwiches, craft beer selection
Perhaps the most popular counter-serve pub in Woodstock is Worthy Kitchen, which you can always expect to be packed from Thursday to Sunday—the only days it's open.
There's a huge chalkboard up front that shows you the restaurant's entire menu, adding to that laidback, small-town charm. With its casual vibe and sizeable selection of craft beers, gourmet burgers, and wings, it's no wonder that it's a lively place to eat at.
Although its New American fare feels very contemporary, its roots are in homey, farm-to-table cooking. All the ingredients they use are made in Vermont, by friends and neighbors in local farms and breweries.
Worthy Kitchen only serves dinner on Thursdays and Fridays, but opens a little before noon on the weekends for lunch.
Mont Vert Cafe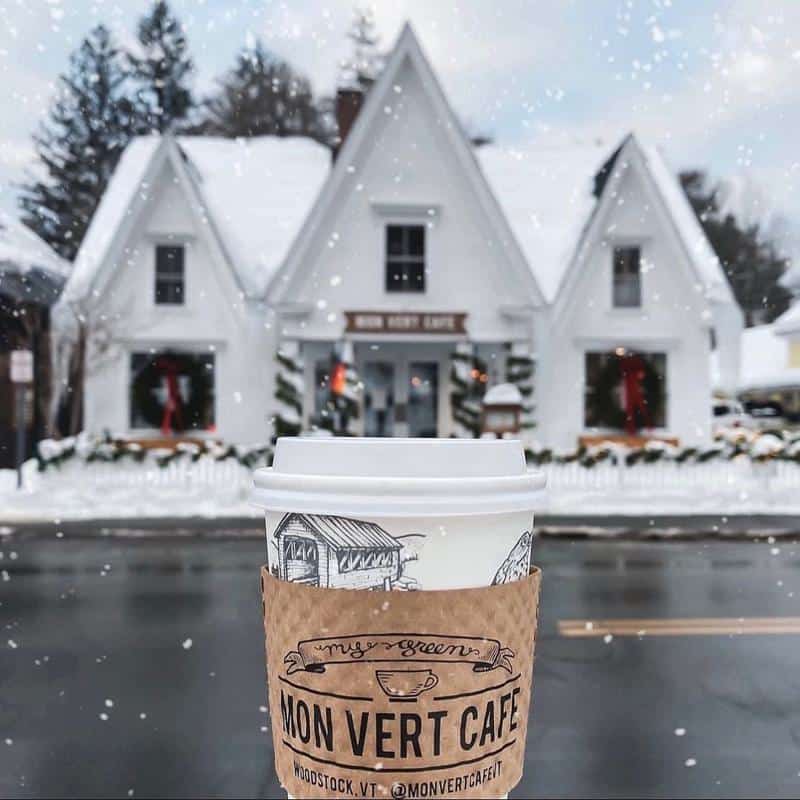 Address: 28 Central St.
Known for: Breakfast sandwiches, lunch wraps, espresso drinks
If you're looking for the best breakfast and lunch place in Woodstock, Mont Vert Café will be a top contender. They serve hearty breakfast sandwiches, quick lunch wraps and salads, and the most delicious espresso coffee you'll find in the area.
Their range of brunch-inspired food is both comforting and upscale. They offer the likes of egg and cheese sandwiches and even breakfast burritos with avocado. The lunch options, like their wraps and paninis, are just as filling.
All of the ingredients they use are local, from the Vermont maple syrup they drizzle on your steel-cut oatmeal, to the Red Hen bread they use on sandwiches.
You can find the two-story café in a quaint, charming white house along Central St. It's open as early as 7:30 every morning and closes just before sundown, so you can still come over for some afternoon pastries and cookies at the bakery.
Mountain Creamery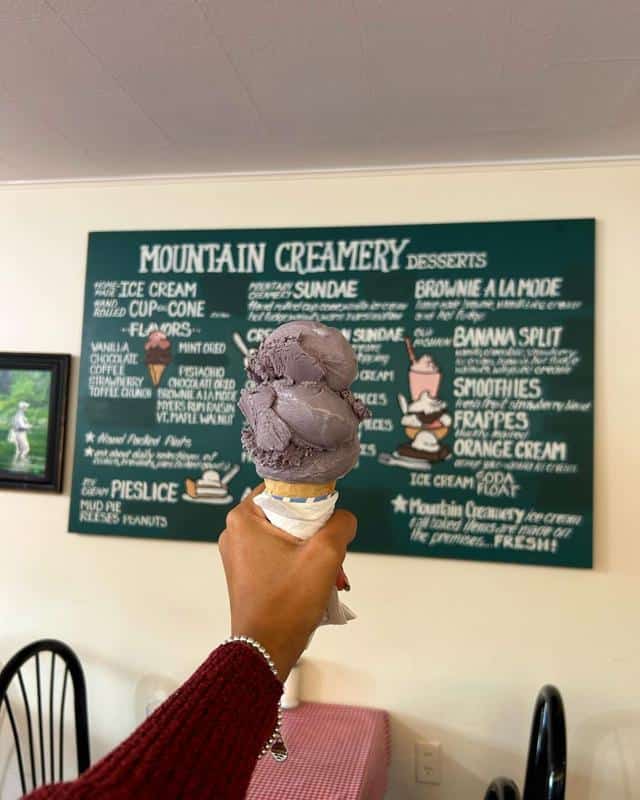 Address: 4374 West Woodstock Rd., Route 4
Known for: Homemade ice cream, baked goods, produce and meats from their own farm
Mountain Creamery is a small but much-loved local diner with a down-to-earth feel. It's an awesome place to check out if you want a feel of Woodstock's no-nonsense, laidback eateries while gobbling down delicious breakfasts, baked goods, and ice cream.
The diner was opened by Boris and Sheila Pilsmaker 35 years ago. In the last couple of decades, they started incorporating meat and produce from their very own farm—Hinterland Farm—in Mountain Creamery's dishes, bringing to life that farm-to-kitchen vision.
Everything here is farm-grown, from the roast beef in your burger to the sweet, juicy tomatoes in their summer salad.
But if there's one thing that makes Mountain Creamery so iconic, it's their fresh, delectable, homemade ice cream. They have many flavors to choose from, from strawberry to rum raisin.
You can also have the ice cream with their old-fashioned baked goods. We highly recommend the Mile High Apple Pie with vanilla ice cream on top.
Soulfully Good Cafe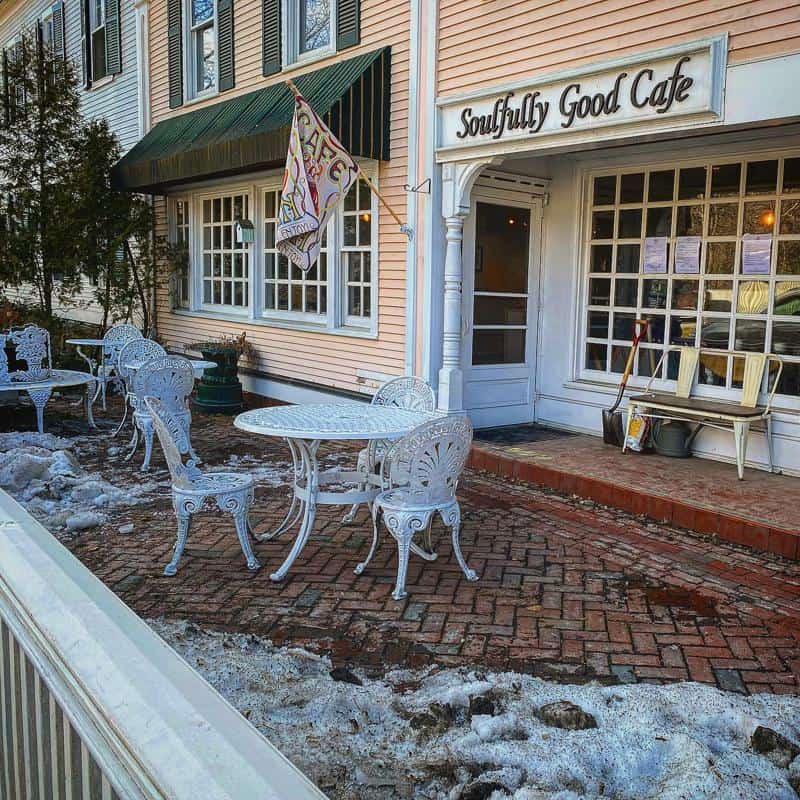 Address: 67 Central St.
Known for: Breakfast croissant sandwiches, Brunch on Sundays, pet-friendly outdoor patio
Soulfully Good Café is another fanciful breakfast and lunch café that exudes that small town atmosphere that seems to be a hallmark in Woodstock restaurants. They offer indoor seating as well as tables in their breezy outdoor patio, where your pet dogs are welcome to stay, too!
The café has an old-fashioned, relaxed vibe. They operate on a first-come, first-served basis, so no reservations are allowed. You also have to line up at the register to place your order—a charming detail that reminds you of the overall vibe of the chill, laidback, simple town.
From Wednesdays to Saturdays, you can come in and have a cup of coffee with your breakfast. Among the yummiest items on their menu are The Local (Vermont cheddar your choice of meat over a freshly baked croissant) and their light, fluffy waffles. And then on Sunday, come over for their special brunch menu!
The Prince & The Pauper Restaurant
Address: 24 Elm St.
Known for: Fine dining, intercontinental and American cuisines, location in a heritage building
Not all cafes and diners at Woodstock are small and quaint. There are fine dining options too. Arguably the best among them is The Prince & The Pauper Restaurant.
This restaurant serves intercontinental and American cuisine presented in a beautiful, upscale way. It sits in a 200-year-old heritage building made of red brick, adding an old-school rusticity to it.
But just because it's in a historic building, it doesn't mean it's dreary. In fact, it's warm, elegant, and refined in every way, from its antique, wooden interiors to its indulgent dishes like filet mignon and tomahawk chops.
There are three dining areas to choose from. The parlour is nearest the front doors and boasts floor-to-ceiling windows for a bright atmosphere. Then comes the lounge, which houses the antique bar. The final room is the main dining area, where you can sit in warm candlelight with your date for dinner.
Because it's so high-class, you can't just walk into the restaurant and demand a seat. Reservations are required, especially if you want to get a spot in the coveted antique bar. Dinner service is from 5-8 PM from Tuesday to Saturday.
Melaza Bistro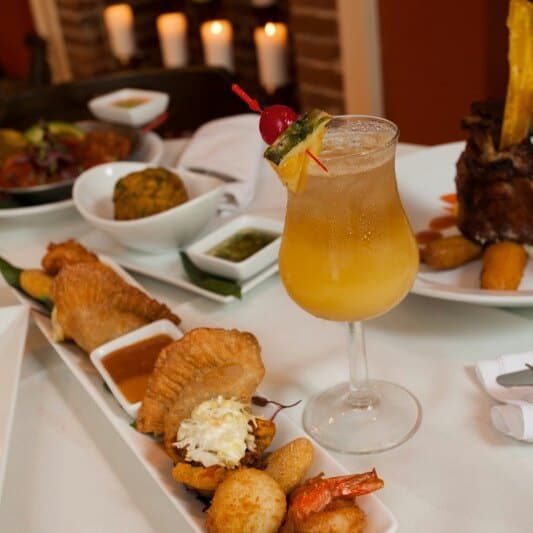 Address: 71 Central St.
Known for: Caribbean-inspired dishes,
While most of Woodstock's restaurants offer American dishes, there are a few gems that serve more diverse cuisines. Melaza Bistro is one of them, serving up delicious Caribbean food, from tapas to mains, all made with local ingredients.
The cozy bistro's main goal is to bring the unique, flavorful food of the tropics to America—and they don't disappoint. They have mouthwatering Puerto Rican dishes, like crispy plantains, coconut shrimp, and even tres leches cake for dessert.
What's cool about Melaza Bistro is that it's both casual and refined. It's not rowdy or rugged, but it's not uppity and intimidating either. It strikes the perfect balance that makes it an awesome restaurant to go to with family and friends on a whim.
Bringing the kids with you? Don't worry—Melaza Bistro has a scrumptious kids' menu your little ones will enjoy. It includes cheese quesadillas, chicken tenders, and creamy pasta!
The Village Butcher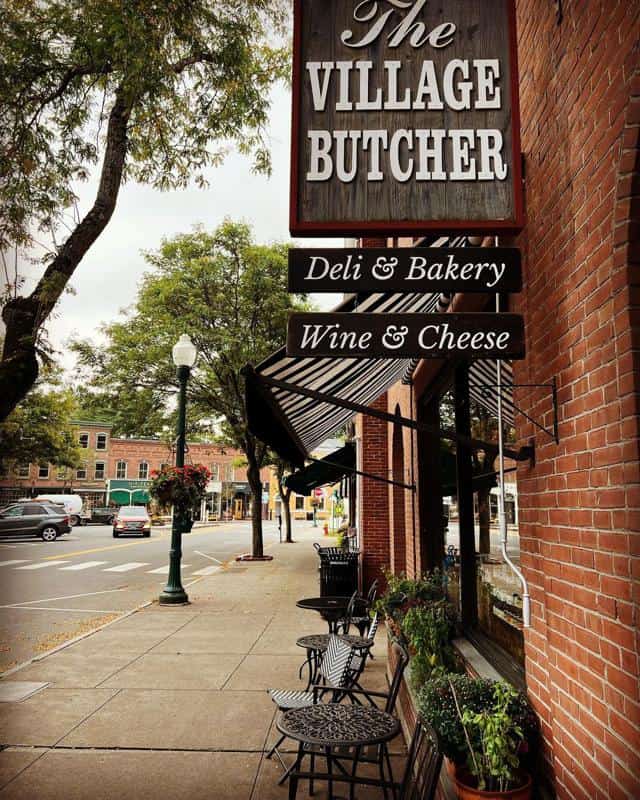 Address: 18 Elm St.
Known for: Customized sandwiches, selection of meats and sausages
The Village Butcher is a butcher's shop that doubles as a sandwich spot. It was founded in 1972 by an Upper Valley family, but has since then been passed on to a new family.
Thankfully, the new owners maintain the coziness and personalized meat offerings the town has loved about the shop for decades. The new head butcher (trained by the original owners) makes a variety of meats, from sausages to tourtière pies.
Locals love to pop in every morning here for their sandwich and coffee fix. The location is central, so it's easy to stop by at the start of the day before heading to the farm or work. Plus, you hit two birds with one stone in The Village Butcher—you get a yummy sandwich and shop for fresh, cut-to-order meats.
As for their menu, you can opt for a classic sandwich, like a BLT or Italian. You can also choose to build your own sandwich from a list of meats and other ingredients too.
The Lincoln Inn & Restaurant at the Covered Bridge
Address: 2709 W. Woodstock Road
Known for: Rotating dinner tasting menus, wine pairings for food, prix fixe breakfast
The Lincoln Inn & Restaurant was inspired by the European concept of a countryside inn that served as a restaurant. It welcomes guests to stay at the inn and enjoy its breakfast and dinner services. The inn is situated near Ottauquechee River, giving it a serene, peaceful atmosphere.
What's amazing about this inn and restaurant is that it's run by a very hands-on female power duo.
Michelin-trained chef Jevgenija Saromova is in charge of the food, while proprietor Mara Mehlman acts as a sommelier, pairing dishes with the best wines. Their work has made the restaurant quite renowned, even earning a spot in the top 10 Best Restaurants by Forbes Magazine in 2016.
The Lincoln Inn serves globally inspired dishes that are made with local ingredients. The food served here changes every night, since their 7-course and 12-course menus depend on the freshest ingredients available in the pantry. In the morning, you can get prix fixe breakfast.
The Red Rooster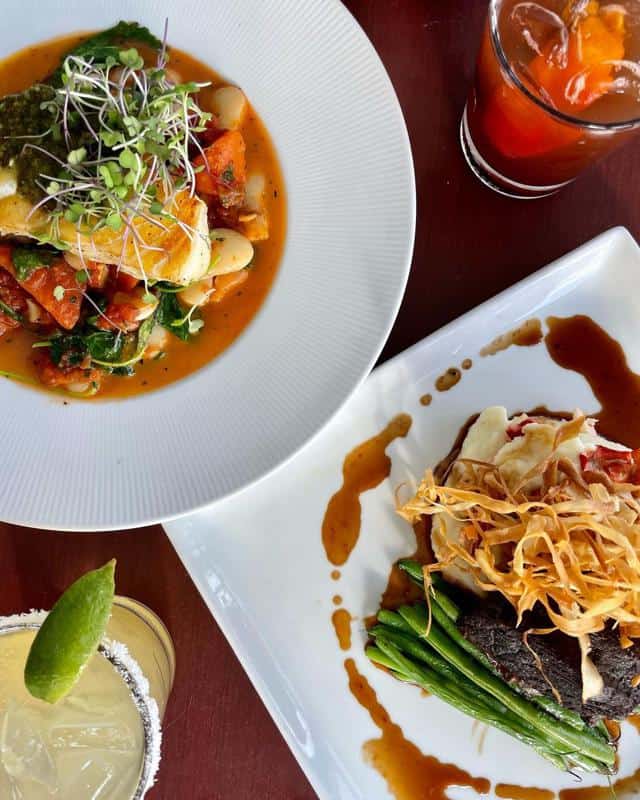 Address: 14 The Green (inside the Woodstock Inn & Resort)
Known for: Breakfast buffet, burgers and wraps
The Red Rooster is another restaurant you can find at a cozy inn, this time in the upscale Woodstock Inn & Resort. This elegant restaurant is all about New England dishes made from Vermont's most popular local ingredients, from cheese to meats to heirloom vegetables.
This restaurant is well-known for its breakfast buffet. You can get as many mains as you want, from the eggs ben to the chef's griddle special with Vermont maple syrup. You can even avail of the "build-a-parfait" service or eat a mountain of muffins and chocolate croissants if you have a sweet tooth!
After breakfast, the restaurant closes for a couple of hours before opening again for its lunch and dinner services. Lunch is open for all, while non-guests can only come in for dinner if some guests cancel their reservation.
Read More:
Conclusion
If you ever find yourself craving the simple life and driving up to Vermont for a quiet getaway from the city, make sure to stop by Woodstock—the quintessential small town for ranch life and farm-to-table food.
And be sure to check out the restaurants on this list for the best local offerings. Whether you're looking for upscale fine dining for a special occasion or just want to start your day with a good sandwich and a cup of joe, there's always something for you at relaxing, picturesque Woodstock.