Universal Orlando boasts the best attractions and rides rivaling Disneyworld. It is not surprising that people flock to it in large numbers.
The exciting and themed rides are popular among kids and families. Adults enjoy the fine hotel resorts and exciting nightlife here.
Another exciting aspect of Universal studios is the delicious dining experience it offers. Enjoying the rides and other key attractions drains you out easily.
Luckily, the diverse range of eateries here keeps up your spirit and gets you going in a jiffy.
We have chosen some of the best restaurants in Universal Orlando. Make sure you do not miss out on them when you visit the place.
12 Best Universal Orlando Restaurants
Let us dive into the best dining places at Universal Orlando. The restaurants vary in their menu, budget, and ambiance. But the common factor in them is the satisfying food they offer.
1. Mythos Restaurant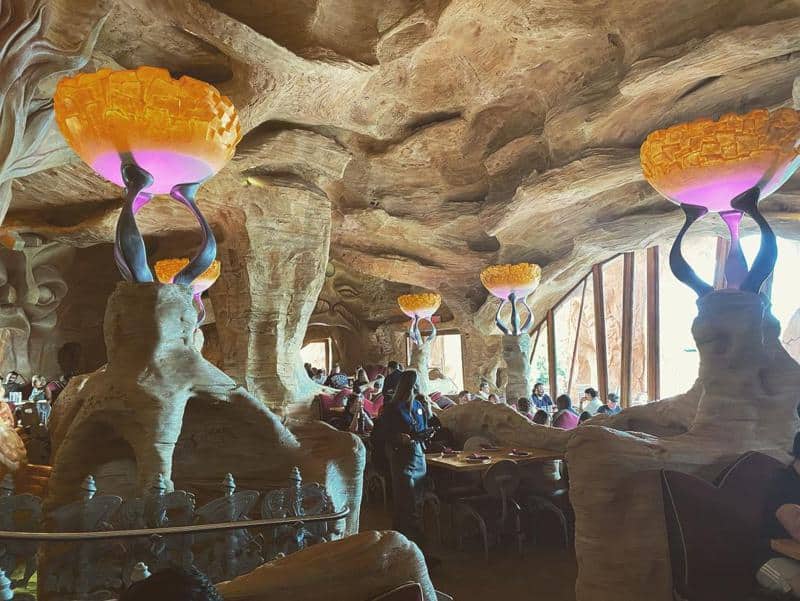 Dining Type: Full service
Popular for: Mythos Signature Lamb burger
An all-time favorite, Mythos Restaurant offers modern cuisine in a mythical backdrop. You can find multi-cuisine dishes that include Asian, American, and Mediterranean.
The ambiance gives a fairy-tale vibe. It features ancient figures adorning the roof and walls.
Entering the restaurant feels like you are stepping inside a cave. There are rock sculptures, fountains, and interesting lighting fixtures.
Outdoor dining provides a view of the inland sea and the rides.
Popular dishes include beef loin medallions and pork chops. You can also find a wide range of specialty cocktails, wines, and beers here.
The ancient theme attracts families as kids are sure to enjoy the atmosphere.
But, it does not have many options for vegans or those who want gluten-free food.
2. Three Broomsticks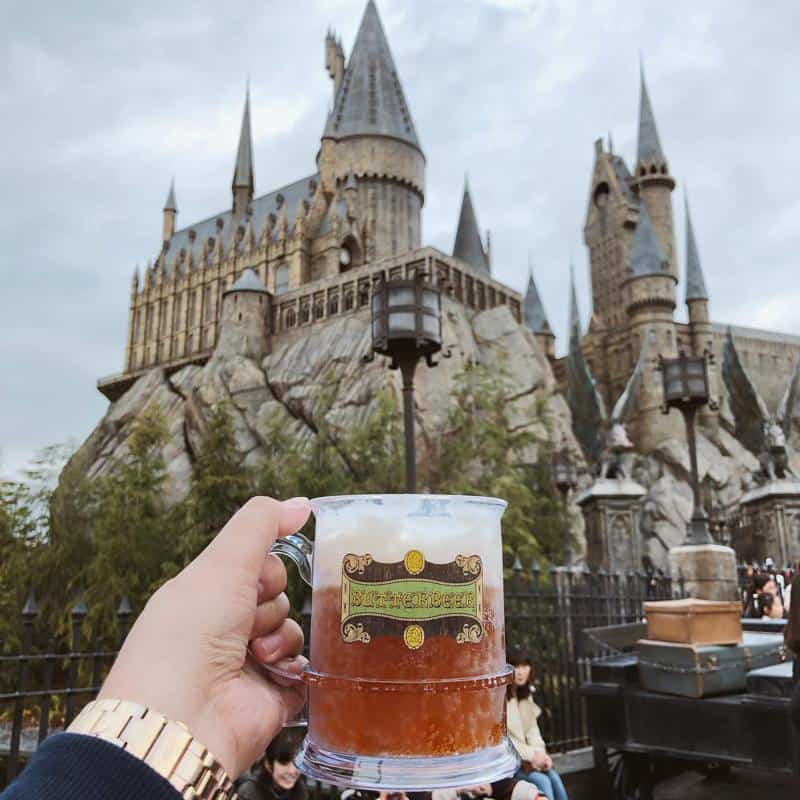 Type: Quick service
Popular for: Butterbeer, Pumpkin Fizz, Shepherd's pie, and English bacon
For Harry Potter fans, the Wizarding World offers plenty of excitement. Themed rides and places here are a treat to the young wizard's fans.
Visitors looking to quench their thirst and hunger after the exhilarating rides, need not go far. The rustic ambiance of the Three Broomsticks draws them in with its wonderful setting.
It serves British and American cuisine for lunch and dinner.
The inn is decorated with wooden beams in the ceiling and cast-iron chandeliers. This themed restaurant keeps the ancient atmosphere intact with its décor.
This is a budget eatery that is ideal for families.
Specialty foods here include baked beans, black pudding, Shepherd's pie, and rotisserie chicken.
The Butterbeer and pumpkin fizz is very popular here.
3. Vivo Italian Kitchen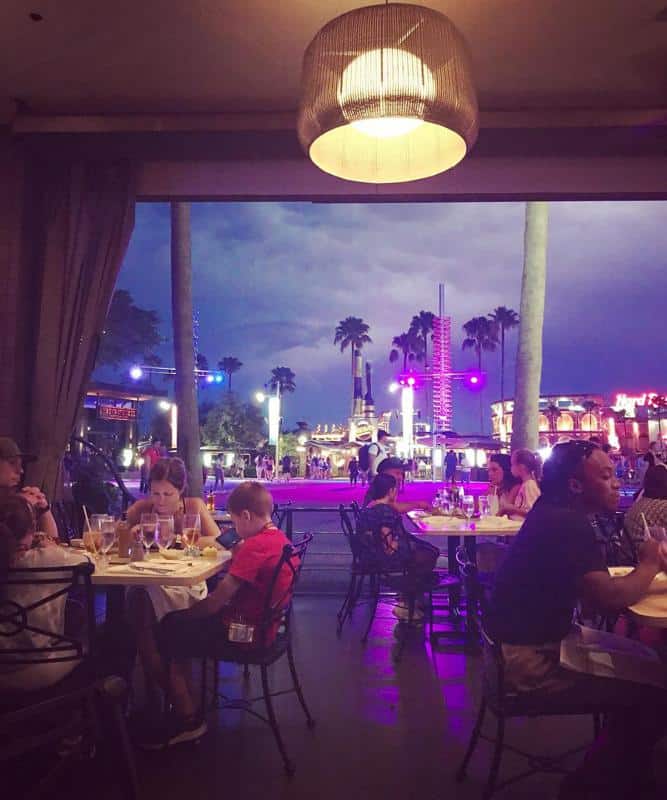 Type: Full service, Sit-down dining
Popular for: Chicken Parmigiano, Sausage sagu, Crème Brulee
Fans of Italian food would love the Vivo Italian Kitchen in Citywalk.
Famed for its heirloom family recipes, this restaurant provides authentic Italian dishes.
The ambiance is stylish and contemporary. Interior décor has muted shades, giving a dark vibe.
The pendant lights are beautifully placed and infuse brightness into the interior. The overall effect of the color and materials creates an elegant but relaxed surrounding.
Diners can watch the pasta being made from scratch in the open kitchen. The main seating area is filled with the aroma of sizzling meats and flavorful sauces.
The dining area and patio are huge and have ample seating.
Favorite Italian dishes here include Fried Ricotta, Antipasto, Tortellini, Chicken Fettucine, and different types of pasta. A separate kid's menu is also present. Dessert choices include delicacies like Tiramisu, Panna Cotta, and Cannoli.
4. Antojitos Authentic Mexican Food
Type: Full-service sit-down dining
Popular for: Chicken Burritos, Guacamole, fried ice cream, and tacos
For authentic Mexican fare, Antojitos is the place to go at Universal Orlando. This two-storied restaurant offers dinner only.
The restaurant is spacious and the décor is subtle. Flamboyant ceiling lighting complements the muted wall colors. The art and architecture of the interior make the place look exotic.
Live Mariachi music performed on a stage indoors renders festivity to the atmosphere.
Indoor and outdoor seating is present. There are barside seats too.
The menu includes popular Mexican foods. Margarita, Mojito, and Tequila are a few of the popular drinks. The guacamole is made from scratch in front of you, making it more enjoyable.
5. Bigfire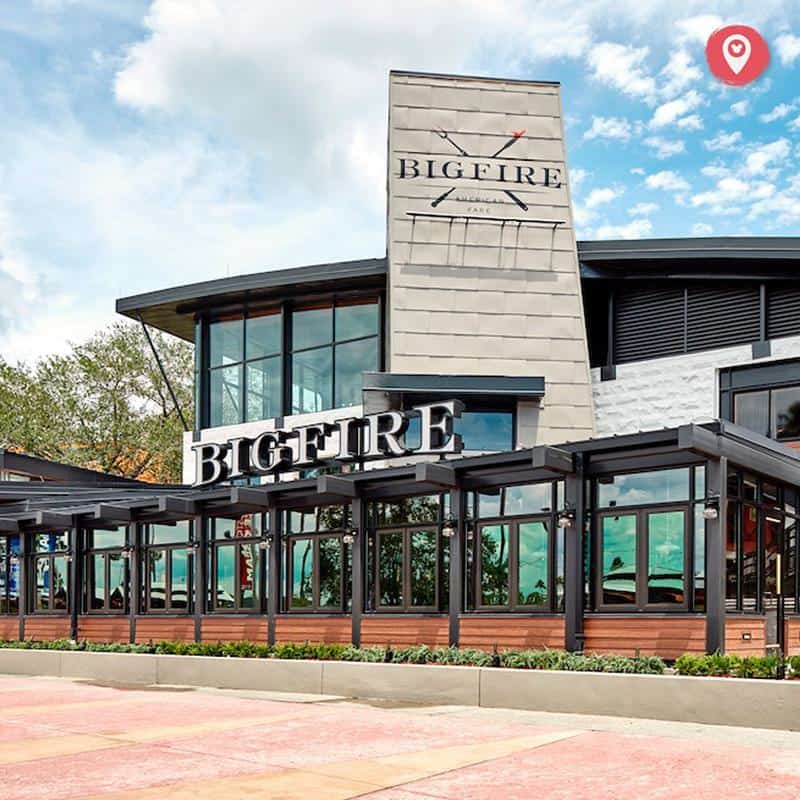 Type: Full-service sit-down dining
Popular for: Chili, steak, and s'mores
For visitors in search of wood-fired grilled food, Bigfire is the place to go at Universal Orlando. Guests get to watch the food cooking from their tables.
This restaurant is popular for the different types of wood used for creating smoky-flavored dishes.
The ambiance is warm and cozy and is ideal for having a relaxing meal after a busy day. And, the lighting is muted and the welcoming aura is great to experience.
Kids and adults would love the live s'more roasting with various assortments of chocolates and graham crackers. The bar here is well stocked with the place's signature amber beer, whisky, bourbon, and cocktails.
The restaurant is open for dinner all through the year. But it opens for lunch during peak season.
6. The Cowfish Sushi Burger Bar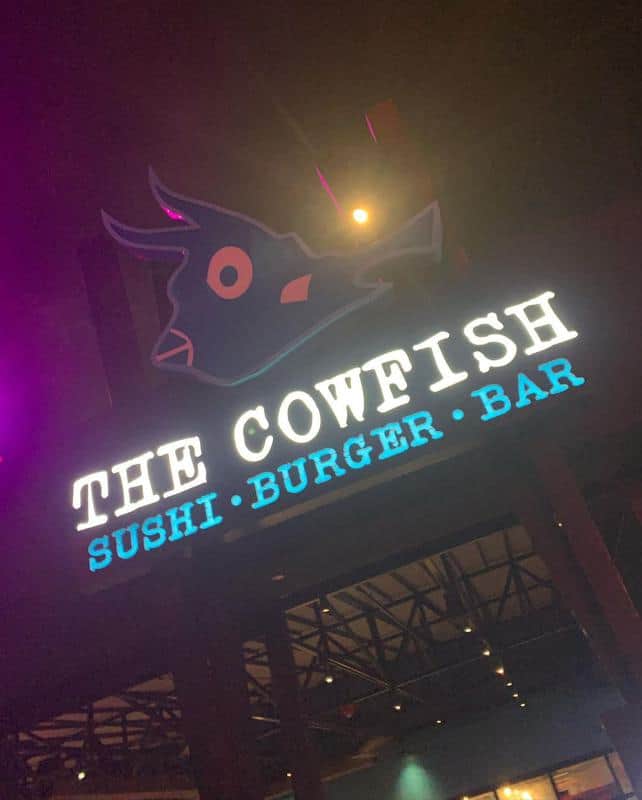 Type: Full-service sit-down dining
Popular for: Burgushi, milkshakes, double burgers
If you love sushi and burgers, the Cowfish restaurant is a perfect choice. It offers delicious sushi and lip-smacking burger combos.
Fresh seafood dishes, delightful drinks, and wholesome burgers are popular here.
The décor is inviting and has circular seating. Pop art and huge fish tanks that have cowfish in them add appeal to the place.
All seating on the two floors provides stunning CityWalk views. You can find the bar at the center offering a variety of fares.
The burgers here carry interesting names like Big Squeal, Rise & Swine, and more. Veggie burgers are also present.
Reservation is needed if you don't want to wait for your table. The place is mostly crowded, keeping the waiters busy all the time.
7. Finnegan's Bar and Grill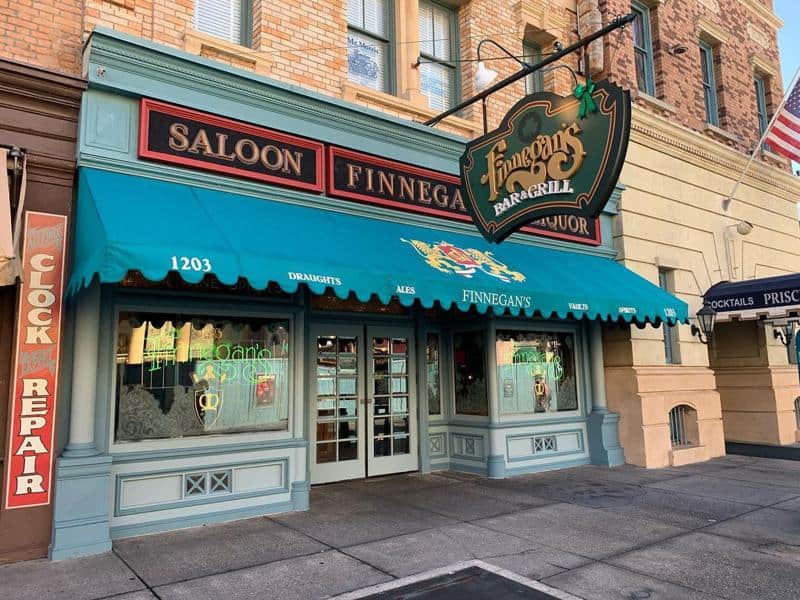 Type: Full-service, sit-down dining
Popular for: Potato and Onion Webb, Fish and Chips, and vegan Shepherd's pie
An Irish pub like Finnegan's is a great place to end your day at Universal Orlando. The Irish restaurant offers full-service lunch and dinner daily.
Opened in 1990 when Universal Studios Florida was launched, this restaurant is based on the 1978 movie, The Brinks Job.
The atmosphere is casual and the place has live music. The tin ceiling, movie lights, and other properties give the place an authentic Irish pub ambiance.
Service is good with friendly bartenders and welcoming restaurant staff. Its family and fun vibe resonate with the guests.
It is also the hub for the Universal Orlando Annual Passholders.
Food at Finnegan is mostly traditional Irish, which is a big lure for guests. The Scotch Eggs, Soda Bread, and Beef stew are big crowd pullers.
Favorite drinks here include green beer and Apple Pie on the rocks. Irish coffee is another popular drink. Brew fans will find the different ale varieties to their liking.
The bar is particularly busy during Halloween Horror Nights and other such special events.
Although it is a pub, the live music and delectable dishes make it a family favorite.
8. The Toothsome Chocolate Emporium & Savory Feast Kitchen
Type: Full-service sit-down dining
Popular for: Specialty macaroons, cookie pops, Waffles, and Jacques's specialty milkshakes
For visitors who are bored with the usual fare, The Toothsome Chocolate Emporium is a true delight. This full-service eatery includes a confectionary.
Based on the Toothsome family, this is a 19th-century-themed restaurant offering delicious dishes.
A distinct décor greets guests at the restaurant with copper and dark chocolate colors dominating the interior. Guests come upon plenty of steampunk merchandise and special Toothsome items. The robots, gears, and copper items showcase the steampunk theme.
Penelope Toothsome and Jacques interact with guests occasionally. Guests can choose from the confectionary area and gift shop or visit the milkshake and ice cream section.
The fare here is sumptuous and includes classic items like seafood and steak. But the main attractions here are the gourmet chocolates, sundaes, and milkshakes.
A candy treat is ready for guests and they can choose from freshly made chocolates. The bar provides delicious milkshake concoctions and sundaes.
9. Confisco Grille & Backwater Bar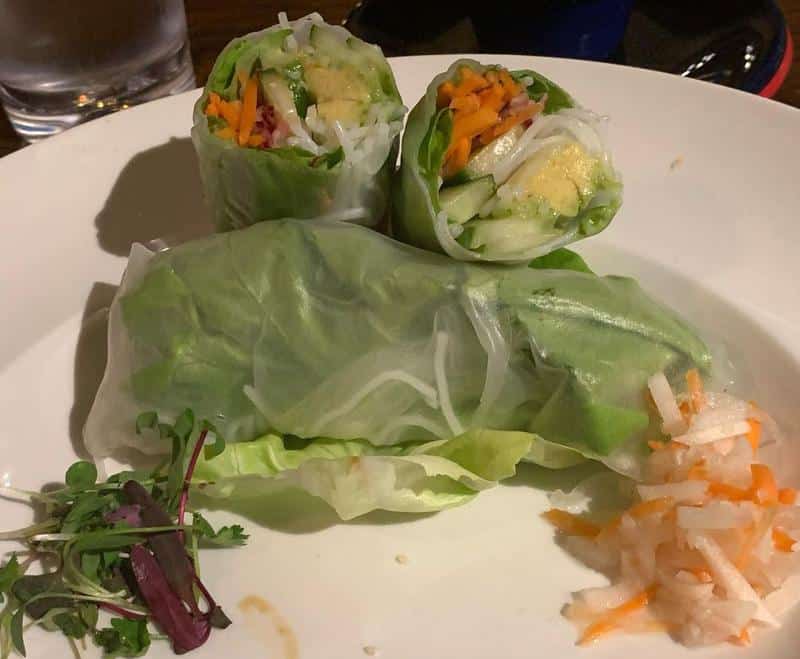 Type: Full-service dining
Popular for: Tuna Noodles, Pad Thai
Popular for its exotic décor and delicious food, Confisco Grille features Greek, Mediterranean, Asian, and various other cuisines. This is a full-service restaurant featuring a wide range of dishes.
The décor reflects the eclectic essence of the Port of Entry. You can find odd items that the owners have collected during their travel. Interiors have rocky walls and other structures that make them look rustic.
Some of the famous dishes include Nachos, hummus, Quesadilla, Caesar salad, Tuna noodle bowl, and Pad Thai. Handhelds are popular here and include Pork belly Banh-Mi Sandwich, Chipotle Chicken Wrap, and the Confisco BLTA.
It has fountain soda and fresh fruit juices. Specialty drinks include The Raptor Claw, Ocean Trader, Lost Explorer, and more.
The bar has a wide range of bottled beer and draft beer. The red and white wine collection is also good here.
The prices are reasonable and the service is good.
10. Thunder Falls Terrace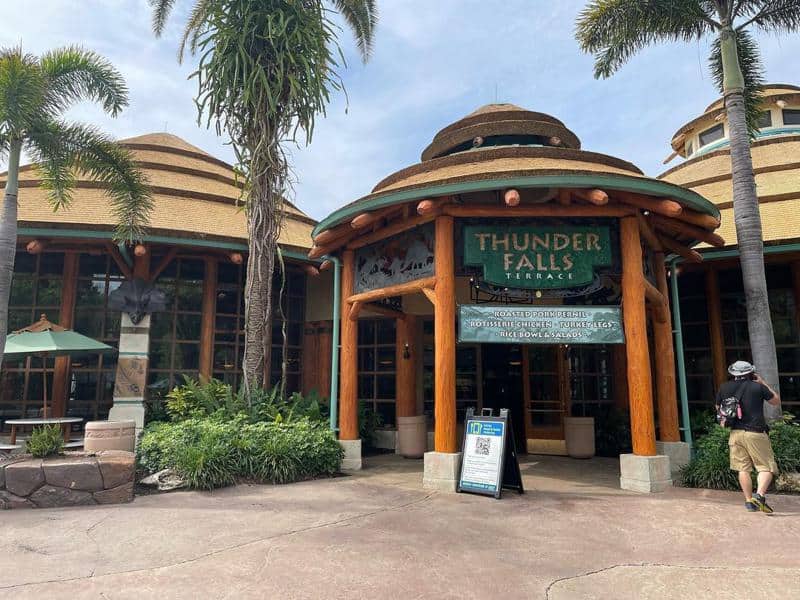 Type: Quick service
Popular for: Barbecued ribs, Rotisserie Chicken
If you don't have time for a relaxing lunch or dinner and want a quick bite, the Thunder Falls Terrace is a place to try. This restaurant offers lunch and dinner service and features mainly American cuisine.
For Jurassic Park fans, the outdoor seating in the restaurant offers stunning views of the Jurassic Park River Adventure rides. The indoor dining area has a relaxing atmosphere and the service here is good.
Ample seating space is present with windows offering views of the river rides and other Park views.
The menu at Thunder Falls Terrace includes vegetarian and meat dishes. Roasted potatoes and corn on the cob are popular dishes here.
The rice bowl provides a hearty meal. The Turkey Leg platter and rotisserie chicken combo are other popular dishes here.
It is a reasonably priced restaurant serving hearty and healthy food choices.
11. Lombard's Seafood Grille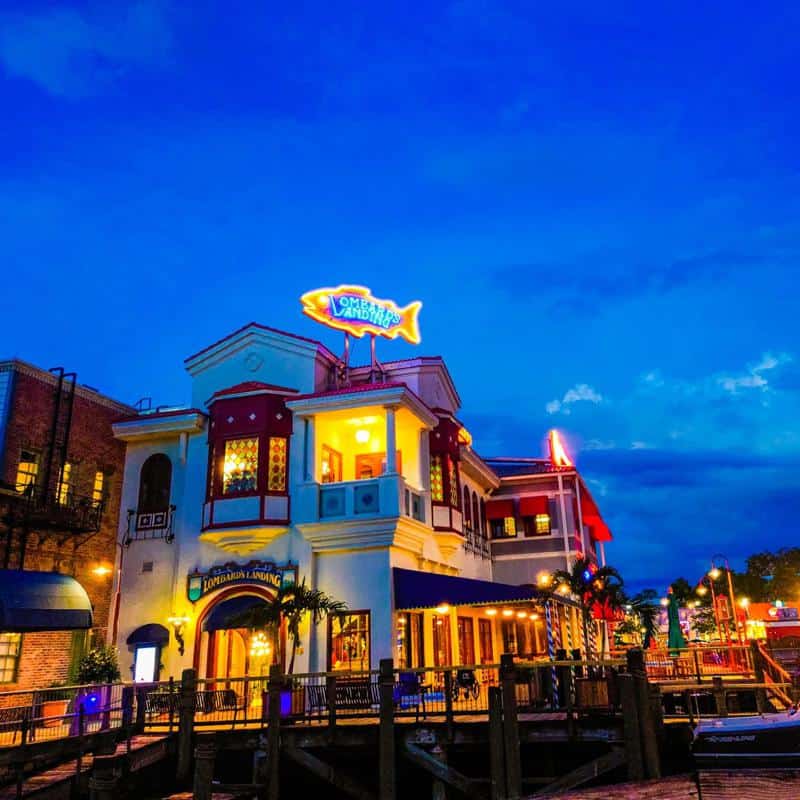 Type: Full service, casual dining
Popular for: New England clam chowder, Calamari, and the Seafood Pot Pie
Lombard's Seafood Grille is ideal for people who want to eat at a fancy table service restaurant. You can enjoy a wide variety of seafood and meat dishes. Their lobster rolls are quite famous.
Some other dishes worth trying include the Fisherman's Basket, a Black Angus beef Tenderloin, and Baja Mahi Tacos. It also has a kids menu.
With an elegant décor, magnificent views, and a pretty aquarium, this go-to restaurant is loved by adults and children alike. If you want to watch the Cinematic Spectacular while dining, then you have to book their special dinner package a few months in advance.
Additionally, if you are an annual pass holder, you can get a bonus option as well.
12. Fast Food Boulevard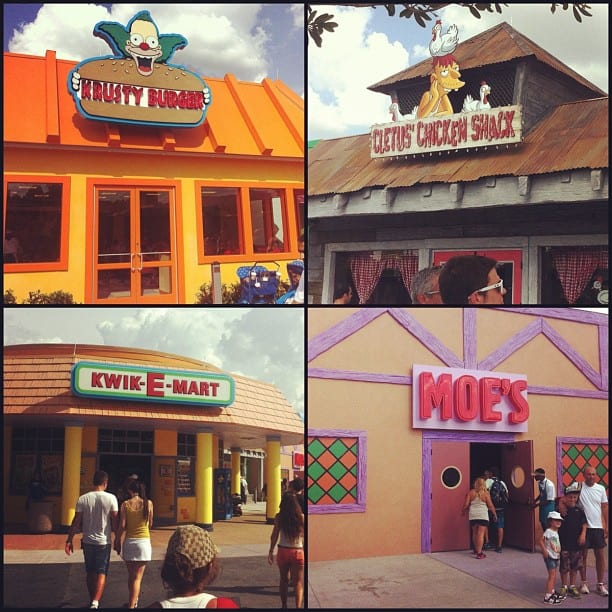 Type: Quick service
Popular for: Chicken, waffles, sandwiches, vegetarian food, seafood, Clogger burger, Duff beer, pizzas, and Flaming Moe
At Fast Food Boulevard, you can try a Krusty Burger or an ice-cold Duff Beer from Moe's Tavern, similar to your favorite The Simpsons show. You can opt for one of the seven eateries in this Simpsons-themed food court, namely Home of The Simpsons.
If you are a fan of this show, then you will love this place, which has several tiny details from the show's previous episodes.
In food, there are many options to choose from, ranging from sandwiches and vegetarian wraps to waffles and chicken.
You can try chicken at Cletus' Chicken Shack, seafood at The Frying Dutchman, and Italian pizza and pasta at Luigi's Pizza. The Flaming Moe's is famous for its Buzz Cola and Flaming Moe.
There are also Duff Brewery and BumbleBee Man's Taco Truck nearby, which are great for brews and bites.
Also Read:
Conclusion
A visit to Universal Studios, Florida is not complete without sampling the food in the various themed restaurants here. The CityWalk is filled with full and quick-service places of such a huge variety that you will be spoilt for choice.
The above lineup is just a sample of the mouth-watering offerings available here. In fact, there is something for every visitor here.
Most of the restaurants offer budget fare. The themed ambiance and fun-filled atmosphere make them a perfect fit for the rides and other park attractions.