Looking for upscale restaurants in Orlando? Foodies visiting this vibrant city in central Florida can look forward to an unforgettable culinary journey!
From luxury dining establishments at the city's posh hotels to award-winning steakhouses with white tablecloths and impeccable service, there is no shortage of high-end restaurants in Orlando.
To help you choose where to go, we've put together a list of the best upscale restaurants in Orlando.
Best Fancy and Upscale Restaurants in Orlando
Victoria & Albert's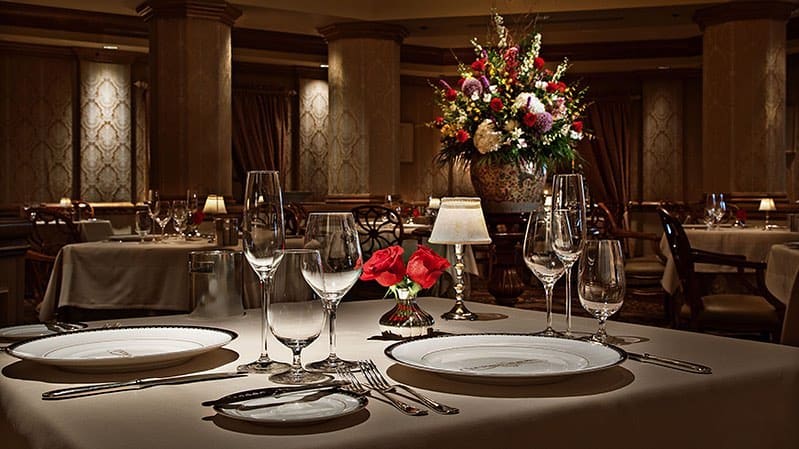 Address: 4401 Floridian Way, Orlando, FL 32830
Phone: +1 407-939-3862
With the Five Diamond Award and the Forbes Travel Guide 4-star rating, Victoria & Albert's is one of the finest luxury restaurants in Orlando.
This award-winning restaurant is known for its gracious and personalized service, new American cuisine, and beautiful interiors. Diners will be served by staff dressed in traditional Victorian attire
Dress up to the nines and make a reservation at Victoria & Albert's at least 4 months in advance. Chef Scott Hunnel is in charge of the kitchen and prepares a new menu daily with favorites such as Scottish Langoustine, Miyazaki Japanese Beef, and Smoked Salmon.
The freshest seasonal ingredients are imported from all around the world. The beef comes from Japan, while the freshest truffles are imported from Italy.
Victoria & Albert's offers three dining rooms: the Dining Room, the Queen Victoria Room, and Chef's Table which seats only 6 people for a memorable 14-course meal made by Chef Scott Hunnel.
Capa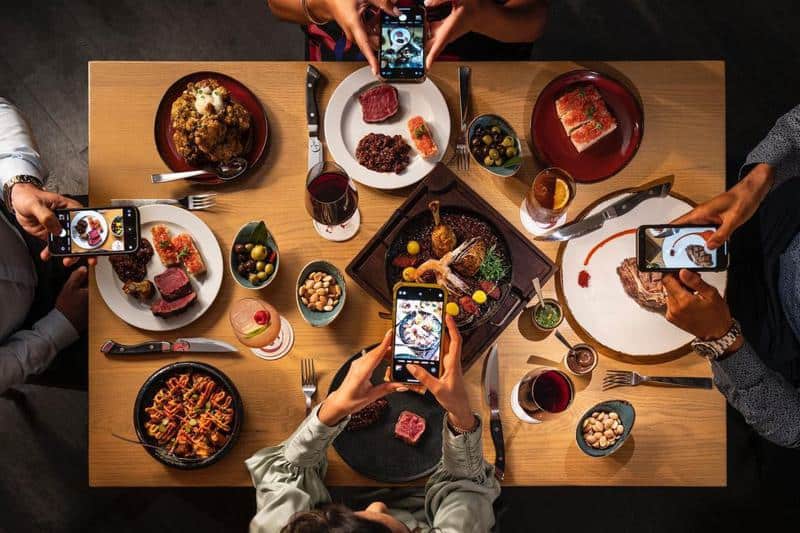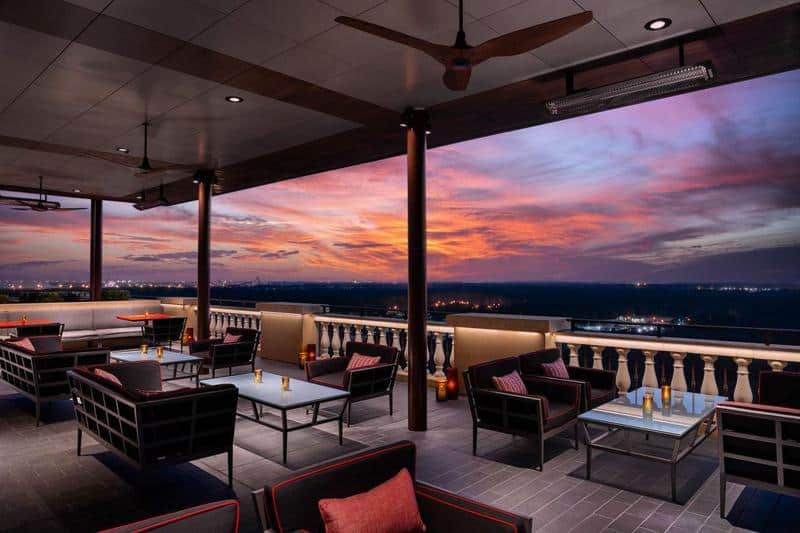 Address: 10100 Dream Tree Blvd, Lake Buena Vista, FL 32836
Phone: +1 407-313-7777
Tucked away on the 17th floor of the Four Seasons Resort in Walt Disney World in Orlando, Capa offers excellent Spanish-influenced cuisine, views of the resort's gorgeous grounds, and flawless service.
This fine dining rooftop restaurant in Orlando boasts a beautiful interior with dark décor and floor-to-ceiling windows. In summer, you can dine on the restaurant's 2 large outdoor terraces and enjoy views of Walt Disney World fireworks.
The menu at Capa is spectacular with meat options such as 12-oz Prime New York Strip, A-5 Miyazaki Wagyu Beef, and 12-oz Prime Bone-In Filet. The menu also includes many tapas and small plate options, as well as crudos (raw bar menu).
The children's menu is also fabulous with dishes such as creamy mac and cheese and chicken fingers.
Pair your meal with something from their extensive list of specialty drinks or enjoy artisan cocktails like Sangria Blanco and Buena Vista.
The Venetian Chop House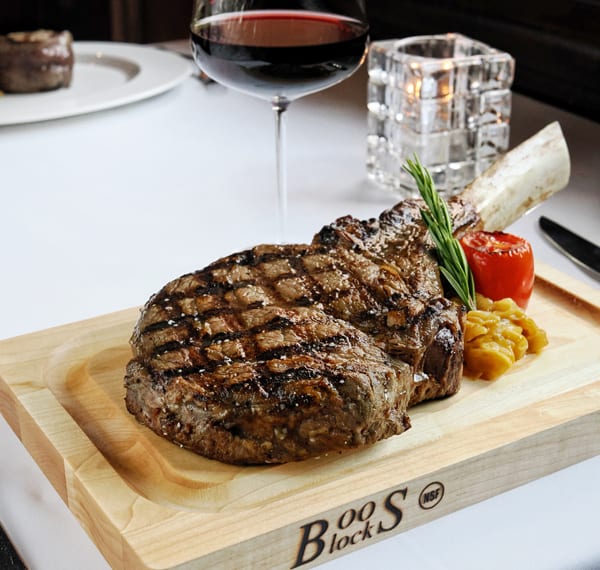 Address: 8101 World Center Dr, Orlando, FL 32821
Phone: +1 407-238-8060
Welcome to the Venetian Chop House, an upscale restaurant in Orlando well-known for its sophisticated fare and beautiful interiors.
With an AAA Four-Diamond rating, this award-winning dining establishment offers some truly amazing steaks and lots of seafood options.
Whether you are craving creamy lobster bisque, wish to feast on slow-braised bison ribs, or enjoy some gnocchi stroganoff, there are plenty of amazing options to choose from.
In the mood for something sweet? The Venetian Chop House also offers a creative dessert selection. There are plenty of vegan/vegetarian sides and entrees as well.
The interior with dark wood furnishings, crystal chandeliers, and many light fittings look breathtaking.
Le Coq Au Vin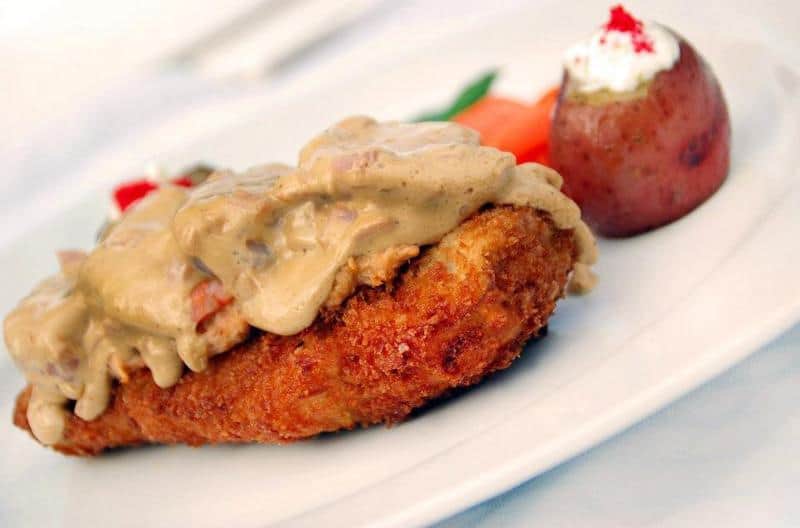 Address: 4800 S Orange Ave, Orlando, FL 32806
Phone: +1 407-851-6980
Established back in 1976, Le Coq Au Vin focuses on upscale French cuisine and offers a laid-back ambiance. The luxury restaurant has been consistently voted as one of the best French dining establishments in Orlando.
Although they serve walk-in diners, reservations well in advance at Le Coq Au Vin are highly recommended.
Chef Reimund Pitz and Chef Louis have created a blissful menu with sumptuous classic French and nouvelle farm-to-table cuisine.
Entrees options include eggplant with crab meat, shrimp, and ham, traditional onion soup served with cream and apple cider, and breaded loin of pork with black forest mushrooms.
Try their signature Poulet "Coq au Vin" or choose something from their lamb and steak menu. You should also save room for dessert and order Tarte aux Pommes or Crème Brulée.
The drinks list at Le Coq Au Vin is fabulous with a nice selection of wines and champagne.
Chatham's Place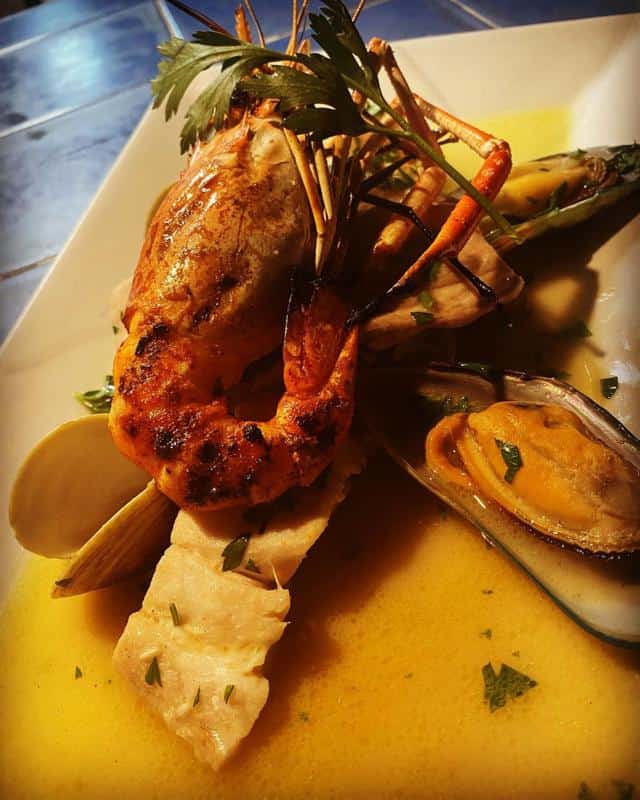 Address: 7575 Dr Phillips Blvd, Orlando, FL 32819
Phone: +1 407-345-2992
Searching for a romantic restaurant in Orlando? Book a table at Chatham's Place, an upscale restaurant with a warmly furnished interior, live piano music, and delicious American cuisine crafted to perfection by chef/owner Tony Lopes.
Opened in 1988, Chatham's Place is a bit different than your usual upscale restaurant in Orlando. In a city full of chain and hotel-based dining establishments, this local spot offers a truly unique and intimate dining experience.
The menu at Chatham's Place is not extensive but still offers something for everyone. Tony Lopes has his own organic farm where he grows veggies, fruits, and herbs.
The Beef Carpaccio melts in your mouth. For mains, try the Cajun crab or go for the Florida grouper. The delicious filet mignon is also worth ordering. If you are into spicy foods, order the Spicy Chicken Louisiana Creole.
Eddie V's Prime Seafood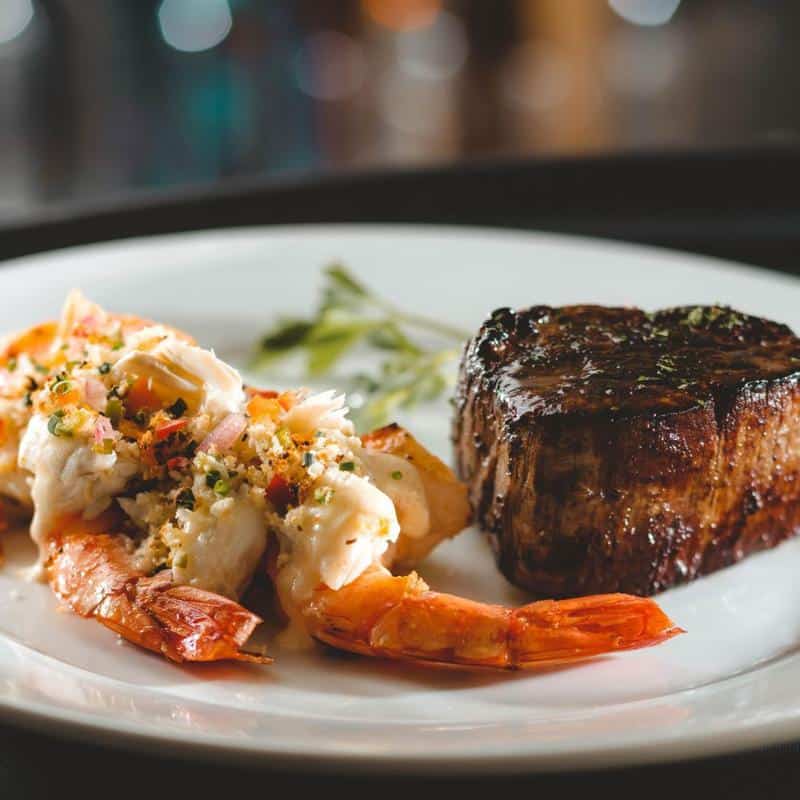 Address 7488 W Sand Lake Rd, Orlando, FL 32819,
Phone: +1 407-355-3011
Next on our list of fine dining restaurants in Orlando is the legendary Eddie V's Prime Seafood. It's all about premium hand-cut steaks and the freshest seafood at this fine dining restaurant in Orlando.
Although this restaurant is a bit on the expensive side, the quality of the dishes is definitely worth the hefty price tag.
The exquisite seafood menu offers options like sea scallops, South African Lobster, and oysters from North Pacific Oceans. The Chilean sea bass is also a big crowd-pleaser here at Eddie V's Prime Seafood
In addition to delicious seafood, steak lovers can choose from a range of specialty-aged beef. There is also a surf and turf option available to order.
Looking for a good deal while dining at Eddie V's Prime Seafood? The restaurant offers a prix-fixe, three-course menu that includes options such as lump crab, steak, lobster bisque, and tasty desserts for just $45.
The restaurant is also a great spot to enjoy some music performances. Live jazz and blues is played nightly at Eddie V's Prime Seafood Lounge.
La Luce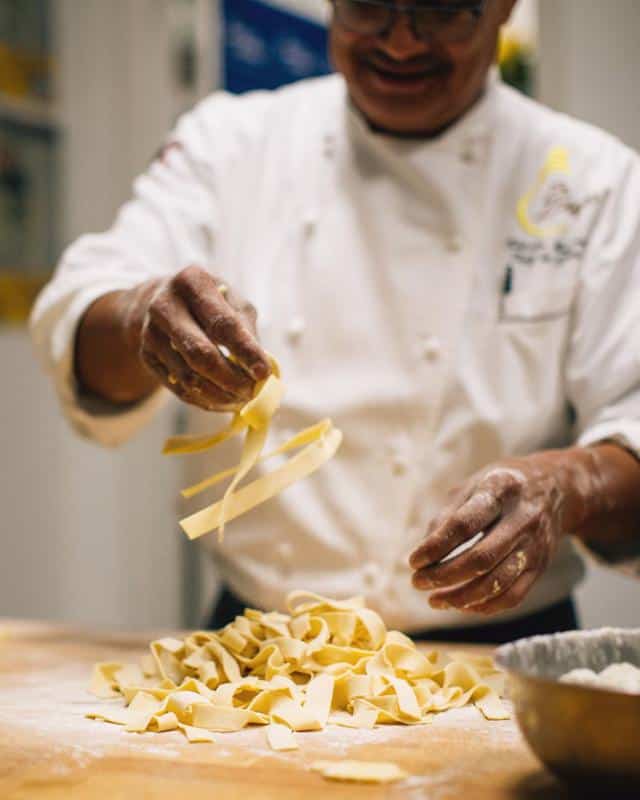 Address: 14100 Bonnet Creek Resort Ln, Orlando, FL 32821
Phone: +1 407-597-3676
No list of upscale complete restaurants in Orlando would be complete without mentioning at least one Italian food dining establishment.
Located in Hilton Orlando Bonnet Creek resort, La Luce is an Italian Restaurant opened by Donna Scala, the celebrity Napa Valley chef. Unfortunately, Donna passed away 9 years ago, but she would definitely be pleased to hear that her homemade Italian cuisine is still popular among both locals and tourists visiting Orlando.
Here, the menu changes seasonally and only the freshest ingredients are used when preparing heartwarming dishes. From thin-crust pizza and homemade pasta to forgotten Italian dishes based on family recipes, the menu at La Luce offers something for every lover of Italian cuisine.
The Antipasti menu is spectacular and includes capriccio, stuffed peppers, and fritto misto. The Insalate menu is also worth mentioning with options like cauliflower and Tricolore.
What's on the drinks list, you ask? The restaurant offers a Trattoria-style wine program, as well as Mediterranean-inspired cocktails. On the walls of this restaurant, you will find works of local artists. To sum it all up, La Luce is a great high-end restaurant in Orlando to satisfy your taste buds.
The Boheme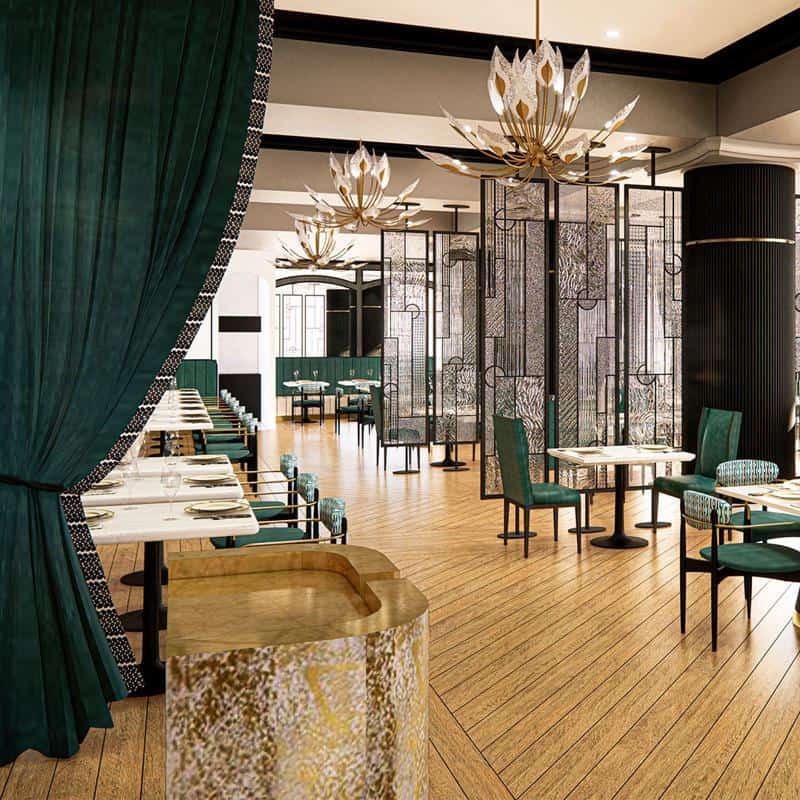 Address: 325 S Orange Ave, Orlando, FL 32801,
Phone: +1 407-581-4700
Located in the heart of Downtown Orlando at the Grand Bohemian Hotel, the Boheme specializes in serving scrumptious brunch.
The hotel's Sunday Jazz Brunch at the Boheme is one of the most popular dining events in the city. You can feast on delicious brunch fare while listening to some of the best jazz musicians from Orlando.
Sunday brunch at the Boheme will set you back $45. The prime rib carving station, custom omelet station, and fresh waffle station are just a few extraordinary places where you can enjoy delicious foods for brunch. Go to the Kitchen Action Station to try made-to-order delicacies like crab legs, oysters, or steamed shrimp.
The dessert station is spectacular and includes sweet things like Milk Chocolate Cheesecake and Warm Caramel Lava Cake.
The Boheme also offers a classic breakfast, lunch, and dinner menu. For both lunch and dinner, hungry patrons can opt for 3-course and 4-course prix-fixe menus.
Some of the most popular signature dishes for lunch and dinner at the Boheme include Australian Lamb Chops, Chilean Sea Bass, and Mediterranean Baked Salmon.
The Capital Grille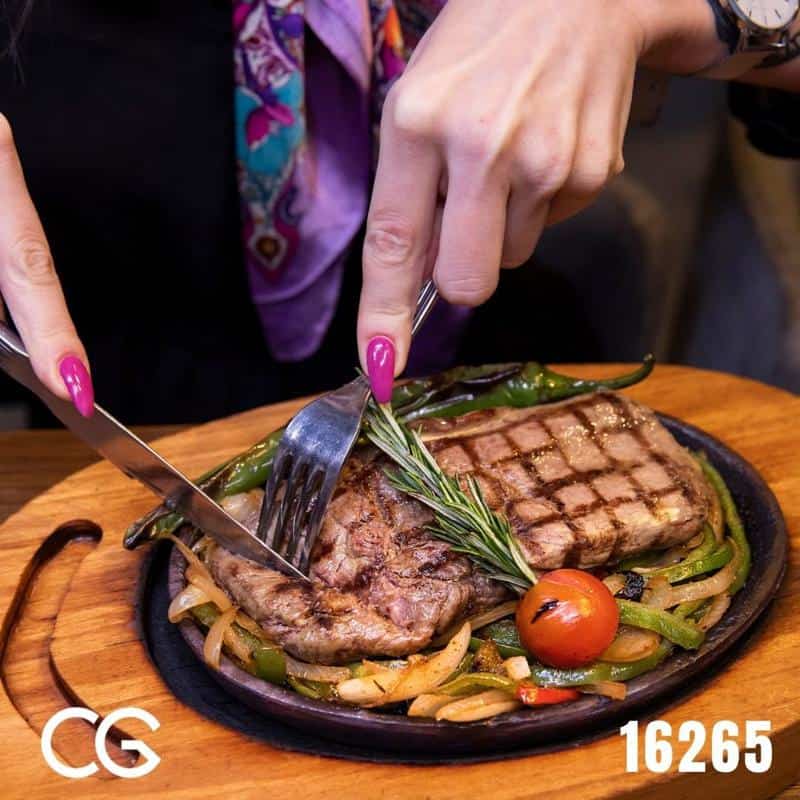 Address 4200 Conroy Rd A146, Orlando, FL 32839
Phone: +1 407-351-2210
Wish to enjoy extraordinary American fare in a refined setting? Pay a visit to the Capital Grille, one of the most popular fine dining restaurants in Orlando.
Founded back in 1990, this luxury restaurant is all about award-winning wine, personalized service, and a carefully curated menu with dry-aged steaks and seafood options.
The signature lobster bisque is one of the must-try items on the menu, as well as the Ribeye steak sandwich which is full of caramelized onions.
Meat lovers just have to try the Porcini Rubbed Bone-In Ribeye. The Lobster Mac 'N' Cheese is also one of the most popular dishes to try at the Capital Grille.
For those who don't know, the Capital Grille is an award-winning restaurant. It was named one of the top 50 American restaurants in Open Table's Diners' Choice Awards and has received "Best of Awards of Excellence" from Wine Spectator magazine.
As for the wine list, it's simply amazing with nearly 300 selections to choose from. You will find some of the world's most sought-after wines here at the Capital Grille. Reservations at the Capital Grill are highly recommended, though not required.
Bull & Bear Steakhouse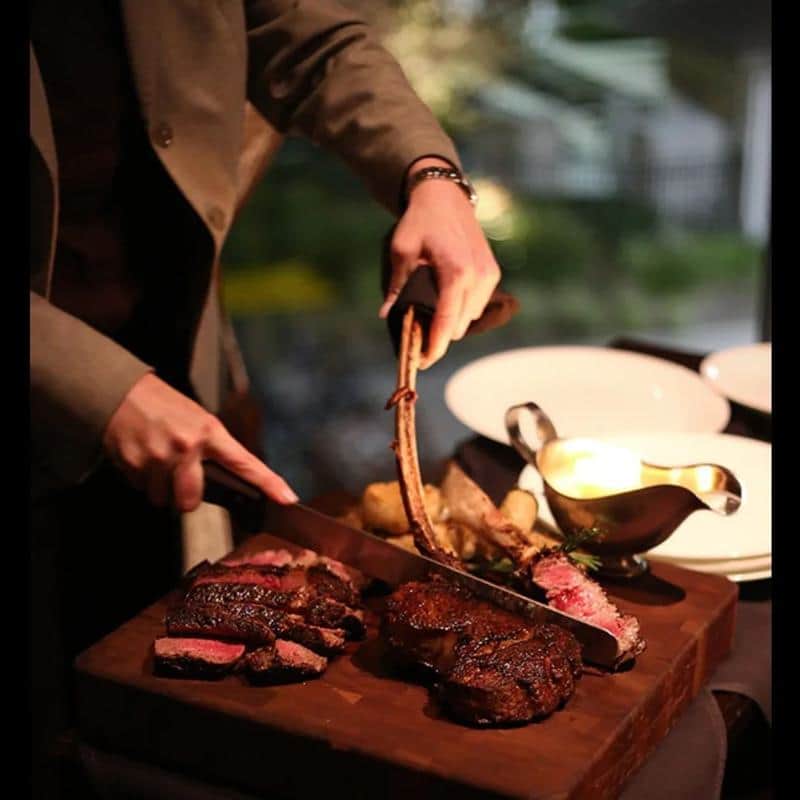 Address 14200 Bonnet Creek Resort Ln, Orlando, FL 32821
Phone: +1 407-597-5500
There is no shortage of amazing steakhouses in Orlando and the award-winning Bull & Bear is one of them. This steakhouse comes from New York and has one of its branches right here in Orlando. It was voted one of the top 100 restaurants in the US by the prestigious OpenTable!
This club-like steakhouse in Orlando offers a menu packed with signature dishes like 36-ounce 28-day Dry-Aged Tomahawk Ribeye, 15 oz Allen Brothers Prime New York Sirloin, and Veal Oscar.
Some of the other popular dishes on the menu include Escargot & Gnocchi, B&B Fried Chicken, Bull & Bear Shellfish Platter for two, and golden sea bass with rice risotto.
We also have to mention the incredible bread basket which includes focaccia, sourdough, fig nut bread, and brioche with butter.
The drink list is extensive with creative hand-crafted cocktails, wines, and beers.
Kadence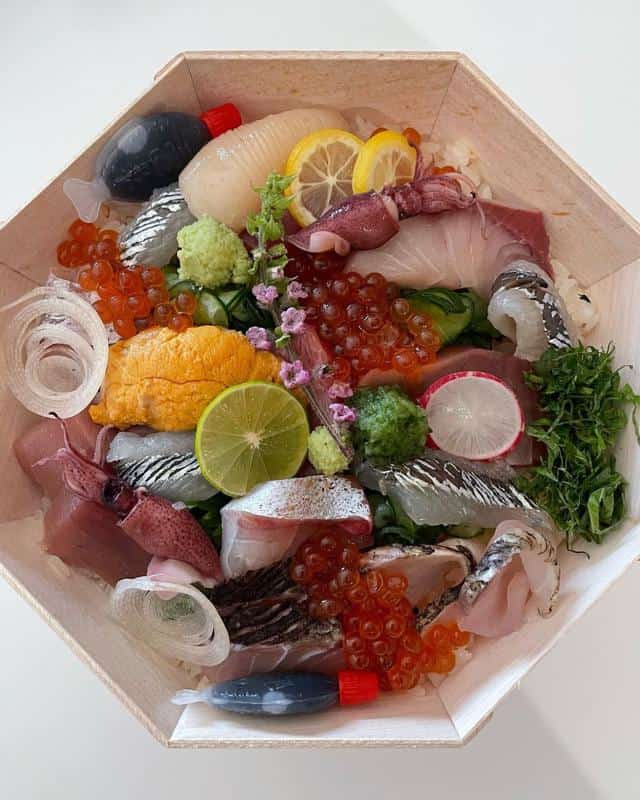 Address: 1809 Winter Park Rd, Orlando, FL 32803
Located on Colombo Street, Kadence is an upscale restaurant in Orlando that focuses on omakase and top-tier sushi. It can only accommodate 9 guests at a time, so reservations are highly recommended.
It's all about the chef's tasting menu here at Kadence's intimate dining room. However, there is also the option of getting the selection of sashimi and rolls.
Owners Mark, Jennifer, and Lordfer moved to London to train in Michelin-starred restaurants before returning to Orlando to open a place of their own.
The fish is chosen daily and the nicely presented and plated sushi offerings are simply divine. Soup and dessert courses are also spectacular. For drinks, tea, sake, and beers are available to order.
To see the daily menu, check out their website.
Also Read: Best All You Can Eat Sushi in Orlando
Fiorenzo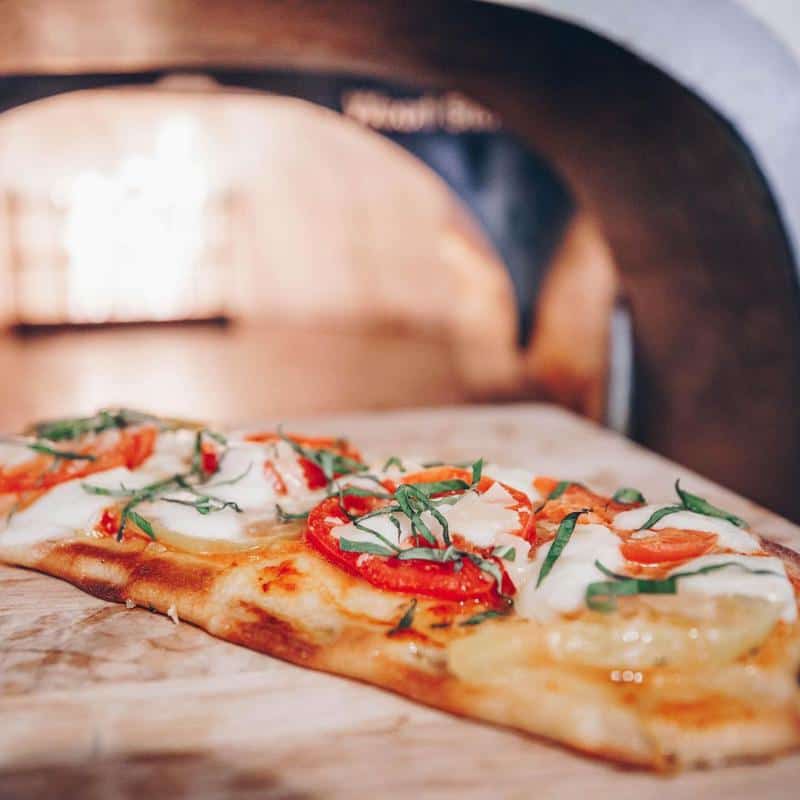 Address: 9801 International Dr, Orlando, FL 32819
Phone: +1 407-345-4570
Next on our list of the best fancy & upscale restaurants in Orlando is the legendary Hyatt Regency Orlando's modern Italian steakhouse called Fiorenzo.
Located at The Atrium on the hotel's lobby level, the restaurant offers so much more than pasta and pizza.
If you are into meat dishes, the selection of prime grilled steaks here at Fiorenzo is simply divine. They also specialize in seafood! The 16oz New York Strip here is dried for 21 days and grilled to perfection.
Some of the other popular dishes on the menu include Florentine Chicken, Black Pepper Pappardelle, and Pan Roasted Diver Scallops
The interior looks inviting with an open-concept kitchen. As for the drinks list, expect to find a wide range of cocktails. The Lemon Sapphire made with Bombay Sapphire gin is extremely tasty, as well as the Indian Fig Margarita and the Blueberry Manhattan.
The Ravenous Pig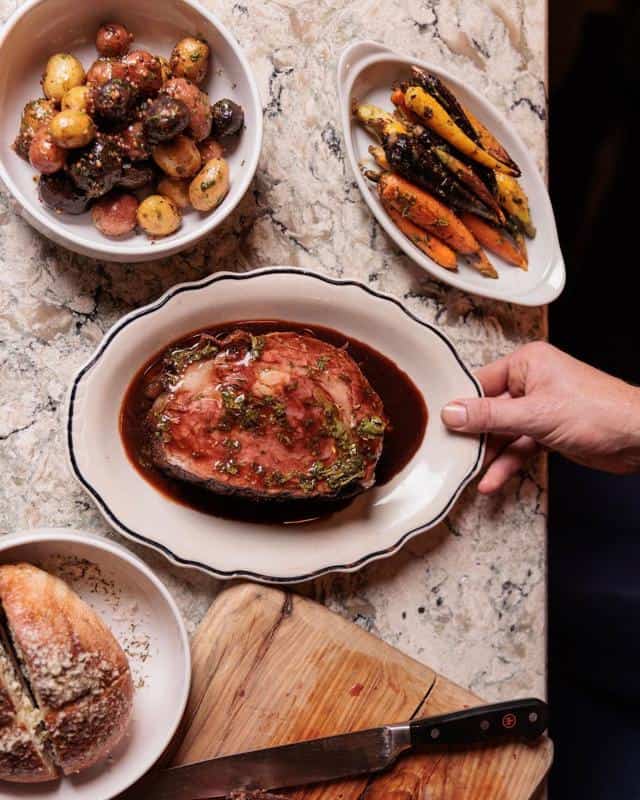 Address: 565 W Fairbanks Ave, Winter Park, FL 32789
Phone: +1 407-628-2333
Orlando foodies will tell you how the Ravenous Pig is simply a must-visit dining establishment in the city. Local culinary legends, Julie and James Petrakis own this trendy American gastropub in Winter Park.
The restaurant is known for its house-made charcuterie, which means that the selection of cured meats and cheeses here is superb. The goat cheese tortellini with pork cheeks is out of this world!
The main dishes include lots of meat options ranging from pork belly and steak fries to ribs and everything in between.
We should also mention that the dining room is adjacent to the taproom and on-site brewery.
Knife and Spoon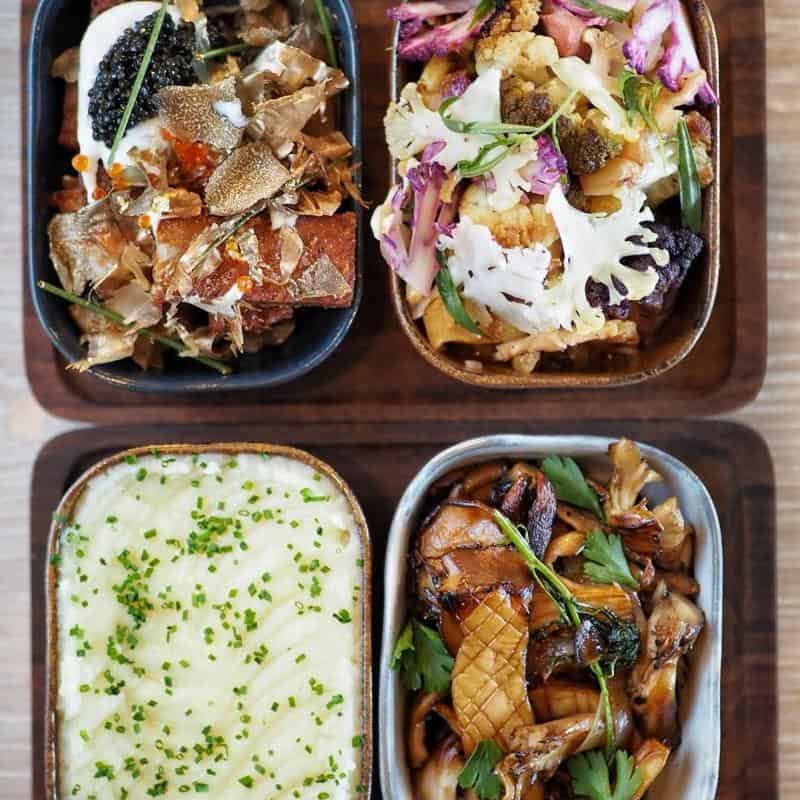 Address: 4012 Central Florida Pkwy, Orlando, FL 32837,
Phone: +1 407-393-4333
Last on our list of the fanciest restaurants in Orlando is Knife and Spoon, one of the newest additions to the foodie scene in Orlando. In 2022, Knife and Spoon won the prestigious star of the MICHELIN Guide Florida.
Award-winning chef John Tesar will take you on a memorable food journey here at the Knife and Spoon. "John is the single most talented cook I ever worked with," said Anthony Bourdain in an interview.
The restaurant is well-known for its dry-aged steaks with options like 240-day bone-in ribeye and 45-day bone-in New York Strip.
You can also try the amazing Pappardelle Bolognese or order the Asian Chili Lobster.
Read More:
Final Thoughts
There is more to Orlando than just Disney. This charming city in central Florida offers a variety of upscale restaurants.
You can enjoy award-winning Italian cuisine for lunch and go have a dry-aged steak at a premium steakhouse in the evening.
The next day, pay a visit to an upscale Asian restaurant in Orlando to enjoy sake and sashimi.