Sarasota is far from your sleepy beachfront town and instead is a thriving cultural and artistic hub in Florida State. Thanks to a stunning and pristine coastline, this beautiful city offers tourists and locals an incredible destination to relax and unwind. In addition, they are recognized for their art museums that boast pieces from art masters around the world.
A new art form is sweeping the streets; the best part is that you can eat it too! Sarasota has some of the most divine sushi spots around, with all the makings for undeniably quality seafood. Now another mastery is taking shape on the shores, in the form of excellent, enticing sushi restaurants!
Not sure where to go? We've done the research, so you don't have to.
Best Sushi in Sarasota, FL
Kiyoshi's Sushi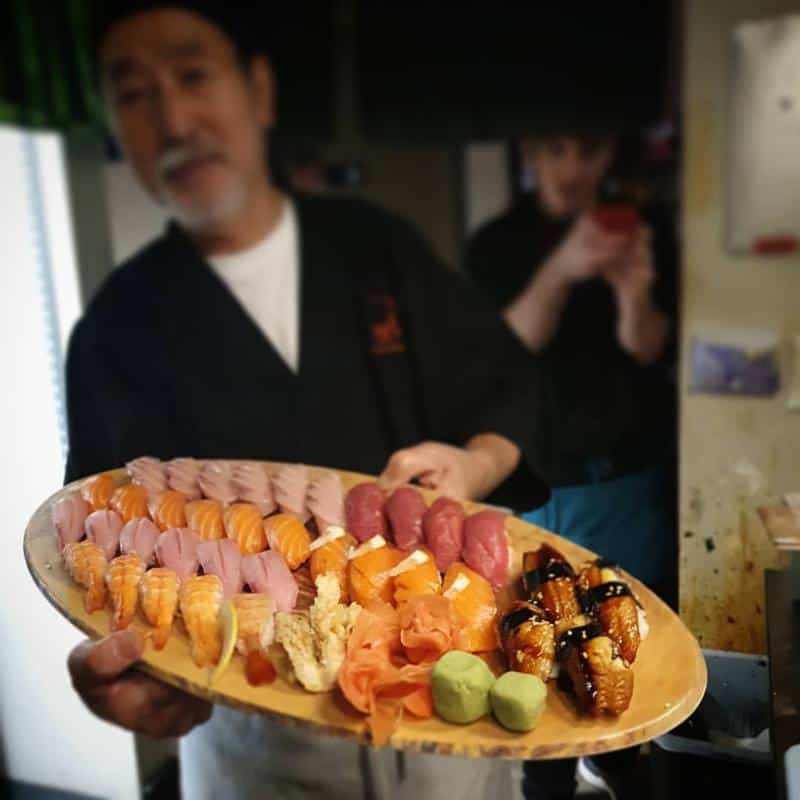 Location: 6550 Gateway Ave, Sarasota, FL 34231
Price: $$
If we could give one word of advice for dining at Kiyoshi's Sushi, put the menu away. This quaint restaurant serves up a swell of incredibly delectable sushi plates. Still, the best ones are often found off the menu. In the daily specials, the chef explores new territories of taste and incorporates fusion in ways you have never experienced before!
The menu has an array of maki rolls to choose from, which are all generously portioned and reasonably priced. They also have a kitchen in service if you prefer a hot meal that serves small plates, entrees, and delicious ice cream desserts made in true Japanese flavors.
Pacific Rim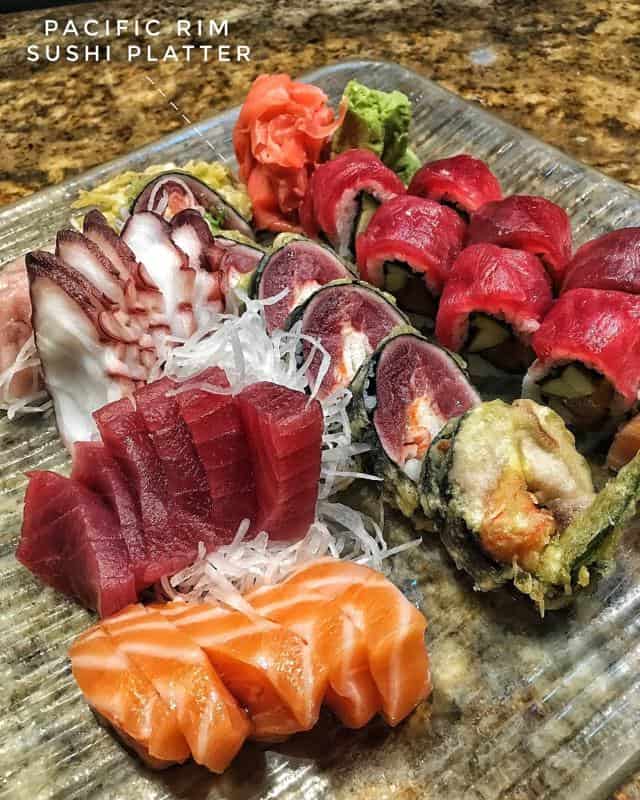 Location: 1859 Hillview St, Sarasota, FL 34239
Price: $$
Pacific Rim is a hole-in-the-wall that serves sushi with a smile! The expertise of the chefs has created an expansive menu that is heavily inspired by oceanic flavors. Of course, this means there's abundant sushi tucked amongst the other delicious Japanese plates!
The venue boasts an outdoor area, perfect for warm summer days to kick back and relax with good company. The exquisite sushi covers a spectrum of known and loved flavors across the States! You can find maki rolls packed with delicious ingredients, generously portioned, and reasonable for what you get. Pacific Rim certainly gives sushi enthusiasts a run for their money!
KOJO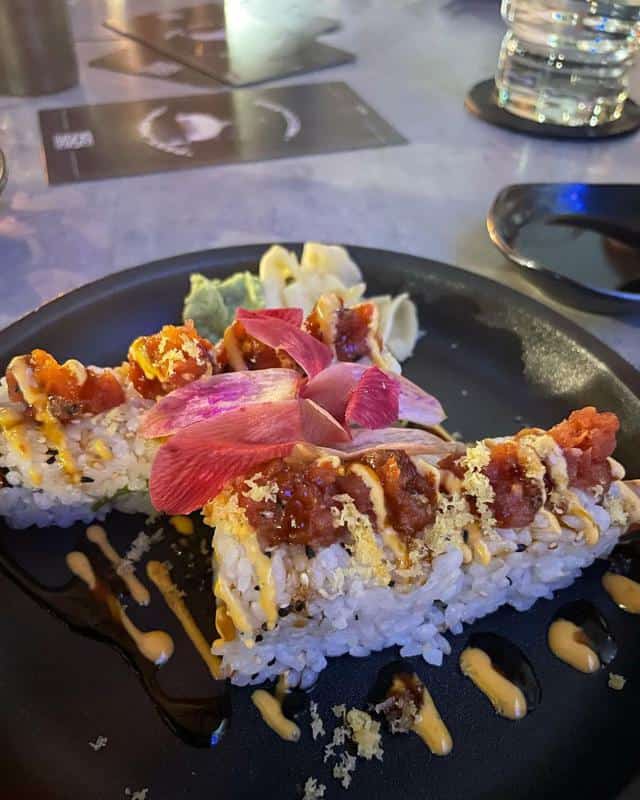 Location: 1289 N Palm Ave, Sarasota, FL 34236
Price: $$$$
If fine dining is what you're craving, dress to impress and book yourself a table at KOJO. This is an ideal spot for an intimate dinner for two. The romantic atmosphere is accentuated by the cherry blossom decor and soft colors.
At a glance, the menu is a true delight for Japanese enthusiasts! Upon closer inspection, you'll find a blissfully inventive side expressed throughout. They have a select range of sushi dishes made from freshly imported ingredients, maintaining a true Japanese flavor. Alongside this is an extensive menu that also covers vegetarian options (even the sushi!)! There is no match for the skill and class displayed here, and you should not miss it!
Kam's Bubble Tea & Sushi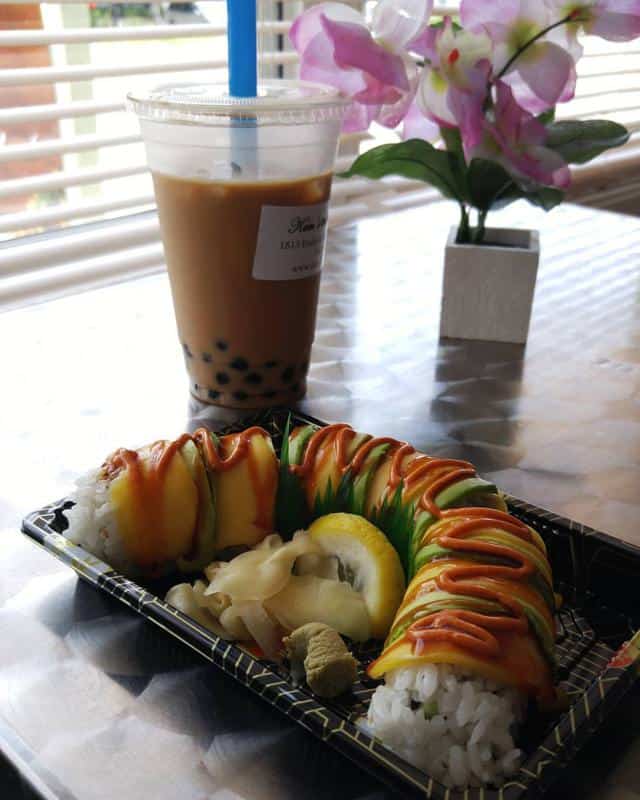 Location: 1813 Fruitville Rd, Sarasota, FL 34236
Price: $
You may come to Kam's for the boba, but the sushi will get you addicted. Flavorful and fun, there's no better place to be for a casual atmosphere and some delicious treats. What's better is it's family-friendly, and the small dining area provides a lovely environment for a quick bite or small gatherings!
The sushi can be had to-go or as a sit-in option! Pair it with your favorite fruity tea, and you're halfway to the most flavorful experience of your life. They don't stick to classics here, and the menu is a carefully compiled list of bold flavors and fusion maki that'll have you drooling at the thought! You can select your pieces ala carte or order a platter. The quality is out of this world for a budget-friendly price point!
Bushido Izayaki Japanese Restaurant
Location: 3688 Webber St, Sarasota, FL 34232
Price: $$$
Rated Sarasota Magazines Best of 2019, Bushido Izayaki is a stellar sushi spot in Sarasota! This moody restaurant was built on the single principle of bringing delicious Japanese cuisine to Americans' doorsteps. They are praised fitfully for their creative and decadent sushi options.
They were clearly out to win hearts from the start and offer a variety of generously portioned Japanese plates. The chefs are meticulous about maintaining their cuisine's bold and intense flavors and, in this aspect, have certainly succeeded. The sushi rolls are made from a divine array of fresh and sustainably sourced ingredients. Top this with the infusion of American flavors, and each roll is a pure bite of ecstasy.
Spice Station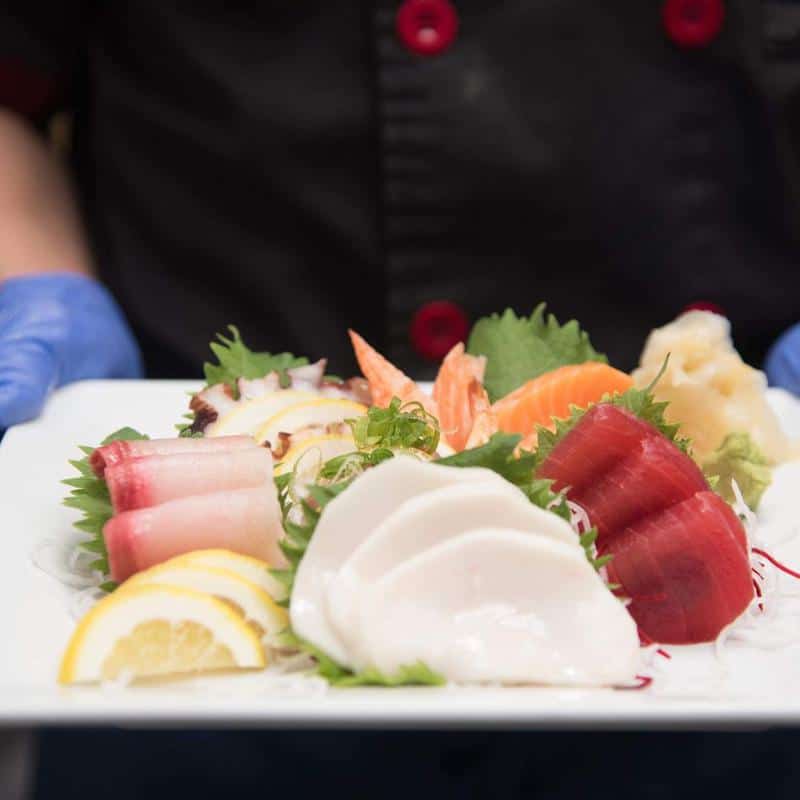 Location: 1438 Boulevard of the Arts, Sarasota, FL 34236
Price: $$
Spice Station is inherently Pan-Asian, with cuisine hailing from Thailand, with sprinklings of Japanese in there for good measure. Located in a museum district, they blend right in with their tastefully decorated venue. For a budget-friendly spot, you'll be happy to know the idea of fine-dining is not lost here.
The sushi bar is located in a private corner of the restaurant, surrounded by seats to enjoy the show. The chefs expertly create one masterpiece after another! The ingredients pair well with each other, accentuating each flavor with ease. Send your palate on a worldly adventure with a taste of genuine Thai curries! With an extensive menu to choose from, there is something for everyone!
Utamaro Sushi Bar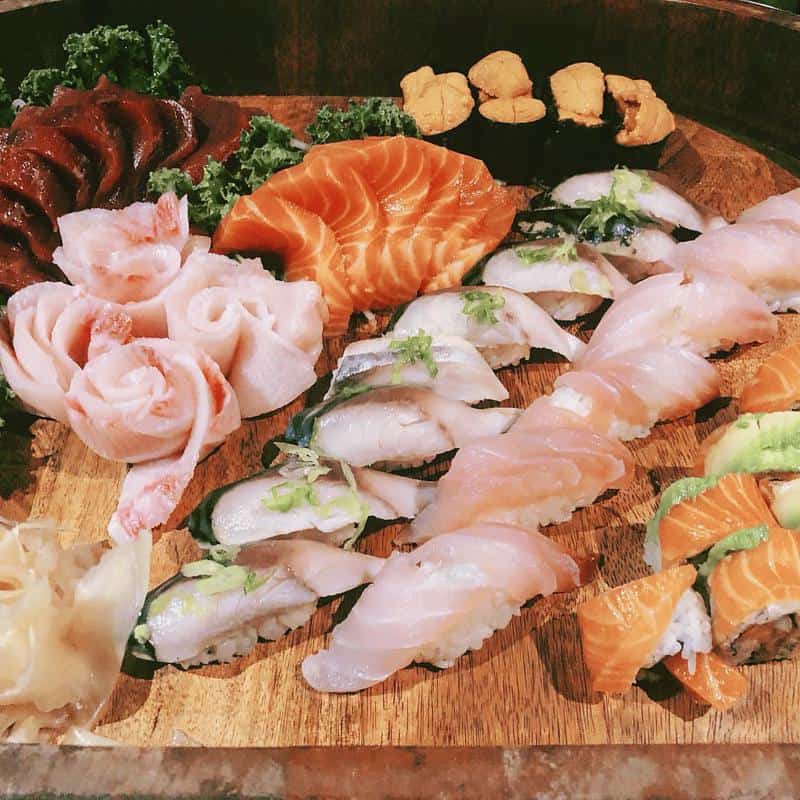 Location: 1900 Main St #107, Sarasota, FL 34236
Price: $$
Offering an idyllic spot to relax and unwind with friends, Utamaro Sushi Bar is a spot you don't want to skip. The owner, Brian, doubles as a sushi chef and creates some of the best hand-made maki rolls in Sarasota. Utamaro has been around for years, and its future looks bright!
In addition to excellent quality, they offer affordable pricing. The food tastes incredibly fresh, as if it was hauled out of the ocean and straight onto your plate! It's a wonder they were named after a Japanese artist because the food they deliver is masterful. The sushi is the star of the show. Still, it is accompanied on the menu by other varieties of Japanese cuisine too!
Sushi Bay Kitchen & Sake Bar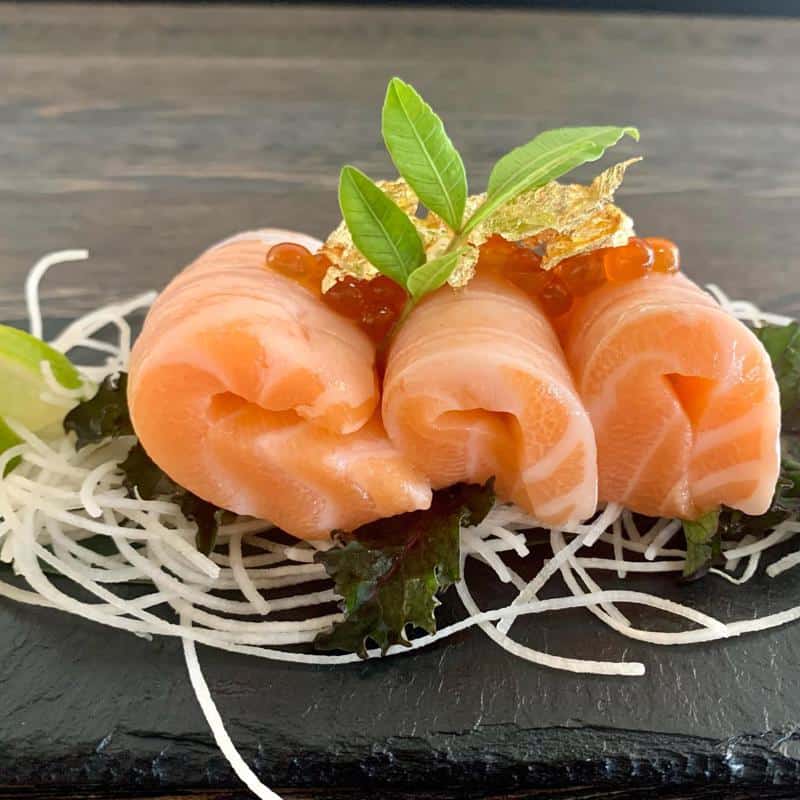 Location: 3957 Cattlemen Rd, Sarasota, FL 34233
Price: $$$
Nothing pairs better with a good Sake than melt-in-your-mouth sushi. Sushi Bay provides both, and they have ample selection too! The open restaurant can seat plenty of hungry patrons and even has a semi-private dining section with an ideal view of the sushi bar.
The service is without a doubt some of the best you'll receive. From the wait staff to the chefs, they are friendly and efficient. But we all know you're not here for the service alone. The sushi itself is mind-blowing, with a selection of maki rolls that infuse multitudes of flavors. The heavy entrees are also a must-try if you're craving something filling!
Also Read: Best Sushi Restaurants in Tampa, FL
Nori Sushi & Thai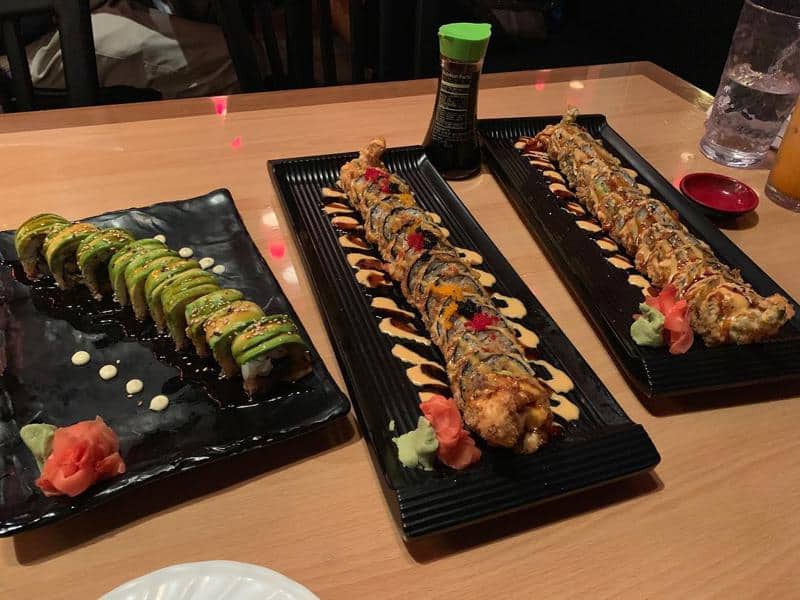 Location: 4003 Clark Rd, Sarasota, FL 34233
Price: $$
The moody interior of Nori Sushi & Thai is oddly comforting. Despite the dark colors, there is a sense of vibrance that encapsulates the restaurant. Perhaps it's the wave of enticing smells wafting from the bustling kitchen. Or the happy diners, relaxing and soaking up Pan-Asian cuisine.
They have envisioned a menu that combines Japanese and Thai food. The flavor fusion is incredible, with the refreshing kicks that entirely make the meal. The sushi bar offers entertainment as the chefs prepare colorful plates before your eyes. They pride themselves on authentic and traditional cuisine, which they have undeniably succeeded.
Tsunami Sushi & Hibachi Grill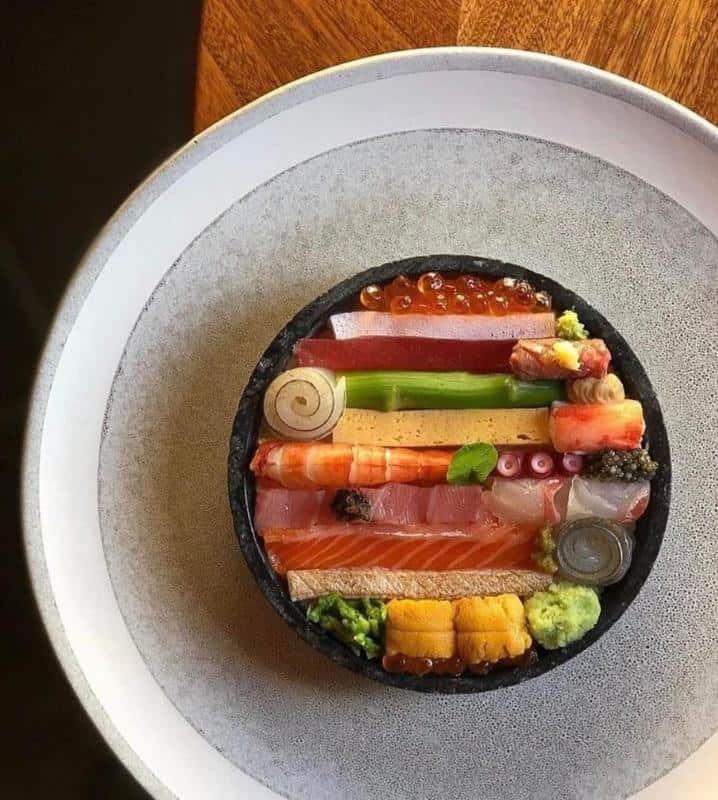 Location: 100 Central Ave Ste 1022, Sarasota, FL 34236
Price: $$
Tsunami Sushi chef and owner Sam Ray has been a feature hit on Suncoast View. His restaurant's concept is felt through his efforts to spread the joy of Japanese cuisine to everybody. The friendly environment embodies comfort and enriches a sense of community perfectly.
The divine menu covers an array of dishes from hot to cold. However, the ingenious collaboration of flavors housed in the specialty Maki Rolls is what has brought them fame. They pride themselves on quality and fresh seafood, which they source locally. The flavors envelop the senses and drag you away to foreign grounds with each bite!
JPAN Sushi Bar & Grill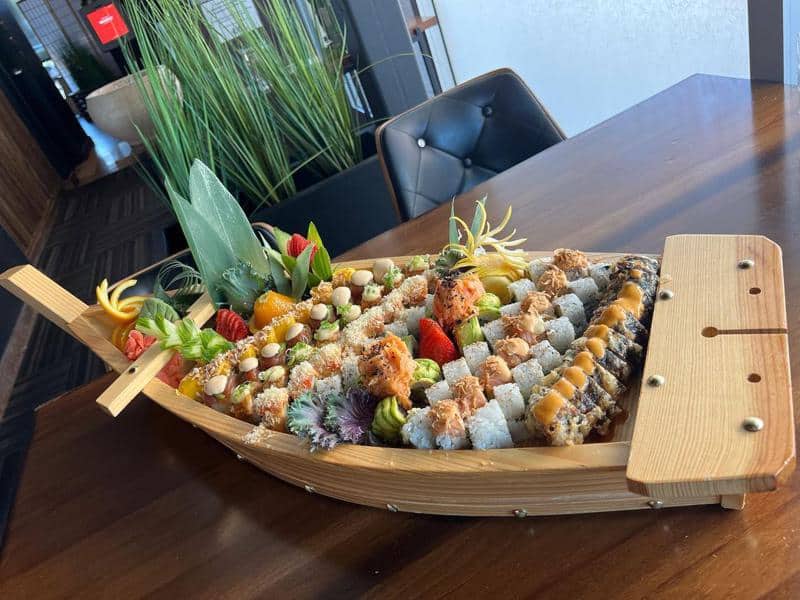 Location: 229 N Cattlemen Rd, Sarasota
Price: $$
JPAN Sushi Bar & Grill has a lot to offer! With two venues, outdoor dining, and an incredibly diverse menu, it's no wonder they're so popular. There is also a little side venture in the form of Bar JPAN that provides an abundance of sake and Japanese whisky! Their sushi-heavy menu is a paradise for raw fish lovers.
Incredibly indulgent maki rolls make up most of what they serve in flavor combinations that may seem a bit eccentric until you try them. However, they have somehow discovered a way to make sushi International! Taking inspiration from a variety of cuisines, they create decadent seaweed-wrapped parcels. They also have a small selection of heavier hot plates fresh from the kitchen and many desserts to satisfy your sweet tooth.
Drunken Poet Cafe: Authentic Thai Food & Sushi
Location: 1572 Main St, Sarasota, FL 34236
Price: $$$
Drunken Poet is a breath of fresh air. Their entire approach to the dining experience is refreshingly unique! This trendy venue is bound to attract the eye with its interesting look, and the entire atmosphere is certainly encapsulating.
Their menu boasts the best of Thai and Japanese cuisine. Their innovative flavor and technique approach is probably why they have been around for over a decade! However, their popularity doesn't falter; we can blame the maki rolls for that. With various intriguing menu options, it is a sushi experience you definitely don't want to miss!
Read More: Best Seafood Restaurants in Clearwater, FL
Conclusion
Sarasota is a coastal paradise that provides an excellent scenic background to sit back and enjoy delicious sushi parcels. With ample opportunity for fresh ingredients coming straight off the American coastline.
Dining in Sarasota's best sushi spots is bound to provide excellent quality and creative, intuitive dishes that blend the best of both worlds! There's a world of refreshing sushi flavors to discover in this city, expertly crafted by masterful sushi chefs!