Did you know that Americans consume almost 50 billion burgers annually? Yes, you read it right with the "B" there! Thus, it is unsurprising that burgers are among the most popular dishes in the United States.
Burgers are not only popular but also exist in various shapes. There are towering pub burgers brimming with toppings and sauces. There are also griddled smashburgers with their iconic crisp skins and flat buns. Vegan burgers are getting popular as well!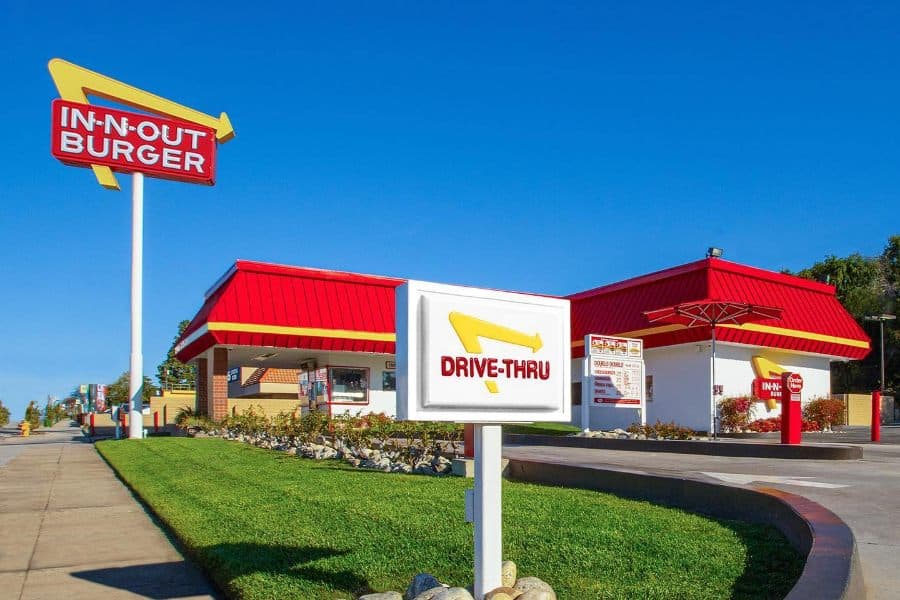 Moreover, it is no trouble to locate an exceptional burger these days. From the giant McDonald's to sit-down establishments like Red Robin, there are always various burger businesses within everyone's neighborhood.
This article brings you a comprehensive compilation of the 17 best burger chains in America. So, let's check them out and plan the next burger dine-out with your family!
17 Best Burger Chains In America
Without further ado, let's go straight into discovering the most delicate burger chains in America. You will have a tough time resisting their succulent and fantastic burger offerings!
Wendy's
Network In The U.S.: 5,894 outlets.
Known For: high-quality burgers, extensive menu, the Baconator.
Regarding delivering high-quality fast food, Wendy's is the perfect candidate over other giants like McDonald's and Burger King. Whether searching for a morning treat or a cheat day on the weekend, Wendy's will always satisfy your demands.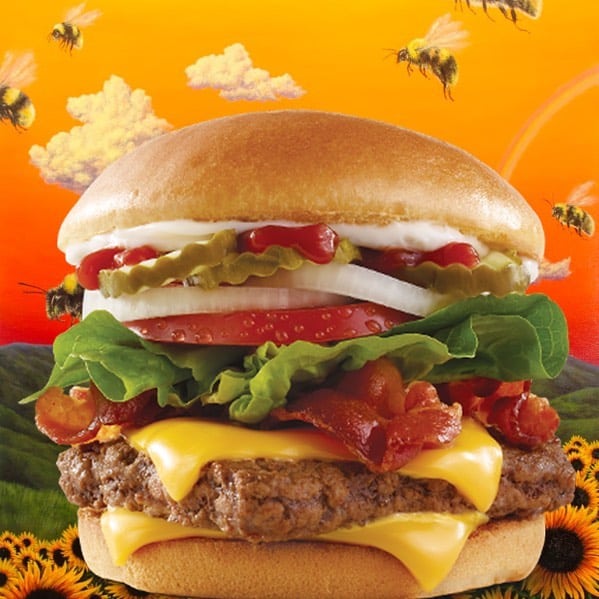 Initially launched in 1969 by Dave Thomas in Columbus, Ohio, Wendy's quickly gained fame for its square, old-fashioned hamburgers. Nowadays, the fast food chain has over 5,500 outlets. So you can rest assured that this chain is in every corner of the country.
Among various dishes on its extensive menu, my top recommendation is the Baconator – a burger comprising bacon and British beef, topped with cheese, mayo, and ketchup.
In-N-Out Burger
Network In The U.S.: 367 outlets.
Known For: double (or even quadruple) burger size, fast service, high-quality meat.
The reputation of rapid service and delicious meals of In-N-Out Burger speaks for itself. This West Coast classic serves some of the greatest burgers in the nation in the traditional manner.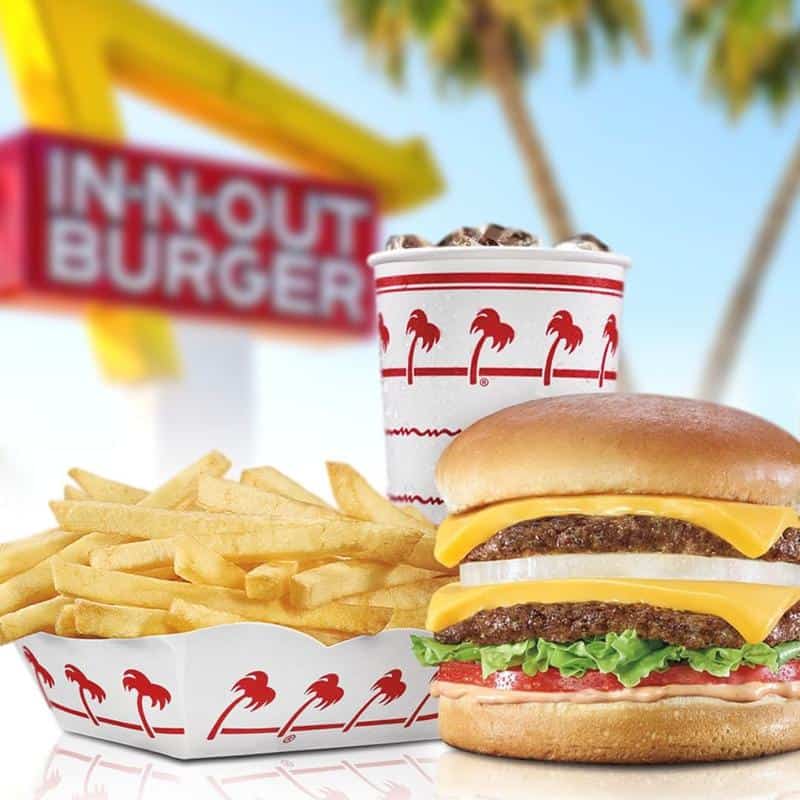 Since its founding in 1948, this California-based burger chain has consistently maintained high standards for its meat quality. It employs 100 percent USDA ground chuck that is free from chemicals and preservatives to form each burger.
Another reason that makes In-N-Out Burger a fan favorite is that it allows consumers to double or even quadruple the burger size to satisfy their insatiable hunger. My top choice here is the Double-Double combo.
Culver's
Network In The U.S.: 867 outlets.
Known For: abundant toppings, affordable burgers, fresh and never-frozen beef.
If you have never sampled a burger at Culver's, you have been missing out! The best way to picture this chain is Five Guys with more toppings. You can claim that Culver's is the top burger chain in the United States without facing any opposition!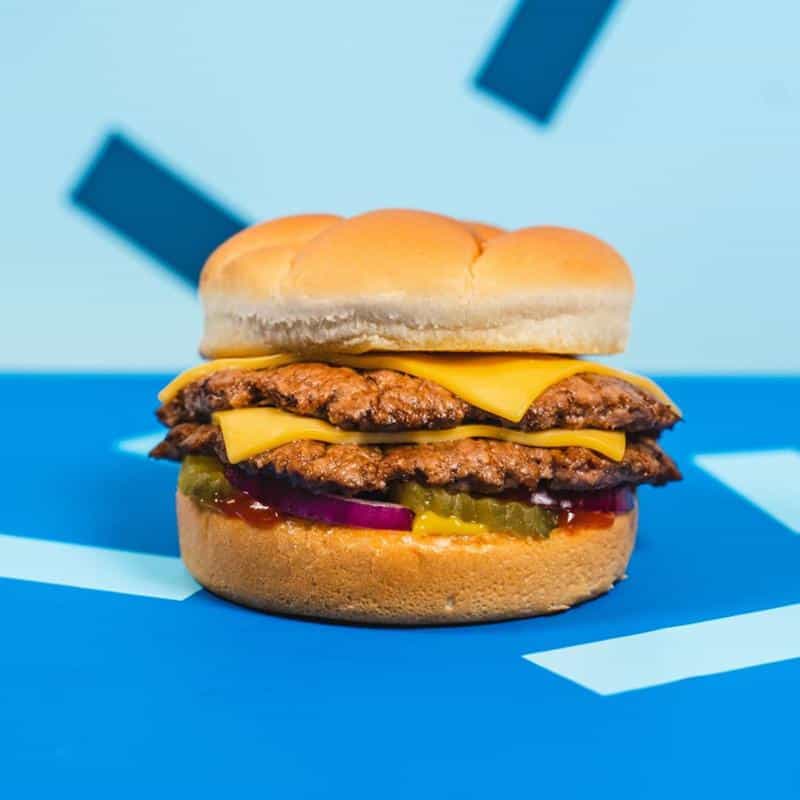 Culver's began its journey in 1984 in Sauk City of Wisconsin. The affordable burgers here utilize fresh, Midwestern-raised beef patties served on a buttered bun with cheese. The meat comprises sirloin, chuck, and plate, forming a never-frozen and flavorful patty.
If you are undecided about what to order, let's give Deluxe Butter Burger a try! Many people state that this burger is its most iconic offering, featuring the finest ingredients of Wisconsin cheese, lettuce, onions, pickles, tomatoes, and mayo.
McDonald's
Network In The U.S.: Over 13,000 outlets.
Known For: giant fast food brand, wide network, Big Macs.
Opened by two brothers in 1948 in San Bernadino, California, McDonald's is probably the most recognizable burger chain both in the United States and around the world.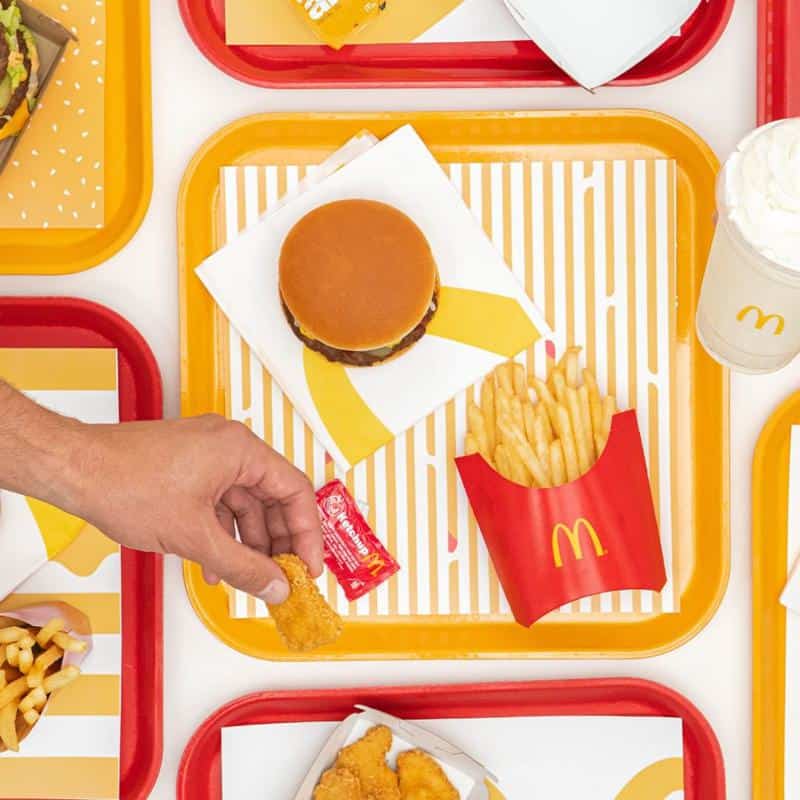 The giant has over 36,000 stores in over 100 countries. Its network is so vast that you cannot go ten miles without passing a McDonald's. The global chain is well-known for its burgers and fries that you can even enjoy on the go.
Although not everyone claims that this fast food franchise's burgers are the finest, they do give extra points for their consistency. As an American, it is impossible to go through life without consuming at least a few Big Macs or Quarter Pounders.
Johnny Rockets
Network In The U.S.: 132 outlets.
Known For: 1950s dining atmosphere, delectable burgers, sock hop music, vintage sodas.
Johnny Rockets should be your next stop if you want to enjoy a traditional American restaurant. Besides its cheese-loaded tots, the trademark Rocket Joe's burgers will surely entice you. You must try the Route 66 burger here as well!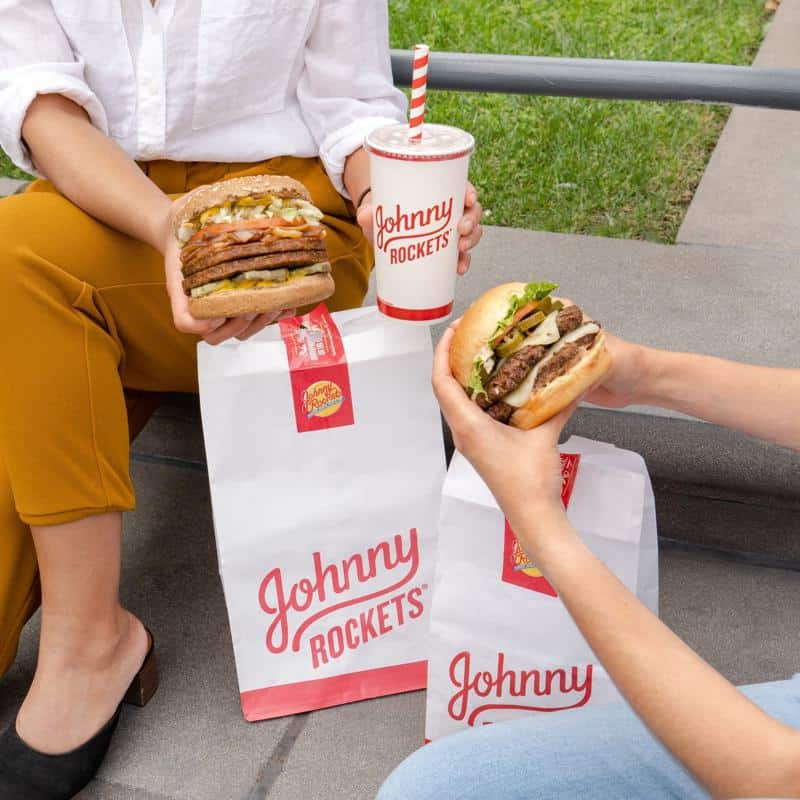 In addition to the extensive and delicious menu, Johnny Rockets can give you a time travel to the 1950s. From the sock hop music to vintage sodas and shakes, everything at this sit-down establishment reminds you of the good old days.
Since its debut in 1986 in Los Angeles, Johnny Rockets has been a popular destination for customers seeking a lively 1950s dining atmosphere while enjoying a delectable burger.
Red Robin
Network In The U.S.: 516 outlets.
Known For: comfortable sit-down eatery, burger-centric with high-quality.
Red Robin started as a pub in Seattle, Washington in the 1940s and has evolved into a franchise restaurant focusing on burgers. The chain provides a comfortable sit-down dining experience with extensive selections of exquisite burgers and limitless sides.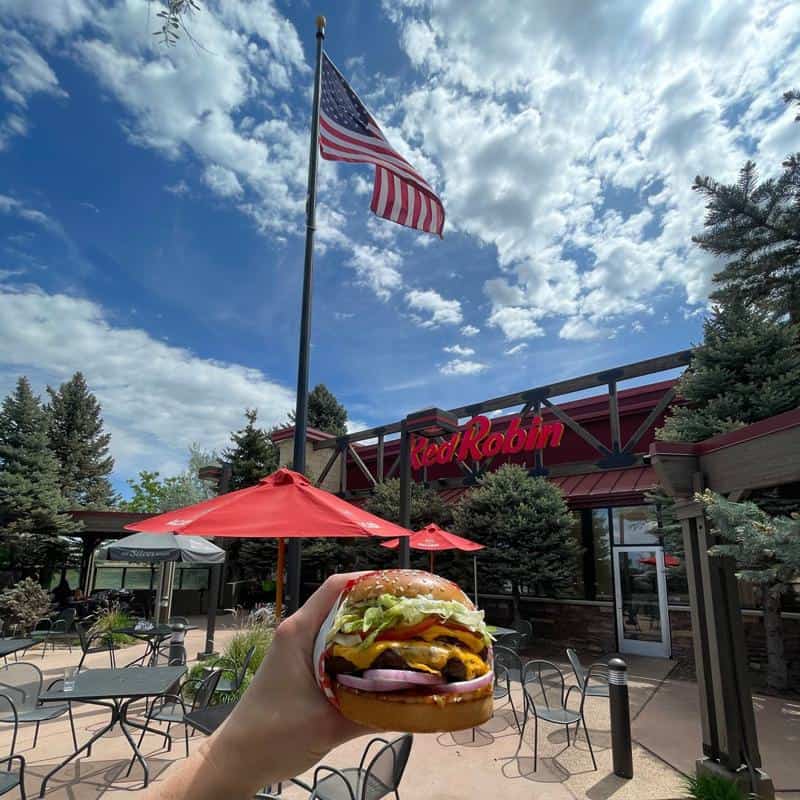 Despite the slightly high prices and lengthy waiting time, Red Robin's high-quality burgers suffice as one bite will make those drawbacks disappear.
My top choice at Red Robin is the Banzai burger, a Japan-inspired dish. It features a teriyaki-glazed beef patty topped with cheddar cheese, lettuce, pineapple, tomato, and mayonnaise.
Also Read: Best Breakfast Spots in Seattle
Burger King
Network: 7,257 outlets.
Known For: flame-grilled burgers, enticing vegan alternatives, high-quality offerings.
All burger aficionados would never miss the chance to try the legendary flame-grilled Whopper burger from Burger King. This top chain knows how to deliver a top-notch burger with juicy beef topped with zesty sauces and fresh veggies.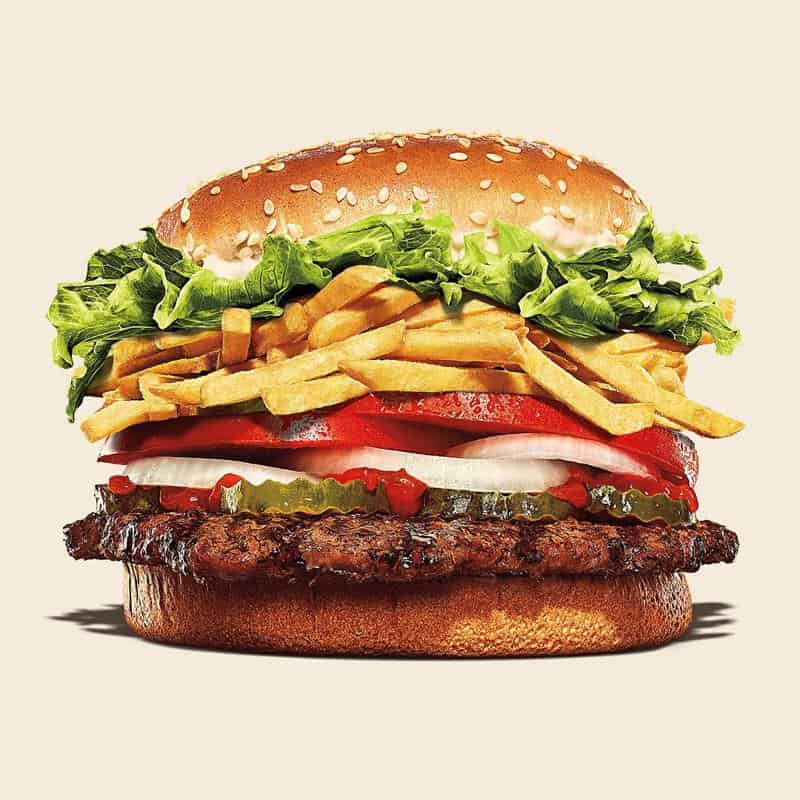 Burger King is a competitor of other fast food giants like McDonald's. However, what makes it stand out is the more extensive menu that includes enticing vegan alternatives.
Another fine aspect of Burger King is that all burgers here are high in quality. So, even if you visit this burger chain for the first time, you just cannot go wrong when ordering a random item on its menu.
Five Guys
Network In The U.S.: 1,392 outlets.
Known For: burger customization, gluten-free, high-quality, professional service.
It would be a crime to exclude Five Guys from this compilation of the best burger chains in America. This brand began as a family-owned company in Washington in 1986. Nowadays, it has become a popular destination for burger fans nationwide.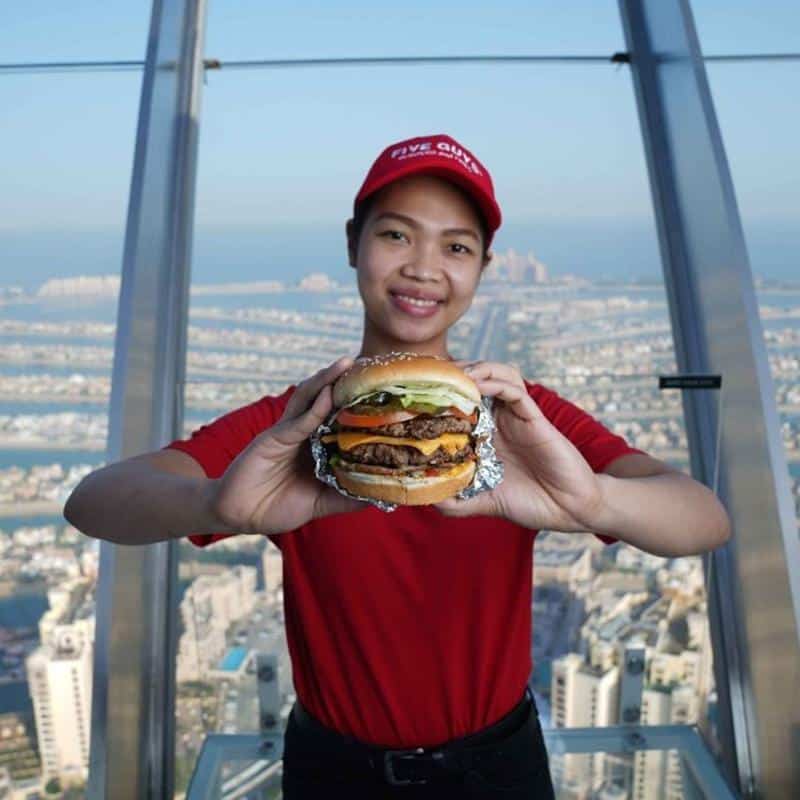 Thanks to its reasonable prices, fast service, and decent burgers, you will have to quietly unbutton your jeans to enjoy the meal! The chain's fresh meat, various toppings, delectable burgers, and freshly cut fries allow you to customize your burgers easily!
If you have a diet restriction like gluten-free, make sure to notify the servers before ordering. The professional service at Five Guys will guarantee the most delectable burger for you while ensuring that it meets your strict diet demands.
B.Good
Network In The U.S.: 21 outlets.
Known For: genuine burgers, natural ingredients, Hannah Farm.
B.Good is a Boston-based casual chain offering genuine burgers. Founded by two childhood friends who grew up eating good food in family kitchens, B.Good focuses on healthy meals that won't leave you feeling like you need a treadmill afterward.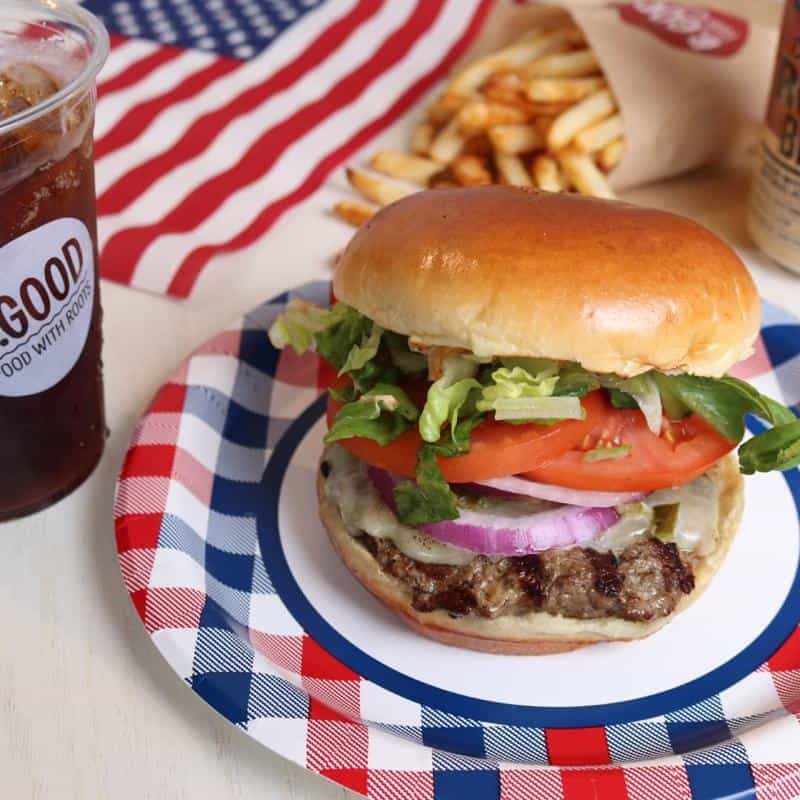 All burgers here utilize only natural ingredients, which is B.Good's emphasis. Its meat contains no antibiotics, preservatives, coloring agents, or hormones.
The burger chain even has its own farm, Hannah Farm, that strictly follows its Certified Humane standards to ensure all animals have a happy and healthy life.
Fuddruckers
Network In The U.S.: 88 outlets.
Known For: premium, never-frozen beef, burger-centric eatery, burger customization.
There is a reason why Fuddruckers is praised for having the world's greatest hamburgers. This burger-centric eatery utilizes prime-grade beef and fresh toppings on a handmade bun. Despite the high price, its offerings are undoubtedly the best value.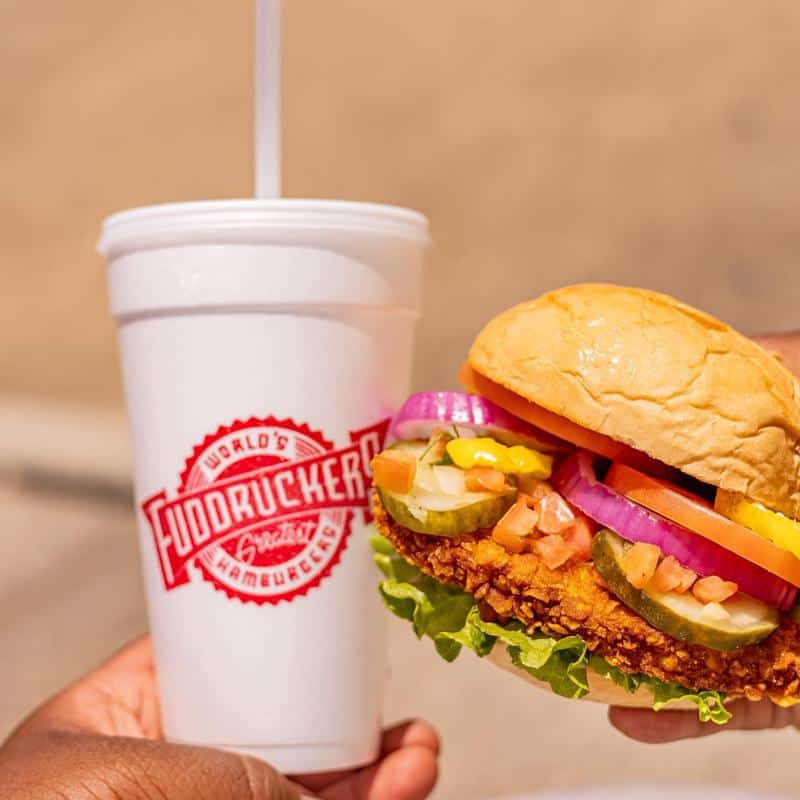 The most impressive aspect of Fuddruckers is its fresh, never-frozen, 100 percent USDA premium beef containing no additives or fillers. The burger chain is really serious about its beef, getting it from U.S. ranches and adhering to Islamic conformity.
Another brilliant thing is that you can create your own burger at Fuddruckers. Pick a burger and a bun, then top them with your preferred condiments. You can even add cheese sauce over your burger.
Shake Shack
Network In The U.S.: 229 outlets.
Known For: high consistency in burger quality, recognizable burger chain.
Since its humble beginnings as a hot dog stand in Madison Square Park in 2001, Shake Shack has quickly grown into a recognizable burger chain in America with high consistency in quality.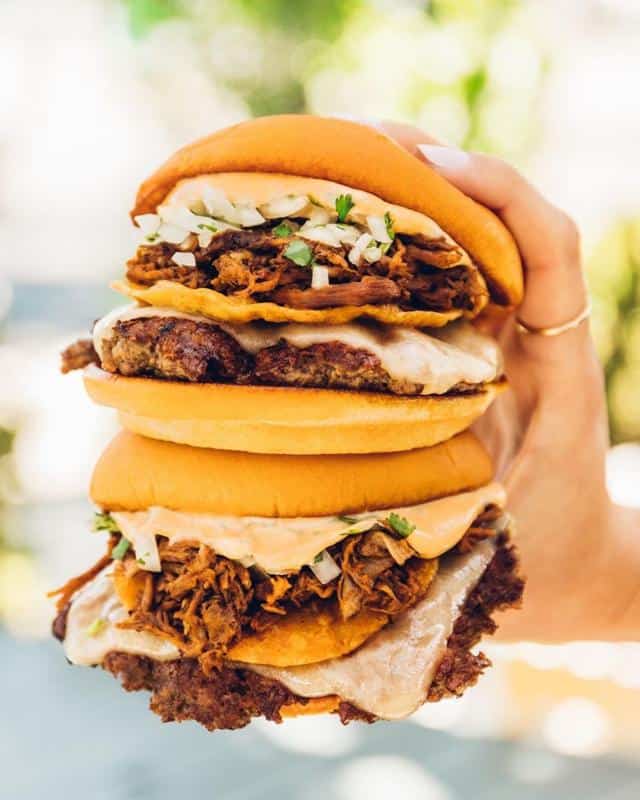 Besides yummy offerings like hot dogs, fries, and ice custard, Shake Shack's burgers are the best! If you are new to this brand, let's try the double Shackburger on your first visit. It features melty cheese, tomatoes, lettuce, and the chain's signature ShackSauce.
Another recommendation is the unique SmokeShack. This gourmet burger comprises applewood-smoked bacon and cheery pepper slices to provide the perfect heat for your enjoyment.
Steak 'N Shake
Network In The U.S.: 454 outlets.
Known For: long history, tasty burgers, hand-dipped milkshakes.
Steak 'N Shake has a long history that dates back to 1934. This establishment's extensive menu features hand-dipped milkshakes, fries, and exquisite burgers that are always cooked to perfection.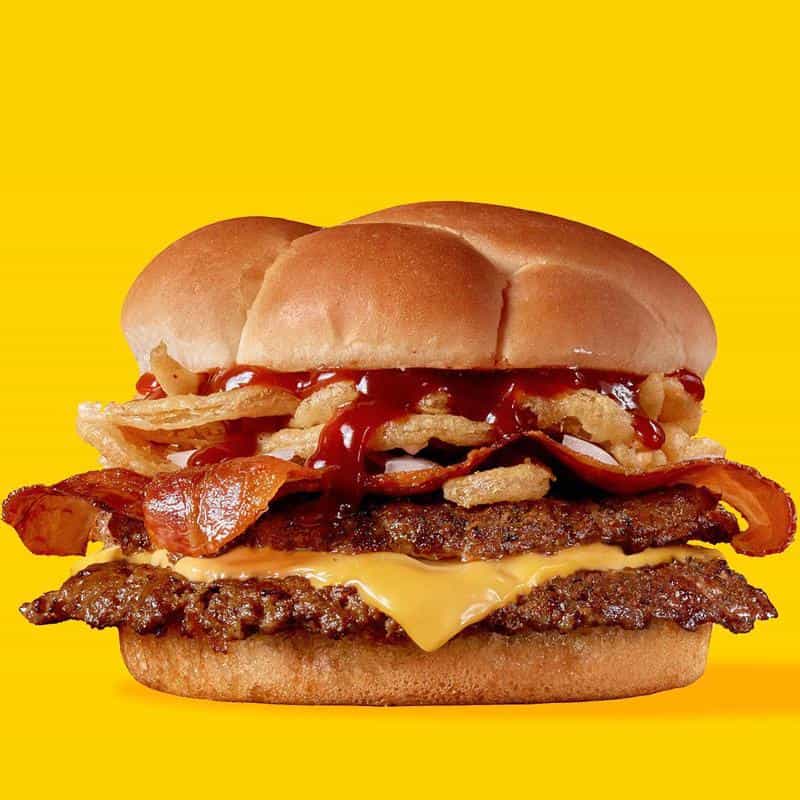 It might be hard for first-time visitors to order at Steak 'N Shake as much study is required for the act.
Yet, you can try my tasty suggestion of White Truffle Prime Steakburger. It features Swiss cheese and caramelized onions placed between two pieces of toasted brioche buns.
White Castle
Network In The U.S.: 373 outlets.
Known For: small burgers, suitable for a party platter.
If you love burgers but are on a strict diet, White Castle is precisely where you must visit! The chain was founded in 1921 and has prospered in the Midwest for over a century.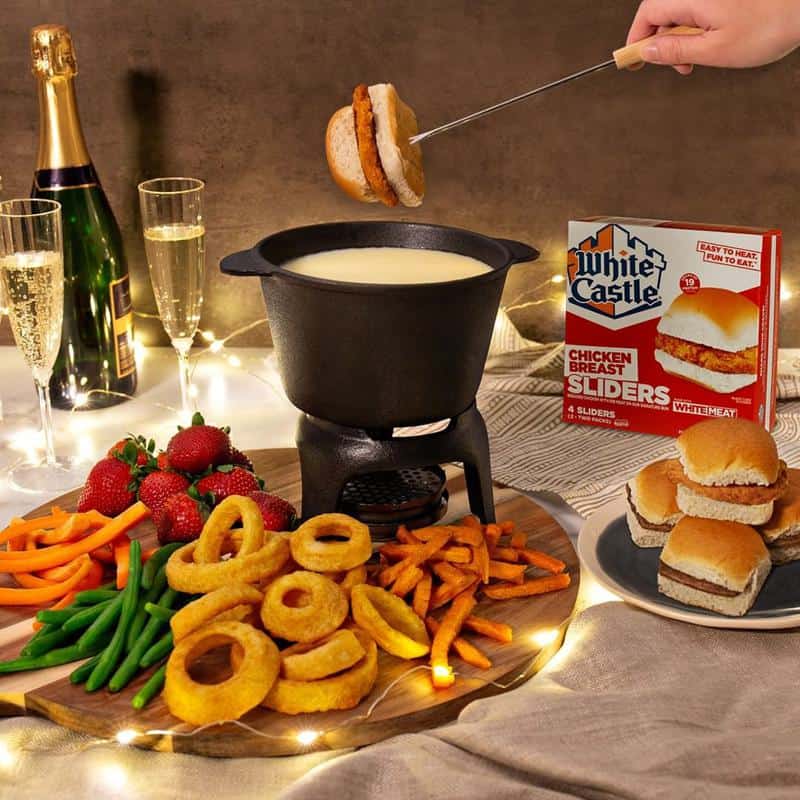 White Castle offers uniquely small burgers, primarily known as "sliders". Each serving only contains 140 calories, allowing you to comfortably enjoy many slides in a single sitting.
You can order these delectable sliders for your next party platter. Yet, to satisfy your hunger, you will need at least four or five of these small burgers. The best options here are the Original Slider and the Cheese Slider.
Whataburger
Network In The U.S.: 902 outlets.
Known For: 24/7 operation, large and mouthwatering burgers.
If you reside in the South, you will be familiar with Whataburger, a famous burger chain that opens 24/7. Founded in Corpus Christi, Texas in 1950 by Harmon Dobson, this fan-favorite establishment provides consistently large and mouthwatering burgers.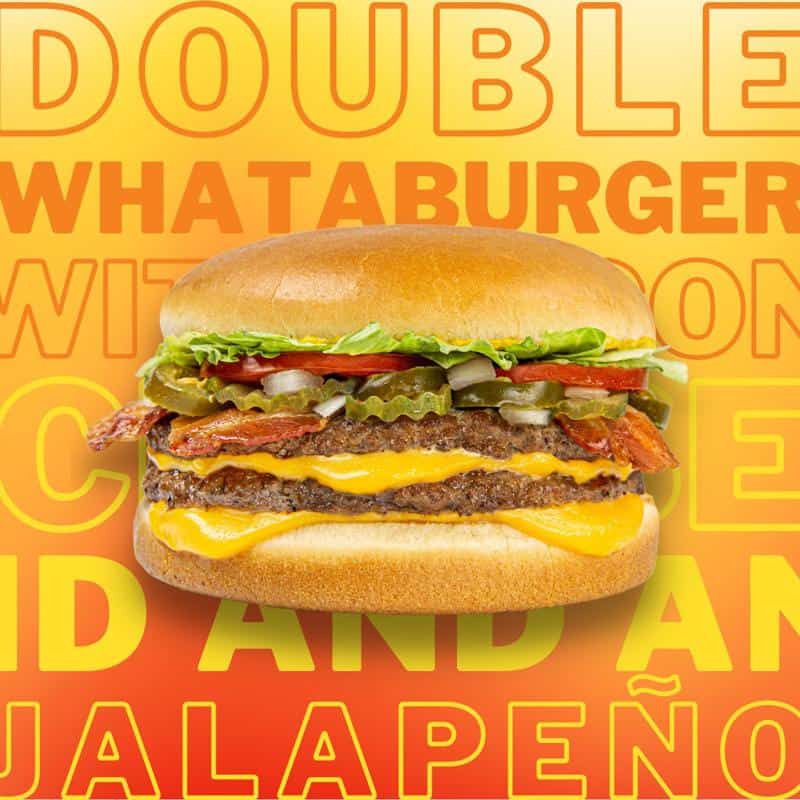 Besides the large size, the burger's taste is another selling feature. It is surprisingly good that will make you return the following day.
With over 900 stores in over 10 states, Whataburger offers various classic options with a 100 percent beef patty topped with ingredients like tomatoes, lettuce, and onions. Double Whataburger or Jalapeño & Cheese Whataburger are great choices.
Sonic Drive-In
Network In The U.S.: 3,545 outlets.
Known For: drive-in service, excellent burger choices.
A visit to Sonic Drive-In is a time well-spent. Its extensive menu features a wide array of delicious offerings, including savory hot dogs, diverse ice cream flavors, and fruity slushies. Yet, their burgers are at the top of the list.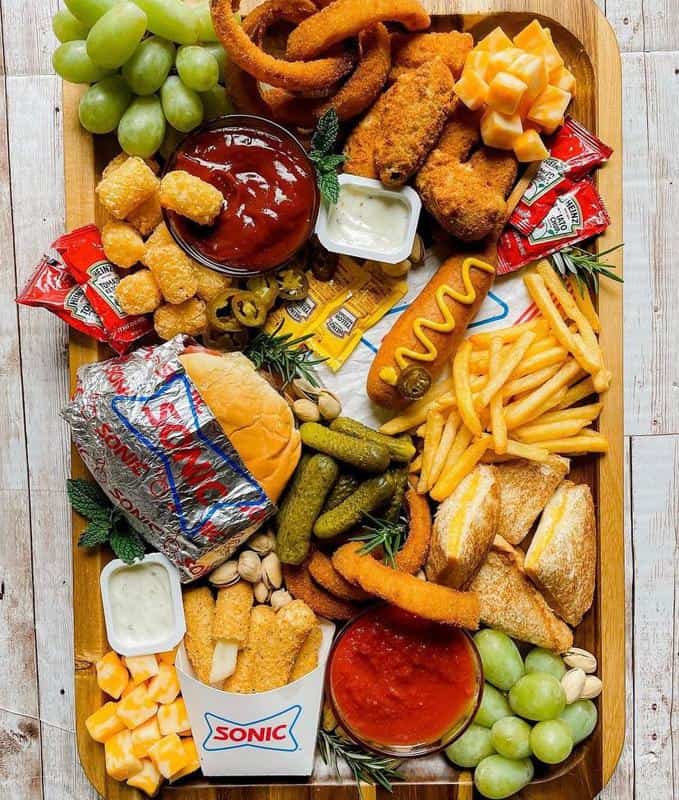 Let's try a Standard Cheeseburger on your next drive up to Sonic. It is simple, affordable, yet delicious. Besides the excellent burger choices, you can also try its renowned Cherry Limeade and scrumptious Ched 'R' Peppers.
Carl's Jr
Network In The U.S.: 1,063 outlets.
Known For: fail-proof and extensive menu, decent burgers.
Carl's Jr will not disappoint you if you are content with a perfectly decent burger. Its extensive menu comprises all fail-proof offerings, including burgers, burritos, and even a breakfast menu to satisfy your appetite.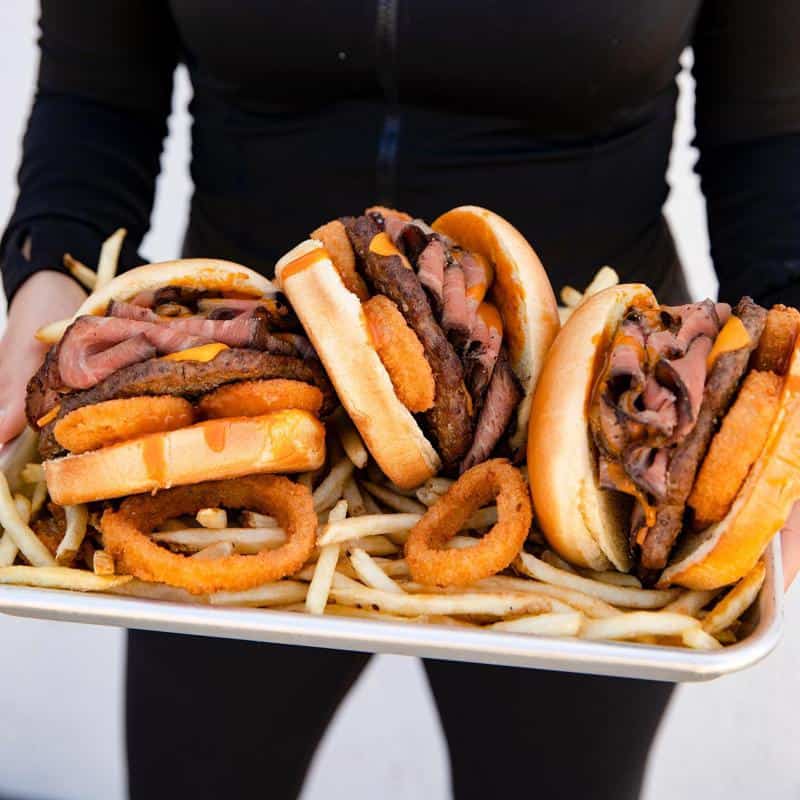 If you need assistance placing an order at Carl's Jr, how about the California Classic Double Cheeseburger, brimming with twice the meat, double the cheese, and other fresh ingredients.
You can also sample the Western Bacon Cheeseburger, comprising a beef patty, two bacon pieces, cheese, and a tangy barbecue sauce served on a sesame seed bun.
Epic Burger
Network In The U.S.: 7 outlets.
Known For: high-quality burgers, diverse vegan options, cozy atmosphere.
After its establishment in 2008, Epic Burger has evolved from one of America's hottest fast casuals to a community store with various locations in Chicago. Individuals not only love its cozy atmosphere and comfort food but also the high-quality offerings here.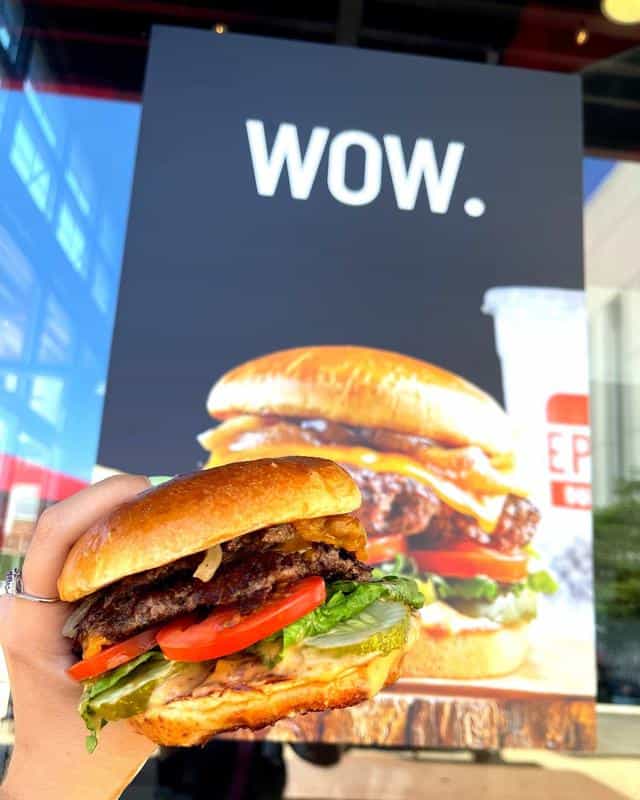 Epic Burger is a fast-casual eatery that focuses on both customers and animal welfare. This mini-chain utilizes non-GMO foods, Halal-certified cooking, and extensive vegan selections way before they became a common practice nowadays.
Read More:
Let's Pick A Spot For Your Next Burger Hangout!
My collection of the best burger chains in the United States concludes here! If you are looking for a fast burger location for your next dine-out occasion, you can't go wrong with any of these establishments.
So, let's go out and taste the finest burger at your favorite chain! I promise that their burger offerings will not let you down!