To say that Americans relish Italian food is an understatement. In reality, the affinity is almost a full-fledged obsession.
Americans can't get enough of Italian delicacies, from pizza to lasagna and from tiramisu to spaghetti. It's not surprising that one in every eight American restaurants serves Italian cuisine.
The United States (US) now serves as a home for numerous Italian chain restaurants. A staggering 88% of Americans claim to enjoy Italian cuisine. Therefore, Italian cuisine is the most popular foreign cooking in the country.
Various restaurants claim to be experts in a specific niche of Italian cooking. While some genuinely care about their customers' satisfaction, others are motivated by commercial gain.
Fortunately, there are several excellent Italian chain restaurants where you may satisfy your craving for Italian food, as we'll see in this article.
Top 10 Best Italian Chain Restaurants in the US
No matter where you live in the US, you may find an Italian restaurant to suit your tastes by visiting one of the top Italian chain restaurants we've listed in this piece.
In the following paragraphs, we'll list and discuss the 10 most decent Italian chain restaurants in the US. They include: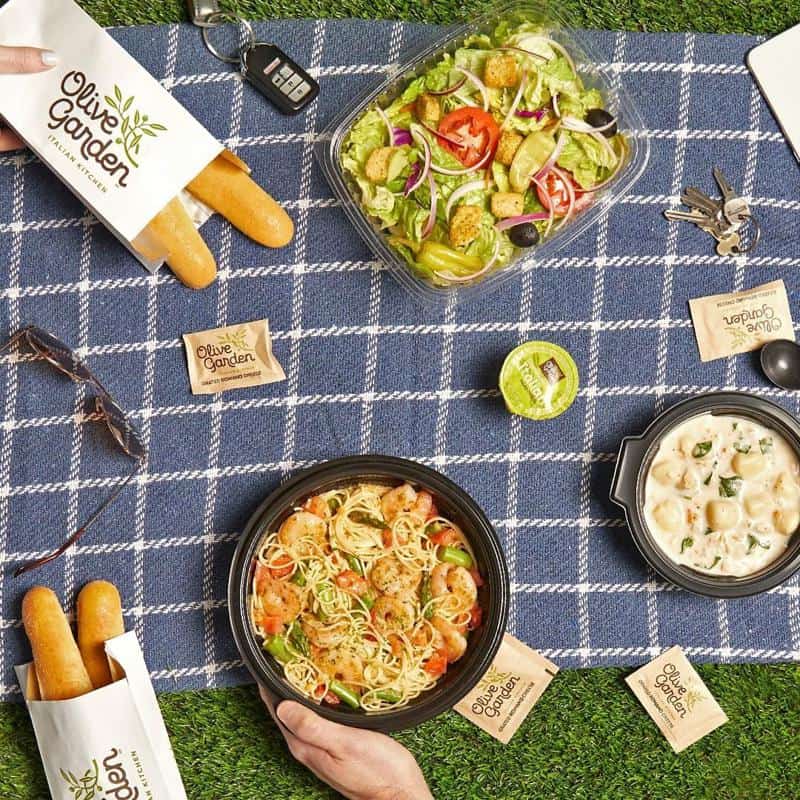 Founded in: Orlando, Florida
Networks in the US: 857 restaurants
Known for: Breadsticks; soup; salads
At Olive Garden, they serve great salad, and their wonderful breadsticks are irresistible. They also offer comfort food that will suit your taste buds anytime, any day.
On December 13, 1982, the first Olive Garden—a branch of General Mills—opened its doors in Orlando, Florida. The Olive Garden chain had the General Mills restaurant division's fastest growth rate by 1989, when there were 145 locations. Thus, Olive Garden restaurants had widespread popularity.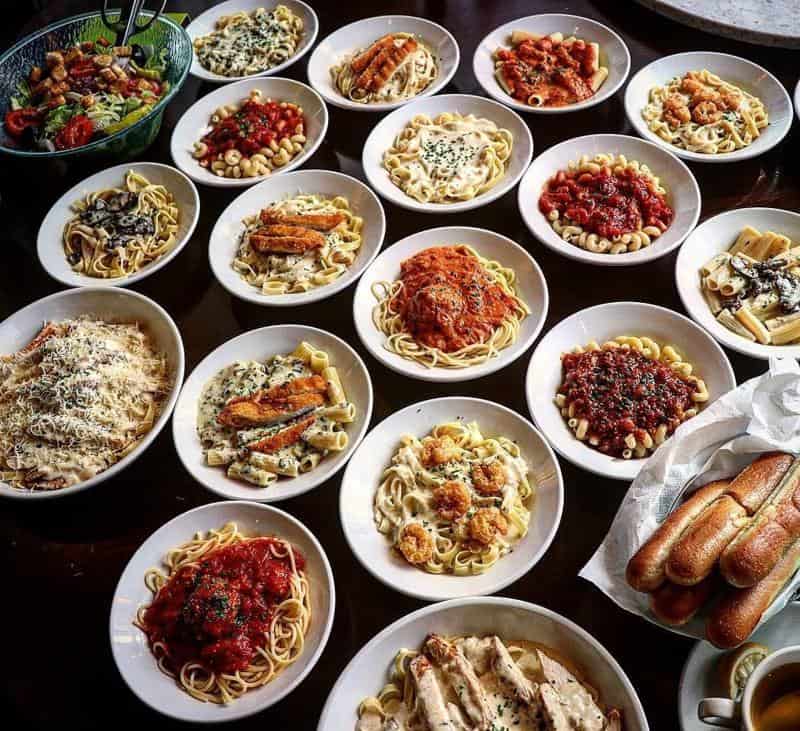 Olive Garden is the most prosperous Italian chain restaurant considering the number of locations and sales. No matter the location, the restaurant's food always has the same high quality.
The tasty pasta bowl, as well as the endless salad, soup, and breadsticks, are some of the restaurant's ravishing specialties. Plus, their pricing is always fair.
Also Read: Is Olive Garden Closing: Expose The Truth
Headquarters: 3000 Olympus Blvd, Dallas, Texas, US 75019
Networks in the US: 54 locations
Known for: Mini crème bruise; tomato, balsamic & garlic bruschetta; spaghetti with marinara; cup of manhattan clam chowder
Maggiano's Little Italy is the Italian chain restaurant you've always wanted. Whether you're on a date, trying to feed your family, or just seeking a tasty getaway with friends, this restaurant is the place to go.
This franchise was established in Chicago, Illinois, in 1991 by Lettuce Entertain You Enterprises (LEYE), owned by Rich Melman. Its name derives from Melman's late partner, Marvin Maggiano, and is renowned for its enormous portions, unique Italian-inspired menu items, and the welcoming atmosphere that permeates each of its eateries.
Even if you come prepared to expect excellence, the flavors will blow your mind, and the presentation is always masterful.
You should be completely confident that whatever you choose to order from the extensive menu at Maggiano's Little Italy will be delicious. Similarly, you may follow your taste sensations with that amount of confidence. Ensure you're hungry before visiting the restaurant since you'll want to have room to enjoy every last piece of what you order.
Maggiano's Little Italy restaurant doesn't have a specific address because it has locations around the US — Boston, MA; Philadelphia, PA; Hackensack, NJ; Garden City, NY.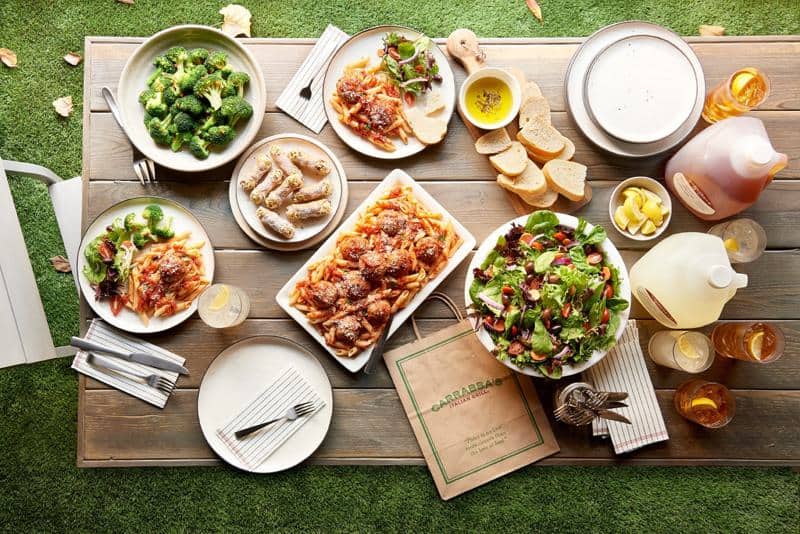 Headquarters: Tampa, Florida, United States
Networks in the US: 199 locations
Known for: Chicken Bryan
Carrabba's Italian Grill serves superb Italian cuisine. Bloomin' Brands founded the restaurant in 1986, and its headquarters is in Tampa, Florida. Today, the restaurant chain boasts elegant and enjoyable services.
There's no significant distinction between their pasta dishes' and meat meals' quality. The Chicken Bryan is one of Carrabba's Italian Grill's most well-liked menu items.
Lemon butter, goat cheese, sun-dried tomatoes, basil, and wood-grilled chicken are the main ingredients in this magnificent recipe. You also receive a substantial portion of perfectly cooked pasta on the side, topped with a wonderful sauce.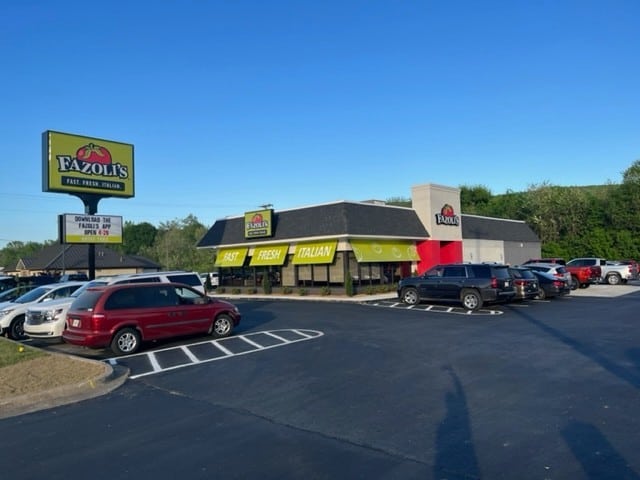 Headquarters: Lexington, Kentucky, US
Networks in the US: 217 restaurants
Known for: Baked spaghetti; pizza; submarine sandwich
In 1988, Kunihide Toyoda founded Fazoil, headquartered in Lexington, Kentucky, US. Today, more than 200 Fazoli's restaurants are located in more than 25 states in the US.
The delightful breadsticks—often served with one of Fazoli's renowned sauces to make a completely wholesome meal—are one of the restaurant's main attractions.
Other decent menu options include baked spaghetti topped with cheese and either chicken or meatballs. You can also order a pizza or a submarine sandwich if pasta isn't your thing.
Headquarters: Denver, Colorado, USA
Networks in the US: 41 locations
Known for: Various pastas; braised lamb shank; shrimp portofino; grilled salmon; Pollo Caprese; tiramisu
Romano's Macaroni Grill is indeed a premier Italian franchise. Philip J. Romano founded this chain in 1988, and it now boasts over 40 locations spread across 15 states.
According to popular opinion, this restaurant is the polar opposite of Zio's Italian Kitchen (reviewed below), and customers prefer the meat meals at this chain.
The meat dishes at Romano's Macaroni Grill are incredible and mouth-watering at the same time. You're assured of a memorable treat when you pick an option from the Shrimp Portofino to the Braised Lamb Shank and from the Grilled Salmon to the Pollo Caprese.
Again, their dessert selections are excellent, including the Tiramisu and Romano's Cannoli.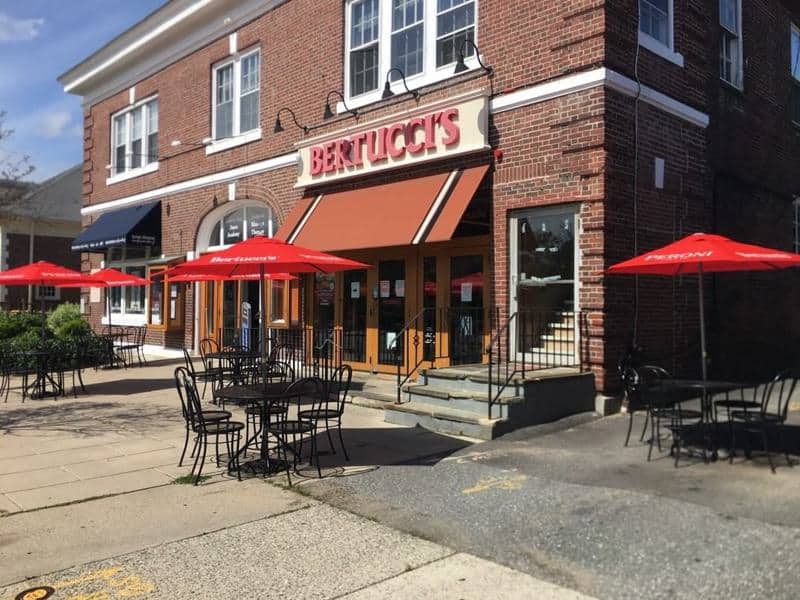 Founded in: Davis Square, Somerville, Massachusetts
Networks in the US: 51 locations
Known for: Salmon & strawberry salad; butternut squash ravioli; traditional cannoli; polpette meatballs
Joey Crugnale founded Bertucci's in Davis Square, Somerville, Massachusetts, in 1981. However, it wasn't until the 1990s that the company expanded rapidly.
Bertucci's branches are mainly situated in the Northeast US but range as far south as Virginia.
The good news is that Bertucci's offers reasonably extensive lunch and dinner menus. There's a good chance that you'll find your favorite Italian dish on the menu.
Furthermore, this restaurant is a favorite among families since it offers a wide variety of options on its menu for kids.
The enterprise also provides catering services for occasions and large gatherings. Again, the meal at Bertucci's is consistently wonderful and fairly priced.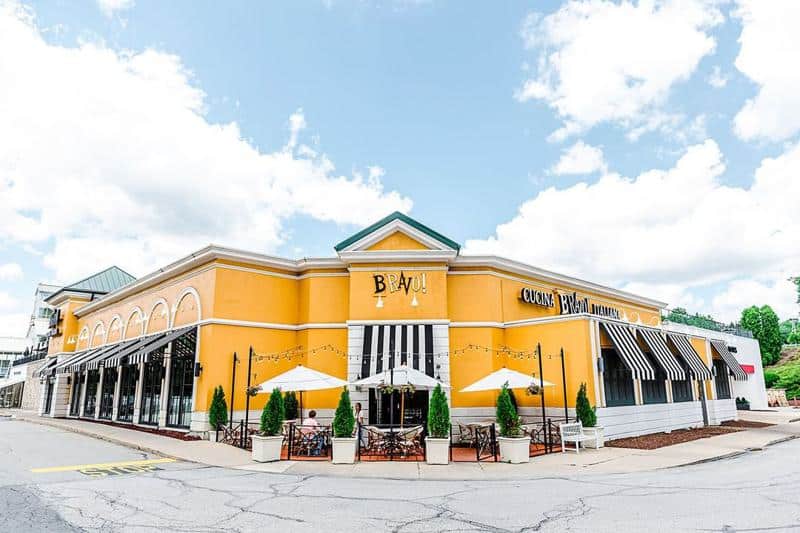 Founded in: Columbus, Ohio
Networks in the US: 31 locations
Known for: Pastas; pizzas; cocktails; tiramisu; vanilla gelato
In 1992, Rick and Chris Doody opened the doors of the first Bravo! Italian Kitchen in Columbus, Ohio, by collaborating with Executive Chef Phil Yandolino. They've always served delectable Italian cuisine. The restaurant currently has more than twenty locations spread across 14 states.
Bravo! Italian Kitchen also serves traditional Italian cuisine. Salmon and steak are among the dinner options at Italian Kitchen. If you wish to eat healthier, look over their salad menu.
Moreover, the Italian restaurant possesses a variety of decent cocktails and is a fantastic spot for brunch.
Additionally, if you enjoy desserts and confections, this restaurant is the right place. This restaurant chain offers classic treats like vanilla gelato, tiramisu, and vanilla bean crème Brulee. You may take some of the treats home since their servings are relatively large.
Headquarters: 1705 Clearwater Ave, Bloomington, IL 61704, United States
Networks in the US: 16 locations
Known for: Cesar salad; shrimp and chicken in lobster sauce; pastas; pizzas
Biaggi's Ristorante Italiano is a decent Italian restaurant founded by Todd Hovenden in Bloomington in 1999. The meal is outstanding, and that's what matters most.
This business is undoubtedly in the top tier if you only consider the meals they provide. After dinner, don't be shocked if you find yourself licking your plate.
Biaggi's Ristorante Italiano earns extra merit for having a terrific array of gluten-free food alternatives and serving a delectable fare. Stop by this restaurant if you're on a gluten-free diet and craving Italian food; you won't be disappointed.
Founded in: Dallas, Texas, USA
Networks in the US: 5 locations
Known for: 15-layer lasagna; spaghetti; chili; fried ravioli
Your expectations will be incredibly high when you step into a Spaghetti Warehouse restaurant for the first time. There's no denying the exquisite decor that welcomes you.
Each location has the typical appearance of an Italian restaurant. You'll begin to salivate when you consider the excellent meal that will undoubtedly be brought to you in the pleasant ambiance.
Robert Hawk founded the chain in Dallas, Texas, in 1972, and at one point, it had branches throughout the southern and eastern regions of the US.
Both small and large groups are catered for at the Spaghetti Warehouse, and some spaces can even host parties. A 15-layer lasagna is one of their best-selling dishes, and their meatballs are awesome. Other striking dishes are chili, spaghetti, and fried ravioli.
The Spaghetti Warehouse offers gluten-free menu products and can accommodate various dietary requirements, despite being known for everything pasta-related.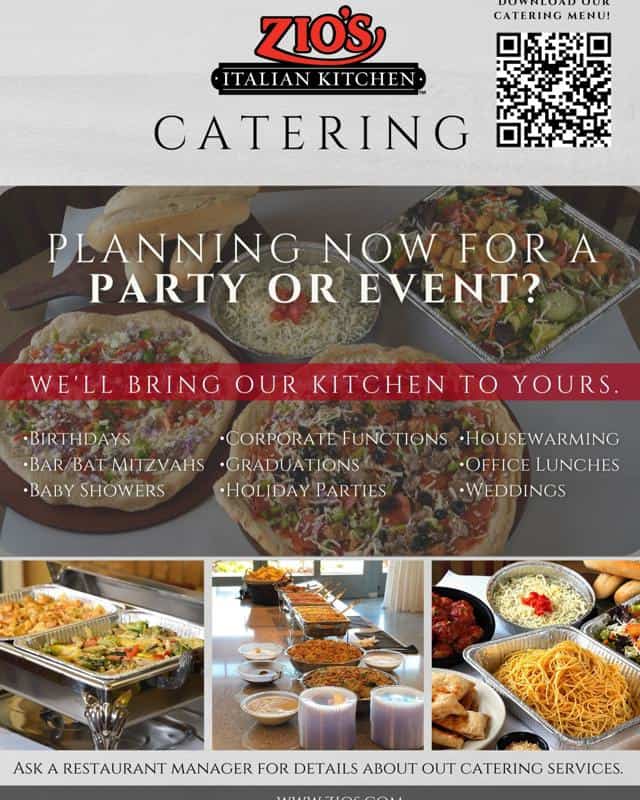 Headquarters: 2035 S Meridian Ave Oklahoma City, Oklahoma 73108
Networks in the US: 16 units
Known for: Baked Ziti; cheese ravioli; manicotti
In 1994, Ken Selby opened the first Zio's Italian kitchen in Tulsa, Oklahoma.
The menu of Zio's Italian Kitchen is enormous and offers unlimited delicacies. You can find virtually any Italian food of your preference on the restaurant's menu. Still, not all the food they offer is of equal quality.
Your approach at Zio's Italian Kitchen is to steer clear of the meat items and only order pasta.
Their meat options, which range from Grilled Tilapia to Chicken Piccata, may disappoint you. However, their pasta specialties, such as Manicotti, Cheese Ravioli, and Baked Ziti, are impressive.
Read More:
How to Select a Decent Italian Chain Restaurant: A Guide
It's vital to look out for several elements when choosing an Italian chain restaurant in the US. These considerations will enable you to avoid falling for marketing gimmicks and picking inferior or inauthentic Italian chain restaurants unknowingly.
Some essential factors to consider when selecting a classic Italian chain restaurant in the US include the restaurant's:
authenticity
services
menu options
environment
ambiance
The opinions and experience of past customers are also important, as customer reviews will prevent you from making wrong choices.
Here are some outstanding suggestions to aid you in selecting a good Italian restaurant:
Do market research by interviewing past customers or via Google search.
Ensure that the restaurant is authentic and not an "Italian chain restaurant" in name only.
The restaurant should be all about Italian cuisine.
Don't go in if the restaurant serves pizza at lunch. A classic Italian chain restaurant won't serve pizza at lunchtime.
The restaurant's ambiance matters. Its atmosphere should be enjoyable and serene.
Read More: What Is Brooklyn Style Pizza?
FAQs
What's the Best Italian Chain Restaurant in The US?
According to our reviews, the best Italian chain restaurant in the US is Maggiano's Little Italy, founded in 1991. Not only does their food pack tasty flavors, but they also offer a serene ambiance.
Why Are Specific Days Excluded from Particular Offers for Various Italian Restaurants?
Some eateries serve special delicacies on specific days and hours. To avoid disappointment, we suggest you thoroughly review the terms and conditions before you visit any Italian restaurant.
Conclusion
We're convinced your next visit to an Italian restaurant will be memorable, having apprised yourself of the United States' top ten. Additionally, you'll learn that there's never a dull moment when trying Italian cuisine because there are various options. Take the time to fully educate yourself on Italian culinary traditions to enjoy the meals.