Breakfast is often quoted as the most important meal of the day, or so it is said. But what if you fancy Breakfast later in the day, say lunchtime or in the Evening?
Fortunately, fast food restaurants have your back covered on this. Never slow to follow trends, the big fast food chains now offer all-day breakfasts across the US.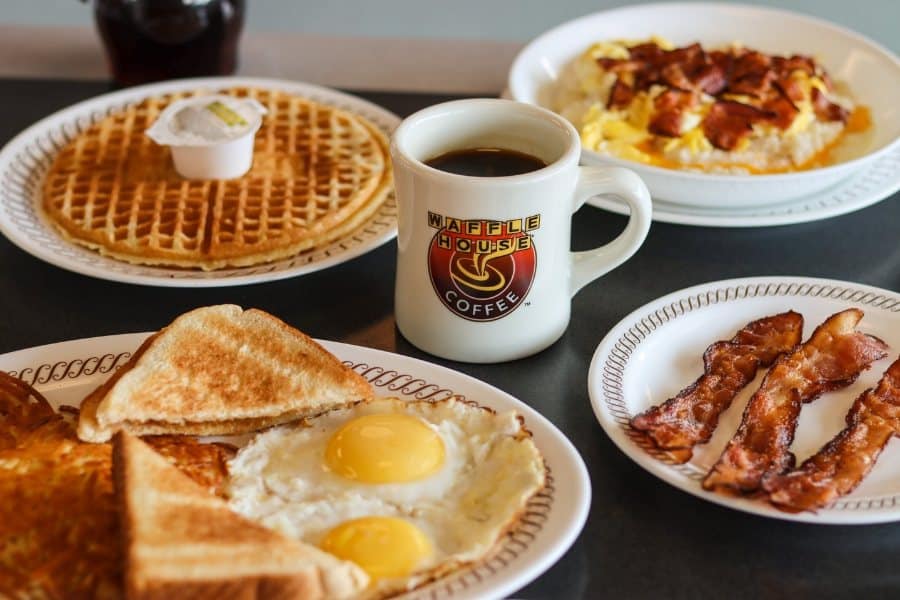 So, here is a list of the top Fast Food with All Day Breakfast, from the National giants to some regional powerhouses.
No matter where you are or what time of day, these restaurants can satisfy your craving for Breakfast, to suit you.
Here are our top picks for All Day Breakfasts from Fast Food Outlets:
Best All-Day Breakfast: Waffle House – 24/7/365!
Best Menu: Denny's
Best Accessibility: Starbucks
Top Fast Food Restaurants with All Day Breakfast
Waffle House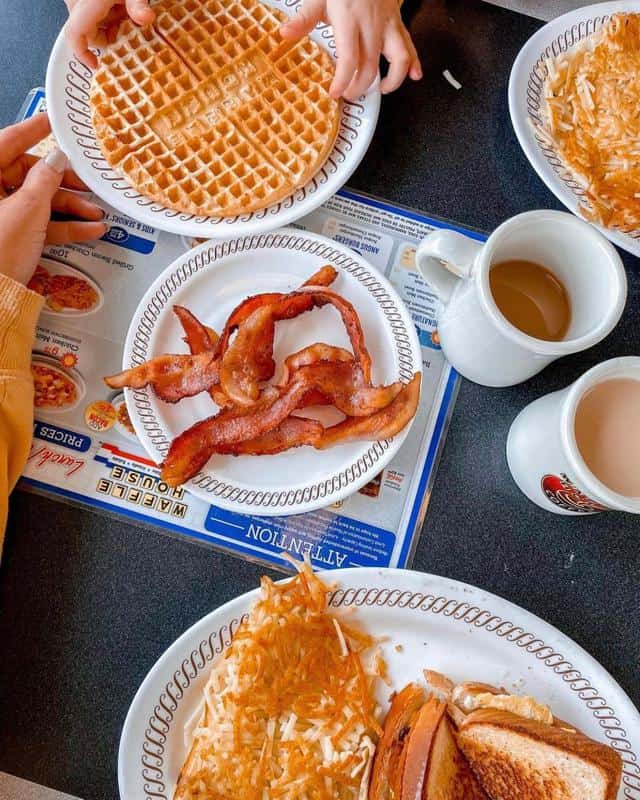 Number of Outlets in the US: 2100+
Date first opened: 1955
Best known for: Waffles
Waffle House has a breakfast menu that is available all day. Also, almost all Waffle Houses are open 24 hours a day, 365 days a year!
Of course, they do waffles in four flavors, classic, pecan, chocolate chip, and peanut butter chip, but they have a lot more.
The waffle House breakfast choices are enormous. They have Egg breakfasts, Hashbrown Bowls, Sandwiches, and Texas Melts and Biscuits.
Almost every category allows you to "build your own," which is a fantastic option for getting the exact Breakfast you want.
You could also try the All-Star special, a considerable combination of Scrambled Eggs with Toast & Jelly; choice of Grits, Hashbrowns, or Sliced Tomatoes; a Waffle and your choice of Bacon, Sausage, or City Ham.
You can see why Waffle House is a popular breakfast destination across the US.
Denny's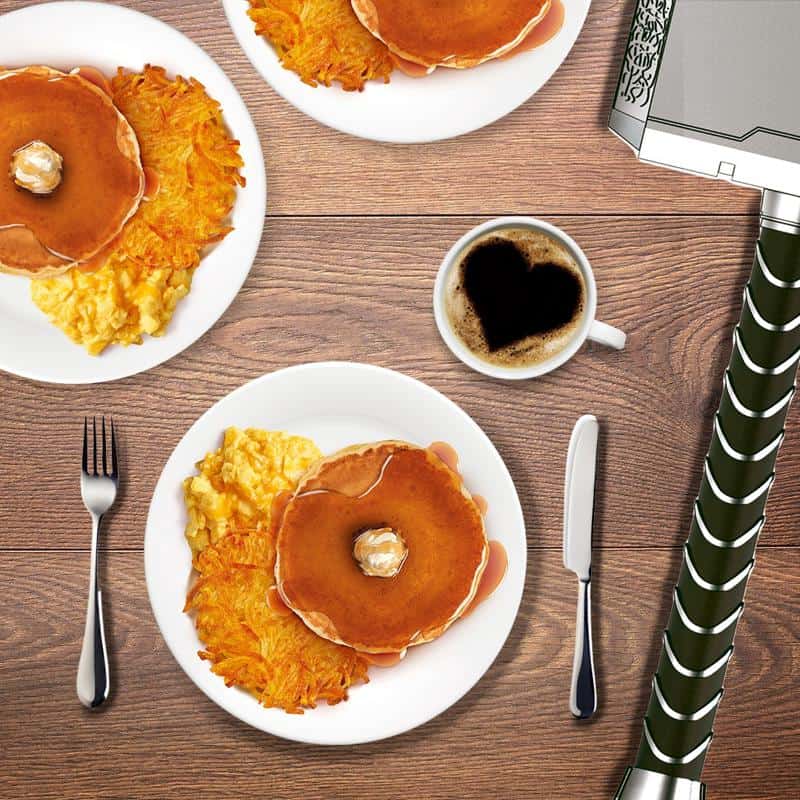 Number of Outlets in the US: 1700+
Date first opened: 1953
Best known for: Old School Diner Breakfasts
Denny's is a mecca to the Classic American Breakfast, serving them all day. If you want an old-school breakfast, you must try Denny's.
The options include their takes on Eggs Benedict, biscuits and gravy, steak and eggs, all real classics.
If you've never been to Denny's, go for the Moons Over My Hammy. A Ham and scrambled egg sandwich with Swiss & American cheeses on grilled sourdough, with a side of hash browns.
Omelets, pancakes, and crepes are available in savory and sweet varieties.
Denny's also has a range of "Slams." These are combination plates such as the All-American Slam with Three scrambled eggs with Cheddar cheese, bacon strips, sausage links, hash browns, and choice of bread.
Or the Build Your Own Grand Slam, you can pick any four items and make your own.
Starbucks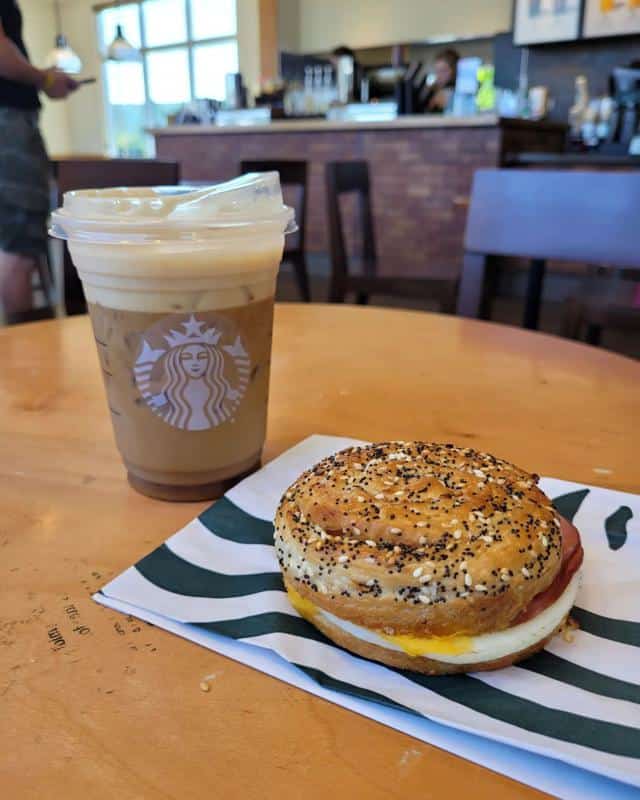 Number of Outlets in the US: 15400+
Date first opened: 1971
Best known for: Sous Vide Egg Bites
With over 15000 stores, you are always close to a Starbucks, and they have developed a small but impressive All Day Breakfast menu.
Starbucks' breakfast menu has a variety of sandwiches and wraps, as well as sous-vide egg dishes and pastries.
To compete, Starbucks developed Sausage, Cheddar & Egg sandwiches.
This is a savory sausage patty, fluffy cage-free eggs, and aged Cheddar cheese on a perfectly toasted English muffin.
The Bacon, Sausage, and Egg wrap has double-smoked bacon, savory pork sausage, and scrambled eggs combined with Cheddar cheese and potatoes, all wrapped in a flour tortilla.
Try the Egg White & Roasted Red Pepper Egg Bites for a low-calorie and vegetarian option.
Made with egg whites combined with Monterey Jack cheese, spinach, and fire-roasted red peppers and cooked using the French "sous vide" technique to create a velvety texture full of flavor.
White Castle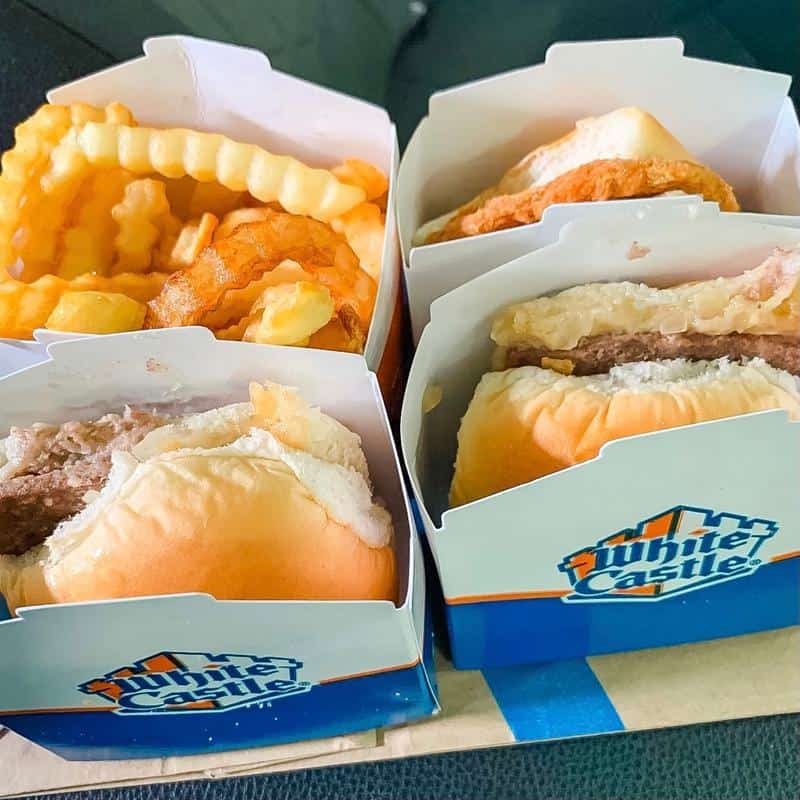 Number of Outlets in the US: 370+
Date first opened: 1921
Best known for: Belgian Waffle Slider
White Castle is the fast-food chain that made sliders famous, but they also have an extensive All Day Breakfast Menu.
Now with close to 400 locations in 14 states, they are pretty accessible for an All Day Breakfast.
As expected, White Castle has a Breakfast Menu with plenty of slider options.
With menu choices such as the Breakfast Slider, the Chicken & Waffles Slider, with creamy country gravy, and the Breakfast Toast
Sandwich, you will have plenty of options.
A very popular Breakfast choice is the Belgian Waffle Slider.
The Belgian Waffle Slider is made with a freshly cracked egg, hickory smoked bacon or savory sausage, and a choice of American, Jalapeno, or Smoked Cheddar cheese between two fluffy Belgian Waffles.
Many of the sliders on the White Castle breakfast menu are also available as combos.
Also Read: Best Burger Chains In America
Bojangles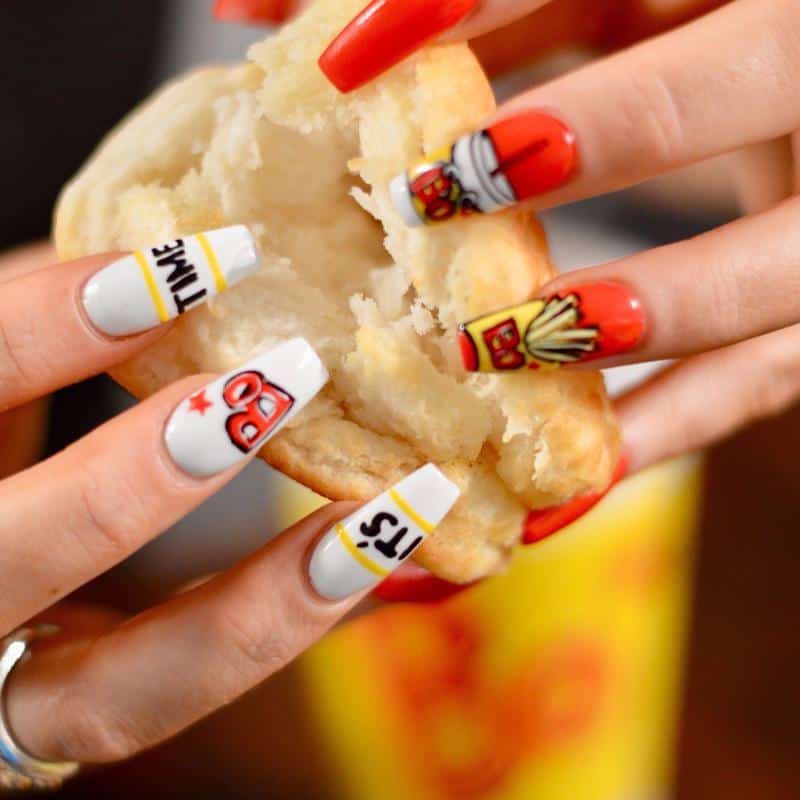 Number of Outlets in the US: 790+
Date first opened: 1977
Best known for: Fresh baked Biscuits
Bojangles is a Southern fast-food restaurant chain that expanded on the back of their Cajun-inspired fried chicken and fresh buttermilk biscuits.
As it happens, biscuits are the perfect complement to Breakfast and are freshly baked every 20 minutes.
The breakfast menu isn't extensive and is all biscuit-based, but it certainly hits the spot.
Every Bojangles breakfast is in the form of a combo with Bo-Tato Rounds (like Cajun-spiced mini hash browns) and a coffee or medium drink.
There are combos based on sausage, egg, and cheese, but the two standouts are the Cajun Chicken Filet, made with a freshly baked buttermilk biscuit; and a fried all-white chicken breast, and the Southern Gravy combo made with country-style sausage gravy.
Sonic Drive-In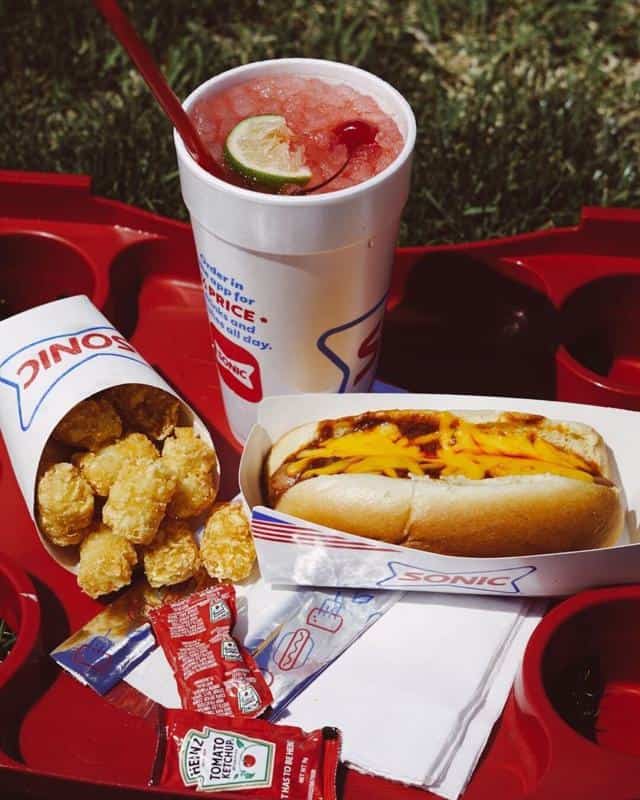 Number of Outlets in the US: 3500+
Date first opened: 1953
Best known for: Breakfast Toaster
With over 3500 outlets in 46 states, you are never that far away from a Sonic Drive-In.
The breakfast menu is based around "Toasters," breakfast burritos, and for those with a sweet tooth, there are French Toast Sticks and Cinnabon Cinnasnacks.
The Cinnabon Cinnasnacks are pastries filled with a warm cinnamon filling and served with cream cheese frosting for dipping.
Sonic's most popular breakfast sandwich is the Breakfast Toaster, which comes in bacon and sausage versions.
Breakfast Toasters are made with melty cheese, fluffy eggs, and either bacon or sausage, sandwiched between two generous, buttery slices of Texas toast.
If you have a large appetite, try the Ultimate Meat & Cheese Breakfast Burrito, it is a monster.
Jack in the Box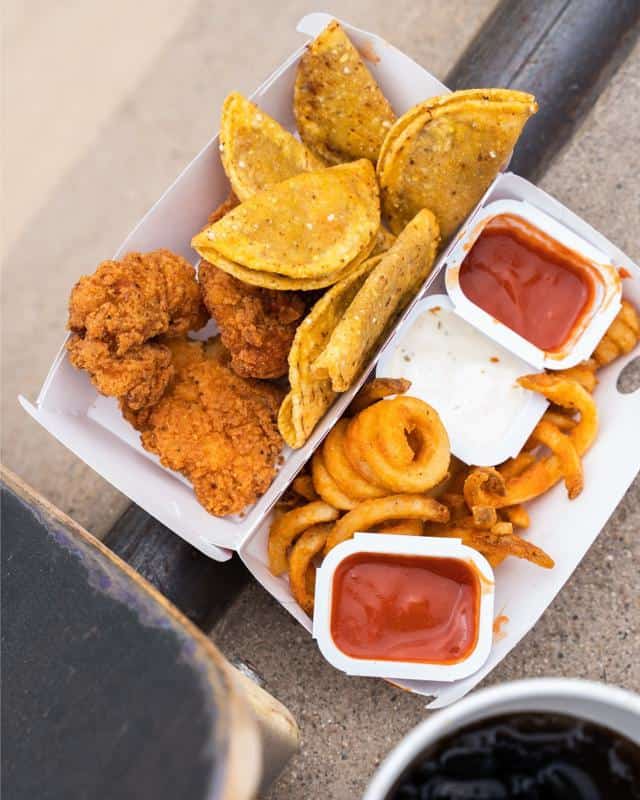 Number of Outlets in the US: 2200+
Date first opened: 1951
Best known for: Loaded Breakfast Sandwich
Jack in the Box has a pretty extensive All Day breakfast menu. The highlights include the Loaded Breakfast Sandwich, the Ultimate Breakfast Sandwich, and the Breakfast Jack.
The Ultimate Breakfast sandwich is a big claim, but it may qualify with two fresh eggs, two cheese slices, and two slices of ham and bacon.
They have a range of breakfast croissants, burritos, and biscuits, but if you are not a sandwich person, they have the Jumbo Breakfast platter.
The Breakfast platter comes on a platter with scrambled eggs, hash browns, eight mini pancakes, and a choice of three bacon slices or country-grilled sausage.
That sounds like a platter anyone would enjoy.
Caribou Coffee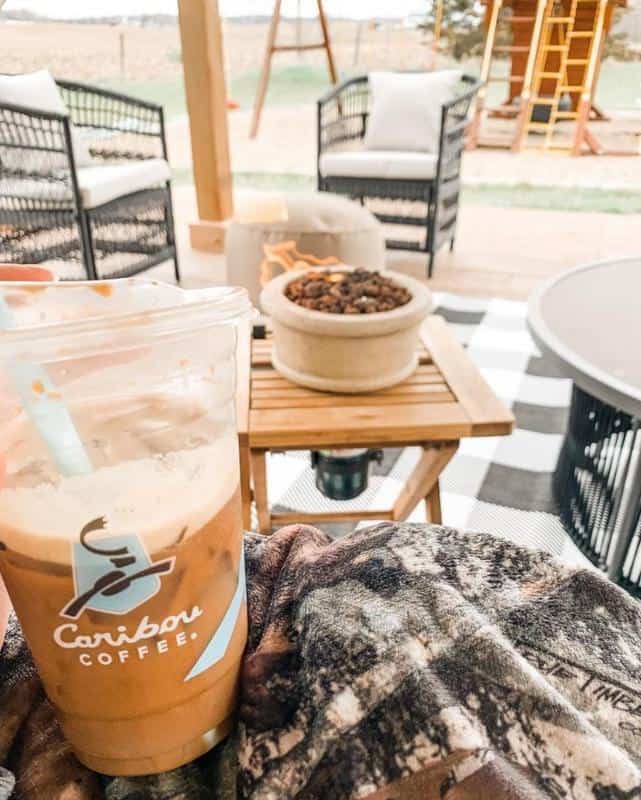 Number of Outlets in the US: 400+
Date first opened: 1992
Best known for: Vegetarian and Gluten Free options
Caribou Coffee is a chain well-known for its handcrafted beverages and all-day breakfast menu.
The Caribou Coffee breakfast menu is extensive for a coffeehouse chain and has some great sandwiches available to order all day.
Caribou Coffee has concerted efforts to cater to various tastes and dietary needs.
There are the Gluten-Free Bacon & Gouda Souffle or the Gluten-Free Spinach, Artichoke, Egg, & Provolone for gluten intolerant customers.
One item of particular interest is the burrito with chicken chorizo, Swiss & jack cheese, scrambled eggs, diced potatoes & green chiles, all wrapped in a red pepper tortilla.
The menu has classic breakfast sandwiches, like the Sausage, Egg, & Cheddar and the Ham, Egg, & Swiss Croissant.
There are also a considerable range of bagels, all with cream cheese and various excellent bakery goods.
Dunkin Donuts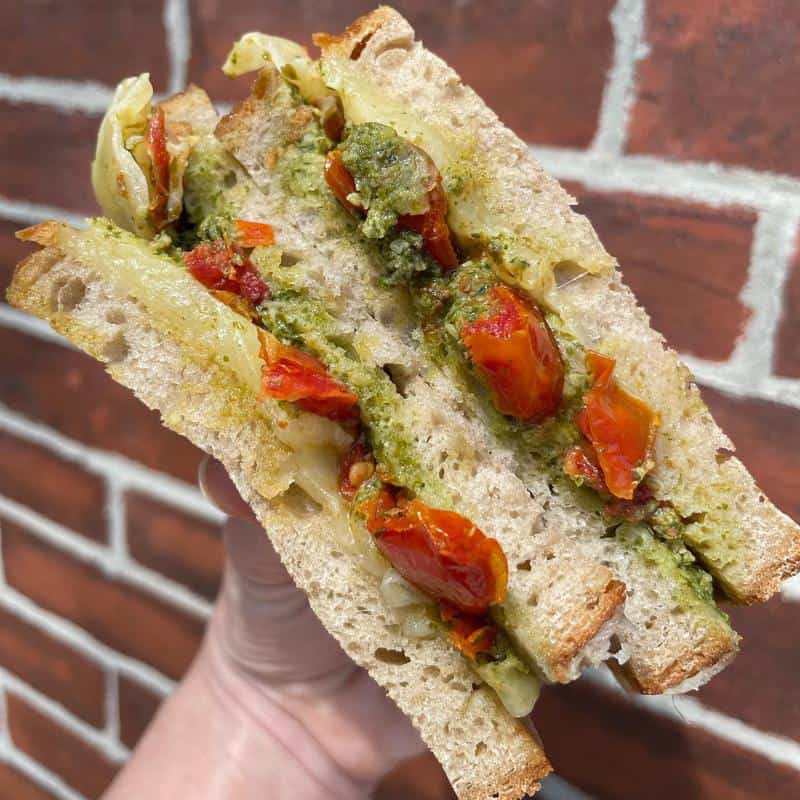 Number of Outlets in the US: 9400+
Date first opened: 1950
Best known for: Doughnuts
Dunkin' Donuts is another long-established and popular coffee chain in the United States.
Dunkin's breakfast menu is available all day so that you can enjoy a delicious breakfast sandwich or donut anytime.
Dunkin' Donuts offers classic breakfast sandwiches, like the Sausage, Egg, & Cheese, the Bacon, Egg, & Cheese, and the Sourdough Breakfast Sandwich.
There is a new vegetarian option. The sandwich features plump, oven-roasted tomatoes, a nut-free pesto, and melted cheddar cheese between slices of Dunkin's toasted sourdough bread.
Dunkin also allows you to customize many breakfast sandwiches to enjoy on a bagel, croissant, or English muffin.
Dunkin' is also famous for its donuts and Munchkins, which come in various delicious flavors.
IHOP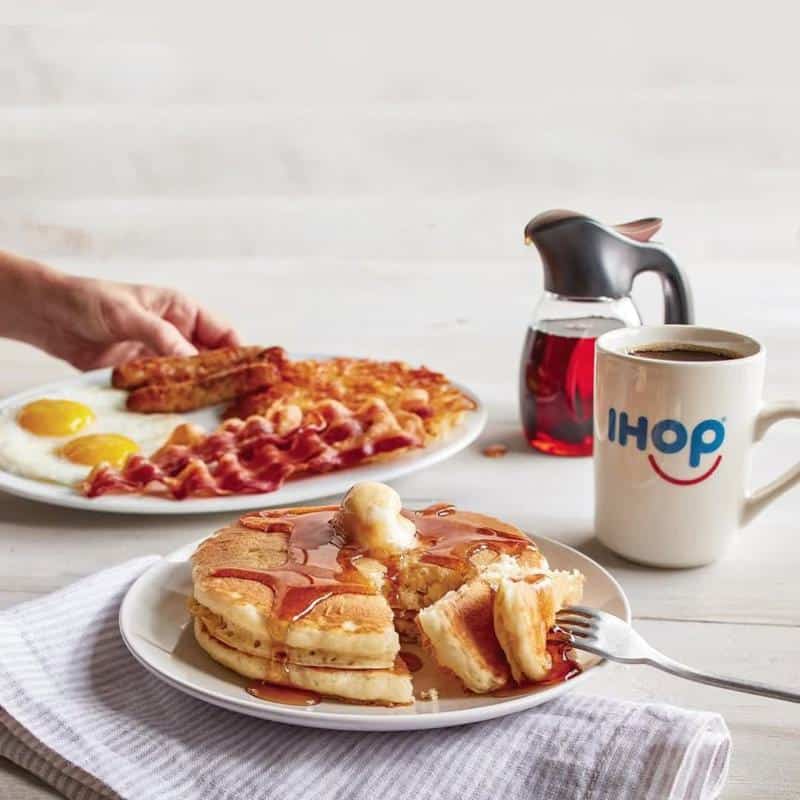 Number of Outlets in the US: 1600+
Date first opened: 1958
Best known for: Pancakes
IHOP, or the "International House of Pancakes," is a very popular breakfast restaurant chain in the US specializing in pancakes.
IHOP is unsurprisingly famous for pancakes with over a dozen flavors on offer.
If pancakes and crepes are not your things, no problem; you can choose from omelets, French toast, waffles, breakfast burritos, and some great breakfast combos.
The Breakfast Sampler is a very popular choice for customers. It comes with two eggs, two strips of hickory smoked bacon, two pork sausage links, two thick-cut pieces of ham, hash browns, and two buttermilk pancakes.
Alternatively, try the Big Brunch Burger with a patty, bacon, fried egg, crispy potato pancake, and American cheese.
Read More:
Conclusion
It is evident that All Day Breakfasts are popular with customers, and the big chains have done a great job meeting those needs.
There is no longer any constraint on when you can eat Breakfast; the choices offered are tasty and exciting.
You can rest easy that your favorite meal, Breakfast, is available all day. Now go and enjoy them.