If you have Celiac disease and follow a gluten-free diet, you must drop many delicious fares from your daily menu, including chocolate, candy, and cereals. You tend to cook at home more often as it gives you complete control over following such a strict diet.
Although dining out is challenging, it is not impossible. Five Guys offers various gluten-free choices to serve Celiac disease sufferers and those with other dietary problems.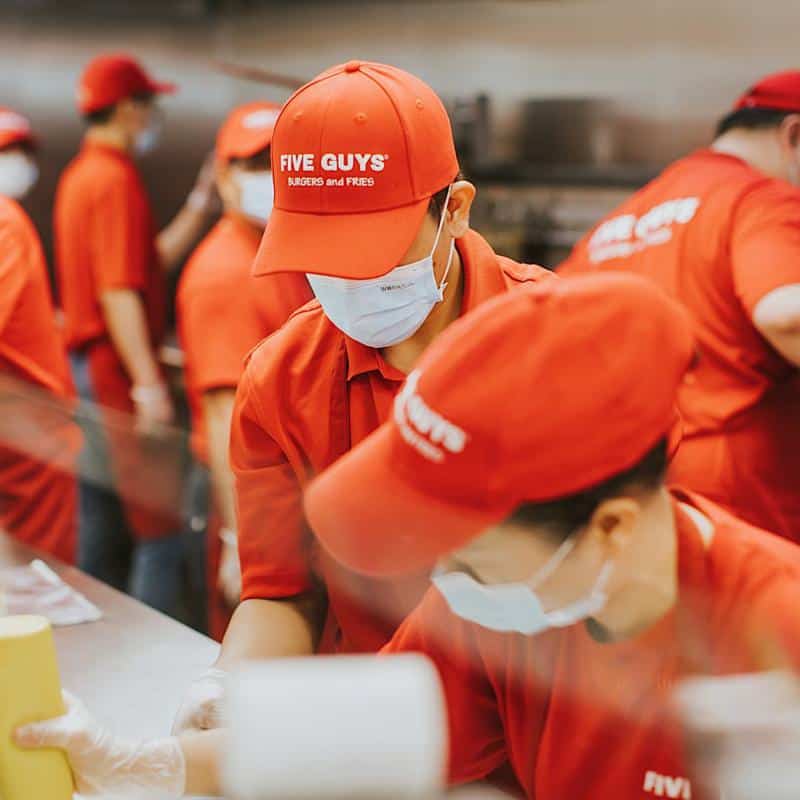 Whether you are seeking traditional French fries or a yummy burger, Five Guys has them all gluten-free for you. After reading this article, you will gain up-to-date information about all gluten-free options available at Five Guys and how to order them.
Gluten-Free Food To Order At Five Guys
Most Five Guys offerings are gluten-free, except for burger buns, sandwiches, and malted milk. Let's have an overall look at all gluten-free meals you can enjoy on Five Guys' menu.
Fries (Five Guys Style & Cajun Style)
Hamburgers (Bunless)
Cheeseburgers (Bunless)
Hot Dogs (Bunless)
Milkshakes
Toppings
Below, you can find updated information about all Five Guys' gluten-free options for your next order. Since the fast-food chain is not advertised as gluten-free, you should clearly notify the server about your special requirement.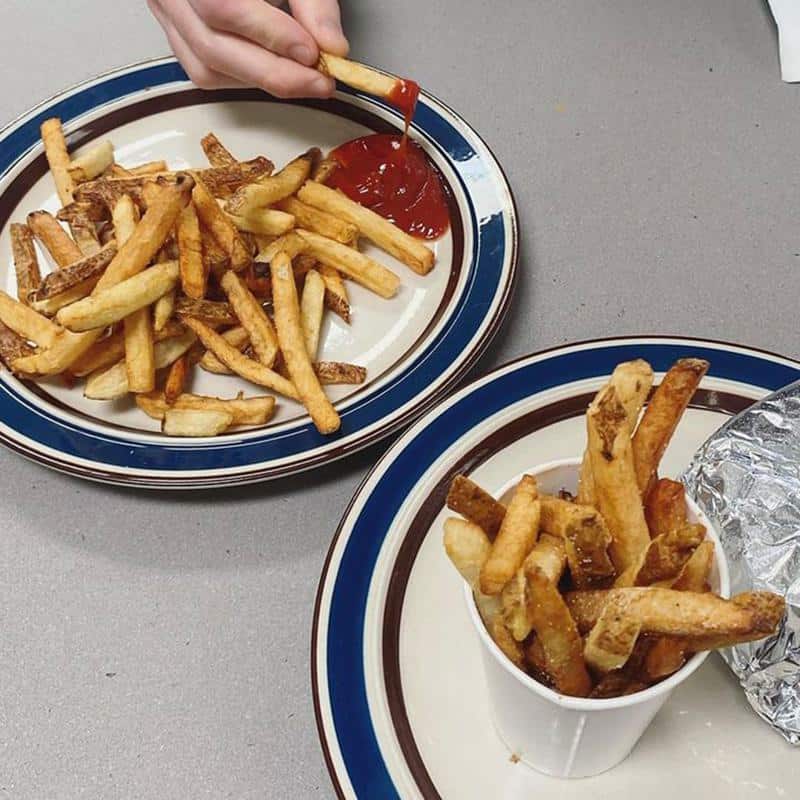 Fries typically comprise three components (potatoes, salt, and oil), which are naturally gluten-free. However, many fast-food chains cook this staple in oil that has been cross-contaminated with gluten-containing items, making them not gluten-free anymore!
At Five Guys, you can safely declare to the world that their fries run no risk of cross-contamination. Five Guys utilizes pure peanut oil to make fries in separate fryers, which are not shared with other foods.
In addition to being gluten-free, Five Guys fries are also the most flavorful treat! They are prepared from scratch and fried twice to produce a crispy outside and a mashed potato-like inside.
Besides the traditional Five Guys style, you can also order Cajun-style fries, which are also gluten-free. After cooking, these fries are coated in a generous coating of Cajun spices, giving them a spicy bite and an addicting taste.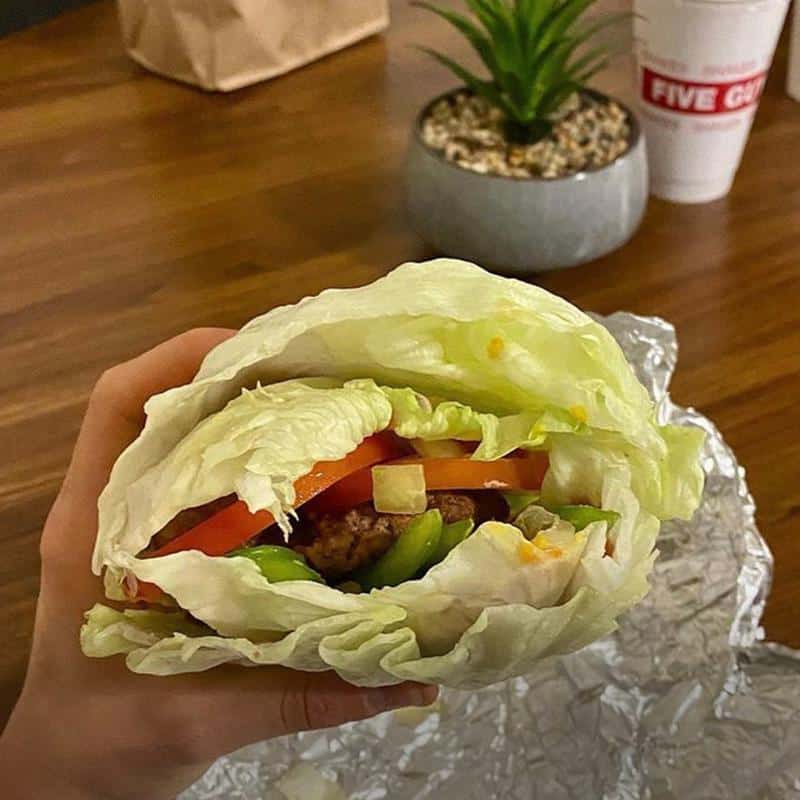 With 840 calories per patty, Five Guys hamburgers guarantees to please your taste buds with every mouthful. These items are created by hand and cooked to perfection. Additionally, you can choose any topping you like, as they are all gluten-free options.
However, to make Five Guys hamburgers gluten-free, you must enjoy them without their buns. It is unfortunate that Five Guys have not introduced gluten-free buns to their menu yet!
So, you can either bring your own bread or ask Five Guys staff to wrap your burger with lettuce instead. I prefer the latter solution as it helps me reduce the number of carbohydrates and calories significantly in my meal. It also adds satisfying crunchiness!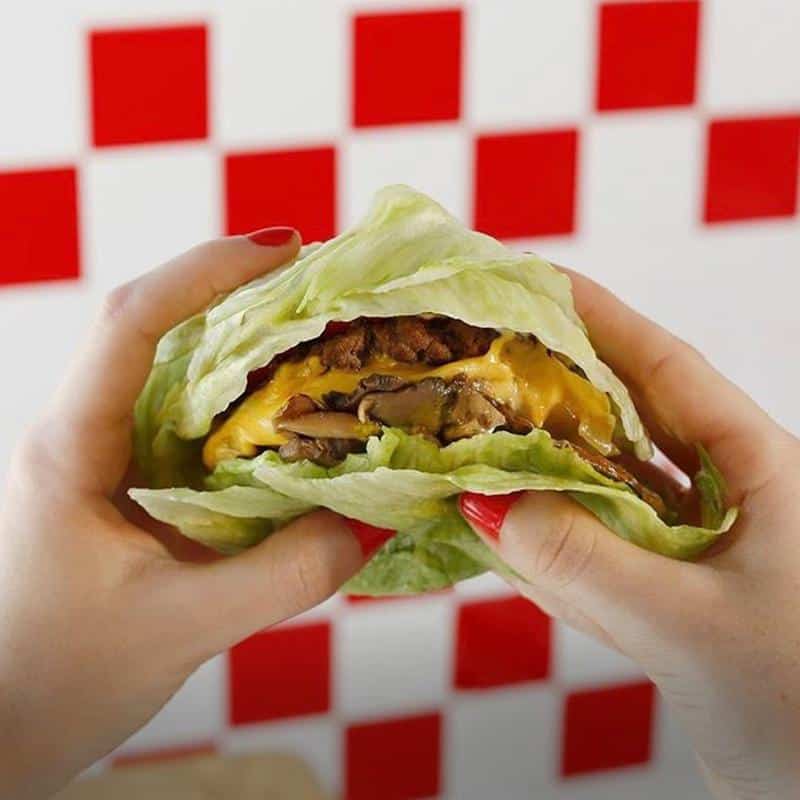 Who can turn down a cheeseburger patty topped with flavorful condiments and melted cheese? To me, it is the ultimate option for lunch or supper. Once again, Five Guys overdeliver this item by making it mostly gluten-free (except for the buns).
Besides stuffing your burgers with American-style melted cheese, Five Guys also allows for other options, such as smoked bacon. You can enjoy bunless cheeseburgers and bacon cheeseburgers to get rid of the gluten-related concerns.
Hot dog is another gluten-free item you can consume at Five Guys without its buns. It is an ideal choice for those with hectic schedules. There are four hot dog variations: traditional hot dog, cheese dog, bacon dog, and a mixed bacon cheese dog.
After removing the bun on a hot dog, you get to enjoy a perfectly grilled, all-meat frank enriched with all your preferred toppings. Each serving contains approximately 520-670 calories [1] and zero gluten!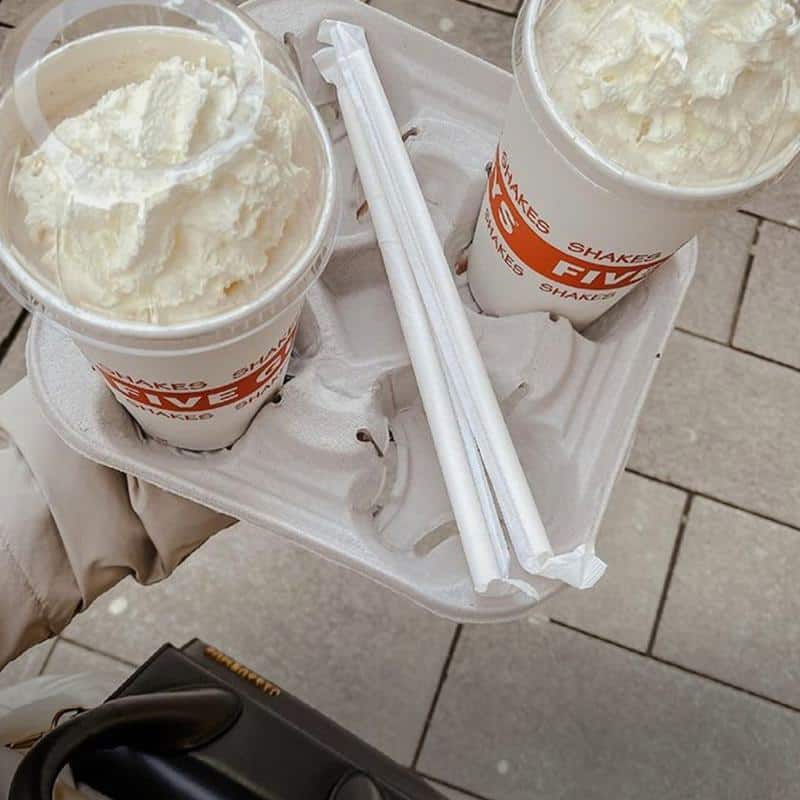 If Five Guys decides to switch its business away from American fast food, milkshake is the first item it should remove from the menu. Literally, this drink is a traditional emblem of American fast food.
Five Guys offers you eleven different mix-ins for its milkshake base with varying flavors:
Bacon
Strawberries
Chocolate
Malted milk (*)
Peanut butter
Vanilla
Bananas
Cherries
Coffee
Oreo cookies (*)
Salted caramel
Among those mix-ins, stay away from those with the asterisk sign (malted milk and Oreo cookies). While Five Guys have verified that malted milk contains gluten, Oreo cookies also have traces of gluten since it employs malted milk.
So, be cautious not to include those two mix-ins. Feel free to make your milkshake with all remaining gluten-free options. A Five Guys milkshake has 670 calories [1], and each mix-in contains an average of 50 calories.
What makes Five Guys the culinary paradise for gluten-free dieters is its tasty and gluten-free toppings! You will not have to drop any of your favorite dishes' toppings as all of them contains do not contain the substance.
Here is the updated list of all 15 Five Guys toppings you can browse:
Mayo
Pickles
Ketchup
Relish
Jalapeno peppers
Lettuce
Tomatoes
Onions
Grilled onions
Grilled mushrooms
Mustard
Green peppers
Bar-B-Que sauce
A1 sauce
Hot sauce
How Safe Is Five Guys For People With Gluten Allergy?
After going through all gluten-free options at Five Guys, I am confident that this fast-food chain is typically safe for people with gluten intolerance or Celiac disease.
The crew takes great care in changing their gloves and disinfecting the food preparation surfaces every time there is a gluten-free order comes. Five Guys also has separate fryers and grills to prevent cross-contamination in its kitchens.
In fact, there is a Youtuber who has used the Nima Sensor to detect gluten in Five Guys fares. The result revealed that all tested items are gluten-free.
Watch this video: A Nima Sensor test shows that Five Guys' offerings are gluten-free.

How Should You Order Gluten-Free Items At Five Guys?
Before placing your purchase, you should always specify your gluten intolerance with the servers and request "allergy prep". Here is how you do it:
Ask the staff to change gloves and disinfect their food preparation surfaces.
Request the staff to clean their hands before making your meal, especially if they have just handled buns.
Besides, it is important to go over Five Guys' nutritional information before you decide to dine there. This practice is crucial since the fast-food brand does not make any deliberate effort to highlight gluten-free dishes on its menu.
Also Read:
FAQs About Five Guys Gluten-Free Menu
This section covers top inquiries about the Five Guys gluten-free menu. You will gain additional information relating to the topic.
1. Does Cajun spices used in Cajun-style fries at Five Guys include gluten?
No, Five Guys employs gluten-free Cajun spices to ensure all Cajun-style fries are free from the substance.
2. Does Five Guys provide gluten-free dishes for children?
Currently, Five Guys does not have a gluten-free menu for kids. However, kids can enjoy any of the restaurant's gluten-free meals and drinks with their parents.
3. Can you get gluten-free desserts at Five Guys?
With the exception of milkshakes, the Five Guys' menu has no gluten-free desserts. Desserts are not signature dishes on the fast-food brand's menu.
4. Does Five Guys offer gluten-free breakfast dishes?
No, it doesn't. Currently, Five Guys do not provide breakfast-themed gluten-free options on its menu. Yet, the fast-food chain opens in time to provide gluten-free options for lunch and dinner.
5. Does dining at Five Guys pose a danger of gluten contamination?
Yes, gluten contamination is a real possibility when enjoying meals at Five Guys. However, Five Guys staff make wonderful efforts to avoid the risk once they handle gluten-free orders. Hence, make sure to inform them about your allergic condition!
6. Does Five Guys have gluten-free buns?
Unfortunately, Five Guys does not offer gluten-free buns for its burgers and hot dogs at the moment.
7. Does Five Guys offer the same menu on weekends?
Totally yes! You may order the same gluten-free dishes on the weekends, like on weekdays. At the moment, the restaurant does not have a weekend-specific menu beside the menu listed on its homepage.
Final Thoughts
In a nutshell, Five Guys is a reliable dining place for people with Celiac disease and gluten intolerance. The chain provides the finest gluten-free versions of fast food classics (hamburgers, fries, hot dogs, milkshakes) with minor tweaks.
From now on, you can happily sample Five Guys' brilliant selections to satisfy your fast food desires without worrying about your allergic conditions. Let's locate your nearest Five Guys and head out for the next gluten-free meal! Thank you for reading!