Annapolis is a thriving bayside town that sits in the heart of Chesapeake bay. It's a pristine little American city that warrants more praise than it gets and not just for its incredibly rich history as a port-town. No, Annapolis has delved into the seafood industry headfirst and come out victorious, hosting some of the greatest seafood establishments in America.
They're a hub for great oysters and even source sustainably to keep them on your plates for the foreseeable future. It's a place for fun and liveliness, enjoying sunset dinners along the bay and creeks surrounding it.
Let's sail right into it!
Our Top Picks
Best atmosphere: Carrol's Creek Cafe
Best menu: Sailor Oyster Bar
Best value for money: Pusser's Caribbean Grill
Best waterfront venue: Severn Inn
The Best Seafood Restaurants in Annapolis
Carrol's Creek Cafe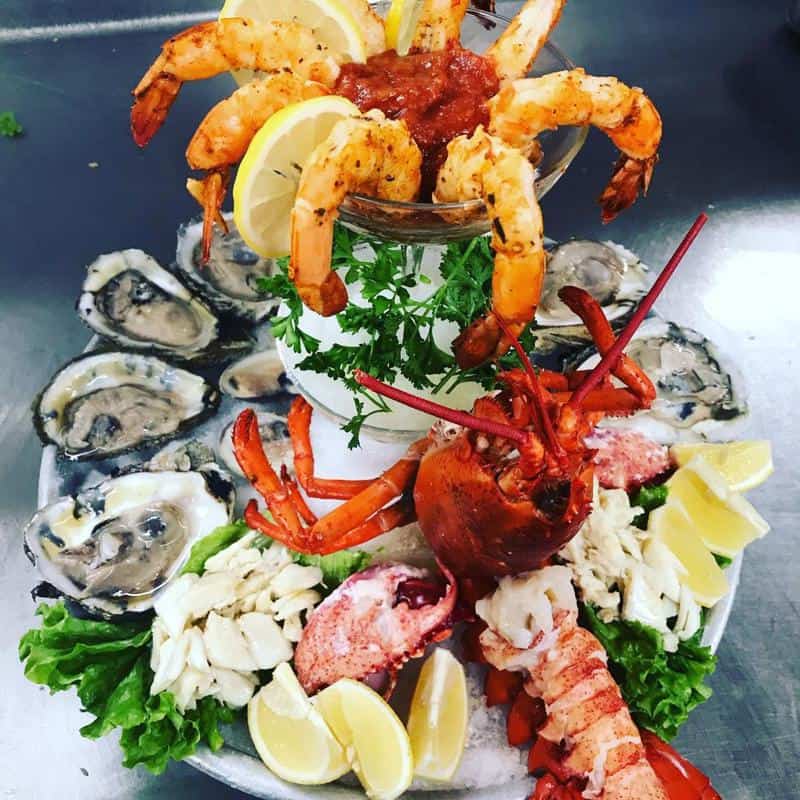 Location: 410 Severn Ave, Annapolis, MD 21403
Hours: 11:30 am to 8:00 pm, 11:30 am to 9:00 pm (Friday and Saturday)
Price: $$$
If you enjoy waterfront dining, Carrol's Creek Cafe is the perfect little spot. Nestled along the pristine waters of Spa Creek, Chesapeake Bay, it's an elegant dining environment that has been a hit amongst the locals for years.
They serve a thoroughfare of deeply American food rich in flavor and perfectly accentuate the location. They use fresh and locally caught ingredients to create their masterpieces. In addition, they have a finer American-dining approach to their meals. Their seafood options include salmon fillets, crab cakes, shrimp, and more. Their Jumbo Lump Crab Cake sandwich is a particular favorite on their menu!
They let their surroundings do the work for them, and the gorgeous views and scenery definitely can't be contested. They're a fine-dining establishment rich in history and tradition that is worth every penny to visit.
Sailor Oyster Bar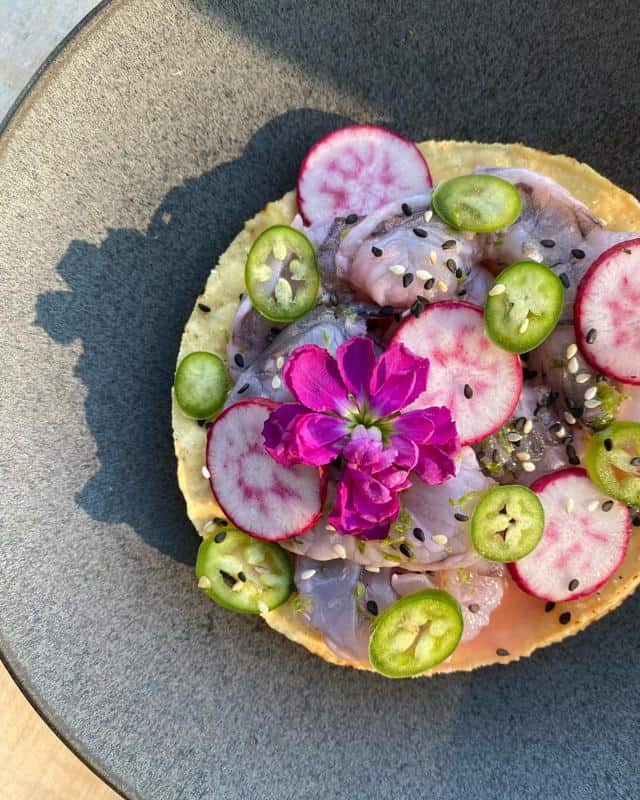 Location: 196 West St #2824, Annapolis, MD 21401
Hours: 4:00 pm to 12:00 am, Closed Mondays
Price: $$
Sailor Oyster Bar is a contemporary restaurant that's become a thriving part of Annapolis dining in the last few years. Although they are highly rated and featured in high ranks amongst journals and magazines, they uphold their hard-earned titles.
Their passionate and innovative chefs have devised some of the most appealing to the senses meals and continue working hard at creating more. First, you must try their Sammys, which feature oyster and lobster, and don't you dare overlook their Crudo. It's artistry on a plate and meals that taste amazing and look so good you'll feel guilty for tucking in.
They may be a small venue, but they pack a punch in their meals and the environment as a whole. They're passionate about their industry and make every diner feel like part of the family.
Pusser's Caribbean Grill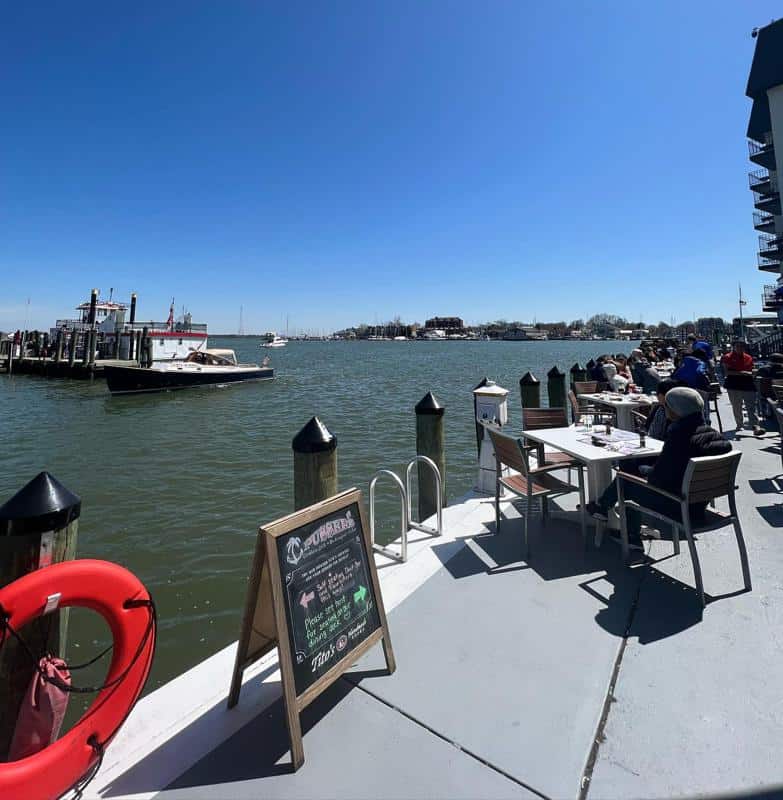 Location: 80 Compromise St, Annapolis, MD 21401
Hours: 7:30 am to 10:00 pm, 8:00 am to 11:00 pm (Saturday and Sunday)
Price: $$
Pusser's takes classic seafood to another level with its Caribbean flair and flavor. Using various techniques and ingredients, they have created a name for themselves in Annapolis as one of the best seafood restaurants you can try.
Their crown jewel, Surf, and Turf, is indulgent, beautifully prepared, and melts in your mouth. It combines the best of both worlds of land and sea into one delectable dish that's got its patrons hooked. That's not all. Oh no, their menu hosts a variety of other fresh-caught foods from oysters to grouper.
They're situated right on the bay and have exquisite views of the water. They're a casual dining restaurant and are excellent for families to go sit and enjoy those Chesapeake Bay Days.
Severn Inn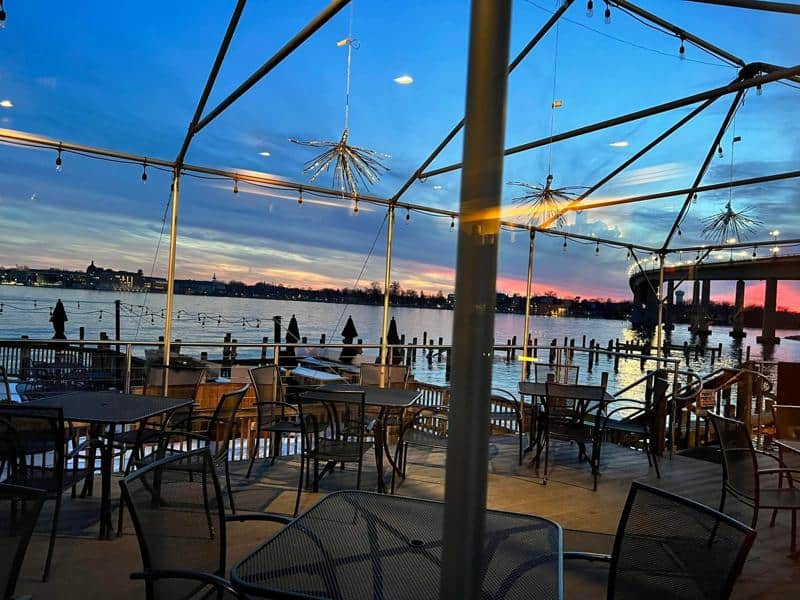 Location: 1993 Baltimore Annapolis Blvd, Annapolis, MD 21409
Hours: Closed Monday and Tuesday, 12:00 pm to 8:00 pm, 10:00 am to 8:00 pm (Sunday)
Price: $$$
Severn Inn is a perfect waterfront restaurant that bodes well for the most spectacular sunset dinners. Their social media definitely puts it in perspective. They're a long-time favorite seafood spot amongst Annapolis locals and tourists alike, rich in both history and passion.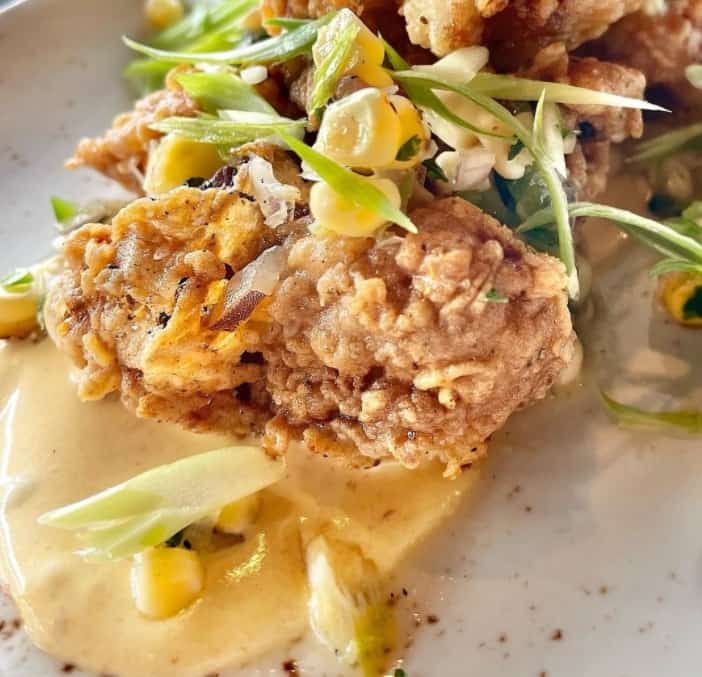 They serve up incredible meals, some of which vary from the usual seafood you'll find in Maryland. Their entrees feature varieties of fish, including swordfish, all flavored and cooked to accentuate their delightful taste. Their appetizers boast lobster and oyster, to name a few, sprinkled among other options that range from vegetarian to carnivorous. Their food is a delight and worth every penny you spend here.
The venue is expansive and allows for large gatherings, which is perfect because you'll want to bring all your friends here to enjoy the scenery!
Cantler's Riverside Inn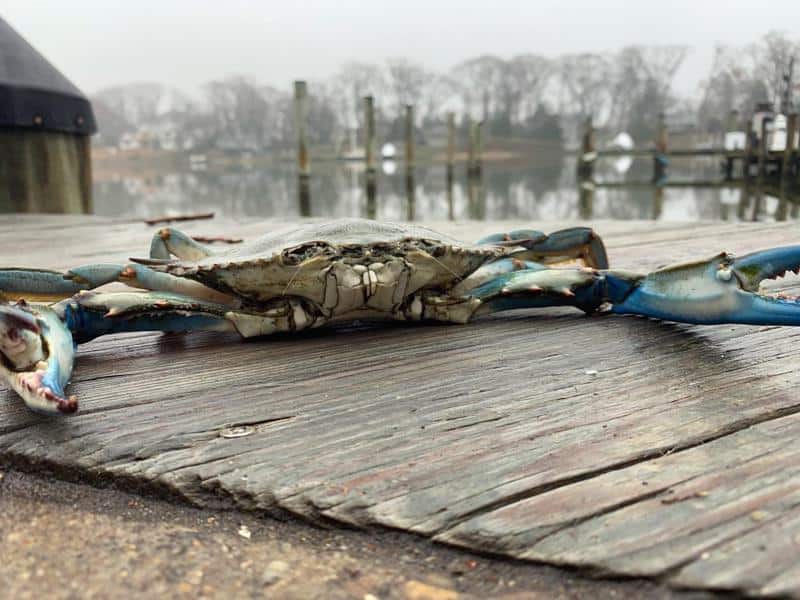 Location: 458 Forest Beach Rd, Annapolis, MD 21409
Hours: 11:00 am to 10:00 pm,11:00 am to 11:00 pm (Friday and Saturday)
Price: $$
Cantler's is a waterfront restaurant with character that has made itself a part of Annapolis history for nearly 50 years. They're family-owned and run and base their entire principle on being a good family environment.
They serve some of the freshest seafood, thoroughly inspected before being prepared and shared with its diners. They are famed for their crab, which comes in many forms, from cakes and sandwiches to shelled. They have generous platters where you can get a pick of the ocean and try everything great about Cantler's seafood.
With a spectacular view of Mills Creek off the Chesapeake Bay, it's a casual dining environment with a natural atmosphere that grabs the hearts of many of its patrons. So sit back, and enjoy seafood amongst the marvelous fresh air. There's nothing better in Annapolis than that.
O'Brien's Oyster Bar & Seafood Tavern
Location: 113 Main St, Annapolis, MD 21401
Hours: 11:00 am to 12:00 am, 11:00 am to 2:00 am (Friday), 8:30 am to 2:00 am (Saturday) Closes at 12:am Sunday
Price: $$$
O'Brien's Oyster Bar & Seafood Tavern has a rich history, occupying a building that's been a source of Annapolis gatherings for centuries. While O'Briein's was only established in the 70s, restaurants, and bars, have been in the same spot since the 1700s. It's a pinnacle point in Annapolis and even has the ghosts to show for it.
They pride themselves on their oysters, hosting a 99c oyster particular Monday to Thursday and having them as a menu item daily. They're passionate about food and express it perfectly in their scores of delicious meals that vary from brunch to dinner. They serve crab cakes, stuffed rockfish, and lobster tails. If you're feeling for something hearty, they have sandwiches and pasta made from delicious seafood too!
The building has been relatively unchanged over the centuries. It's rustic, adding a fantastic aura to any dining experience. O'Brien's is a pinnacle point for gathering, whether with family or friends.
Latitude 38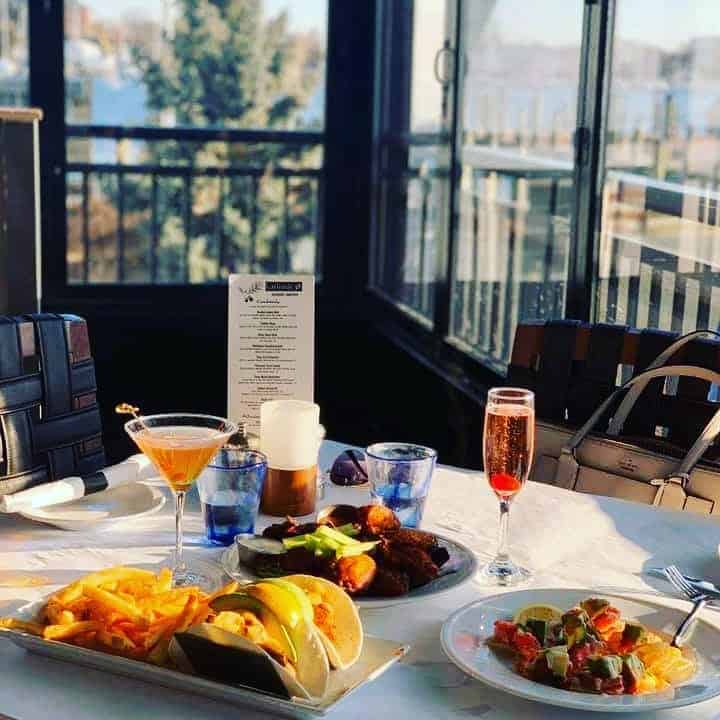 Location: 12 Dock St, Annapolis, MD 21401
Hours: Closed Monday and Tuesday, 12:00 pm to 9:00 pm (Closes 10:00 pm Friday and Saturday), 10:00 am to 9:00 pm Sunday
Price: $$
Latitude 38 is a gorgeously situated waterfront restaurant. It's a beautiful tribute to Annapolis hospitality overlooking the bay with ample seating both indoors and outdoors to enjoy the view. While they might not share the same history as other restaurants, they've made up for it with character and enthusiasm.
Their menu is a jumble of great cuisine. From seafood to steaks, there are options for everyone! But, of course, their seafood sits in prime popularity. It's locally sourced, delicious, and just too good to pass over. They serve a menagerie of meals ranging from oyster, seafood tacos, and mains that include a shrimp jambalaya that'll have your mouth watering.
They're a quirky spot, decorated head to toe to make sure you have an experience unlike any other. It's a friendly and welcoming environment that's great for all occasions or even just a quick lunch.
Mason's Famous Lobster Rolls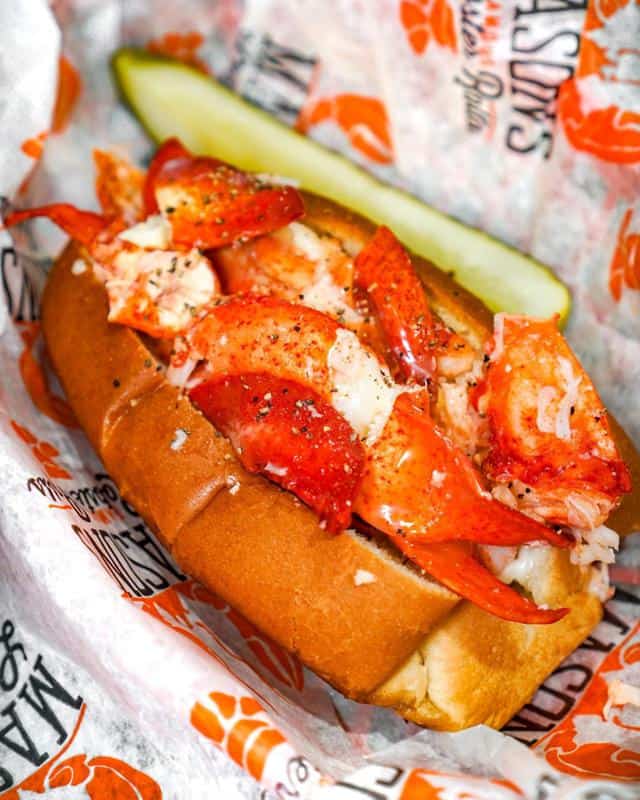 Location: 188 Main St, Annapolis, MD 21403
Hours: 11:00 am to 9:00 pm
Price: $$
Mason's Famous Lobster Rolls is just that, famous. They're a small but powerful little seafood restaurant that prides itself in serving sustainably sourced lobster to the eager masses. They've expanded a lot, and Annapolis was lucky enough to have its own branch opened.
They serve some of the most beloved Lobster rolls to be found across the American seaboard, fresh and packed full of flavor. Mason's has taken the art of a simple meal and made it into something incredible. They serve hearty bisques, chowders, and stunning combos of seafood rolls that'll make you crave them more than fast food.
You may be disappointed if you're looking for dine-in, but if you don't mind counter-served and ready to go, you'll love Mason's. It encourages you to grab and go to your favorite spot to chow down on a crispy toasted, lobster-filled roll.
Read More: 10 Best Seafood Restaurants in Maryland
O'Leary's Seafood Restaurant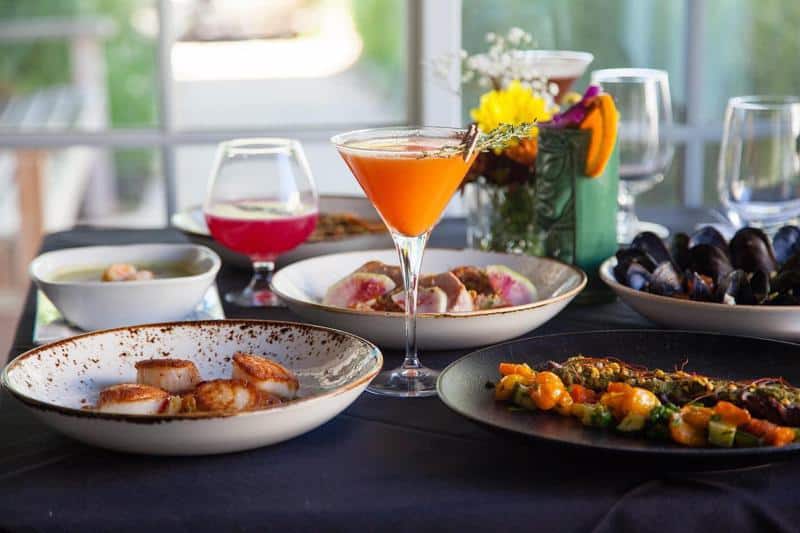 Location: 310 Third St, Annapolis, MD 21403
Hours: Closed Monday and Tuesday, 5:00 pm to 9:00 pm (Closes 10:00 pm Friday and Saturday)
Price: $$
O'Leary's has been a source of quirky entertainment in Annapolis for years. Locals have grown comfortable with the character it brings to the bay as well as the quality food and experience. They're an interesting and not-so-typical little seafood spot.
Their menu is packed with delicious meals cooked to perfection to enhance flavors and ensnare the senses. They serve oysters, crab, fish, and shrimp, in modern and traditional styles using fresh ingredients. Their lobster in all forms is a hit amongst their diners, but some noteworthy dishes to try would also be their Diver's scallops and Cioppino.
They're eccentric, with abstract, colorful artwork adorning their dining hall. There's limited seating, and it may not be the best for large gatherings. Still, smaller, more intimate casual get-togethers are always a hit here.
Boatyard Bar & Grill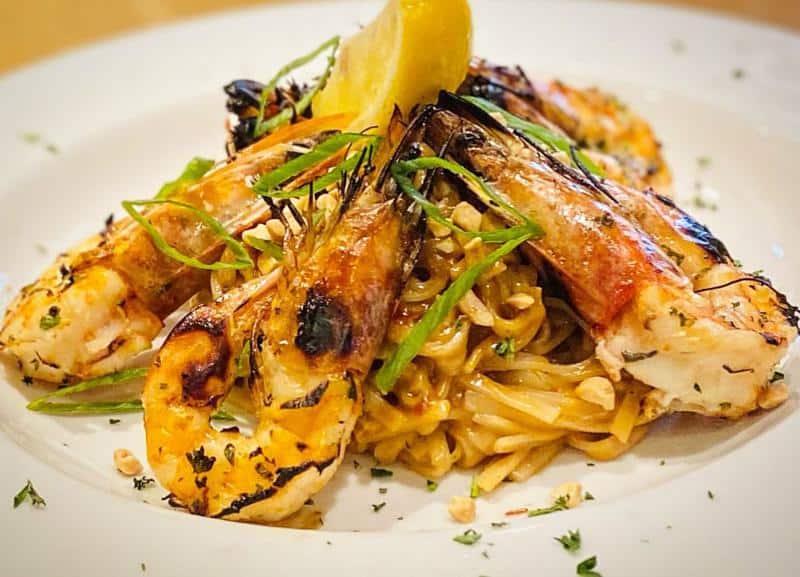 Location: 400 Fourth St, Annapolis, MD 21403
Hours: 11:00 am to 12:00 am (Opens 10:00 am on Saturdays and 9:00 am Sundays)
Price: $$
Boatyard Bar & Grill is an elegant and picturesque little restaurant that has captured the hearts of Annapolis locals. While they lack the view of the bay that sets the others apart, they make up for it by creating a beautiful dining experience that's bound to have you addicted.
Their menu hosts some of the most intricate and delicious seafood items you can find. They're ever-changing, which means you won't always have the same options and will always be able to find something new to tuck into. One thing remains the same, though, their meals are incredible. From oysters to tuna and everything in between, Boatyard has built a legacy for itself that'll be hard to shake.
The venue is large, airy, beautifully decorated, and rustic, with ample space for occasional outdoor venues. In addition, they are happy to celebrate special events and host entertainment!
Cafe Normandie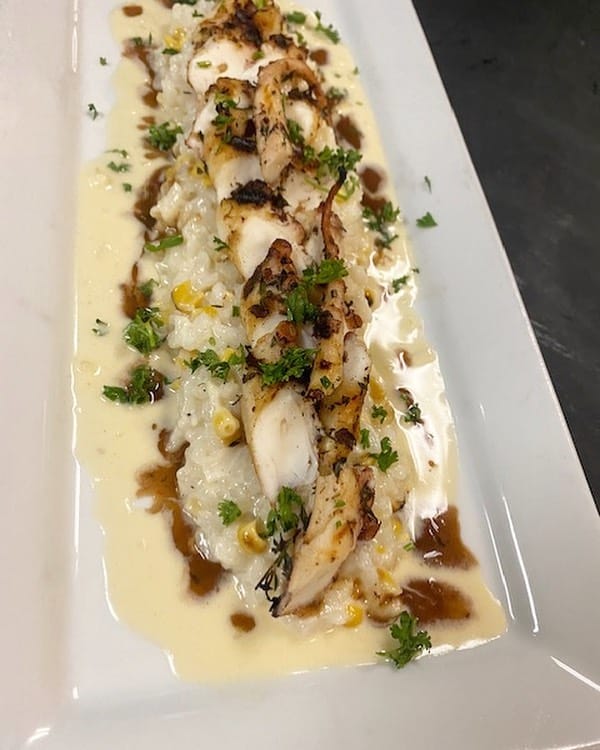 Location: 185 Main St, Annapolis, MD 21401
Hours: 11:00 am–3:00 pm (Lunch), 5:00 pm –10:00 pm (Dinner), Closed Tuesday
Price: $$
Cafe Normandie is a romantic french-style restaurant that has been a part of the Annapolis scene for over 30 years. They have an exquisite, award-winning chef at the helm, Jean-Louis. He's made food his passion for life and uses every ounce of his skills to bring incredible food to Cafe Normandie fans.
There are plenty of things to try from here with daily specials, lunch, and a dinner menu. Each dish is tenderly cooked with some French flair to make each delicious mouthful heavenly. Their seafood entrees are absolutely to die for, with the Trout Almondine being a favorite in the last few years for many a critic. You can also find a selection of mussels, shrimp, and oysters if shelled fish is more to your taste.
Some may see it as being a little out-of-date in terms of decor, but they have so much charisma, and it shows through their enthusiastic staff and beautiful food. Of course, it's quaint and doesn't bode well for big crowds, but if you're looking for show-stopping intimacy, Cafe Normandie is the place.
Harry Browne's Restaurant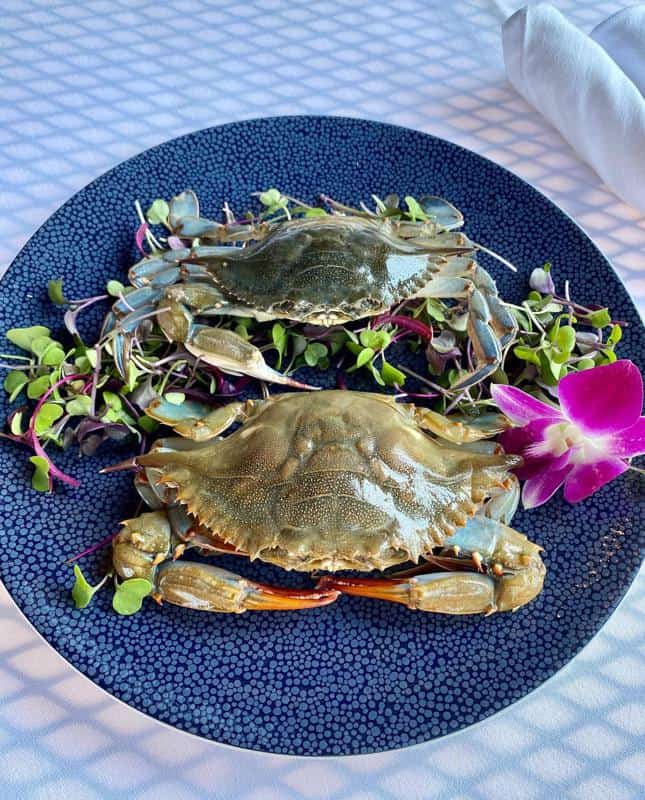 Location: 66 State Cir, Annapolis, MD 21401
Hours: 11:00 am to 9:00 pm (Closes 10:00 pm Friday and Saturday), 10:30 am to 8:00 pm (Sundays)
Price: $$$
Harry Browne's is a fine-dining restaurant that serves award-winning food. With over 40 years of dedicated hospitality to the Annapolis community, they've created an air of fame to their food that definitely deserves the titles it has been given.
While they're not exclusively seafood, they serve enough seafood to have it steering their patrons to likening it to a seafood restaurant. Serving calamari appetizers, oyster lunches, and any combination in between, they have perfected the art of excellent food. Of course, it's quality, too, with most locally and sustainably sourced ingredients!
They do pride themselves on that upmarket feel, so it feels like any occasion here requires you to bring out your finest pearls and ties. It isn't remotely worth any less effort than that. When you come to Harry Browne's, you're here for class and fine-dining.
Also Read:
Conclusion
Annapolis is a historically rich town that knows how to use the lay of the land to its advantage. They're ideally situated, with a beautiful town that transports you somewhere else. There's nowhere better to find some of the freshest seafood America offers.