The up-and-coming neighborhood of Short North is filled with shops, restaurants, and entertainment options.
The trendy and lively vibes of the area attract locals and visitors to try out delicious spots for a casual dining or fine dining affair.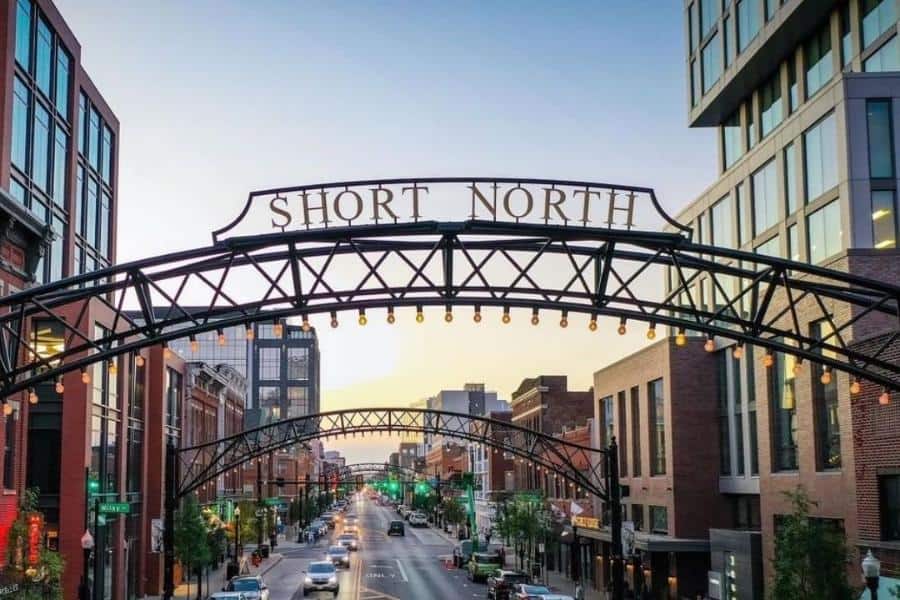 If you are in the neighborhood and looking for good places to eat, check our list of the best restaurants in Short North with mouthwatering goodness offering a bang for your buck!
Best Overall Restaurant: Arch City Tavern
Best Family-Friendly Restaurant: The Guild House
Best Rooftop Restaurant: Lincoln Social Rooftop
Best Short North Restaurants
Arch City Tavern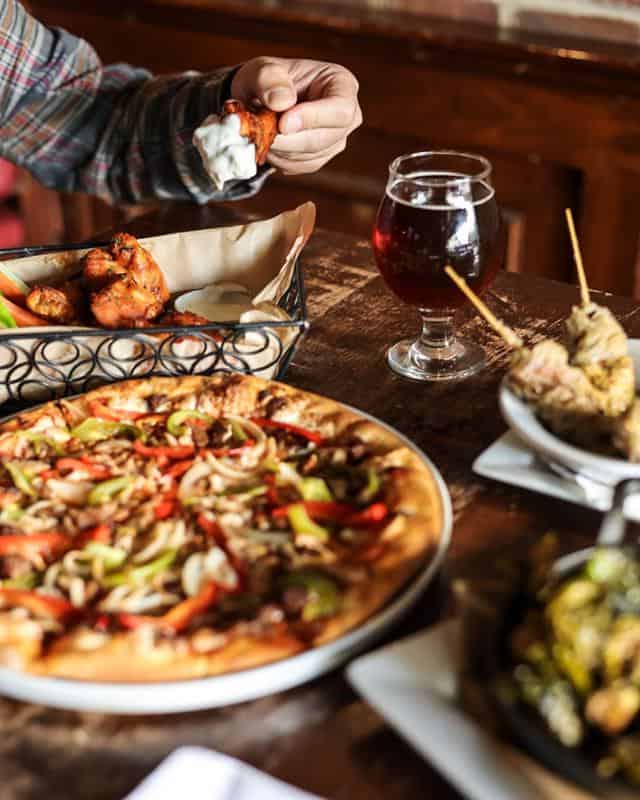 Address: 862 N High St, Columbus, OH 43215
Known for: Delightful American cuisines, weekend dinner specials, signature cocktails, and weekend brunch
Arch City Tavern is a lively gastropub with rustic interiors and a huge selection of premium craft beers, signature cocktails, and scrumptious gourmet food. The restaurant is an OpenTable Diner's Choice 2022's top-rated and award-winning establishment.
Classic gastropub feasts await your welcome amid comforting and homely wooden accents and exposed brick walls. The weekend dinner specials change every week but the standard food menu is consistent and includes a lot of popular dishes like Lamb Sliders, Stone-Baked Pizzas, Bratwurst Corn Dogs with Spicy Brown Mustard, and a variety of Tavern Sandwiches.
Stop by for weekend brunch with boozy delights like House Mimosa and House Bloody Mary. The brunch menu features classic American breakfast dishes like Shrimp and Grits, Salmon Benedict, Stuffed Burrito, and Huevos Rancheros.
The Guild House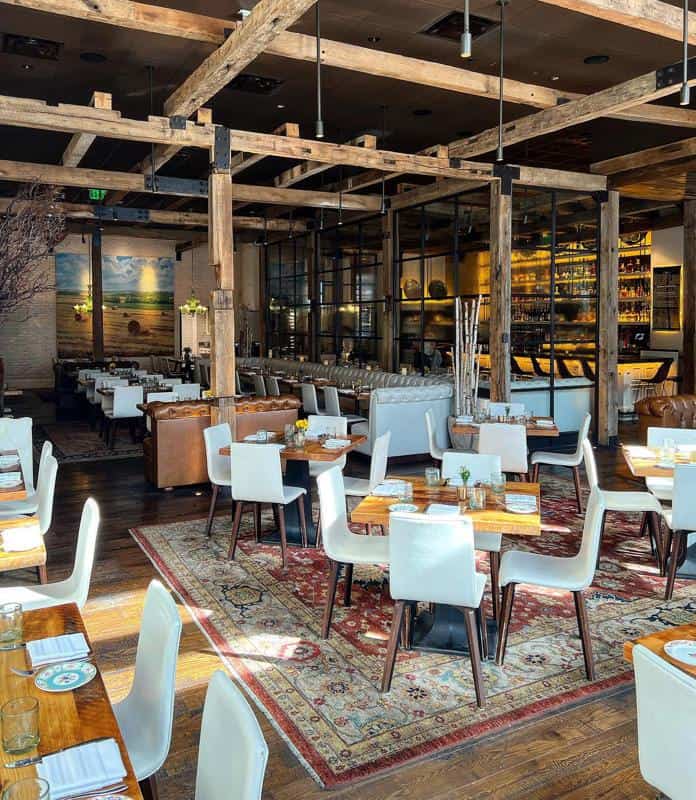 Address: 624 N High St, Columbus, OH 43215
Known for: Beautiful family-friendly atmosphere with a vintage layout and traditional American dishes
Have an intimate and stately dinner at The Guild House filled with rustic-modern accents and a tasty globally-inspired menu. The artisan eatery has a breathtaking vintage setting in its dining area with a relaxed family-friendly ambiance.
The restaurant serves traditional American cuisine for breakfast, lunch, and dinner. The dishes are made from locally-sourced ingredients and have seasonal delights on the menu along with an extensive list of wine, spirits, and fresh-squeezed juices.
The dinner menu has mouthwatering seafood dishes, steaks, pasta, and seasonal vegetables. Try the juicy Lamb Burger with feta, roasted red pepper, arugula, and pickled shallots, or Ricotta Gnocchi made with fava beans, roasted baby carrots, and forest mushrooms.
The restaurant is also open for happy hour and weekend brunch.
Lincoln Social Rooftop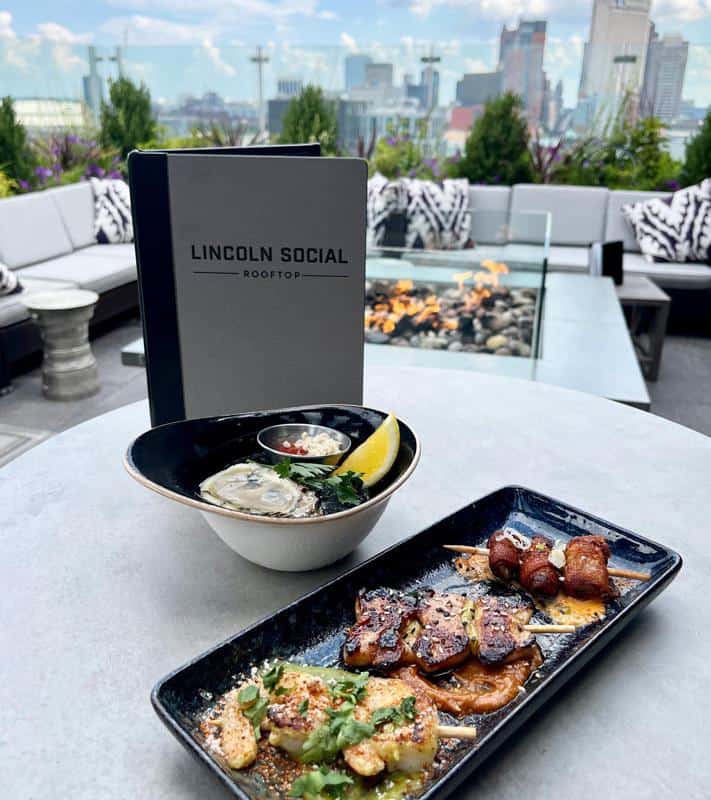 Address: 711 N High St, Columbus, OH 43215
Known for: Refreshing lounge-style setup with skyline views, casual dining, and cocktails
The upscale and swanky Lincoln Social Rooftop is a breezy and beautiful restaurant offering casual dining options with an extensive list of cocktails. Sitting atop the Lincoln building, the restaurant offers spectacular views of the Columbus skyline.
Featuring a lounge-style setup with firepits and a retractable roof, the restaurant is sure to light up your nights with the best views and amazing food. Enjoy your favorite drinks with Oysters on the Half Shell or Jumbo Shrimp Cocktail.
The menu also includes a variety of sushi including Spicy Tuna, Yuzu Crab, and Dynamite Rolls. Try something from the Stix or shareable delights like Pizzas, Chips and Dips, Prime Sliders, and Barbacoa Tacos.
Bakersfield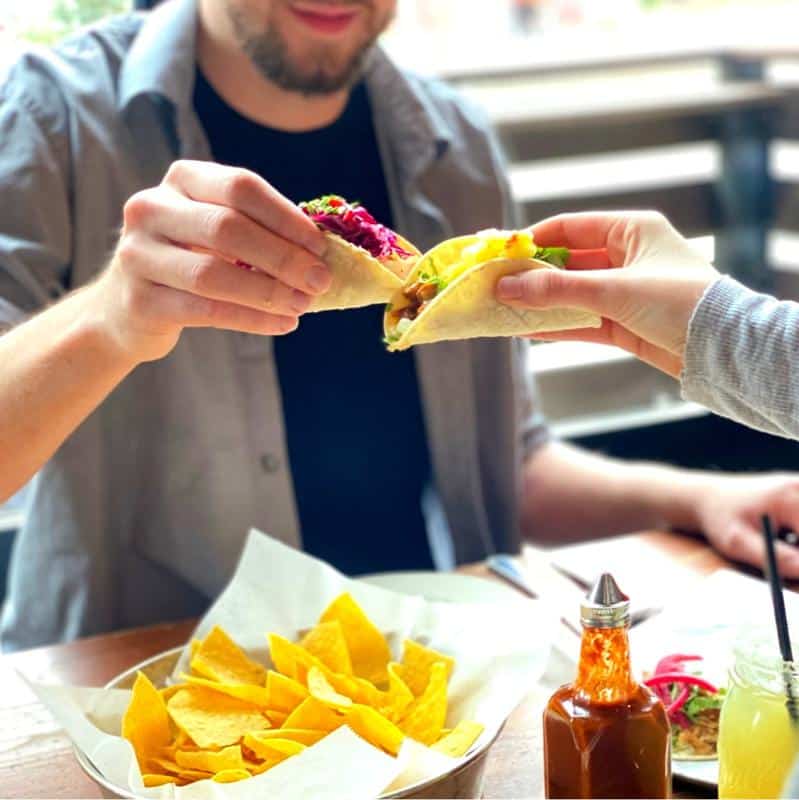 Address: 733 N High St, Columbus, OH 43215
Known for: Margarita-infused atmosphere with classic Tex-Mex delights
Get a taste of scrumptious Mexican fare at Bakersfield. Famous for its delicious and overly stuffed tacos and tequila, the friendly restaurant offers a full Tex-Mex menu with happy hour specials.
The warm and welcoming environment is ideal for catching up with friends or having a laid-back time with the family. The menu is loaded with traditional delights like Chips and Salsa/Guacamole, Short Rib Queso, Carnitas Taquitos, a huge variety of Tacos, and shareable sides.
For large parties, we recommend the 'Selecciones De La Casa' which is a multi-course experience including a wide variety of Mexican delights. Don't forget to get your favorite cocktails and margaritas like the Mai Thai Margarita or Sangria Rojo.
Marcella's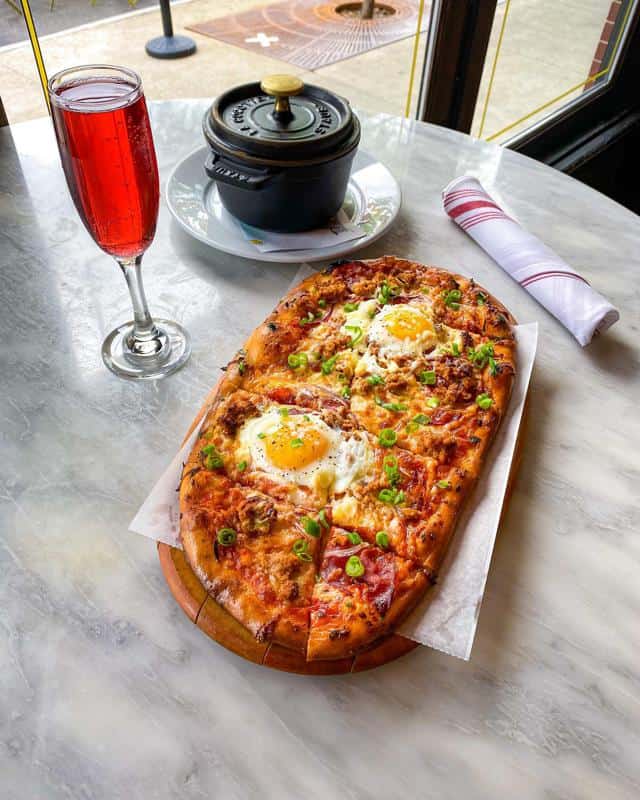 Address: 615 N High St, Columbus, OH 43215
Known for: Delectable variety of standard Italian delights including Pizza and Pasta, Sunday brunch, and cocktails
Marcella's is an upbeat and vivacious group-friendly restaurant serving delicious Italian dishes like pizza and pasta. The cozy and intimate ambiance offers a casual dining experience with family-friendly service.
The dinner menu is loaded with AntiPasti, Cured Meats, Pizza Favorites, Hand-made Pasta, Imported Pasta, and several other Specialties. Gluten-free pasta is also available on request, and the Creste Arrabiata and Gnocchi Con Bolognese taste heavenly with beautifully flavored braised lamb and parmesan reggiano.
Their Sunday brunch is well-loved and also features a standard Italian menu with treats like Breakfast Sicilian Pizza. The restaurant has an extensive list of wines, cocktails, and beers.
Forno Kitchen + Bar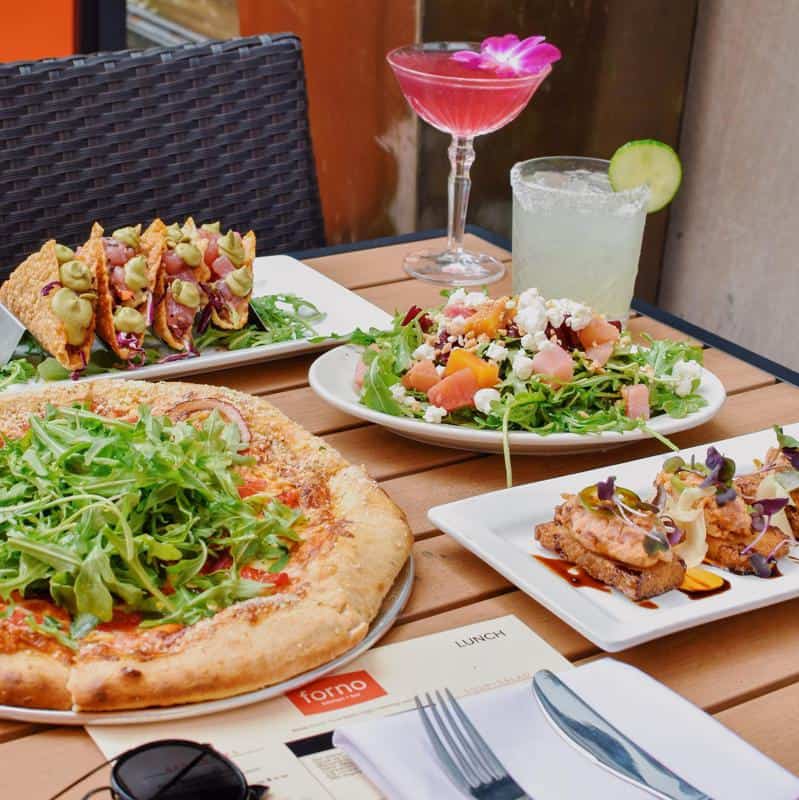 Address: 721 N High St, Columbus, OH 43215
Known for: Contemporary layout with custom stone-fire oven, happy hour, and pizzas
Tucked in the heart of the Arts District, Forno Kitchen + Bar has a welcoming atmosphere with swanky interiors and contemporary cuisine. The restaurant offers front-row views of its custom stone-fire oven along with the exciting high street happenings.
The happy hour is quite famous and offers hand-crafted drinks, Ohio drafts, wine by the glass, signature pizzas, and shareable delights to go with it. They also have an extensive brunch and dinner menu.
The pizzas are made with fresh dough every day and topped with imported San Marzano tomatoes for an authentic Italian flavor. If you are not in the mood for pizza, try the tasty Forno Burger, Ohio Raised Chicken, Petit Filet, or a hearty Seafood Pasta.
The Eagle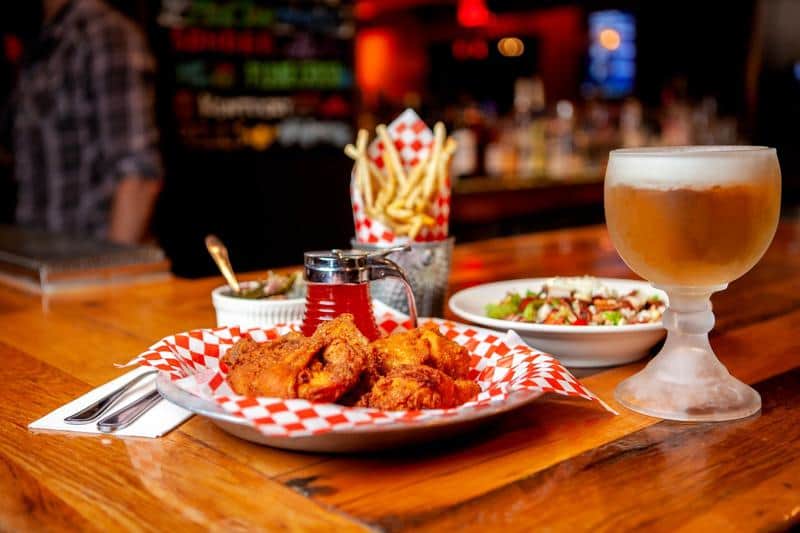 Address: 790 N High St, Columbus, OH 43215
Known for: Southern fried chicken, classic southern sides, and local beer
Have a jolly time at The Eagle with fried chicken and beers in a friendly and laid-back atmosphere. House-brined and dredged Fried Chicken awaits your welcome with classic Southern hospitality and specialty cocktails.
The unpretentious and comfortable ambiance makes it a great spot to stop by for lunch or have a casual hang out with friends. The chicken used here is free-range and all-natural.
The down-home favorite fried chicken is accompanied by traditional sides like a warm bowl of Mac and Cheese, coleslaw, or fries. They also have a range of sandwiches and a wide list of local craft beers.
Hubbard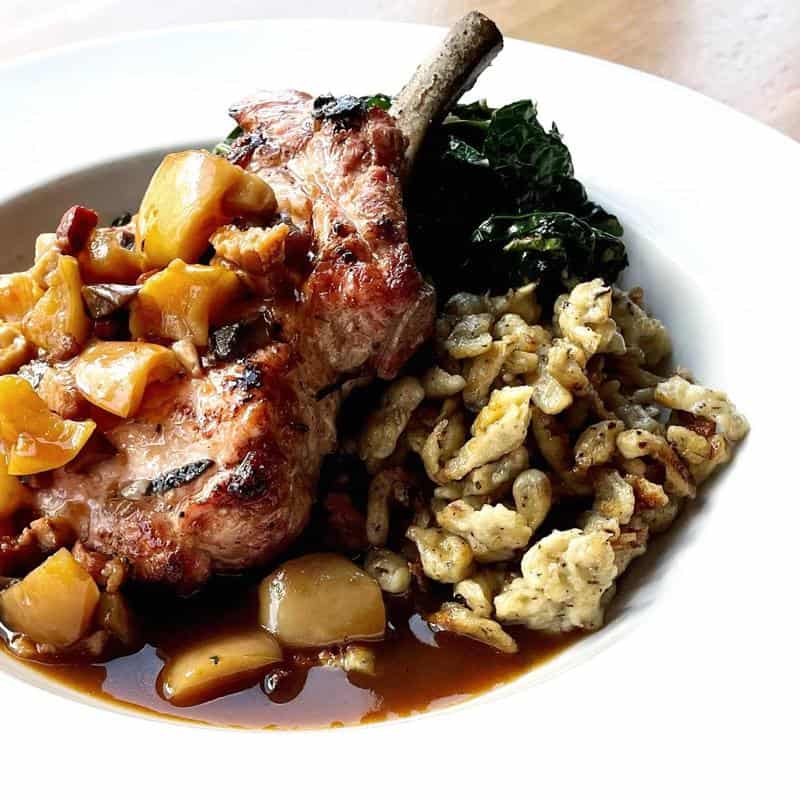 Address: 793 N High St, Columbus, OH 43215
Known for: Rustic locally-owned restaurant with modern American cuisine and happy hour on weekdays
The quaint and rustic Hubbard is a locally-owned restaurant with contemporary American cuisine and weekly specials. Located in the heart of the Short North Arts District, the place has a lot of local charm and friendly service.
The restaurant boasts a social environment with casual dining and a vintage twenty-foot Hubbard Grille sign accent. They also have a weekday $5 happy hour special with all draft beers, sangria, house wine, and specialty cocktails on the bar and patio.
We highly recommend their meaty entrée delights including the mighty Hubbard Burger with bacon jam, Gouda, and avocado puree on a toasted sesame brioche bun. The House Cut Pork Chops and Filet Mignon are also great choices with whipped Yukon gold potatoes and seasonal vegetables.
Del Mar SoCal Kitchen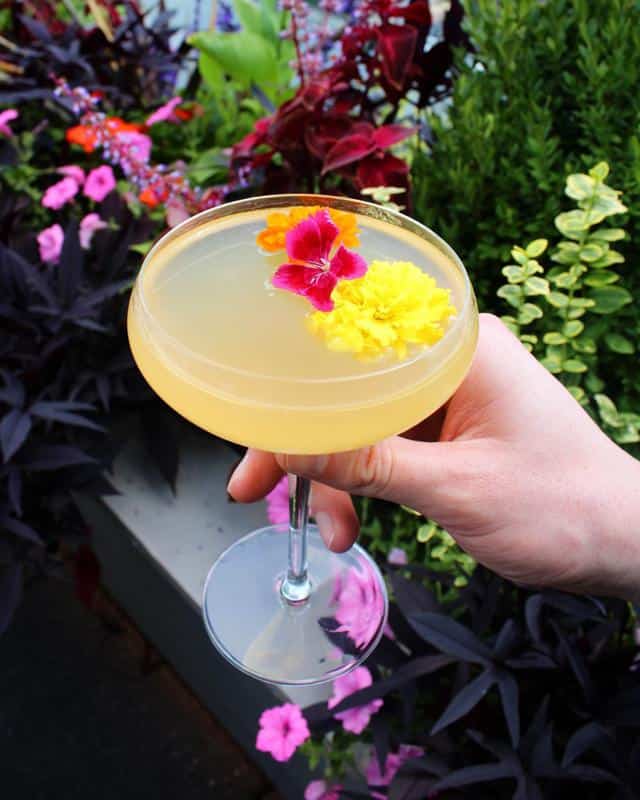 Address: 705 N High St 1st Floor, Columbus, OH 43215
Known for: Creative and innovative cocktails with traditional American cuisine and fresh seafood variety
Famous for its delicately presented creative cocktails, Del Mar SoCal Kitchen is a rustic spot with Southern California-inspired fare. Tucked in the heart of Columbus, visitors get to relish the freshest fare from the garden, farm, and sea.
The restaurant has happy hour specials every day of the week as well as brunch on the weekends. From the dinner menu, the seafood dishes are quite popular and include Curry Mussels, Shrimp Bisque, Jumbo Shrimp Cocktail, Shrimp Ceviche, Colossal Crab, Oysters on the Half Shell, Halibut, Swordfish, Salmon, and much more!
They serve a variety of specialty cocktails, and the one that stands out the most is 'Instafamous' made with espolon reposado, Aperol, illegal mescal, dry curacao, and ruby red grapefruit. They also serve draughts, wine by the bottle and by the glass, and several other innovative cocktails.
The Rossi Kitchen and Bar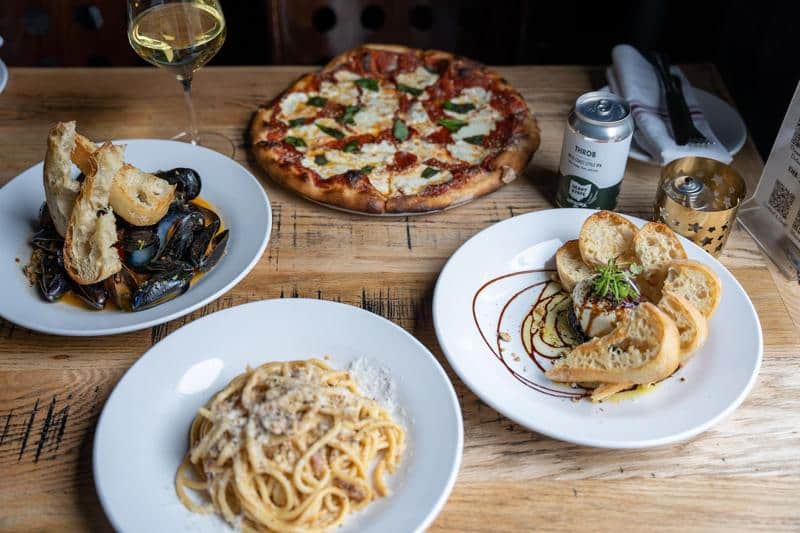 Address: 895 N High St, Columbus, OH 43215
Known for: A variety of hand-tossed pizza and pasta with wine, cocktails, and happy hour specials
The hip and swanky The Rossi Kitchen and Bar has a classic supper club setting and serves casual American fare. Located in a historic venue in Short North Arts District, the energetic yet comfortable restaurant has a great atmosphere for a family dinner.
The dinner menu is loaded with pizza and pasta varieties with the Margherita and Ohio Pepperoni the best house-made and hand-tossed pizzas on the list. Pasta includes all the classic options along with Hanger Steak, Short-Rib Ragu, and Burger.
The wine and cocktail list is extensive and the restaurant also runs happy hour specials. The weekend brunch has Countdown Mimosas, Bloody Rossi, and French 895 along with small plates.
Brassica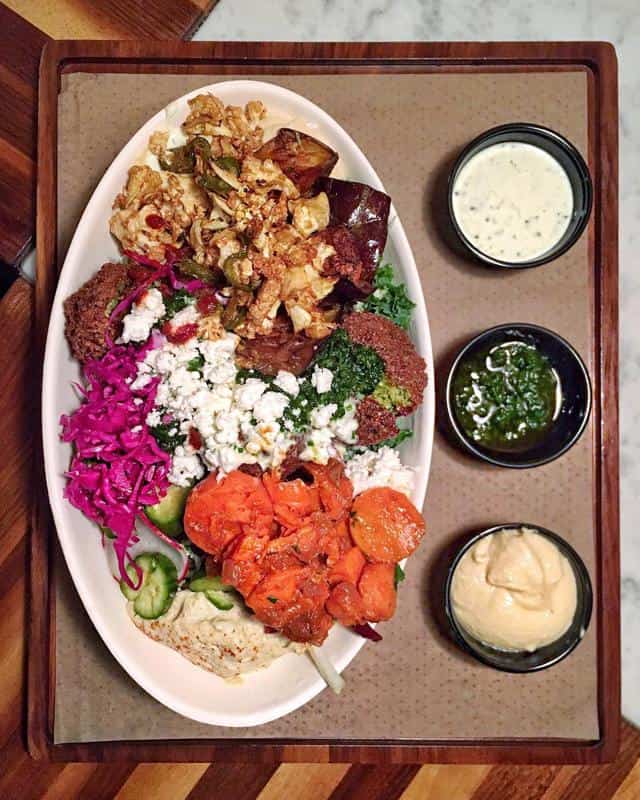 Address: 680 N High St, Columbus, OH 43215
Known for: Traditional Mediterranean dishes prepared with organic and locally-sourced ingredients
The bright and airy Brassica is a modern Mediterranean restaurant with made-from-scratch meals and beer on tap. Incorporating a lot of locally-sourced vegetables in the menu, Brassica is an ode to a family of vegetables with fresh and delicious flavors.
The dishes are made with organic ingredients and include options for people with dietary restrictions. They also use artisan tahini, whole wheat pita, nutritious chickpeas, and antibiotic-free meats.
Try an organic pita sandwich with a choice of your filling, or load up on Falafel and Briskets with a side of Hummus in extra virgin olive oil. The custom-made platters are a big hit and include a lot of choices of mains and sides with special Brassica sauce and fresh vegetables.
The Pearl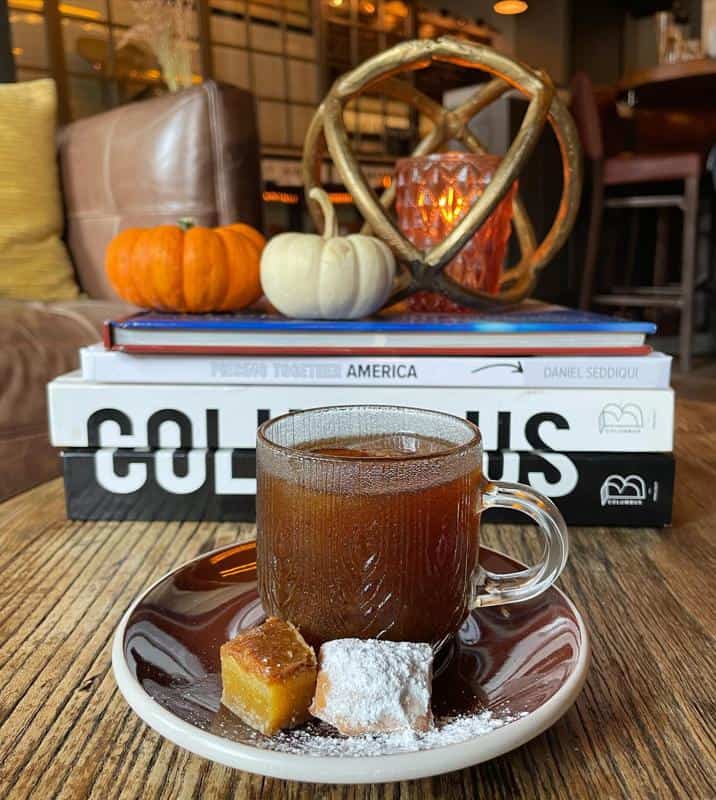 Address: 641 N High St, Columbus, OH 43215
Known for: Dim-lit rustic interiors with a romantic ambiance and elevated American cuisine
Just as its name suggests, The Pearl shines bright in the heart of Columbus with a refined setting and an elevated fine dining option. The restaurant serves a huge variety of made-from-scratch classic American dishes with globally-influenced flavors.
The cozy tavern setup makes you feel right at home with an intimate and romantic ambiance owing to its rustic interiors and dim-lit setting. The leather seats, wooden accents, and lamps at every corner further add to its romantic feel.
Enjoy your favorite wine with The Pearl's Charcuterie Board loaded with artisan cheeses and cured meats. The cold and hot oysters also go well with the bar drinks, and the delectable seafood entrees and Southern Fried Chicken make for an excellent dinner.
Hyde Park Prime Steakhouse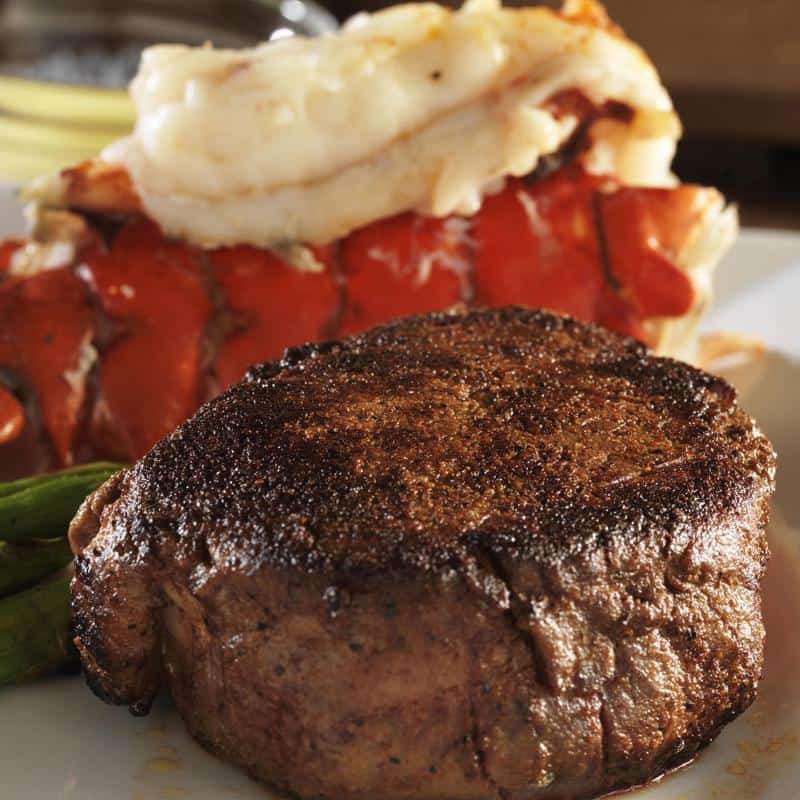 Address: 569 N High St, Columbus, OH 43215
Known for: Swanky steakhouse with delicious steak and seafood, cocktails, and happy hour specials
Hyde Park Prime Steakhouse is a quaint steakhouse chain famous for heavenly smoky grilled meats, fresh seafood, and a variety of cocktails in a refined fine-dining ambiance. It also has a full bar with happy hour cocktails and martinis awaiting your welcome.
It is a great spot for special celebrations and anniversaries to splurge a little and enjoy a perfectly cooked and succulent steak. The best one on their menu is a 6oz Filet Mignon with a 5oz Lobster Tail and a classic side of creamy Garlic Mashed Potatoes and Crispy Onion Straws.
Stop by for happy hour starting at only $5 with bar plates alongside your favorite drinks. The famous Hyde Park Manhattan has a Woodford reserve bourbon with sweet vermouth, gourmet amarena cherries, and old-fashioned bitters.
Agave and Rye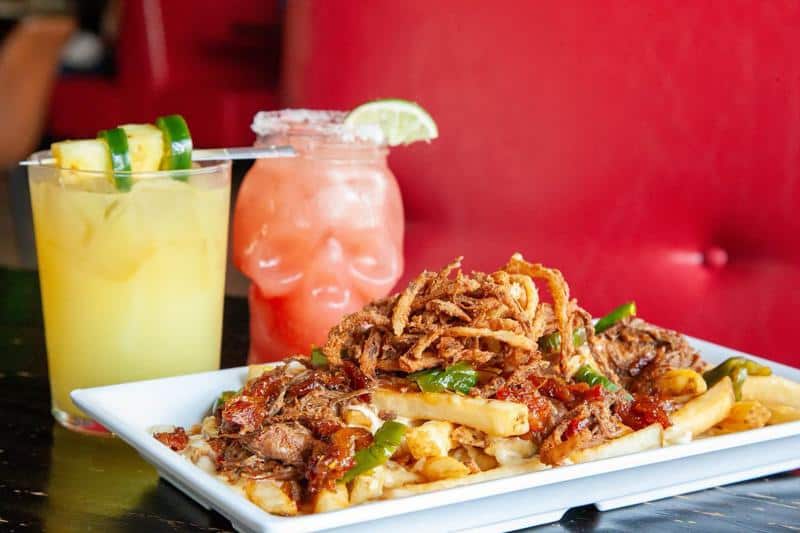 Address: 479 N High St, Columbus, OH 43215
Known for: Artistic layout with a relaxed ambiance and unique Tex-Mex food and drinks
Enjoy the simple things in life with a casual and relaxed ambiance and great food at Agave and Rye. Voted twice as one of the best restaurants on TripAdvisor, the chef-inspired menu offers a unique twist on classic dishes like standard nachos and tacos.
The environment is truly inspiring and encourages you to keep your smartphones down and admire the layout. The handcrafted artwork is eye-catching and inspirational, gelling in beautifully with its comfy booths and hanging lamps.
Start your evening with their famous Birria Irish Nachos with crispy French fries, slow-roasted Birria, sweet and spicy bacon, and classic Tex-Mex toppings. The Epic Tacos come with the restaurant's signature double-shell in a huge variety, and the libations include Bourbon Peach Punch, Kissed by Mezcal, OG Margarita, and Agave Epic Rita among other varieties.
Ampersand Asian Supper Club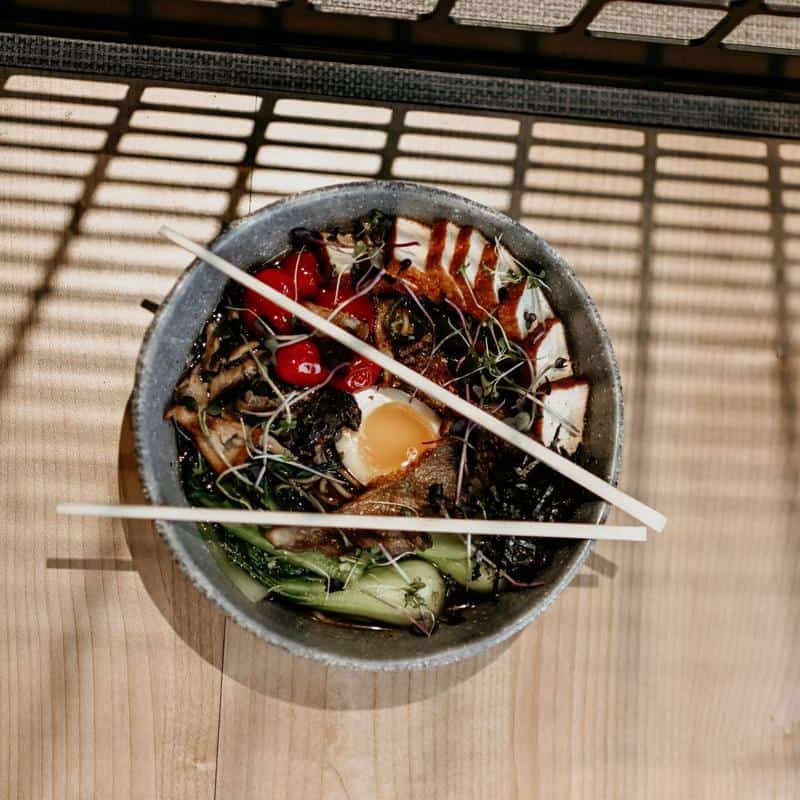 Address: 940 N High St, Columbus, OH 43201
Known for: Mouthwatering Asian fusion menu with sake and cocktails
Ampersand Asian Supper Club is a treat for lovers of Asian-fusion dishes. The aesthetically pleasing restaurant has a modern layout with a huge variety of Asian dishes alongside sake and cocktails.
Start with the Small Plates and make your anime fantasies come true with Chasu Pork or Tofu stuffed Steamed Buns, Nori Fries, Ramen, and Crispy Calamari. The clear Miso Soup is also a great option with crispy tofu, wakame, and green onion.
A famous dinner entrée is the Fungus Among Us with an earthy mushroom broth base, local shrooms, pepperonata, roasted tomatoes, pea tendrils, shoyu egg, nori, marinated tofu, red cabbage, and black garlic oil.
Also Read: Best Seafood Restaurants in Columbus, Ohio
Conclusion
The gorgeous Short North Arts District of Columbia brings you traditional and globally-inspired flavors with classic and signature cocktails to enjoy with your friends, family, and beau. From humble eateries to refined and upscale fine dining options, the restaurants on our list are perfect for everyone.