A visit to Melbourne wouldn't be complete without sampling the local seafood. However, just like everywhere on the Space Coast, there seems to be a seafood joint at every corner. But are they all really good? No, not all of them.
But, we've done the research for you. Check out our lists for up to date info on the best places to eat seafood in Melbourne.
Our Top Picks
Best for Family Outings: Melbourne Seafood Station
Best for Couples: Island Fish Grill
Best Views: Squid Lips
Best Local Specialties: Grills Riverside Seafood Deck & Tiki Bar
Best Seafood Restaurants in Melbourne, FL
Melbourne Seafood Station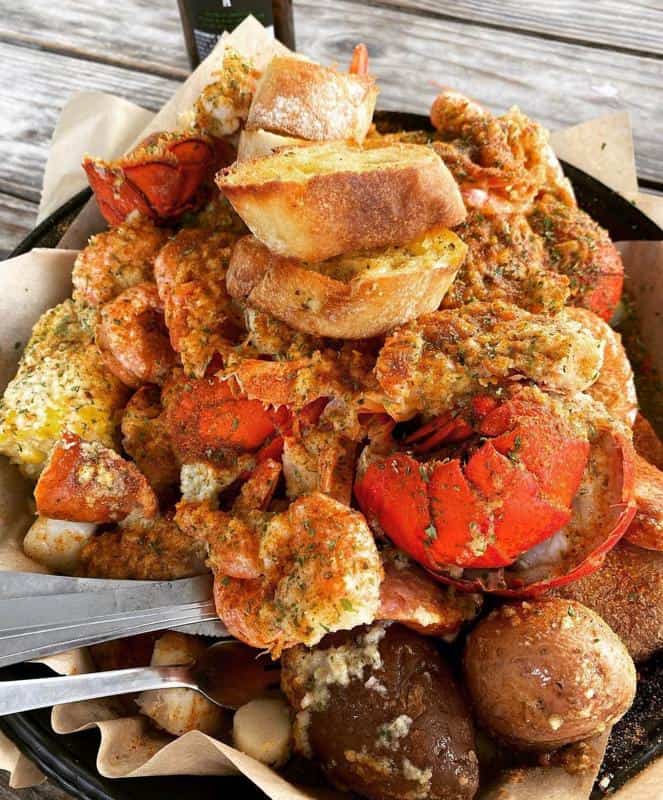 Hours: 11 am – 9 pm
Address: 2001 S Harbor City Blvd, Melbourne, FL 32901
Price: $$$
Melbourne Seafood Station now operates in 2 locations in Melbourne: One in Downtown Melbourne and another one in West Melbourne. On top of that, there is another outpost in Indian Harbor Beach + one in Orlando and one in Viera. While the food is the same quality in each of their locations, the Seafood Station in downtown Melbourne is their original and most beloved location.
This is one of those places you simply cannot skip when in town. Settle down at one of their outdoor picnic tables, and enjoy the sun while tasting some of the best seafood this city has to offer.
The menu here is very simple. In short, they do one thing and they do it really well: seafood baskets. You can build your own meal choosing what you like in terms of seafood, sides, and seasoning.
The main star is, of course, the seafood, and the options include royal red shrimp, rock shrimp, crawfish, lobster tails, crab, and different kinds of fish. Everything comes with delicious garlic toast included, but you can add more sides like rice, pasta, grits, or a garden salad. And the, it all comes smothered in a rich garlic butter sauce.
Island Fish Grill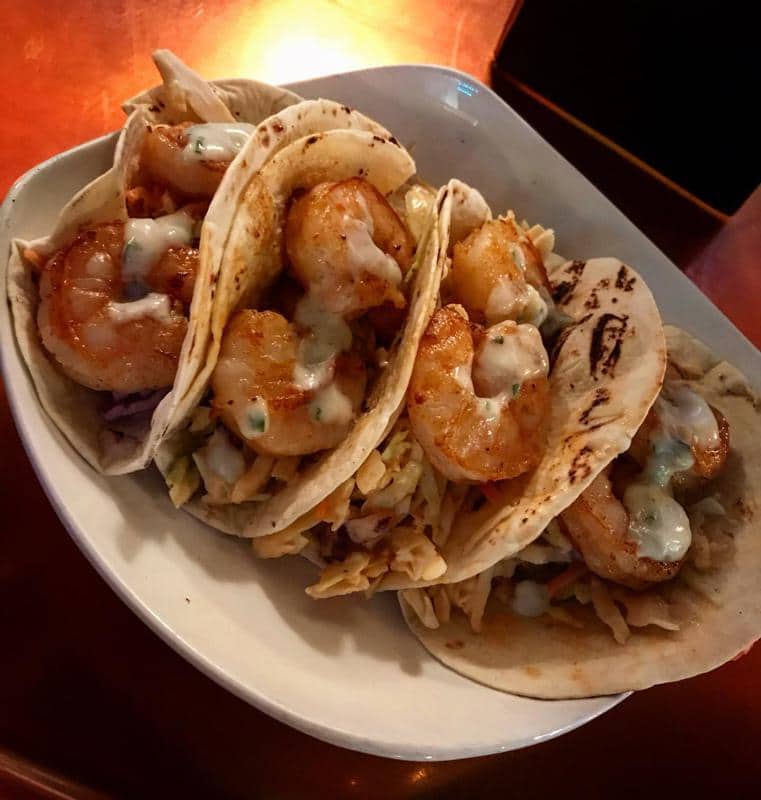 Hours: 5:30 pm – 9 pm; closed on Sundays
Address: 111 Fifth Avenue, Indialantic, Florida 32903
Price: $$$
Looking from the outside, the Island Fish Grill doesn't look like much. But once you walk in, you'll be greeted by attentive servers and an intimate and tastefully decorated space.
The menu here is not terribly long, but each item is truly delicious. What makes the Island Fish Grill special is the focus on fresh local seafood. In fact, that's the only kind of seafood you'll get here.
The signature dish of this restaurant is the Onion Crusted Grouper. In reality, it won't always be grouper, though, because only fresh catch is served here. Whichever type of fish you end up getting, though, the crispy onion crust is really an experience in itself.
Other options include deliciously prepared crab cakes, scallops, or shrimp; a stunning house salad; soup of the day; as well as chicken and steak in case you have somebody who is not into seafood eating with you.
Squid Lips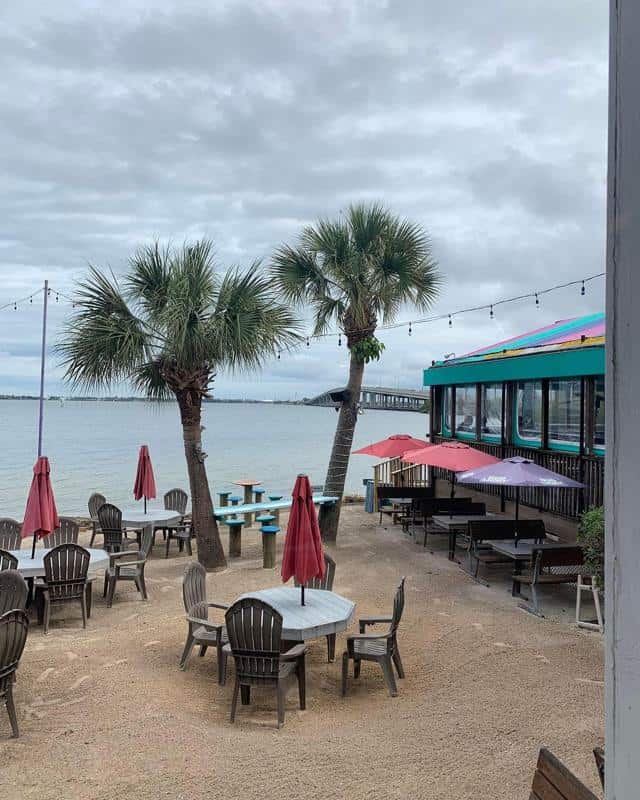 Hours: Sunday – Thursday 11 am – 9 pm; Friday and Saturday 11 am – 10 pm
Address: 1477 Pineapple Ave, Melbourne, FL 32935
Price: $$$
Yes, Squid Lips is a franchise, but you'd never guess that from the look of their restaurants. Each of their 3 locations is a unique beachside heaven; and that's certainly the case with the Melbourne Squid Lips.
With multiple dining areas including indoor seating; a large deck; and tables literally on the beach where you can dig your toes in the sand, Squid Lips would be worth visiting just for the relaxing vibes.
However, once you are there, you'll realize the food is amazing too (and quite fun). You'll find some very unique options on the menu like the Seafood Lasagna, Lobster & Shrimp Mac & Cheese or the Bahama Mah, but also some beautiful classics like Stuffed Flounder or fried seafood baskets. The choice is up to you, but we are sure you will enjoy your meal here either way.
Grills Riverside Seafood Deck & Tiki Bar
Hours: 7 am – 10 pm
Address: 6075 N US Hwy 1, Melbourne, FL 32940
Price: $$
Located just outside of Melbourne in the Palm Shores area, Girls Riverside Seafood Deck & Tiki Bar is a beautiful spot with tropical vibes. Set right on the ban of the Indian River Lagoon, this is the right place to enjoy the tropical vibes and local seafood.
The number one specialty to eat here is lionfish and there is an interesting story behind it. This scary-looking fish was considered by many to be poisonous, but while it has venomous spines, the meat is actually completely edible and delicious too. Lionfish is an invasive species in Atlantic and Caribbean waters and Girls Riverside helps tackle this problem by serving you delicious lionfish! Definitely give it a try when available.
Besides the lionfish, you can find a huge range of beautifully prepared seafood dishes here. There are seasonal specialties like rich shrimp and grilled shark kabobs (subject to availability) as well as known classics from clam chowder to fish tacos.
Coastal Crab Company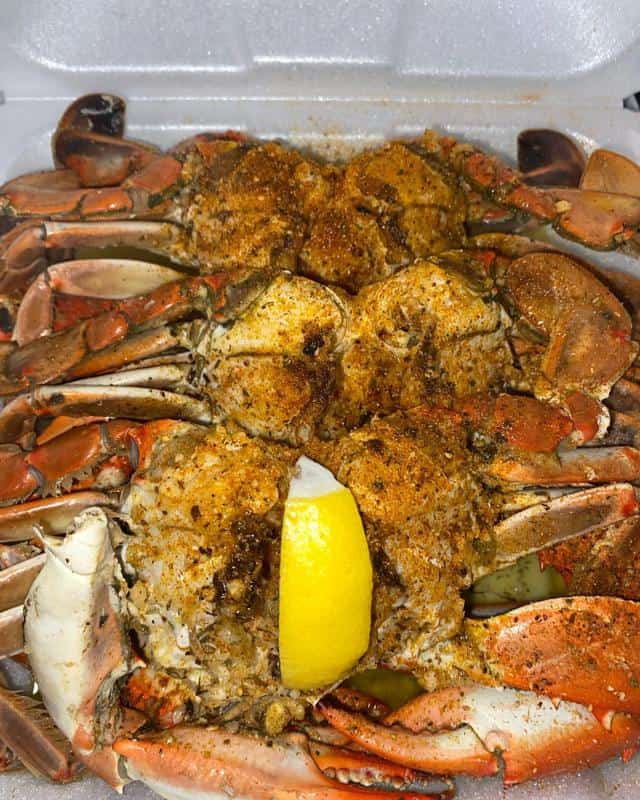 Hours: 11 am – 7 pm; closed on Sundays and Mondays
Address: 2911 S Harbor City Blvd, Melbourne, FL 32901
Price: $$
Coastal Crab Company is certainly not the most popular seafood restaurant in Melbourne, but those who stumble upon it always end up very satisfied. This small shack with diner vibes serves some of the most delicious seafood in town.
As for what's on the menu, this is the place to go when you are craving crab. Stone Crab, Blue Crab, or Dungeness Crab, it's your choice, and it's all steamed to perfection and complemented with abundant sides like corn and potato and smothered in delicious garlic butter sauce.
If you ask us, the crab is the main star of the menu here, but there is more goodness to be found there. Coastal Crab Company also serves some specialties from different cuisines like Gumbo, Cajun Crab Shrimp & Grits, Seafood Creole, or Conch Salad. Raw oysters are also great here when in season.
If you have more time to visit northwest Florida, check out our lists of best seafood restaurants in Panama City Beach & best seafood restaurants in Destin.
Umami Restaurant & Sushi Bar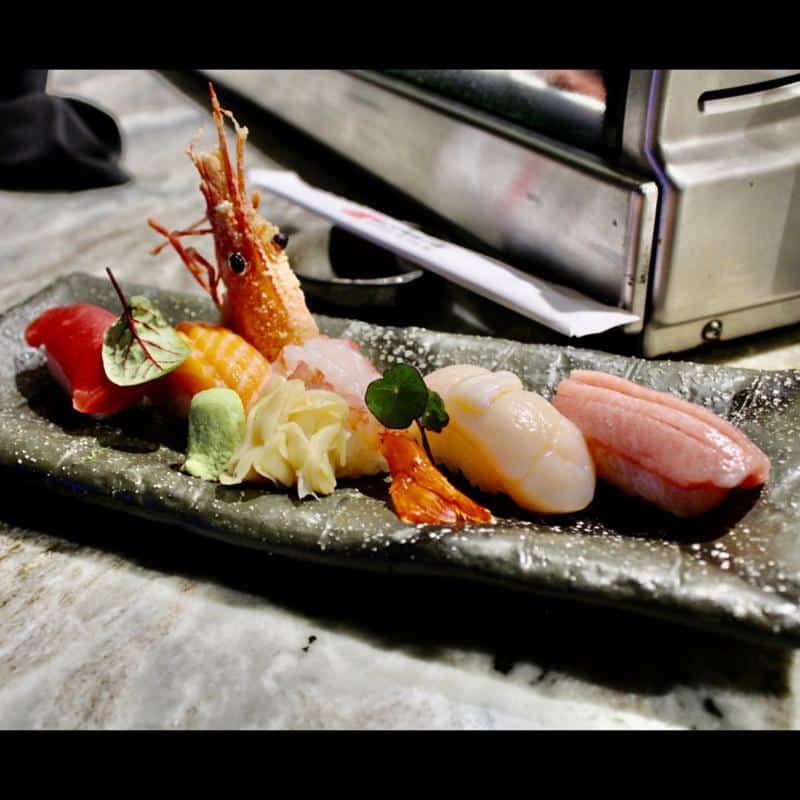 Hours: Monday – Friday 11 am – 9 pm and 5 pm – 9 pm (Fridays until 9:30); Saturday 5 pm – 9:30 pm; Sunday 5 pm – 9 pm
Address: 3042 W New Haven Ave, West Melbourne, Florida
Price: $$
Local Space Coast seafood cuisine is delicious, but once in a while we all want something different than the usual. If you get tired of the local grub and want something a bit exotic and different, head over to Umami for sushi and various Asian delights.
Umami is quite a small restaurant with a large fan base. Their menu simply never fails. There is something for everyone, no matter if you want traditional and familiar sushi specialties or something new and exciting.
Their traditional sushi rolls are always freshly prepared and quite perfect, but the Umami signature rolls always get the most attention. Make sure to try the Spicy Tuna Crispy Rice roll, it's really exquisite!
Umami does not serve only sushi, though. There is also a rich offering of appetizers and entrees with rare fish prepared in a variety of ways. If you like raw fish, you can enjoy it in the form of tartare, carpaccio, or tataki here; but if you don't you'll also find a few very nice options like Yaki Soba noodles or tempura shrimp.
Chart House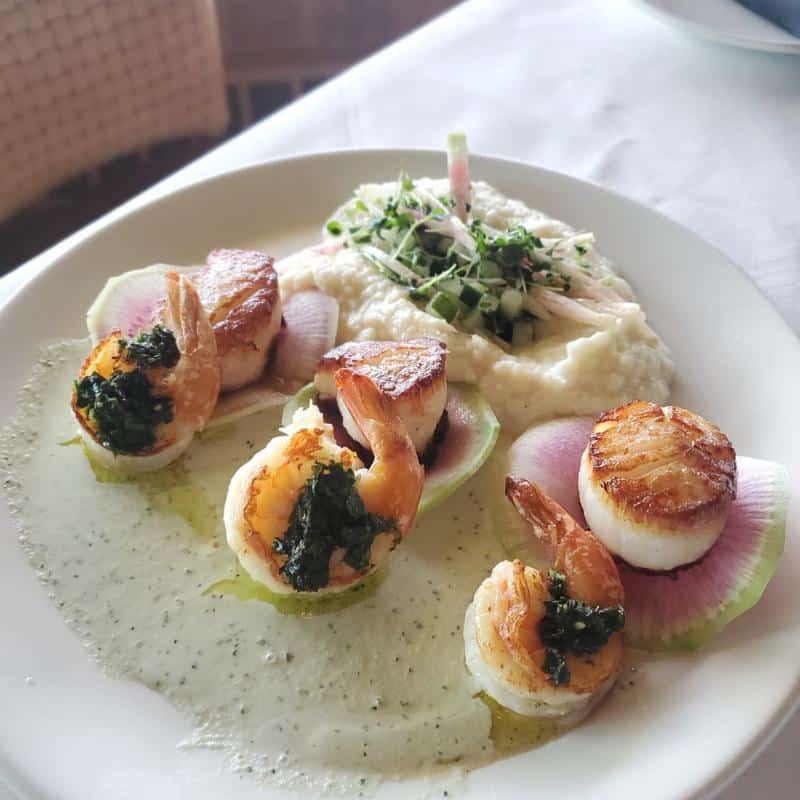 Hours: Monday – Saturday 4 pm – 9:30 pm; Sunday 11 am – 9 pm
Address: 2250 Front St, Melbourne, FL 32901
Price: $$$
If you are looking for a more high-end seafood option in Melbourne, then Chart House is a great choice. With an amazing location with awesome views over the Indian River Lagoon, this is the perfect restaurant for an important date or a special occasion.
Chart House creates a refined dining experience with a menu that offers a plethora of refined options from drinks to seafood to steak. The prices are considerably higher than some other options in Melbourne, but they are actually quite fair considering what you get.
When it comes to seafood, the offering is very rich with lots of fresh options that come adorned with unique spices and garnishes.
Chart House has a happy hour / early dinner every day from 4 to 6 pm during which you can try their dishes at a very reasonable price.
Did you know: there is a Chart House located in Daytona Beach too.
Ichabod's Dockside Bar & Grill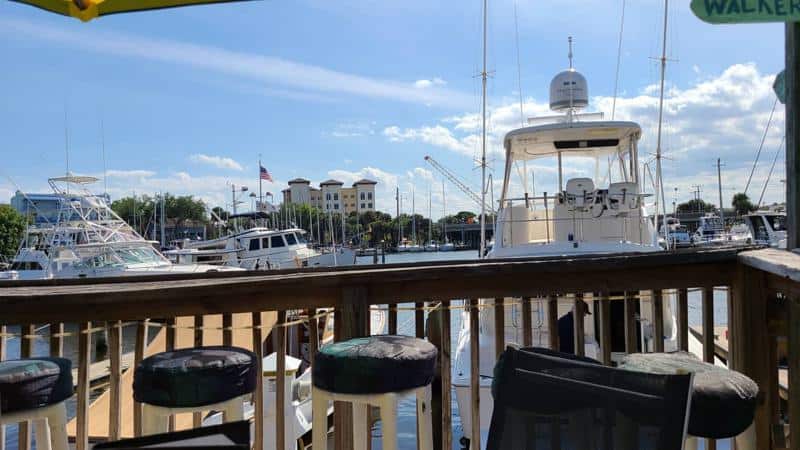 Hours: Sunday – Thursday 11 am – 10 pm; Fridays and Saturdays 11 am – 12 am
Address: 2210 Front St, Melbourne, FL 32901
Price: $$
Just a few steps away from the Chart House you'll find a restaurant with a very different vibe: Ichabod's. With views over the Melbourne Harbor Marina, Ichabod's serves delicious seafood and more in a casual setting.
Ichabod's Dockside is always a fun place to visit. The atmosphere is always lovely and perhaps a bit loud, so be ready for that. But if you like this type of place, you'll surely enjoy their range of seafood offerings including comfort items clam chowder and a special fish bisque; delicious appetizers like bacon-wrapped scallops and full entrees including fresh catch of the day.
Makoto's Steakhouse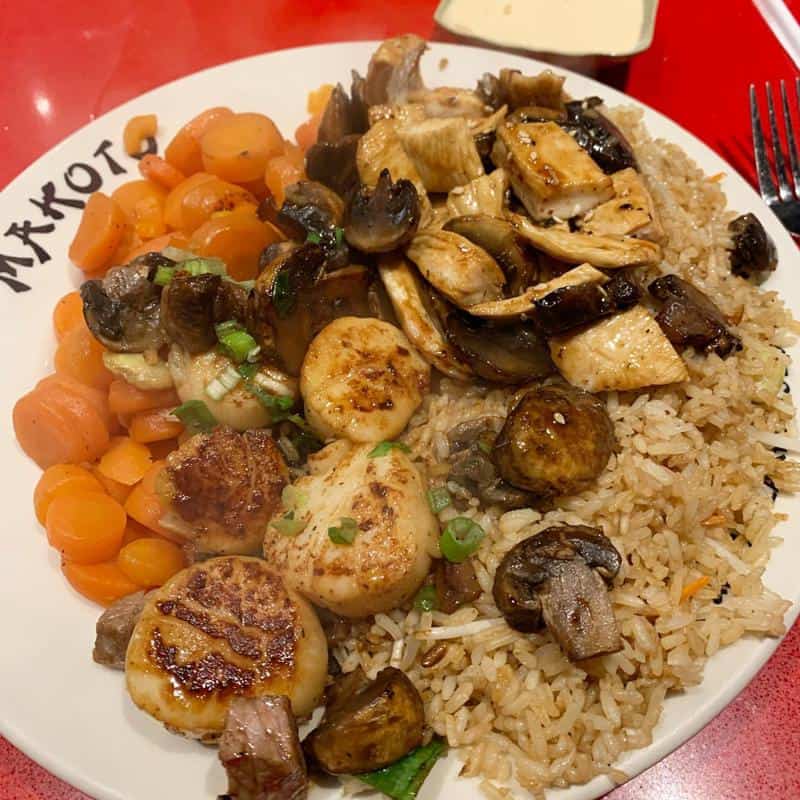 Hours: Monday – Saturday 11 am – 9 pm; Sunday 12 pm – 8 pm
Address: 785 S Babcock St Space 4, Melbourne, FL 32901
Price: $$
Have you ever had a teppanyaki-style dinner where the chef prepares food right in front of you? Well, you can have it at Makoto's. A visit to this restaurant is a great way to spend an entertaining night (with the kids or otherwise) and enjoy some seafood that's a bit different than the usual fare.
Makoto's serves various entrees from the teppanyaki grill that include seafood, meat, and vegetarian options. There is also a sushi bar with all kinds of sushi, in case that's what you prefer.
Also Read: Best Seafood Restaurants in Miami
Matt's Casbah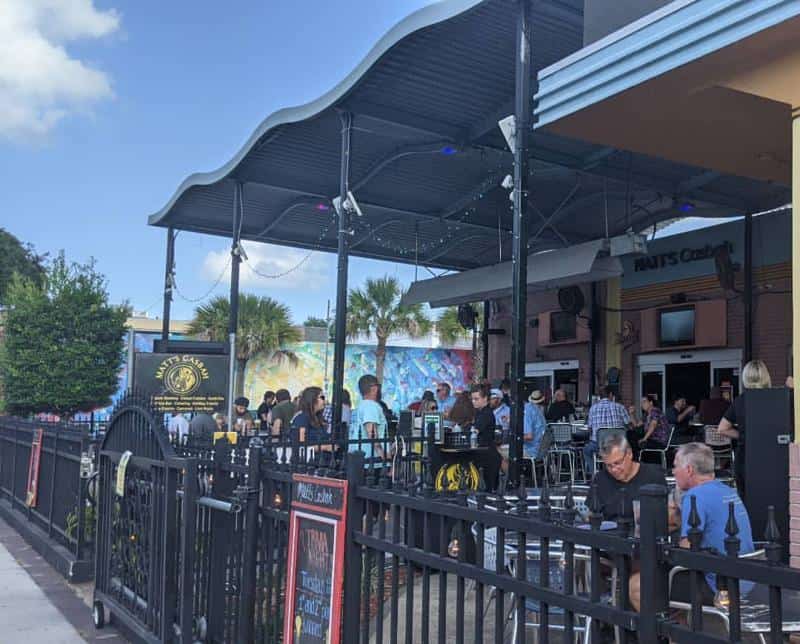 Hours: Tuesday – Thursday 11 am – 9 pm; Friday and Saturday 11 am – 10 pm; closed on Sundays and Mondays
Address: 801 E New Haven Ave, Melbourne, FL 32901
Price: $$$
Matt's Casbah is a colorful, chic spot that's perfect for a fun night out with friends. This restaurant / bar features lots of dining space in rooms filled with art, a large patio, a full bar, a sushi bar, and frequent live music shows.
If this sounds like this is more of a nightlife spot than an actual restaurant, well, that's not really true. Matt's Casbah is equally dedicated to excellence in the food they offer and the atmosphere they create. You can really see the creative spirit of chef and owner Matt Nugnes shine through in every little detail.
The menu at Matt's is quite eclectic, featuring influences from all over the world. There is really something for everyone on the menu, including vegetarians and meat-lovers, but for today let's focus on the seafood.
The appetizer menu includes the classic shrimp cocktail which is quite good, but our favorite is actually the signature calamari which is flash seared in garlic lime chili sauce. Really a great change of pace compared to the way more common fried calamari!
For the entree, you can have fresh catch of the day served grilled or blackened and a couple of other Matt's specialties. And on top of that, there is a full sushi bar (note that the sushi bar is closed on Tuesdays).
Read More: Best Sushi Restaurants in Jacksonville, Fl
Final Thoughts
Seafood scene in Melbourne is really fun! Looking right onto the Atlantic, the city has access to some of the best and freshest seafood in the world. Local specialties are abundant here and very affordable, if that's what you are after.
But, there is also no shortage of higher-end restaurants with a beautiful atmosphere and exquisite seafood meals. Fresh fish and mollusks, grilled or fried Florida-style abound, but if you ever get tired of those flavors, you can also find some nice restaurants with Cajun specialties and even great sushi bars. The choice is yours!