The beautiful little town of Norman is a land of gastronomic adventures. From juicy steaks to fully loaded pizzas and burgers, you will love the variety and options available here.
While traditional American dishes are the top cuisine found in most restaurants, you will be delighted to know that there are several diverse dining options available in the city as well.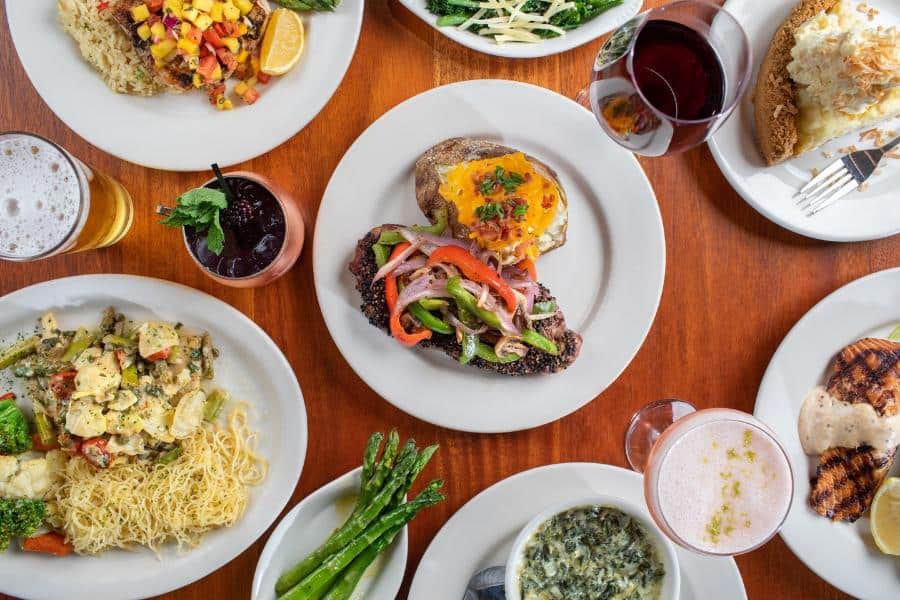 Take your pick from casual eateries to the fine dining establishments in Norman on our list.
Best Overall Restaurant: Scratch Kitchen and Cocktails
Best Family-Friendly Restaurant: Charleston's Restaurant
Best Romantic Restaurant: Benvenuti's
Best Affordable Restaurant: The Greek House
Best Restaurants in Norman, OK
Scratch Kitchen and Cocktails
Address: 132 W Main St, Norman, OK 73069
Known for: Interactive cocktail-making classes, tropical-flavored specialty cocktails, and delicious dinner entrées
As its name suggests, Scratch Kitchen and Cocktails makes sure that you get the freshest dishes made from scratch every day. The tasteful New American eatery and bar is located in the heart of downtown and is one of the best dinner spots in the city.
The interactive cocktail-making classes are the highlight of the restaurant and offer a unique experience to the diners. Furthermore, the laidback vibe and industrial-chic layout set an inviting ambiance to try out numerous alcoholic concoctions.
The Tiki Tuesday menu features delectable tropical-flavored cocktails along with rum runner shots and tacos. For a hearty dinner entrée, try their Pan-Seared Salmon or the Wild Isles Organic Salmon.
Charleston's Restaurant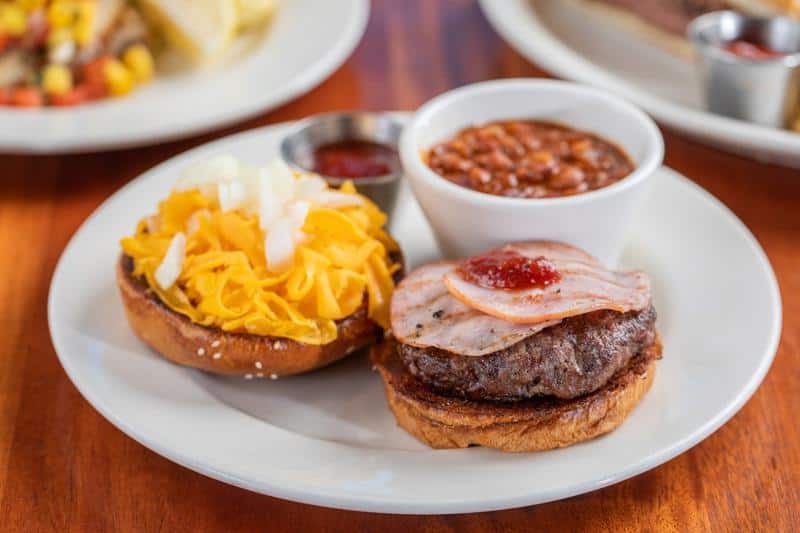 Address: 300 Ed Noble Pkwy, Norman, OK 73072
Known for: Family-friendly ambiance with classic American pub fare
Kickback and relax with classic American pub fare in chilled-out surroundings at Charleston's Restaurant. Giving you a quaint small-town feel with its humble décor, the place is well-loved by locals and offers moderately priced dishes.
Traditional dishes are prepared fresh from scratch every day with high-quality ingredients. As soon as you step in, you will be welcomed by the aroma of the hickory-fired grill.
Try their famous Hickory Burger or fall-of-the-bone barbecue meat like the succulent Slow-Roasted Prime Rib. The family meals option includes Roasted Chicken, Barbeque Baby Back Ribs, Chicken Tenders, Ribs and Chicken, Parmesan Crusted Chicken, Chicken Piccata, and Pork Chops.
Benvenuti's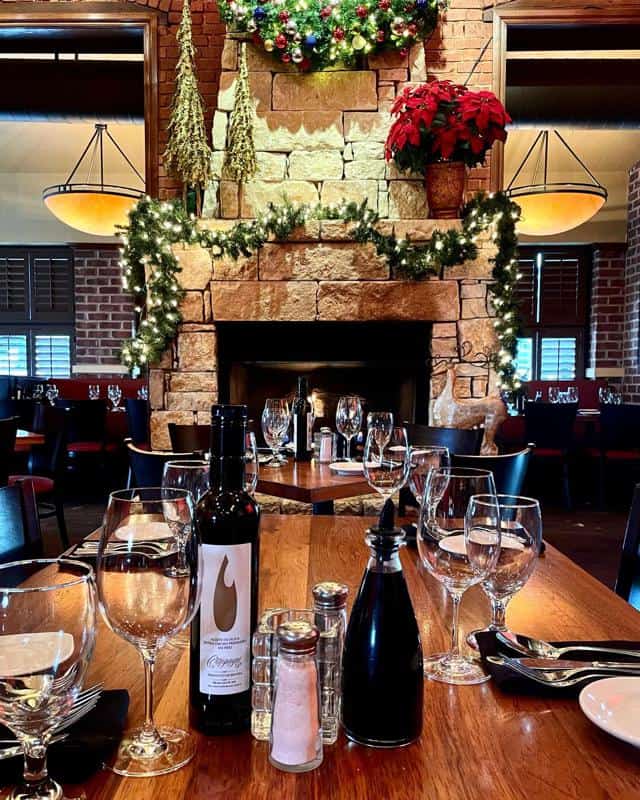 Address: 105 W Main St, Norman, OK 73069
Known for: Romantic and intimate ambiance with classic Italian fare
Benvenuti's is an intimate and romantic French bistro with a dreamy layout and cozy dim lit interiors. Visiting the restaurant is a cultural experience in itself as it serves traditional and authentic French cuisines.
Chef Anthony Compagni pours his heart and soul into adapting a menu perfectly tailored to the classic Italian fare while making use of a lot of seasonal ingredients. The organic ingredients are both locally and internationally sourced.
From the starters, the Black Italian Summer Truffle is a top-selling item, but the Ricotta Ravioli cooked in a rich brown butter sauce is also quite delicious. Try something from their seafood menu, especially the Wild King Salmon with a chili garlic rub along with your favorite wine.
Greek House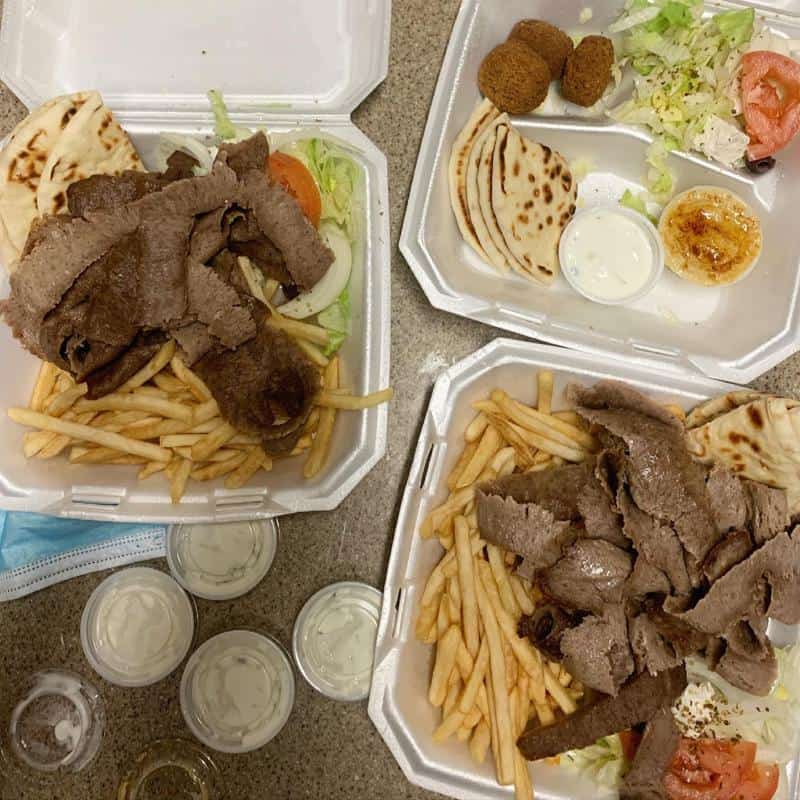 Address: 768 S Jenkins Ave, Norman, OK 73069
Known for: Traditional and affordable Greek food
The homely and unpretentious Greek House welcomes you warmly with authentic Greek dishes and delectable rotisserie meat. It is one of the most affordable restaurants in Norman with traditional flavors and a family-friendly layout.
The menu is loaded with Mediterranean delights like Gyros, Sandwiches, Salads, and other meaty dishes. Try one of their gyros stuffed with juicy rotisserie meat cooked in tomatoes, tzatziki, onions, and special sauces inside soft and fluffy pita bread.
Though the choices are limited, everything is prepared fresh and with authentic flavors in generous portions. Don't forget to take some sickly sweet and sticky baklava on your way out.
Redrock Canyon Grill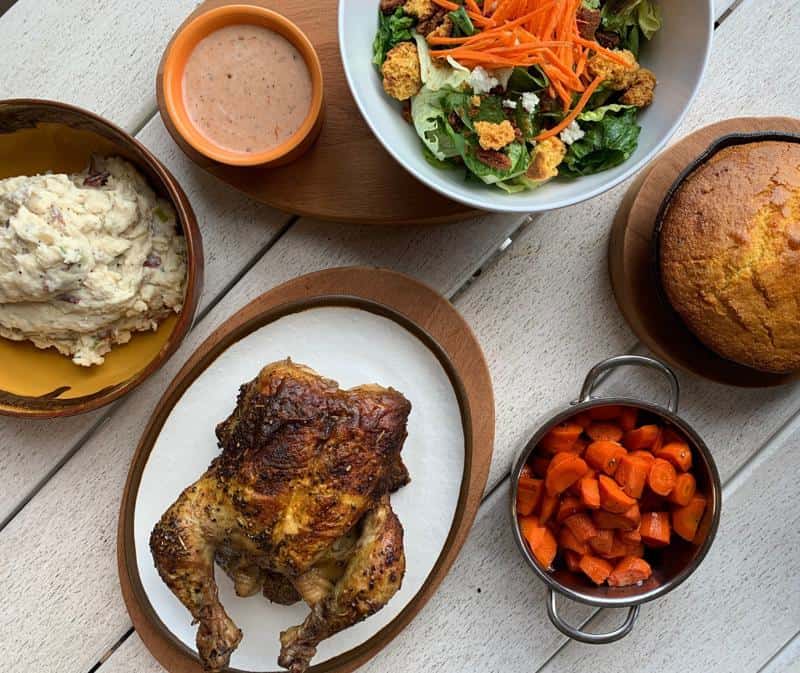 Address: 1820 Legacy Park Drive, Norman, OK 73069
Known for: Wood-fired rotisserie chicken, meatloaf, and hand-crafted cocktails
Redrock Canyon Grill is an upbeat restaurant on Legacy Park famous for the juicy wood-fired Rotisserie Chicken and Meatloaf. Homely comfort food is served in a laidback and rustic ambiance with old-school neon signs and bright accents.
The Rotisserie Chicken family pack is a true classic. It consists of Rotisserie Chicken, a quart of mashed potatoes, a quart of carrots, a skillet of cornbread, and a huge house salad.
The menu has several other Southwest-inspired dishes alongside eclectic hand-crafted cocktails, wines, and local brews.
Legend's Restaurant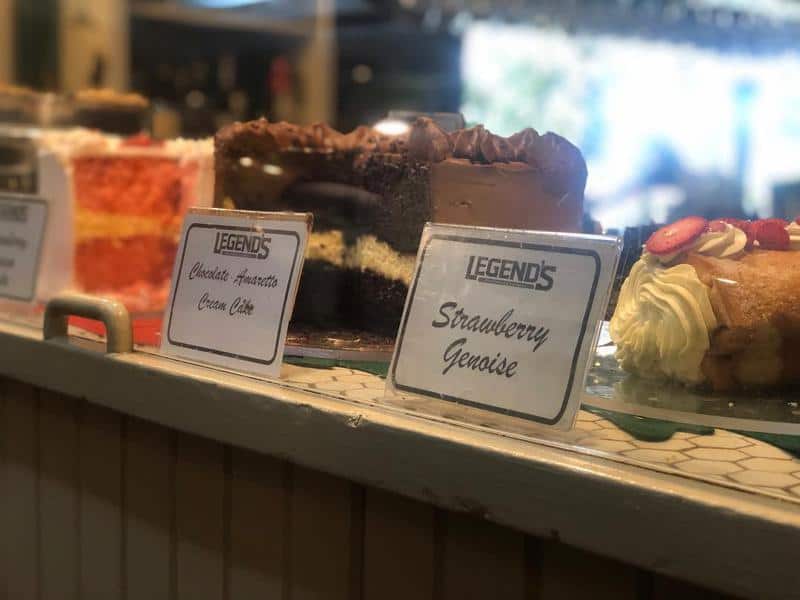 Address: 1313 W Lindsey St, Norman, OK 73069
Known for: Quaint family-friendly spot with exclusive handmade in-house cakes
Legend's Restaurant is indeed a legend in Norman. The humble family-owned restaurant is running strong since 1968 with a facility for off-site events and buffets.
The restaurant is well-loved by locals as a famous celebration spot for birthdays and anniversaries as well as intimate family dinners. With personalized menus, packages customized for every palate and budget, delicious freshly-made desserts, and a full-service bar, you will find everything you need at Legends.
The Lamb Rib Chops is a famous meaty entrée on the menu, and fresh seafood variety includes Maple Soy Glazed Salmon Fillet, Oklahoma Catfish, and Spicy Curried Shrimp. The cakes are exclusively handmade in-house and include Chocolate Amaretto Cream Layer Cake and Lemon Cream Cake as the best-selling ones.
The Garage Burgers and Beer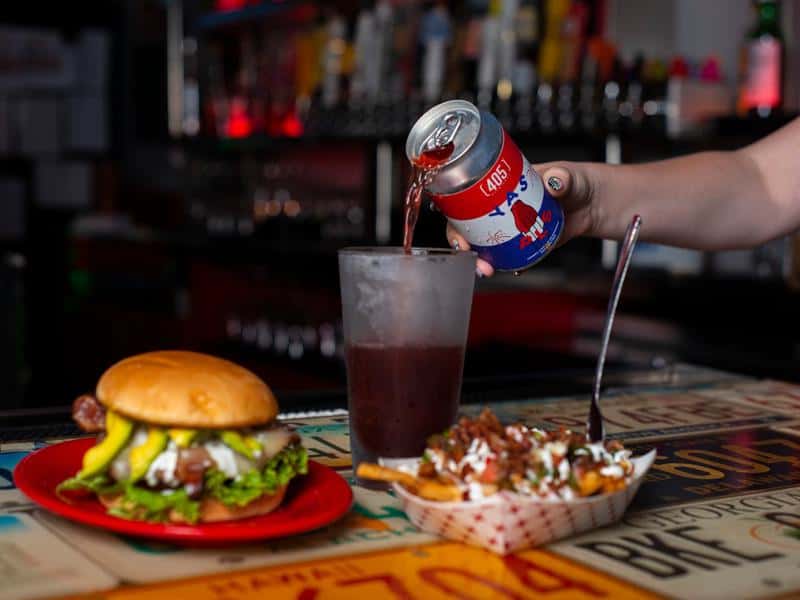 Address: 307 E Main St, Norman, OK 73069
Known for: Juicy burgers and a full-service bar
Enjoying a fine spot on Main Street, The Garage Burgers and Beer is a lovely neighborhood eatery surrounded by a variety of shops and an Arts Theater. It is a great spot for meeting friends for lunch over some delicious burgers and drinks.
The menu features classic American casual dishes with special items for people with dietary restrictions and kid-friendly options as well. The restaurant also has a dedicated full-service bar with local beers and specialty cocktails.
While there's a huge variety on their burgers menu, nothing beats a classic Bacon Double Cheeseburger. Generously loaded with cheese and mayo, it is a perfect option for lunch with loaded fries and your favorite drink.
Saltgrass Steak House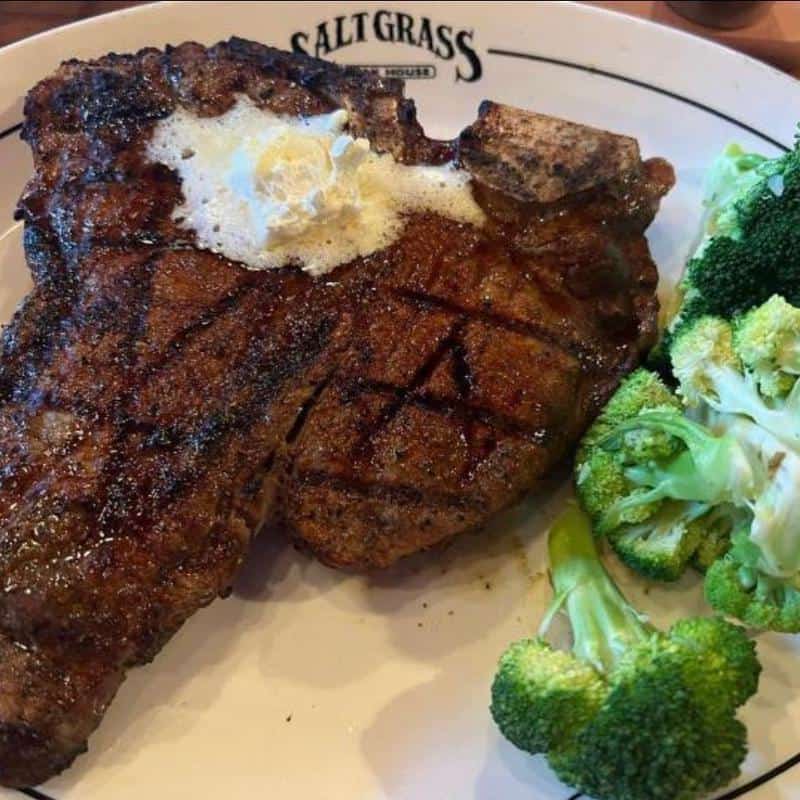 Address: 650 N Interstate Dr, Norman, OK 73072
Known for: Award-winning steaks with secret 7-spice steak seasoning
Saltgrass Steak House is a laidback chain restaurant filled with delicious meaty delights and a full bar. The award-winning steaks are the highlight of their menu and are cooked to perfection with Saltgrass's famous 7-steak spice.
The refined restaurant has minimal but classic interiors with a laidback and comfortable ambiance ideal for family dinners and dates. The Certified Angus Beef steaks are topped with generous amounts of garlic butter with classic sides.
The salads with dressings, bread, soups, and desserts are made fresh daily. Besides steaks, the restaurant also serves a fresh and delicious variety of seafood entrées.
Das Boot Camp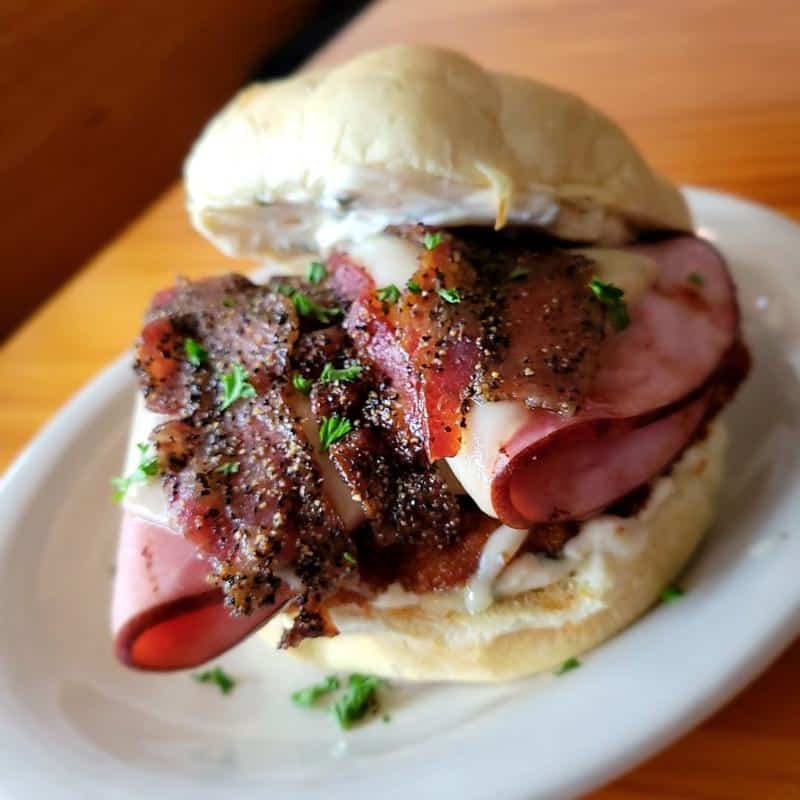 Address: 229 E Main St, Norman, OK 73069
Known for: Traditional German dishes with handcrafted beer
With a perfect spot downtown, Das Boot Camp is a family-friendly spot that serves authentic German food with seamless hospitality and impeccable service. The convivial environment is warm and welcoming.
Satiate your cravings with the Oktoberfest Pretzel as a starter. Generously doused in German cheese spread and a punchy kick of mustard, it goes amazingly well with the juicy Bratwurst Sausages and Sauerkraut.
For a light lunch option, go for the top-selling Ultimate Schnitzel Sandwich topped with sweet pepper bacon, black forest ham, Swiss cheese, and lemon caper aioli on a toasted Kaiser bun. Local hand-crafted beer by Royal Bavaria brewery is also available on their drinks menu.
Tarahumara's Mexican Café and Cantina
Address: 702 N Porter Ave, Norman, OK 73071
Known for: Traditional Tex-Mex delights with creative margaritas
Tarahumara's Mexican Café and Cantina is a famous Mexican eatery serving classic Tex-Mex delights in a laidback ambiance. The café started in 2001 and quickly became a local's favorite owing to its affordable treats and generous portions.
If you are craving authentic Mexican dishes, you will love the variety offered here. Traditional entrées include Guiso Mexicano – a meaty dish with beef tips, Pico de Gallo, onion, and tomatoes.
Another delicious item on the menu is Pescado Frito with catfish filet or fried tilapia with avocado, corn, and rice salad in a special house-made sauce. The restaurant also serves a variety of creative margaritas.
The Winston
Address: 106 W Main St, Norman, OK 73069
Known for: New American dishes and an impressive list of alcoholic drinks
The Winston is a quaint little eatery with modern interiors and delicious New American dishes. The restaurant is located downtown and flaunts a gorgeous layout with an airy patio to enjoy breezy evenings with your favorite drinks.
The dishes are beautifully presented with tasteful globally-influenced flavors. The restaurant also has a remarkable list of boozy drinks like craft cocktails, draft beers, and whiskey.
The salad-based entrees are quite famous here. Try the tropical taste of Coconut-Ginger Ahi Salad loaded with juicy seared ahi tuna in crispy rice noodles with a coconut-ginger vinaigrette and fresh seasonal greens.
Hideaway Pizza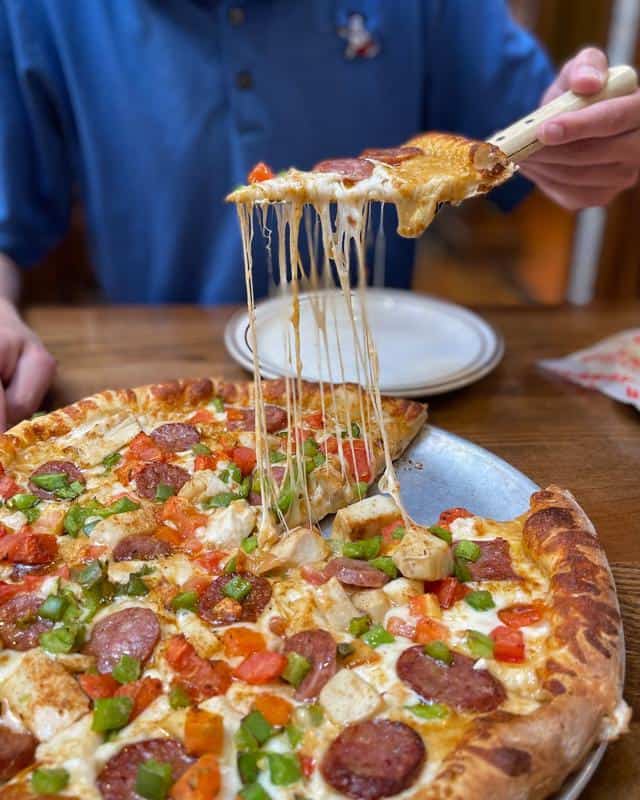 Address: 577 Buchanan Ave, Norman, OK 73069
Known for: Huge variety of pizzas, pasta, sandwiches, and lunch specials
Relish in a vast array of delectable pizzas at Hideaway Pizza. The locally-owned and beloved pizzeria is a local's favorite since 1957 and has a prime location in the Campus Corner neighborhood.
The menu is quite affordable and loaded with options for meat lovers, and vegetarians, lunch specials, and light sandwiches. Their top-selling pizza is the Big Country which has scrumptious Canadian bacon, pepperoni, hamburger, cheddar, and Polish sausages, making it an ultimate feast for the carnivores.
They also serve pasta entrees with a classic Alfredo Deluxe being a famous option. Served with a side of garlic bread, it is loaded with rich buttery alfredo in bacon, chicken, and parmesan.
The Diner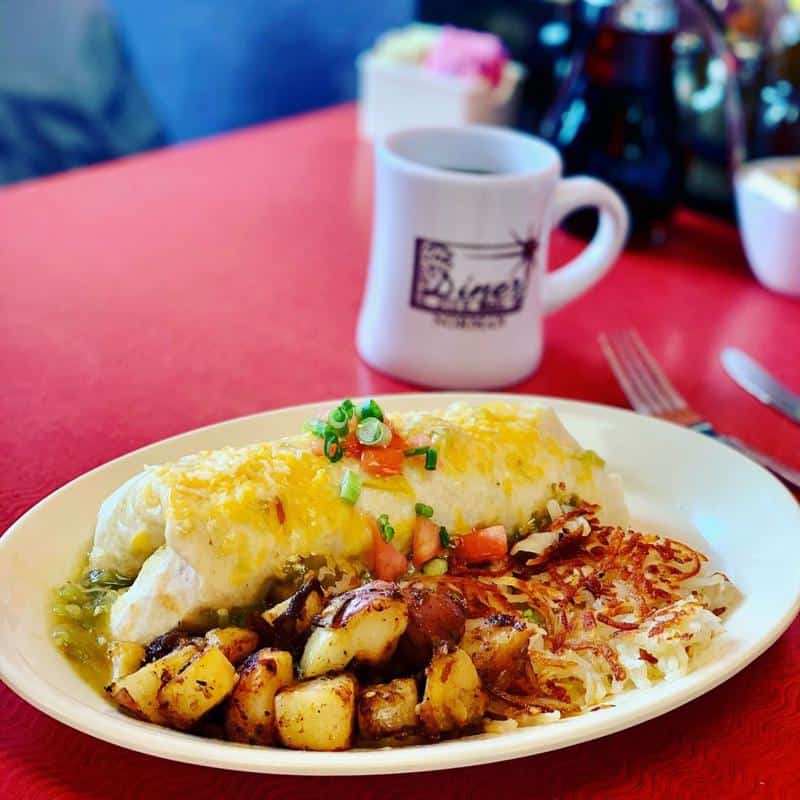 Address: 213 E Main St Ste. B, Norman, OK 73069
Known for: Hearty American breakfast and lunch delights with Tex-Mex variety
Mingle with locals and get a taste of small-town charm at the humble and laid-back The Diner. The quaint breakfast and lunch spot is renowned for the heavenly delicious Huevos Rancheros, Chili, and other delectable American dishes.
The fourth-generation family-owned business has the best chili recipe in town. Besides traditional home-style meals, they also serve a Tex-Mex breakfast variety.
Try the diner's famous Eggaritto with scrambled eggs and cheddar with vegetables and ranchero sauce in a house-made tortilla. All dishes are served with hash browns or home fries.
Juan del Fuego Mexi Diner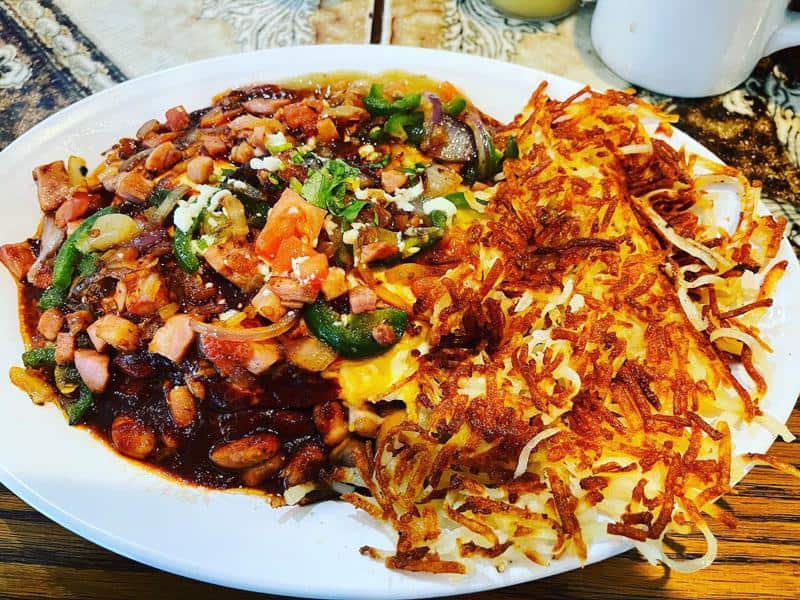 Address: 223 34th Ave S W, Norman, OK 73072
Known for: Affordable Mexican eatery with delicious Tex-Mex breakfast and lunch
The casual family-owned Juan del Fuego Mexi Diner will make all your Tex-Mex dreams come true. Located across the Sooner Mall, this humble eatery serves affordable Mexican treats in generous portions.
The space is beautifully decorated with bright and welcoming accents and friendly service. Try their breakfast specialties, especially the Tamales and Eggs loaded with cheese and house-made sauce.
Another great breakfast item on their menu is the Southwestern Huevos Rancheros. For a light lunch option, get the Chicken Chilaquiles stuffed with juicy pulled chicken in melted jack cheese and green sauce with flour tortillas.
Read More:
Conclusion
Norman has a fine selection of restaurants with a few fine dining options and several casual eateries. From charming locally-owned places to refined restaurant chains, you will find everything here and more.