Rare Bar & Grill did not set itself apart by having great food, amazing views, and skyline cocktails alone. Once located inside the Shelburne NYC, the Rare Bar & Grill flambeed an award-winning burger that was voted one of Time Out NY's best burgers in New York City.
Over 20 different burgers were ground in-house on a daily basis from the burger obsessed, addicted, and experienced masters. Rare culture was born in the Rare Murray Hill and turned into an NYC burger institution. Frenzy filling burgers were cooked to perfection to create jealousy-worthy Flambeed & Steakhouse burgers.
Rare Bar & Grill expanded the burger bible menu to bring in fan favorites that could not be left alone for our admirable clientele; Lollipop Wings, salads, fries, The Reuben Frickle, ribs, and cooked to perfection homemade dips & steaks.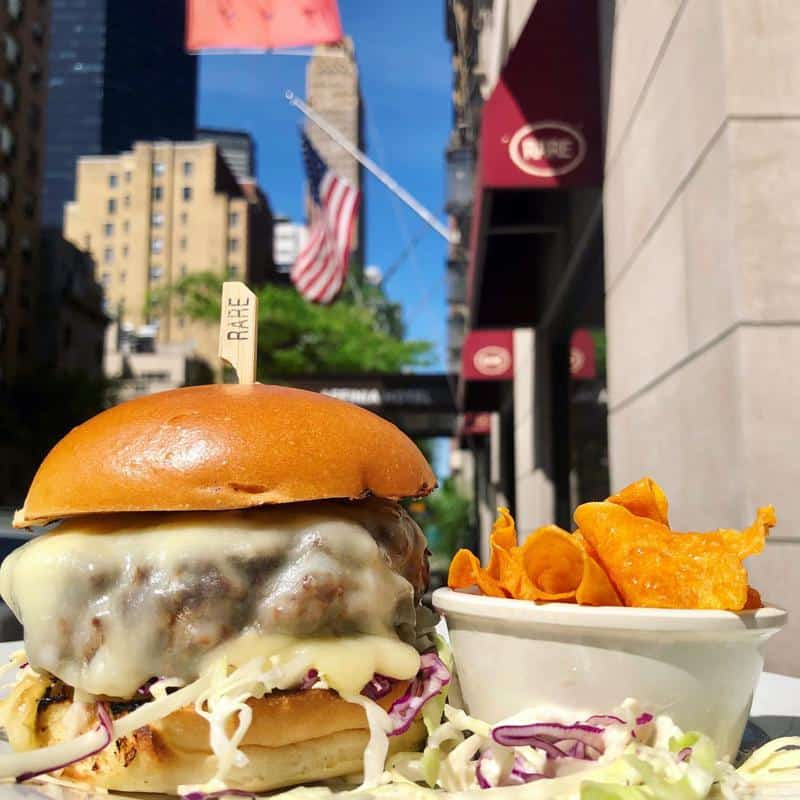 The regular bankrupting prices of the NYC steakhouse were brought to shame by our informal and yet economical 100 % Grade A quality meat. Empathized and recognized that no New Yorker had to endure hefty prizes for their steakhouse cravings.
After conquering one NY nuisance it went ahead and created an upbeat energetic scene perfect for that after-work mood. Seasonal signature cocktails became the order of the day once the clock stroke six. Our signature Spicy Mango Margarita and Reach for my Peach never changed throughout every summer.
Homemade pitchers of Sangria complimented our sizeable collection of quality wines and draft beers. Nothing more could make our venue more upbeat, relaxed, and unpretentious. All bad habits were welcome to the rooftop but all hunger-stricken New Yorkers graced the Rare Bar & Grill downstairs for their dinner.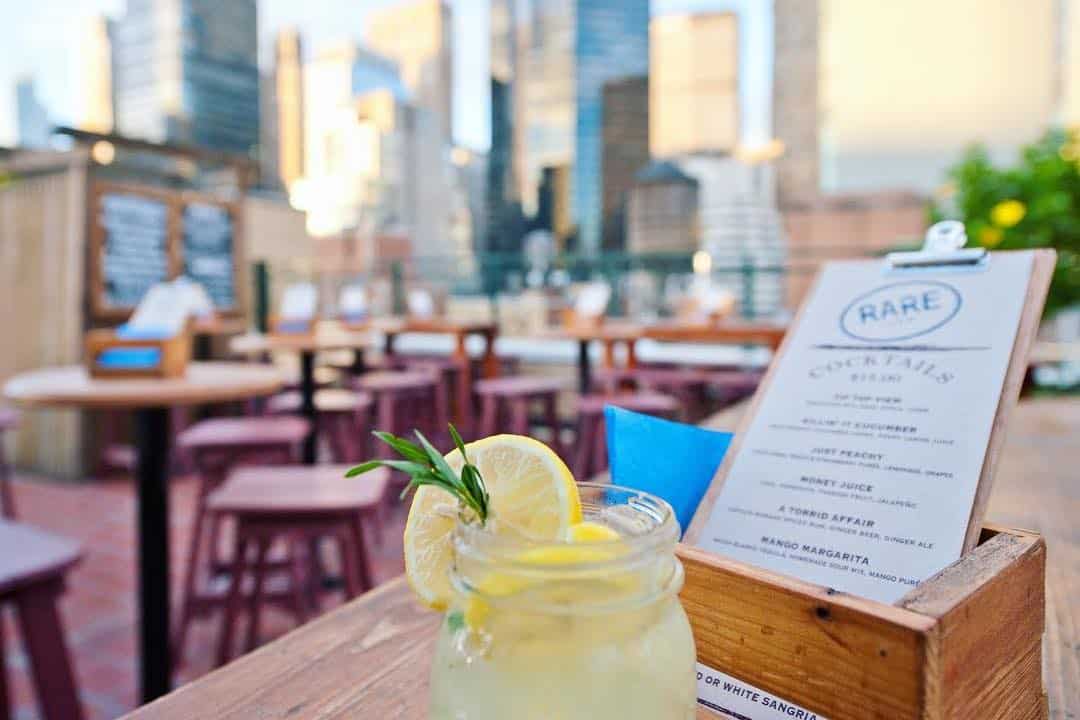 The striking 5,000 square foot rooftop bar brought the large sort after skyline cocktail affair to help you break out your chic summer outfits. Designed into five outer rooms: Picnic Patch, Beer Garden, Empire Lane, Champagne Garden, and Very Important Patio (VIP), the rooftop had a unique glance at the vast NYC real estate.
Beachy wood slats, lush landscaping, bright-colored décor, and bountiful seating have been the perfect recipe for a breathtaking 360-degree skyline view; taking your mesmerizing eyes from the Empire State Building to the Chrysler Building, then Met life, Freedom Tower, East River, and the Bank of New York.
Indoor seating did not let any Instagrammable shot go to waste with the floor-to-ceiling windows. The interior famed to be fit for a butcher took guests' breath away with the exposed bricks, dark wood, and warm cozy lighting from Edison bulbs.
Rare Bar & Grill was located at 303 Lexington Avenue, New York, NY 10016
212 481 1999
www.rarebarandgrill.com
Take a look at our homepage to get more restaurant news as well as food recommendations.