The peaceful and tranquil fishing village of Murrells Inlet is famous as the 'Seafood Capital of South Carolina'.
While visitors are captivated by its serenity and quaintness, the colorful and historic town holds immense charm for its oceanfront eateries and a variety of seafood restaurants.
Sitting amid the gushing waves like pearls of the sea, the freshness of their food is unmatched in its taste. When coupled with sweeping views of the ocean and the soothing saltwater breeze, we are sure your meals will turn into an immersive food experience unlike any other.
Here is our top pick of the freshest, most delicious seafood restaurants in Murrells Inlet.
Our Top Picks:
Best Overall Seafood Restaurant: Hot Fish Club
Best Family-Friendly Seafood Restaurant: Russell's Seafood Grill and Raw Bar
Best Seafood Restaurant with a View: Drunken Jack's Restaurant
Best S
eafood Restaurants in Murrells Inlet
Hot Fish Club: Best Overall Seafood Restaurant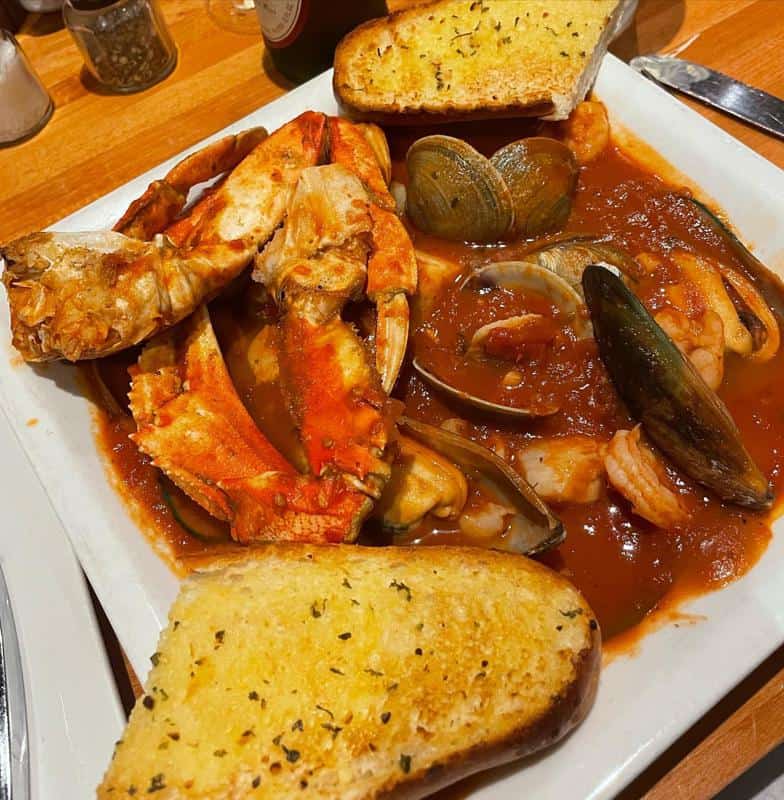 Location: 4911 Hwy. 17 Business, Murrells Inlet, SC
Drawing inspiration from the real MVP of seafood – the original Hot and Hot Fish Club from the late 1700s, the Hot Fish Club strives for customer satisfaction and makes celebratory moments extra special.
It is a family-friendly spot with rustic décor and a minimalistic dining area. The hearty meals make family dinners extra special. From satiating Lobster Pot Pies to Crabmeat and Blackened Mahi, everything is prepared to perfection and seasoned to tantalize your taste buds.
Try their succulent Grouper Bites and Bam Bam Shrimp with a side of Blue Crab Fondue and you will be singing show tunes all day long. They also have an 'Inlet Style' seafood selection featuring oysters, scallops, shrimp, and local flounder in both fried and grilled varieties.
Lastly, their Gazebo area is perfect for enjoying sweeping views of the sea and mossy oak trees with a side of your favorite drink.
Highlights
One of the oldest and most popular restaurants in Murrells Inlet.
Great variety of seafood.
Gazebo area with ocean views.
Russell's Seafood Grill and Raw Bar: Best Family-Friendly Seafood Restaurant
Location: 4906 Hwy, US-17 BUS, Murrells Inlet, SC 29576
Everyone loves a good survival story. Now you get to relish and admire this beautiful establishment that survived Hurricane Hugo. It pays homage to Old Murrells Inlet as its last standing trace.
Russell's has quite an exotic vibe as a tree house restaurant. It is famous for its tasteful seafood with a long list of appetizers to satiate your cravings.
Locals and visitors love their delectable Conch Fritters and Grilled Oysters, and the monster Deviled Crab Platter is the star of their dinner entrées. The humble restaurant also has a deck opening up to inlet views to enjoy with your meal.
Highlights
Homely comforts with inlet views.
Famous for seafood appetizers and daily specials.
Family-friendly atmosphere.
Drunken Jack's Restaurant: Best Seafood Restaurant with a View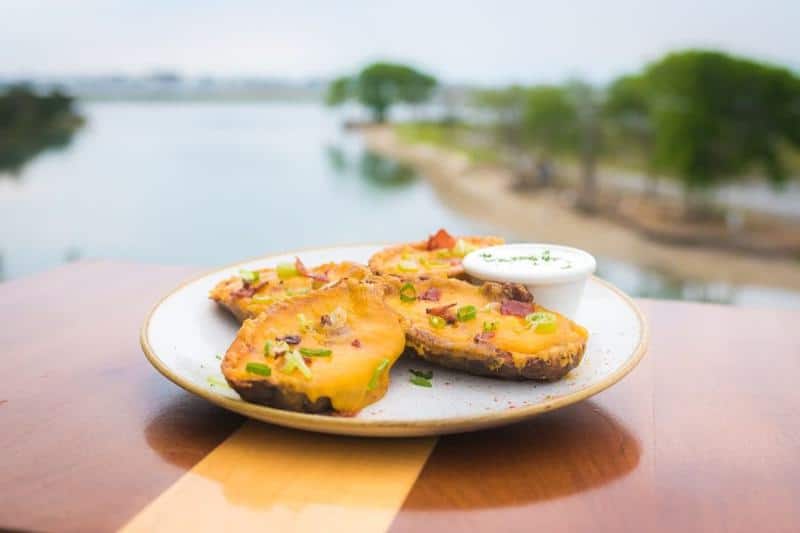 Location: 4031 US-17 BUS, Murrells Inlet, SC 29576
Drunken Jack's gives you the two best things the sea has to offer – seafood and pirates! Sitting like a crown jewel along the scenic MarshWalk, Drunken Jack's is known for their quality seafood with fresh catch and personalized touch.
The menu stays true to the seafood theme and boasts amazing variety from the 2015 South Carolina chef of the Year. We also love the open patio design for outdoor dining with enthralling views of the Inlet.
You can also see the merry Goat Island from here where playful goats and friendly peacocks can be spotted. The award-winning food includes crab and shrimp fondue, fried creek shrimp, and the famous Jack's seafood platter.
Staying true to its name, Drunken Jack's has eight craft beers on draft with a dedicated lower-level lounge. Visitors enjoy specialty drinks with live music and performances from local artists.
Highlights
Established and running strong for 40 years.
The freshest seafood in Murrells Inlet.
Pirate-themed patio with mesmerizing panoramic views.
Wicked Tuna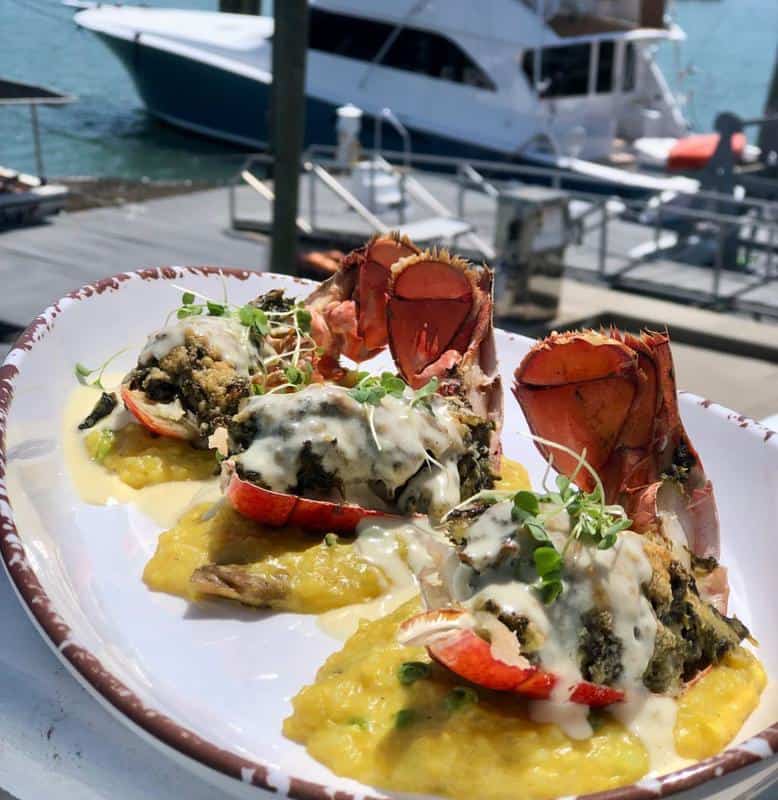 Location: 4123 US-17 BUS, Murrells Inlet, SC 29576
Indulge in a luxurious waterfront dining experience at Wicked Tuna. With its fishing boat and fleet, the restaurant operates on the motto 'Hook to Plate' – and it stays true to it.
Expect the freshest seafood in a relaxed casual dining atmosphere. Make the most of your visit with enchanting waterfront views. It is a great spot for adults to unwind, enjoy a hearty meal and blow off some steam at the rooftop bar.
They are also quite famous for sushi and prime beef. One can never go wrong with a classic Tempura fried fish and chips order, but we highly recommend their Catch of the Day Piccata and Grilled Grouper generously loaded with lemon cream sauce to send your taste buds on a tropical vacation of their own.
Highlights
Creative menu with seafood, sushi and steaks.
Rooftop bar and waterfront location.
'Hook to plate' concept with their own fishing boat.
Dead Dog Saloon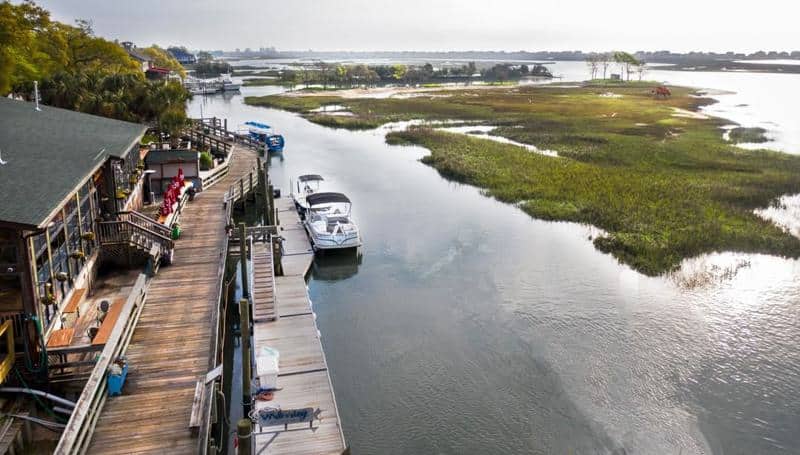 Location: 4079 US-17 BUS, Murrells Inlet, SC 29576
We know – the name itself doesn't sound appetizing, but the inspirational namesake Dudley the Dog is surely shining his light down upon this eatery and it's worth a visit.
Dead Dog Saloon exudes pulsating energy, compelling you to join in and have the time of your life. It offers a high-energy night out with live music and chilled drinks on its huge back deck, but nothing beats the scrumptious seafood menu to sweep you off your feet.
If you haven't tried their Fried Green Tomatoes loaded with fresh shrimp and goat cheese, you are missing out on life. The divine Inlet Trio and Blue Crab Nachos, Raging Angels, and Crab Dips call out to seafood lovers to indulge in the best with amazing water views.
Highlights
High energy spot with live music.
Delicious seafood favorites and bar.
Fascinating views and outdoor seating.
The Claw House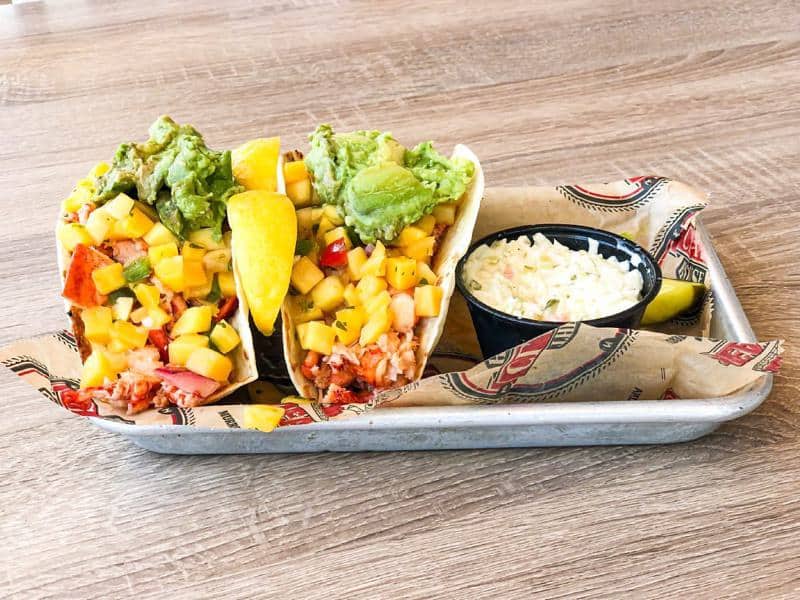 Location: 4097 US-17 BUS, Murrells Inlet, SC 29576
Get a taste of the freshest catch from New England at the Claw House. Conveniently located along the MarshWalk, it is essentially a classic lobster house that wholeheartedly welcomes seafood lovers with delicious treats in store.
The restaurant is famous for its seasonal oysters on the half shell. We also highly suggest indulging in their scrumptious tacos overflowing with meat! Another great item on their menu is the Raw Bar selections, including the sampler platter which has a bit of everything.
Guests enjoy the relaxed, casual atmosphere of the restaurant with craft beer on tap. It also has a huge open deck overlooking the water.
Highlights
Traditional lobster house with generous portions.
Raw bar with craft beer.
Lovely views and a large deck.
Bovine's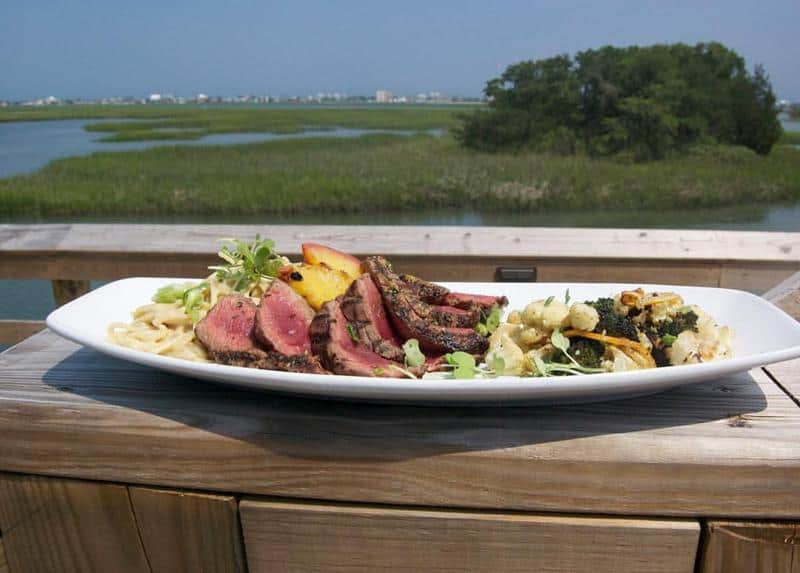 Location: 3979 US-17 BUS, Murrells Inlet, SC 29576
Mix and match some meaty delights with your favorite seafood at Bovine. The lovely waterfront restaurant offers a fascinating dining spot where you can feel the sea breeze caress your hair and saltwater in the air your breath.
The relaxed atmosphere is ideal for a splendid dining experience with views of the deck. The wide range of seafood options has all the classic delights like grilled salmon, fried shrimp, blackened Mahi, succulent crabmeat, and much more.
The food is prepared on their wood-fired grill and known for its charred taste. Get the best of both worlds by combining a juicy Bovine's steak with lump crab and béarnaise topping.
They also have a salad bar with corn pudding and your choice of sides. Taking advantage of the wood-burning oven, they also have a selection of pizzas on their menu.
Highlight
Attractive waterfront location.
Selection of seafood, steaks and pizza.
Open patio and drinks with lovely views.
Inlet Crab House and Raw Bar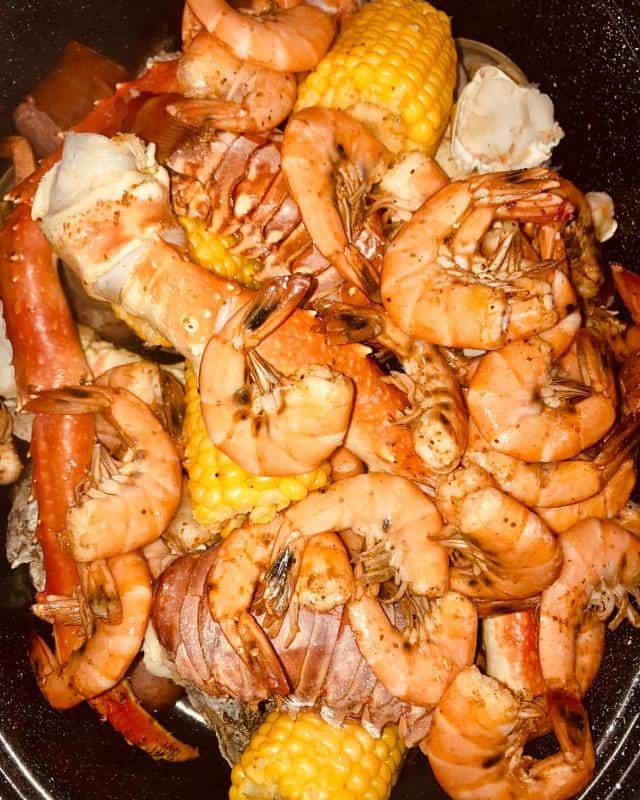 Location: 3572 US-17 BUS, Murrells Inlet, SC 29576
For simple and homely meals that warm up the heart and comfort the soul, head to Inlet Crab House and Raw Bar. The personalized touch, hospitality, and cozy yet vibrant atmosphere make it one of the best seafood restaurants in Murrells, Inlet.
Keeping things in the family since 1992, the restaurant is run by the fishing boat captain Jimmy Mayes himself. The fish, crabs, oysters, and shrimp are caught by the crew and cooked by wife Kim and their loyal staff.
We highly recommend this wholesome, unperturbed restaurant for carefully prepared Southern specialties. They also have a full bar and kid's menu to keep everyone happy.
Highlights
Cozy setup in a homely atmosphere.
Freshest ingredients and food.
Kid's menu and full bar.
Graham's Landing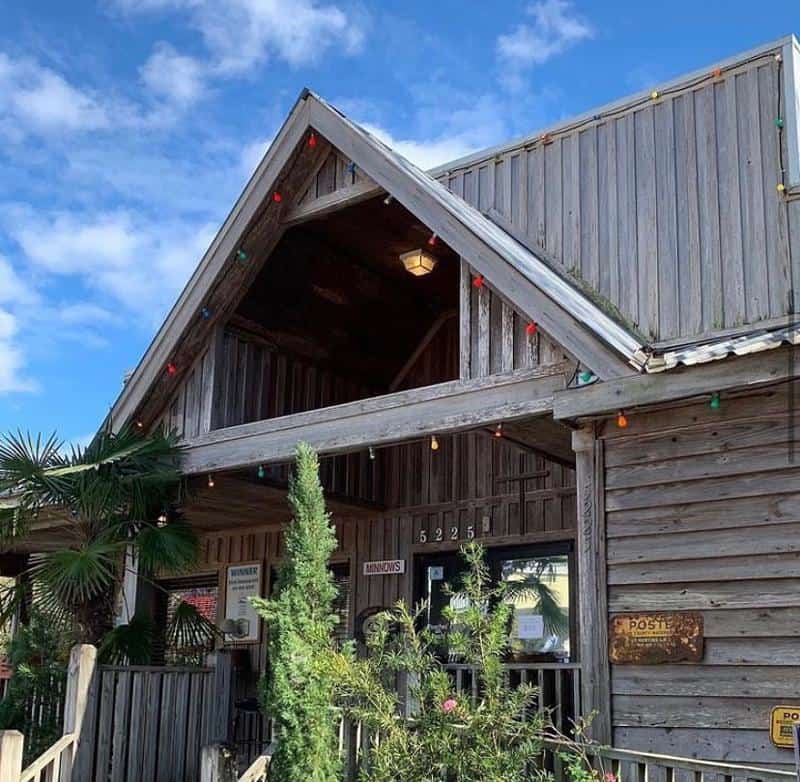 Location: 5225 US-17 BUS, Murrells Inlet, SC 29576
Experience Southern hospitality unlike any other at the lively and welcoming Graham's Landing. Winner of Herald Readers Choice Award 2017, Graham's landing is one of the best seafood restaurants in Murrells, Inlet.
The vast variety of dishes are made from scratch and locally sourced with fresh ingredients.
Their seafood tacos are exploding with flavors, and the fried green tomato BLT adds an ambitious twist to a southern classic. Don't forget to try their sesame-seared tuna while taking in spectacular views of the Murrells Inlet march.
Highlights
Family-friendly spot with a good variety of seafood.
Beautiful views of Murrells Inlet marsh.
Award-winning restaurant.
Wahoo's Fish House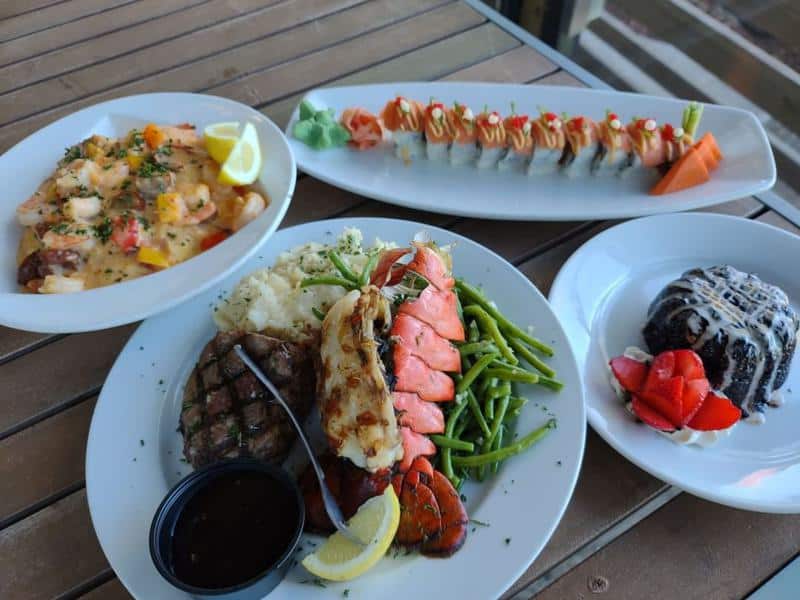 Location: 3993 US-17 BUS, Murrells Inlet, SC 29576
With a stylish 2-story setting, Wahoo's Fish House is a hip spot to try out your favorite seafood delights with an enlivening entertainment scene.
The idyllic creek side restaurant offers innovative dishes with staples like shrimp, crab, and lobster as well as mouth-watering sushi.
Whether you want to party in the outdoor bar with live entertainment or have a relaxed meal with glowing Tikki torches, they have something to please everyone.
Keep your eyes peeled for live band performances updated weekly on their website.
Highlights
Wide range of seafood and sushi.
Live entertainment and outdoor bar.
Sleek and contemporary setting.
The Fish Shak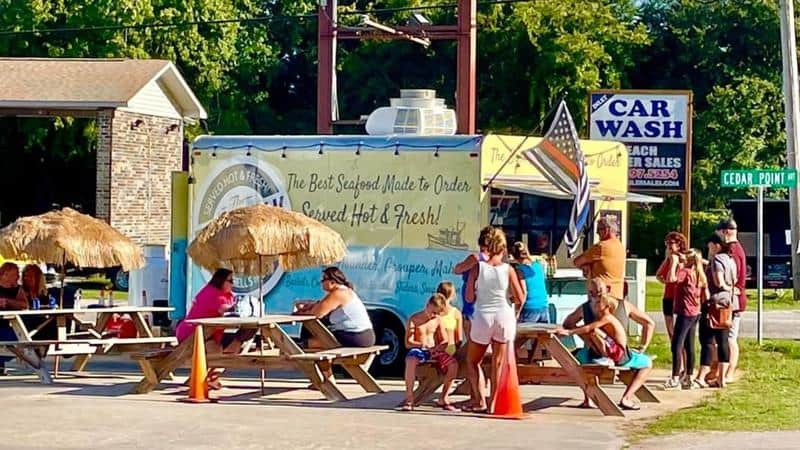 Location: 3525 US-17 BUS Lot 1, Murrells Inlet, SC 29576
Here's something out of the box and a little different than dining in at a restaurant – a food truck. The Fish Shak has earned its spot at the Murrells Inlet with its outstanding seafood and catering services.
It is an ideal spot for food on the go with delights like hot seafood baskets, fried items and tacos, sliders and sandwiches, and a whole lot of other seafood varieties prepared fresh on the spot.
They make their special homemade sauce that makes everything extra scrumptious! Furthermore, they have lovely outdoor seating to have a nice little picnic while taking in the bracing sea breeze.
Highlights
Casual dining spot with seafood on the go.
Outdoor table setting.
Fresh, hot and delicious fried delights.
Read More:
Conclusion
There is something unique about each seafood restaurant in Murrells Inlet. With their twist on classic Southern hospitality, visitors get to enjoy hearty servings of mackerel, tuna, salmon, trout, and grouper with the family.
Scenic views not only involve the marsh and ocean, but boat captains flaunting their catches of the day. The local oysters are the perfect aphrodisiac to set the mood while dining in with your beau.
Book a reservation or head out to one of the casual dining seafood restaurants in Murrells Inlet, and let the seafood lover in you rejoice at the choices and flavors.