Ethiopia is one of those African countries that remained independent throughout the colonial era and doubles as one of the most-visited countries in the world today. One great way to enjoy the country's culture is by experiencing its delicious cuisine.
To achieve this, you need a detailed food guide to help you tour these delicacies and their nutritional benefits.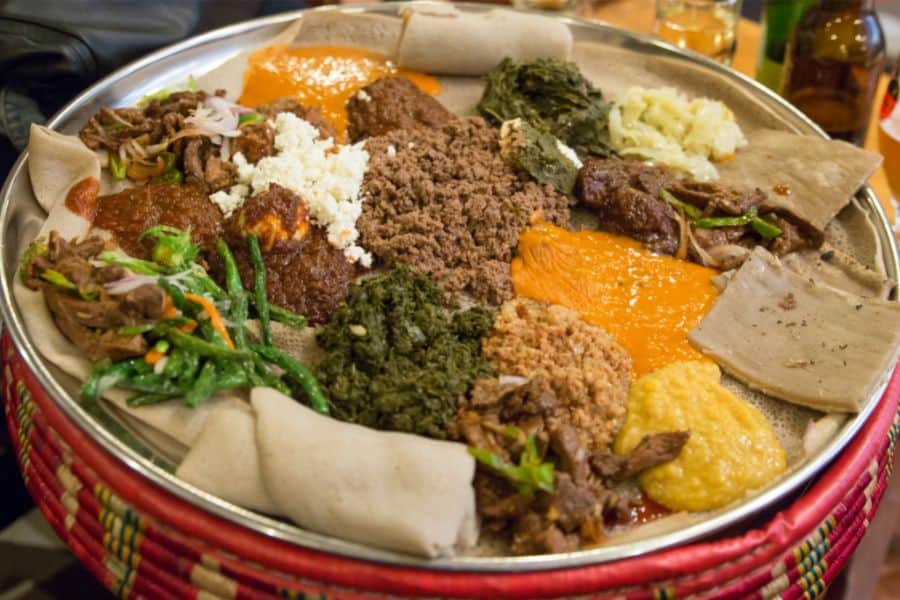 Apart from being tasty and delightful, Ethiopian cuisine is the ideal illustration of a nation rich in cultural legacy. It may even interest you to know that Ethiopian food is regarded as one of the best-kept culinary secrets in the world.
In this guide, we examine those popular Ethiopian dishes that are sure to delight your taste buds.
Top 13 Ethiopian Foods You Should Try
The list below highlights top mouth-watering Ethiopian delicacies worth trying today:
1. Injera (Ethiopian Flatbread)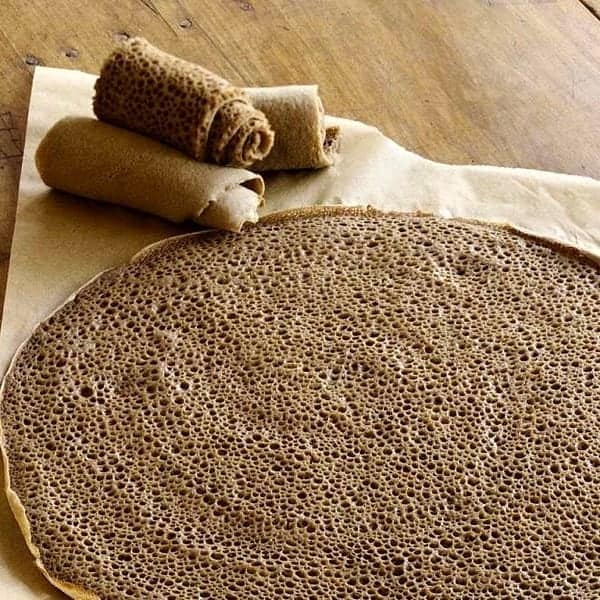 Nutritional facts per 100 g serving:
Calories: 216 kcal
Fat: 1.7 g
Carbs: 43.9 g
Protein: 6.5 g
Injera is a sour fermented flatbread that typically serves as a plate for other food and is also an ideal complement to Ethiopian cuisine's hot dishes. The stew is usually placed on top of a thin layer of injera that covers the entire plate.
Injera has recently gained popularity in the west as a gluten-free superfood, high in calcium and protein. Teff (the smallest grain in the world) is a major ingredient in making the Ethiopian flatbread known as injera.
When making injera, teff flour and water are combined, and a starter (ersho) is introduced to initiate the fermentation process. Before being baked into flat, round pieces of injera on a big circular griddle known as a mitad, the batter is allowed to ferment for two to three days to give it a mildly sour flavor.
2. Sambusa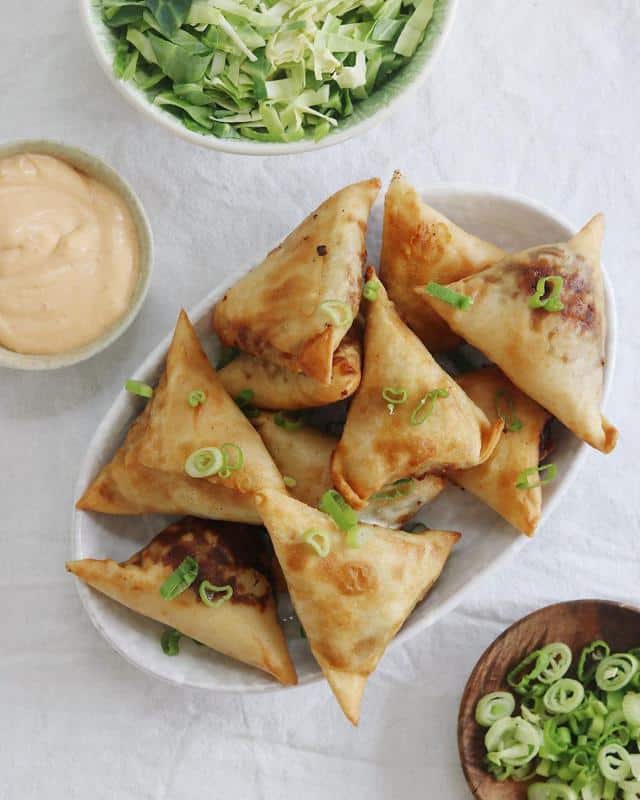 Nutritional facts per 170 g serving:
Calories: 202 kcal
Carbs: 20 g
Fats: 5 g
Protein: 9 g
Sambusa is a common street food with dough pockets (baked or deep-fried) stuffed with seasoned ground meat or lentils. These triangle-shaped wheat flour pastries are usually cooked in vegetable oil and stuffed with ground lamb or beef, minced onions, garlic, and seasoning.
Ethiopians are renowned for their lentil-stuffed sambusas, although meat sambusas are the norm throughout most of East Africa. The sambusa also has a nice crunch and flavor from the dipping sauce. The sauce—typically dark and a little tart—is made from basil, olive oil, honey, black pepper, and balsamic vinegar.
Although sambusa is high in calories, it compensates with an average protein value. This pastry is to prepare, and you may decide whether or not to stuff yours with meat. Additionally, most people who don't like fried food prefer the baked sambusa — regardless of your choice, it's definitely worth a try.
3. Doro Wot (Ethiopian Chicken Stew)
Nutritional facts per 100 g serving:
Calories: 324 kcal
Carbs: 9 g
Fats: 19 g
Protein: 33 g
Doro wot is one of Ethiopia's national dishes served as a communal plate with other meals and sides. Wot is one of the popular names in Ethiopian cuisine and translates into stew, while doro means chicken. In other words, doro wot translates into chicken stew.
Doro wot isn't just delicious but also incredibly spicy. When preparing this dish, bone-in chicken thighs and breasts are sautéed with garlic, ginger, lemon juice, niter kibbeh, yellow onions, and berbere. Tej (an Ethiopian honey wine) and chicken broth constitute the cooking liquids used in preparing the stew.
The stew is topped with hard-boiled eggs, making it a highly nutritious and healthy meal. Doro wot is best enjoyed with shreds of injera flatbread.
In Ethiopia, the stew is a preferred dish during national and religious celebrations and is often served to a guest as a sign of respect.
4. Genfo (Ethiopian Style Porridge)
Nutritional facts per 100 g serving:
Calories: 881kcal
Carbs: 78 g
Fats: 45 g
Protein: 47 g
Genfo, a native breakfast in Ethiopia, is a thick porridge made with barley or wheat flour. This meal is usually paired with niter kibbeh (Ethiopian spiced clarified butter) and berbere sauce, giving it that delicious taste and look.
Genfo is cooked with toasted barley flour, wheat flour, or even maize meal. The flour is poured into boiling water and stirred with a wooden spoon until it thickens and becomes smooth.
The porridge is usually molded like a Bundt cake. The porridge mold has a round orifice that serves to hold/contain the Ethiopian chili oil sauce made with chilies, clarified butter, and flax or sunflower seeds.
Genfo is an excellent source of protein and can fill up the energy you need for half a day. Being a shared dish that's mainly eaten with the hands, porridge chunks are taken outside and dipped into the center's butter and spice mixture.
5. Shiro Wot (Ethiopian Chickpea Stew)
Nutritional facts per 100 g serving:
Calories: 353 kcal
Carbs: 50 g
Fats: 4.8 g
Protein: 22.3 g
Shiro wot is another variety of Ethiopian stews, and you can almost always find it on a mixed plate at an Ethiopian restaurant, just like doro wot.
Shiro is a simple powder mixture of chickpea flour, dried onion, and granulated garlic. However, an elaborate mix usually constitutes ginger, berbere spices, tomatoes, and chili peppers.
While the chickpeas give the stew a nutty flavor, shiro wot generally has a smooth, creamy consistency that's perfect for eating injera, rice rolls, or other flatbreads. However, it's best served with the traditional injera to get every last taste of this soupy delight.
A vibrant bowl of this delicious stew results from the various spices blending harmoniously. You may use it as a starter or garnish for other meals. Last but not least, although cost-effective—since meat isn't introduced—this stew is highly nutritious.
6. Tibs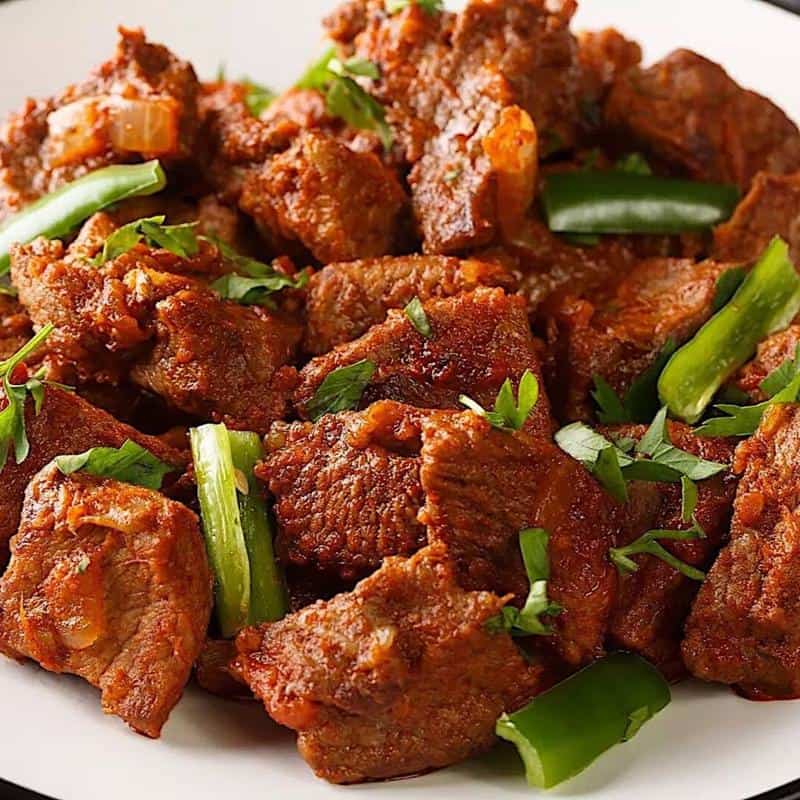 Nutritional facts per 100 g serving:
Calories: 308 kcal
Carbs: 13.1 g
Fats: 21 g
Protein:23.1 g
Tibs is a delicious meal made of a variety of beef or lamb chops sautéed in butter, onion, and garlic. Depending on the meal, tibs may be hot or mild and may or may not include veggies.
The most popular tibs are called Derek tibs (also known as shekla tibs). This cuisine is made from lamb, goat, or beef and then cooked with niter kibbeh, onions, peppers, and spices. It's a meat dish that's often drier than tibs and is pan-fried and seared till crispy.
Derek tibs are usually served in clay pots with coals at the bottom to keep the meat warm. Tibs has high protein and carb content due to ingredients like butter and beef.
Historically, tibs were given as a compliment or a sign of respect. Today, it remains a special dish to mark important occasions and festivals.
7. Tere Siga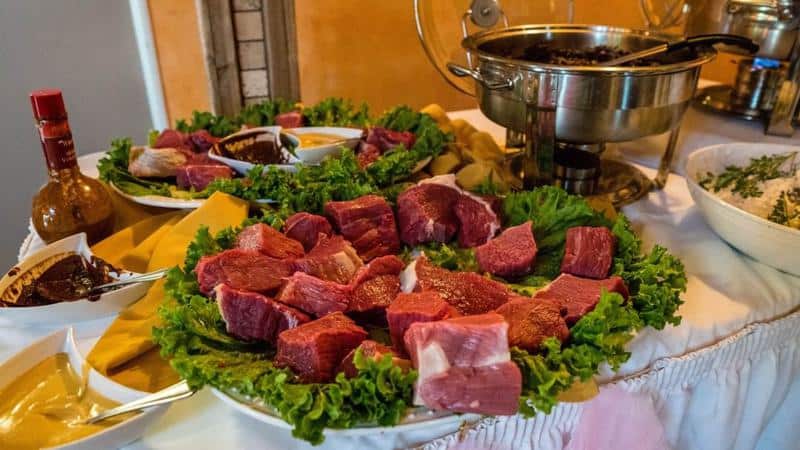 Nutritional facts per 100 g serving:
Calories: 408 kcal
Carbs: 13.1 g
Fats: 45 g
Protein:13.5 g
The term "tere siga" translates into "raw meat" and generally refers to cubes or thick slices of raw red meat sliced from the hanging carcass of a recently butchered animal, most frequently a beef animal.
Tere siga is usually unseasoned and served with injera, mitmita, and senafich (hot mustard sauce). This dish isn't only high in carbs but also calories.
Tere siga is one of those Ethiopian meals that should be consumed with caution since eating raw meat may trigger particular health concerns like the potential intake of harmful bacteria (e.g., E. coli and Salmonella).
However, most Ethiopians rarely suffer negative consequences from tere siga consumption.
Uncooked meat consumption is thought to have started in Ethiopia in the 16th century. It was developed as a military strategy so Ethiopian soldiers wouldn't have to light fires to prepare their food, which would help them avoid detection.
8. Kitcha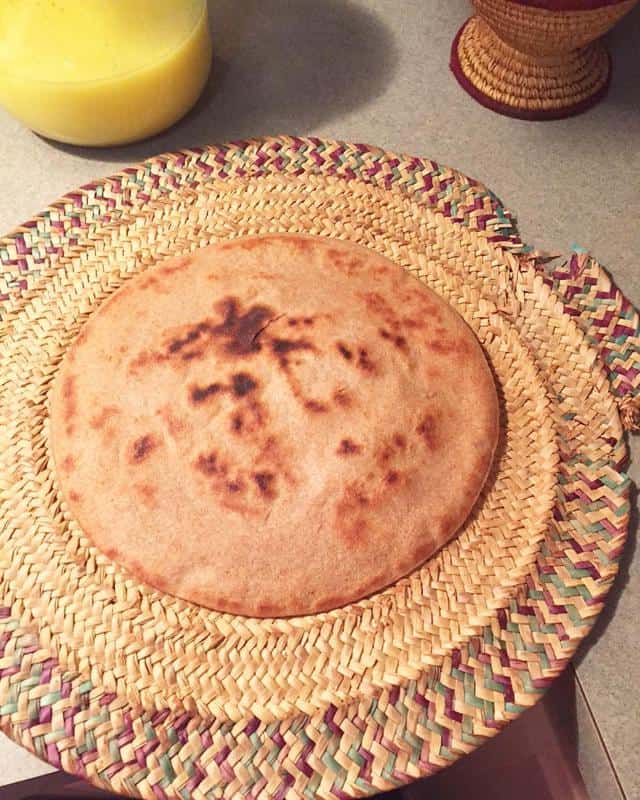 Nutritional facts per 100 g serving:
Calories: 264 kcal
Carbs: 42 g
Fats: 8 g
Protein: 5.3 g
Kitcha or Kita is thin unleavened bread and a staple in Ethiopia and Eritrea's cuisines. It takes the shape of a thin pancake with unusual surface black dots that commonly appear while cooking.
This bread is prepared by combining wheat flour, water, and salt to form a dough. Then the dough is cooked in a pan with melted butter giving it a soft and slightly crunchy outside feel.
Although kitcha can be eaten independently, it's also used to prepare the classic Ethiopian morning dish kitcha fir fir or kitcha fit-fit, chechebsa.
Kitcha is healthy as a breakfast meal and is rich in fiber. The best way to enjoy it is by cutting in pieces and combining them with niter kibbeh. However, most Ethiopians enjoy kitcha with scoops of yogurt on the side of the rich Ethiopian coffee.
9. Fuul (Somali-Style Fava Bean Stew)
Nutritional facts per 100 g serving:
Calories: 147 kcal
Carbs: 35 g
Fats: 7.5 g
Protein: 6.82 g
Ethiopian fuul, or simply ful, is a mixture of spiced and stewed fava beans eaten by many Ethiopians for breakfast. This dish is also native to East Africa and the Middle East.
The fava bean is a flat, oval-shaped bean with a distinctive weight, a delicate taste, and a ton of vital nutrients. Typically, regular fuul is served in small portions since only a little can be incredibly filling.
Fuul is designed to be consumed by one person and comes with an unending supply of fresh bread for dipping. However, the special fuul comes with tomato, green chile, onion, egg, yogurt, and occasionally avocado.
The delicious cumin flavor of fuul is appealing, giving you the Middle Eastern feel.
Fuul is a healthy fast food option, especially in Addis Ababa, where it is frequently prepared and served from giant pots.
10. Kitfo (Ethiopian Steak Tartare)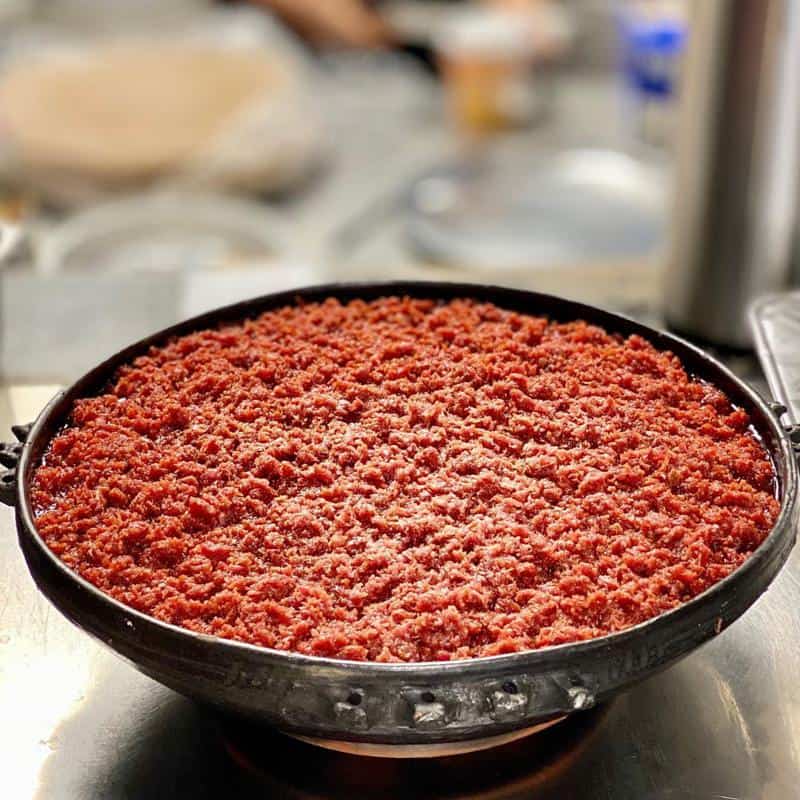 Nutritional facts per 100 g serving:
Calories: 271 kcal
Carbs: 12 g
Fats: 11.6 g
Protein: 4 g
This Ethiopian beef tartare is made of fresh minced meat and is spiced with niter kibbeh and mitmita. Interestingly, it's served raw or with a mild cheese called ayib.
The beef is minced and cooked in a pan with a bit of butter, mitmita, and occasionally thyme.
The dish is incredibly tasty due to the infusing flavors of Ethiopian spices. It also has a peculiar texture that's soft like liver yet grainy.
While kitfo is normally served leb leb, i.e., warmed (not cooked), you can also request betam leb leb, which means warmed to a great extent (i.e., cooked). It may be eaten with injera or kocho (a thicker variety of flatbread), white rice, and other vegetable stews.
Particular restaurants in Ethiopia specialize in kitfo, like Yohannes Kitfo in Addis Ababa, if you want to eat the raw form.
11. Messer Wot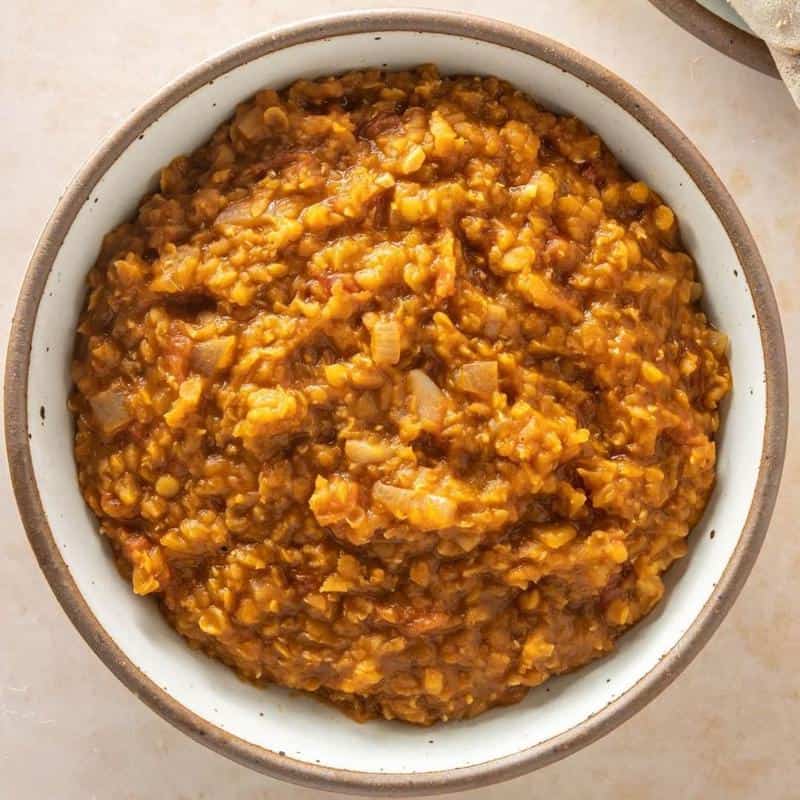 Nutritional facts per 100 g serving:
Calories: 415 kcal
Carbs: 51 g
Fats: 1 g
Protein: 20 g
Messer wot a traditional vegetarian dish in Ethiopian cuisine that's simple to prepare. It's typically made with red lentils, water, tomato paste, sautéed onions, garlic, ginger, and a berbere spice blend.
In preparing messer wot, onion, niter kibbeh, garlic, tomato paste, and a good amount of berbere are slowly cooked together. Next, red lentils are added and cooked over low heat until they're tender and absorb all the flavors. Depending on the cook, more niter kibbeh and berebere may be introduced for a spicier feel.
In summary, messer wot is simple, satisfying, and nutritious. The dish is served as a portion of a vegetarian or mixed plate but tastes best when enjoyed with lots of injera. Another great way to enjoy it is by coupling it with hot rice.
12. Enkulal Firfir (Ethiopian Scrambled Eggs)
Nutritional facts per 100 g serving:
Calories: 463 kcal
Carbs: 23 g
Fats: 31 g
Protein: 26 g
Enkulal firfir, meaning scrambled eggs, is a staple breakfast dish in Ethiopia.
Although scrambled eggs may seem like a simple dish, Ethiopians give their version a special kick by adding hot sauce, herb-infused niter kibbeh, and sauteed vegetables.
In enkulal firfir, eggs are added after tomatoes, red onions, and jalapeño peppers have been sauteed in niter kibbeh.
Enkulal firfir stands out for its unique bright yellow color, yielding a taste significantly superior to pale egg yolks in the west. The eggs, in addition to having a good bite of cooked vegetables, are fluffy and light.
Enkulal firfir is high in protein and flavorful, resulting from the rich ingredients used to cook it. It's best paired with Injera and fresh bread rolls but may also be enjoyed with chechebsa.
13. Azifa (Ethiopian Lentil Salad)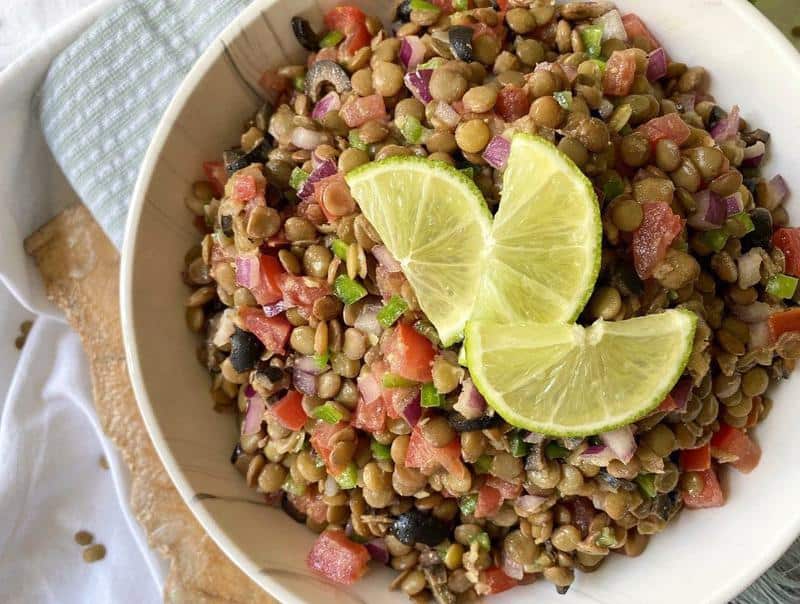 Nutritional facts per 100 g serving:
Calories: 113.7 kcal
Carbs: 9 g
Fats: 4 g
Protein: 20 g
Azifa, a favorite dish among Ethiopians, is a lentil salad widely eaten during the liturgical season of Lent, when most Ethiopians abstain from eating meat. This green lentil dish comprises lentils, lime juice, mildly hot peppers, and spices.
Apart from being a vegan and gluten-free dish, this meal is usually served as a part of a combination platter. Mustard powder is a secret ingredient that gives azifa a flavourful twist. Notably, it has a unique flavor as opposed to just adding a tiny bit of dijon to a vinaigrette.
Tasty and stacked with high nutritional content, the meal is packed with amazing flavors and is served cold or as a light snack.
Read More:
Conclusion
Ethiopian foods are both tasty and nutritious, as observed in this guide. Most of the ingredients used to prepare these foods provide excellent dietary benefits. The icing on the cake is that you can choose Ethiopian foods that suit your diet if you're a vegan, for example.
We hope this guide has educated you on tasty Ethiopian meals worth trying when you visit an Ethiopian restaurant. Whether you opt for the carbs-stacked injera or lean towards the protein-dense doro wot, you're surely in for a great treat, regardless.