This article discusses the top 10 pizza chains worldwide, with most being headquartered in the US.
Any venue you eat at will serve your appetite well, but some pizzas are better than others, even within the same chain. The reason is that most pizza chains have various options based on ingredients, toppings, and diet.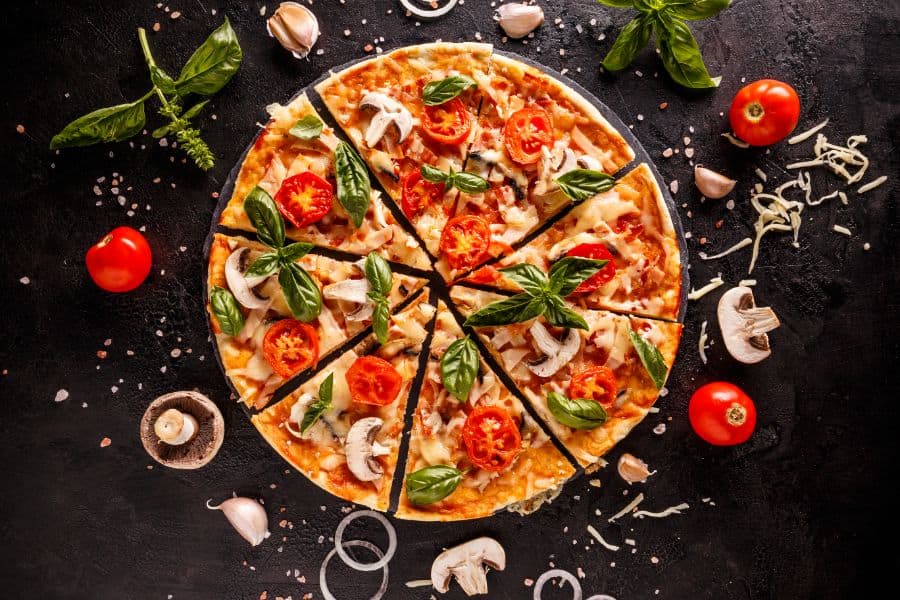 Let's summarize the best five pizza chains before discussing them and the others in more detail.
Summary of the Best Five Pizza Chains
Here's a brief description of the top 5 pizza chains in the world:
1. Bráz Pizzaria (The Overall Best Pizza Chain)
This is the best pizza chain in South America and will give you the experience of both traditional Spanish and Brazilian pizza.
This chain has been making pizzas for over 20 years, and its consumer base is rapidly expanding due to the kind of pizza they roll out.
Every new pizza mix they introduce is an immediate hit in the market.
2. California Pizza Kitchen (The Best Pizza Chain for Innovative Dishes)
Since pizza originates from Italy, one might think pizza made with Italian ingredients is superior to those without Italian ingredients or baking style. California Pizza Kitchen is one of the few pizza chains that successfully discredits this assumption.
From their operating style, you'd notice a strong zeal to discover more pizza mixes that can taste even better than their Italian counterparts.
3. Marco's Pizza (The Best Pizza Chain for Top Deals)
Among all the pizza chains reviewed, Marco's Pizza offers the best deals, especially when you consider the quality and taste of their pizzas.
However, do confirm that the prices advertised online correspond with in-house menu prices, as we've seen a few complaints that online and offline prices can differ.
4. Big Mamma Group (The Best Pizza Chain for Family Outings)
Big Mamma Group is unlikely to disappoint if you prefer a venue that serves traditional Neapolitan pizza in a family setting. We have this in our top five picks because they put special effort into accommodating group dinners.
5. Hungry Howie's Pizza & Subs, Inc (The Best Pizza Chain for Toppings Variety)
We love this pizza chain for its tasty meals and, most importantly, the array of options you have for toppings. You can choose from almost 20 different toppings and even use the nutrition builder option to select the ingredients to be used for your pizza.
Top 10 Pizza Chains in the World
Now, we'll understand more about the best pizza chains in America and worldwide. Each pizza chain review provides enough information to help you decide whether or not to dine with them.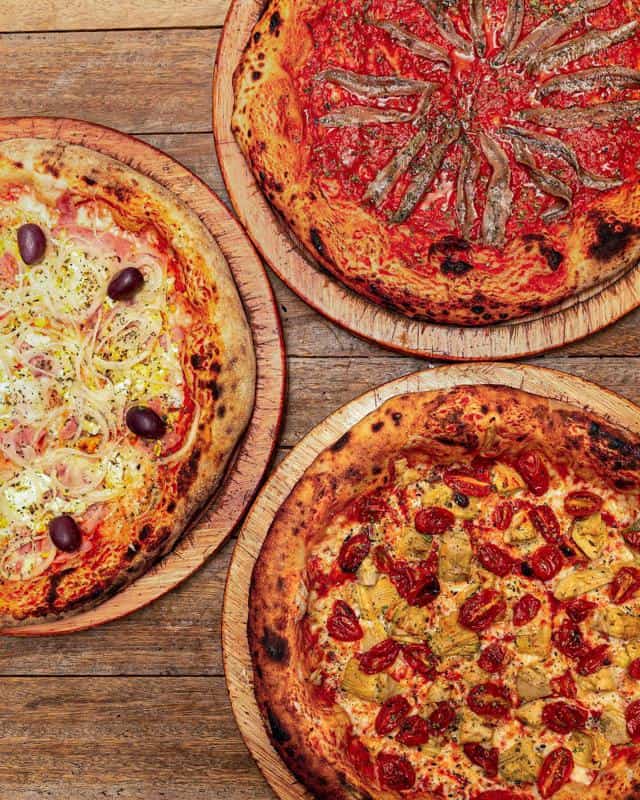 Headquarters: Campinas, Brazil.
Locations: 8 outlets across Brazil.
Known for: Blending traditional Spanish pizza with Brazilian culture.
Bráz Pizzaria is mainly a Brazilian pizza chain with most of its ingredients shipped from Spain. They offer pizza closest to the traditional Spanish dish and even improve on Spanish pizza.
If you're in Brazil and want to taste the native Spanish pizza, we recommend giving Bráz Pizzaria a try. This is Neapolitan pizza refined to a traditional Paulista pizza. The main difference between their pizza and the traditional Spanish dish is that this one is crispier and larger.
Bráz Pizzaria uses a wood-fired oven to cook their well-leavened pizza. The dough is improved with mother yeast and leavened for 48–72 hours, which explains the great and digestible texture of the pizzas.
Their traditional pizzas come in different flavors, and the dining environment is incredibly clean and friendly. If you want to enjoy traditional pizzas with different flavors, Bráz Pizzaria is one of the best pizza chains in the world that makes them.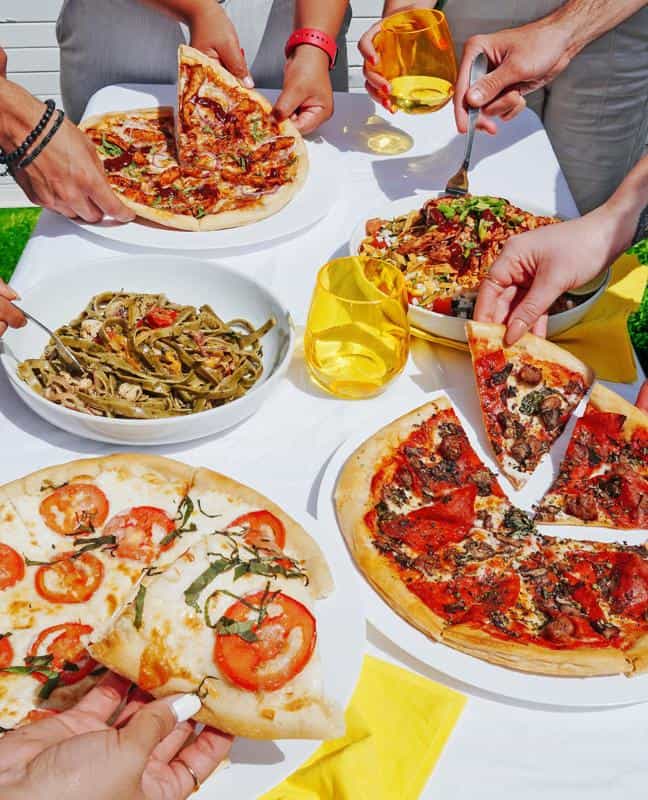 Headquarters: Costa Mesa, California, United States.
Locations: Nearly 200 restaurants worldwide in 12 international cities and 11 countries.
Known for: Magnificent dining venues and innovative dishes.
California Pizza Kitchen surpasses other pizza chains in its combination of a superb dining experience and the best flavors possible. Their dining venue alone will tell you these guys mean business and are likely to produce some of the best pizzas ever.
If you eat pizzas here, it'd be hard to stop coming for more. Apart from getting everything right about pizzas, they're incredibly innovative. If you want a pizza joint that's constantly working on new ways to improve your dining experience, it's California Pizza Kitchen.
These guys have been inventing things about pizzas since 1985, when they became the first to offer barbecue pizza. We can't count the new stuff they've introduced since then, but there are many.
Today, when you visit their pizzerias, you'll find an endless variety of pizza toppings and supporting dishes that make your pizza meals way more delicious than a lone pizza dish. They add a wide variety of California-based ingredients and dishes of power bowls, salads, and pasta to your pizza meal.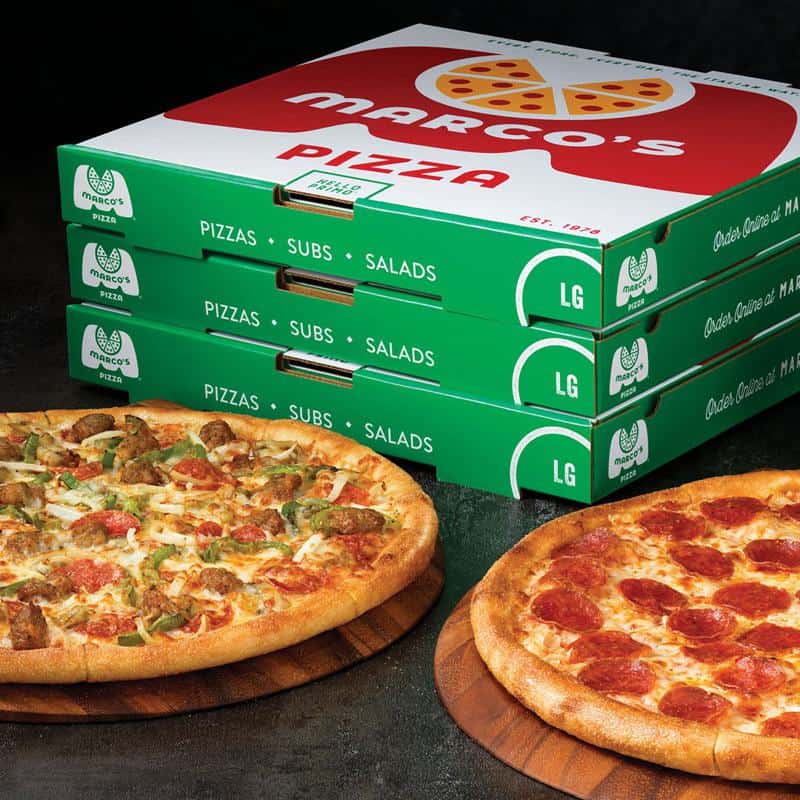 Headquarters: Toledo, Ohio, United States.
Locations: 1,052 venues in multiple countries.
Known for: Great deals and cheap offers.
At Marco's Pizza, not only is their pizza fresh and delicious, but the pizzerias are also highly hospitable. It's a place where workers are always busy but would still have time to joke with you and won't rush you through the ordering process or your meal.
These guys have been making pizzas for over 30 years, and the sheer deli of their dishes makes many customers loyal to their brand. Many worry about maintaining access to the pizza from this chain after moving to a new location.
The only trouble you might have with Marco's Pizza is their online ordering system. Too many graphics on the website gives the impression of over-advertising, and another picture that covers more than half the homepage won't move even if you scroll up and down the page.
On the bright side, If you find it difficult or inconvenient to buy through the website, you can use their app instead and even bag 25% off your order.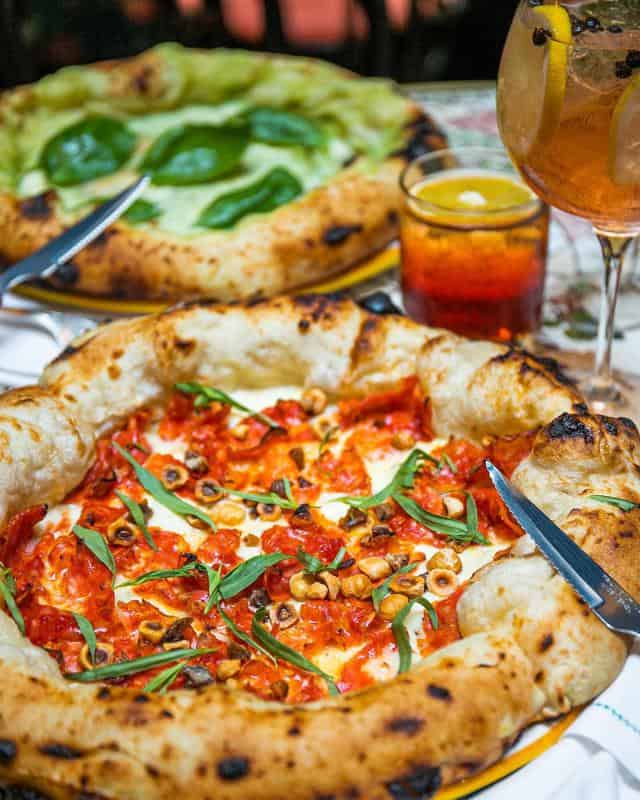 Headquarters: Paris, France.
Locations: 21 pizza venues across several countries.
Known for: Family-friendly venues and traditional Spanish pizza.
Big Mamma Group is one of the best pizza chains in Europe. Observing how they started, one would think they never planned to expand, or at least such a plan wasn't expected to be implemented so fast.
This pizza chain is relatively new, considering the first locations opened just in 2015. These locations (East Mamma and Ober Mamma) were an immediate success due to the quality of food and services offered. From then on, the chain expanded to several cities in France, Spain, England, and Germany.
This pizza chain doesn't seem to have a US location yet. However, with how people are flocking around their pizzas, it's only a matter of time before their presence is felt across the American pizza community.
There are many instances where customers order twice in one sitting due to the sheer deli of the pizzas. And that isn't the only thing to love about Big Mamma Group. Visiting their website alone will give you a good idea of the kind of friendly environment to expect.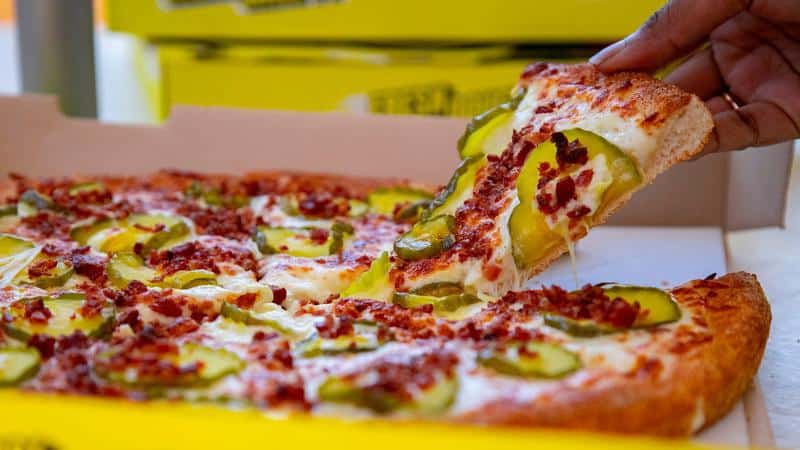 Headquarters: Madison Heights, Michigan, United States.
Locations: Over 550 stores in the United States.
Known for: A wide range of toppings options.
This pizza chain boasts different pizza options, up to 17. That's not all, though; a nutrition builder option allows you to choose the ingredients for your dish. Thus, we see that this chain tries to satisfy everyone's preferences when it comes to pizzas.
Although such an approach in the food business normally gives rise to efficiency problems, these guys appear to have prepared for the challenge of such a business model.
Much of their differences lie in the sizes and toppings of the numerous delicious pizza dishes they offer. If pizza is your present desire, you should get whatever type you want here.
With almost 20 toppings options and the comfort of ordering online, you're unlikely to be disappointed after trying Hungry Howie's. All the pizza sizes are listed on their website and range from 8 to 16 inches, containing 4, 6, or 8 slices.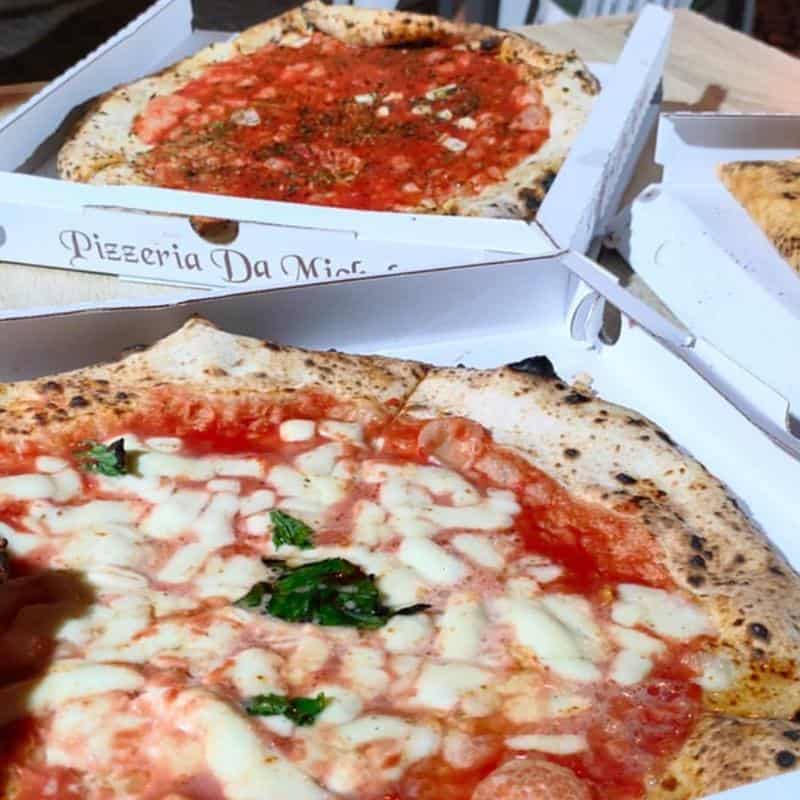 Headquarters: Los Angeles, California, United States.
Locations: 20 venues worldwide.
Known for: Classical Spanish pizza.
If you want to enjoy pizza done in the traditional Italian style—and not the different designs popping up around the world—this is one of the pizzerias to visit. One of the reasons is that the founding family still runs the business till today.
That doesn't mean they aren't trying some modern ways to expand and run the pizzerias. Not long ago, they've been building a pizza brand that looks set to penetrate different international markets pretty soon. They already have a chain of pizzerias, with some in foreign countries, including America.
Although the buildings, interior design, and decor differ among the pizzerias, the taste is the same, and you'll hardly notice any differences in the flavor of this chain's pizza. The staff is trained to produce the same taste and texture throughout Da Michele's pizzerias. Notably, each outlet uses the same Italian-imported ingredients, recipes, and even cooking techniques to make your dish.
Headquarters: Dallas, Texas, United States.
Locations: Several pizza venues in Australia and the Middle East.
Known for: Great pizzas, young staff, and hospitality.
The 400 Gradi pizza chain has a massive presence in Australia and the US owing to its top-class Neapolitan pizza. They also have chains in the US that produce pizzas that are soft and melt in the mouth.
What inspired the owners to start a pizza chain in Australia and later the US was the dramatic success of their pizza business back home in Spain. The company is a certified member of the Neapolitan Pizza Association, implying that its ingredients are first quality and the preparations excellent.
At 400 Gradi, most chefs and cooks are youngsters who seem to have acquired a Ph.D. in hospitality. If you want a pizza venue that treats you like a king or queen, in addition to serving you pizzas that make you drool, you probably owe these guys a visit.
While these pizzas are moderately priced in both the US and Australia, they cost a bit higher in the US. The dough from which this pizza is made is somewhat chewy, with a pleasant nutty flavor reminiscent of a mild acorn flavor.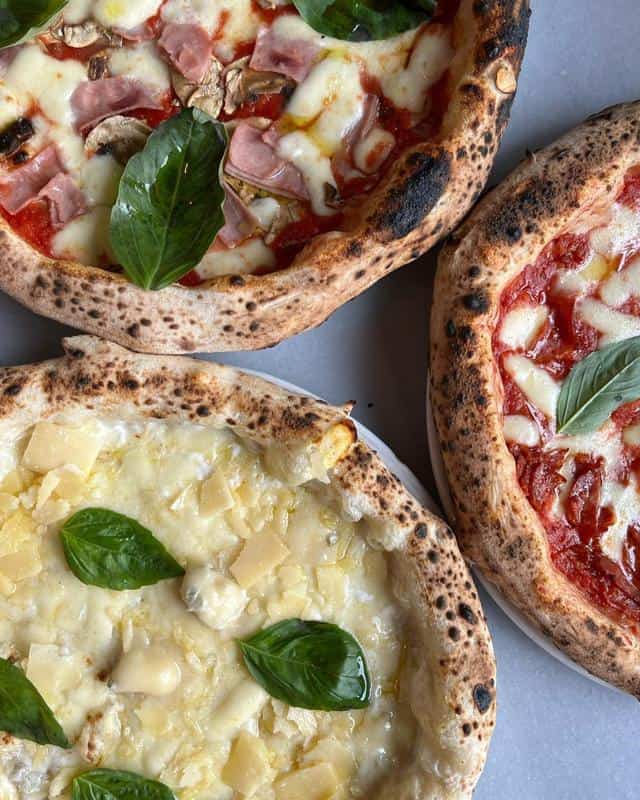 Headquarters: Madrid, Spain.
Locations: Five (5) pizza restaurants in Spanish cities.
Known for: Dedicated restaurants to special diets, like gluten-free pizzas.
Grosso Napotelano has a Ferrarelle award for "Best Marketing 2022." They've advertised their pizza chain better than the best market players here, and this undoubtedly contributed to their popularity.
However, people like them not for their effective adverts but for the top-notch Naples and Neapolitan pizza they serve the public.
They started in Madrid and are rapidly expanding throughout Spain. Their mozzarella and tomatoes are Spanish but from among the best. Moreover, the Naples flour used has a reputation for quality and thorough processing.
Fans of gluten-free pizza have dedicated, separate venues in the pizza chain, highlighting the extent to which these people value the dietary restrictions of some customers.
One of the most critical factors that makes them loveable is the below-average market prices of their pizza. This remains despite their use of the best available ingredients in Europe. So, if you want first-grade pizza at a discounted price, Grosso Napoletano is among the pizza chains to check on.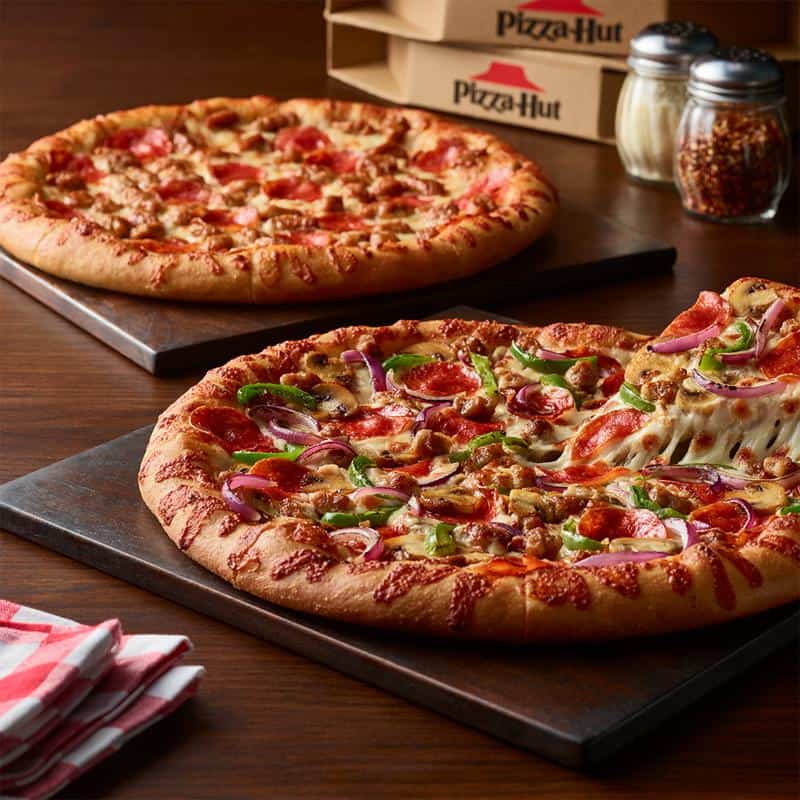 Headquarters: Plano, Texas, United States.
Locations: more than 18,000 restaurants in over 100 countries.
Known for: A wide variety of pizzas in different sizes.
You'd hardly find anyone complaining about the taste and quality of pizzas from Pizza Hut. They offer delivery service, with most delivery agents being super friendly, and your pizza would arrive in less than an hour after you order. However, you might have a problem with delivery if your home is farther than 1 mile away.
Pizza Hut offers a range of pie options to ensure every pizza lover gets something to bite when they stop in. The Pan Pizza is the most popular option, according to Pizza Hut, and we can see why. It has a thick crust cooked to a golden crisp but with a soft and chewy inside. It also comes in three sizes: personal, regular, and large.
Another great option is the Skinny Slice, which has the same flavor as the Pan Pizza but has fewer calories due to the smarter portion size. The skinny slice is available in medium and large sizes. Other options include gluten-free, hand-tossed, stuffed crust, etc.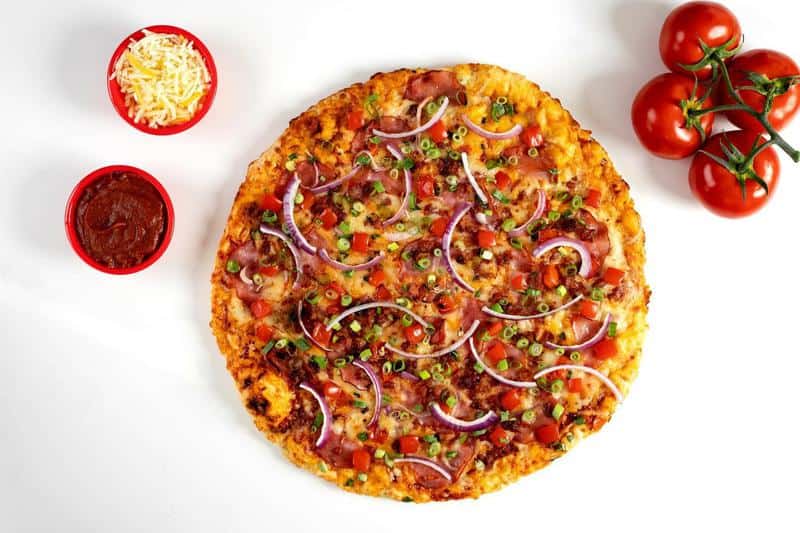 Headquarters: Atlanta, Georgia, United States.
Locations: Over 400 restaurants in 273 US cities.
Known for: Big piles of homemade tomato sauce.
Round Table Pizza has been around for the past 60 years, long before most pizza lovers today were born. Hence, it's no wonder they're so good at what they do.
Since their shop hasn't closed during all these years, and they even continue to expand, it means people love their pizzas. So, if you prefer pizza piled with homemade tomato sauce toppings piled to the brim, you should pay them a visit. Depending on the pizzeria's serving capability, you can dine in, order delivery, or order takeouts.
Wherever available, you'll find the dining environment precisely as the name implies. Their seating is very comfortable for friends and family to eat together.
Just like California Pizza Kitchen, they also have many choices of toppings. Whichever one you choose will be cooked properly and served piping hot.
However, some people do have issues with delivery, though it doesn't happen often. Despite Round Table offering delivery services at some locations, in-house dining or carryout is better to guarantee a hot dish.
Read More:
Conclusion
This article shows that pizzas aren't made equally — the ingredients and methods of making pizzas differ, and skill also counts. Even if all the pizza components are available, you won't enjoy it if the chef hasn't mastered the cooking process.
At certain pizza chain outlets, you may discover poor preparations where you can't even finish the pizza served even if you haven't eaten your fill. Namely, it may have too many toppings, too much dough, inadequate cheese, or burnt crust, among a host of factors that can make you regret coming in the first place.
Hence, it's essential to read past customer reviews before visiting a particular pizza chain outlet.