Pizza is a well-known meal around the world. Several food-related businesses are popular solely for their pizza, so there's no denying that the industry is competitive.
Additionally, brands strive to offer more to consumers as the market competition increases.
Creativity, innovation, and tireless pursuit of additional consumers are nothing new for Pizza Hut. This worldwide and American franchise restaurant is renowned for its "firsts," including the Stuffed Crust and Pan Crust pizzas, which other pizzerias have attempted to imitate.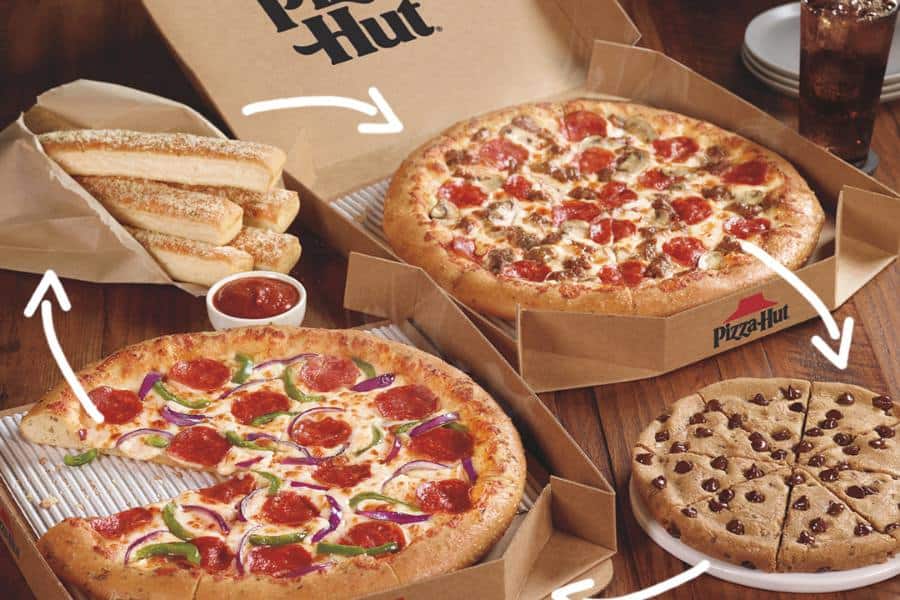 Pizza Hut has taken its time to develop a variety of pizza types and options throughout the years. In addition, there could be some controversy on the toppings you should choose for your pizza, given the variety of alternatives.
Apart from various sweet, spicy, and savory toppings, Pizza Hut also offers several unique crust varieties that you may experiment with to elevate your pizza experience.
A Brief History of Pizza Hut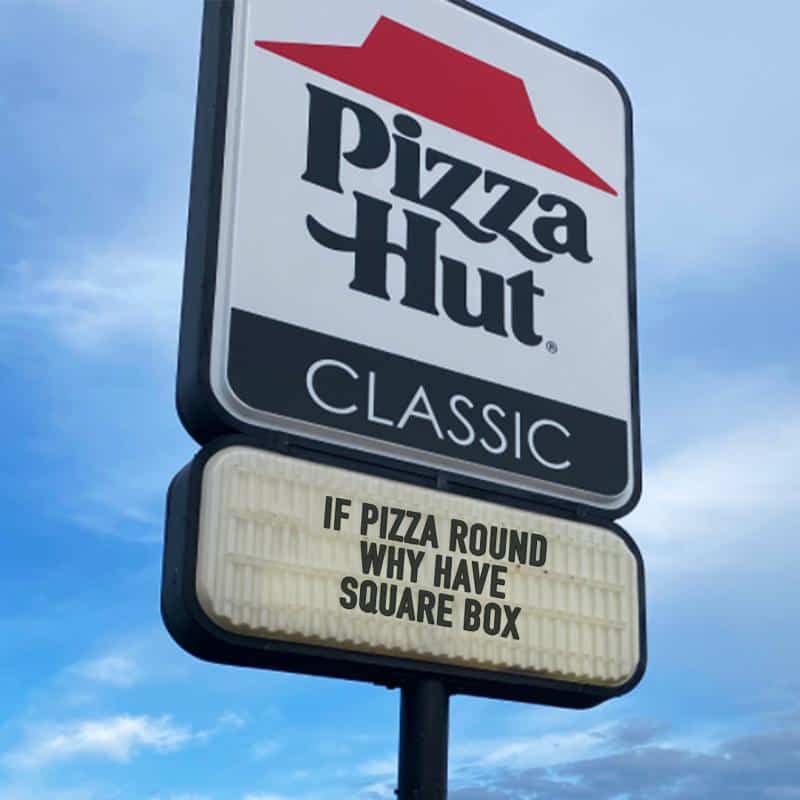 Two young, enterprising brothers named Dan and Frank Carney launched the initial Pizza Hut restaurant on June 15, 1958. When the brothers were still college students and only had a meager $600 to their names—which they had gotten from their mom—they opened the first business in the Kansas city of Wichita.
Since then, the business has established over 7,300 stores in 105 different nations and territories.
With a variety of pizzas, side dishes, and desserts to choose from, Pizza Hut is an American restaurant business with locations across the world today. Yum! Brands, Inc. is the parent corporation, and its main office is in Plano, Texas, in the United States.
Pizza Hut has locations around the globe, including in Australia, the United Arab Emirates in Oceania, Mexico, and Canada in North America, India (completely unaffiliated with the different pizza company, Pizza Hat), Vietnam, and Africa.
The Concept of Pizza Crust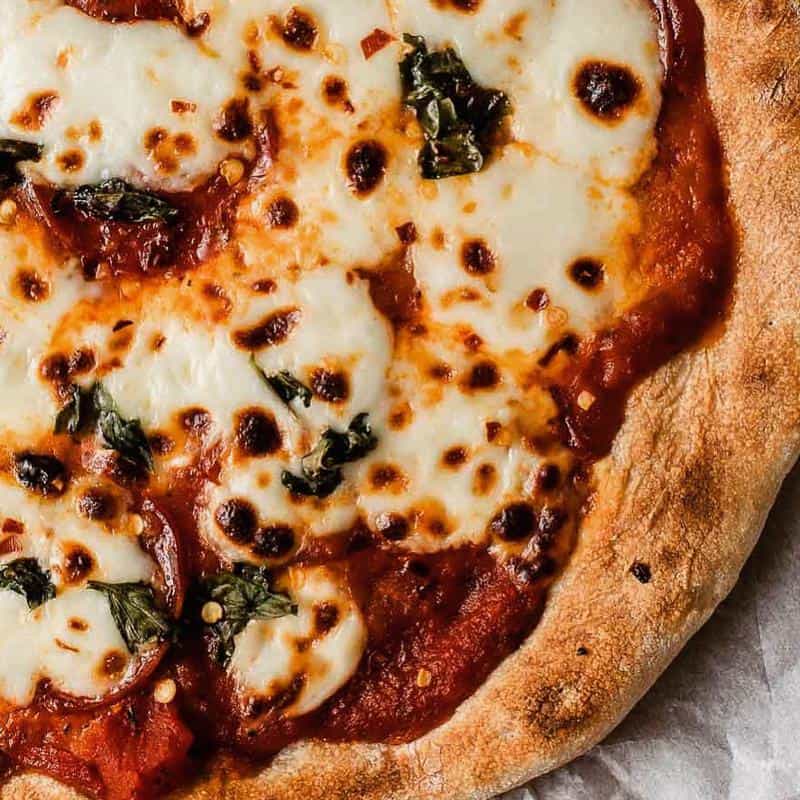 The concept of pizza crust is one point we want to address before moving on. Most people wrongly assume that the pizza's crust is on the edges or in the middle.
In actuality, the crust covers both pieces, or to put it another way, the entire pizza base, along with the edges. The crust comes in various forms, and a wide range of ingredients is necessary to make it.
The base of any pizza slice is the crust, which primarily defines the pizza's flavor, thickness, and texture. Although the crust is produced from flour and other ingredients, there are various techniques for making flourless pizzas.
You can watch this video on flourless pizza recipes.
Pizza Hut provides four primary pizza dough varieties. Your preferences for a crust will determine which is the best option for you.
The restaurant makes an effort to accommodate varied tastes. There is, therefore, something for everyone, whether you desire a chewy, thin, or crispy pizza.
Nonetheless, in addition to these main pizza crust types, there are other temporary and seasonal pizza crust types we'll also analyze in this article.
The Different Pizza Crust Types at Pizza Hut
Pizza Hut provides several seasonal specials and modifications; however, they're primarily mere upgrades to the company's original standard pizzas.
For instance, the seasonal crust known as "hot dog packed crust" is only well-known in South Korea, Japan, and a few other nations. Therefore, Pizza Hut may not sell some of these crust types in your country.
On the other hand, some crusts, like the hand-tossed crust, are a standard in the Pizza Hut menus across all locations.
This article is ideal if you've just heard about Pizza Hut or want to learn more about its selection of pizzas. We'll explain in detail the several types of traditional, seasonal, and temporary Pizza Hut crust.
For your convenience, we'll begin by going over the main crust varieties featured on all of the Pizza Hut menus.
1. Original Pan Pizza Crust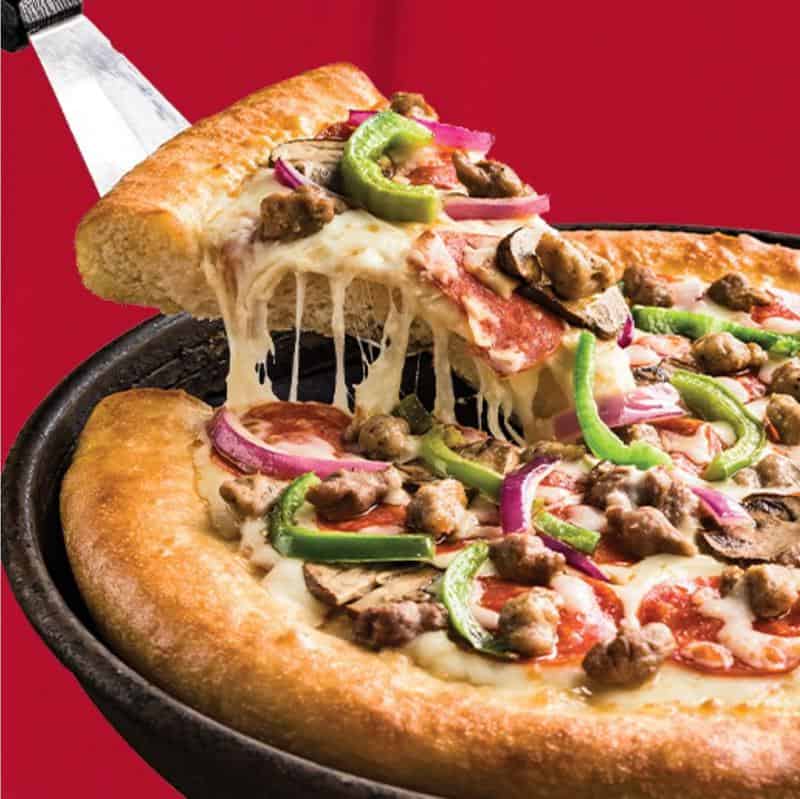 When Pizza Hut initially launched its brand to the market in the 1950s, the Pan Crust constituted the only style of crust available. The crust is formed by deep-frying the dough in a shallow pan, as the name would imply.
The term "deep dish" refers to the base of the pizza being deep-fried instead of grilled or baked. The crust's edges have a deep golden color and distinctive flavor attributable to deep frying.
There's a distinction in the making of various pizza foundations. Thus, the pan crust has remained a perennial American favorite despite Pizza Hut adding more crusts to their menu throughout the years.
Pizza Hut claims they first intended to keep their pizzas thin and somewhat crunchy. However, after conducting some market analysis, they learned that several people like their pizza featuring a thicker crust and a delicate core.
The traditional pan crust is thick, doughy, and chewy. If you're in a rush or are unfamiliar with Pizza Hut's selection of pizzas, the pan crust is a good option.
Still, several people believe that the thick crust is a little too doughy and detracts from the flavor of the toppings.
This pizza is available in different preferable sizes, ideal for savoring alone or sharing.
2. Original Stuffed Crust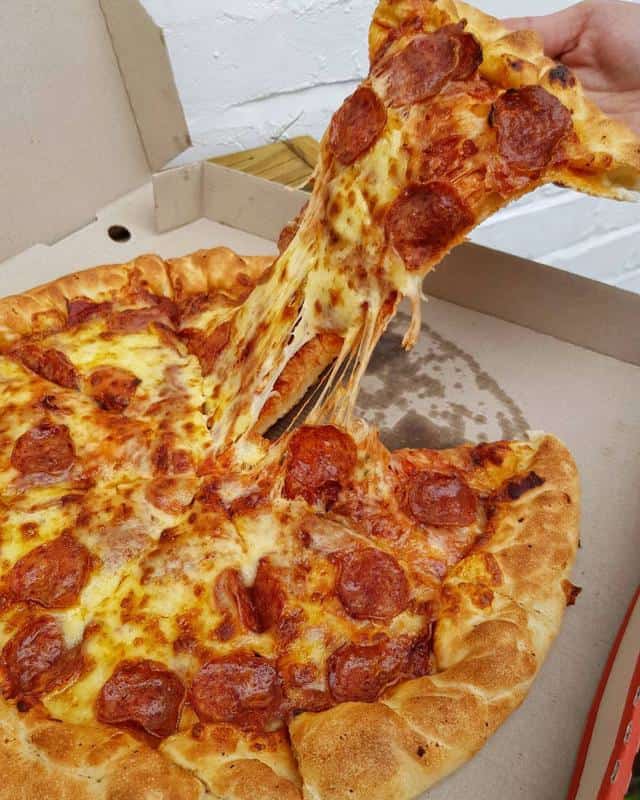 For lovers of cheese, this choice is a perfect option. Since this pizzeria initially offered the stuffed crust choice in 1995, it has enjoyed widespread patronage.
Pizza Hut used the unique recipe to differentiate itself from competitors in the then-emerging pizza war, in which companies took tremendous measures to win over consumers. The stuffing of this pizza's crust is with warm and melty cheese.
The unexpected cheese rush at the edges of each pizza piece makes the seemingly ordinary dough taste great.
It doesn't end there; the remainder of the pizza comprises well-known components such as the perfect sauce, whole milk mozzarella, and whatever toppings you choose.
3. Classic Hand-Tossed Crust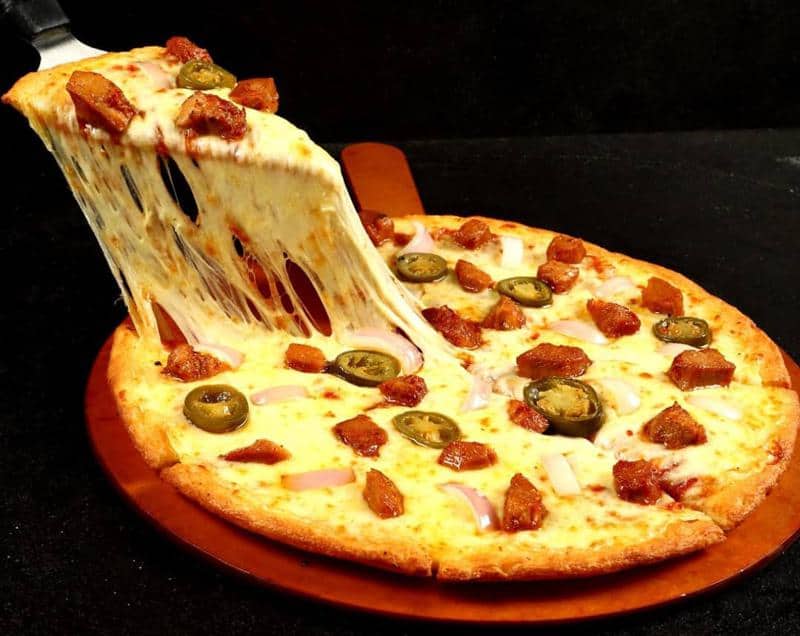 This classic hand-tossed pizza crust is distinctive from other crusts. The preparation is primarily responsible for the size disparity.
The dough was traditionally—and literally—tossed into the air to form entrapped air in the crust to make a hand-tossed pizza. Contemporarily, it's manually stretched into the air while making the hand-tossed traditional crust until it assumes the desired form.
This method gives the dough air space, reducing the likelihood that it would rise excessively in the oven. The end product would be a lighter, fluffier, and airier pizza foundation.
The pizza won't be overly chewy because of the medium-thickness of the dough. Instead, the foundation will have some crunch and be lighter and fluffier.
In addition, the pan crust is thicker than the hand-tossed crust. The hand-tossed crust has some crispness and is comparatively thinner and lighter; the pan crust is thicker and much chewier.
Furthermore, the hand-tossed pizza doesn't taste as much like fried bread since it's baked on a flat sheet as opposed to a shallow pan. Notably, this pizza crust might taste quite bland for people who are more accustomed to the deep-fried pan crust.
The best part of enjoying this pizza is that it comes with more toppings. Ultimately, this combination lets you enjoy the pizza more as it quickly melts in your mouth, satisfying your taste palate.
4. Thin Crust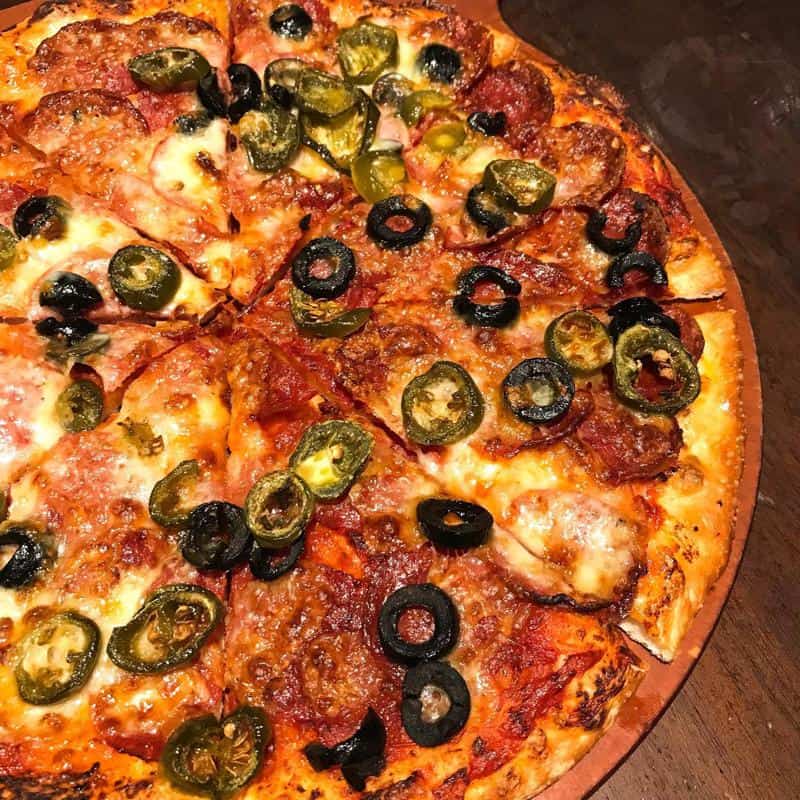 Many customers adore this crust, one of Pizza Hut's most well-liked crust types.
Pizza Hut claims the thin crust is "delicately baked," so "you can enjoy the savory taste of more of the pizza toppings."
The firm consistency of the pizza core (crust) also makes it challenging to fold. The advantage is that it enables you to add any thickly layered topping to your pizza.
In addition to letting you enjoy all the toppings, the Thin Crust can be a tad healthier. Since there is less dough and fewer calories, you may indulge in one or two slices on your "cheat days" without necessarily feeling bad.
The pizza is for individuals who don't exactly like the stuffed crust, pan pizza crust type, or any other types of pizza with thick, doughy, chewy crusts. Also, the "thin crust" is the only thin type, as all the others are thick.
The Seasonal and Temporary Pizza Hut Crust Types
Aside from the four basic crust types, Pizza Hut provides a variety of temporary or seasonal specials, usually based on their production locations.
Here are a few of these Pizza Hut crust types (listed in continuity):
5. Hot Dog Stuffed Crust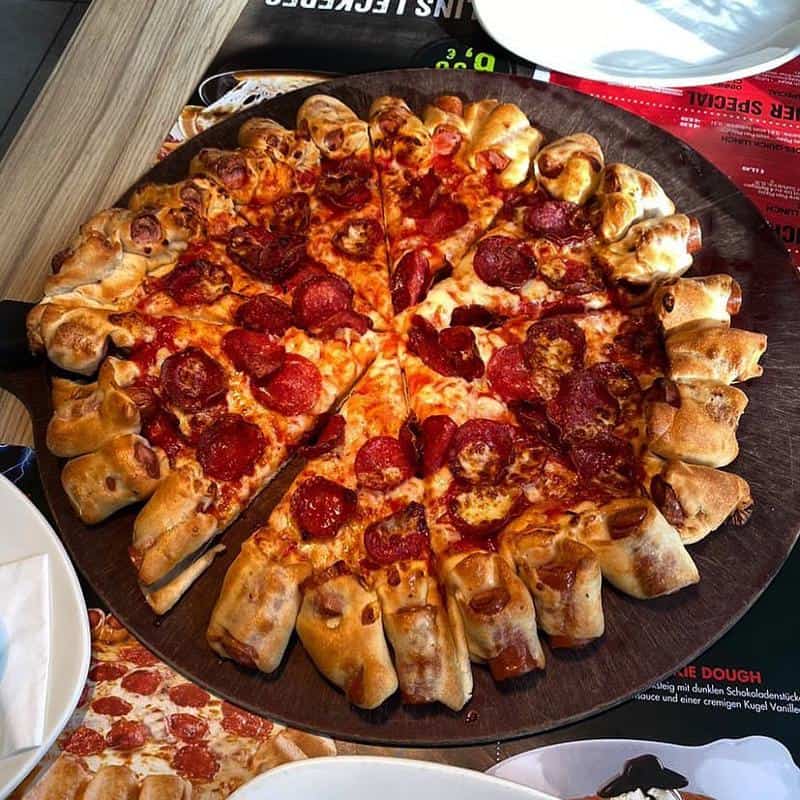 The hot dog stuffed crust is a modification of the well-known cheese-stuffed pizza. If you like hot dogs and pizza, you'll definitely like this one.
The pizza looks delicious, and the initial launch in the US was in 2015.
The hotdog stuffed crust, as the name implies, comprises bits of German Frankfurters. The pizza is thick with your favorite fillings and topped with flavorful ketchup and mustard sauces.
6. Shrimp Cheese Bite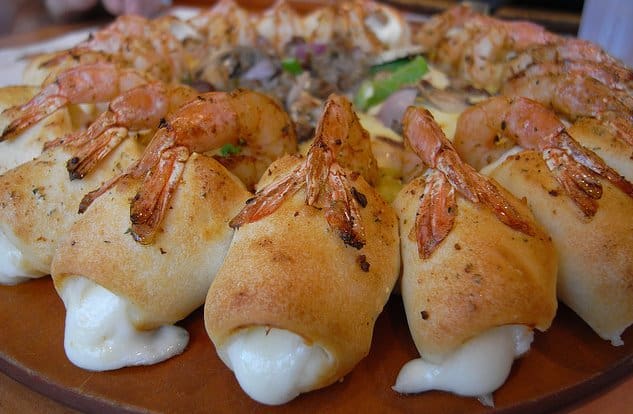 Because of its ingredients, the shrimp cheese bite seems to be another variety of Pizza Hut's original stuffed crust that South Korean, Japanese, and Chinese consumers enjoy. These regions are famous for their seafood consumption, and this seafood pizza crust is just what they desire.
The dough is loaded with cheese, while the pizza's edges are packed with shrimp. With each bite, you get to indulge in a flavor of both melty cheese and seafood.
7. The Gluten-Free Pizza Crust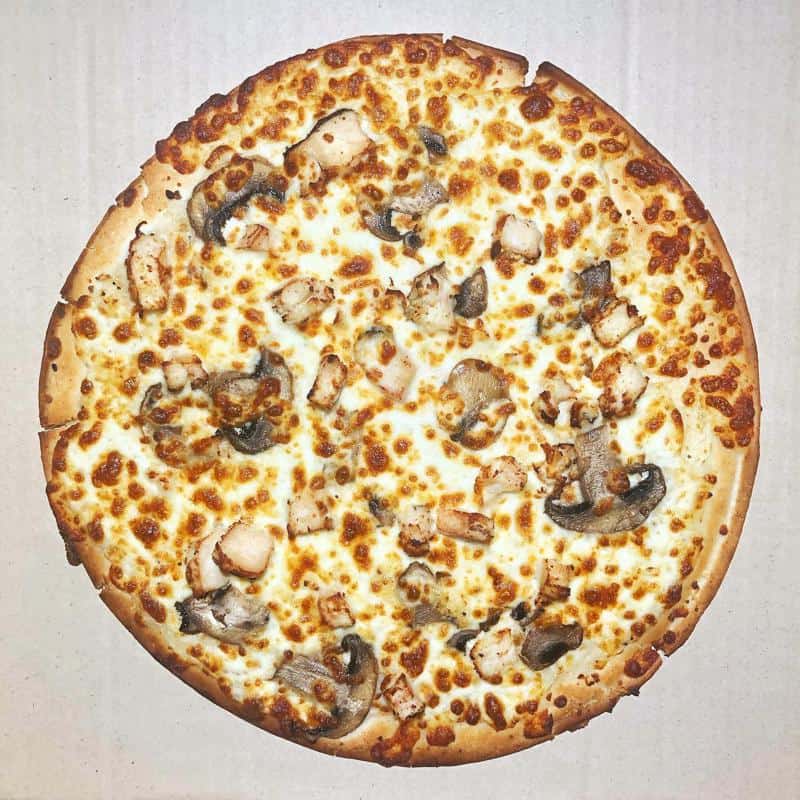 The gluten-free pizza crust is a variety of the thin crust pizza; however, it's a somewhat healthier choice. For people on a regulated diet who want to enjoy pizza's savory taste, gluten-free pizza is available for consumption.
Pizza Hut has a distinct advantage because few pizza restaurants provide this choice. The toppings—including cheese, tomato sauce, red onions, and other ingredients—make it a tasty treat that is cheesy and flavorful in addition to being healthy.
8. Butter Chicken Masala Sausage Crust
Middle Easterners should opt for Pizza Hut's Chicken Masala Sausage crust. It's one of the tastiest and most spicy varieties. Due to its toppings—including chicken bits, sauces, cheese, onions, and jalapenos—it has a moderately crunchy and spicy flavor.
9. The Veggies' Lover Deep Dish Pizza Crust
We all have different tastes in food; for example, not everyone likes meat. For this reason, Pizza Hut provides customers with this fantastic seasonal crust.
This pizza contains various toppings, such as sauces, pepperoni, and a double layer of cheese on the bottom and top parts of the pizza.
It has a deep dish crust that, from the outside, perfectly resembles a small yet deep dish. It isn't thin, making it the ideal option for those who want chewy, cheesy, and thick pizzas.
10. Cheesy Bite Pizza Crust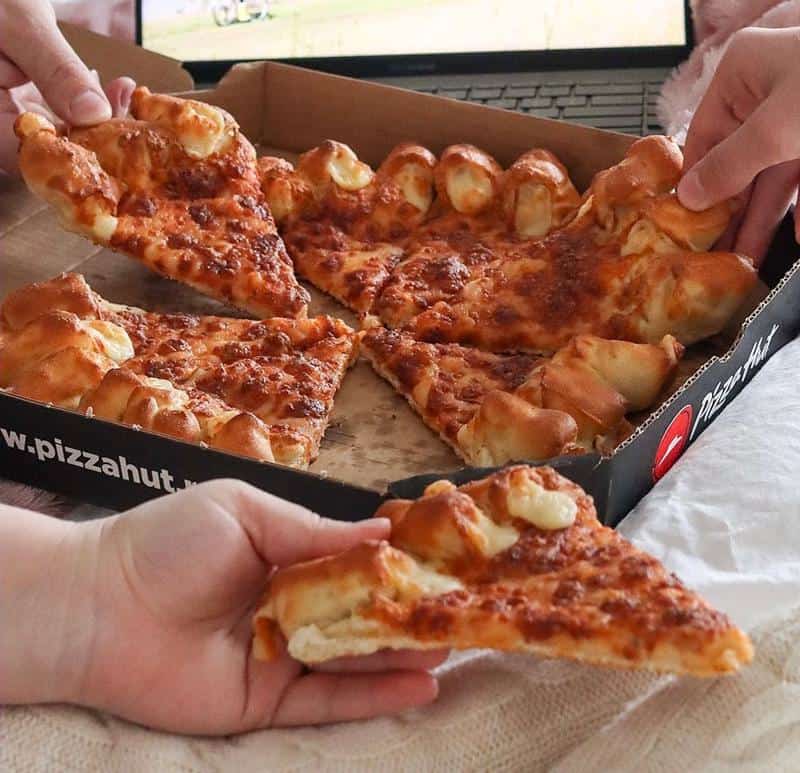 For those who love to relish the flavor of melted cheese with each mouthful, this pizza with a cheesy crust is a delightful indulgence.
People occasionally believe the crust has a chewy texture. However, this perception is false, as this pizza is neither chewy nor too crunchy like the thin crust; it's just moderate, featuring cheese and pepperoni as its toppings.
Summarily, this delicious cheesy bite-sized pizza is enjoyable to consume.
11. Italian 4-Cheese Pizza Crust
People enjoy trying new things, and Pizza Hut offers this classic Italian four-cheese crust to satisfy that need. The distinctive feature of this Italian pizza crust is the four different kinds of cheese combined to create a unique cheesy taste.
12. Bacon Cheeseburger Pizza Crust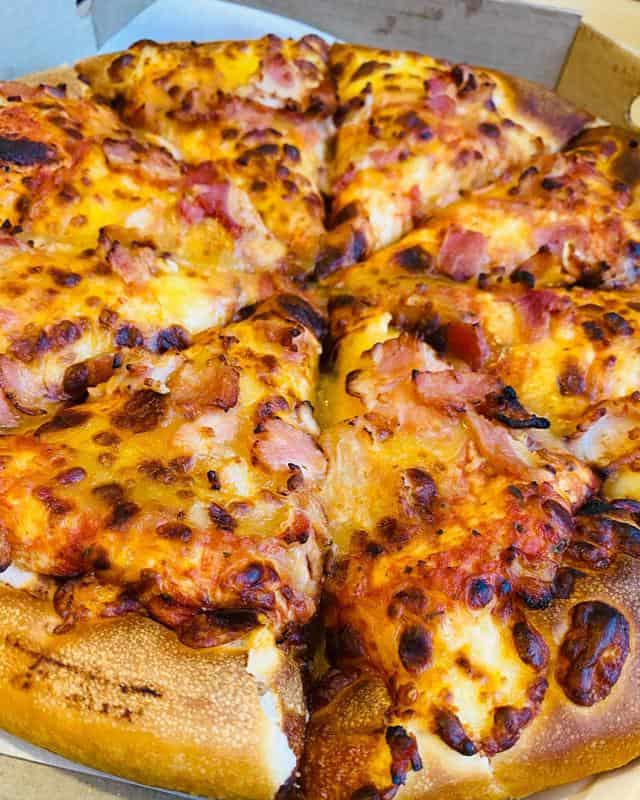 This pizza name seems odd. Yet, you get to relish the flavors of the cheeseburger, bacon, and a delectable crust on this pizza, which is sure to blow your mind.
The standard pizza ingredients used to make the dough doesn't change. Additionally, it has bacon, various kinds of cheese, and unique sauces to serve as its toppings.
Also Read:
Conclusion
Pizza Hut offers a variety of specialty pizza crusts, in addition to several classic types of pizza crusts, that are distinctive, creative, and popular throughout the globe. The finest Pizza Hut crust varieties are flavorful, unique, related to culture, and, most importantly, enjoyable.